How Pavé Diamonds Make an Engagement Ring Unique
Getting engaged with your loved one is an unforgettable experience. And your engagement ring is a special memory for that day. Therefore, your engagement ring must be unique to make that day even more memorable. But there are limitless options in the market for engagement rings, then which is the right choice for your lady love? With all the possible options, a pavé diamond engagement ring undoubtedly is an excellent choice.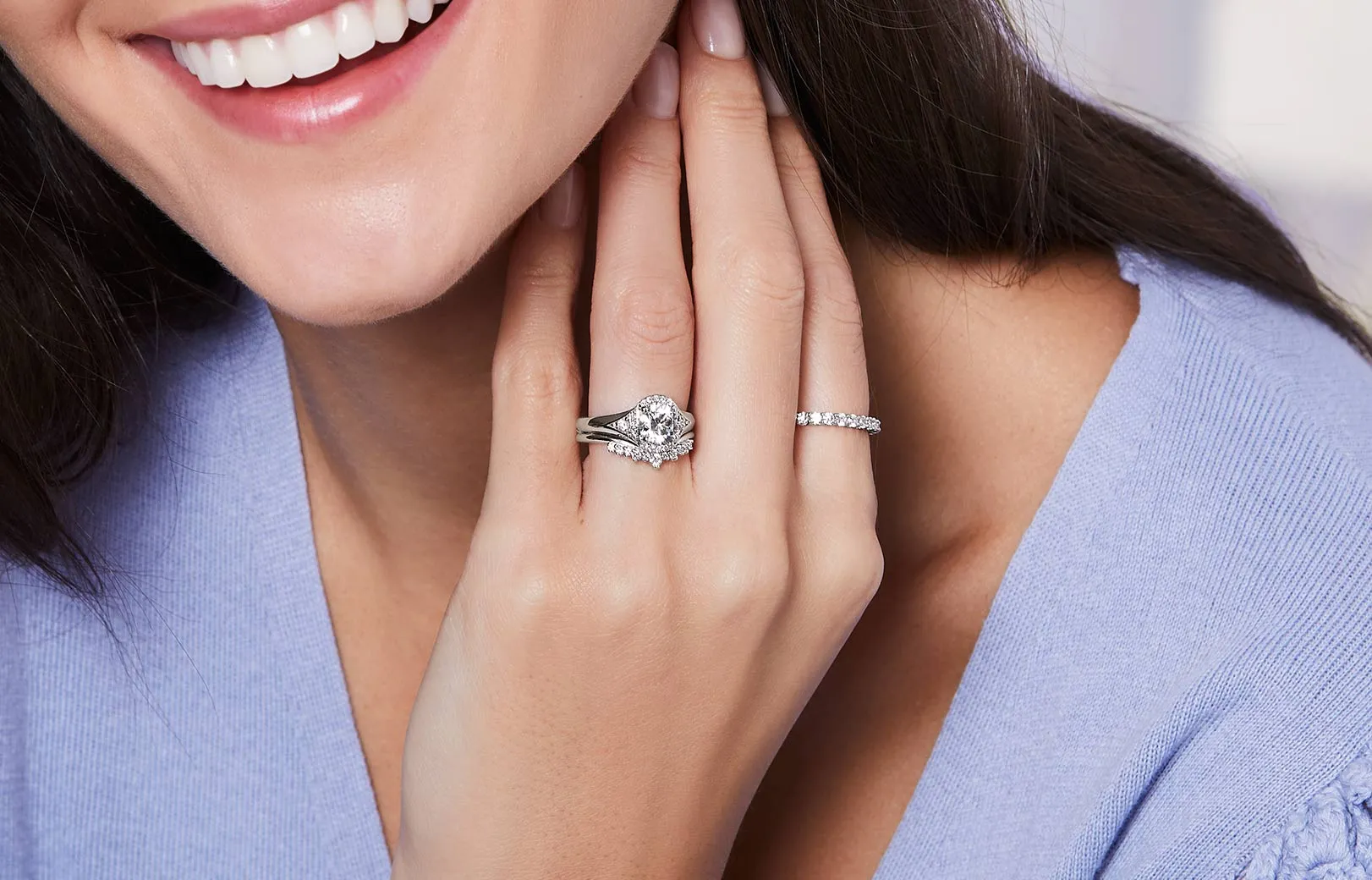 What Exactly is a Pavé Engagement Ring?
A pavé setting falls in the category of unique engagement rings. This is a type of setting in which tiny diamonds line the ring's band. These pavé set diamonds are secured with metal prongs or beads to give the impression of a continuous row of small diamonds. Various pavé engagement rings are available in many of your preferred setting types.
The French term "to pave," which is pronounced "pa-vay," is the origin of the word pavé, which refers to a surface covered in diamonds. The metal prongs or beads holding the diamonds are hardly noticeable.
Why Choose a Pavé engagement ring?
For someone with a sophisticated, classic taste, a pavé setting is an attractive choice. The additional diamonds' fine details give a ring more depth and a majestic look.
If you choose a pavé setting, the central diamond won't be detracted while you still have extra essence. What is a pavé ring's best feature? It complements various setting styles, such as solitaires, halos, and three-stone rings. Almost always, pavé details can be incorporated into any style.
Even the most basic ring design can be enhanced by adding pave, which adds shine and flair. Generally, every ring design can include pavé because it's more of a modern design than a specific kind of setting. As a result, it is a trendy option for engagement rings.
Different types of pavé settings
There are three main types of pavé settings: Micro, U-cut pave, and French pave. Let's learn about them in detail.
Stunningly tiny diamonds with a carat weight of less than 0.01ct each stone are used in micro pavé settings. More than 100 of these diamonds are used in a conventional micro pavé setting to give the impression of a continuous band of diamonds.
Micro pavé settings often have a lovely glitter that extends throughout the ring's shank since they feature many diamonds. 
The term "U cut pavé" describes a setting type with many small diamonds that "pave" the metal. In contrast to the typical pavé pattern, the U-shaped design includes metal notches on either side of the gemstone, exposing more of the diamond's side and enhancing the jewelry's appearance. 
For people with an elegant yet glam aesthetic, a pavé setting is appropriate. The U-cut diamond's fine details enhance depth and produce a timeless look.
Each diamond in a French pavé setting is put inside a tiny v-shaped space cut into the ring, which sets them apart from traditional pavé settings. With less metal showing and the appearance of a continuous line of diamonds, this cut emphasises the sides of each diamond.
The French pavé setting, like other pavé settings, produces a beautiful brilliance with less obvious metal between each tiny diamond.
Comparison Of Pavé Settings vs Other Engagement Ring Settings
Channel settings, prong settings, and other engagement ring settings with tiny diamonds are often compared with pavé settings. Here are the four most popular settings and a rationale of how they differ from the traditional pavé setting.
Pavé vs Micropavé
Micro pavé refers especially to tiny diamonds that are uniform and set with small prongs. These diamonds are often less than 0.01 carat in weight.
Micro pavé settings often utilize smaller diamonds, while pavé settings typically employ larger diamonds. Usually, with a carat weight of less than 0.01ct each, more than 100 very tiny diamonds are used in micro pavé settings.
Pavé vs Channel
There are significant contrasts between pavé and channel settings. Small prongs hold the tiny diamonds in position as they line the ring in a pavé setting. While a narrow channel is cut into the ring in a channel setting, and diamonds are arranged in a row inside the channel.
Diamonds with a round or oval shape are generally placed in pavé settings, where tiny prongs secure them. Channel settings frequently include round, princess, baguette, and other diamond shapes placed inside a narrow channel carved into the ring's surface.
Pavé vs French Pavé
The French pavé setting differs slightly from the pavé setting in that it has a V-shaped cut beneath each diamond to make the stone more visible. Diamonds are put in traditional pavé settings on the ring's surface; there is no apparent groove beneath any of the stones.
The French pavé setting produces a stunning line of pavé diamonds by using tiny, V-shaped cuts that allow the sides of each pavé-set diamond to be seen.
Pavé vs Shared Prong
At first glimpse, shared prong and pavé settings resemble one another, but they use a slightly different framework to hold their tiny diamonds in place.
Tiny beads or micro-prongs are used in pavé settings to hold each little diamond firmly on the ring's surface. Shared prong settings resemble pavé settings but keep neighbouring diamonds in place next to one another using shared metal prongs.
Value Of Pavé Diamonds
Color, clarity, cut, and carat weight are the four main aspects of diamond quality that determine the value of pave diamonds. It is challenging to evaluate the cost of pavé rings. There are other elements at work, including the kind of metal utilised. The price can then vary significantly depending on the total number of diamonds used in the ring and the carat weight of the stones. Each jeweler will also charge a different sum for the labour and services. 
Conclusion
Shopping for engagement rings is exhilarating and can occasionally make some couples feel a bit anxious. Every couple wants to have the best engagement ring for their partner. Since so many prospects are available, it might be challenging to decide. But nothing can beat an engagement ring made from pavé diamond! 
The Pavé diamond engagement ring is a stunning choice for people with different tastes. Various styles are available for the little diamonds that line the band, giving it added brilliance and elegance while complementing your personal style.