55+ Spiritual Jesus Christ Tattoo Designs & Meanings – Find Your Way (2019)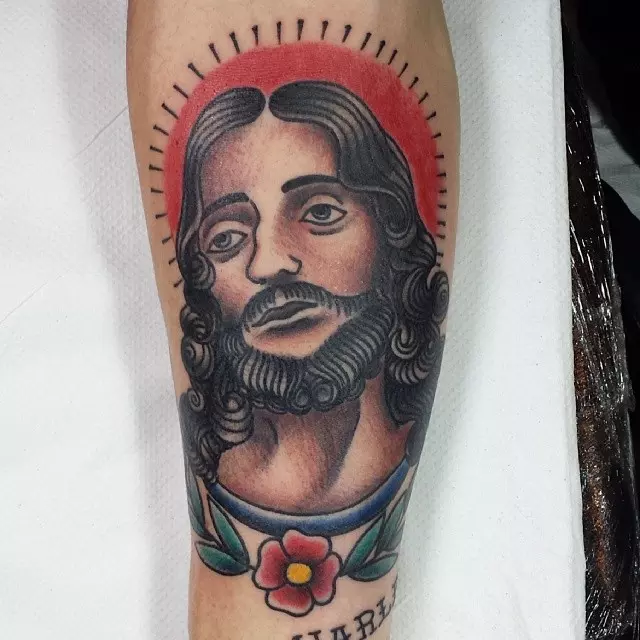 Jesus tattoo is one of the most powerful tattoos in the world. Mostly, religious fanatics use these types of tattoos. In this tattoo design, all phases of the life of Jesus are portrayed. Those who wish to craft their body with these types of tattoos declare their strong faith and love towards Jesus Christ.
Through tattoos, you are revealing your power of hope, faith and your deep rooted belief in spirituality.
Contents: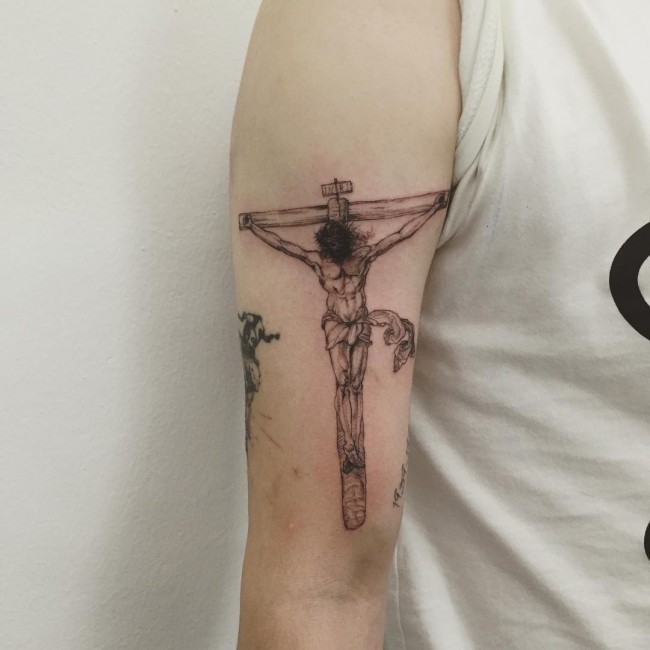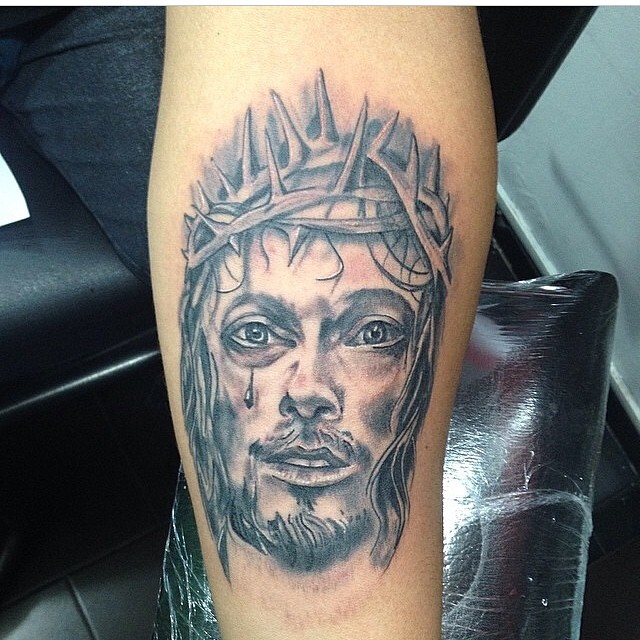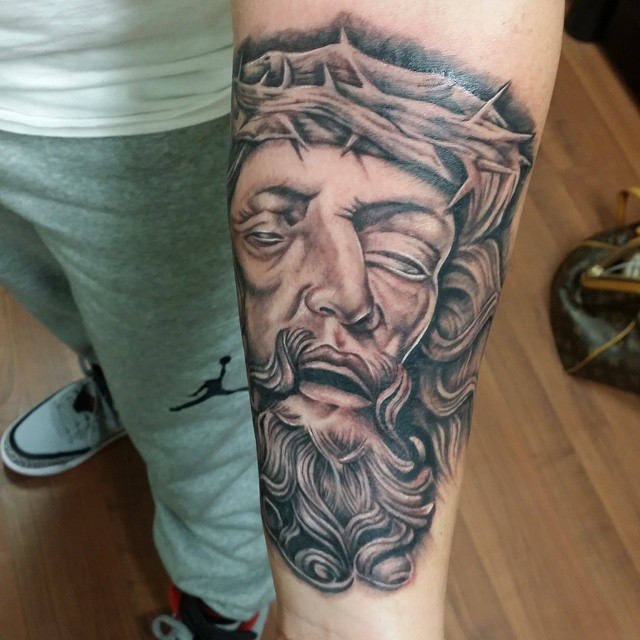 Tattoos of the Lord Jesus can be portrayed in a number of ways. Some people want to get the kind and compassionate look of Jesus Christ, while some others prefer to design the pain Jesus suffered during the crucifixion.
By designing the body with Jesus Christ, some people believe that it is the ultimate show of their faith on Jesus and his teachings. Through the tattoos of Lord Jesus, they also confirm their faith in Christianity.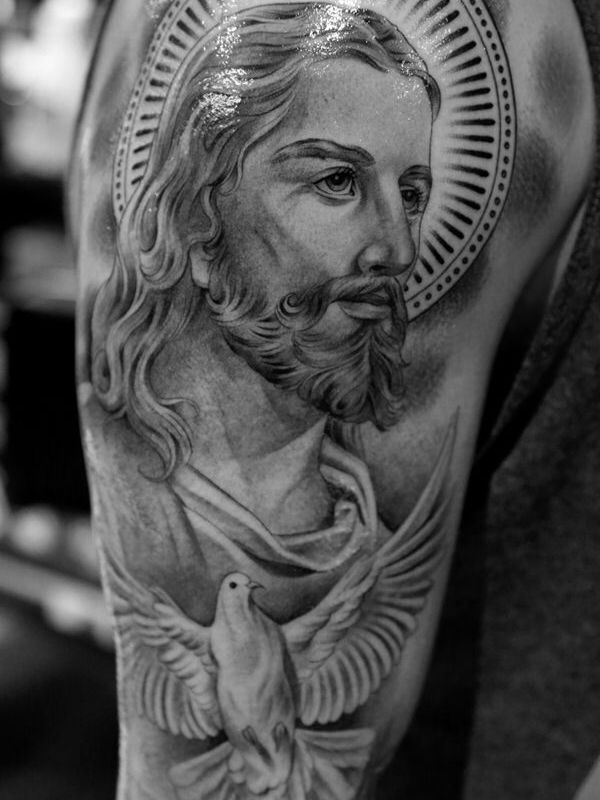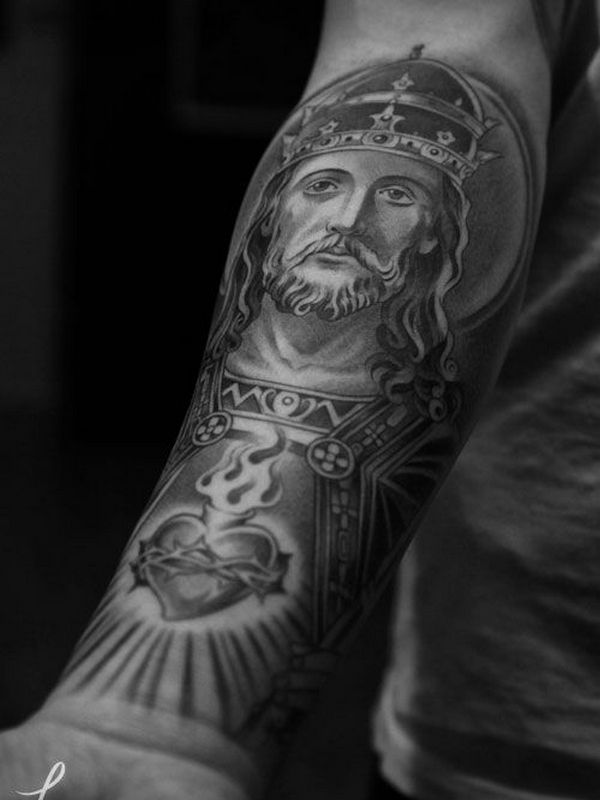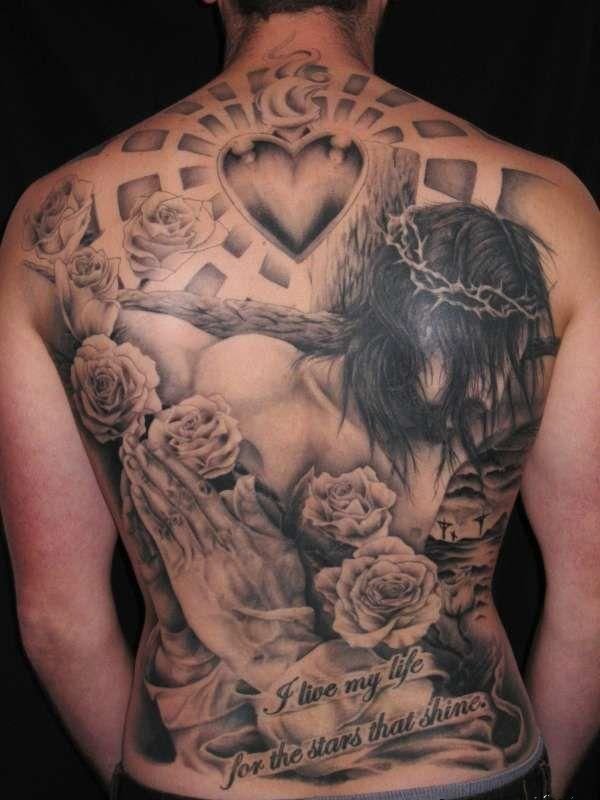 The designers of Jesus tattoos pay more attention on the details of the eyes of Jesus Christ. The other elements such as cross, rosaries, cherubs, trees, angles and even the clasped hands are also portrayed through the tattoos of Lord Jesus.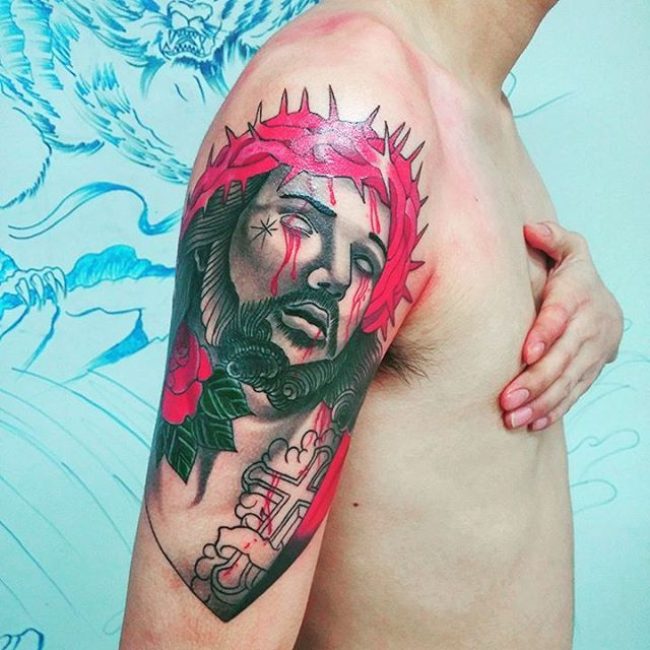 Meanings of Jesus Tattoos
The tattoos of Lord Jesus can represent a number of different meanings.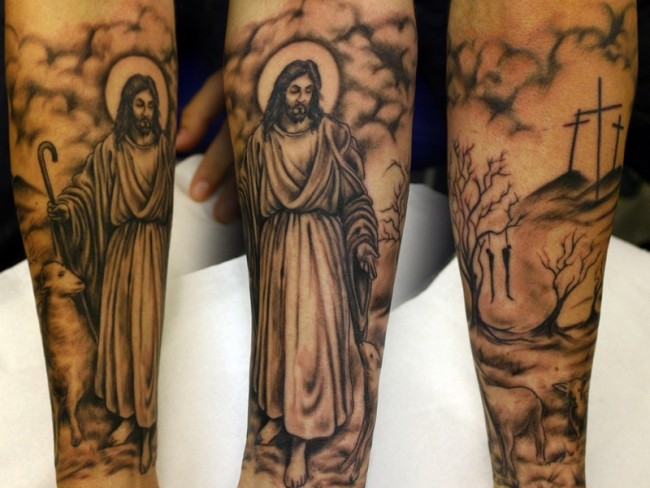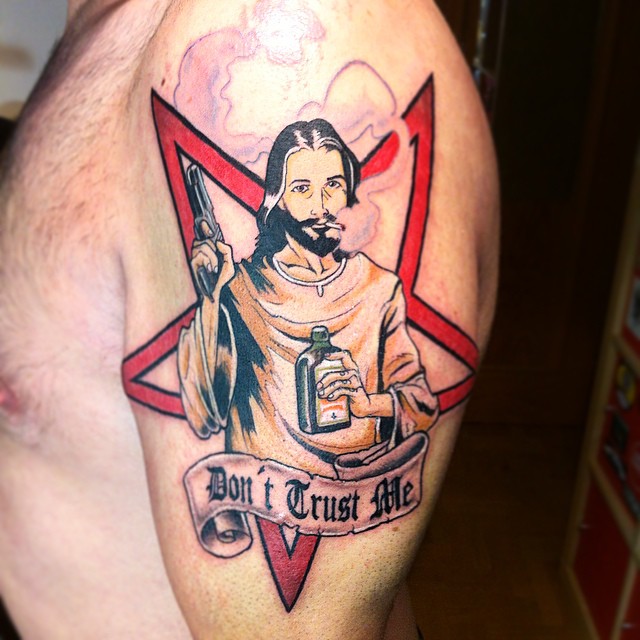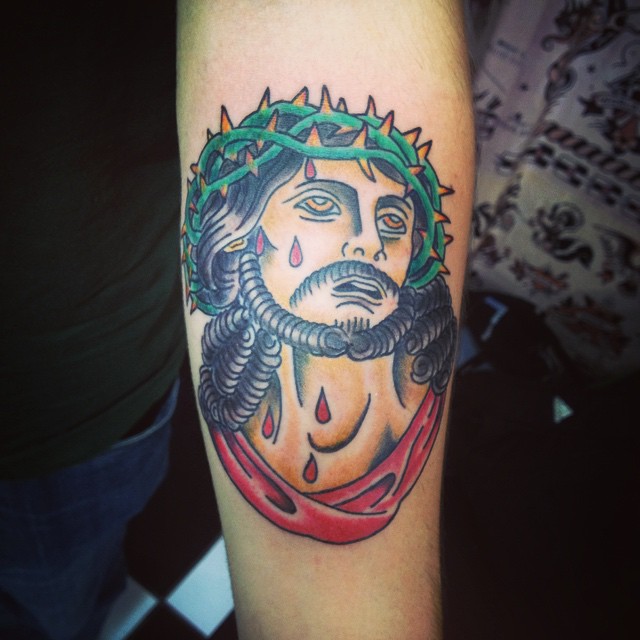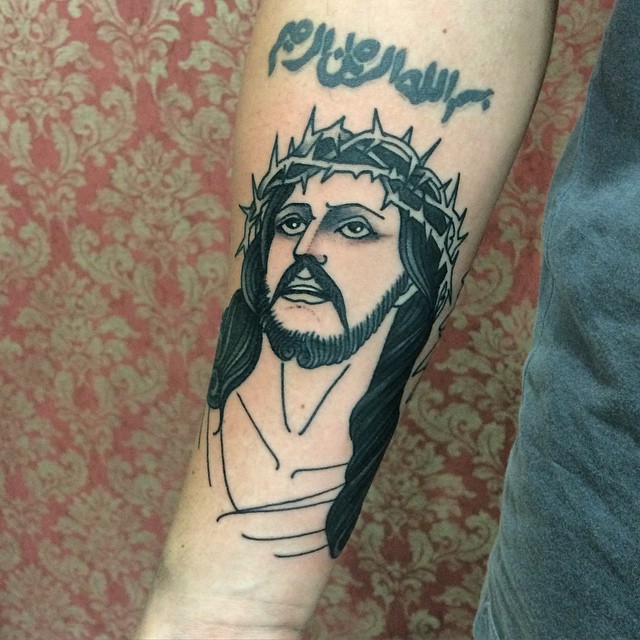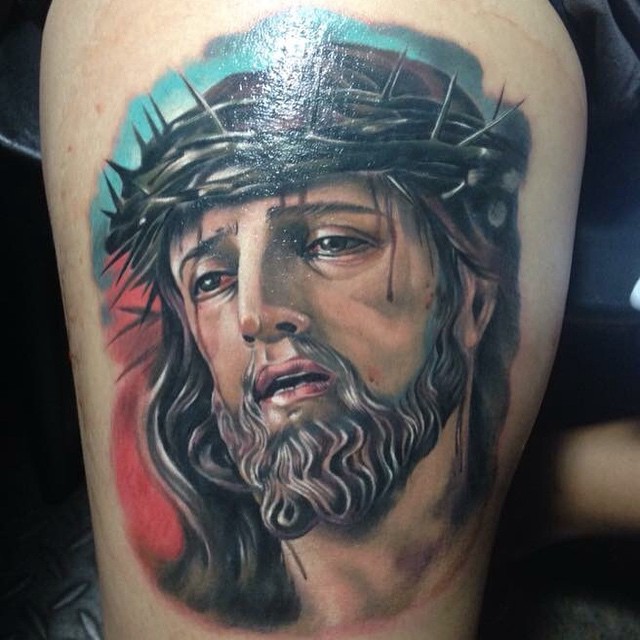 When you tattoo your body with Jesus Christ, you are simply selecting these symbolic meanings.
Therefore, you can select a tattoo art that mean: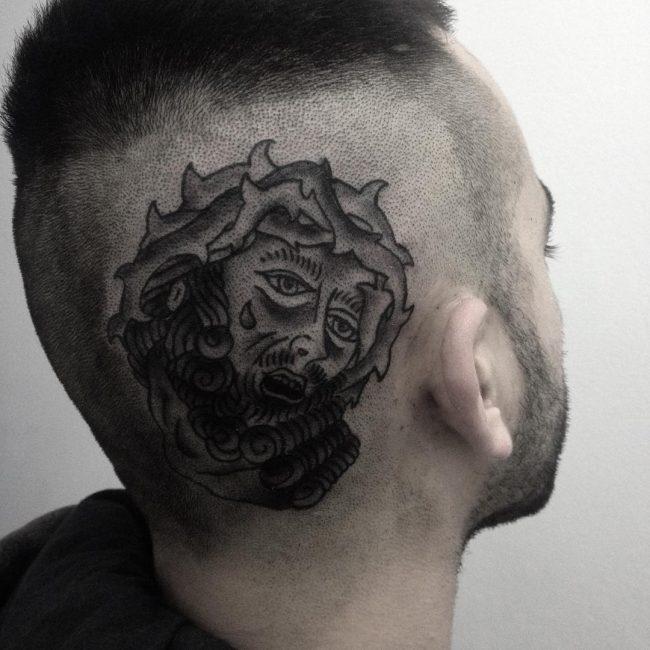 Christianity
Inspiration
Hope
Honor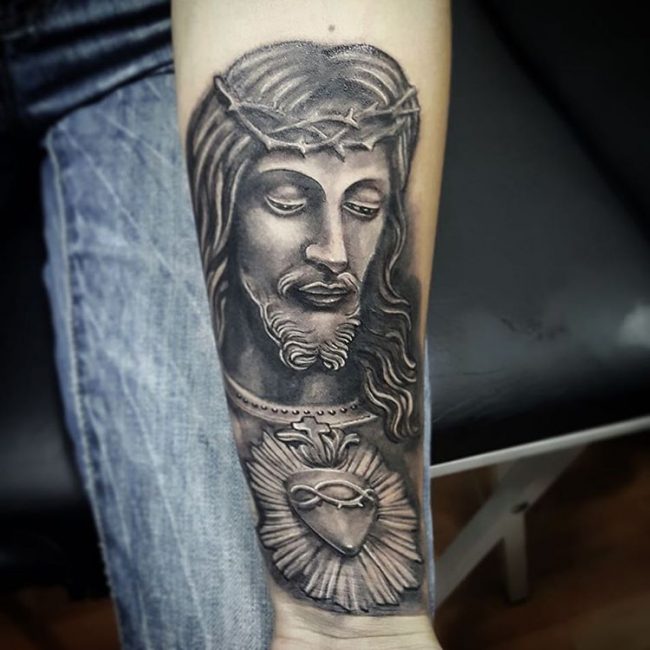 Life
Eternal love
Forgiveness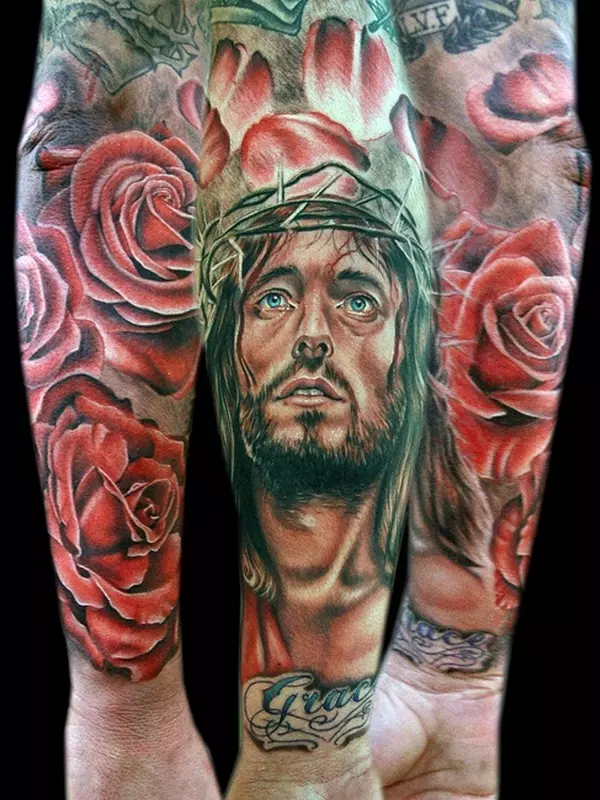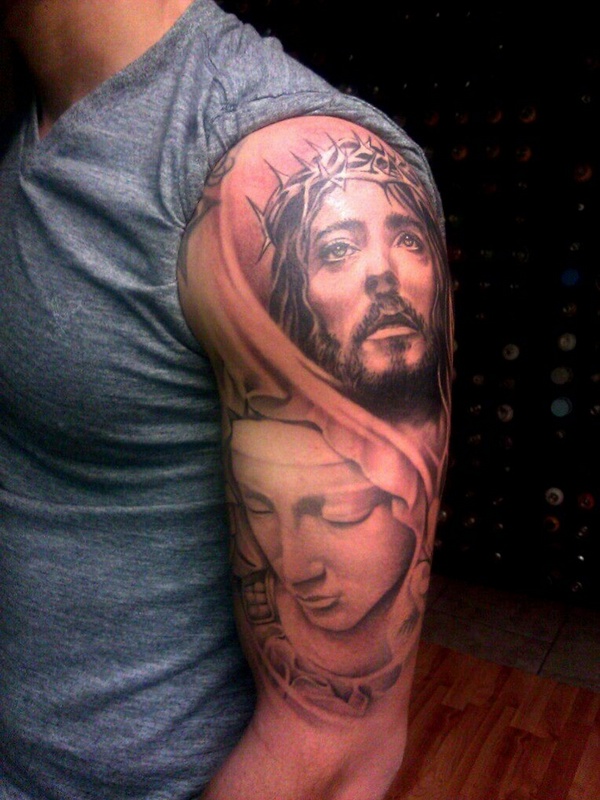 You can do a lot of things through your Jesus tattoo designs. Instead of having the portrait of Jesus, you can just tattoo the word Jesus in your body. If you wish, you can also include the quotes or verses from Bible within your tattoo design.
The most popular and common Jesus tattoo design can be anything that is related to Lord Jesus and the Holy Bible. Besides portraying Jesus, you can also go with some appropriate words such as Forgiven or Hope. These designs can be included in your Jesus Tattoo in various styles.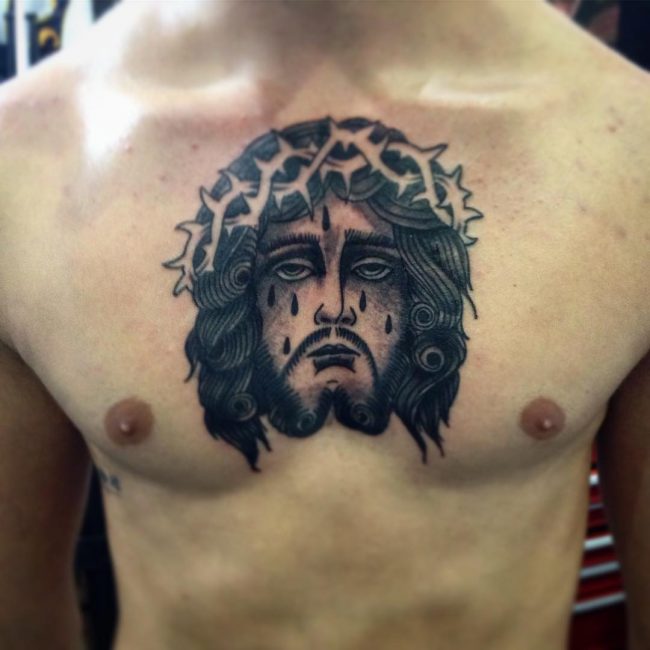 ---
back to menu ↑
Variations of Jesus Tattoo
The views and feelings of people regarding the religion are different. Lord Jesus, the son of God and Virgin Mary, walked around and preached the messages of God and the God had given him special powers. Jesus is an inspiration for artists for centuries.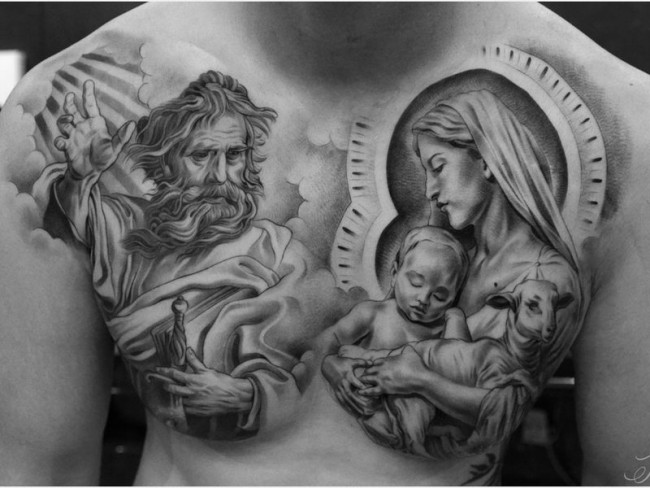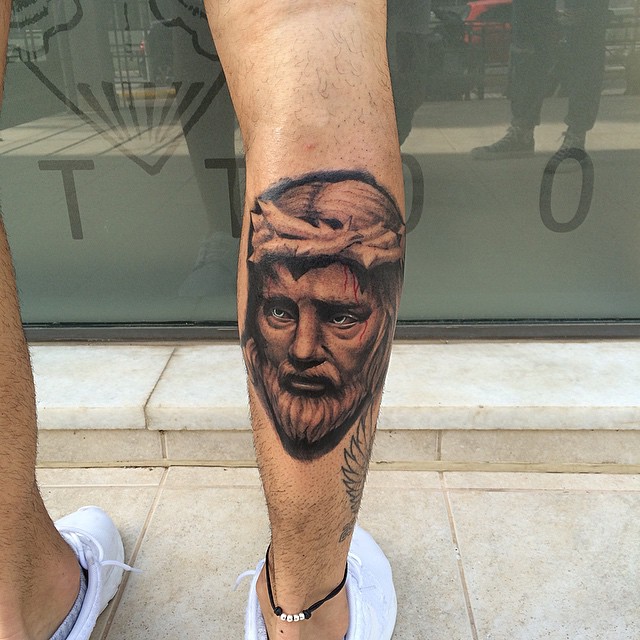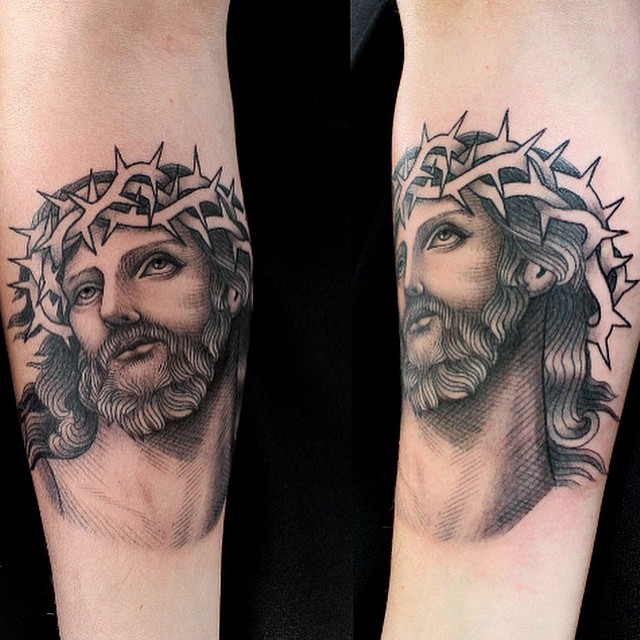 Previously, the artists devoted their life to paint Jesus on canvas. But now, Jesus is tattooed. Jesus was a very powerful man and he brought inspiration and hope to everyone. Jesus inspires millions of people around the world even today.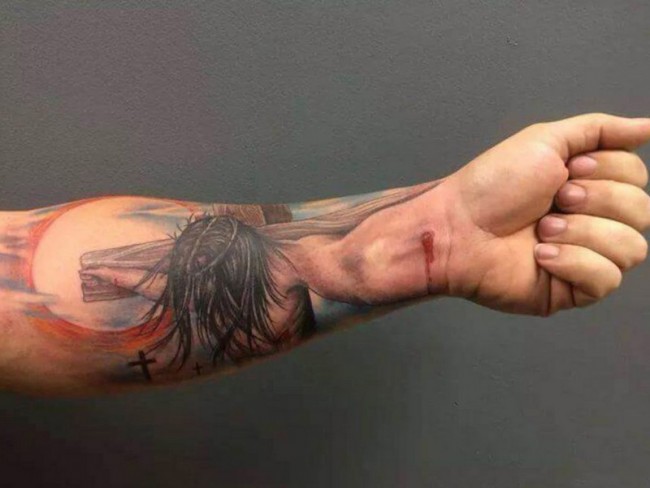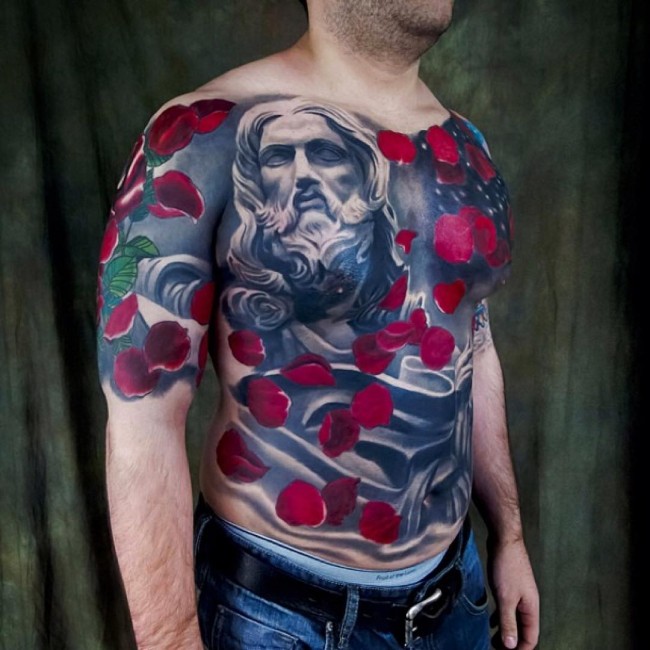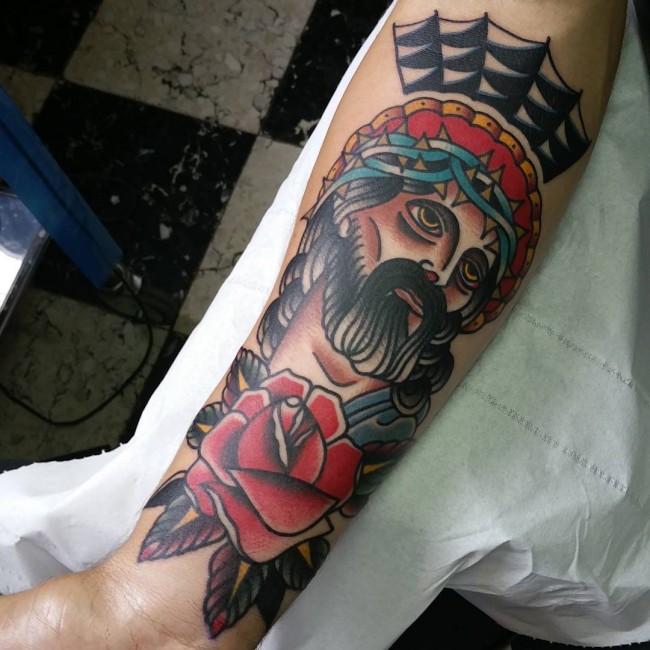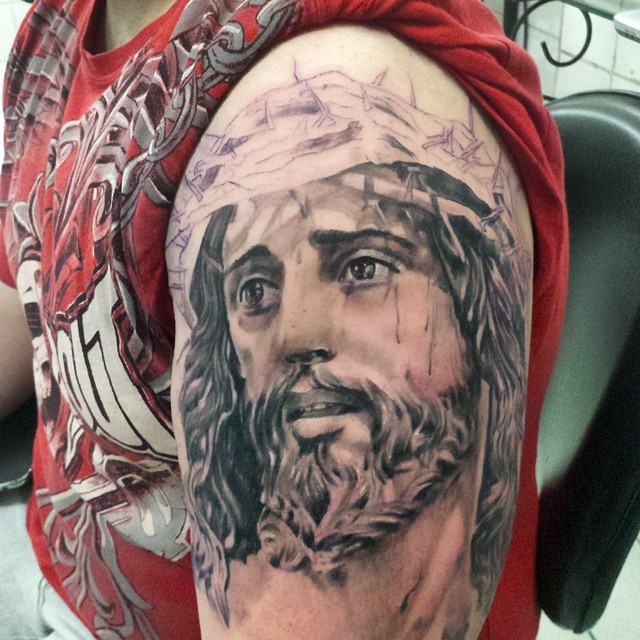 You can design Jesus Tattoos in a variety of different ways. Head of Jesus is one of the most popular designs. This tattoo is designed with a crown of thorns on his head. This portrait reminds you the pain he inhabited on the cross.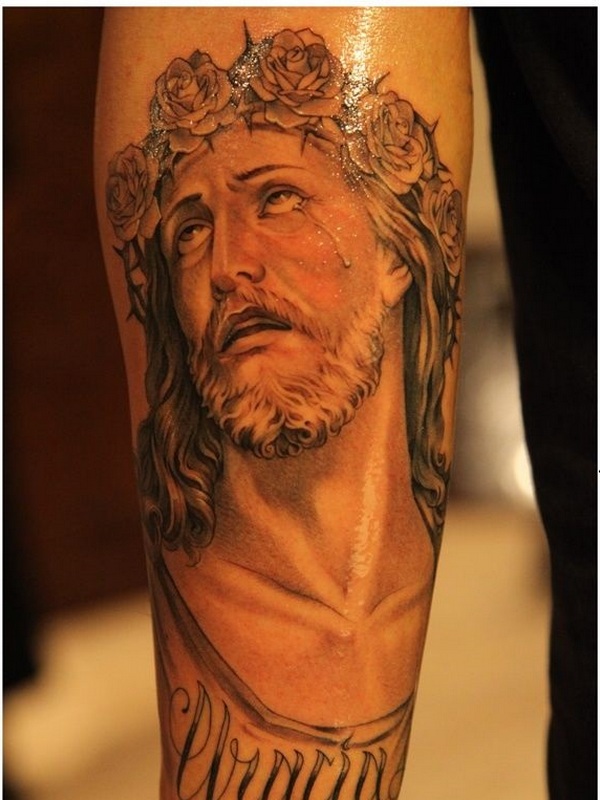 Tattoos of Lord Jesus can be graphic in nature. Sometimes, it shows blood and bruises. Some tattoos are designed Jesus in his natural beauty. But some others show as if he looks into the sky. There is an ocean of different Jesus tattoos.
Before tattooing your body, you should view the gallery carefully and then decide the tattoo design you want to portray on your body.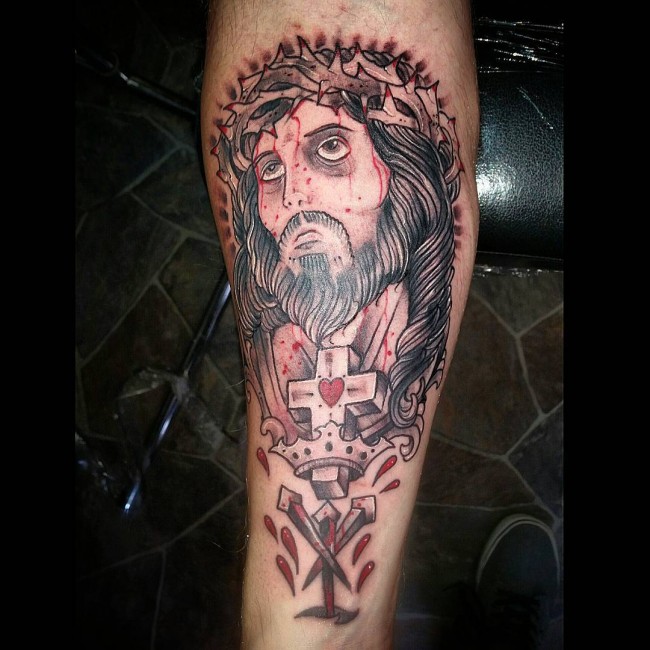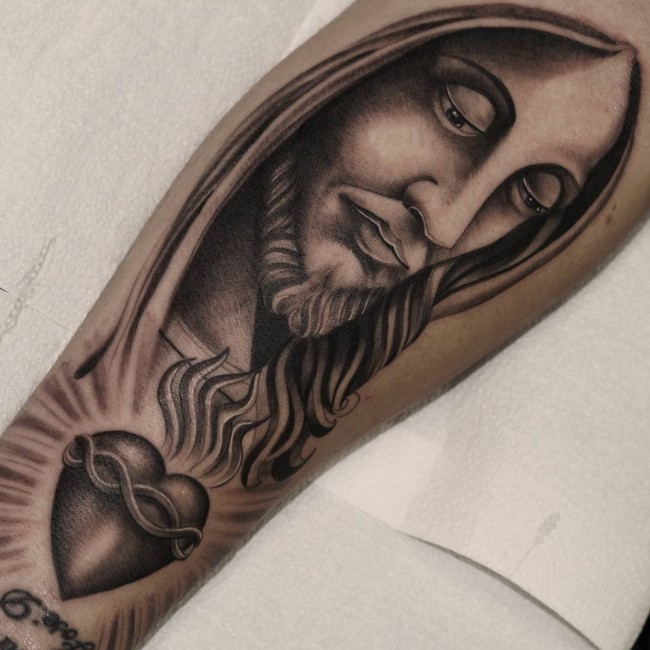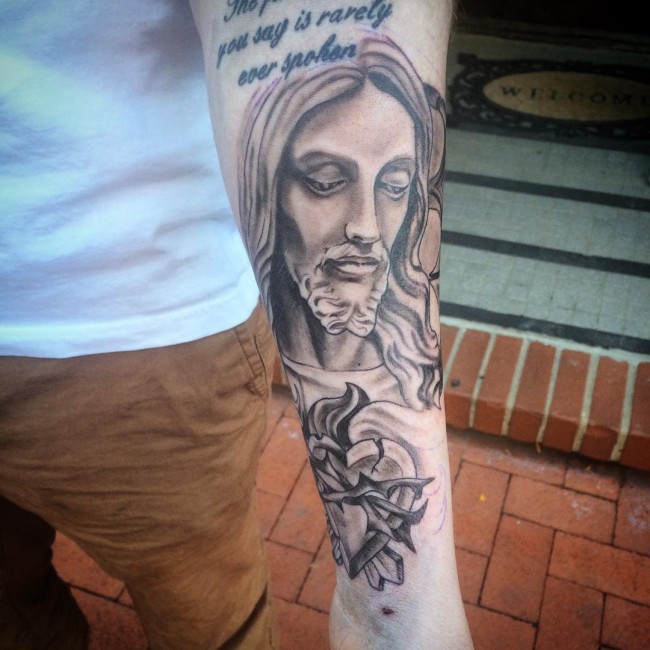 Jesus on the cross is the other popular tattoo design. Crucifixion of Christ is the inspiration of tattoo artist for many years. This design is portrayed as Jesus hanging on a cross. This tattoo variation can also be graphic. You can select a clean design without blood, bruises or cuts.
You can also select Celtic cross or wooden cross.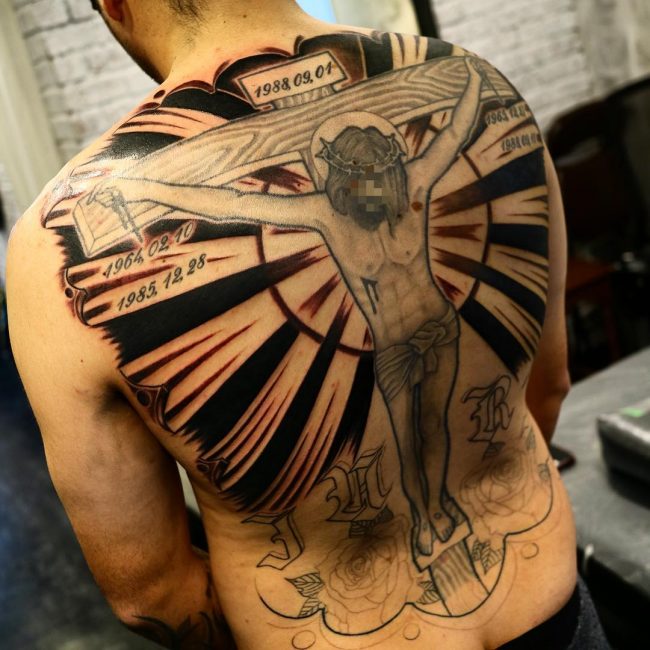 Different Biblical characters or symbols can also be selected. Tattoo designs also include Jesus with Mary or Jesus with a few Jews. Sacred Heart is one of the most popular Jesus tattoo symbols. It represents the heart of Jesus Christ. Usually, it is portrayed with an eternal flame.
Designs such as wings, angels, crosses, etc can also be included.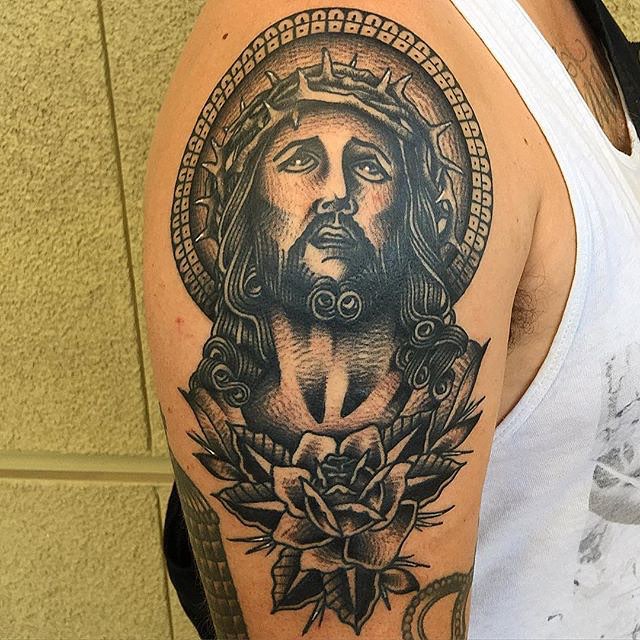 Jesus was a shepherd and he took care of his flock, which means humans. So, you can design the tattoo depicting Jesus as a shepherd. It reminds you the grace of God. This is a big tattoo so it can be depicted on your back rather than leg or arm. Lines or quotes from Bible can also be added.
Glorified Jesus is the most beautiful Jesus tattoo designs. It is designed in the glorified form of Jesus Christ.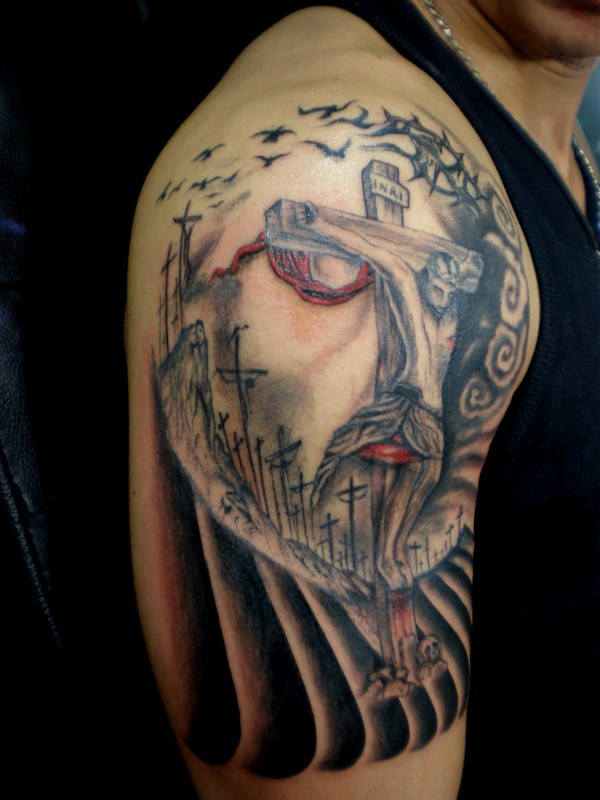 ---
back to menu ↑
Jesus Tattoo Locations
The Jesus tattoo designs should be inked in specific locations of your body. These tattoos are very large, so it needs a large area to portray it perfectly. You can design it on your arms, back and chest. Back is a large area so you can design a full Jesus tattoo on your back.
This area can be used for creating the masterpiece of a beautiful art. If you want to ink the head of Jesus, it can be done on your chest, back or arms.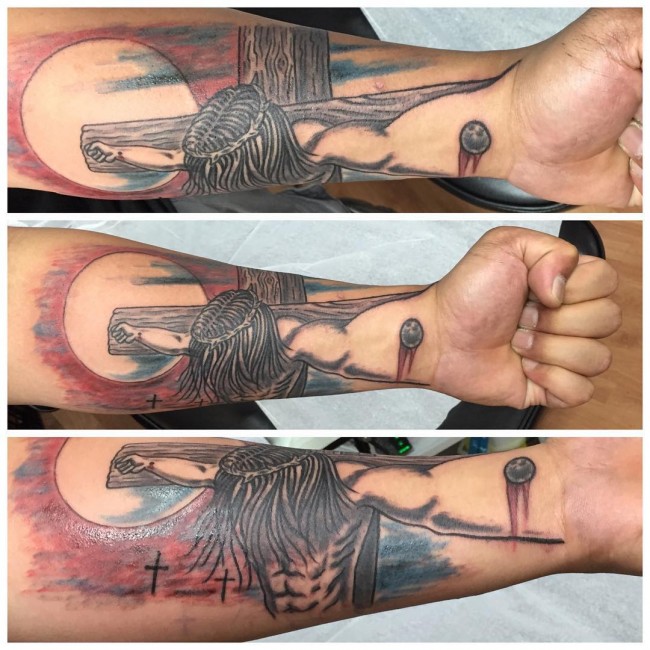 You must consider certain factors before selecting an area. Just spend time for collecting information regarding the tattoo that you are planning to ink. You must be fully aware of the underlying meaning of the design you have selected. When you decide to make tattoos on your body, it is a lifelong decision.
You cannot change it once you have done it. You should not tattoo your body on the basis of impulse. If the design you have selected does not symbolize your thought, you cannot change it. So, you should not take a hasty decision. It should be on the basis of a thoughtful research.
Latest technologies are available today, but some tattoos cannot be removed even with it.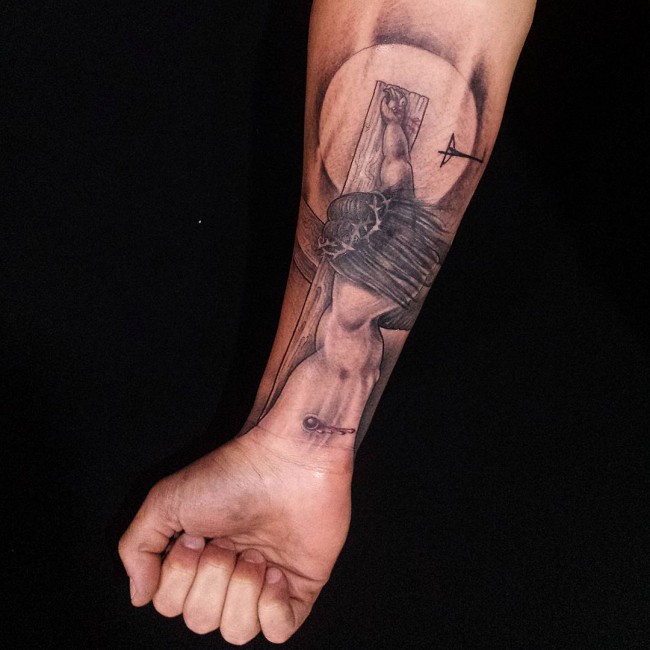 Jesus is well-known for his healing touch. He cured the disabled and the sick. In the end, he sacrificed his own life to mankind. Christianity believes that the sins they committed could be forgiven and overlooked due to the crucifixion of Jesus Christ.
The entire life of Jesus has been the source of inspiration for artists around the world. Various parts of life of Jesus can be seen in paintings and sculptures.
With the popularity of body art, these types of art have transferred to tattoo designs. Typically, these designs show the beginning of hope, deep faith, religiousness, inspiration, compassion, belief in almighty, life and honor, forgiveness and many more.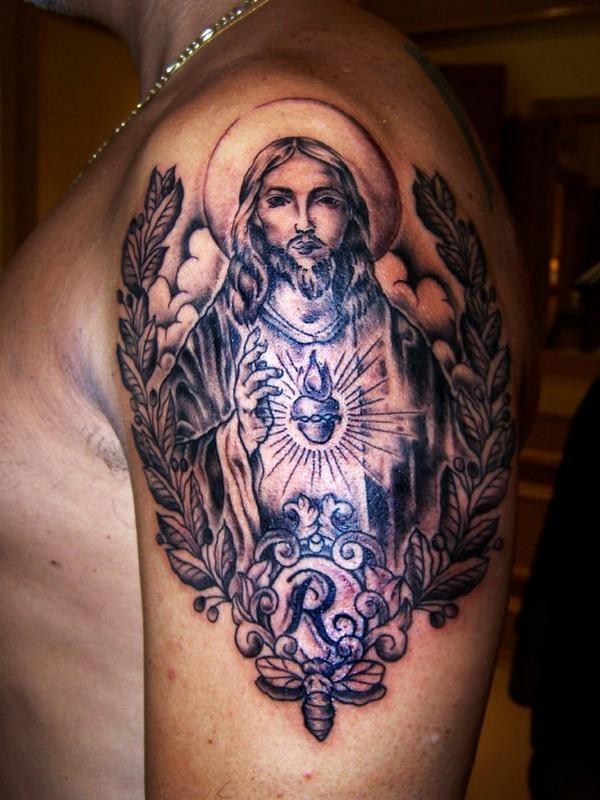 Some people simply write the word Jesus on their body, some others prefer to have just the words of Jesus Christ. Large pictures can also be portrayed. Whatever may be the design and location, you must evaluate the pros and cons of Jesus tattoos before proceeding with it.
/