75+ Spiritual Virgin Mary Tattoo – Designs & Meanings (2020)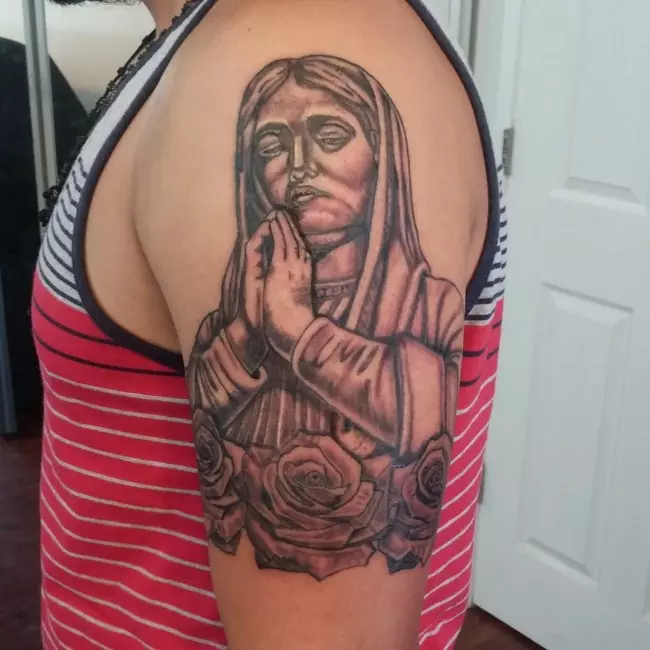 The Virgin Mary tattoo is one of the Christian tattoos that are very popular and have been common for a long period of time. It originated from icons and paintings that could be done in churches.
These paintings consisted of a lady who looked humble and beautiful and could be referred as a symbol of the Virgin Mary. Christians recognizes Mary as the mother of Jesus whom she conceived by the help of the Holy Spirit.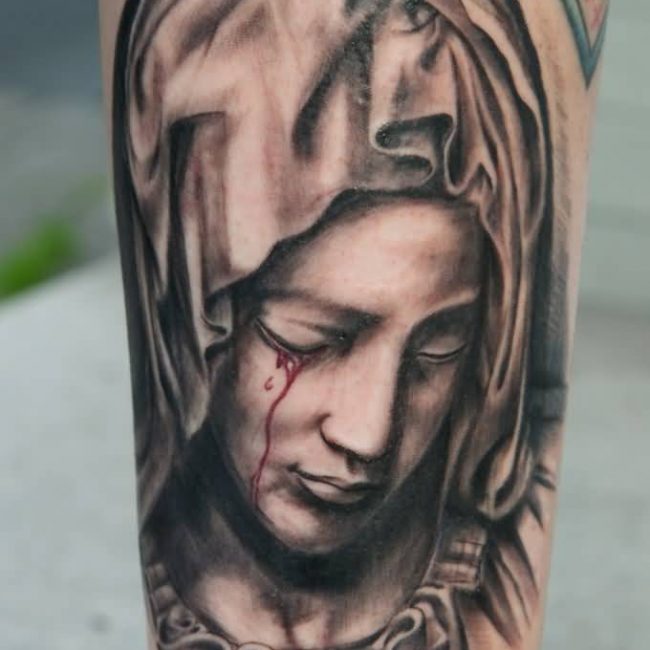 Thus, Mary is an important person among the Christians especially the Roman Catholics who they belief can intercede for them when in trouble to her son Jesus. Due to her importance, she could be drawn and people could even hang his paintings in their houses.
This led to some having the picture as a tattoo which led to the existence of Virgin Mary Tattoos.
Contents: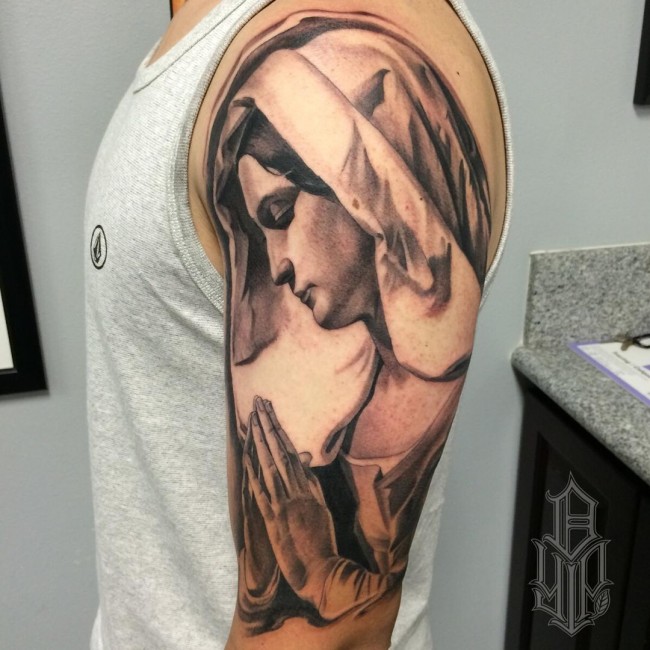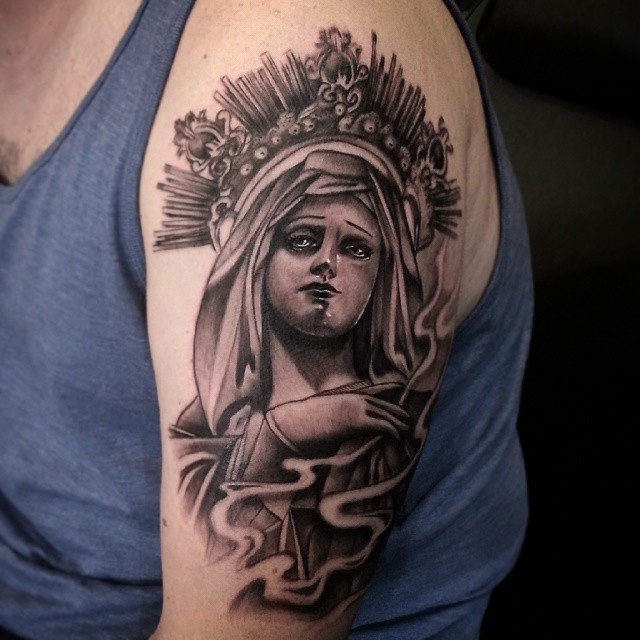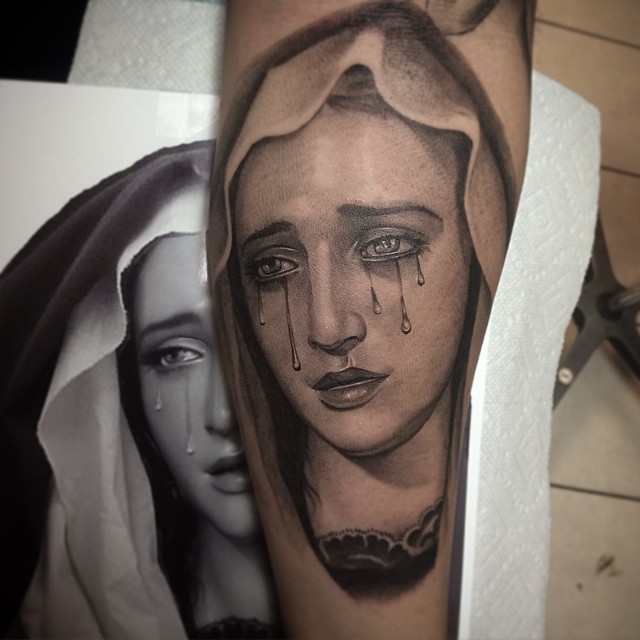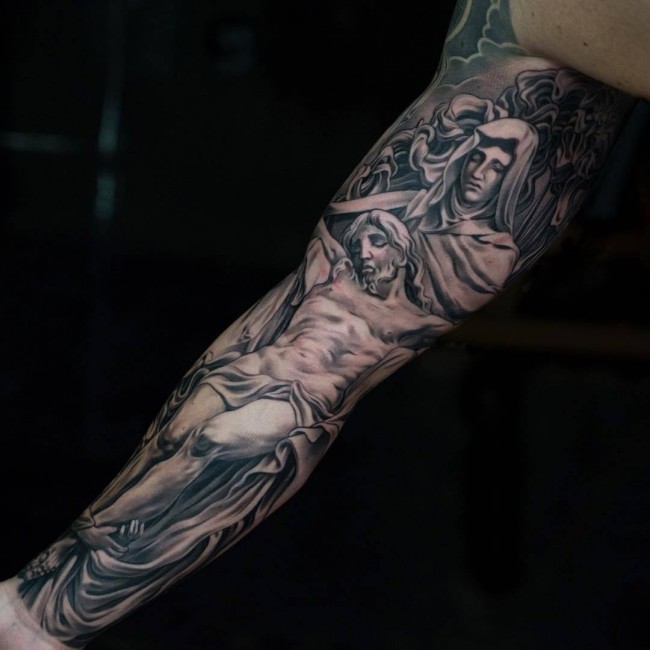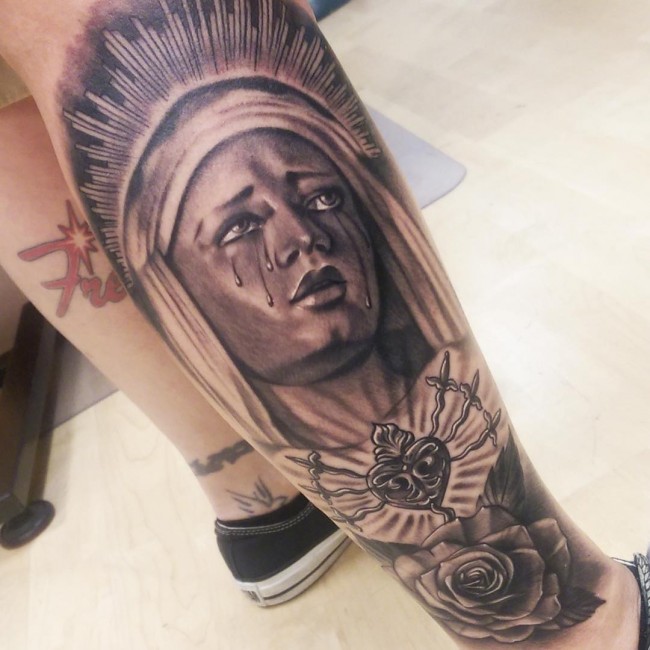 Meaning of Virgin Mary tattoos
Mary is believed to have been a virgin by the time she conceived the baby Jesus. Therefore, she had not engaged in any sexual intercourse which was against the standards and guidelines of the community she belonged to.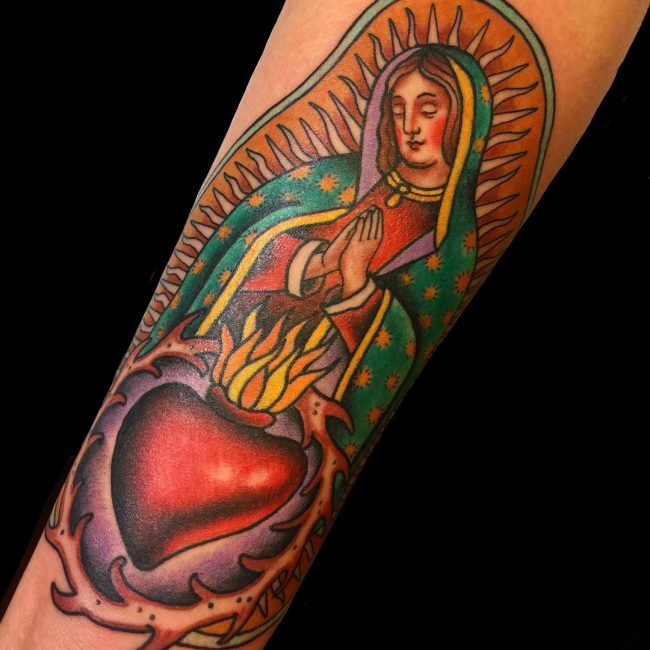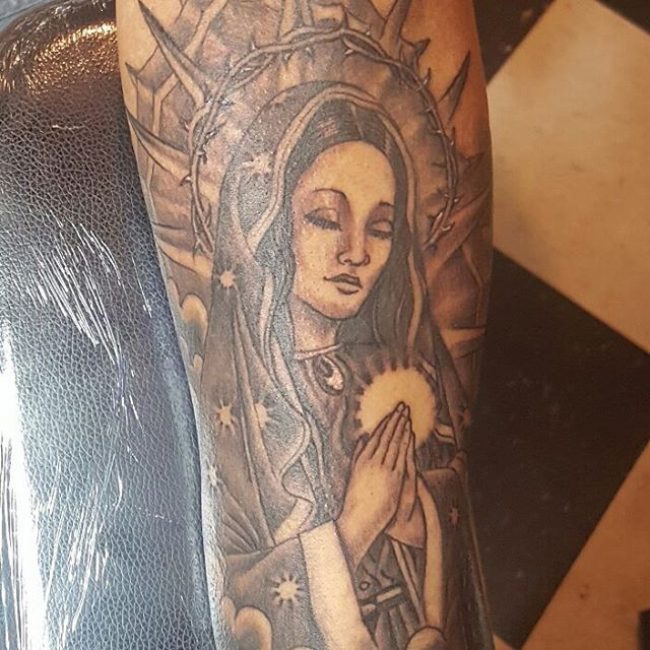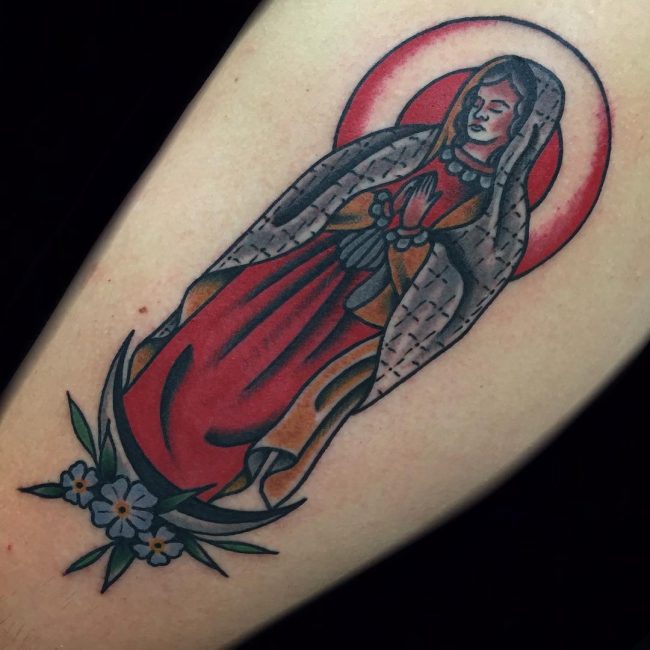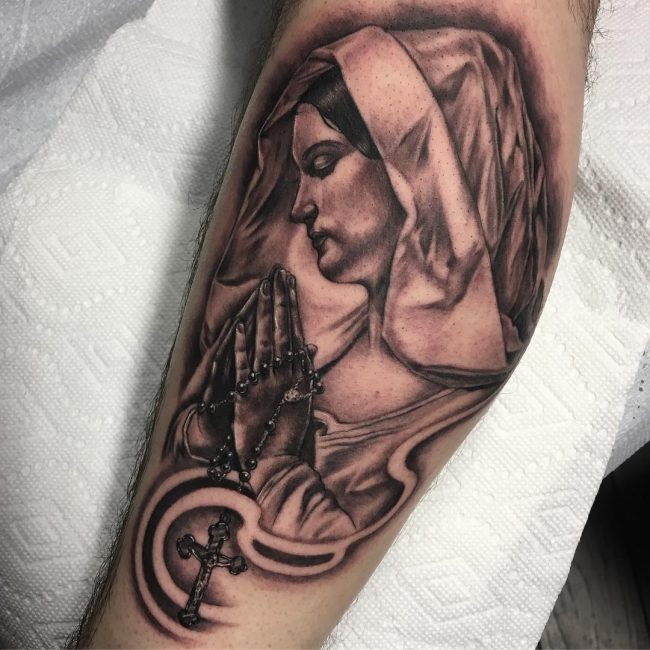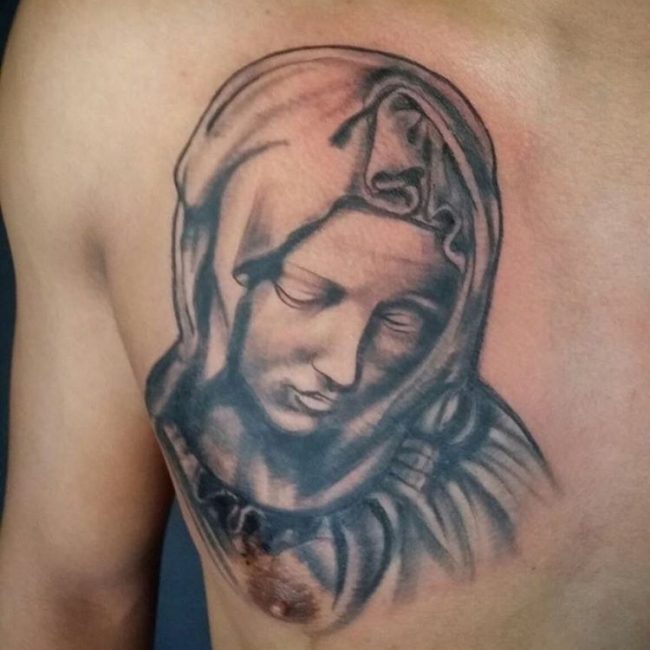 She later got married to Joseph as a virgin and hence bringing out the attribute of chastity. Therefore, these tattoos are used to symbolize or show someone has chastity just like the Virgin Mary. Christians use it to advocate for chastity among the followers of Christ.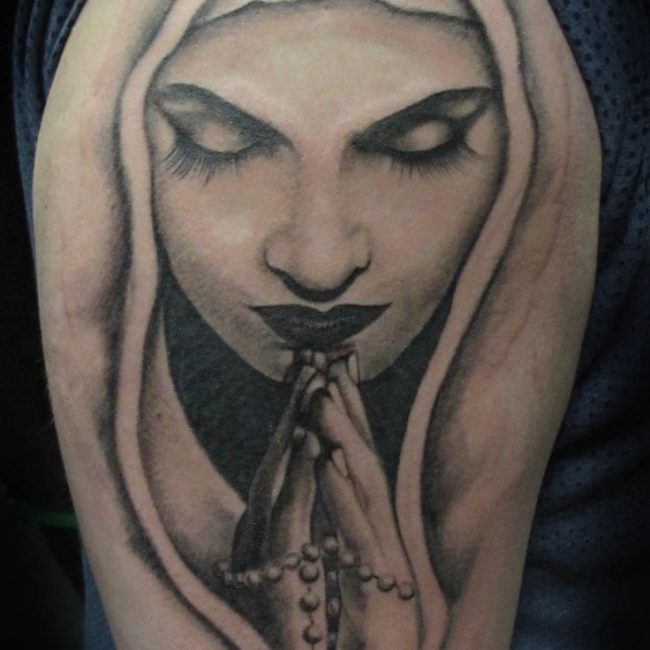 This tattoo is very common among the prisoners. They use this kind of tattoo to symbolize redemption. Roman Catholic Christians, believe that the Virgin Mary normally intercede for them to her son Jesus so that their sins can be forgiven.
Therefore prisoner use this tattoo as their hope of redemption.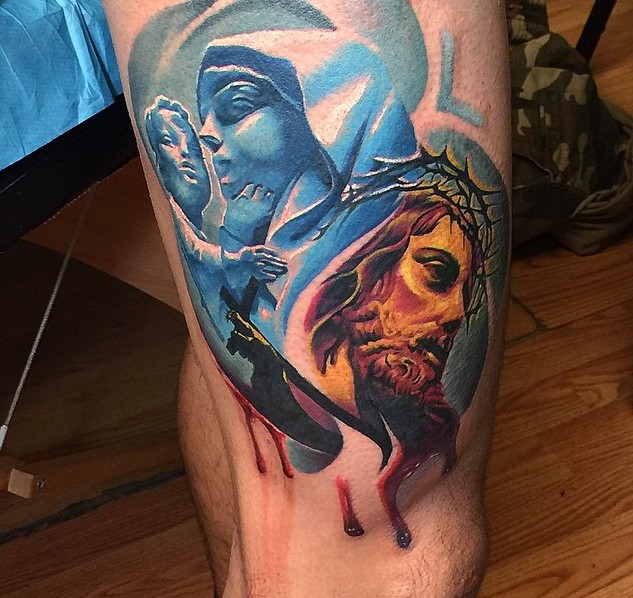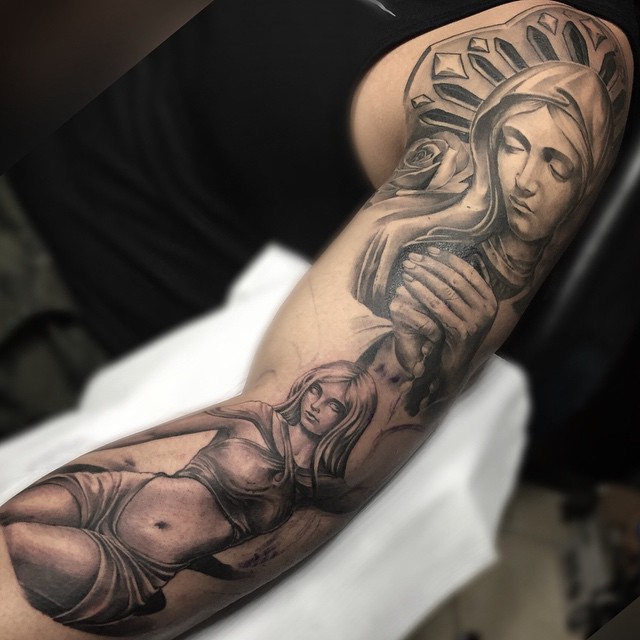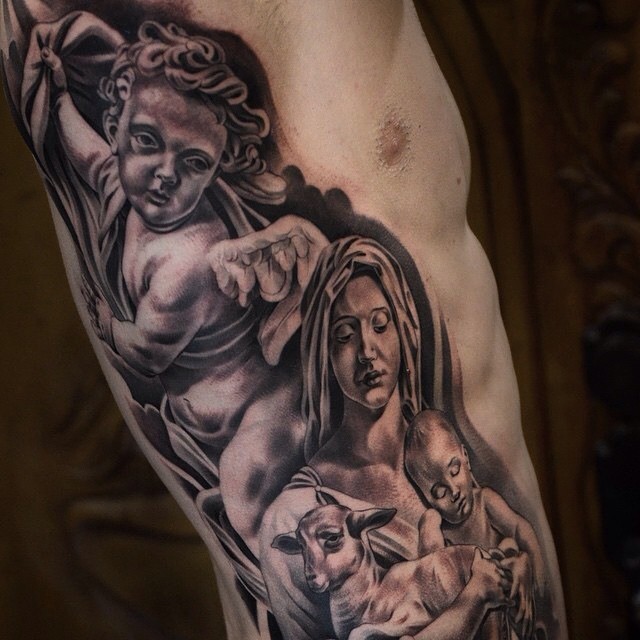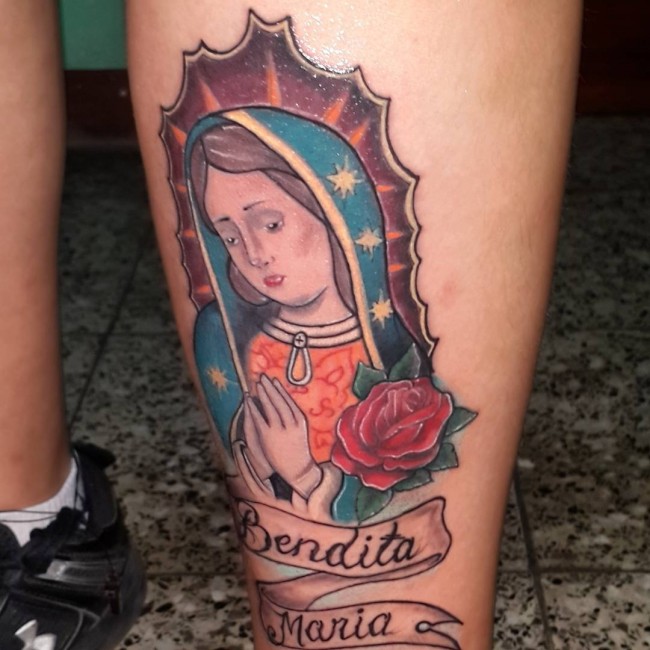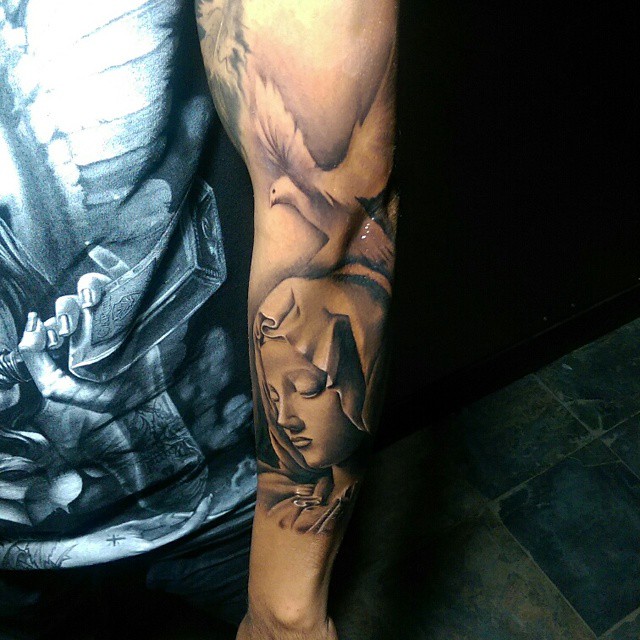 One of the attribute that Christians advocate for is love. Some use the Virgin Mary tattoo to symbolize love. Mary was the mother to Jesus who advocated for love.
They relate this tattoo to love because Mary raised a son who came to redeem the world from their sins which it is a sign of great love to the people.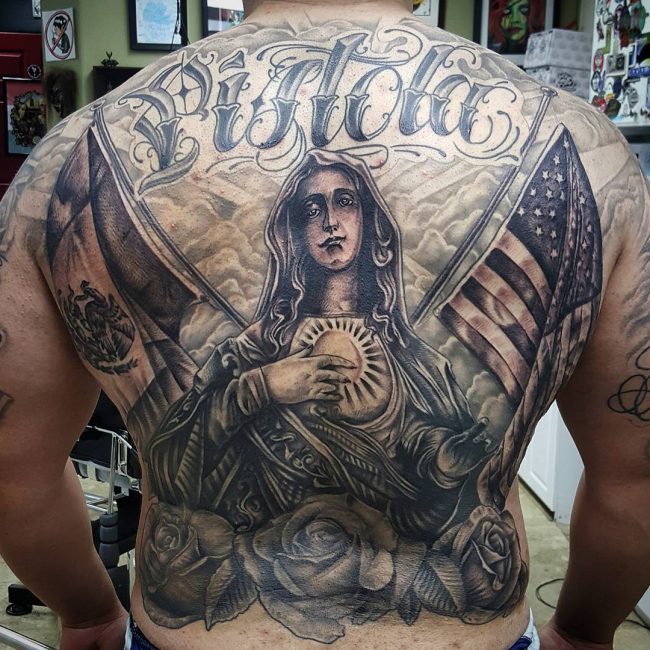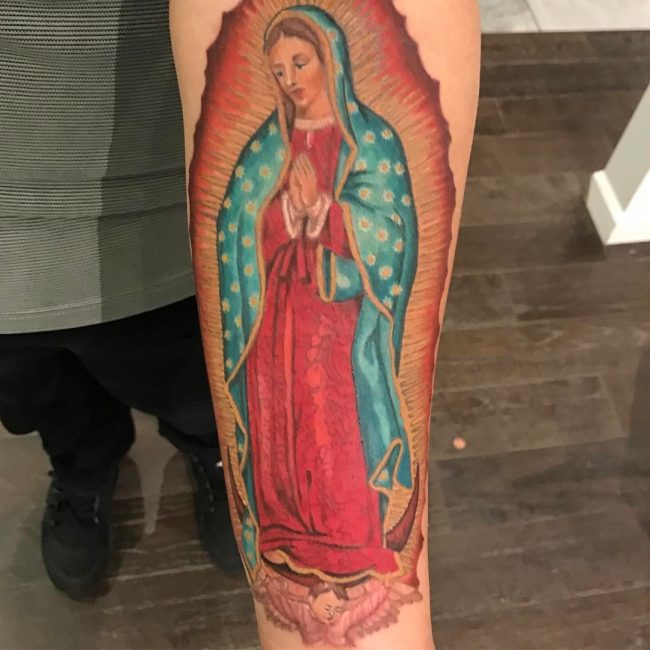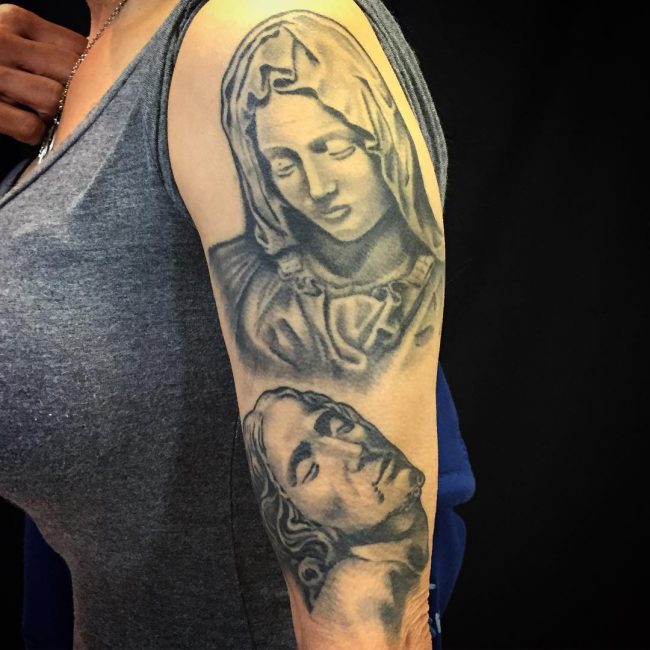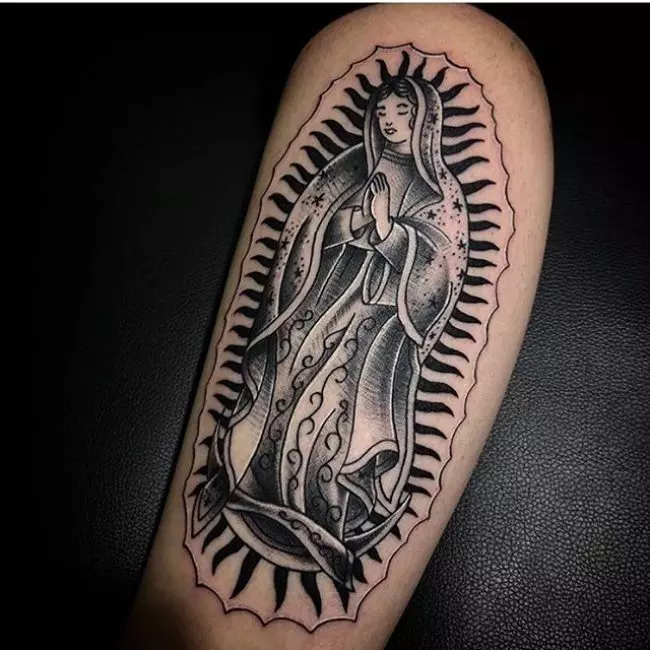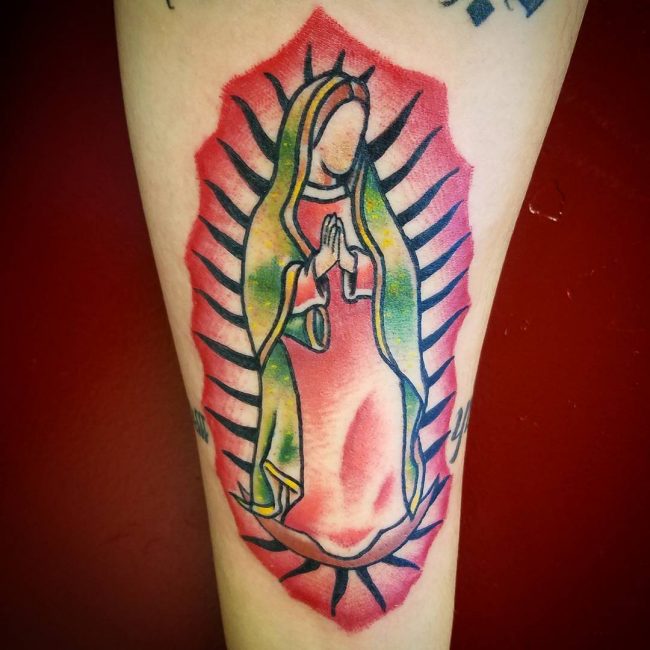 Many Christians especially the Roman Catholic turn to the symbol of a Virgin Mary when they are in trouble or they are hopeless. This is because they take Mary as their Mother who will be saddened by their problems and in return offer some help.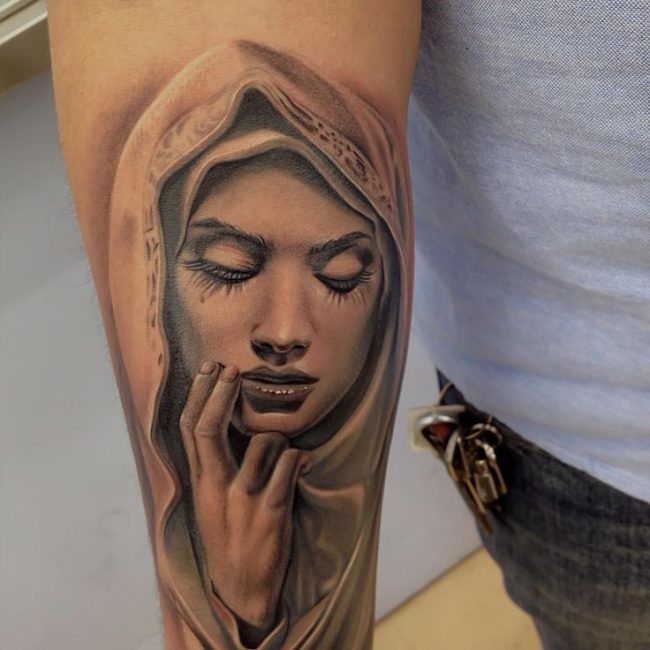 They therefore use the Virgin Mary Tattoos to act as their source of hope and comfort in times of distress, need and when they feel hopeless. This tattoo inspires those people who wear it.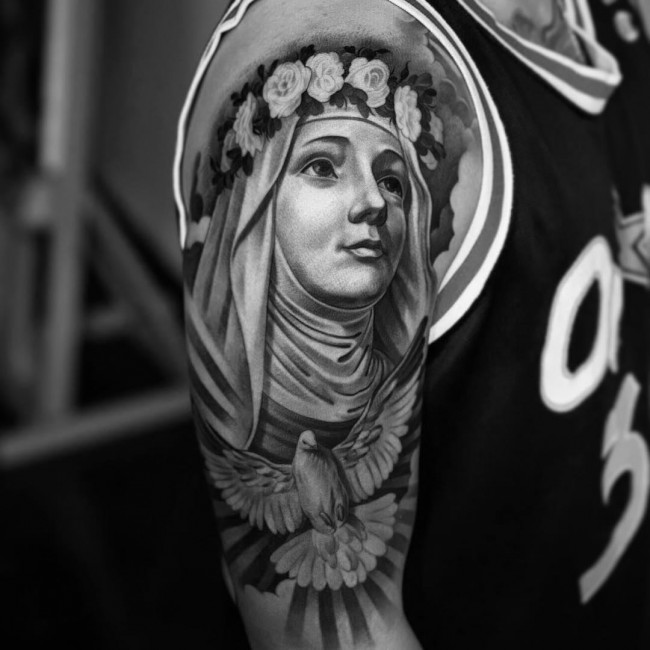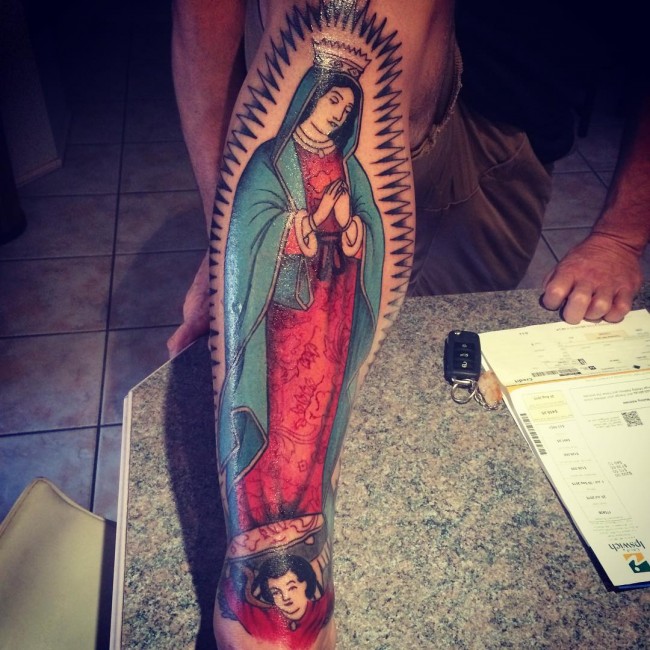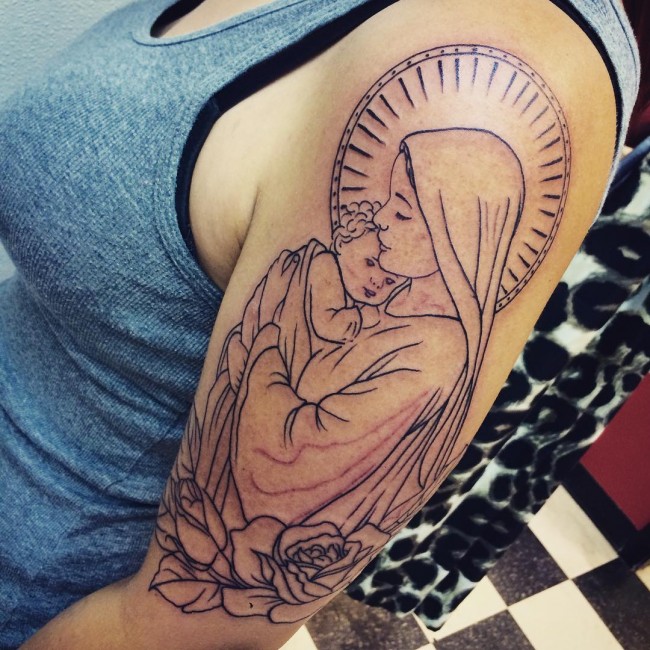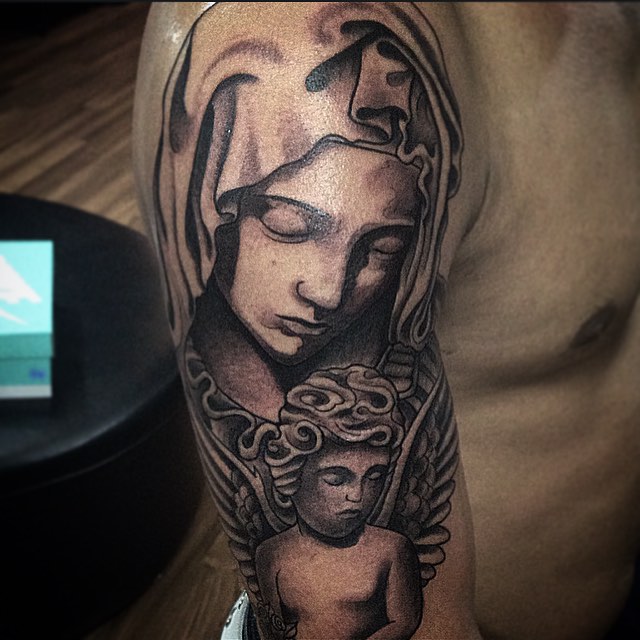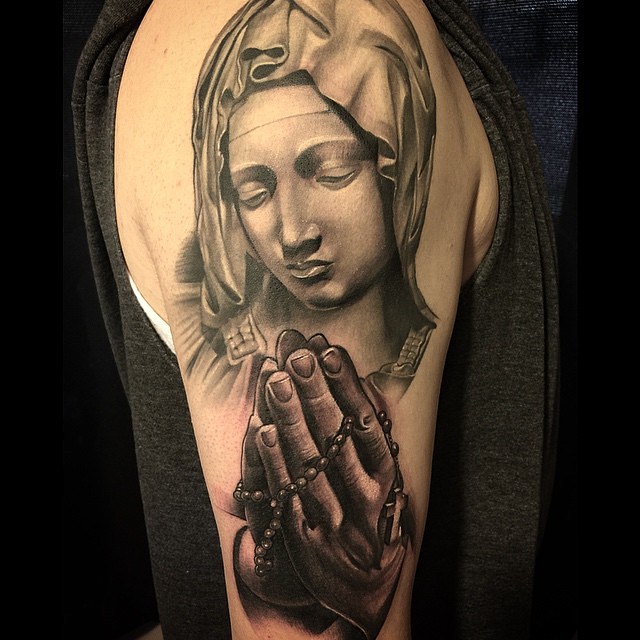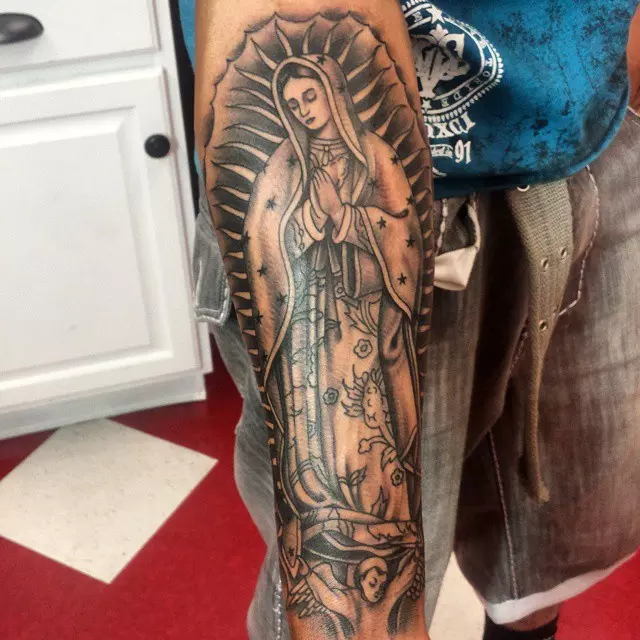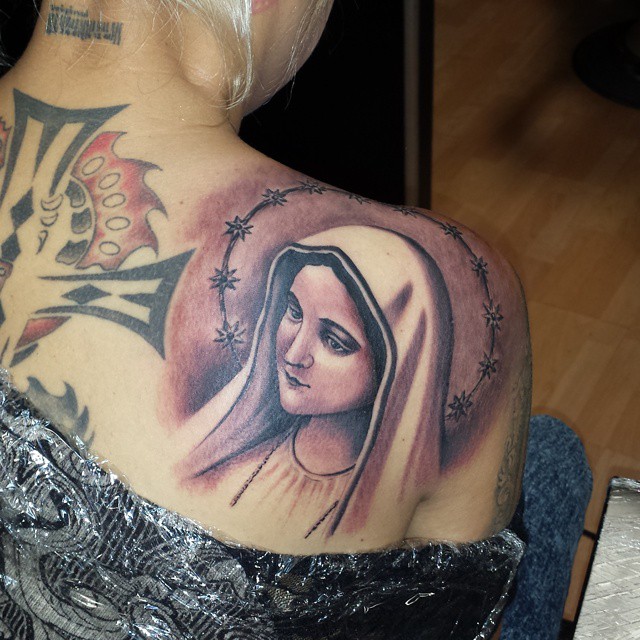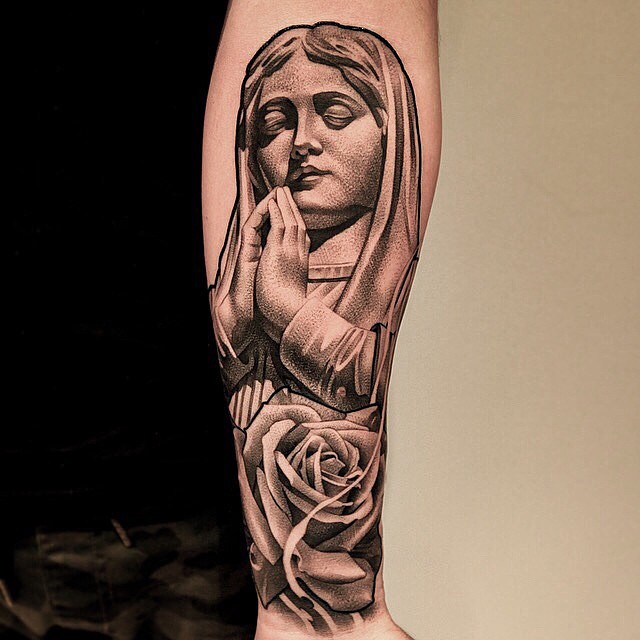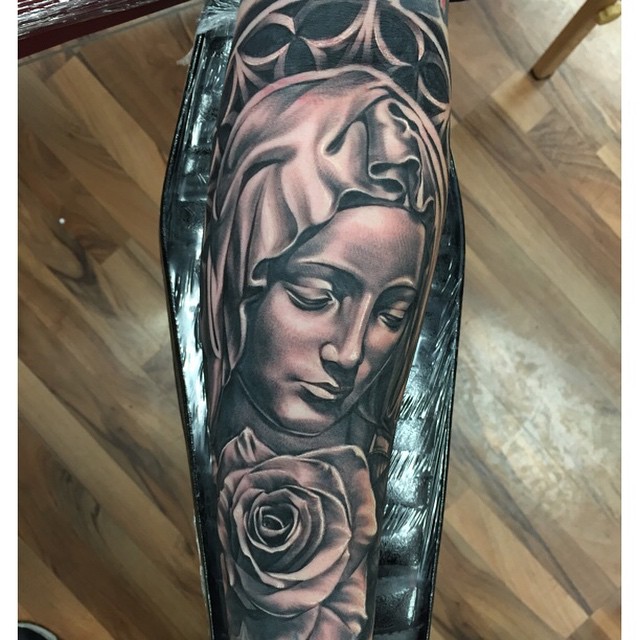 Virgin Mary is also believed to have been pure and that was the reason that she was chosen by God to be the lady to conceive the Son of God. This attribute has been used as one of the meaning of the Virgin Tattoos especially among the Christians.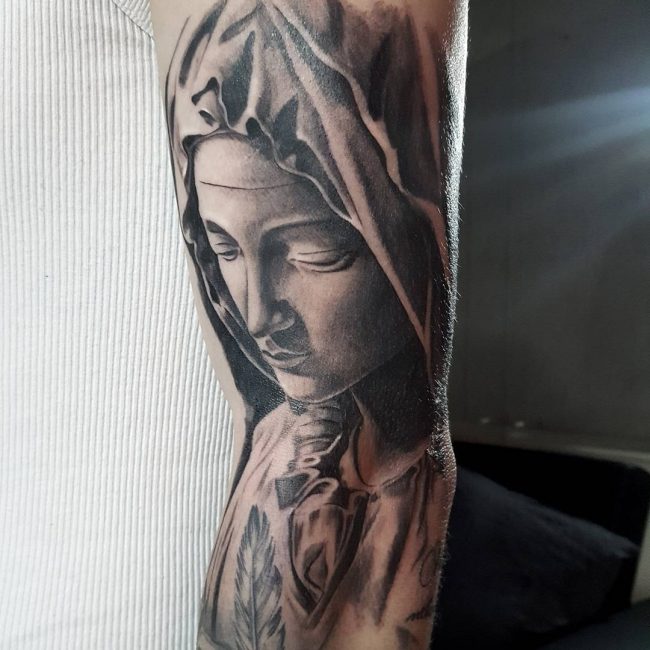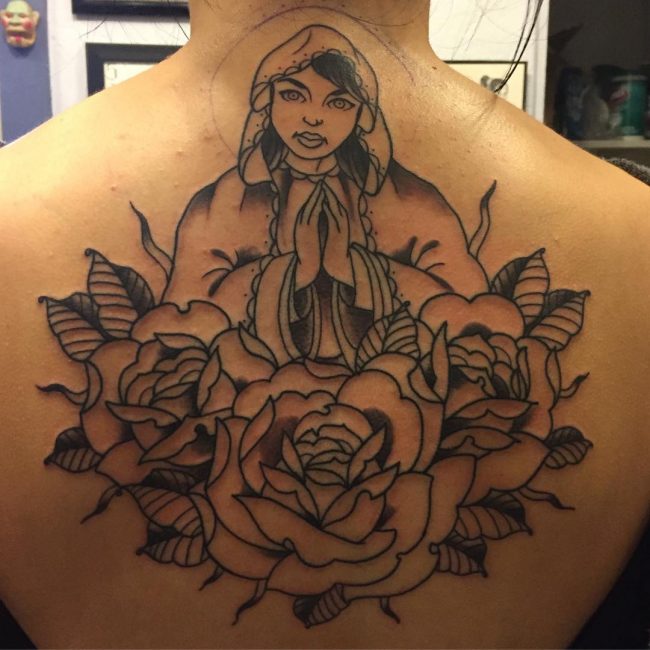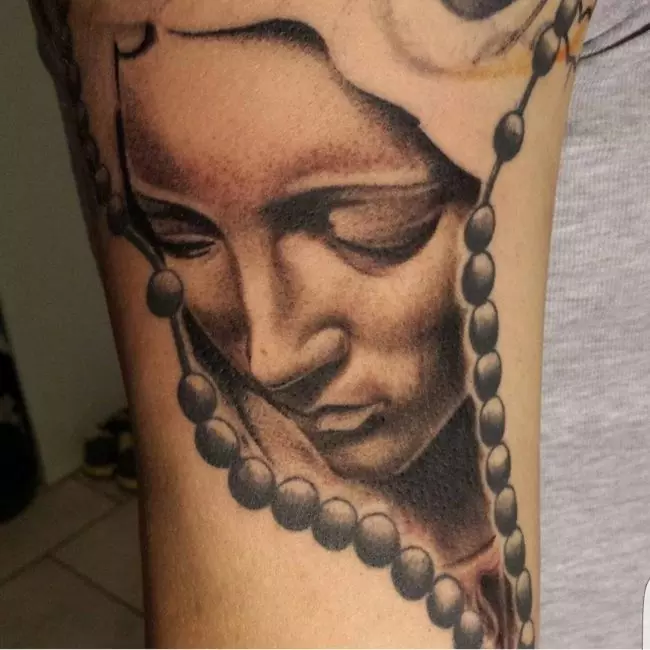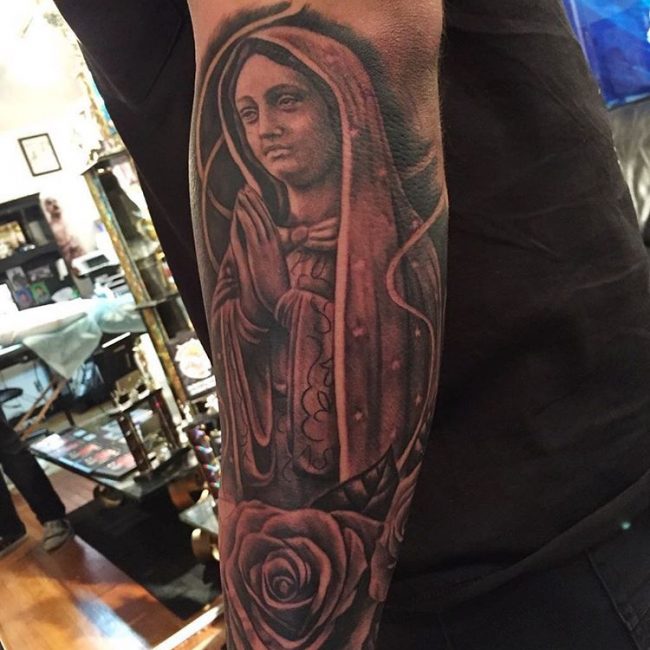 They believe purity is one of the attribute that a Christian should embrace so that he or she can go to heaven.
---
back to menu ↑
Types of these tattoos
This tattoo comprises of the image of Virgin Mary with her hands folded to show that she is praying. It is believed that her works it's to pray for those people who are followers Jesus Christ. It mainly placed on the sleeve and appears cool especially when decorated with two colors.
Beneath the Mary, there are also two praying hands added two show that a person is praying though the Virgin Mary to God.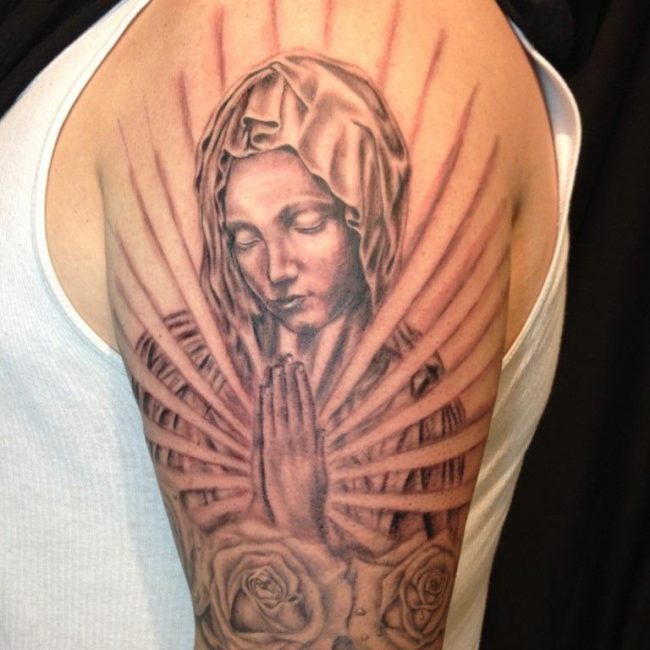 Virgin Mary with Pink Dress Tattoo
This is one of the beautiful tattoos among the Virgin Mary Tattoos. It comprises of the image of the Virgin Mary wearing a pink dress and a veil that covers both her head and hands. The essence of decorating her in this manner is to make her look like a queen.
Virgin Mary is taken as powerful and influential lady just like the queen by many and thus the meaning of this tattoo.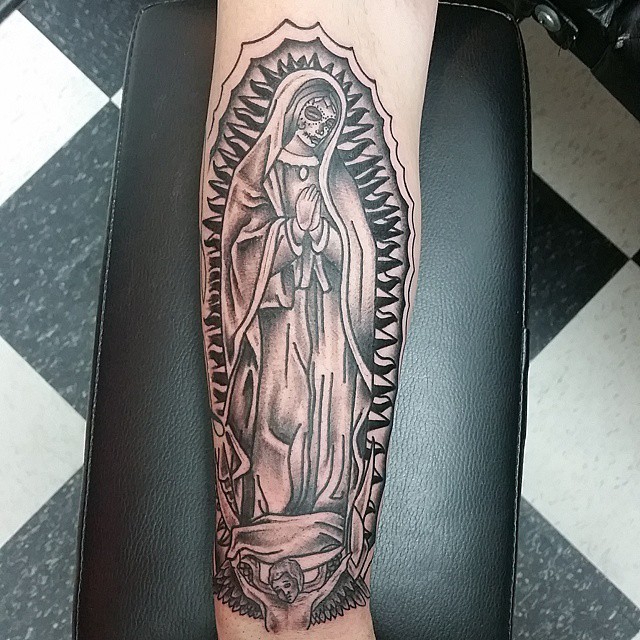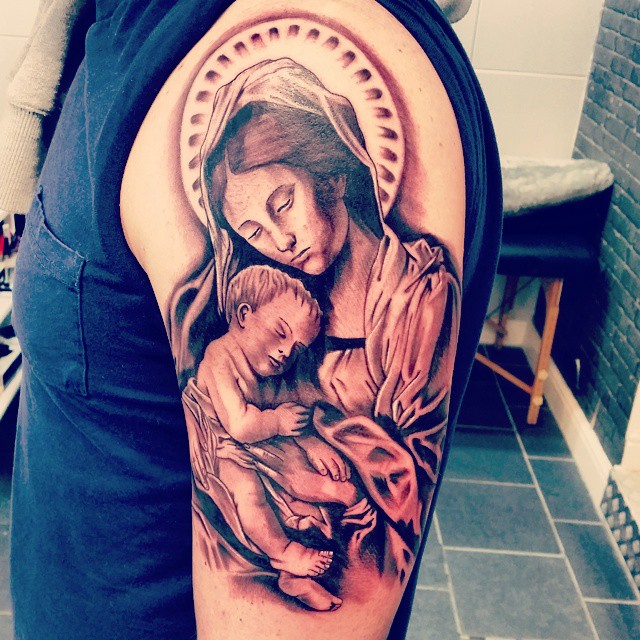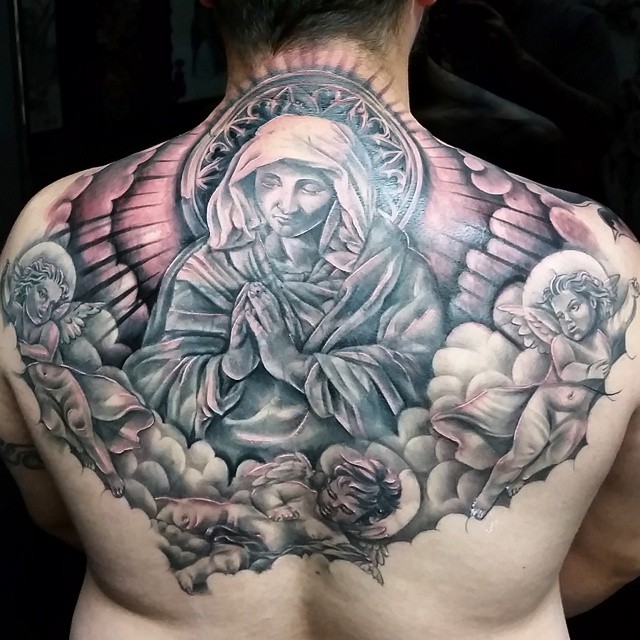 This tattoo is used to show the connection between Jesus and Virgin Mary. It consists of a portrait of Virgin Mary and a Portrait of Jesus. The portrait of Jesus is painted beneath that of Mary to show that he was indeed her son.
It also shows that Mary can be able to access Jesus in much easier way because she was her mother. This is much applicable to the Roman Catholic but the tattoo is nice and inspiring.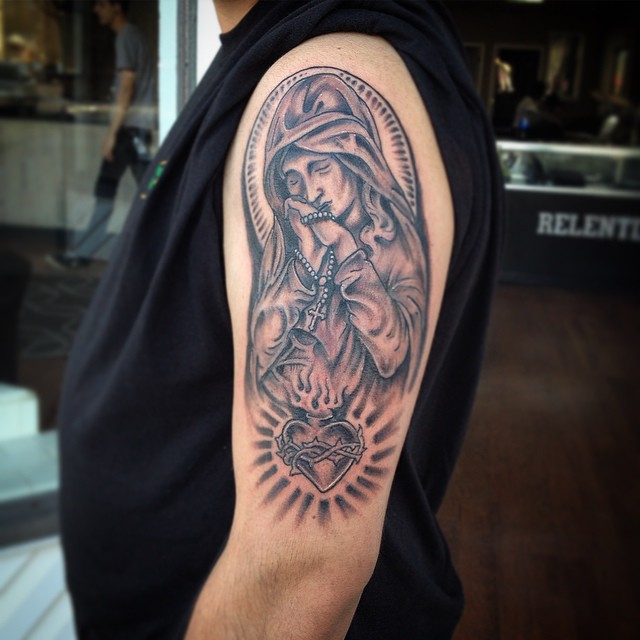 Crying Virgin Mary Tattoo
This tattoo is shows that Virgin Mary is always busy praying for people who seeks her help. Virgin Mary is painted bowing down with tears rolling down her cheeks. Around the portrait, decorations are done to bring out the effect of sorrow. This is to show how Mary becomes sorrowful of people's distresses.
It is also one of the cool Virgin Mary Tattoos.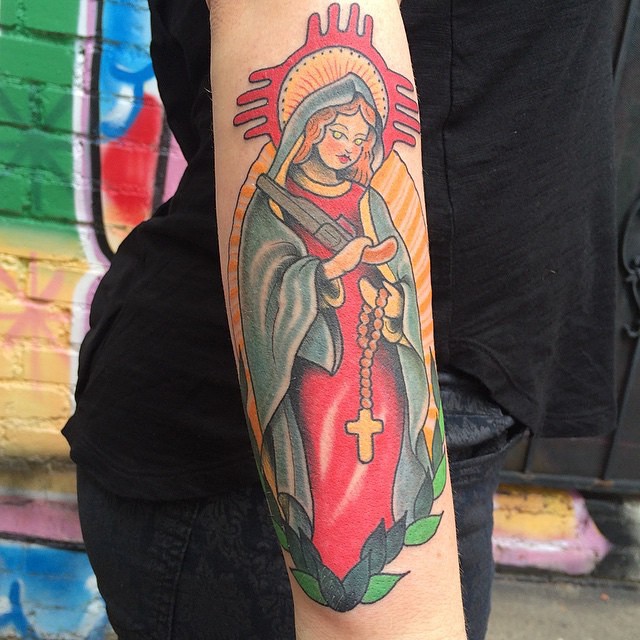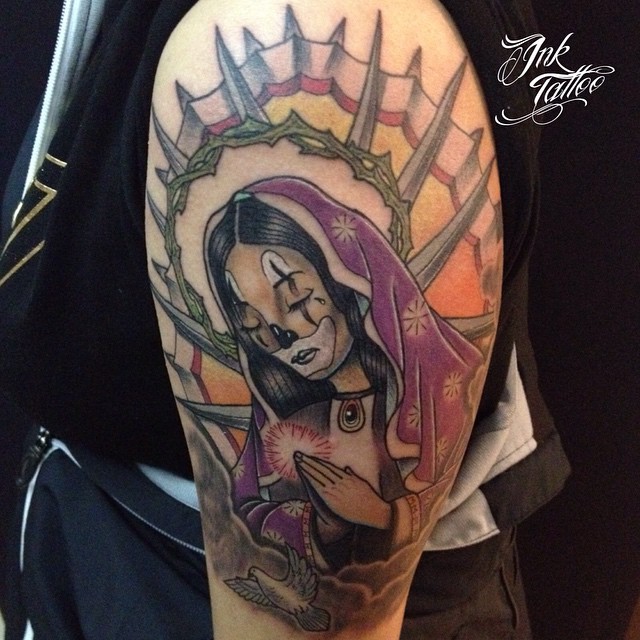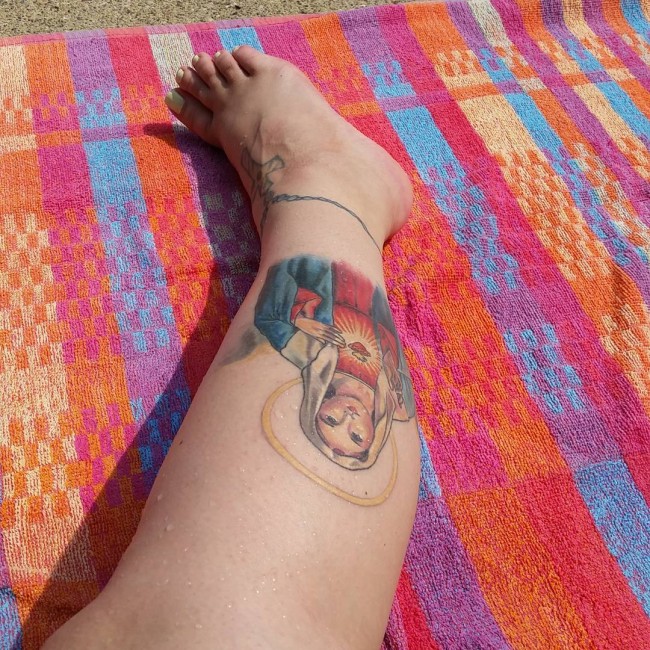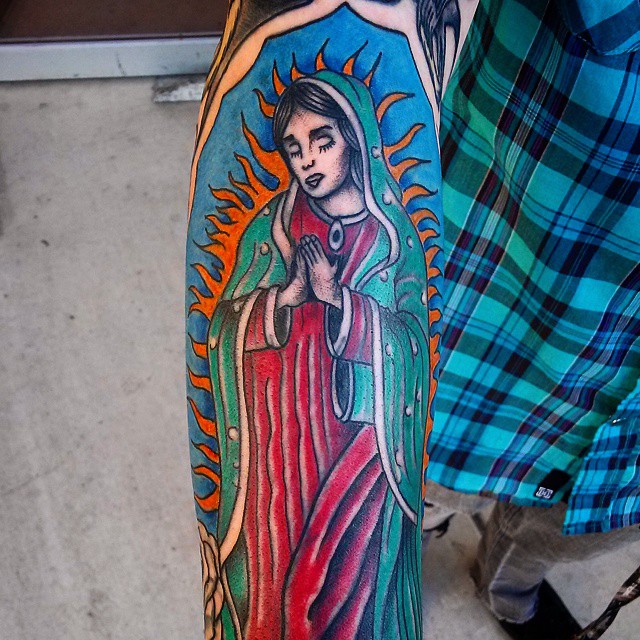 In this tattoo, Mary is drawn with wings like those of an angel and the shape is also similar to that of an angel.
People wear this type of tattoo to show that just as they belief that angels are there to watch over them and prevent them from trouble, Virgin Mary does the same work and will always protect them from any risk.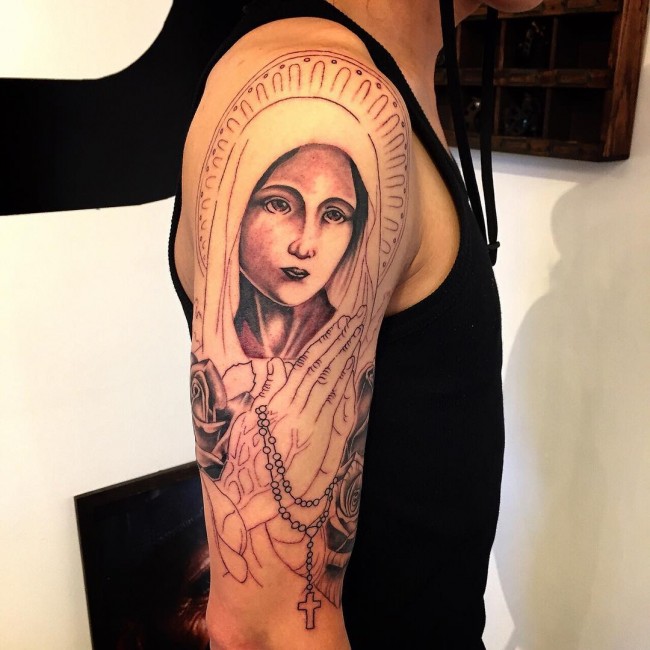 This consists of Mary's Portrait together with her head facing down and beneath it, a rose flower is added. It reflects Mary in deep thoughts to show that he cares for the mankind on earth and she is thinking on how to help them.
This tattoo comprises of Virgin Mary holding a Mary which people take it as Jesus. This tattoo may show Mary sitting in different angles and on different things.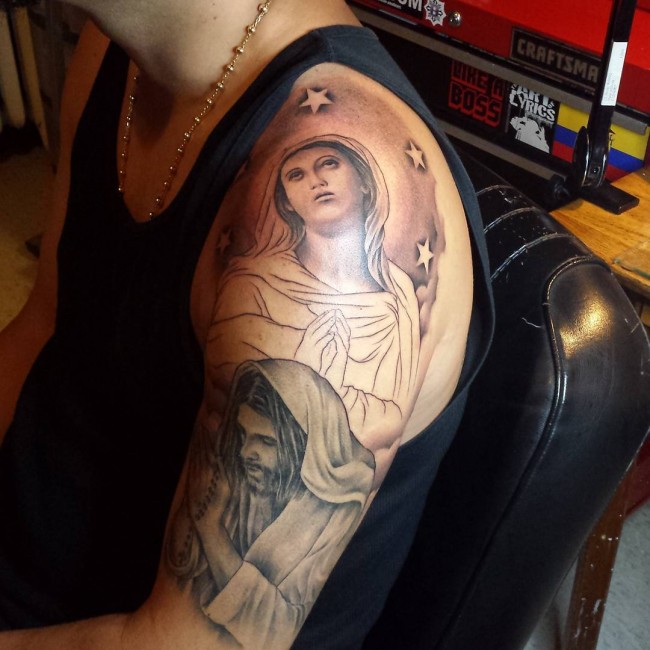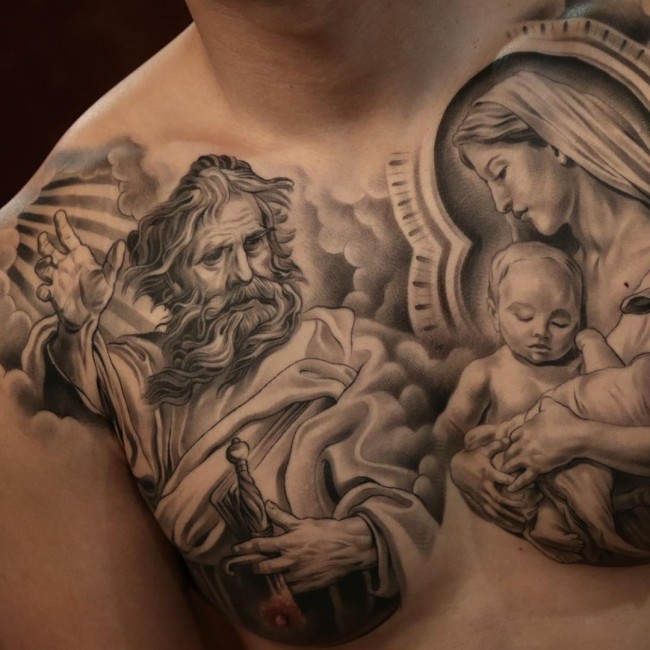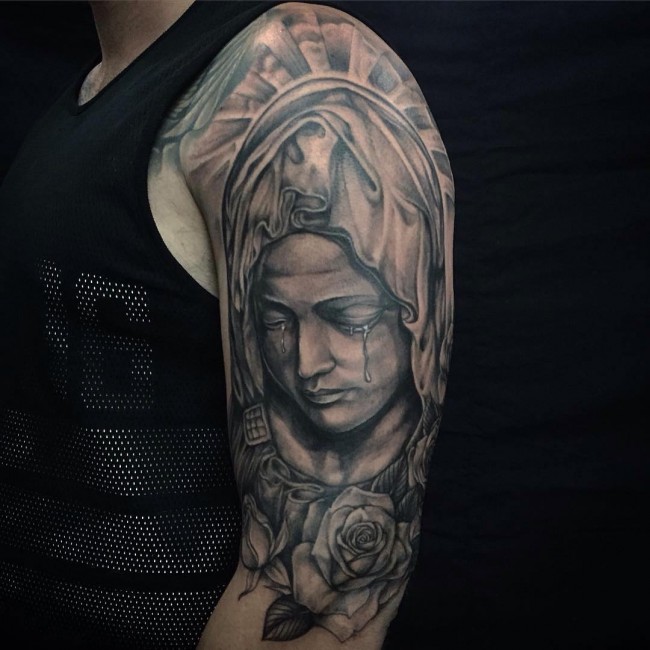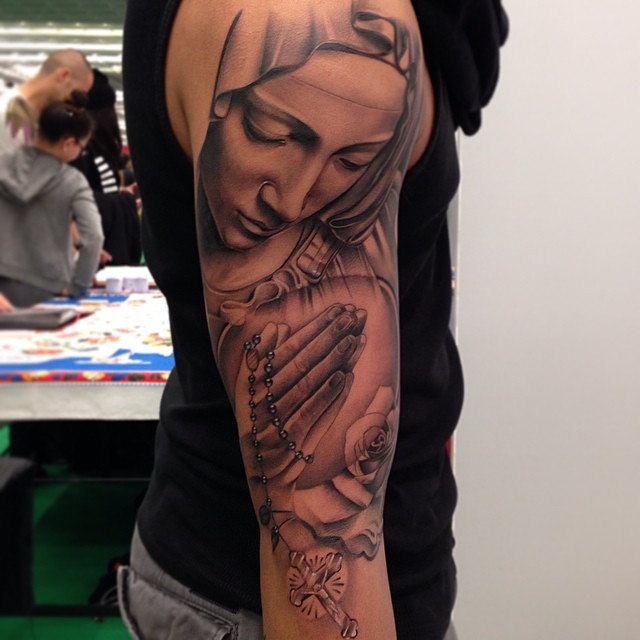 Tradition Virgin Mary Tattoo
This tattoo comprise of the painting of Virgin Mary place in the church in the early days. It is drawn exactly the same mainly on the person's hand.
All the Virgin Mary tattoos are inspiring and are very common among men and women. Most people prefer having these tattoos on the sleeve of the hand. However, you may choose to wear it anywhere as long as it looks good and bring out the intended meaning.
In general, they are nice tattoos which one can consider to wear.