90+ Eye-Catching Day of the Dead Tattoos -Designs & Meanings (2019)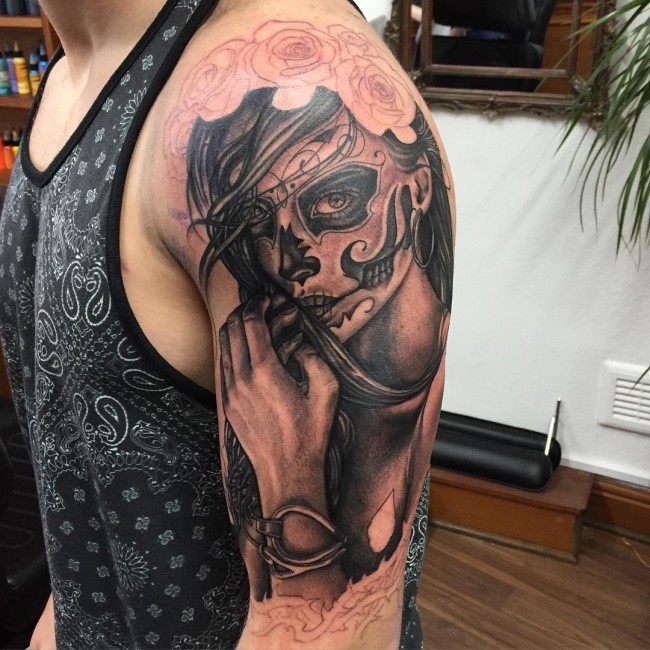 The day of the dead is a celebration in honour of loved ones who have passed on. We use the word celebration because it is just so, forget the pain of mourning, this event is happy and joyful.
In fact, during the celebration, people sing and dance to honour loved ones, weird we know, but few tears are shed on the day. To serve as a reminder of the dead, people get tattoos in the form of a skull to remember someone, hence they became known as day of the dead tattoos.
Contents: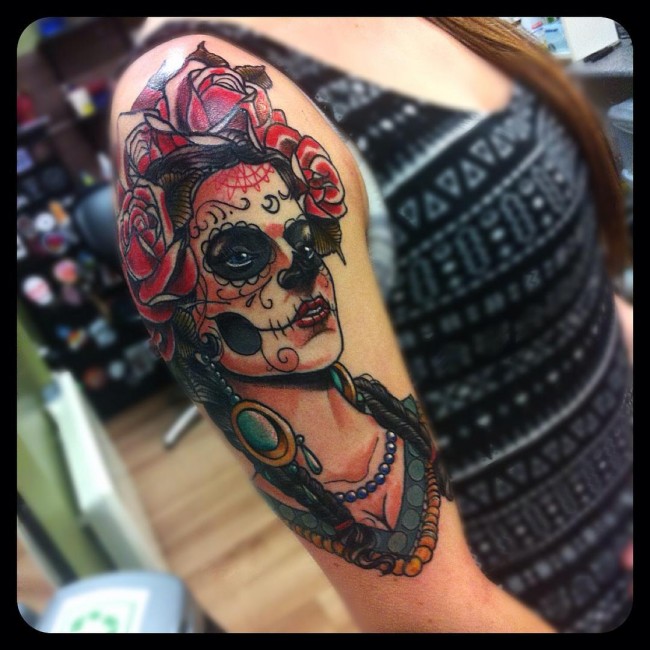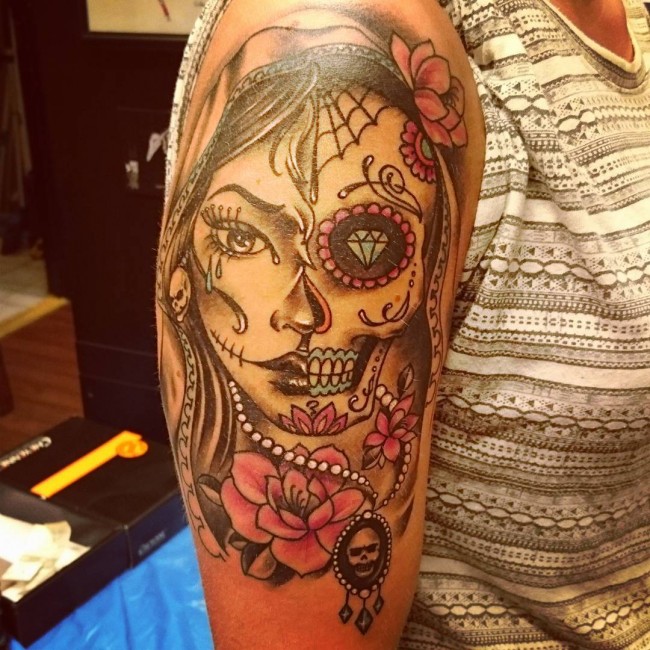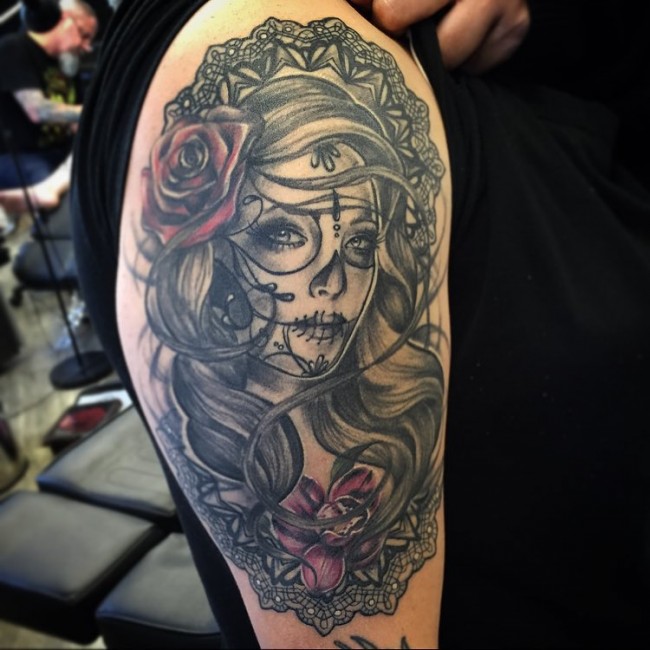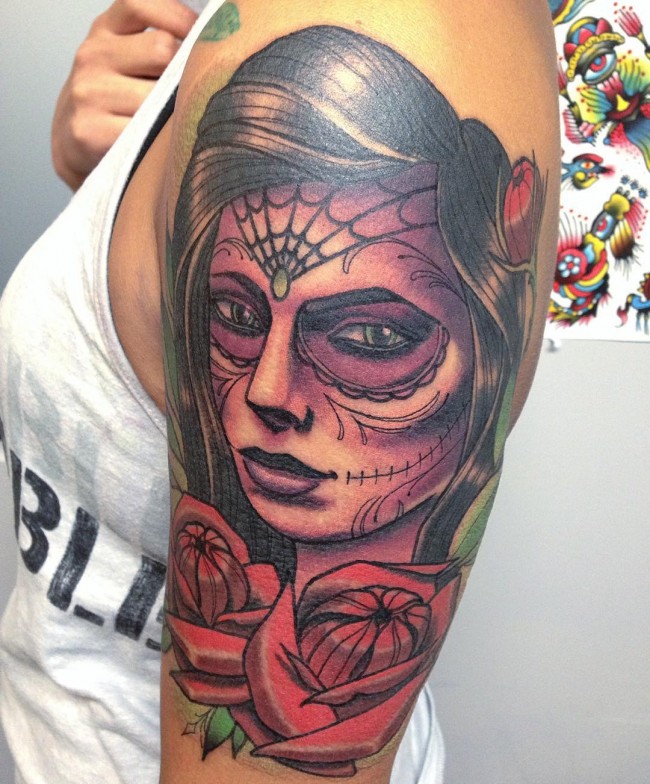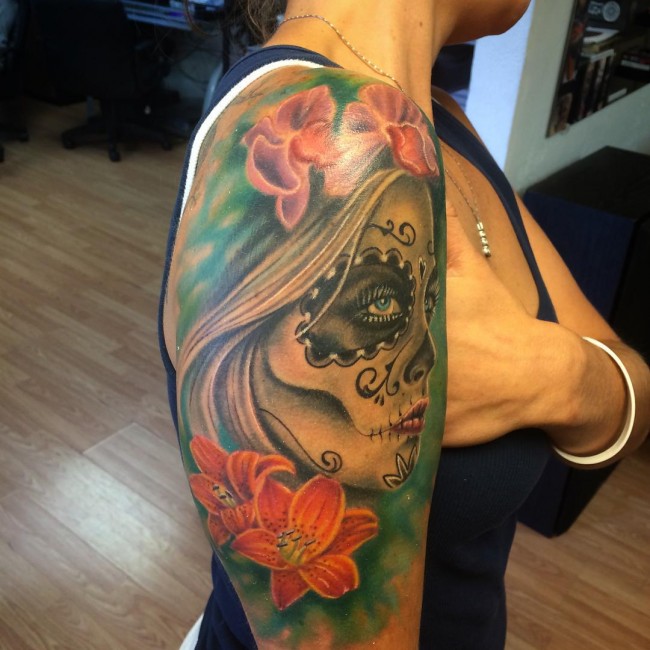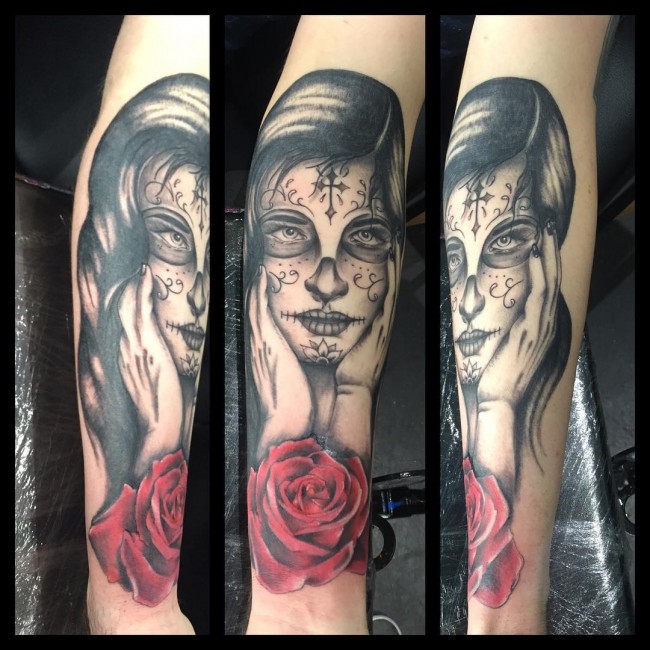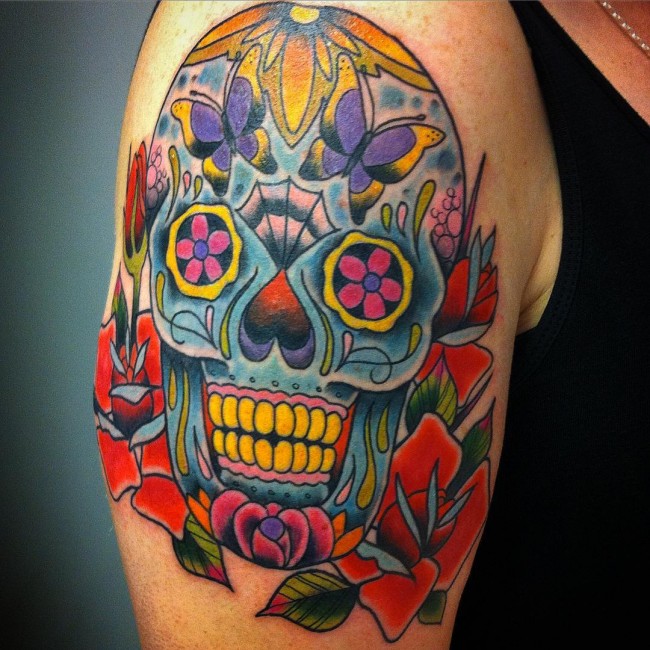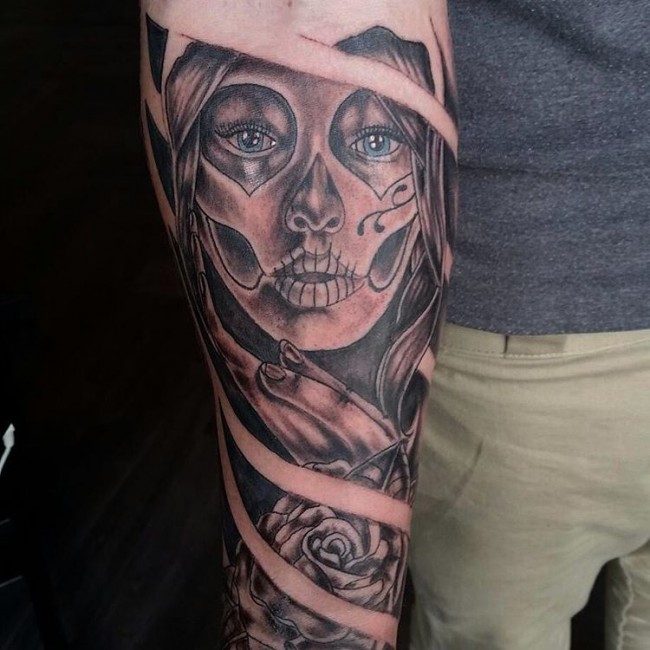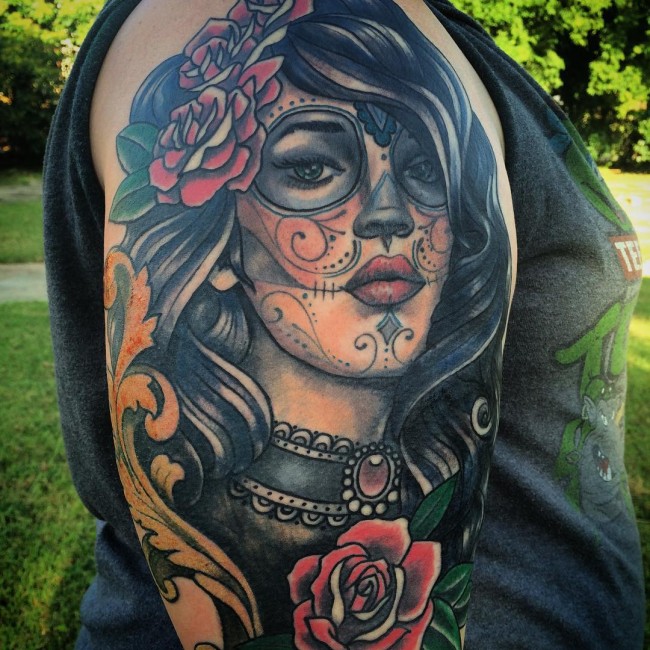 History
South American cultures have always kept skulls of their dead, even in their homes. They simply represent their dead, and serve as a reminder to those who have passed away. Because of this reverence to the dead, they usually host a celebration, Dia de los Muertos, annually to remember the deceased.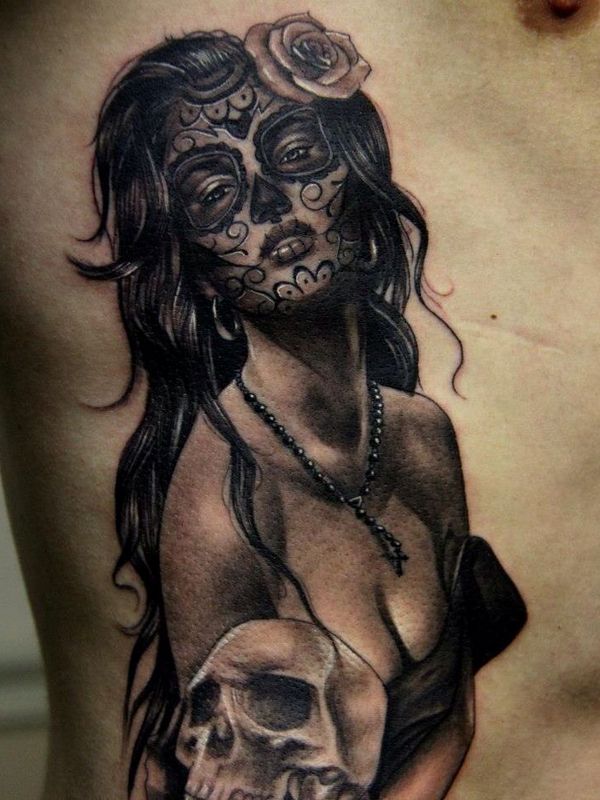 Although skulls in most parts of the world represent danger, the South and Central American communities see it as a sign of a rebirth after death, but also to remind us that death is inevitable.
The most significant country when it comes to these tattoos is Mexico, being at the heart of South and Central America and a cultural hub.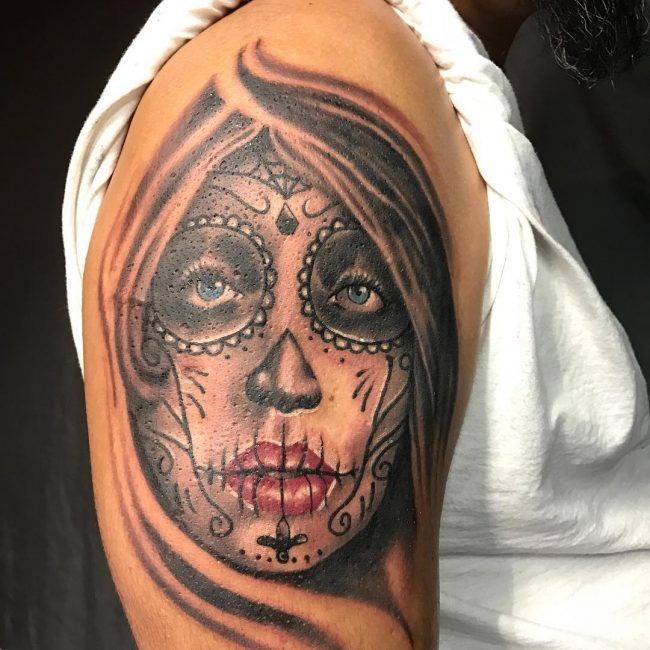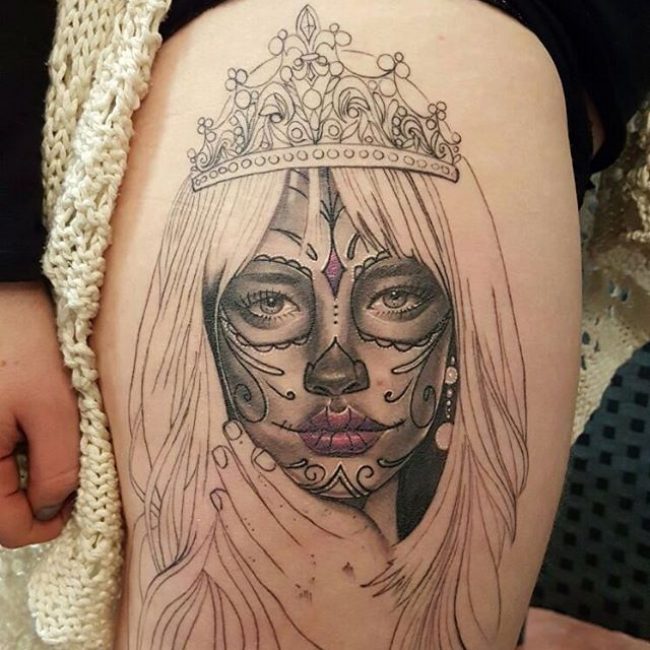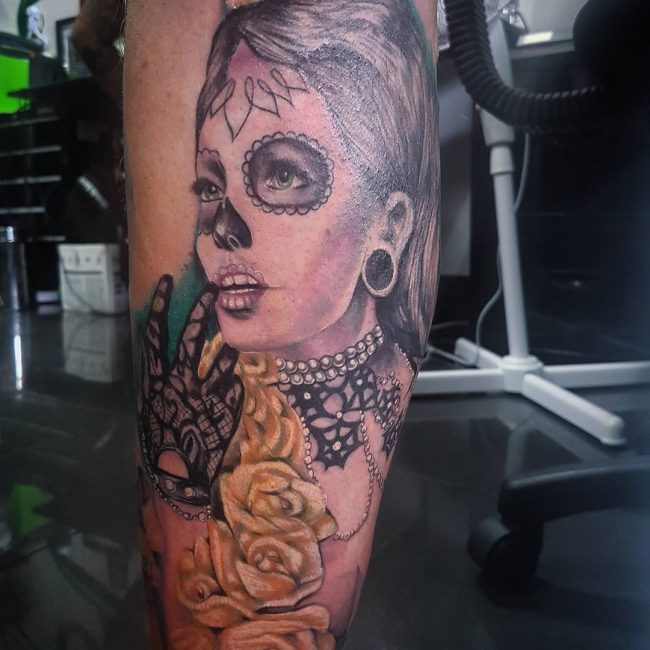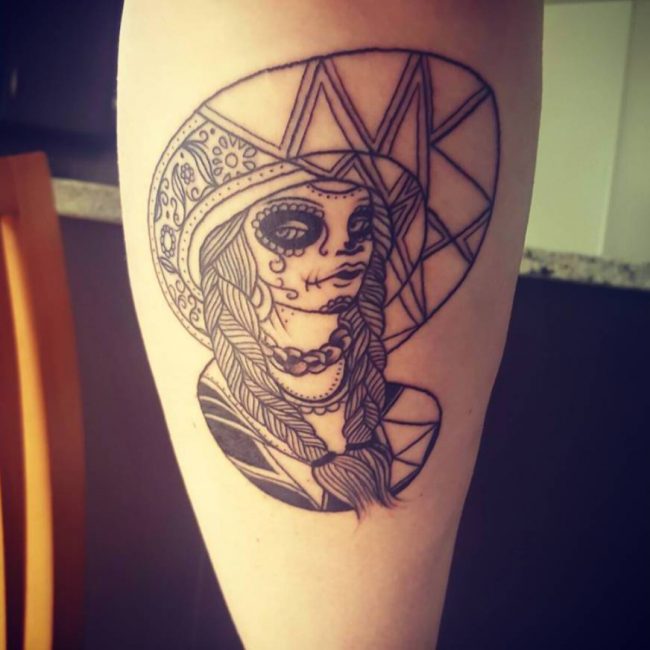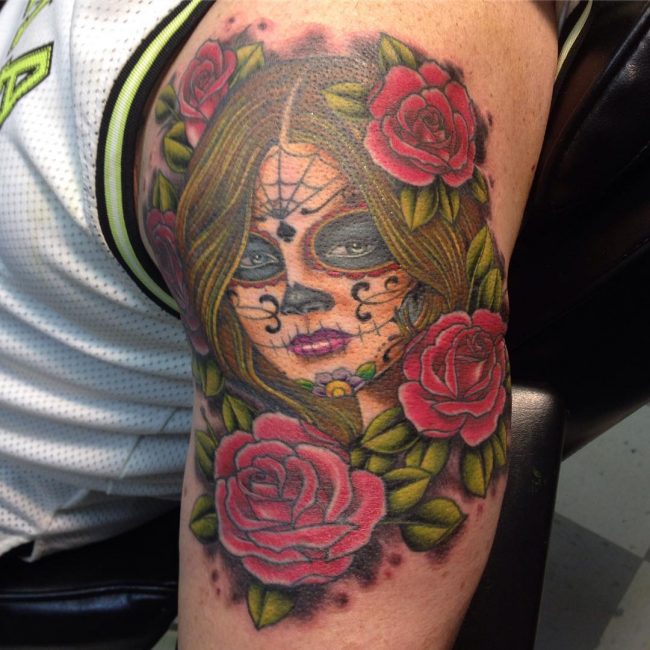 Like with all things in the modern age, they spread from one corner of the world to every other part. And I can see why, day of the dead tattoos are usually large, difficult to hide, and have very intricate and detailed designs, very eye-catching.
In fact, the use of colour is heavy and each colour represents a meaning.
---
back to menu ↑
Meaning
The meaning of each tattoo varies with colour, which is why so much emphasis is placed on that.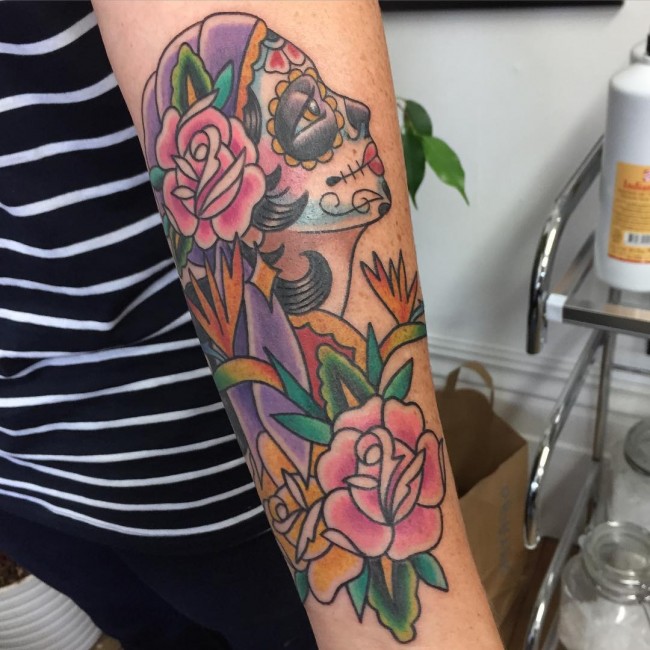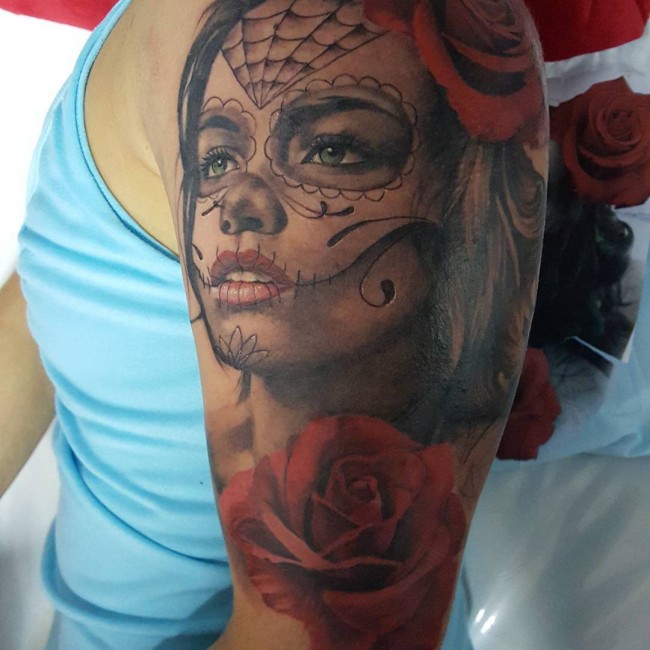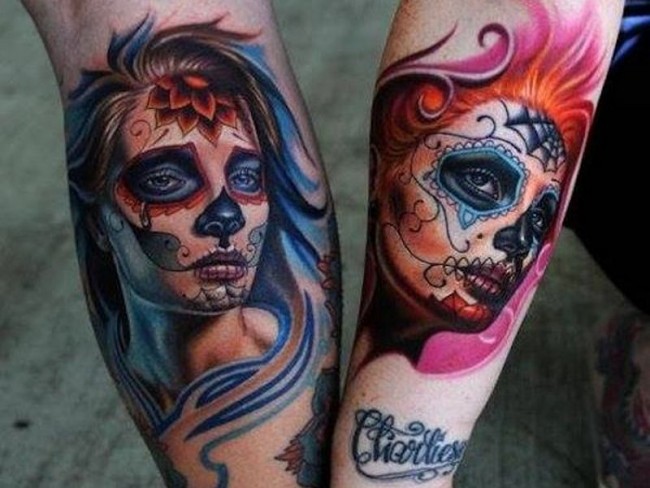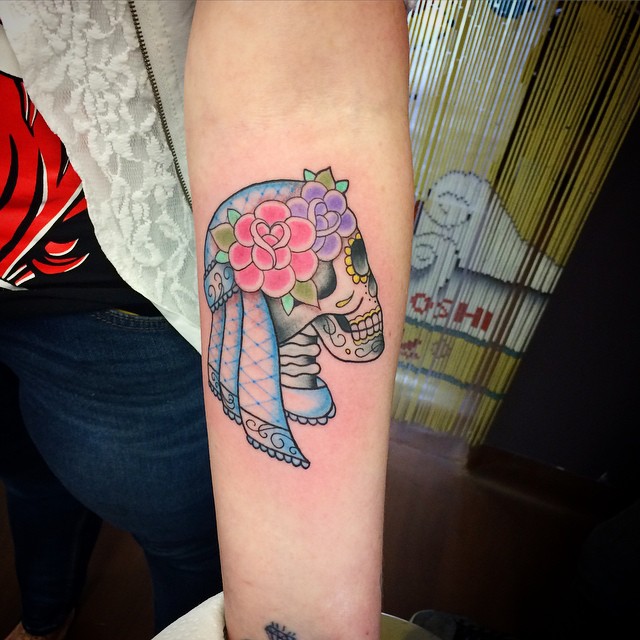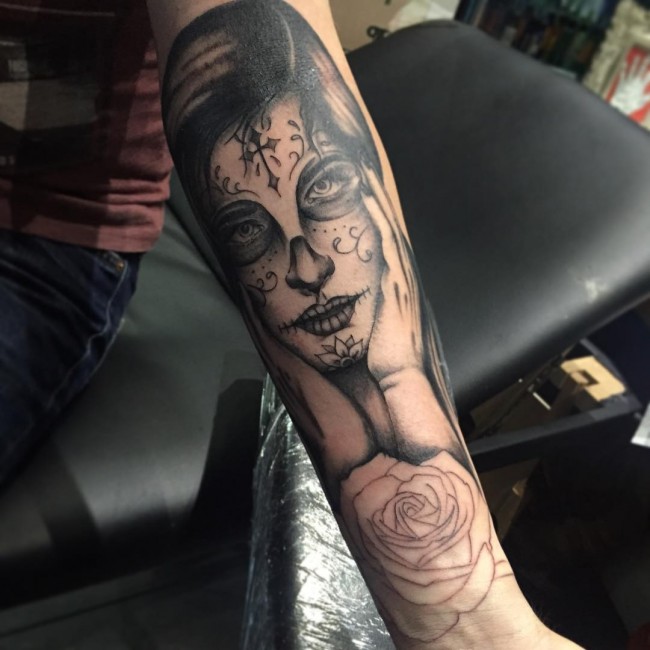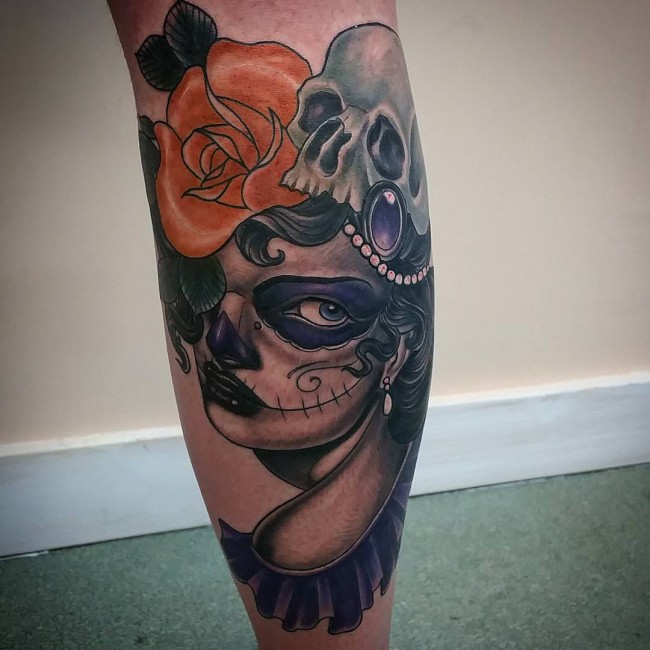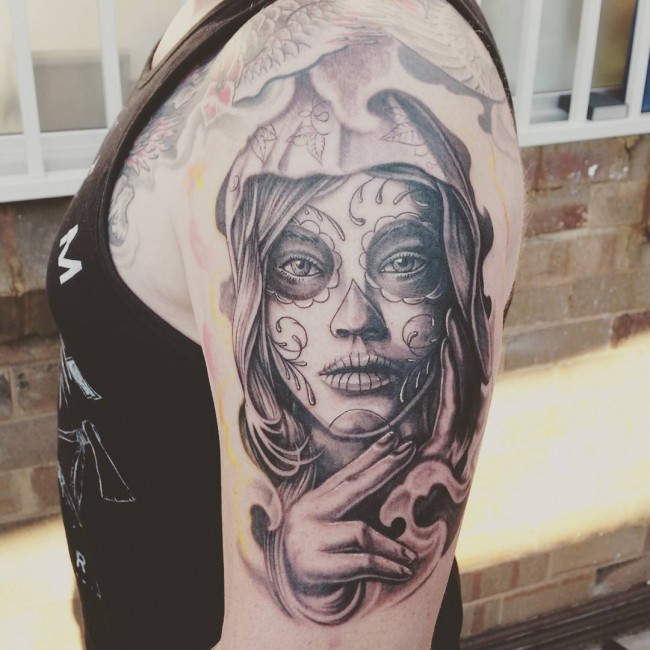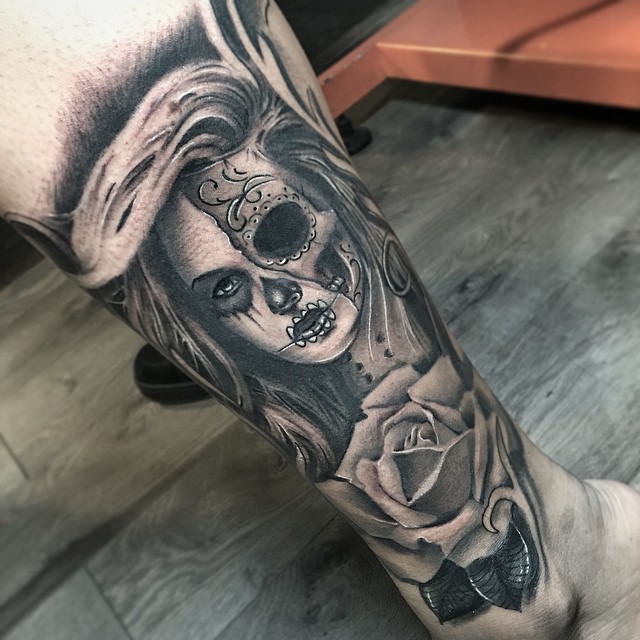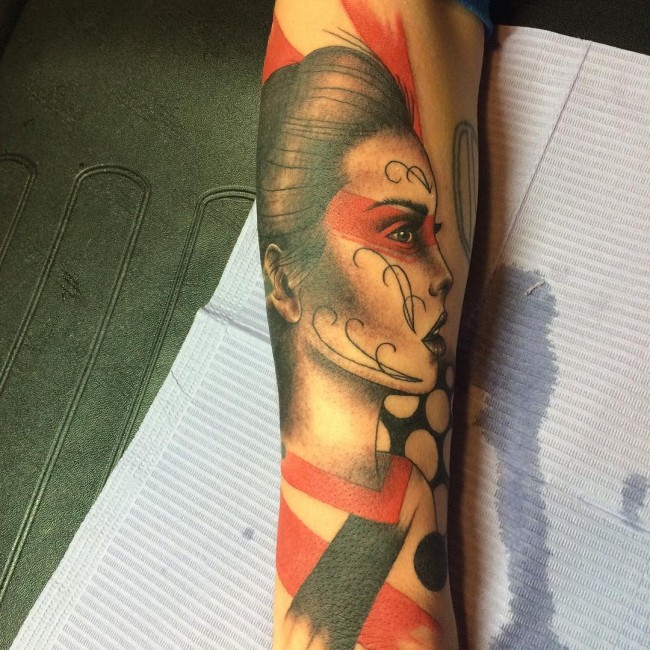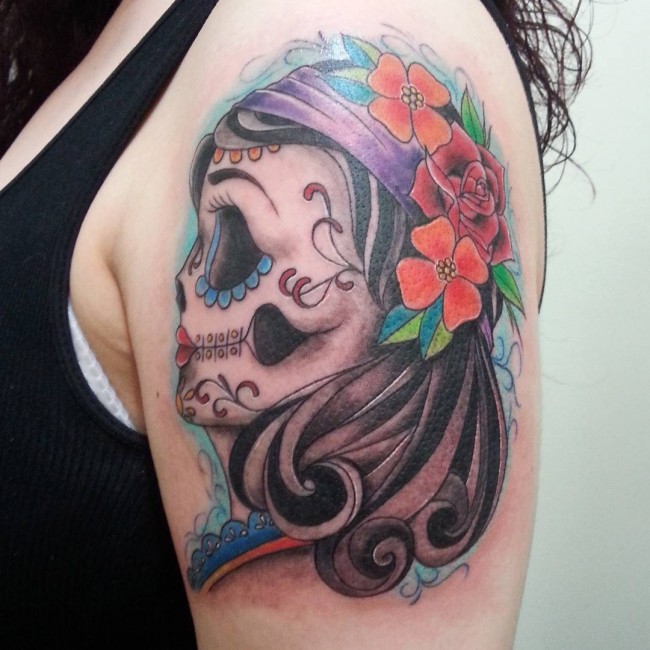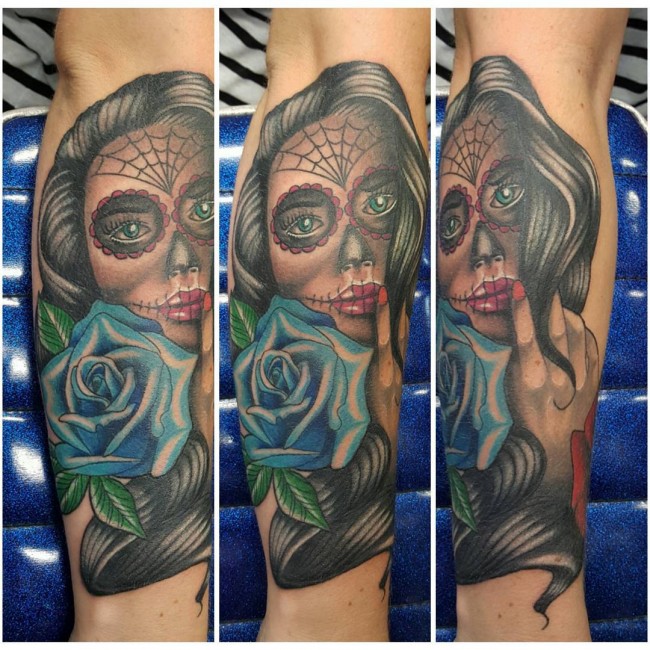 Pink: represents joy and celebration, maybe you're glad someone is gone like an abusive spouse or an enemy
Purple or indigo: shows grief, it reminds you of the pain of losing a loved one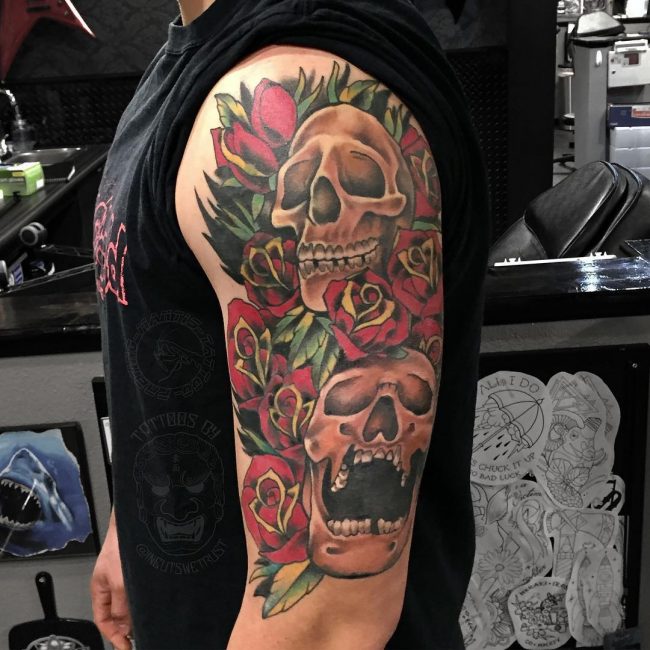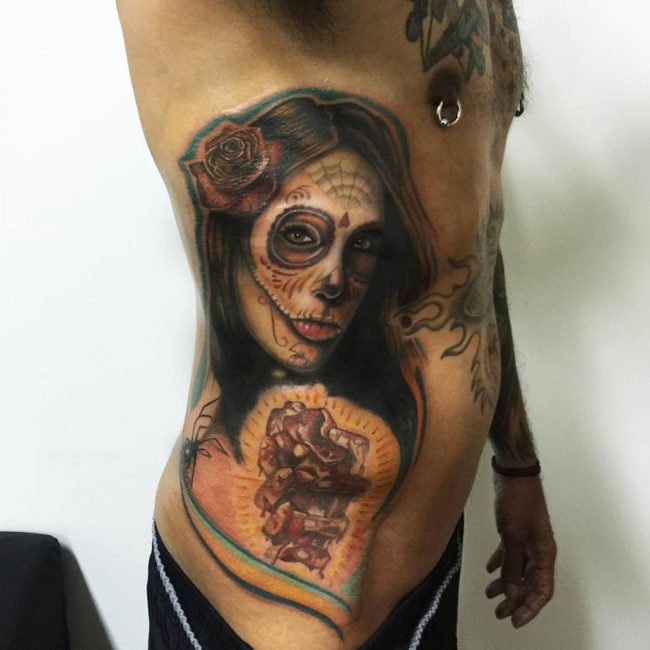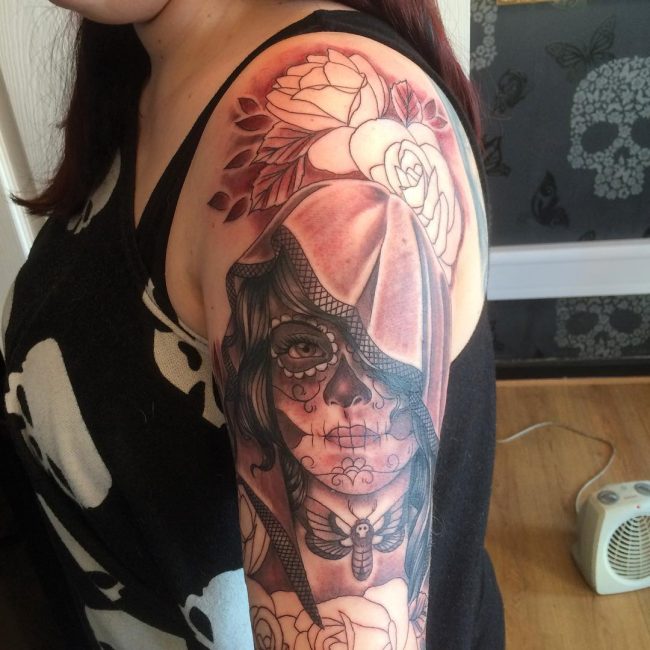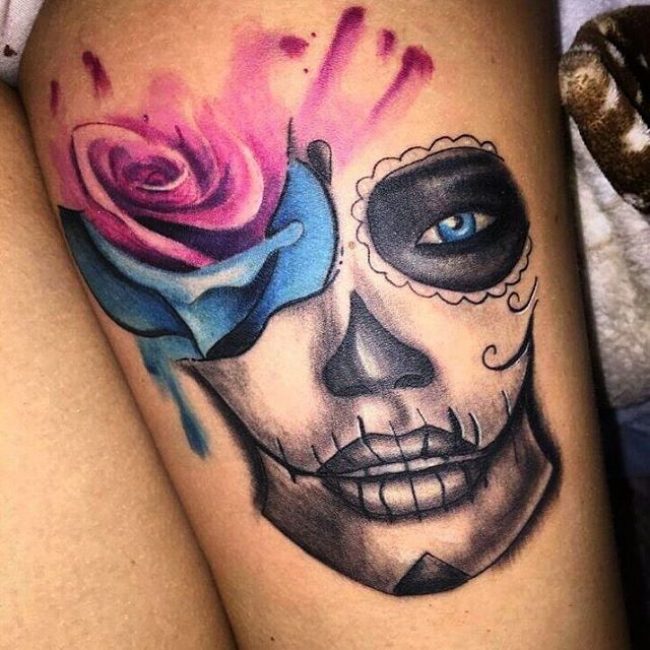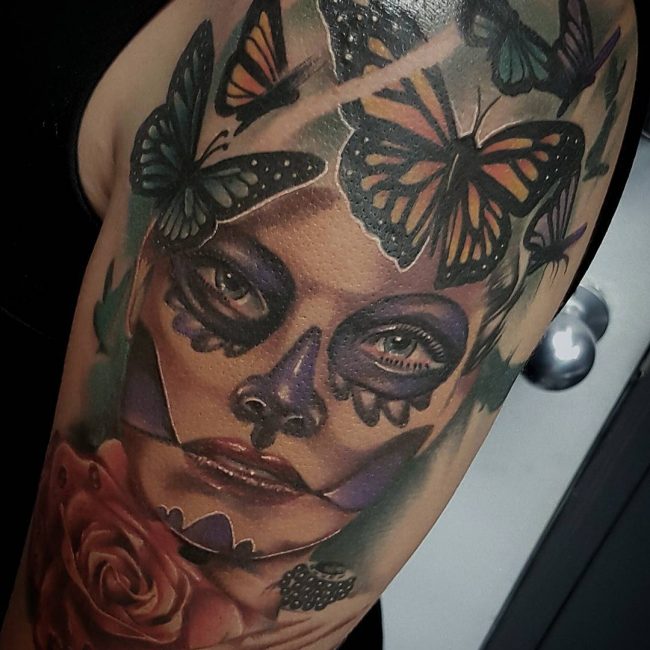 White: this colour is common among family members to show hope and purity of a spirit gone
Orange: this is the colour of the rising sun and indicates hope, that you will make it through despite the pain of loss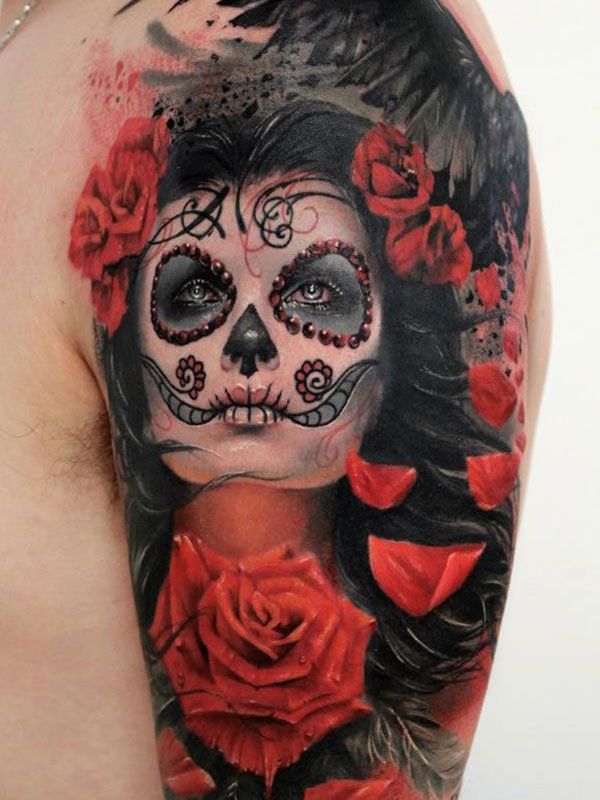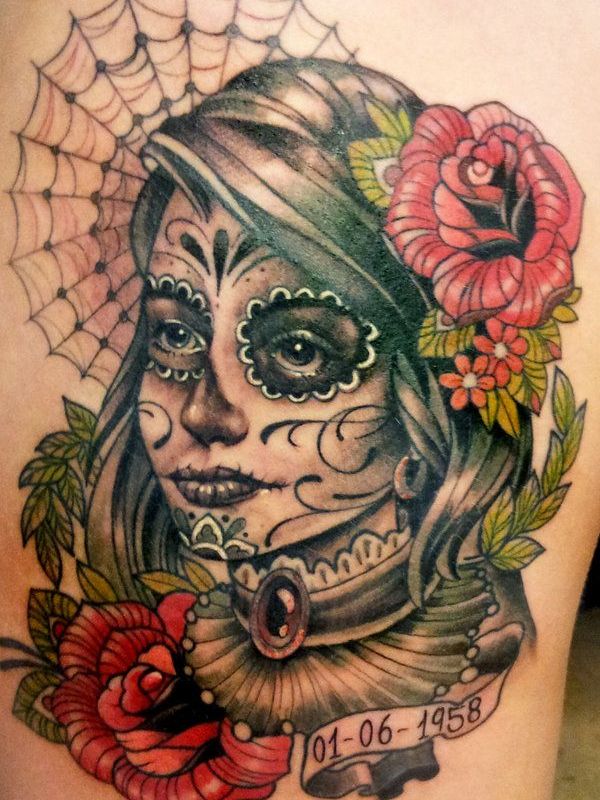 It is also possible to use multiple colours in your tattoo, provided they represent how you feel. Although most of the time these tattoos are mainly one colour or the other.
---
back to menu ↑
Types
When something is localized and prevalent in only one region, it tends to be the same all around, like locally brewed beer. But take that same thing all over the world and you start to notice a few variations.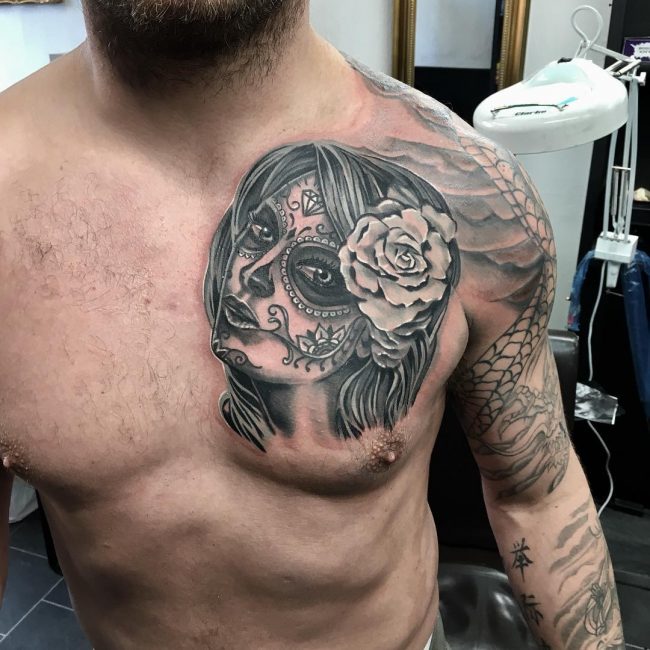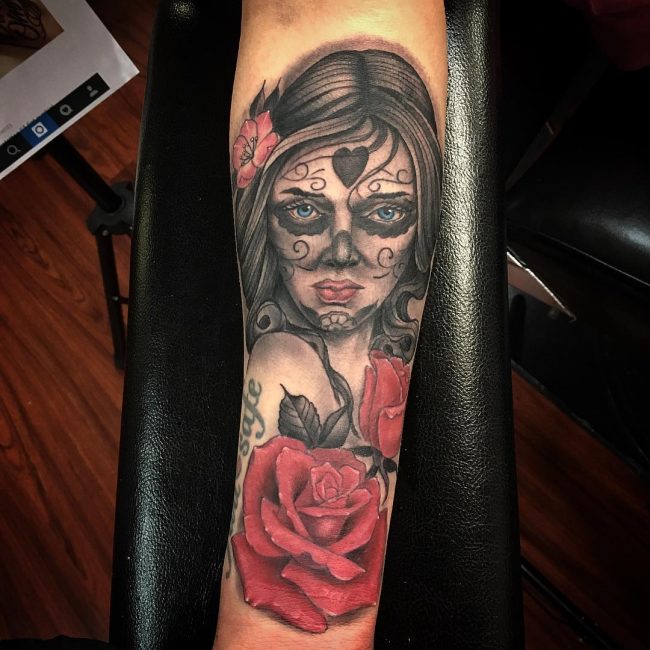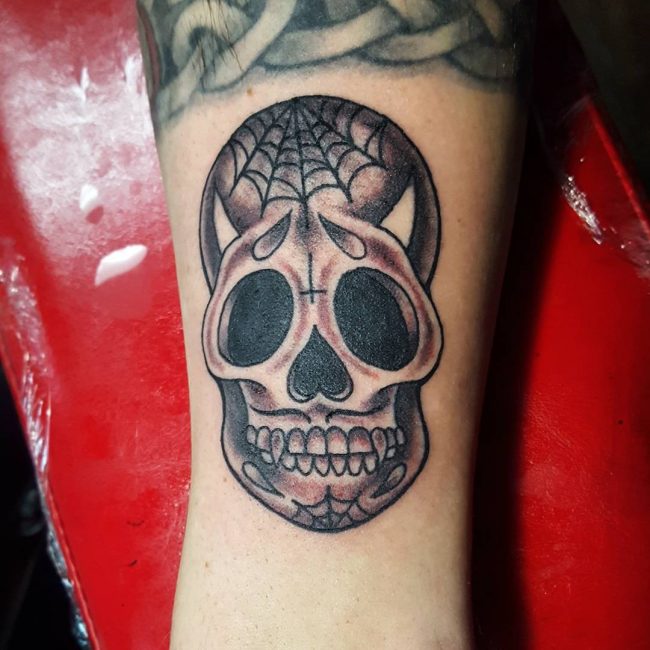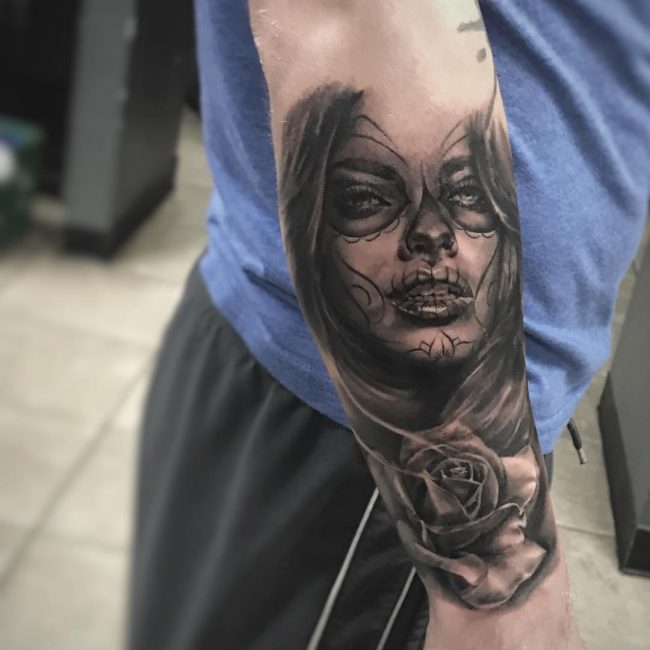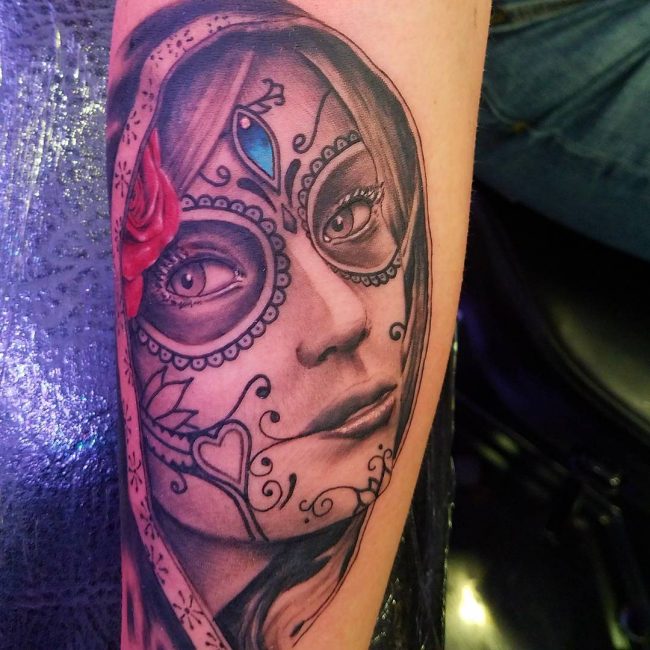 The same happened to the traditional day of the dead tattoo, they were all quite similar but as more artists did them, they included a touch of their own style. This spiralled into various types of the same tattoo.
Traditionally, day of the dead tattoos, murals, paintings and portraits were made in the representation of the goddess 'Lady of the Dead'. Traditional tattoos are therefore all sort of similar because the face is always the same.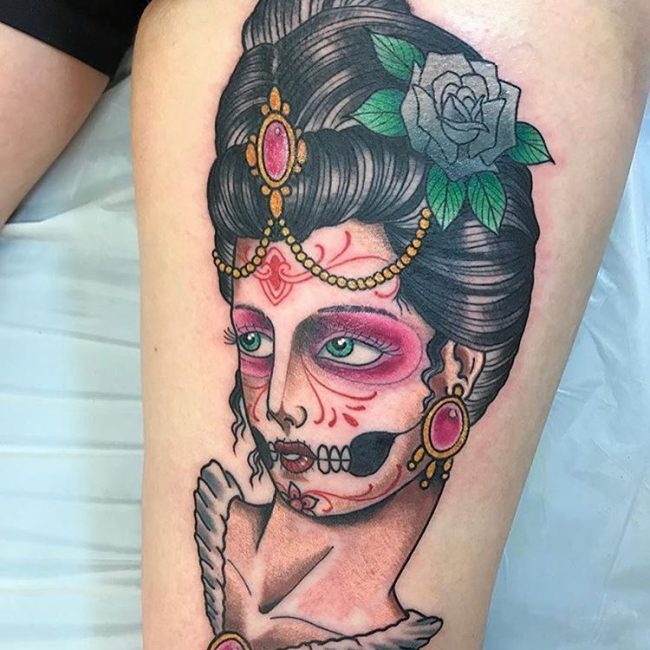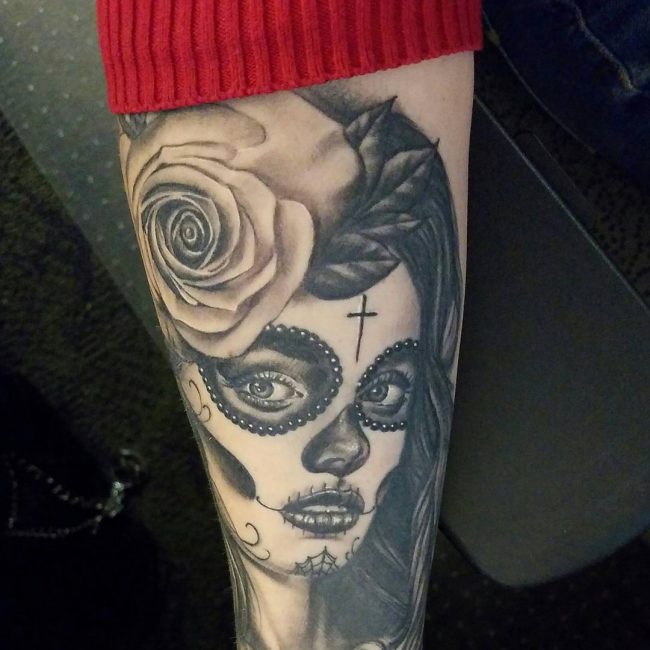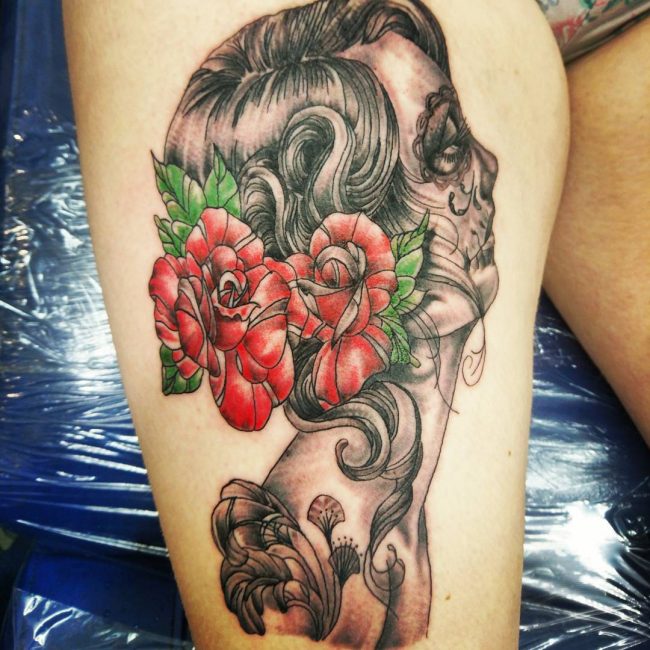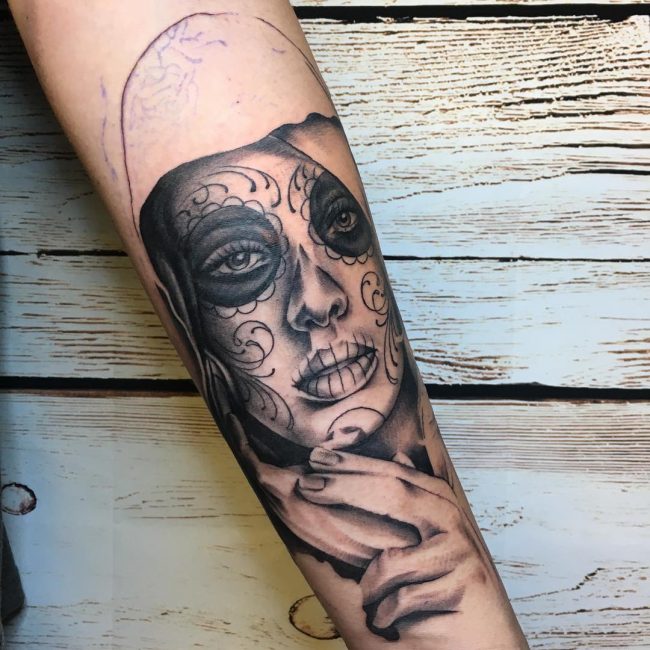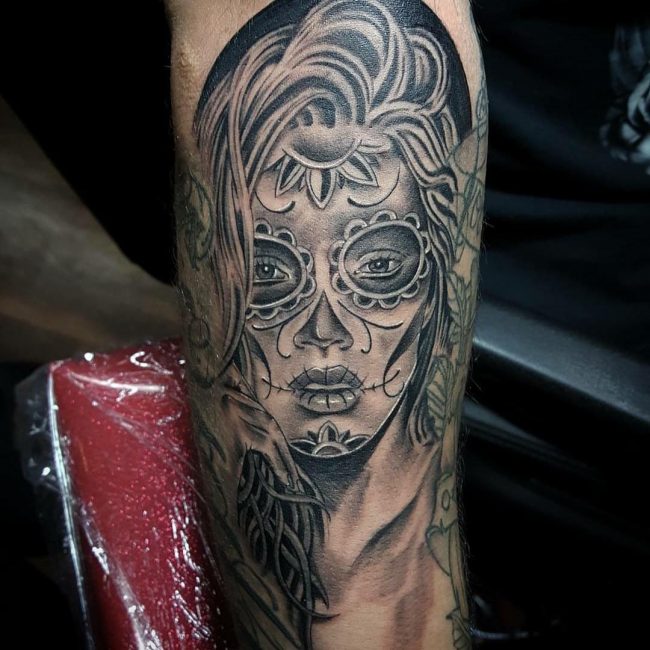 However, you can still decide to add a little spice by altering some of her features or combining her image with something else more personal. For example, most people add a date of birth, death or both under or above the image to remember someone who passed away.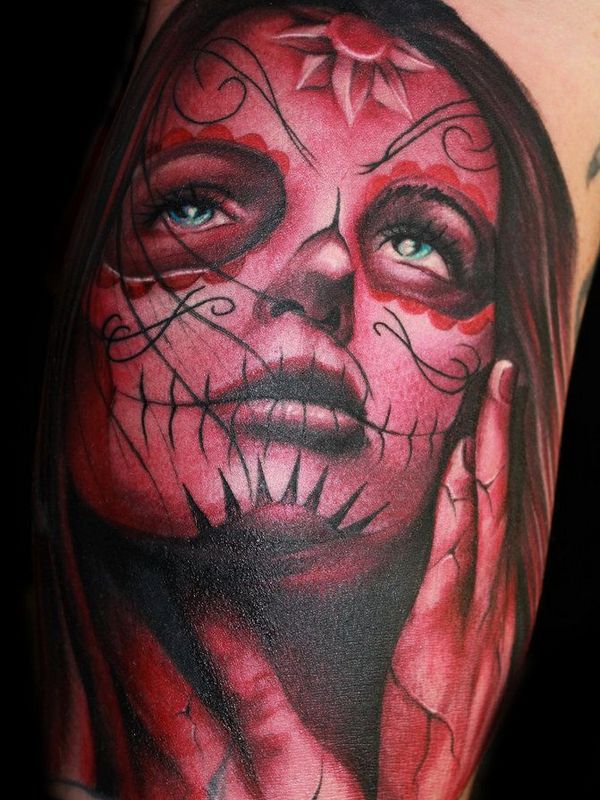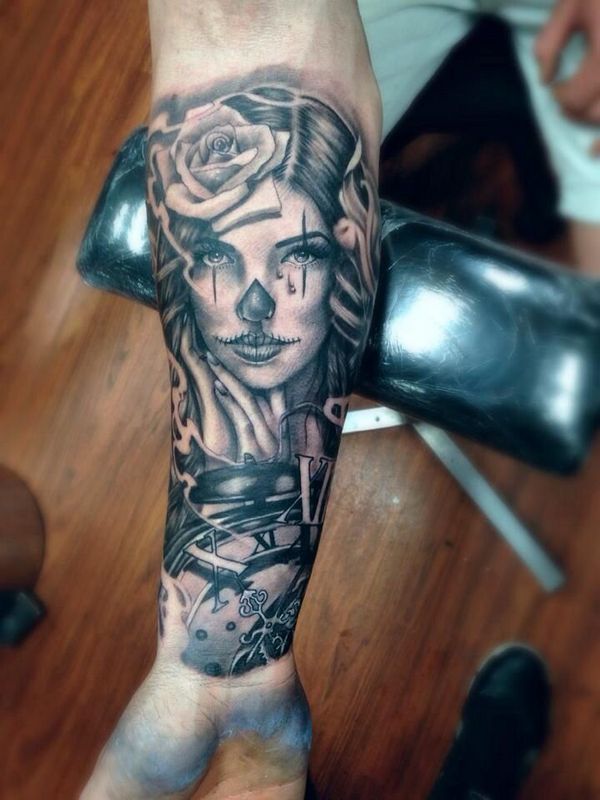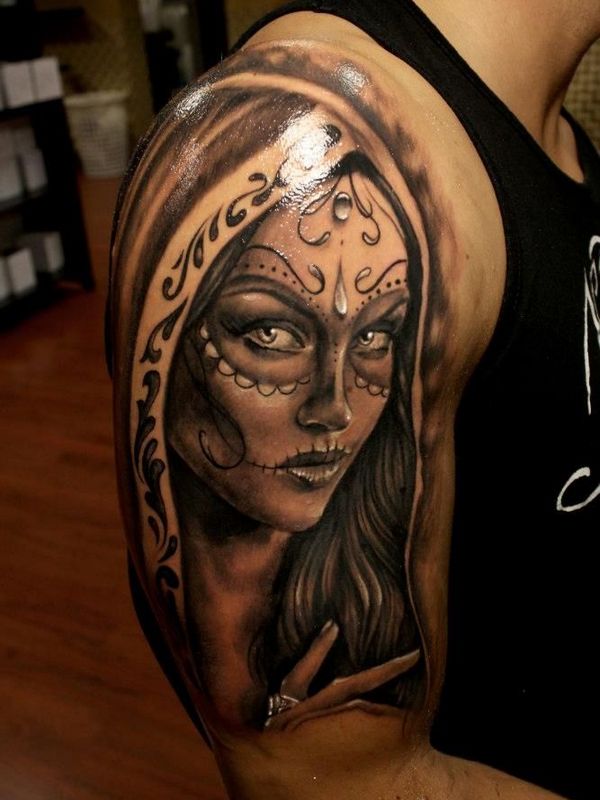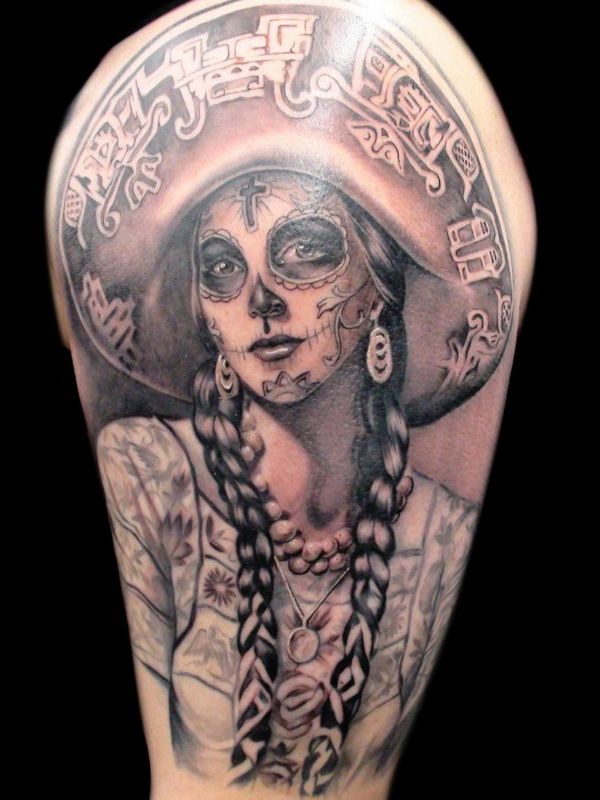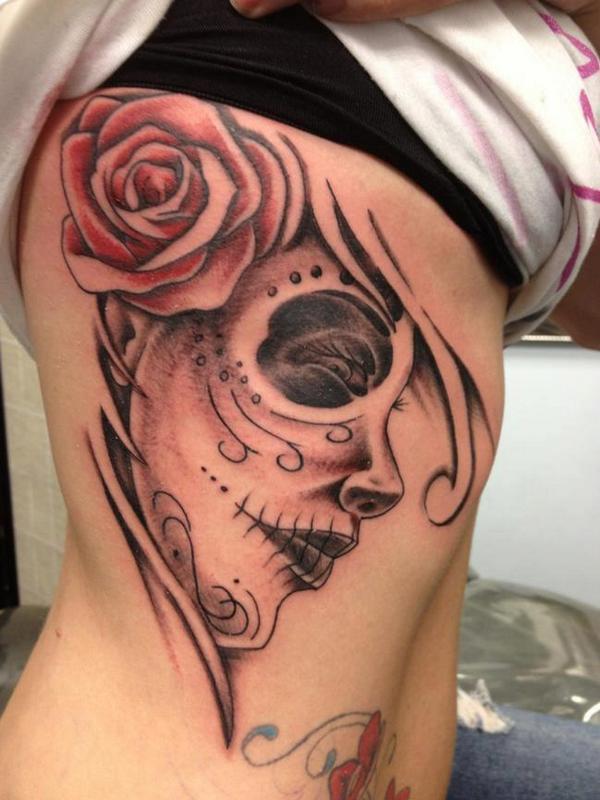 All traditional styles of these tattoos are very detailed, a lot of colour is included and the main image of the goddess is clearly defined. As such, the tattoo ends up being quite large to show all these details.
It's an awesome tattoo guaranteed to turn heads and if done well, you will want it to be visible, so put it somewhere like the upper arm or thigh.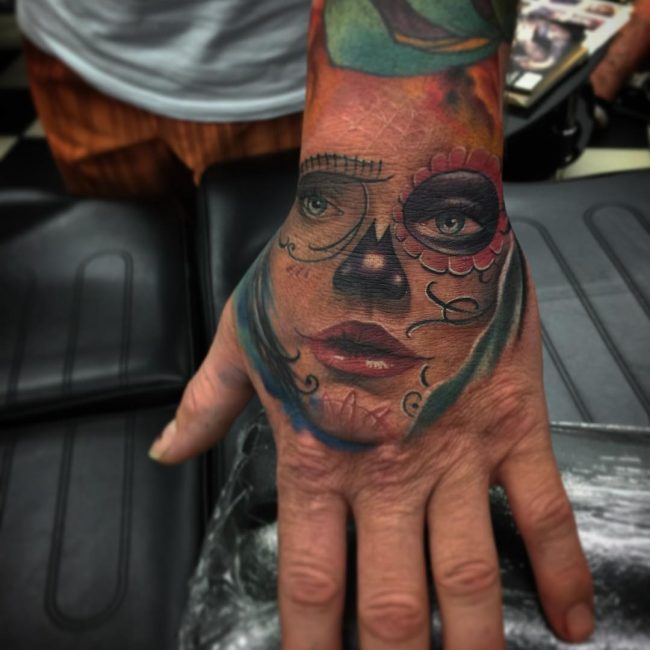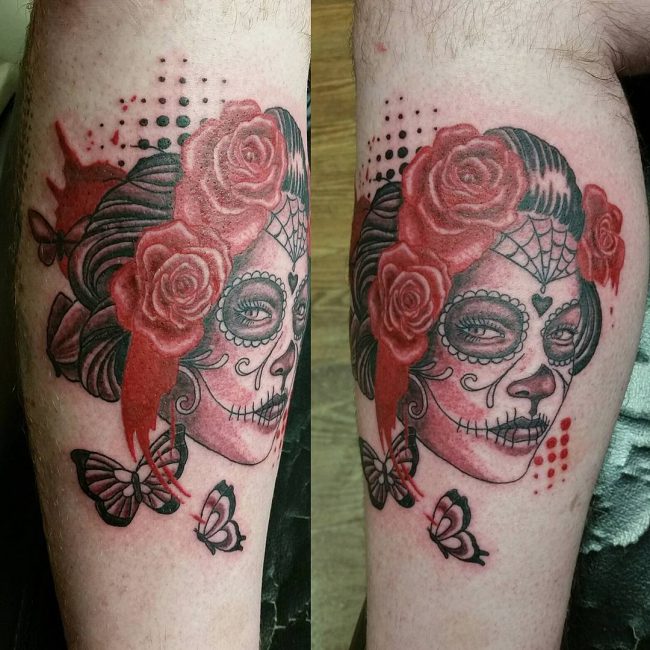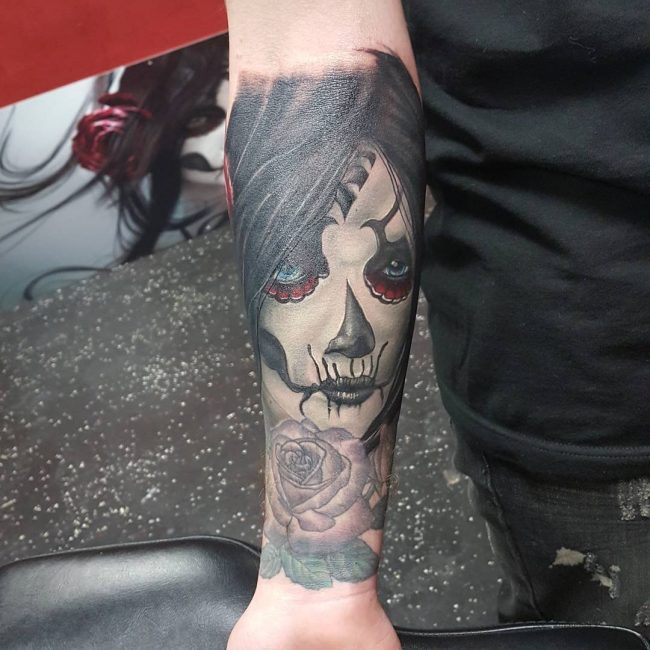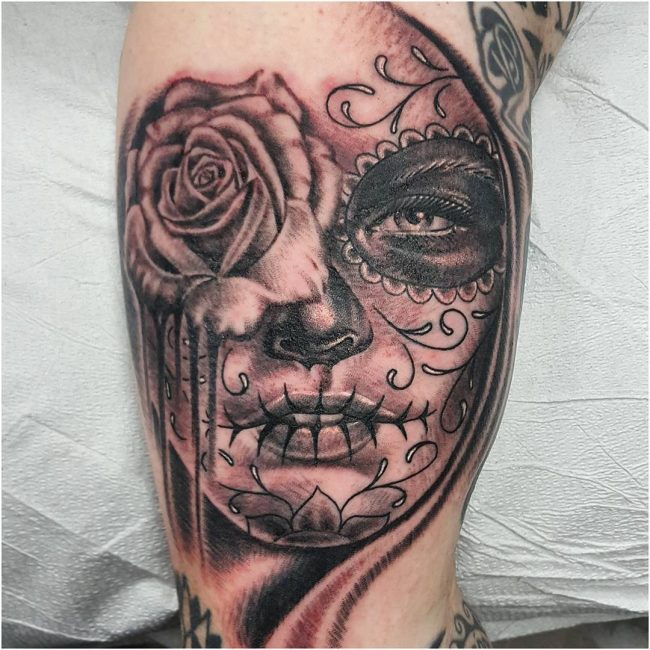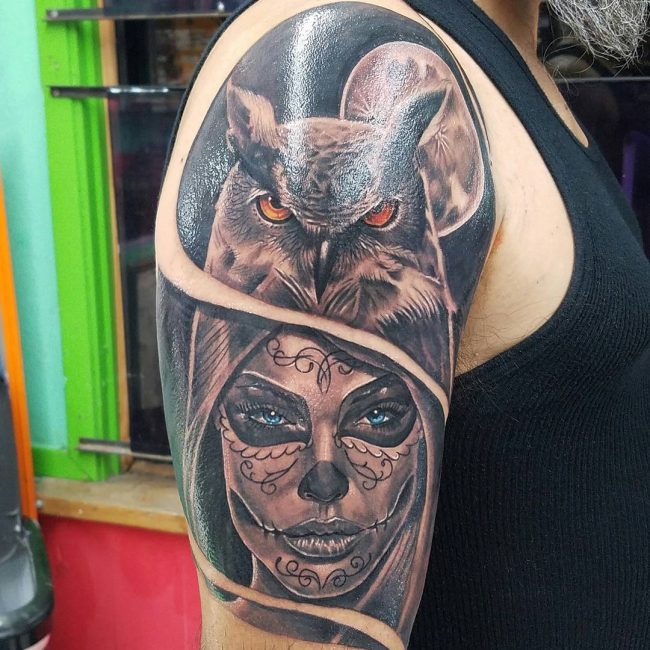 The other common design of these tattoos is the sugar skulls. Basically, this design is the stripped down version of the goddess, without all the details and intricacies. It is just a skull, really, hollow and empty, to really show acceptance of the dead.
Because it displays death in its actuality, it is mostly done in black and grey, though you can still decide to add some colour if you want. We would suggest, though, that you didn't, because then you would change the entire meaning, but, the choice is yours.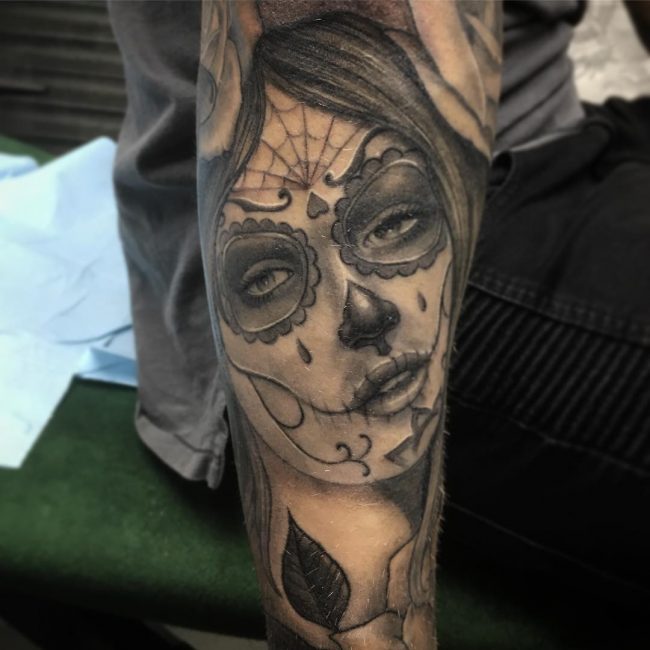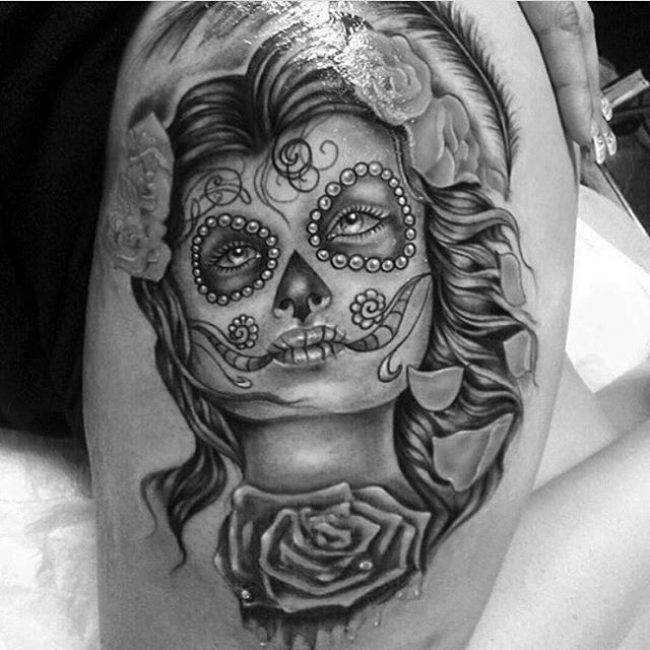 On the other hand, you can give it a little twist by including other images and/or text. Try maybe adding dates of birth and death, sprinkle in a few roses, or something I really like, more than one skull.
I know that may sound a bit scary but it really makes your tattoo stand out, and it will represent everyone you have ever lost, instead of just one.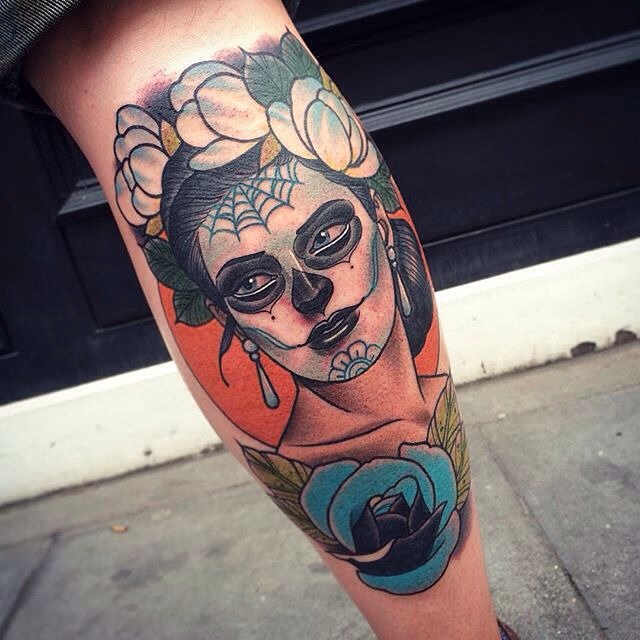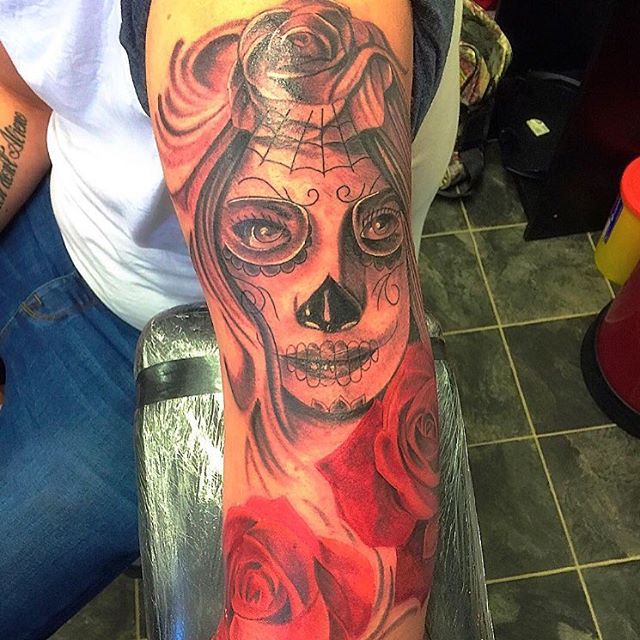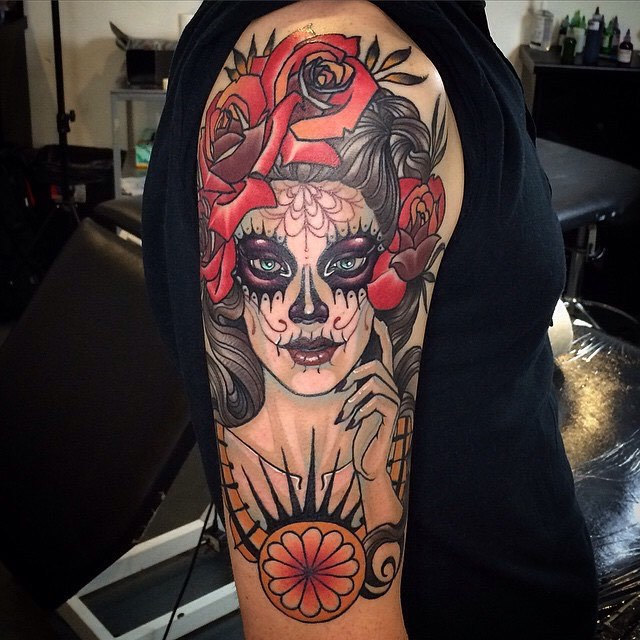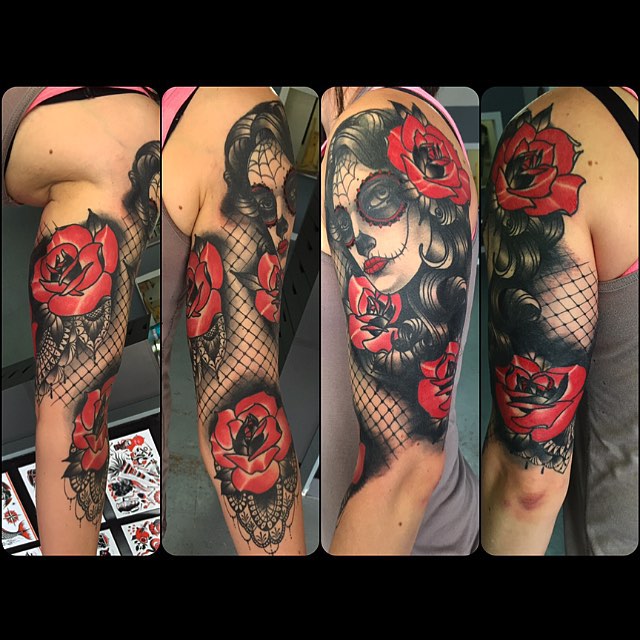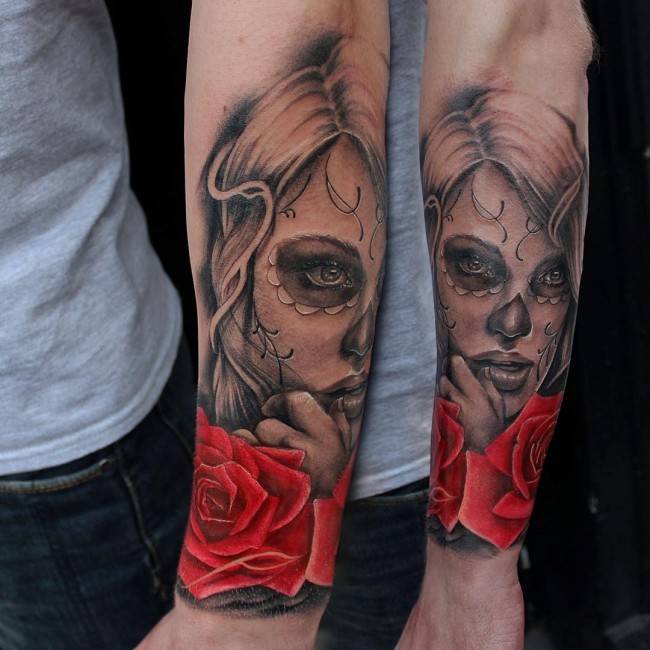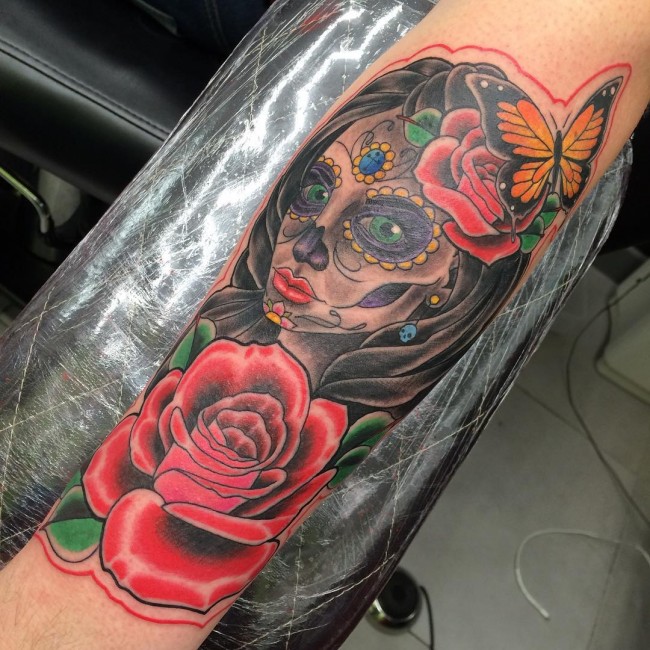 If you really want to have an actual reminder of someone you lost, why not spring for an actual image of the person. Get a picture of the deceased and take it to the artist. The artist will turn it into a stencil and use it to make the tattoo in the actual image of the person.
This one, though, is a bit of a double-edged sword because some people might see it as extremely creepy and others, totally cool.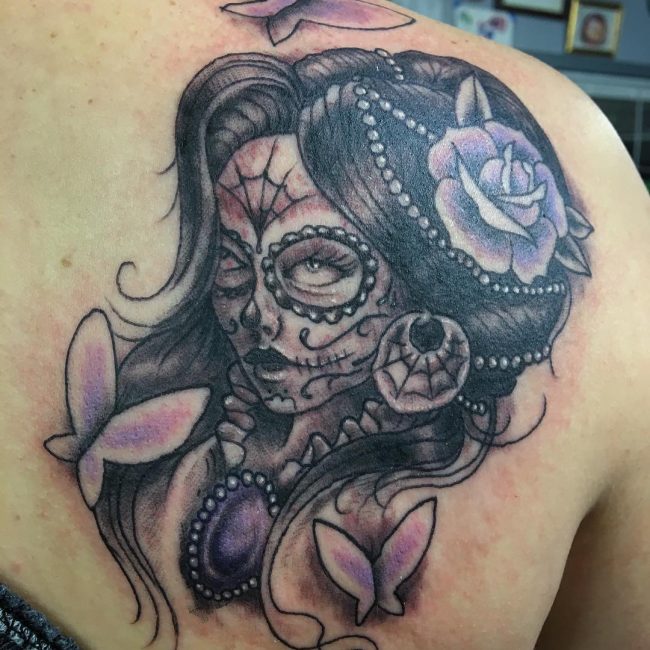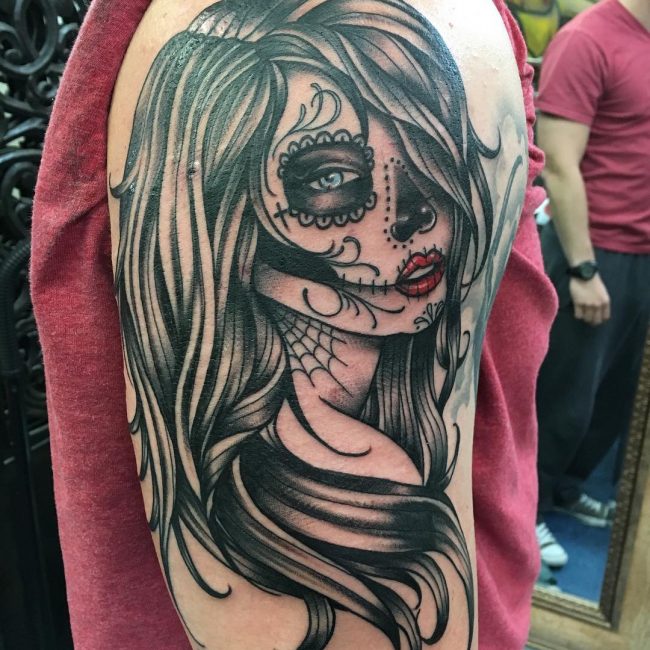 The only thing that matters in this style is that you get a good artist, it's a portrait and you want it perfect. The last thing you want is a tattoo of your mom with a sideways nose or something, which would be disastrous. If you want one of these, ask to see some of the artist's previous work to be sure.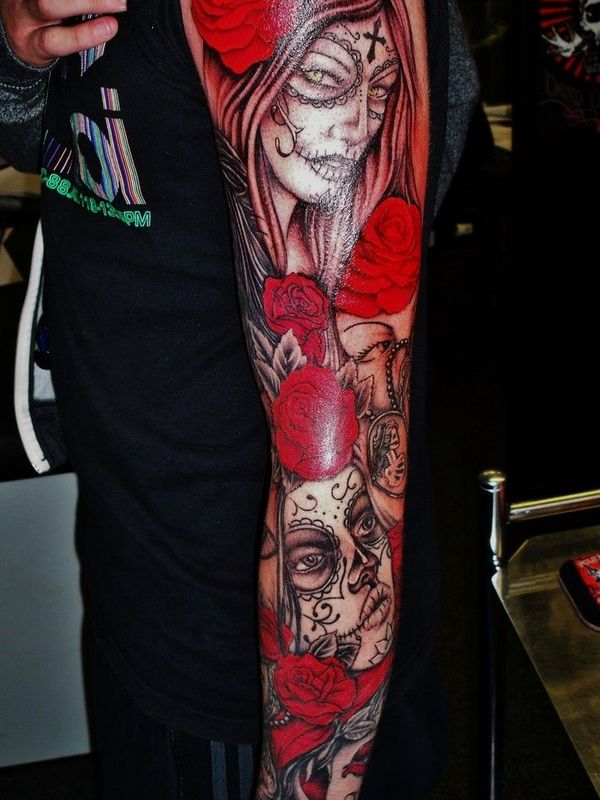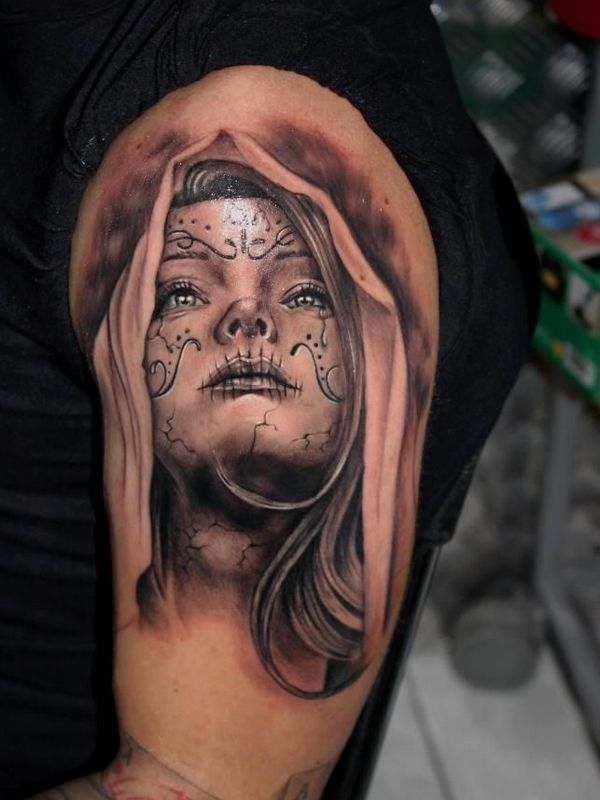 Feeling adventurous, why not mix it up, combine aspects of all other types into one, awesome tattoo. The most common hybrid around is one of a half skull and the other half done traditionally. Combine a self-portrait with a sugar skull and you have yourself a never before seen tattoo.
And what about all of them? Half sugar skull, half self-portrait and all the decorations of a traditional tattoo.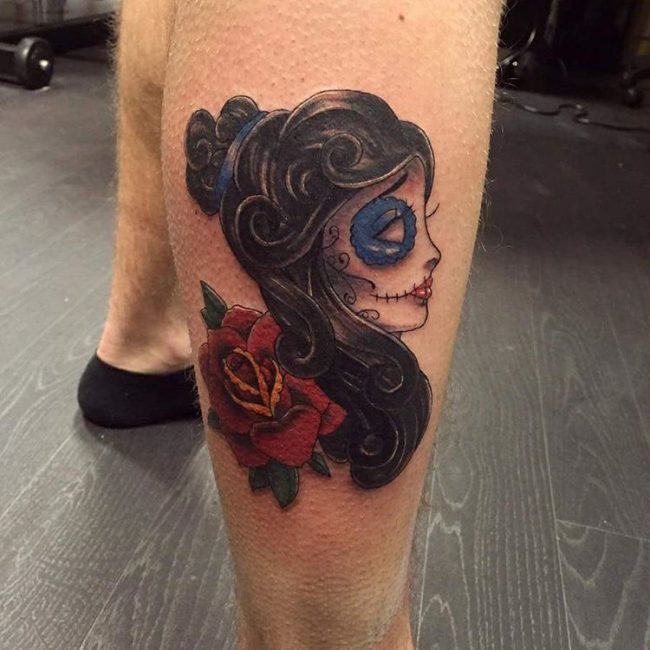 How about a full-body tattoo? You can decide to go for a full skeleton, head to toe, but still attention is mostly on the skull. The rest of the body can be dressed or smaller than the skull to emphasize on the skull. This style is great for those who want to experiment with different styles.
Again, make sure your tattoo artist is capable of pulling it off, you don't want your skin to become their sketchpad for experiments, especially considering how large these tattoos are.