75+ Simple and Easy Pine Tree Tattoo – Designs & Meanings (2019)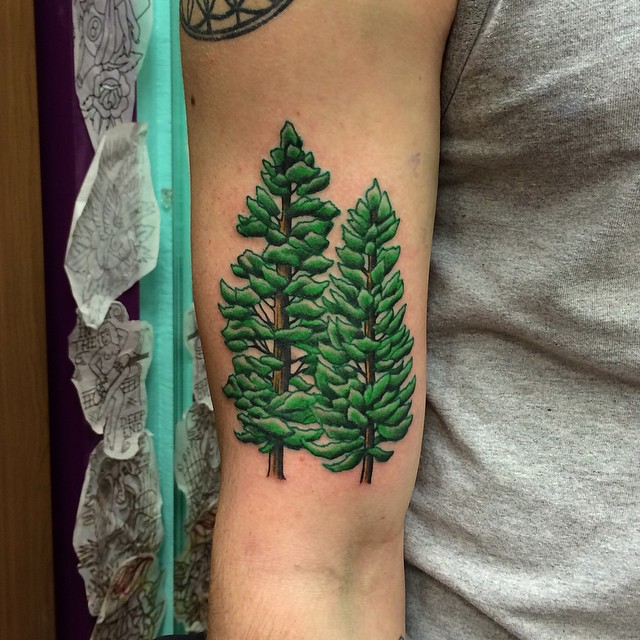 The tree is hands down one of the most important features on earth: it provides food, oxygen and even shelter. Man has also learned to revere the importance of a tree and it has therefore become very important.
Although all trees have significance to life, there are some species which are more common, such as the maple, oak and pine trees.
Contents: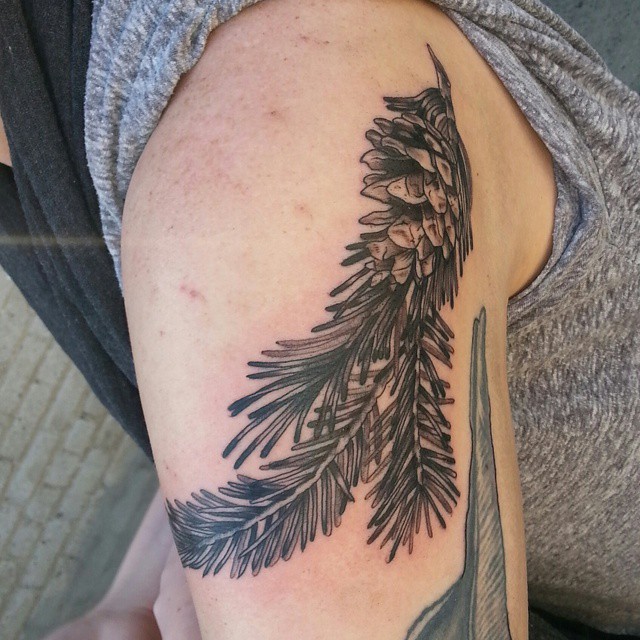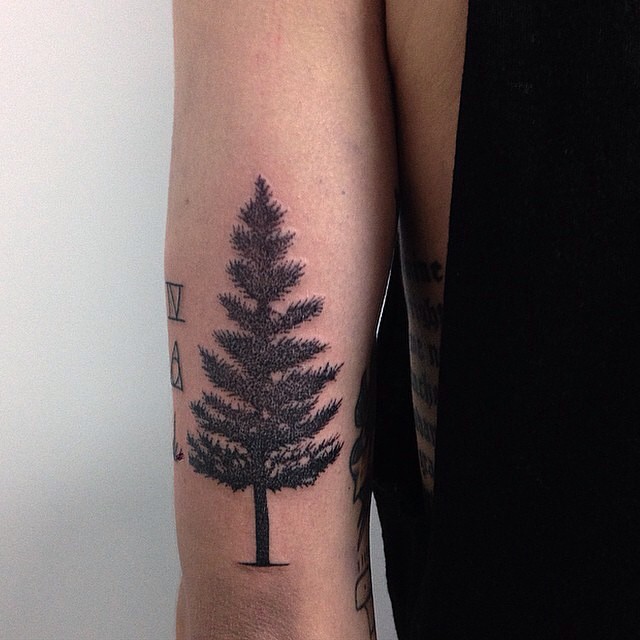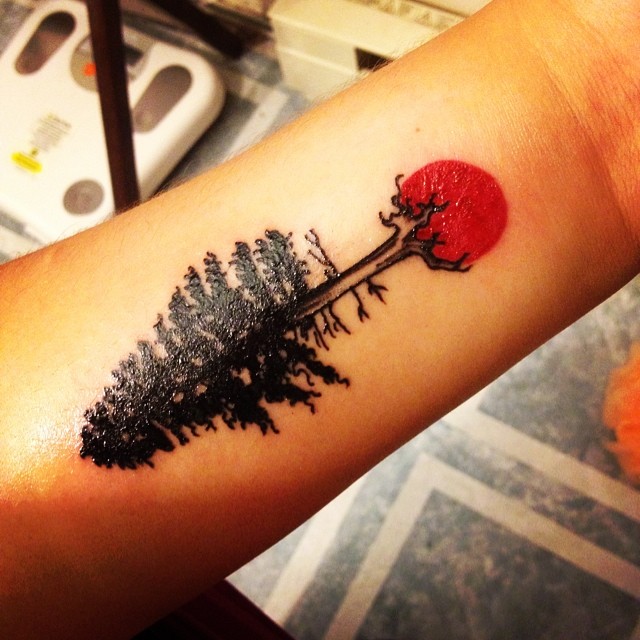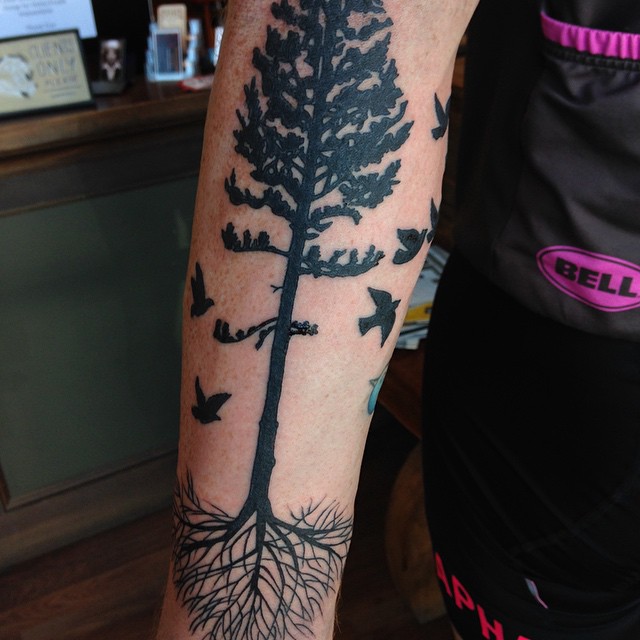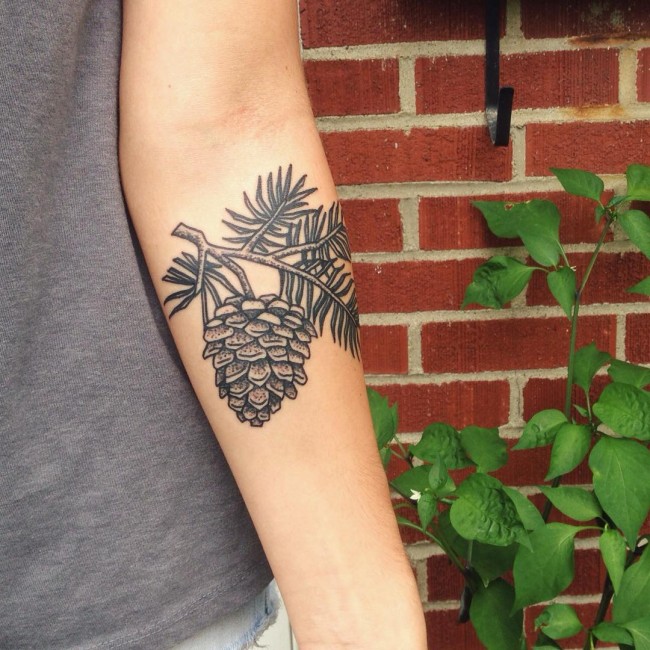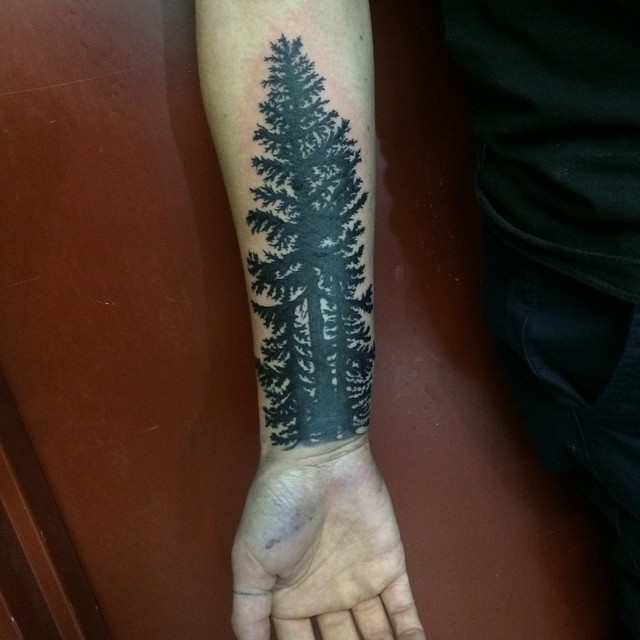 Meaning
Many cultures across the world have associated trees with spirituality and life in general. Trees go through life cycles just like we do, and our lives can be reflected in the tree as it goes through life, survival and eventually death.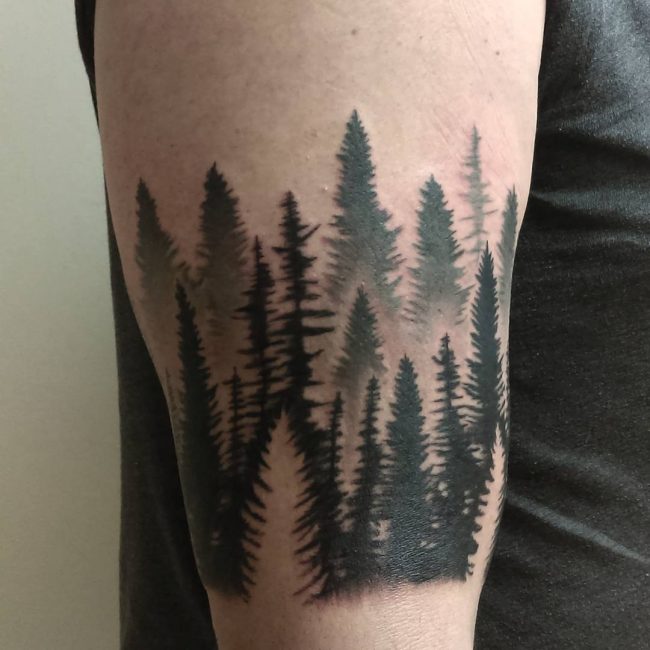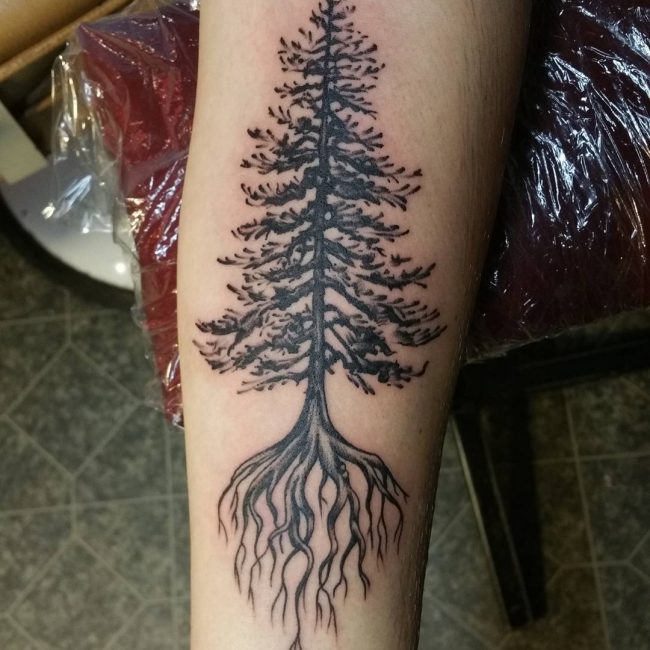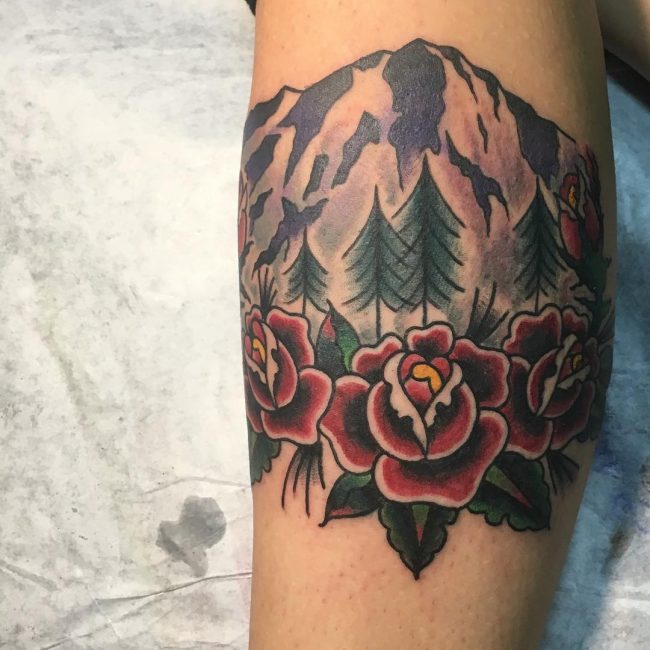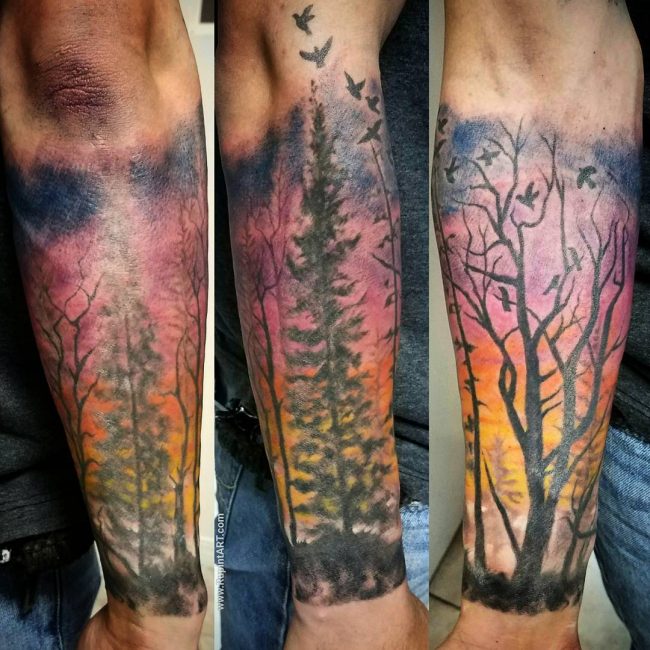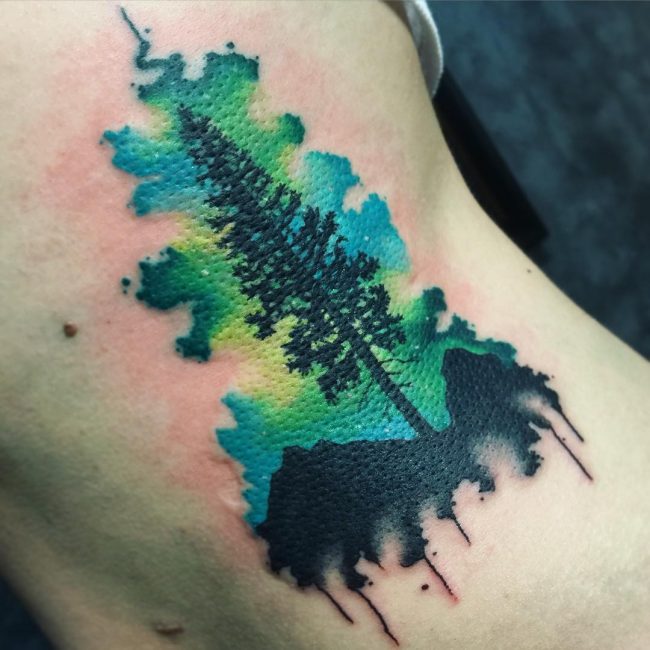 Because of this, various parts of the tree can be used to represent this cycle.
For example, the roots of a tree are the supporting system and symbolize family, friends and society, basically everything we need to survive. The trunk of the tree is responsible for holding the tree together through difficulties, it represents a strong will to weather difficulties.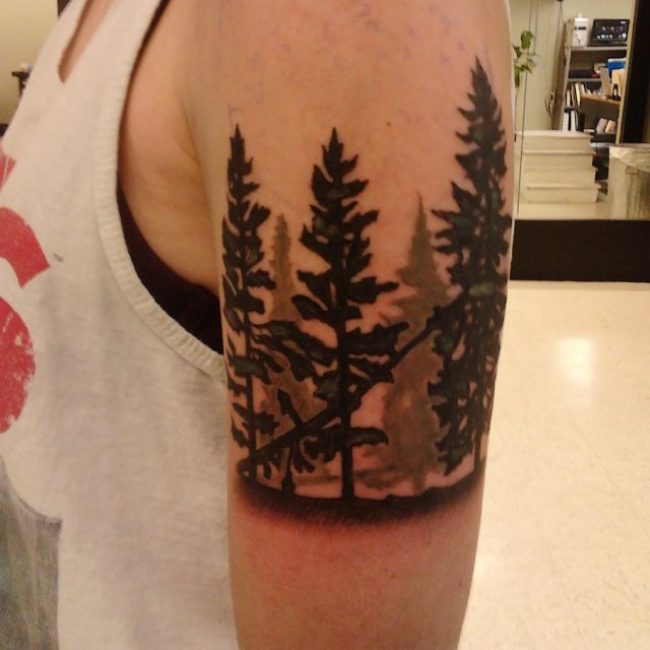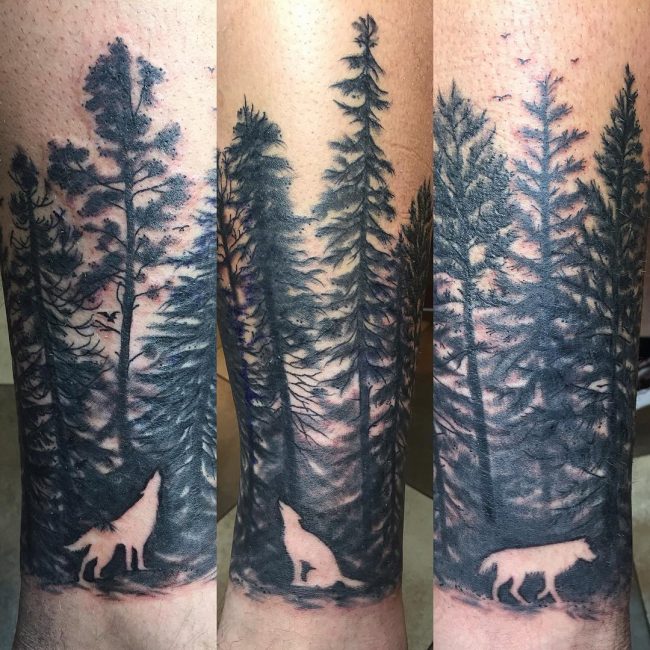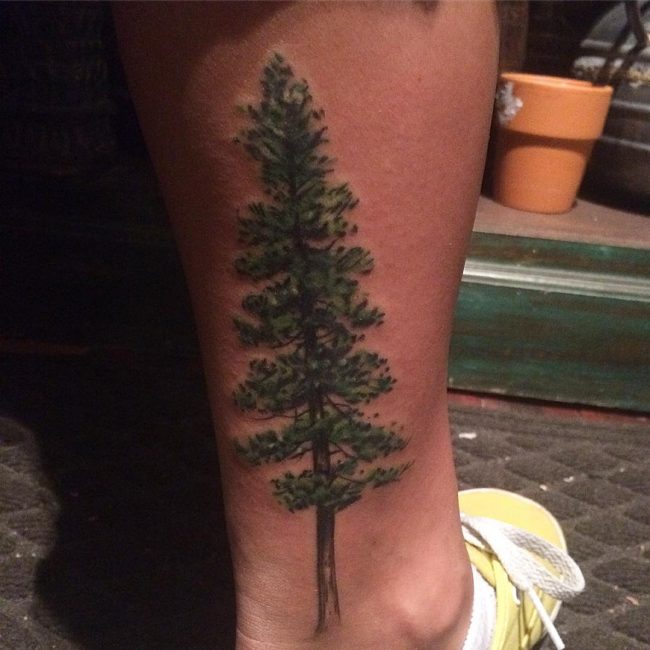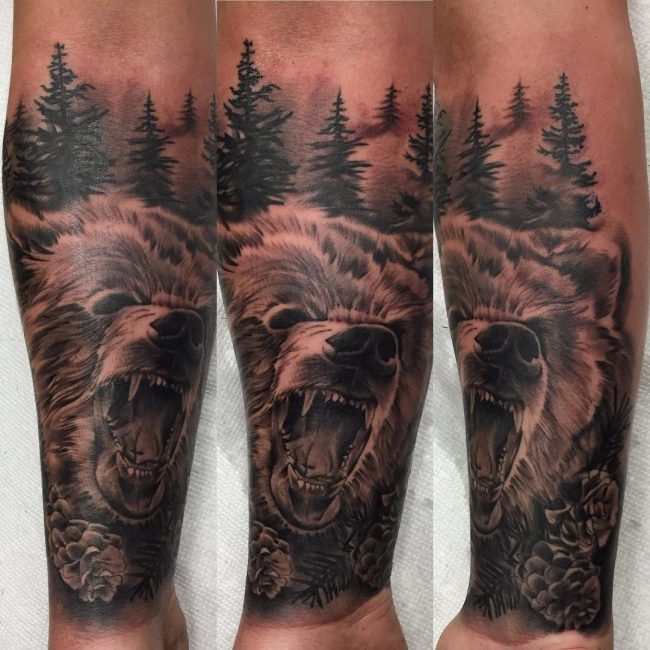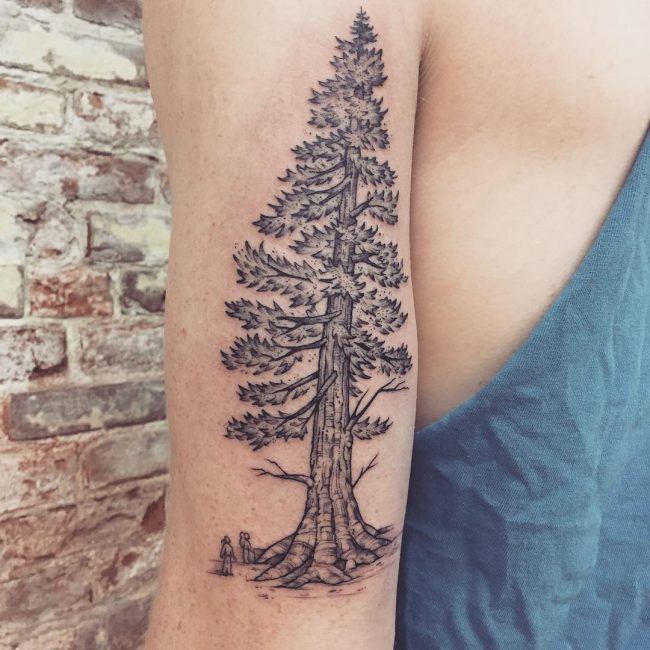 Leaves and branches are responsible for continuing the species, in such a tattoo, the leaves would indicate out connection to others and a possible continuity. Finally, there are the seeds, pine cones in the case of a pine tree, and these represent regeneration and new beginnings.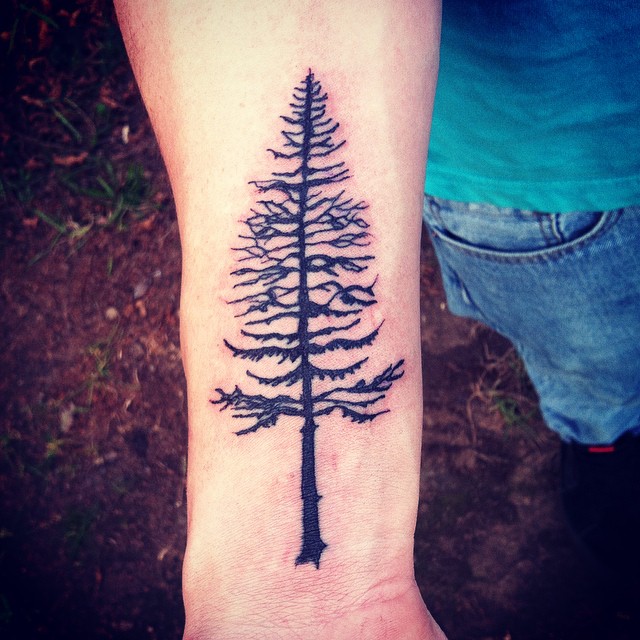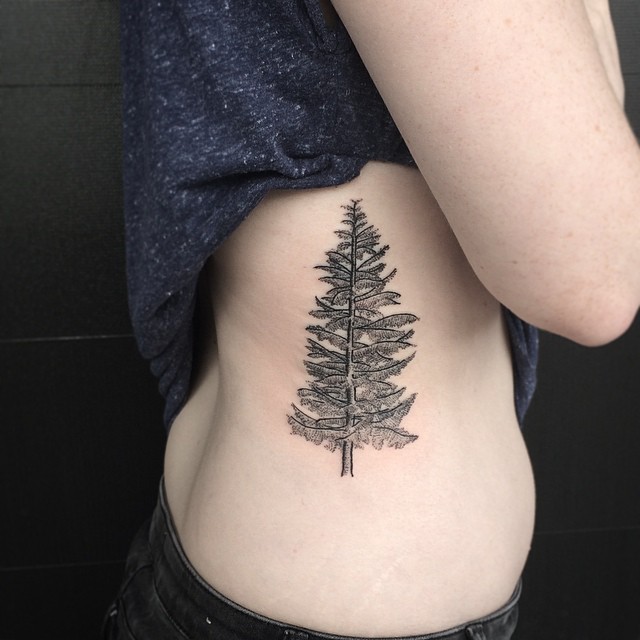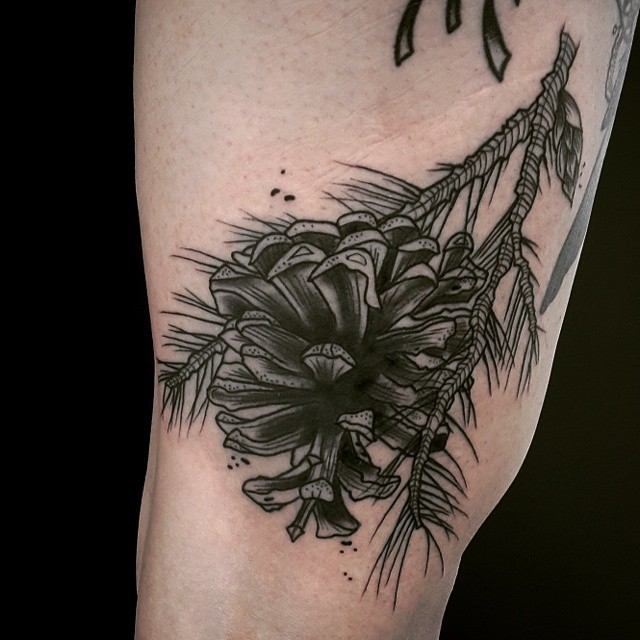 Besides this cycle of life, a pine tree could be used for a tattoo if you want to show you can be depended upon. Many cultures adored the tree for selflessly providing food and shelter to people, then there are those who worshipped the tree because of this reason.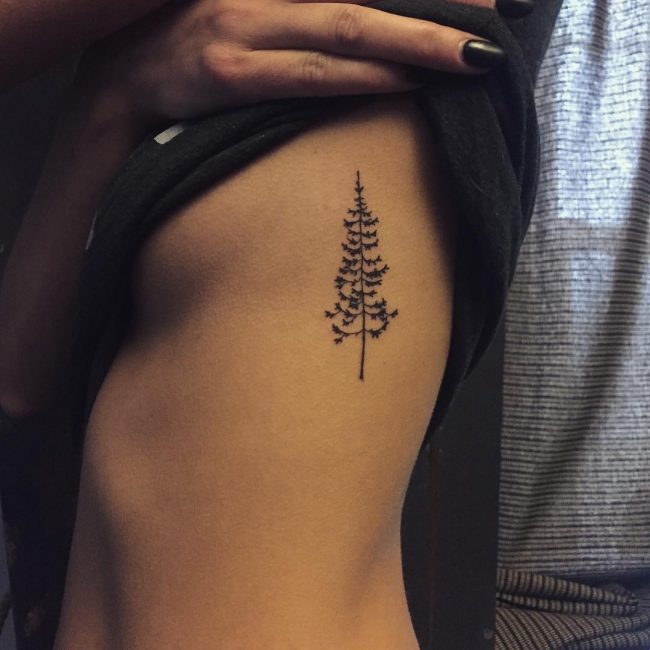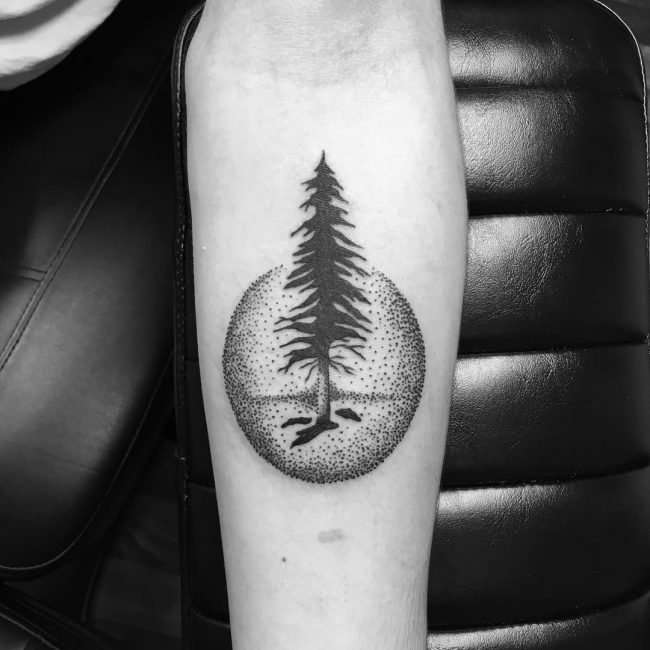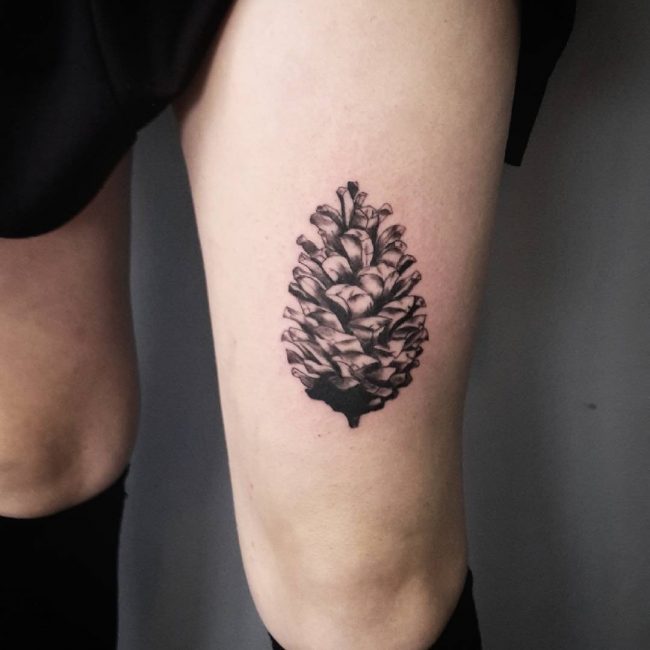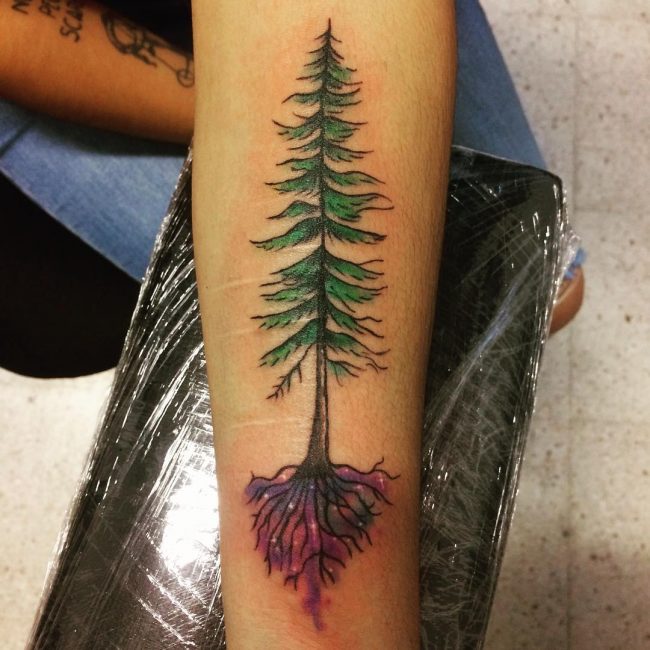 ---
back to menu ↑
Placement
Pine tree tattoos can be worn on any part of the body, only the size you want can dictate where it will be best suited. For the complete pine tree, you might want to wear it on your back, which will allow you to include much more details and additional imagery.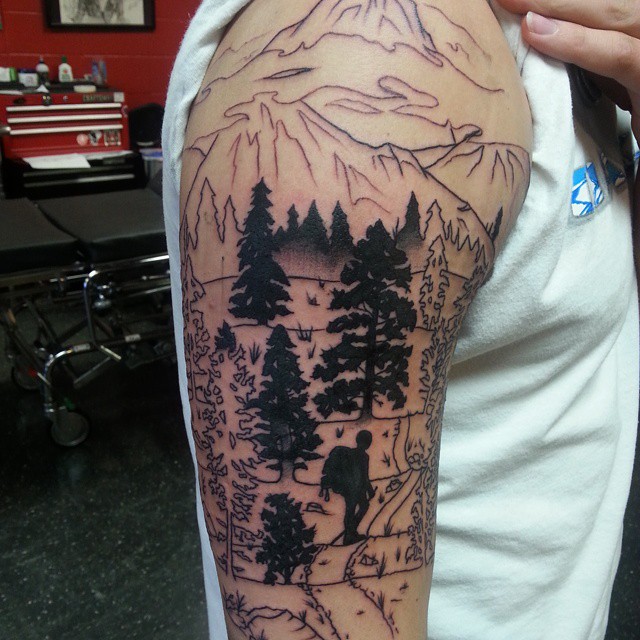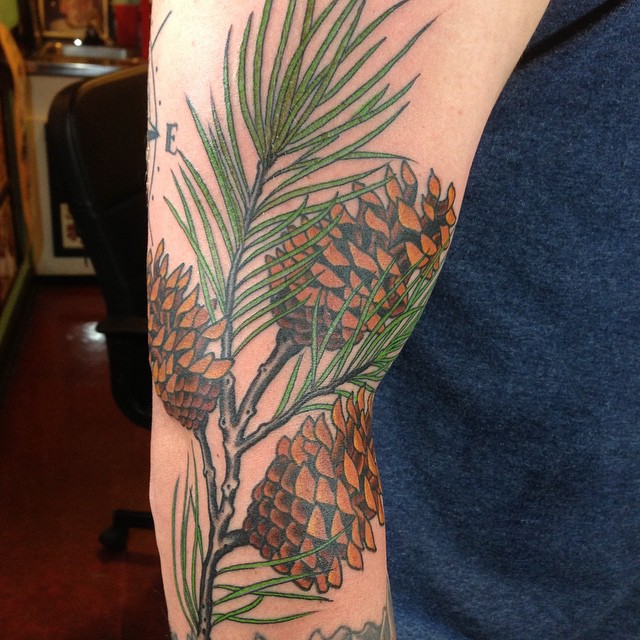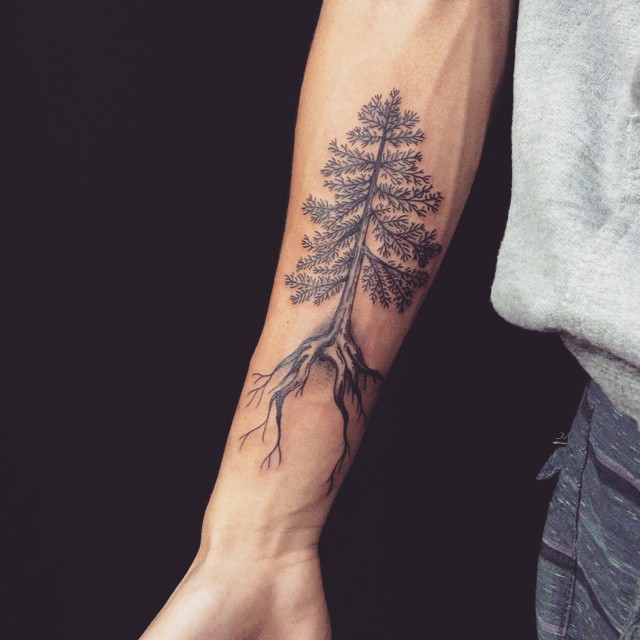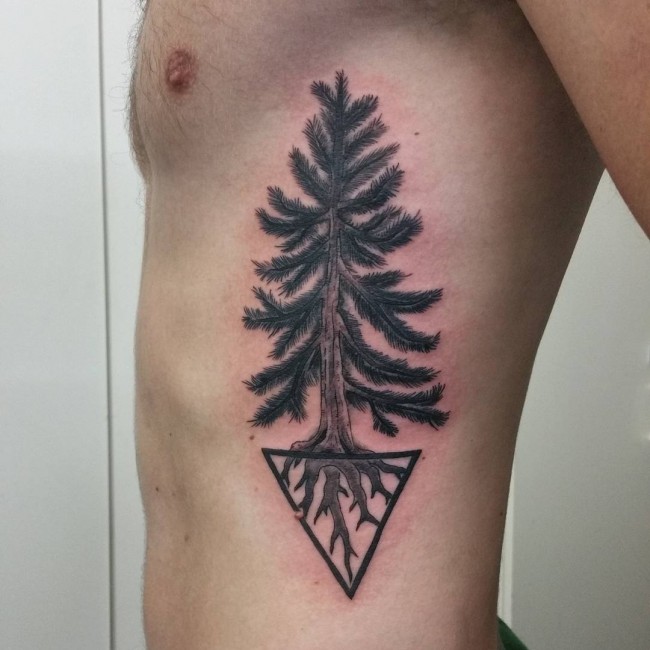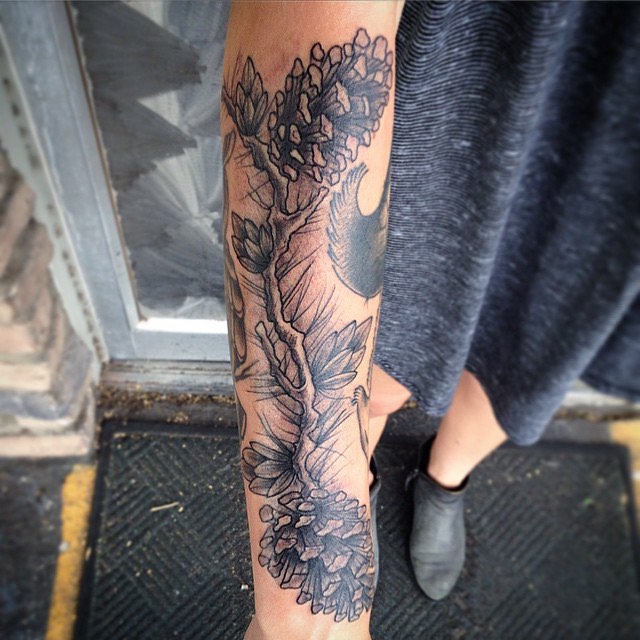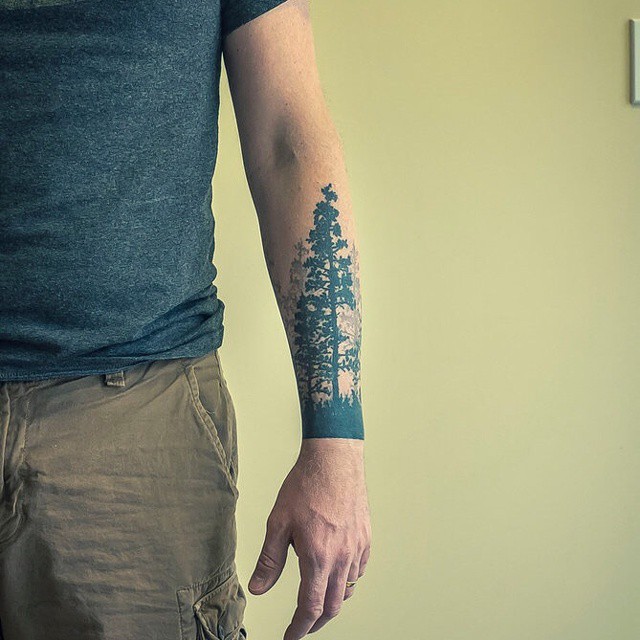 Most guys would want it on the upper arm where it's less painful and is enough a canvas to capture most details. For a smaller tattoo, focus on a single part of the pine tree, say, the cone or a branch. In so doing, you might be able to fit the tattoo on your wrist or ankle.
The idea is to choose the spot you like most, besides, you can withstand the pain if it means getting an awesome tattoo for life.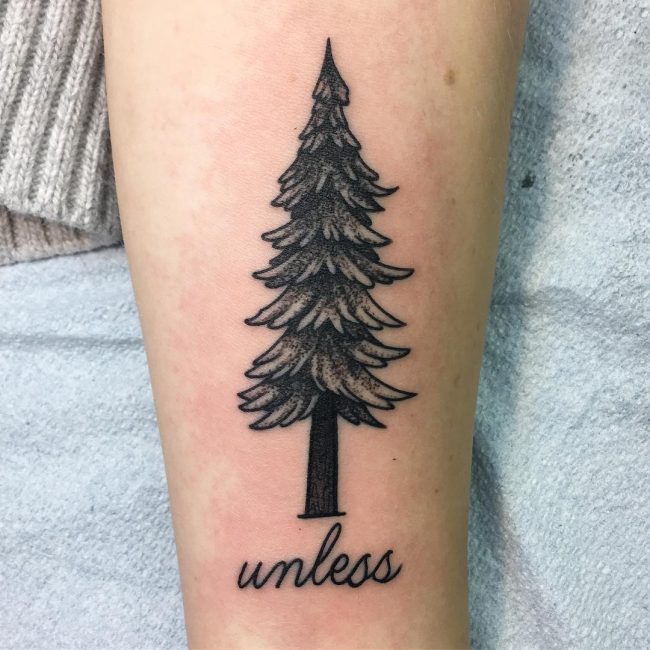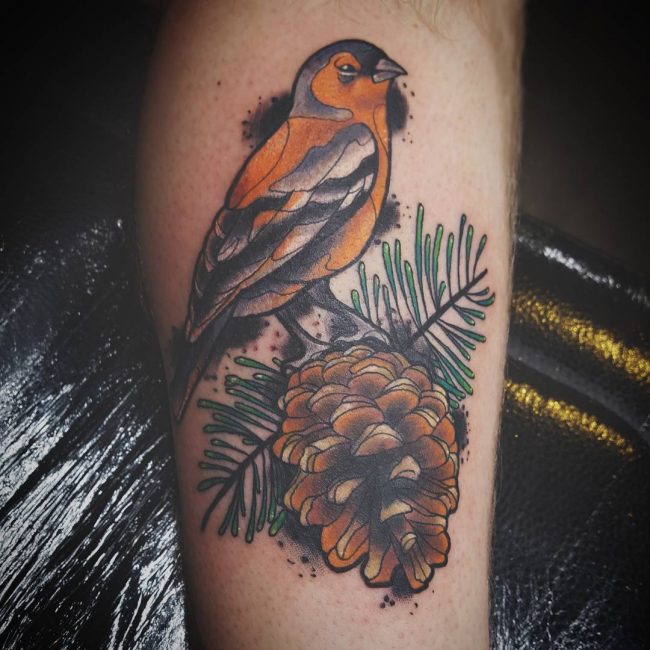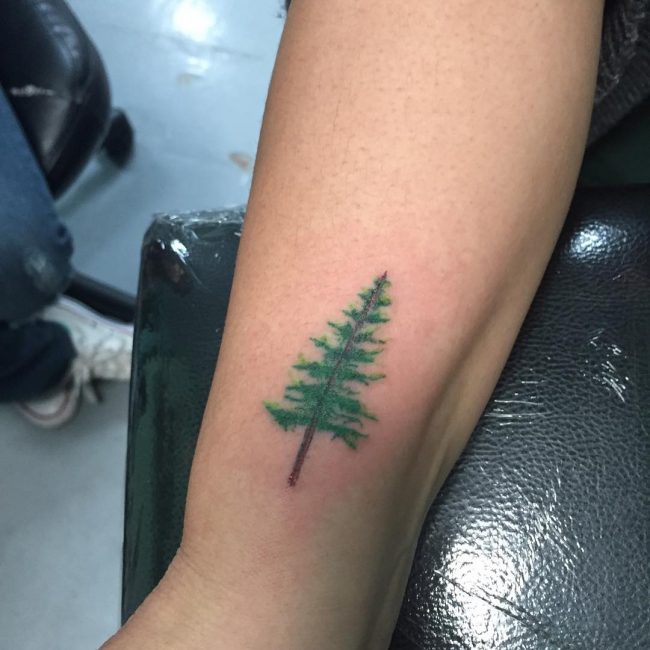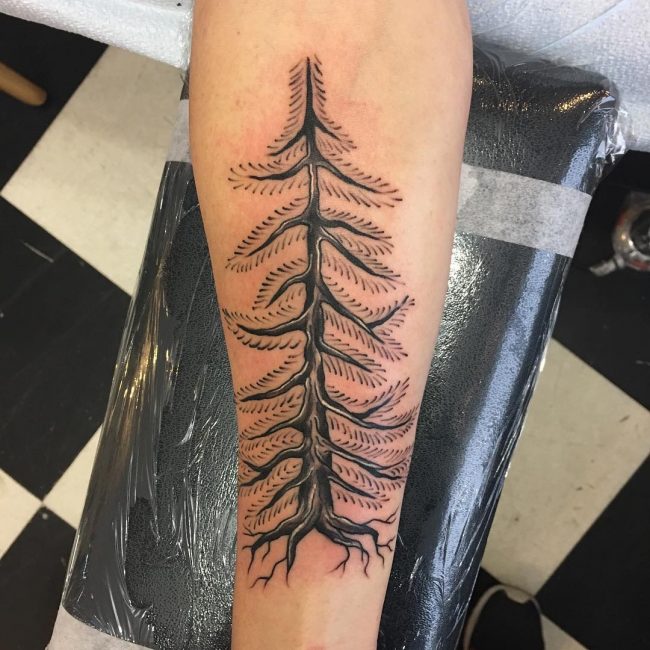 ---
back to menu ↑
Types of pine tree tattoos
This is the design you want when you want to signify the cycle of life. The symbol has been around for ages, back to the BCs when Egyptians used it to show life and death. This design is usually rounded, which is unlike a regular pine tree, but you can always determine the degree of roundness you want.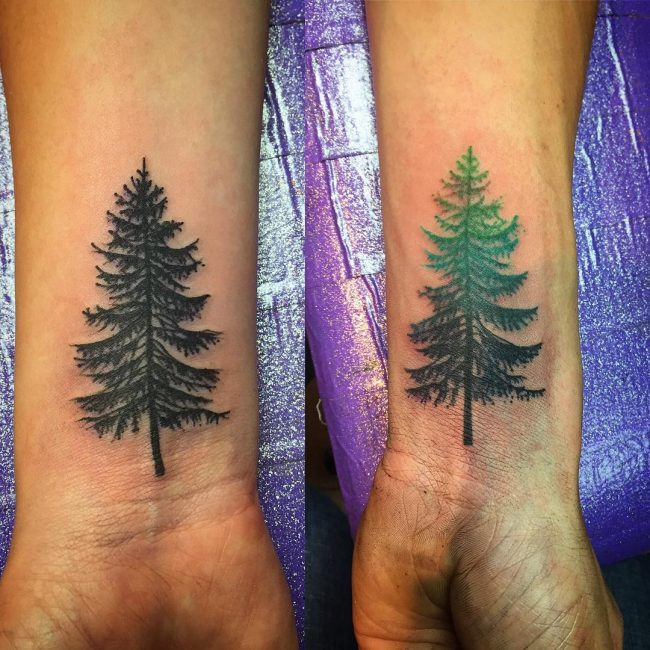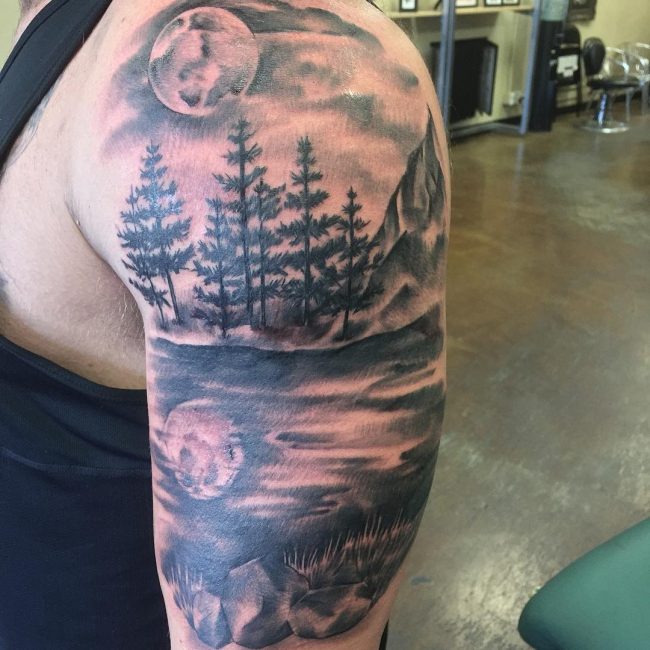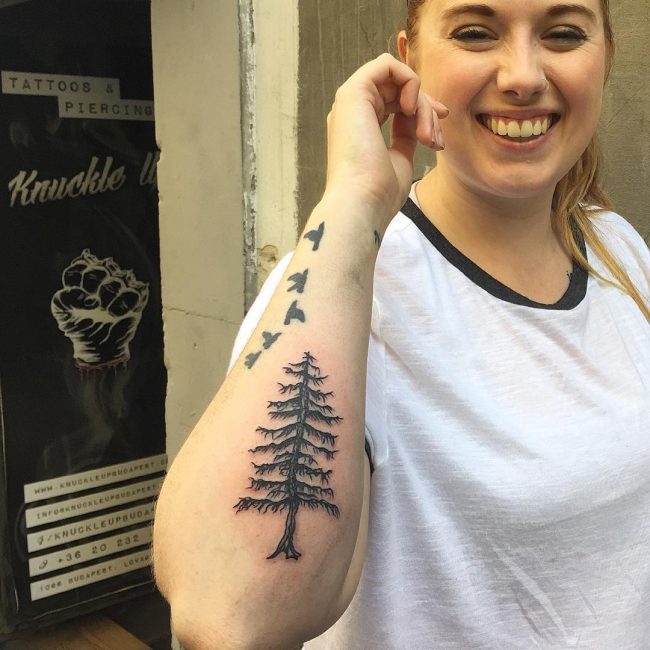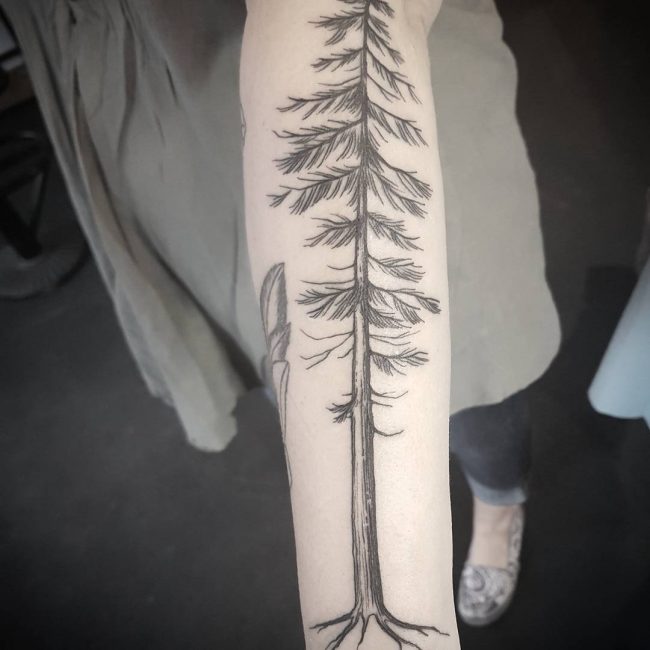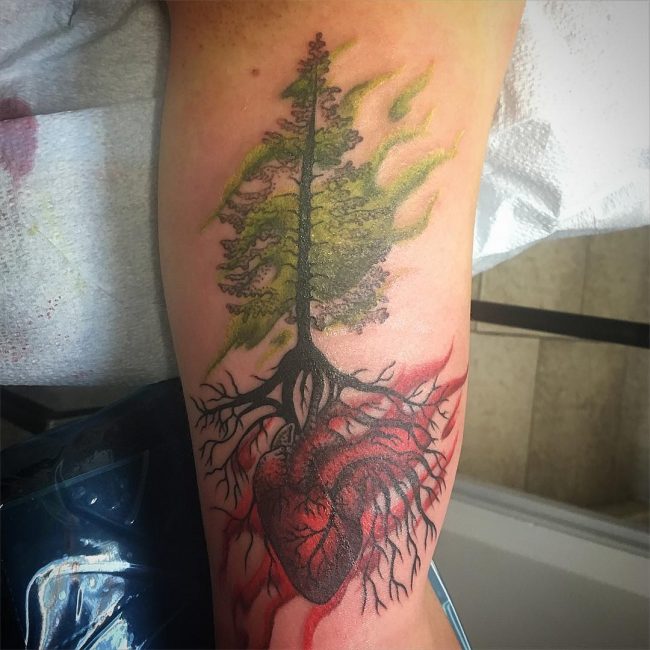 One common image is of two trees growing in opposite directions and sharing the same root, which is the ultimate symbol of life and death. You could also just choose to make the tree leaves more rounded, such that it forms a 'ball', by making the branches grow outwards and eventually reach the roots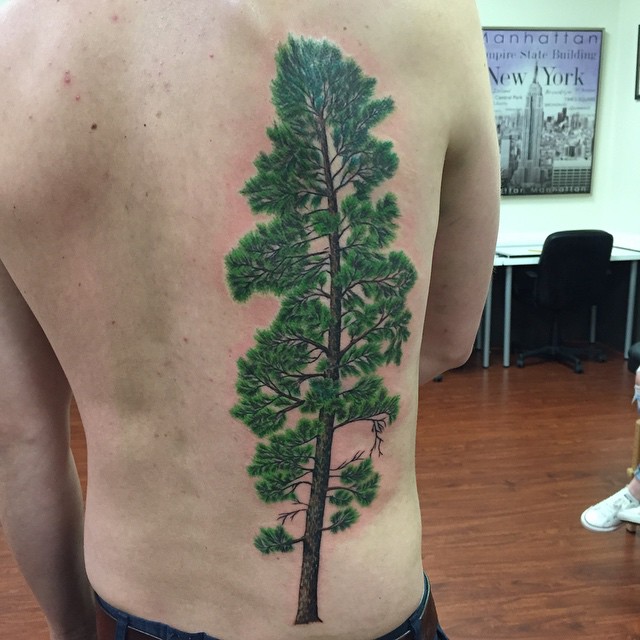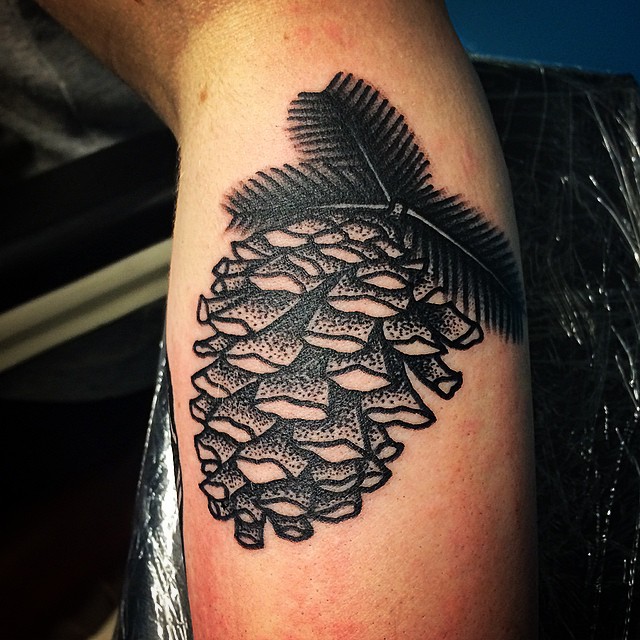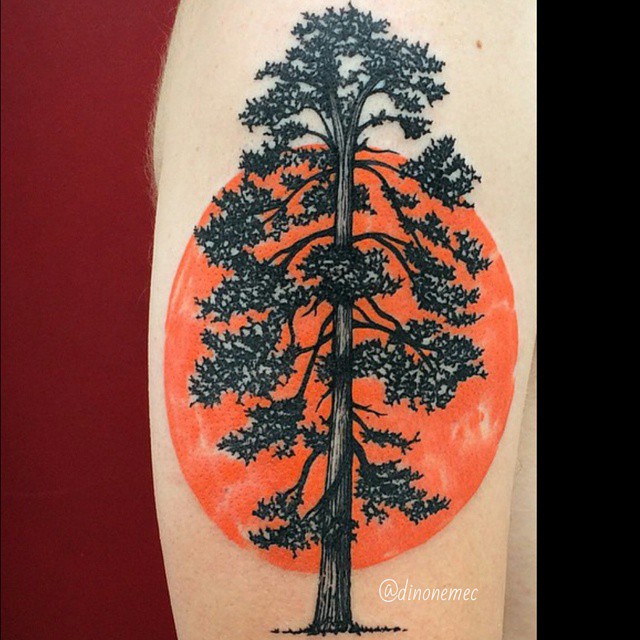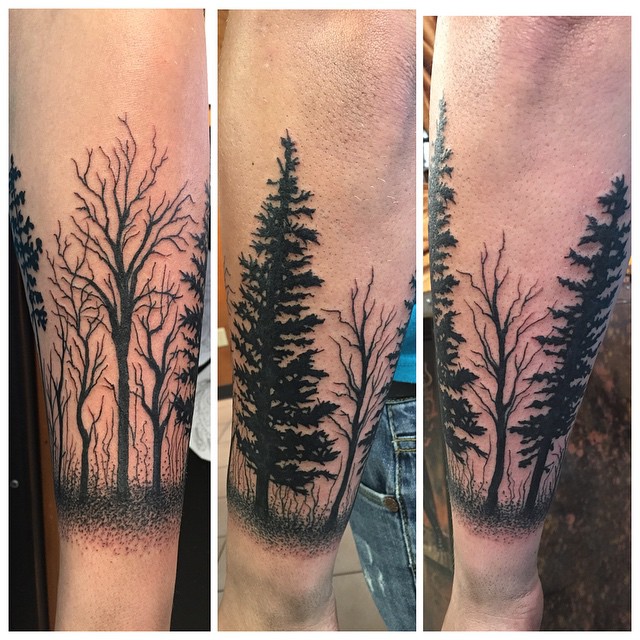 Coloring this tattoo could involve a black and grey design which is more traditional, but you can add a bit of colour. Green is used often because, well, it's a tree, but additional colour is still okay. You should not overdo it, though, this design works best with fewer variety of colours.
This is the 'seed' from which the pine tree grows, a hard, cone-shaped object. It symbolizes new life because it's going to become a tree and can be a great design for someone who wishes to show their own regeneration.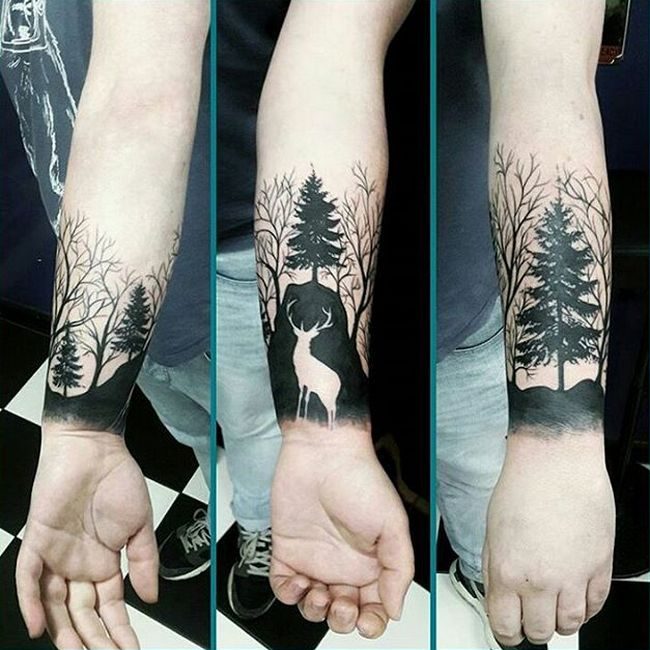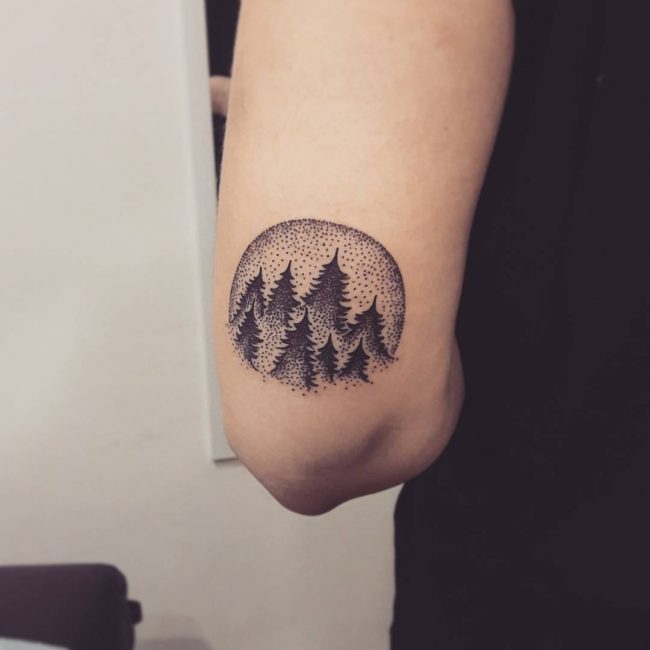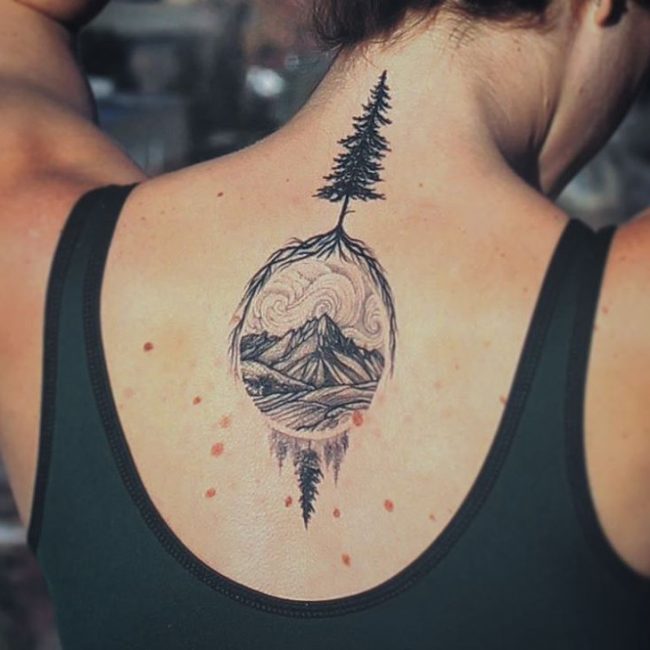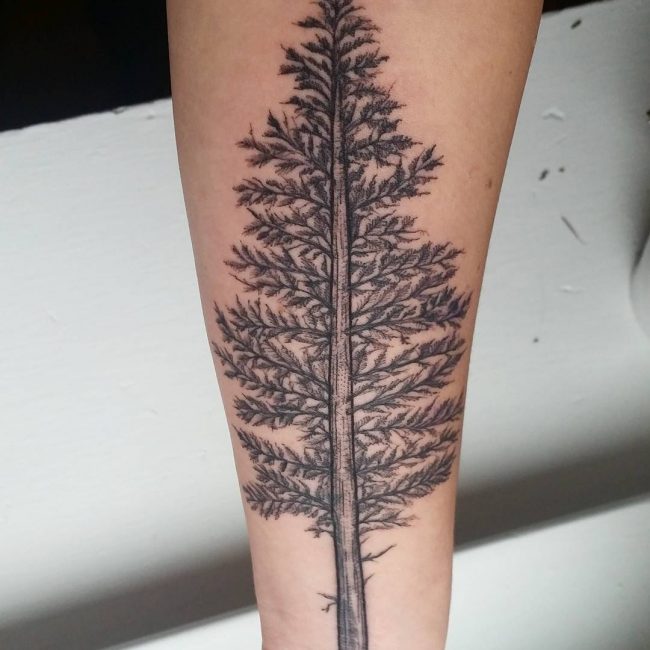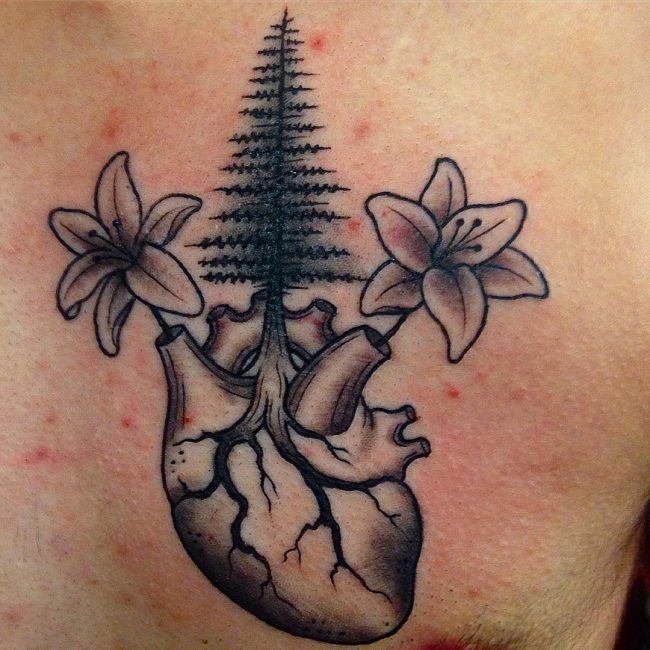 If you have been through a tough period in your life and survived, this design would indicate the hope you have and the promise of tomorrow.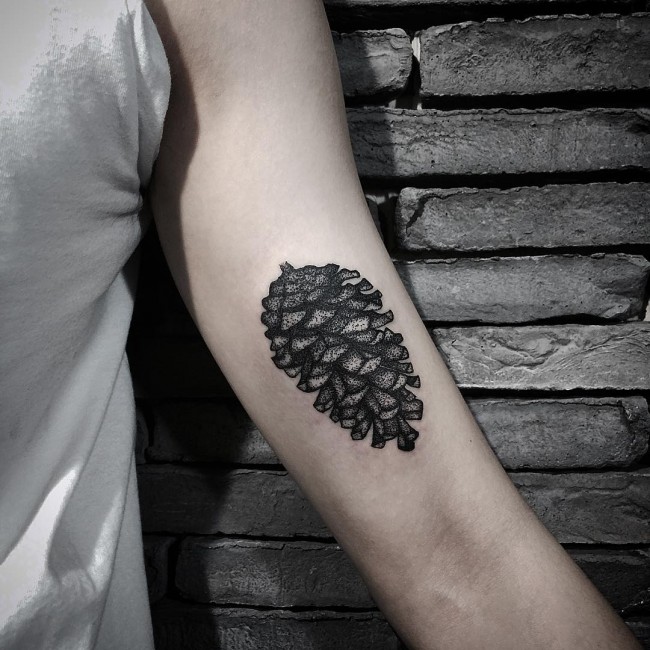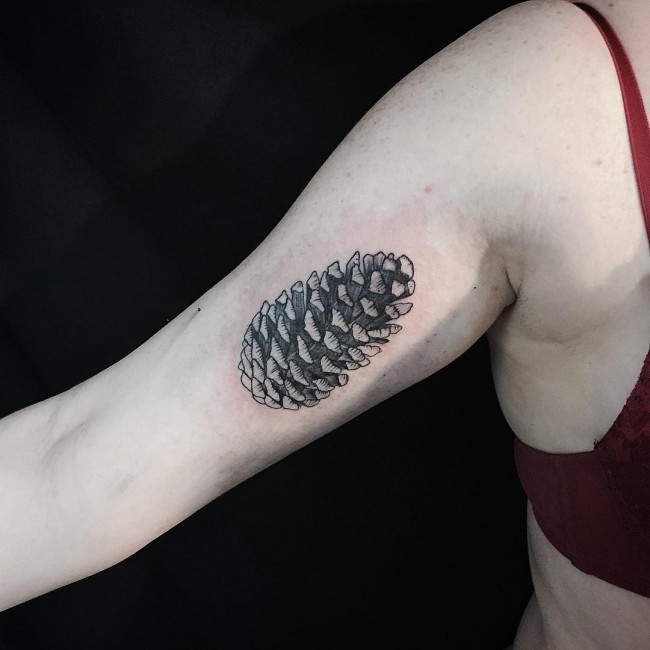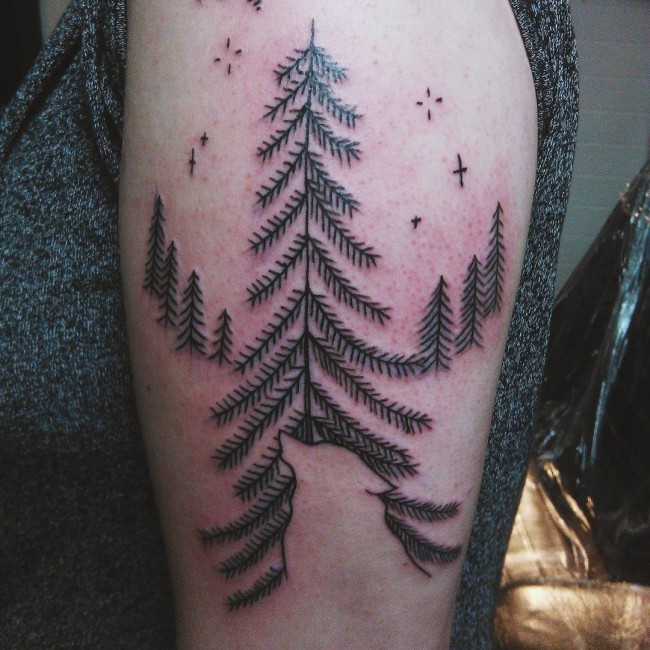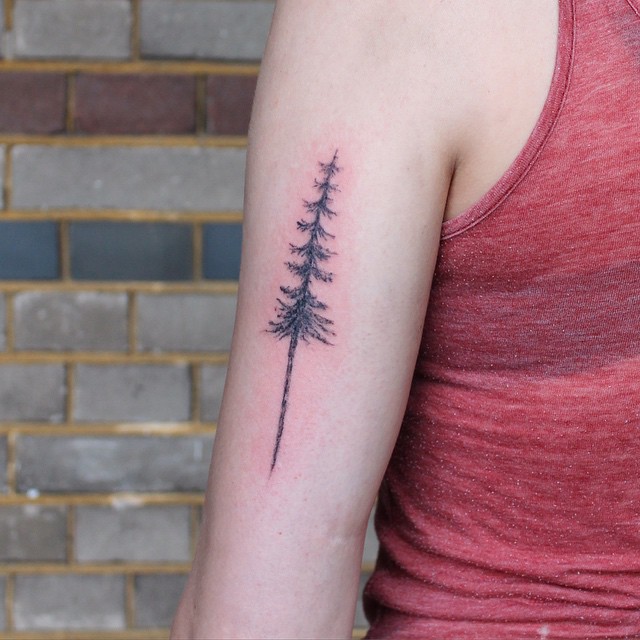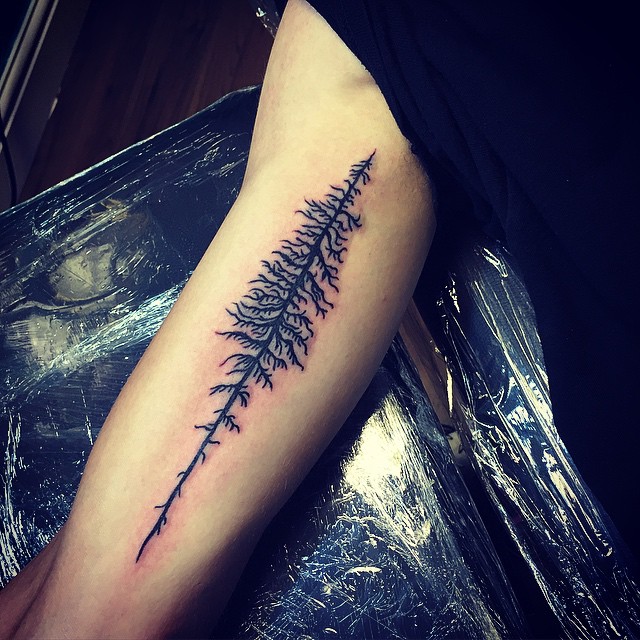 It is difficult to add colour to the pine cone without distorting the image, so you should go for dark and dull colours, perhaps a brown. However, it's the one design of a pine tree tattoo that could be small enough to fit on the wrist or ankle, which makes it appropriate for placement anywhere on the body.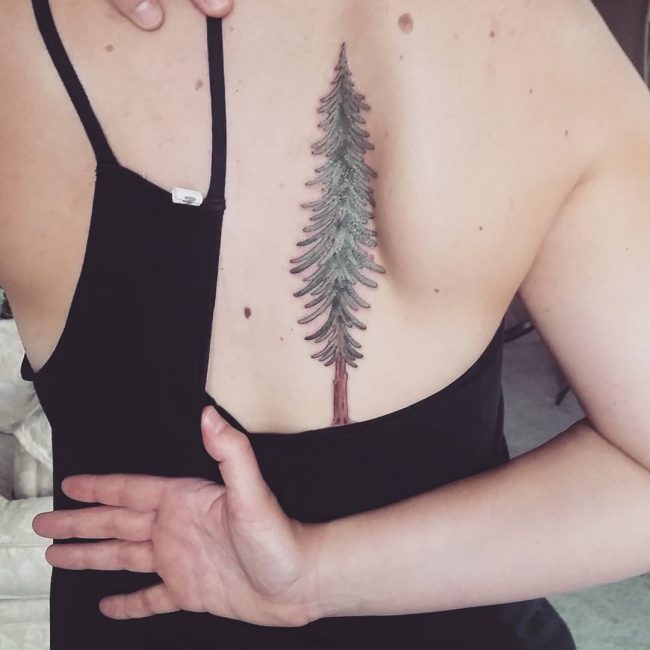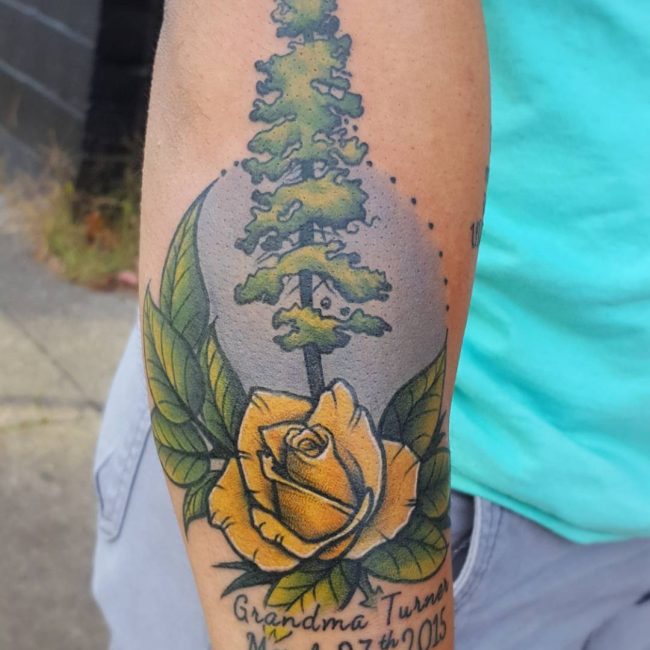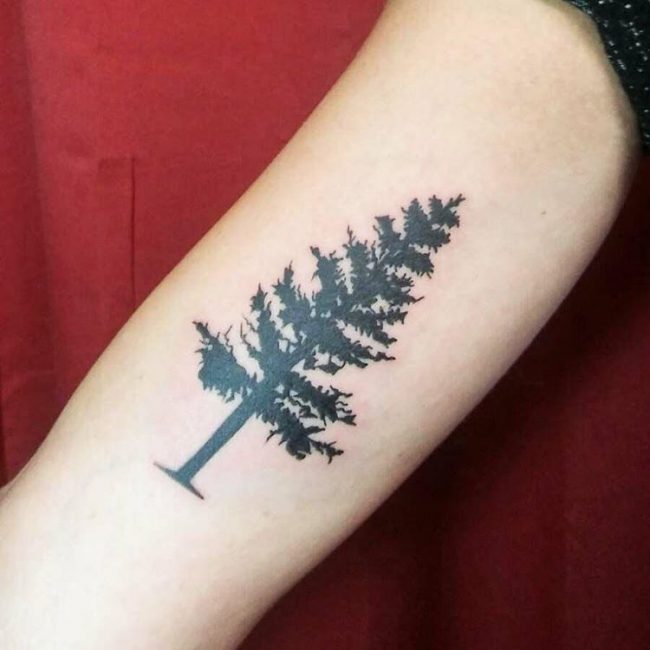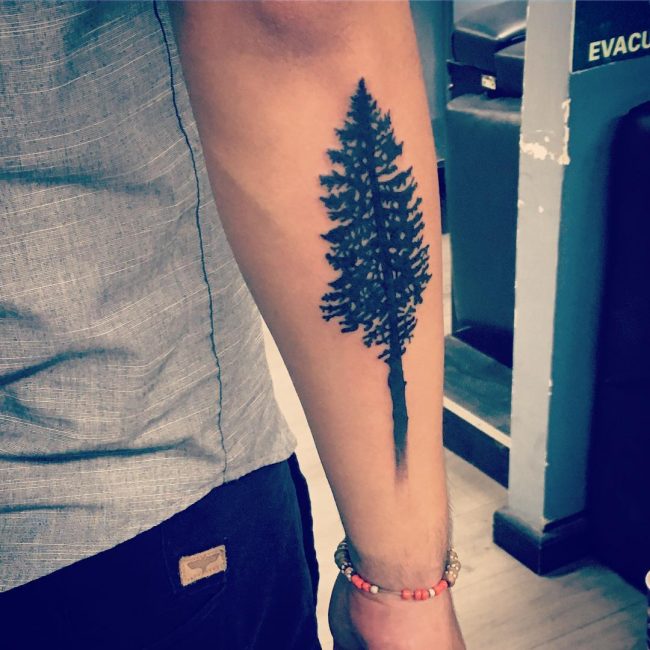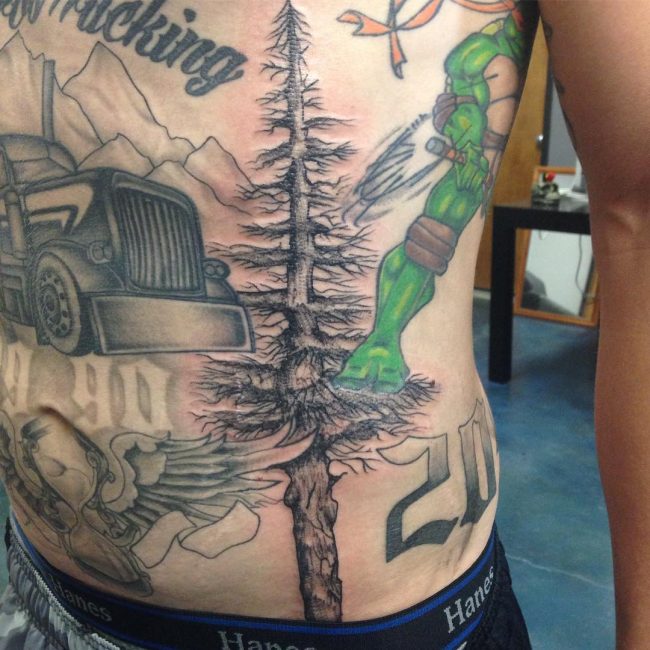 The pine is an evergreen tattoo, which means it doesn't shed its leaves in the winter. As such, a bare pine tree without any leaves could only signify one thing, death. A bare pine tree elicits a feeling of sadness, and can therefore be used to commemorate someone who passed away.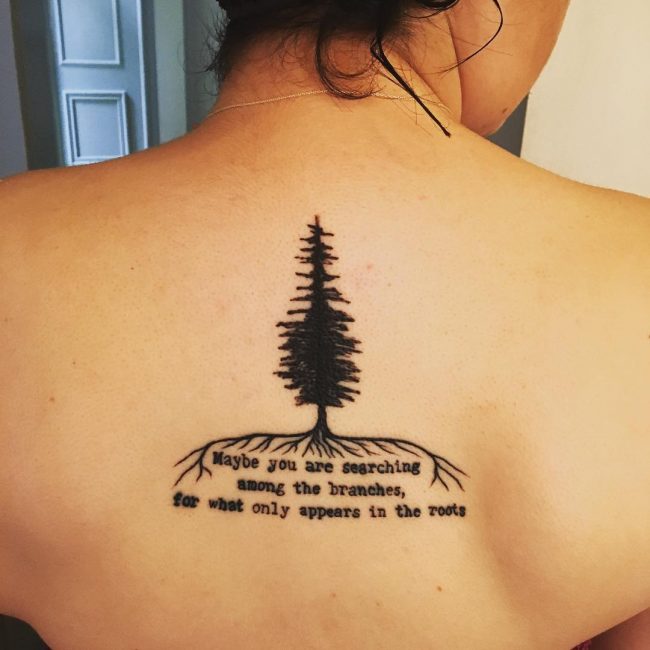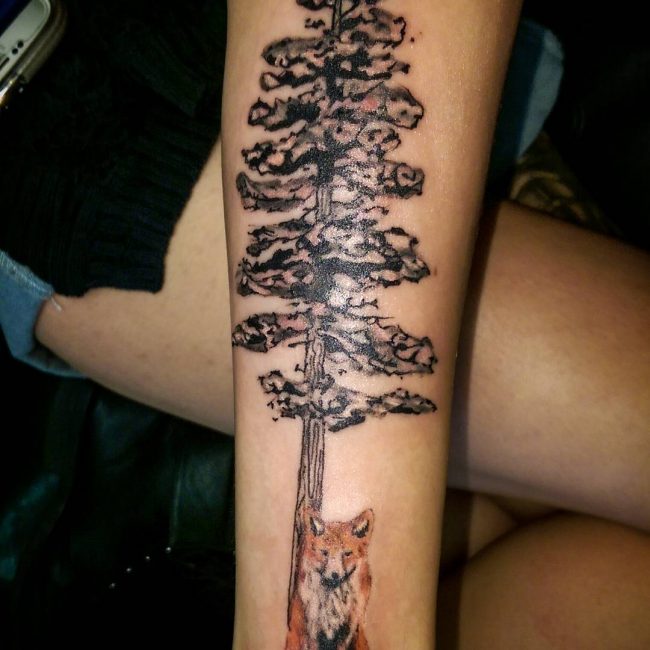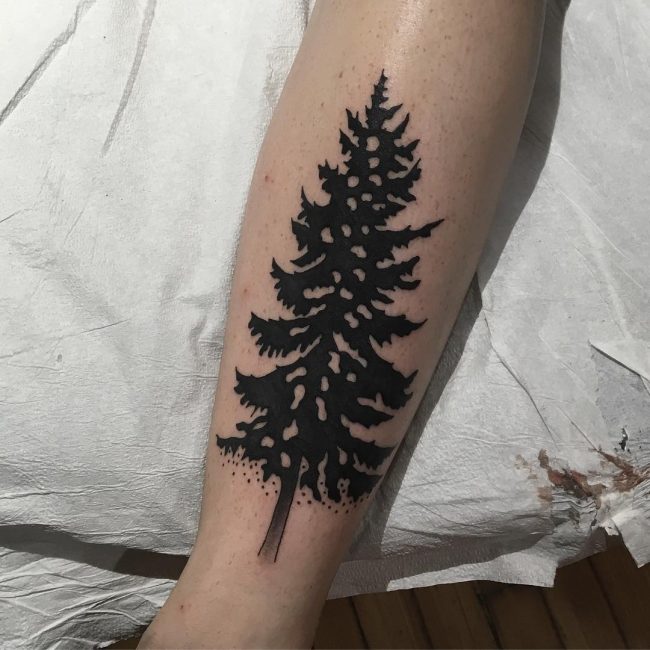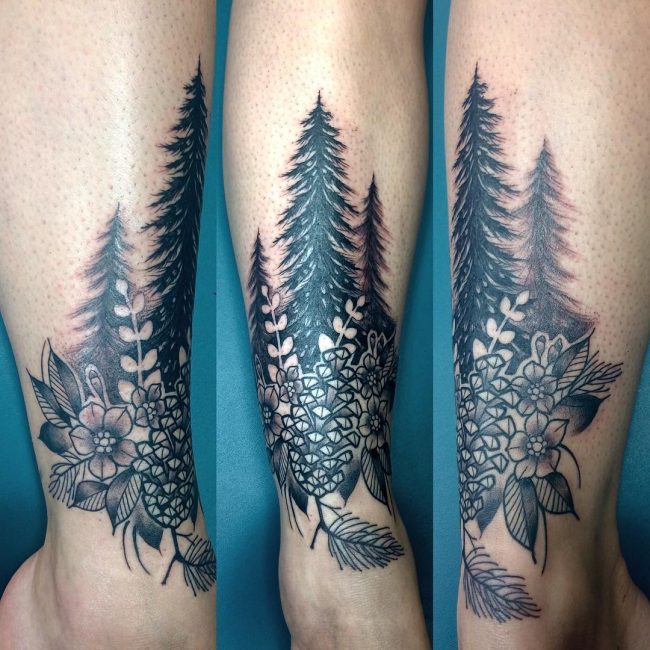 Besides that, it can also be a symbol of pride, especially when worn as a tattoo by an elderly person. It would represent a life of productivity and survival, to appreciate all that you have done.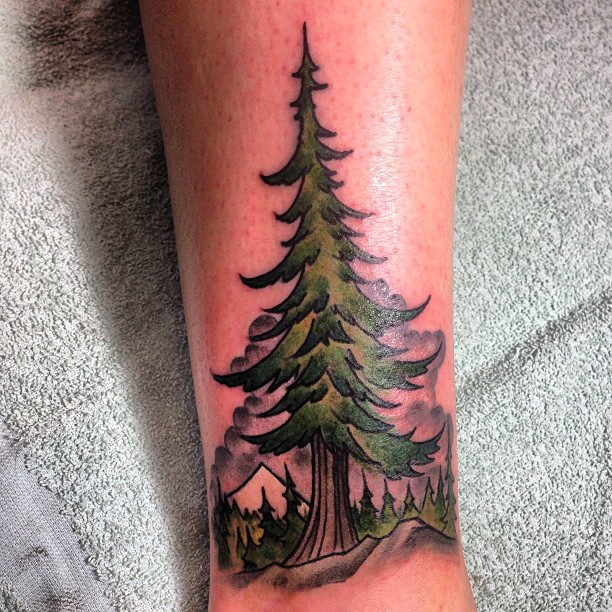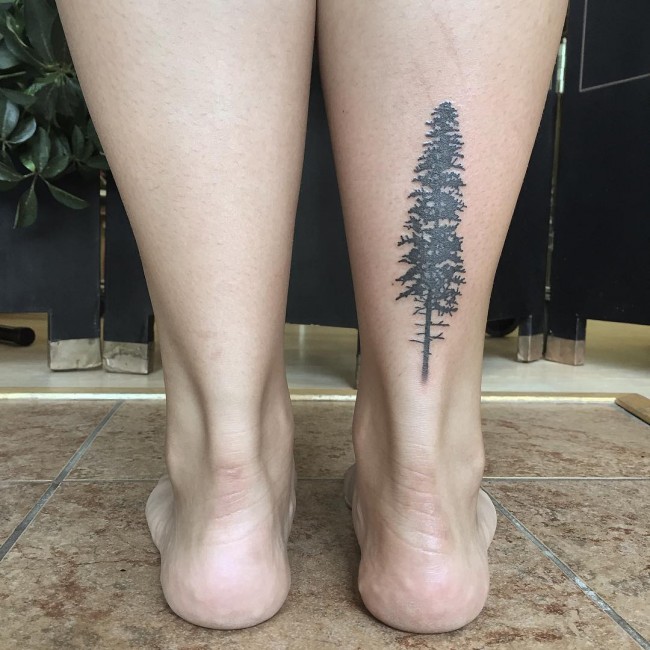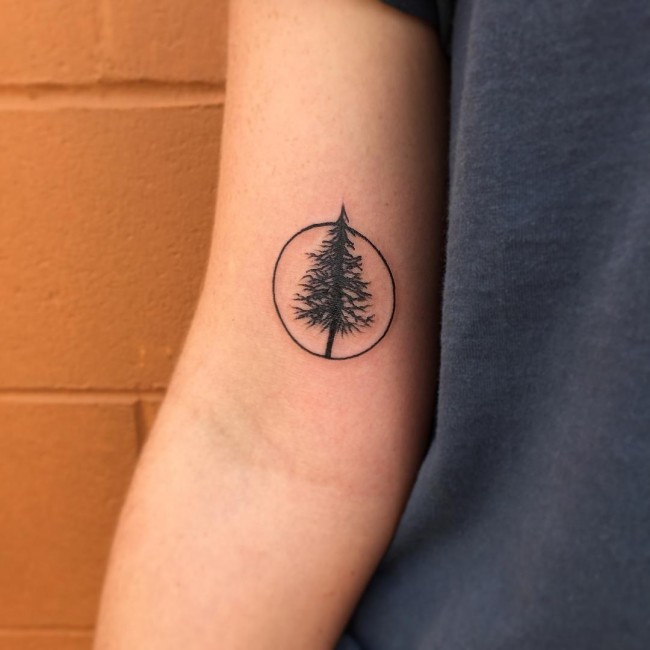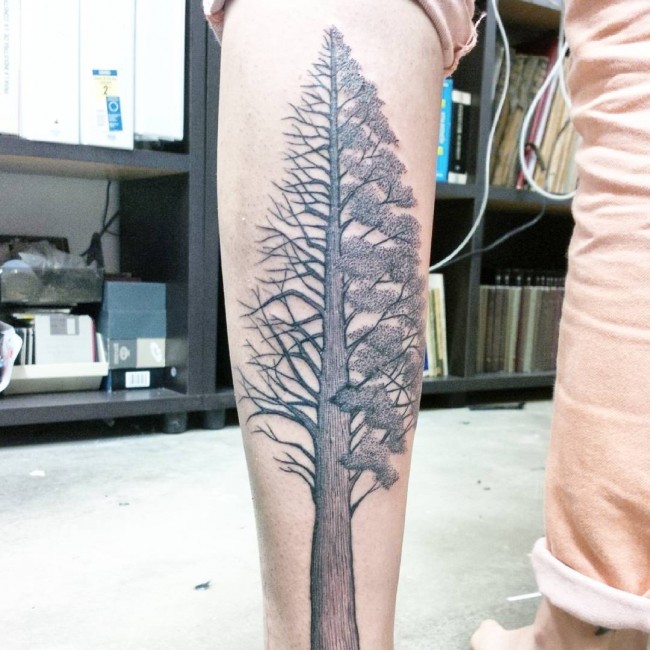 Naturally, a bare or dead pine tree tattoo would be black and grey. It can also be heavily shaded to exaggerate the age of the tree.
They are, technically, leaves, but look nothing like regular leaves. A pine tree's leaves are long, thin and look like needles, unlike normal broad and 'fleshy' leaves. This is a good thing, because then you get a unique design with all the meaning of a regular leaf.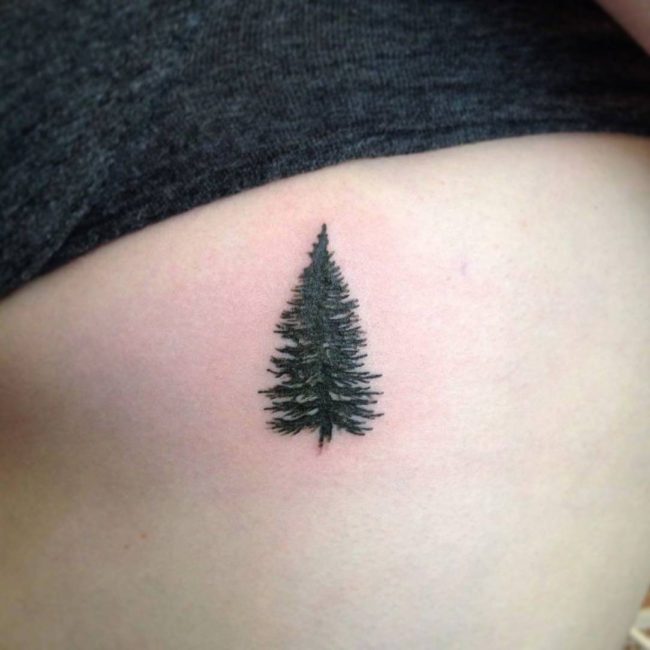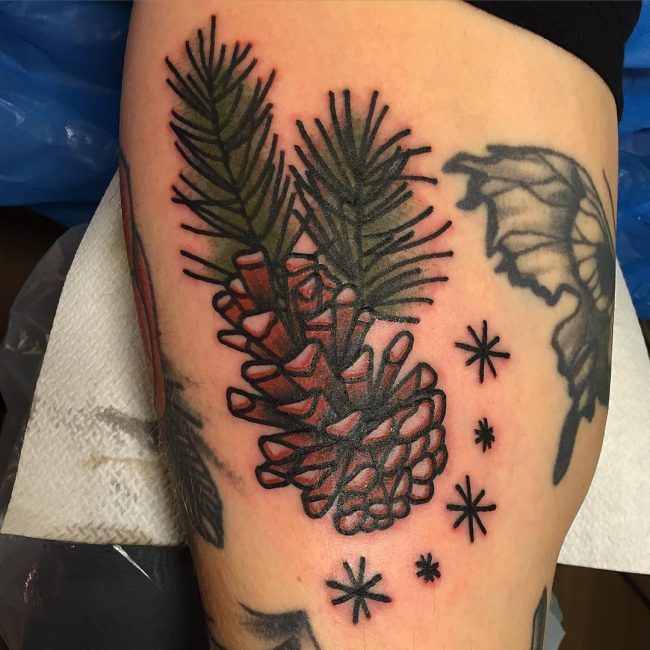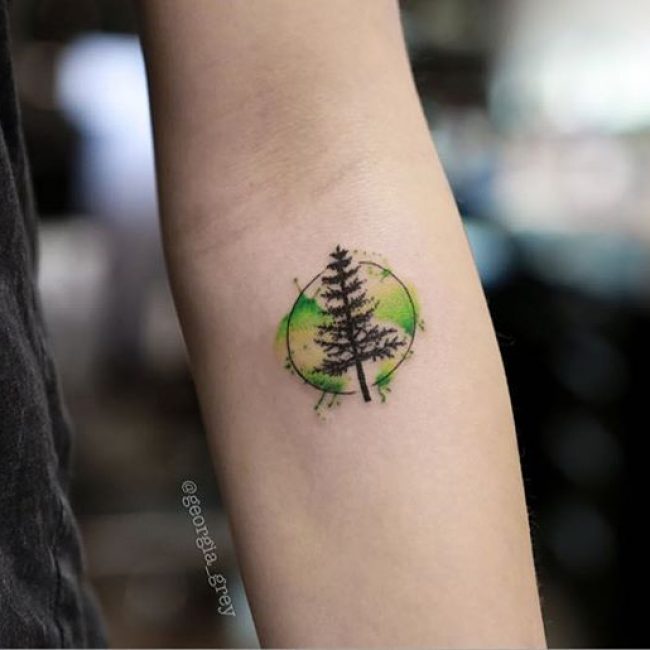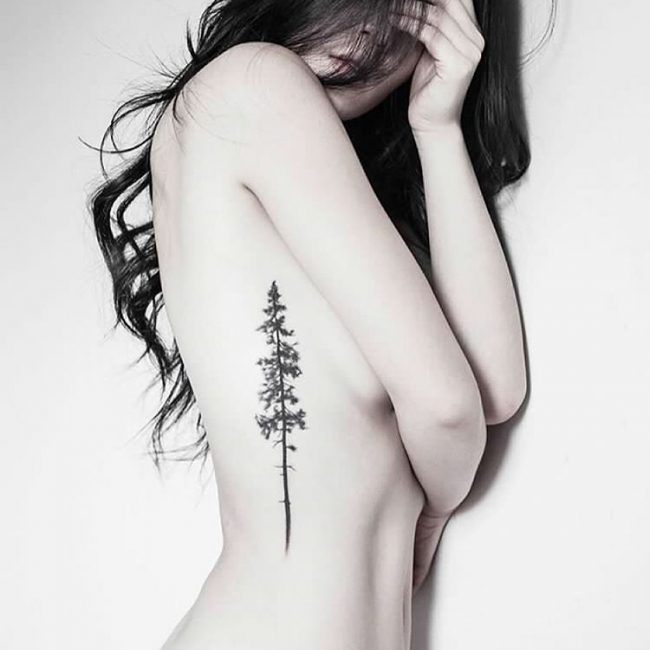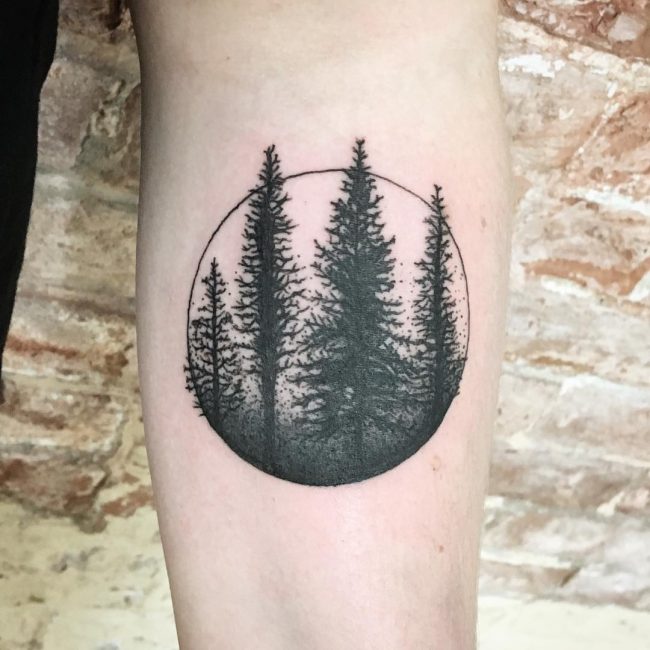 The leaves represent growth, fertility, joy and happiness. Plus, you can include deep colours to make the tattoo appealing, remember you're trying to express joy.
Unfortunately, pine trees don't actually flower, but there's a period before the male pine cones mature where they look like flowers. If you're looking for something really beautiful, you can get a tattoo showing the cone in this state.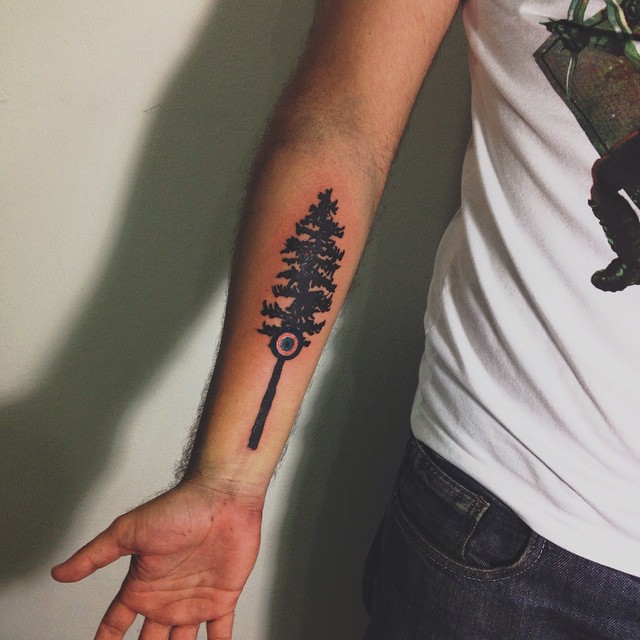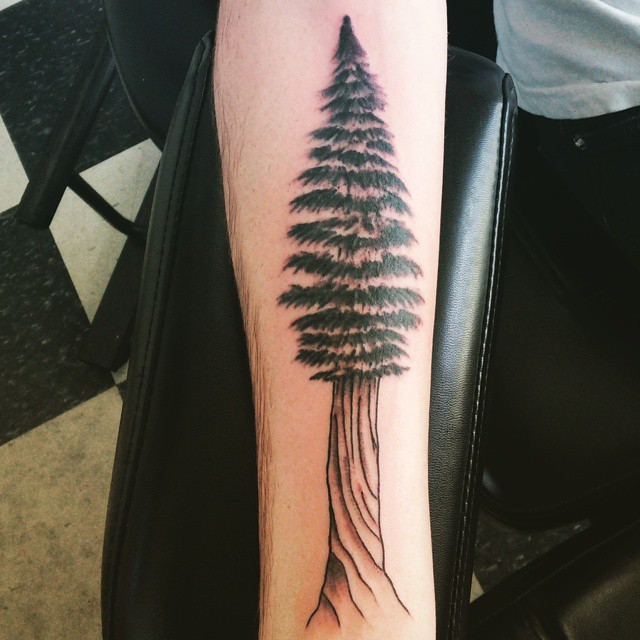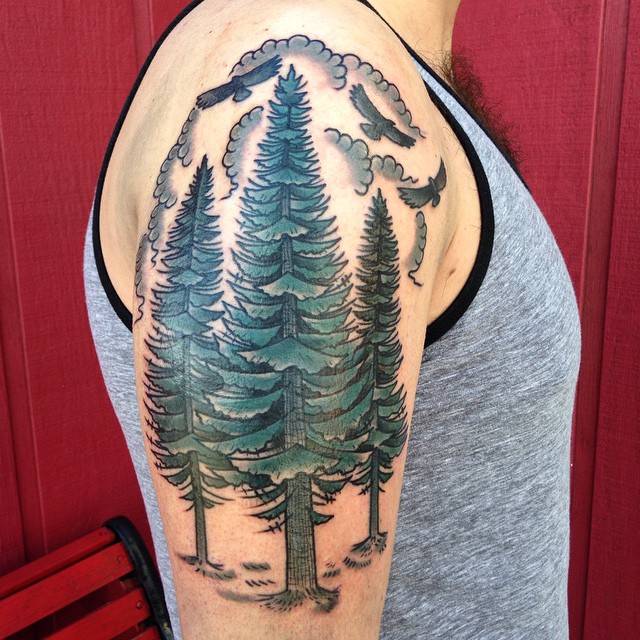 You could also include images of other stuff, but in this case nature would be most fitting. Adding a few bird silhouettes flying around the tree could bring the tree to life, for example. Also including the roots of the tree will add to the drama in the tattoo.
Always try to think of new ideas on your own first before selecting the final design, sometimes you may have a unique design which will make your tattoo all the more unique. Also try out different variations with colour and sizes, for example, using a large trunk to emphasize a certain meaning.
Keep in mind it's all about finding something you will be proud to show your friends.