75+ Unique Dragon Tattoo Designs & Meanings – Cool Mythology (2019)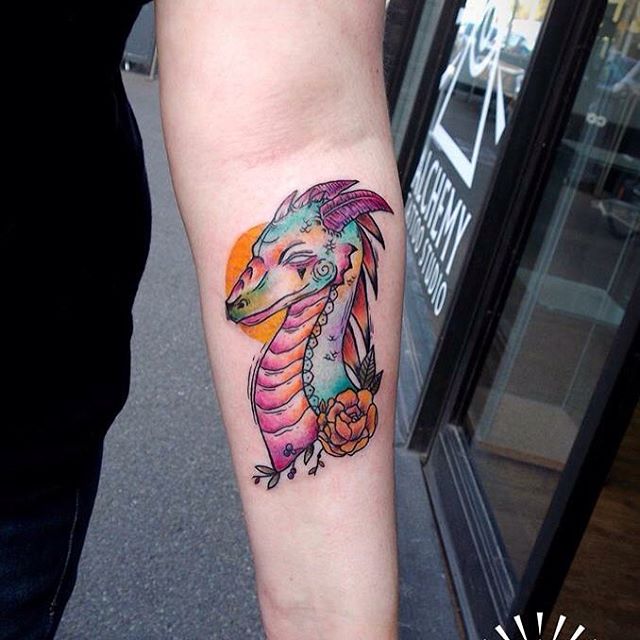 Tattoo art designs with varying motifs have been present for thousand years. It is hard to precisely define the person who invented tattooing. However, considering that mummies in Chile are over 7000 years and have some tattoos on their bodies, this shows how old the body jewelry art is.
Tattoos were all over the world. Most indigenous individuals had to tattoo their body for aesthetic and other reasons.
Contents: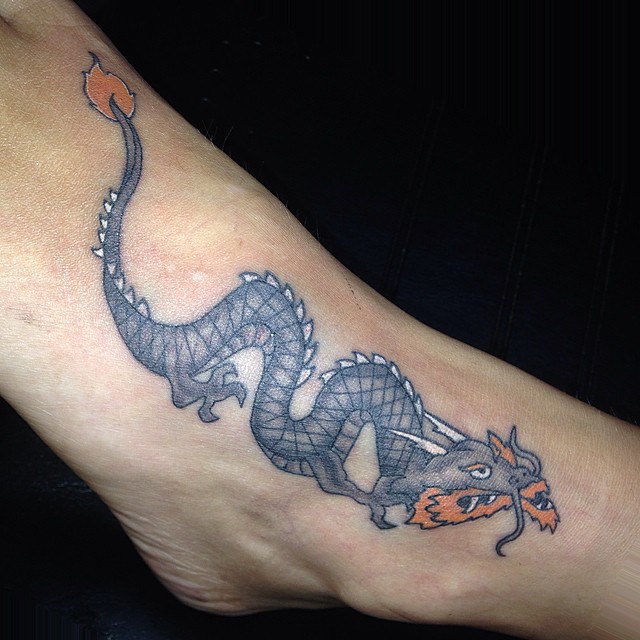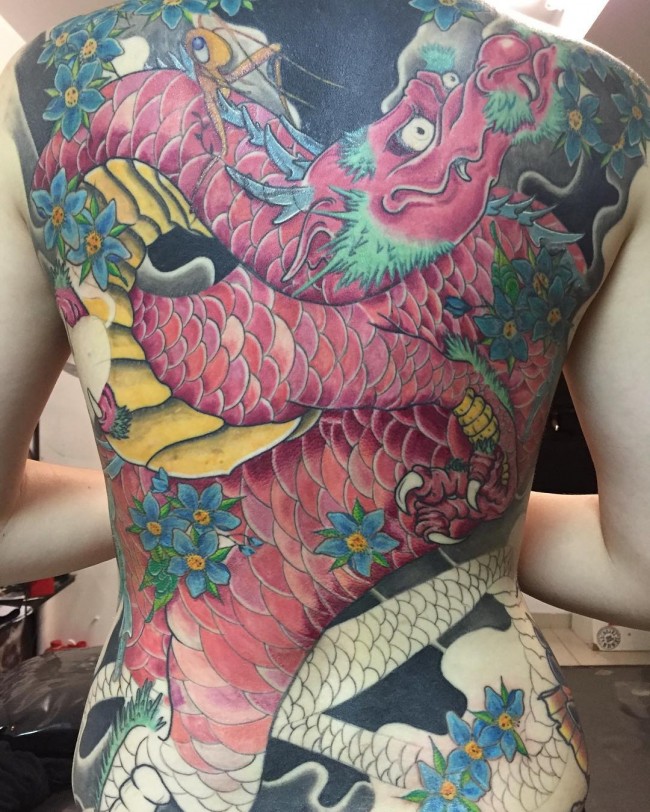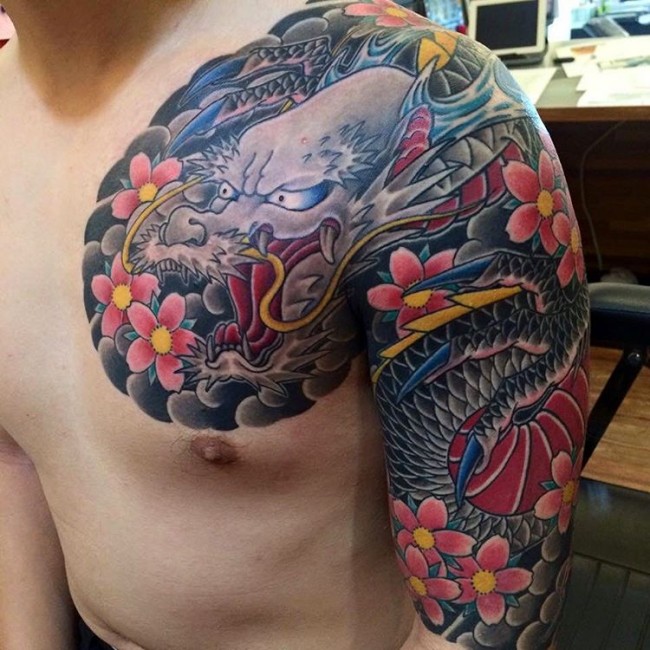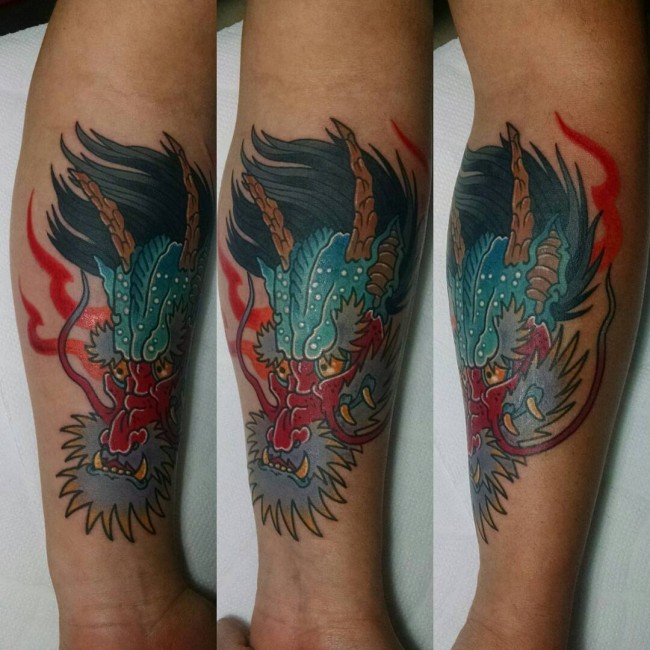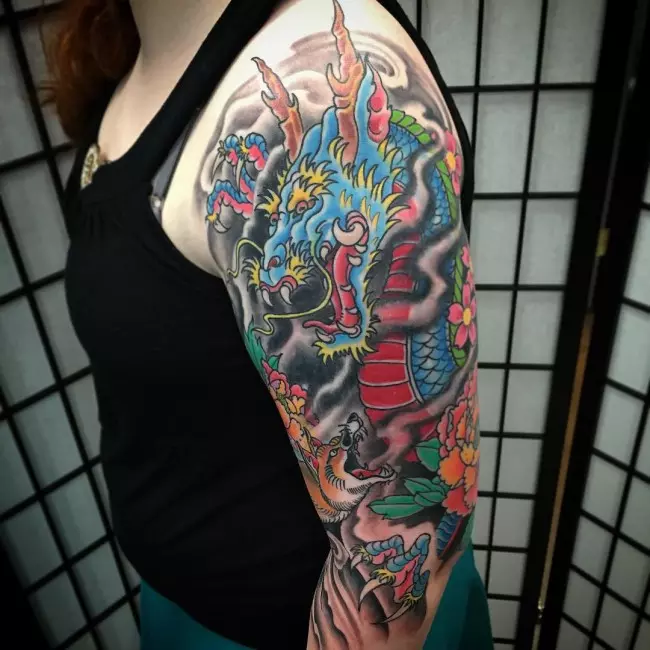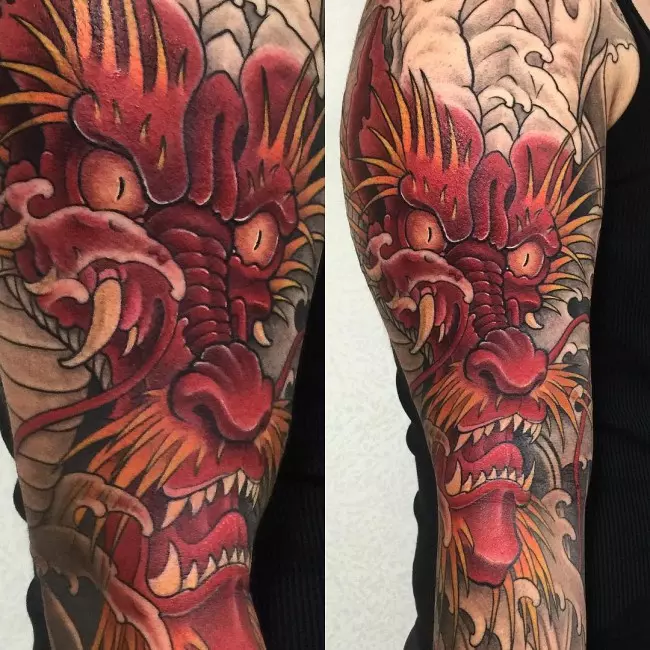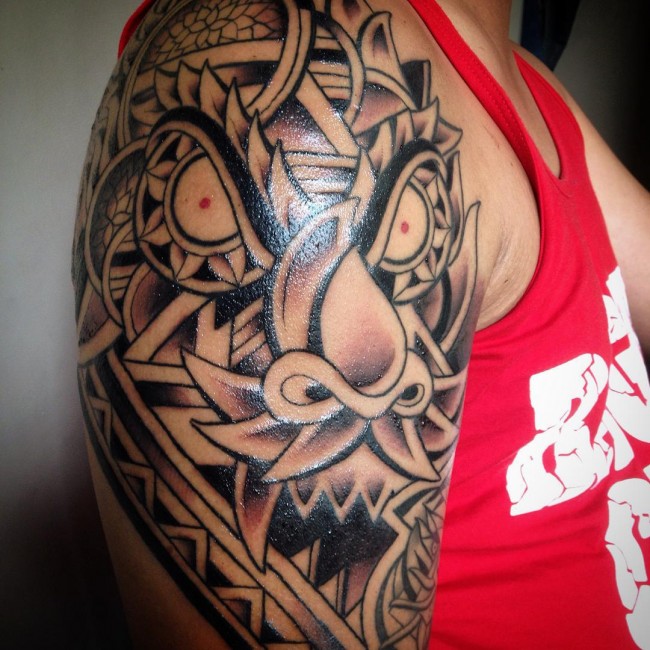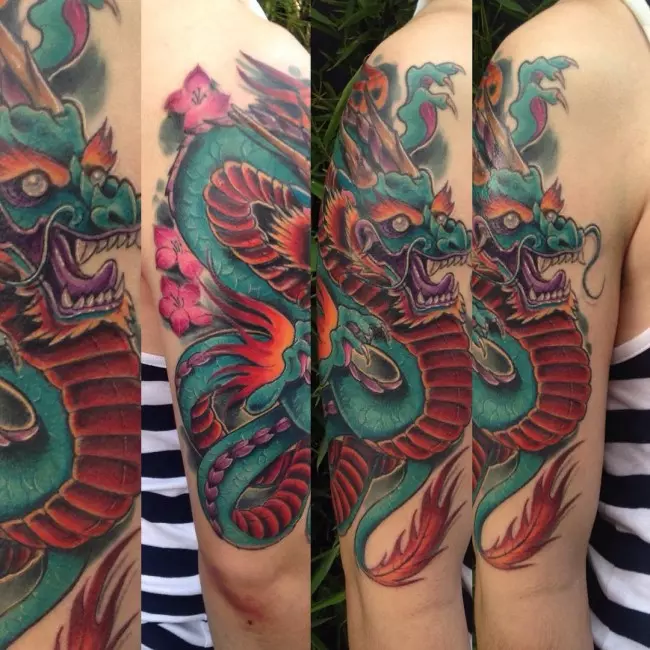 The symbols carved into the skin defined the tribe a person belonged to and the form of recognition. However, tattoos were more. For example, in Polynesia, every sexually mature girl was tattooed and after that, she was ready for marriage.
For the young men, it was a clear indication that they were now warriors or worthy men.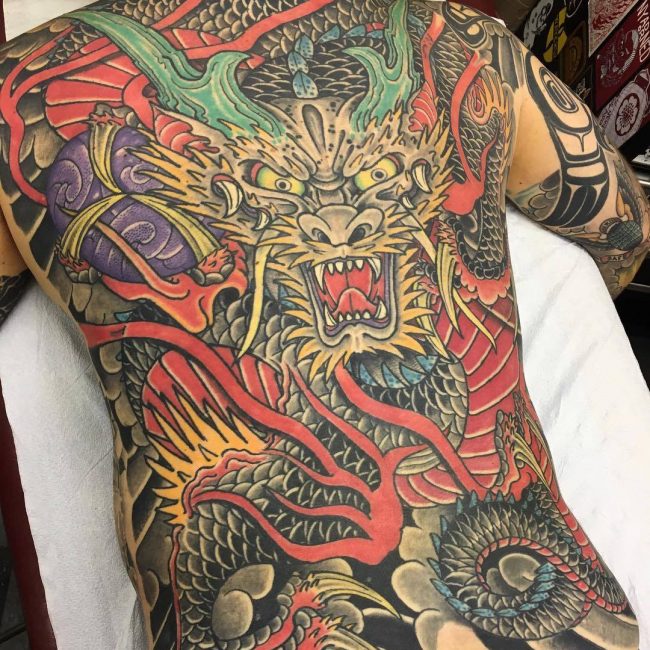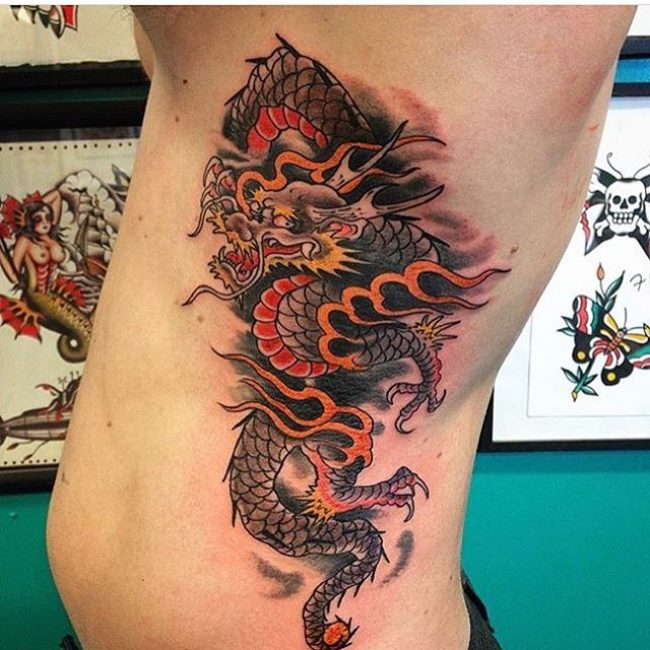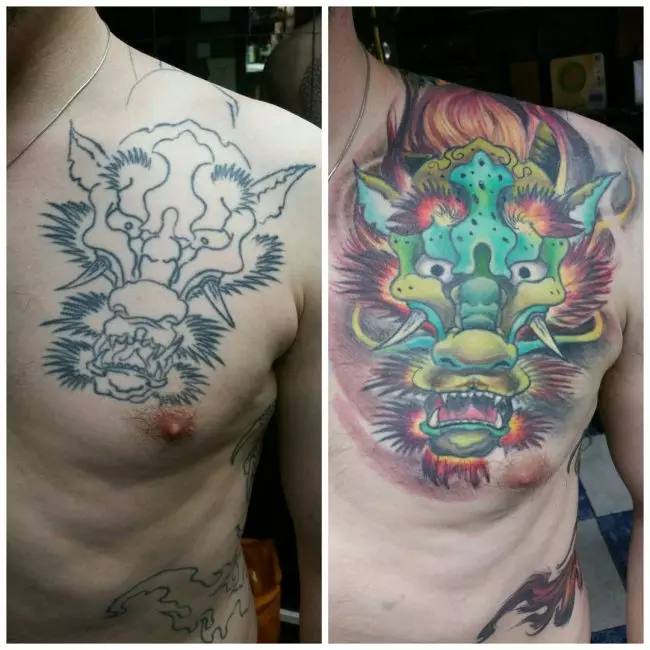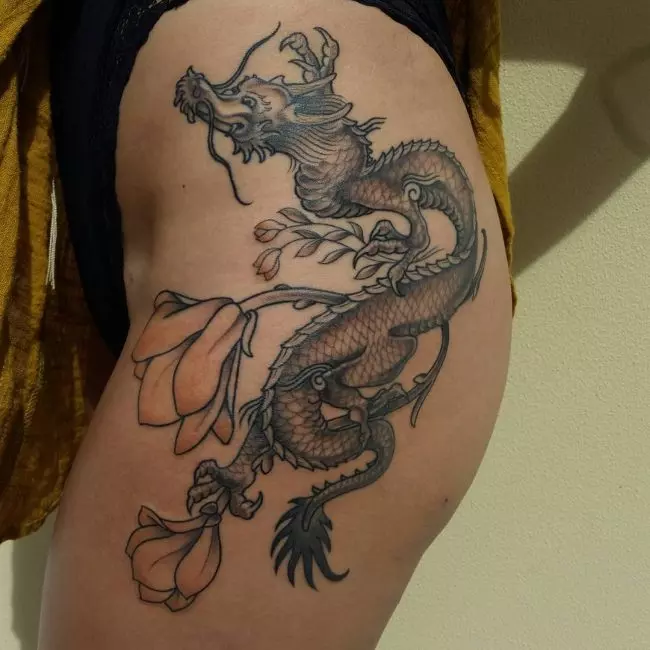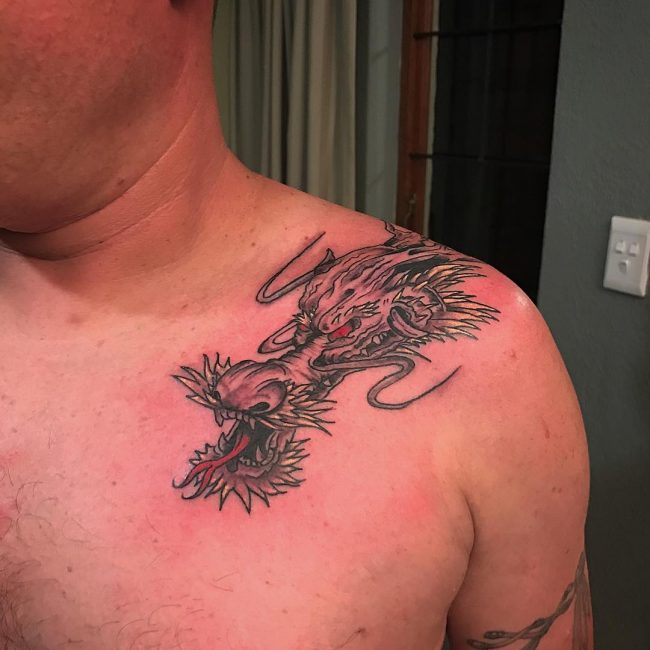 While out and about in summer or spring, you are most likely to see individuals with dragon tattoos. Further, you can easily make a dragon tattoo design, which is completely unique to suite your individual needs. Dragon tattoos are versatile images.
You will hardly find two similar dragon tattoos even if you compare a thousand of them. This is because every person will make a dragon tattoo to suit their character. But why should you have a dragon tattoo?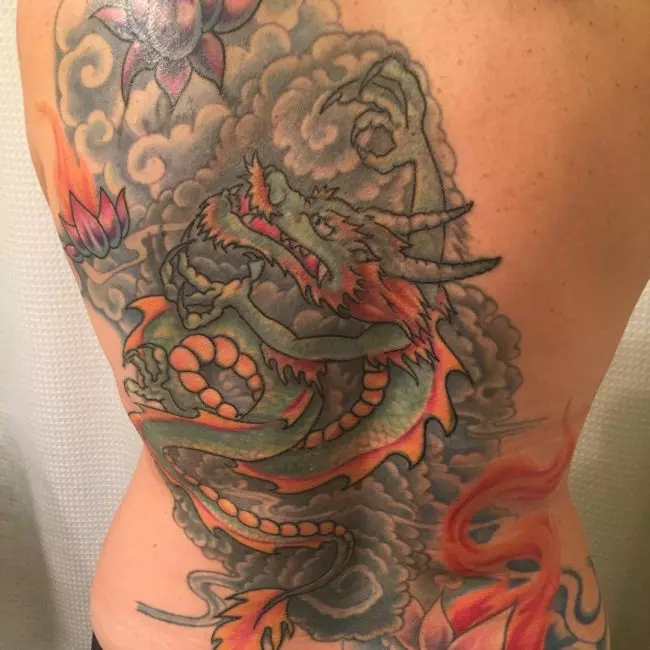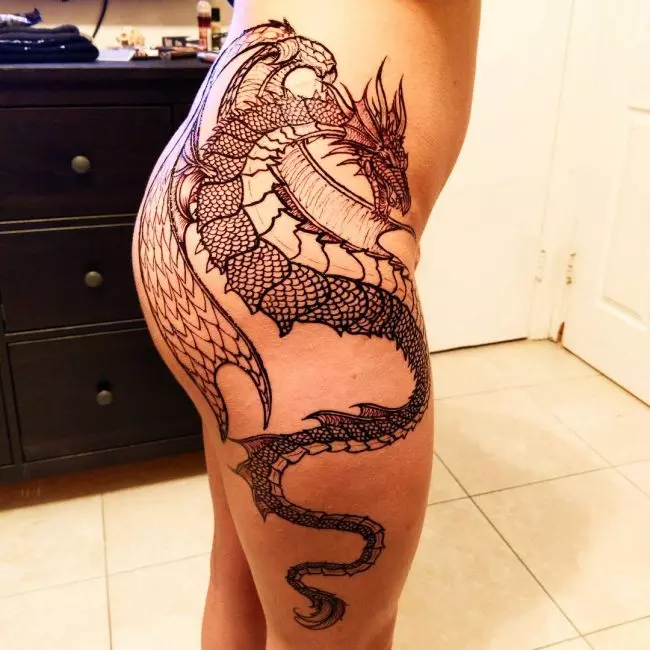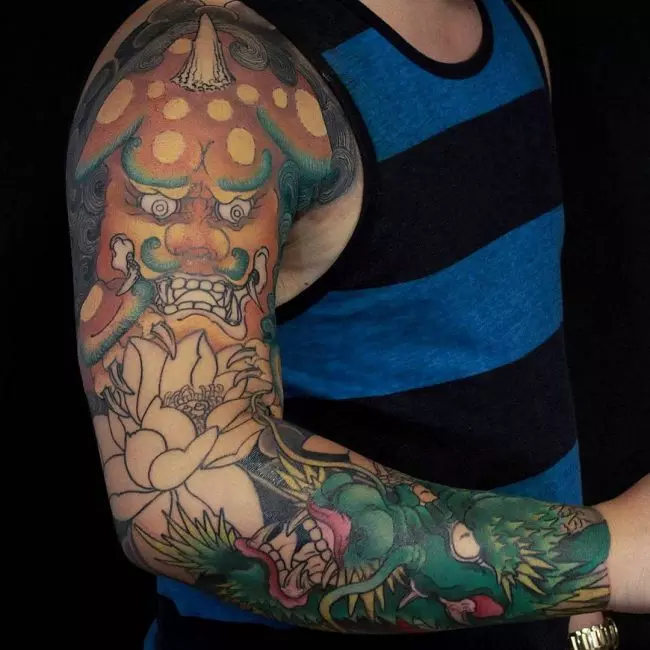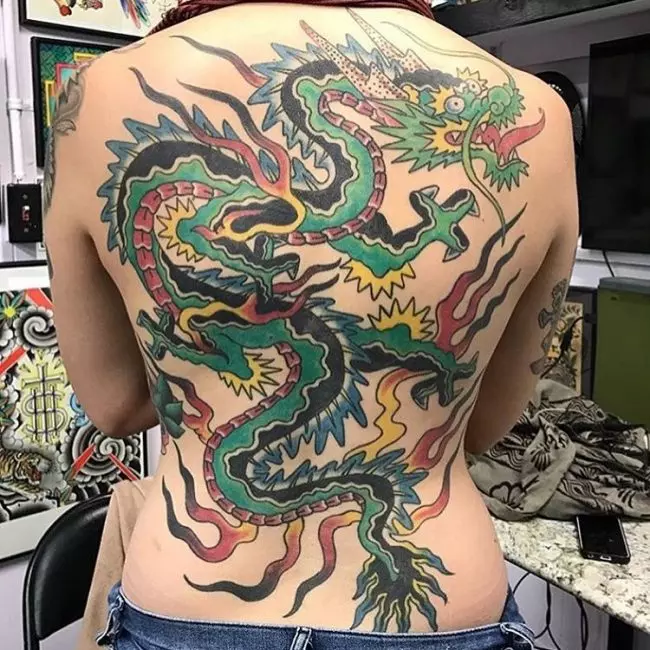 ---
Very popular images
Dragon tattoo images get more popular day after day. In recent years a lot of high-quality dragon designs have been developed and anyone can easily get them.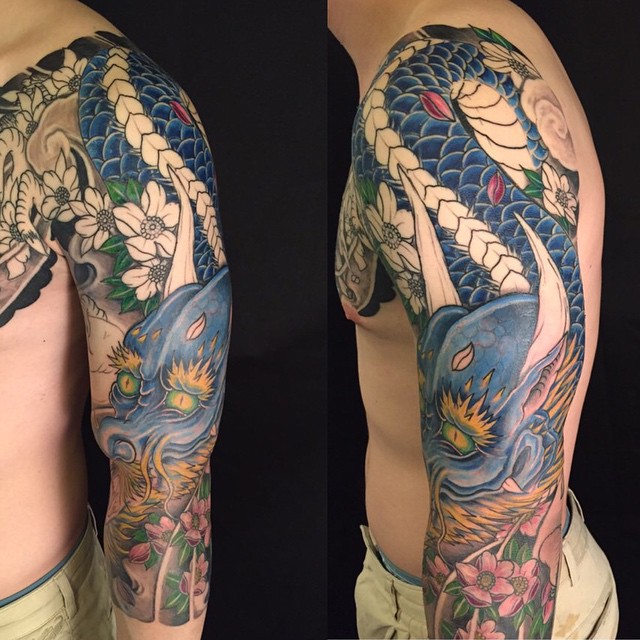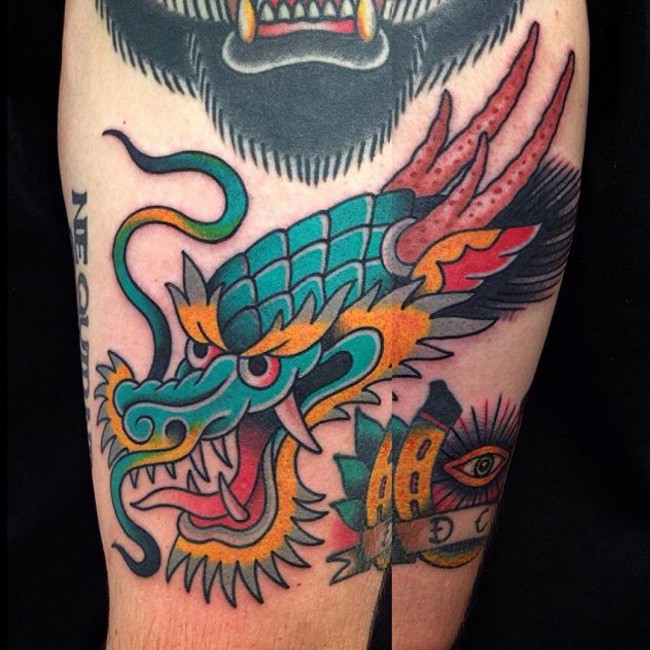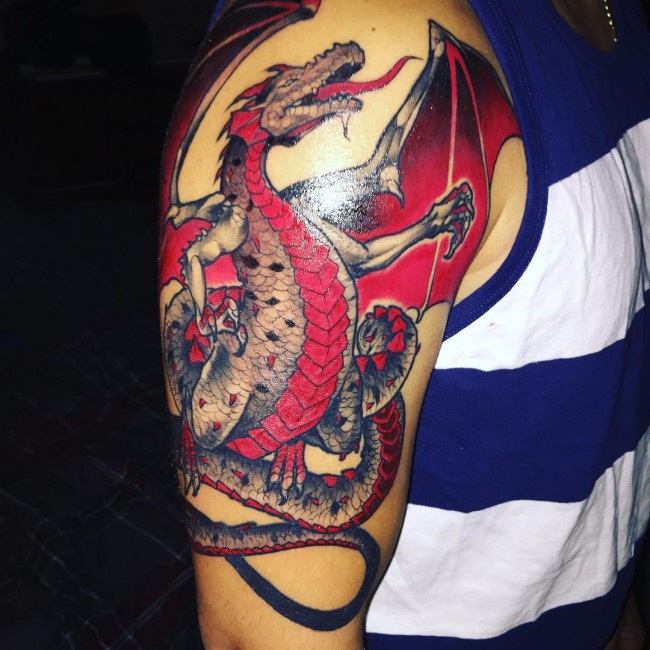 The online galleries have thousands of dragon tattoos to choose from.
---
back to menu ↑
Cool mythology
Mythology surrounding dragon tattoos adds more appeal to them. In many cultures, dragons are symbolic creatures which represent power, passion and wisdom and particularly in the eastern cultures.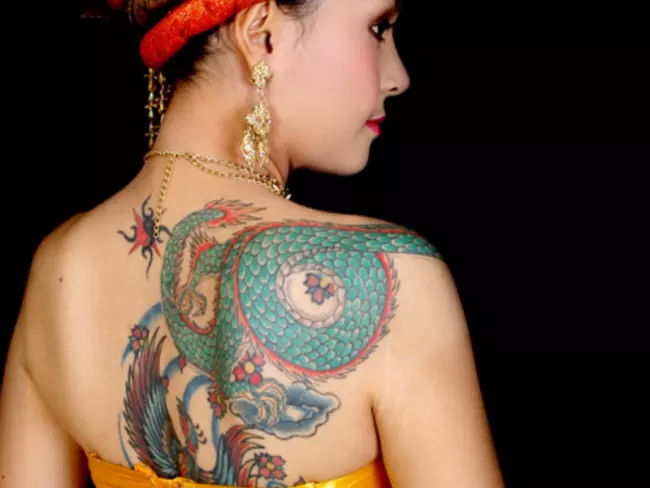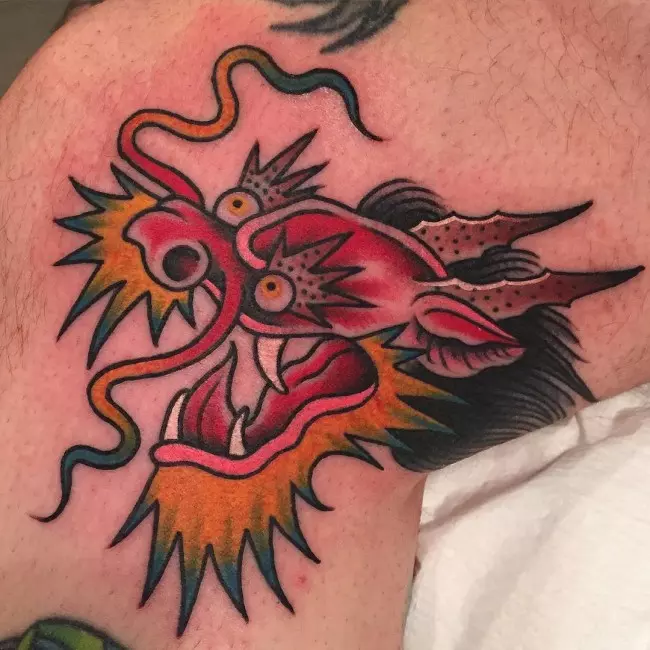 Dragons are available in several shapes, sizes and form across legends and stories although in all of them they represent a sense of power. Mostly, they are usually reptilian creatures flying and also fire-breathing. Individuals observe this as a symbol of intelligence and wisdom.
The depiction of the dragons makes them perfect images for tattoos.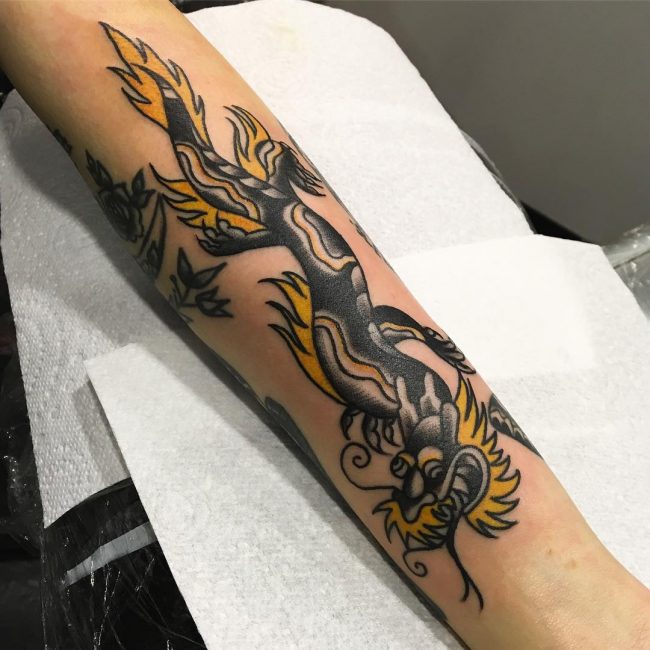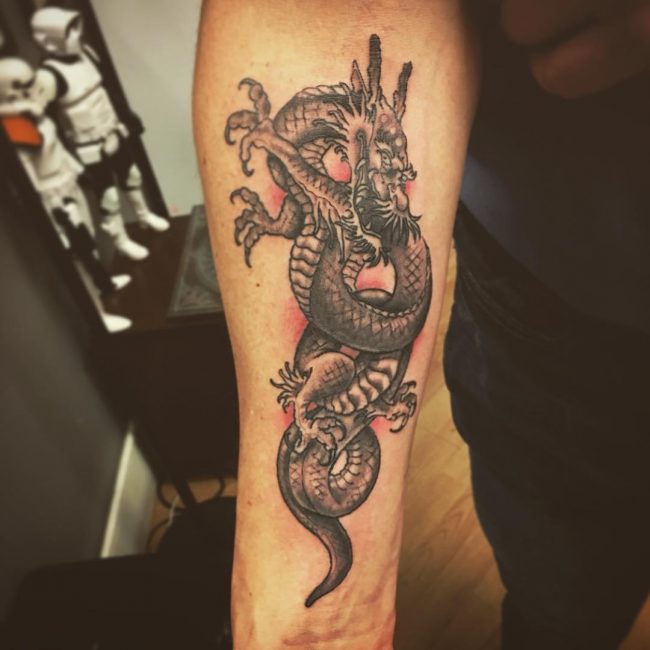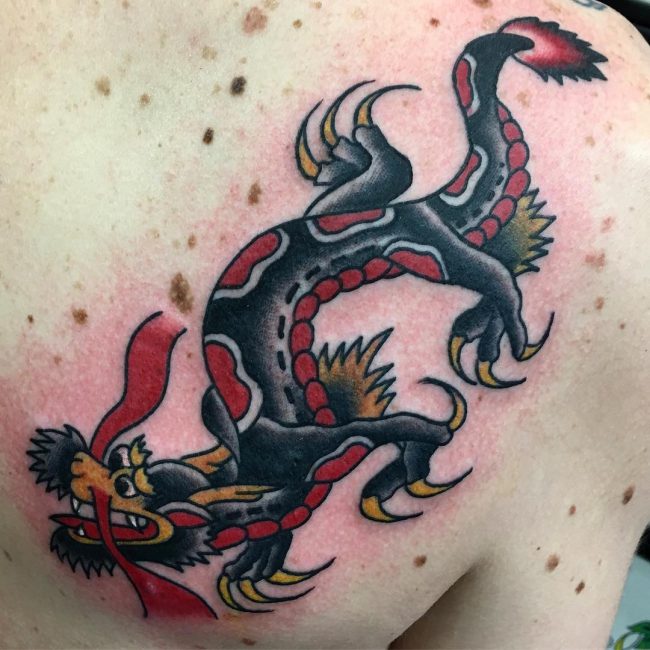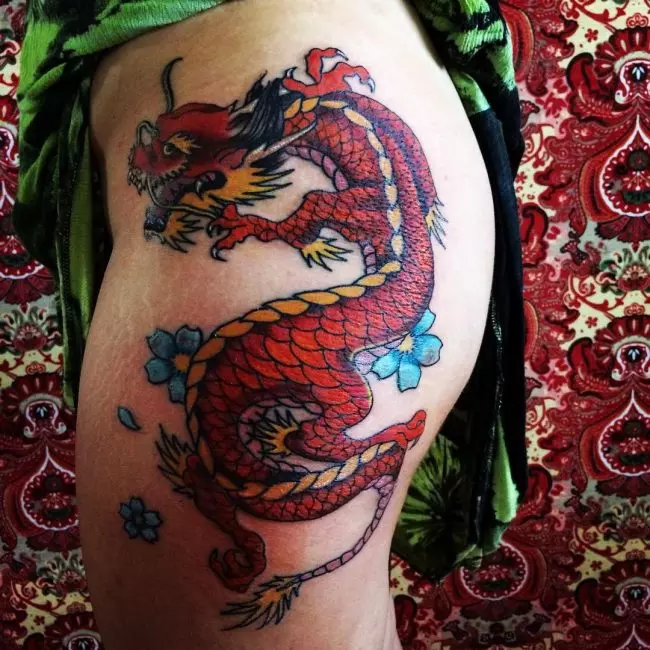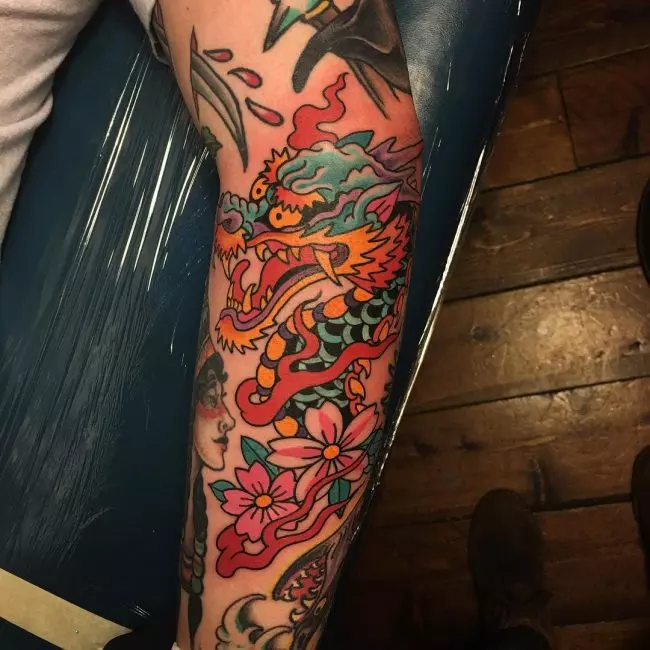 ---
back to menu ↑
Wide variety and an expressive potential
The expensive and detailed dragon tattoos depict each and every scale on a dragon's body. The most prominent and interesting feature in a dragon tattoo for most individuals is the dragon's face.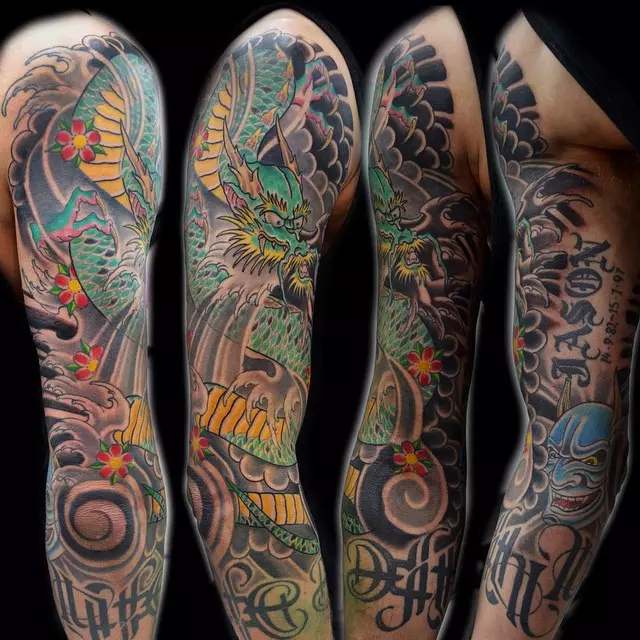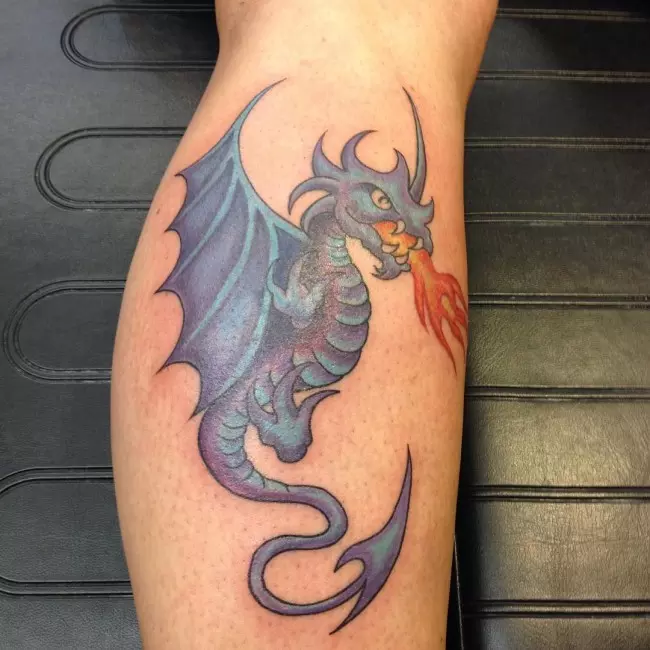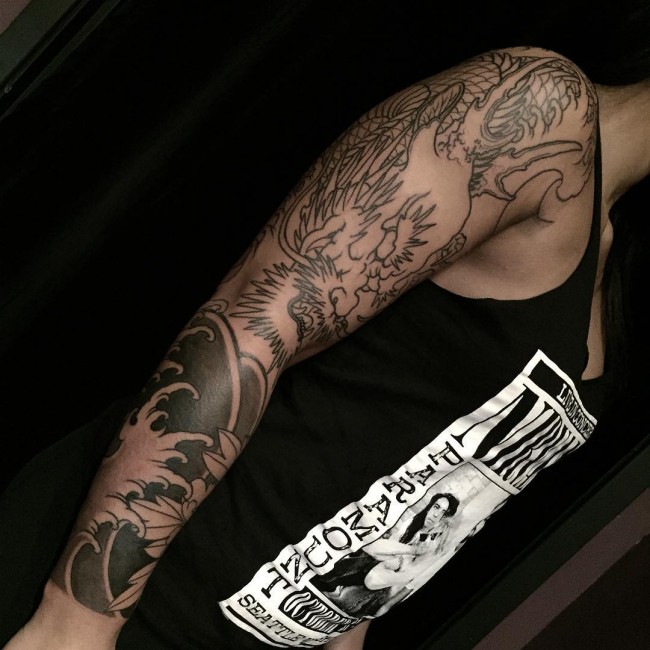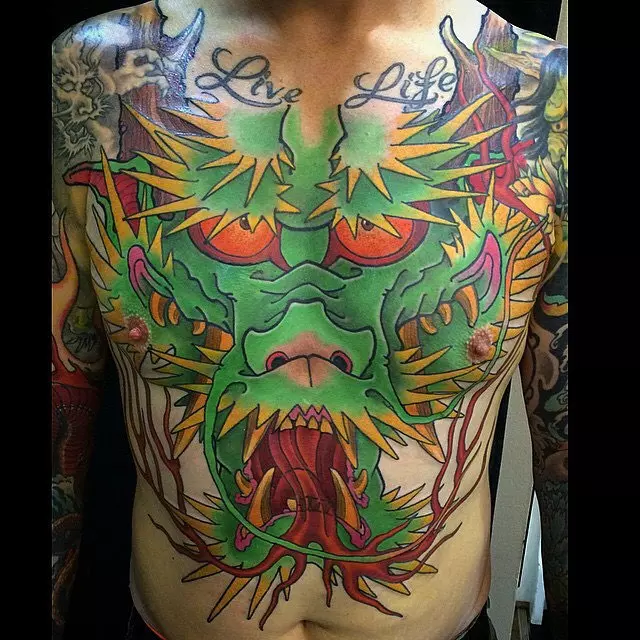 The creatures face is usually intelligent and may have any expression which include serene, cheeky and angry. Furthermore, some dragon tattoos will feature a tongue extruding from their mouth. In other tattoos, the dragons are usually flying or even breathing fire.
Dragon wings are a great part of tattoos. They can be many, of different shapes, sizes, and colors.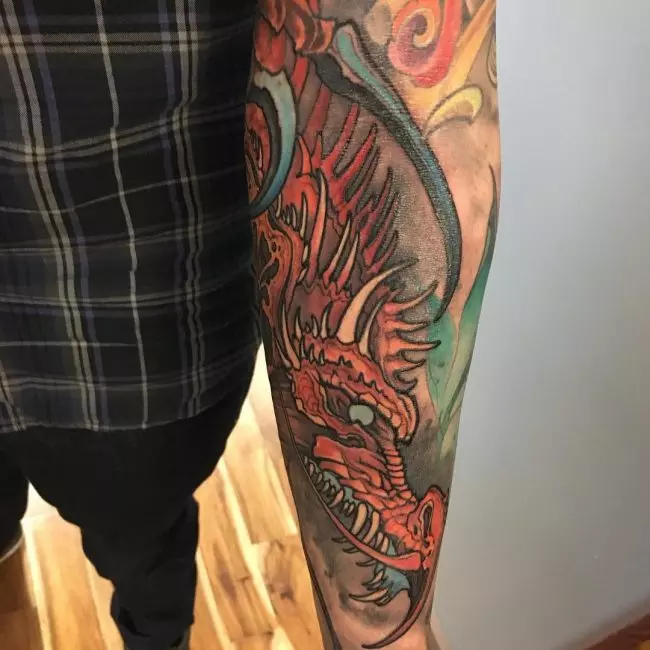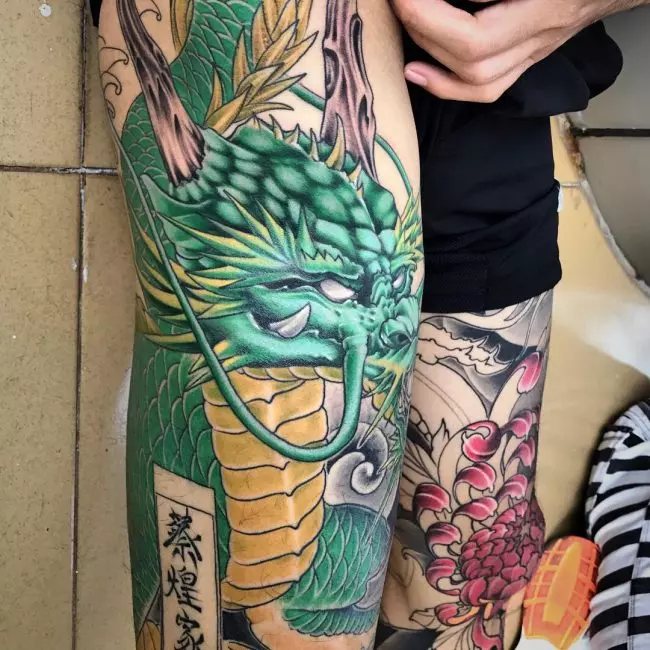 Dragon tattoos allow for customization and alterations a feature that makes them very popular. You can easily make a dragon tattoo by simply altering one of their many features. Customizing their color, size, shape, body and wings is very easy.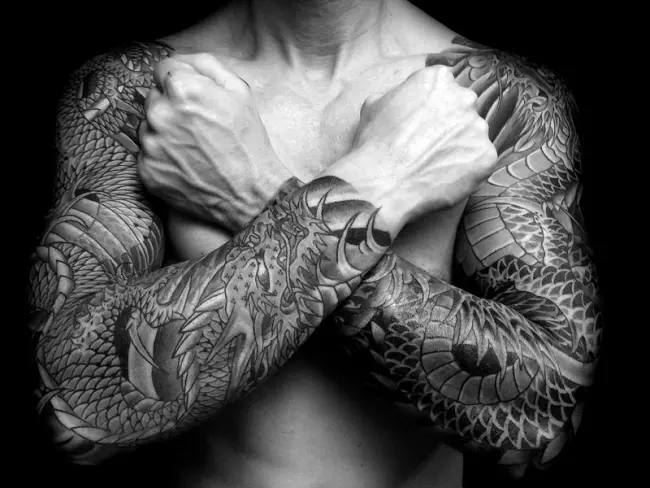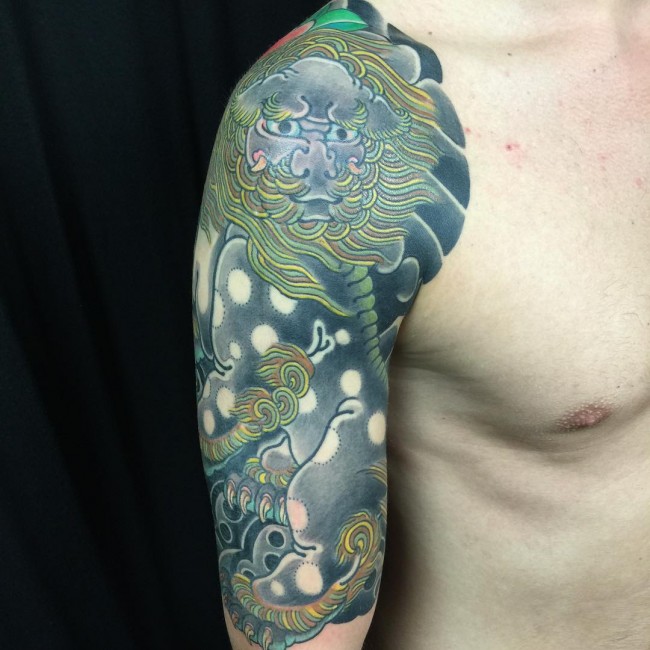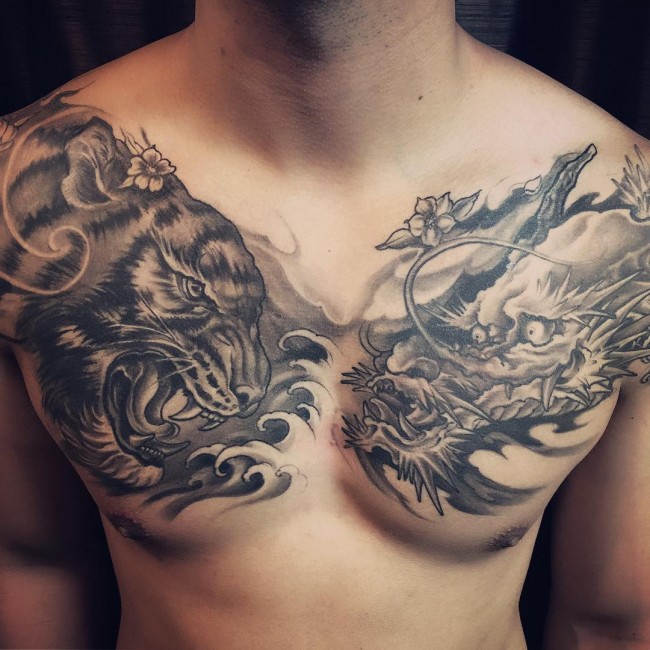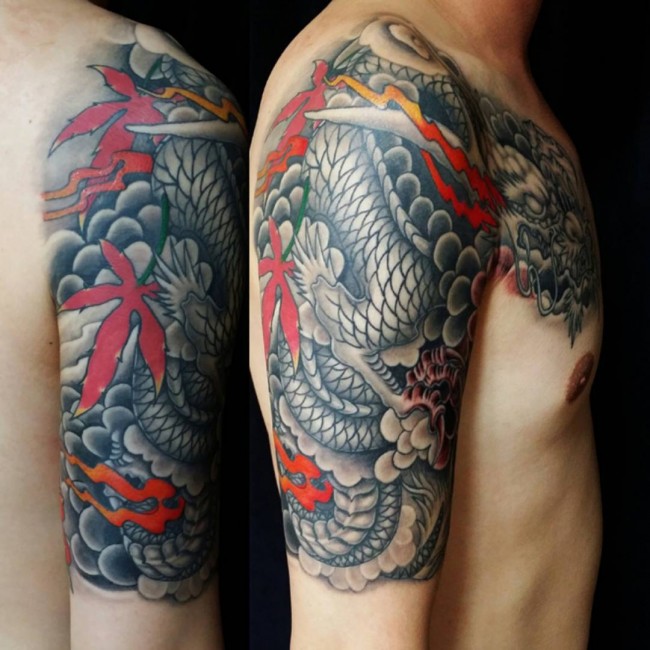 A dragon can hold many dramatic positions with use of their expressive bodies. The tattoos also feature expressive faces that are very easy to create and moreover which will express your own personality. Your inner personality can be peaceful, playful, angry, passionate and mischievous.
It can also be thoughtful or calm. There are so many possibilities and you can also customize the dragon face to express them.
---
back to menu ↑
Types of dragon tattoos
Dragons have been mystery and fascination source among many people, a symbol of purity and hope although at times it can be a symbol of wickedness and rage. For a long time they have been infamous riddle masters, treasures beyond imagination and keepers of some sacred shrines.
The mythical creatures which emit fire from their mouth have been a fear subject and also curiosity subject.
Generally, they are a symbol of power, but every culture has a different definition for a dragon. For instance, the Chinese dragons are creatures of great intelligence, luck and health which they symbolize.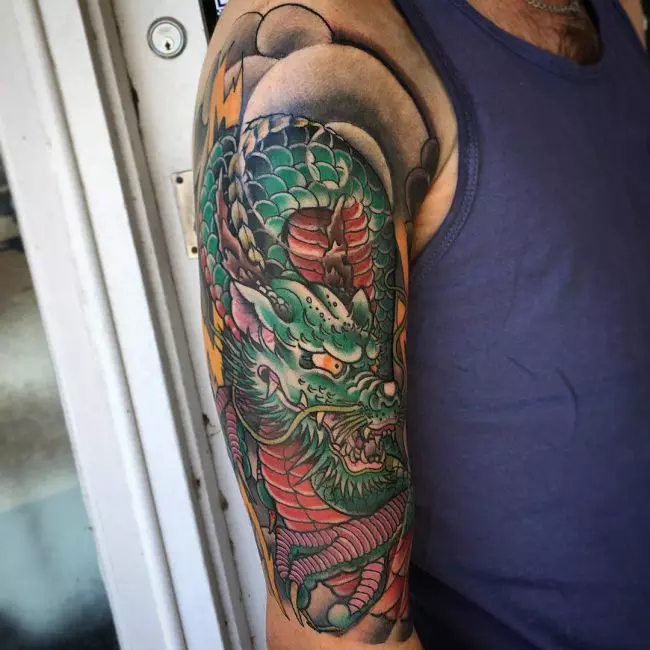 Individuals in China have for a long time worshiped these creatures and their emperors used to sleep on dragon beds, wore dragon robes and also sat on dragon throne. Furthermore, in the Japanese culture, dragons are a symbol of protection, family and durability.
Dragons have highly influenced some cultures including those that created some amazing dragon tattoo designs.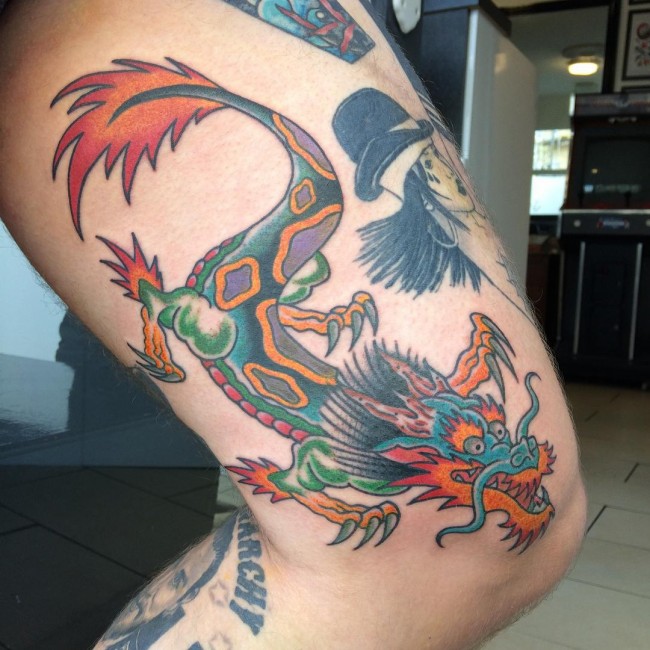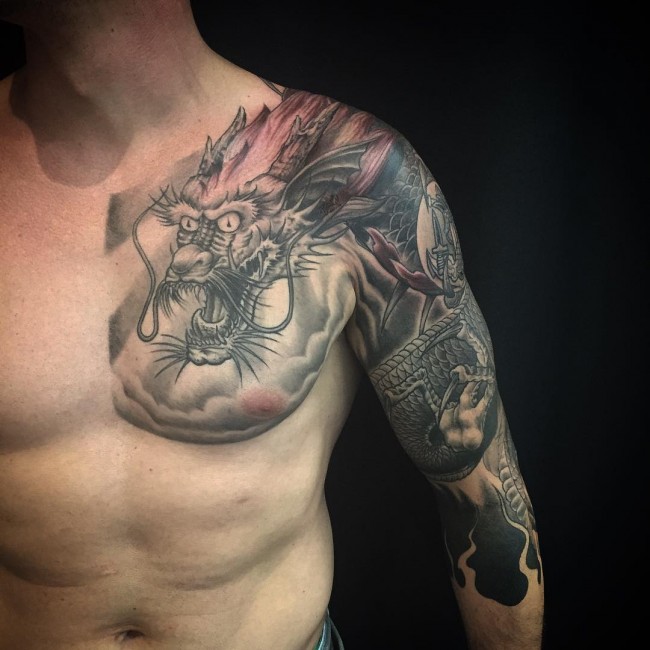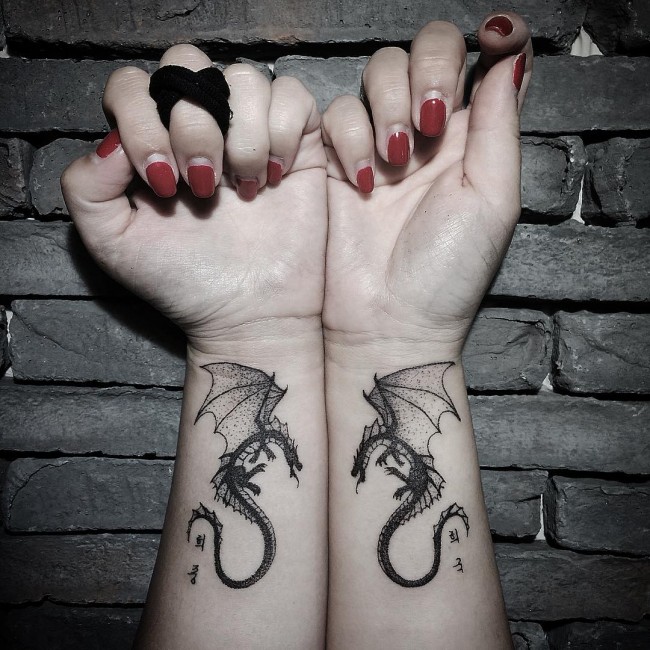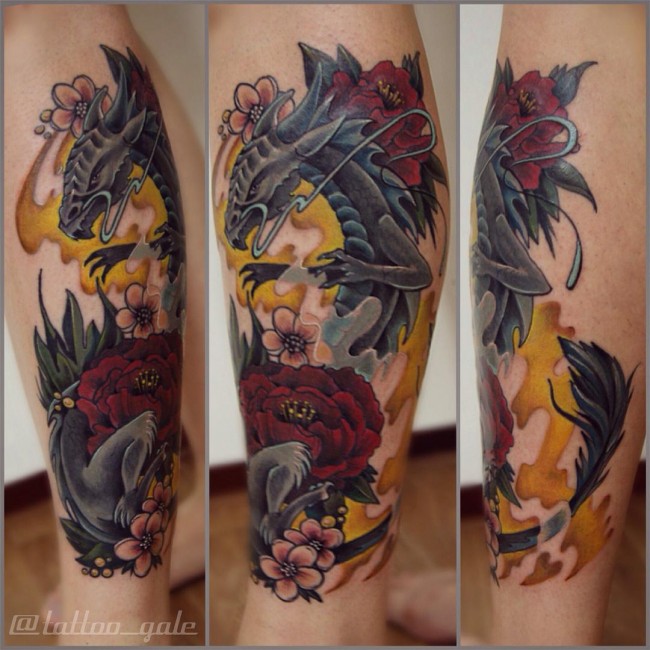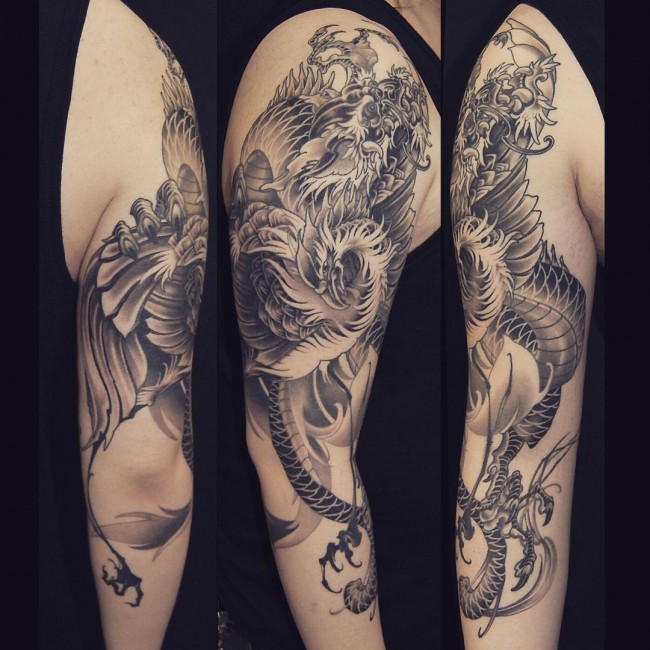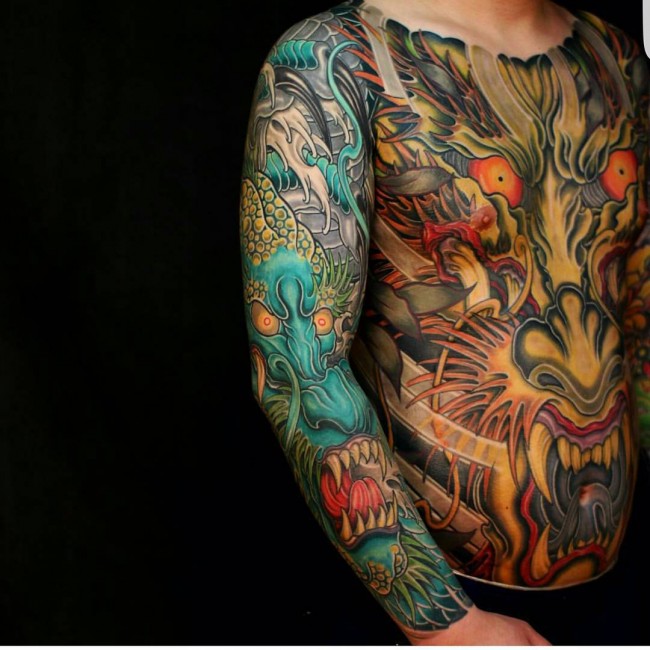 Celtic dragon tattoos
Celtic dragon tattoos are present in a wider variety which has different meaning. The common belief is that the dragons represent life creation and the birth of all the living creatures. In Celtic Mythology dragons are a symbol of great strength because the dragons live in great power sources.
Celtic dragon tattoos are an amazing sight. Their appearance is quite a sight and mostly if a tattoo artist uses texture and color to enhance the design.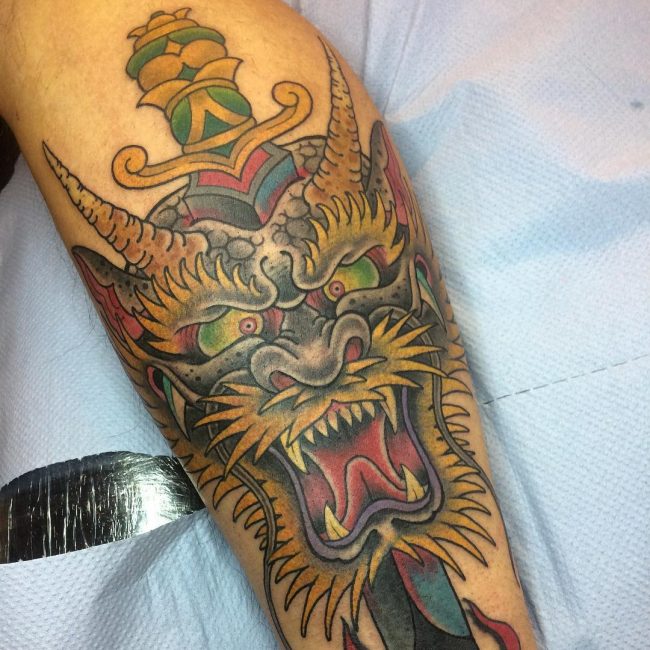 Welsh dragon tattoo
A red dragon icon walking with one of its legs raised is substitutable to being Welsh and the country of Wales. The dragon appears as the main theme on the Wales flag and known as Ydraig Gosh which means a red dragon.
Most individuals may think that the dragon comes from Celtic dark myths and legends although there are clues that the dragon is of Roman origin. This scenario is most likely true as Romans used the dragon as a symbol on battle standards.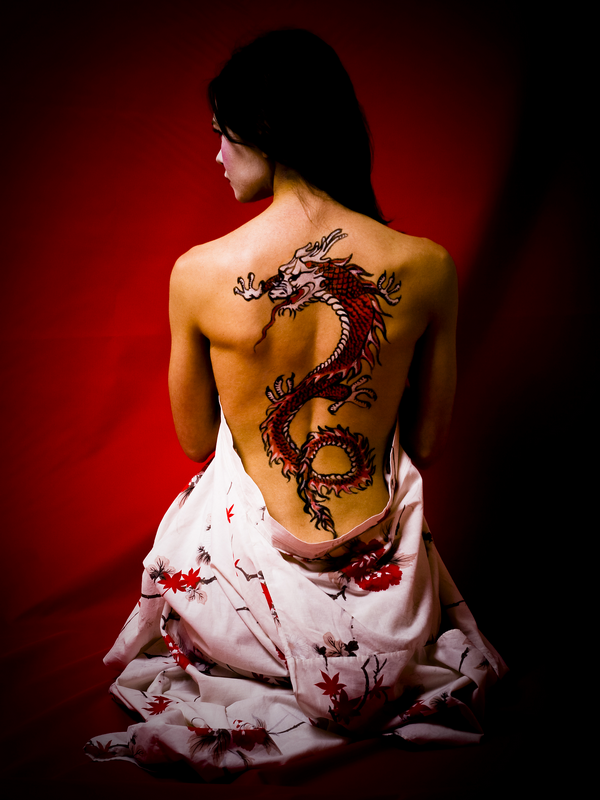 The Chinese dragon tattoo
In most countries, dragons were part of life. In china, for example, people had to worship dragons for rain and better harvest. Their emperor had a great power as he was considered to be the dragon's incarnation.
The Chinese dragon also represented good luck, harmony and health and unmatched strength. The dragon existed in many forms which include the horned dragon, the earth dragon, the yellow dragon and the celestial dragon.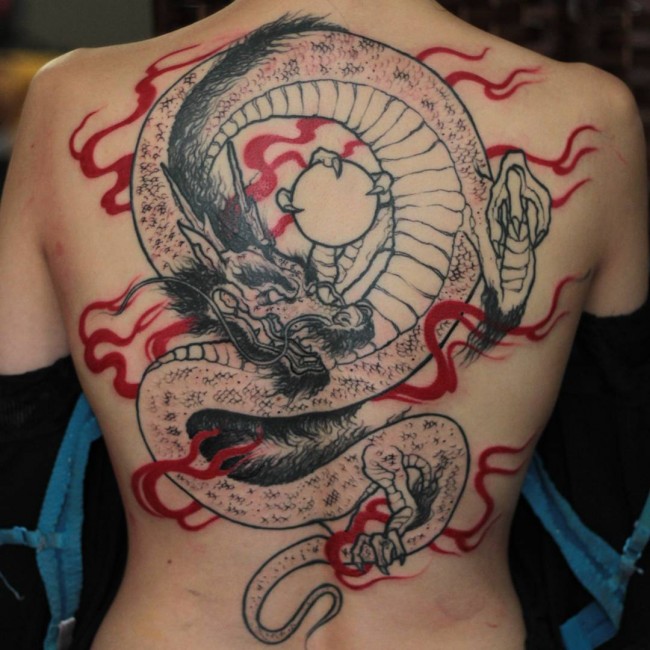 Tribal dragon tattoos
The tribal dragon is a form of belief and also a lore part in china. Many stories about this dragon exist and which take you to a mystical world which has powerful creatures with snake-like bodies, strong wings and a knowledge that is beyond the human's comprehension.
China people consider this dragon to be a god sent protector and a good luck symbol. The tribal designs are bold, simple patterns and many of the dragons feature the patterns.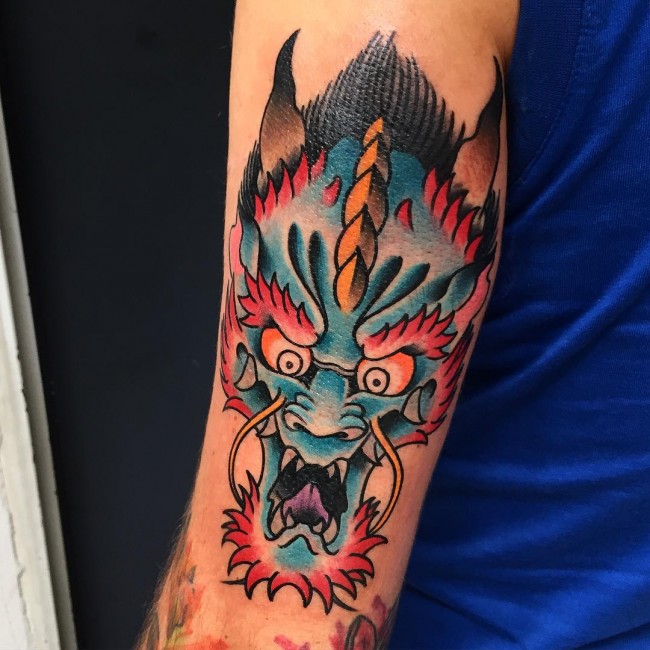 Most tattoo artists will show the dragon in several different positions. They may show the dragon in an S' shape and at other times with its wings open ready to fly or its head raised. A dragon tattoo comes from the ink color which can be black bearing red color in the eyes and even in the mouth.
This is the basic dragon. Tribal dragon images are powerful.