105+ Fairy Alice in Wonderland Tattoo – Designs & Ideas 2019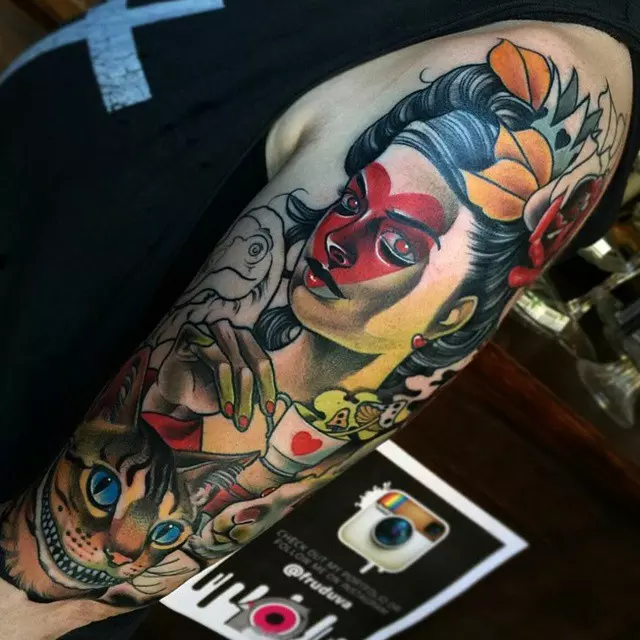 Alice in Wonderland is a children's story that is famous all around the world. It was originally written in 1865 by an Englishman known as Charles Lutwidge Dodgson. He used the pseudonym Lewis Carroll when he authored the classic.
The story follows Alice as she stumbles into a magical world full of curious creatures and adventure. Ever since then, his story has inspired entertainment in many forms for example plays, movies and tattoos.
Contents: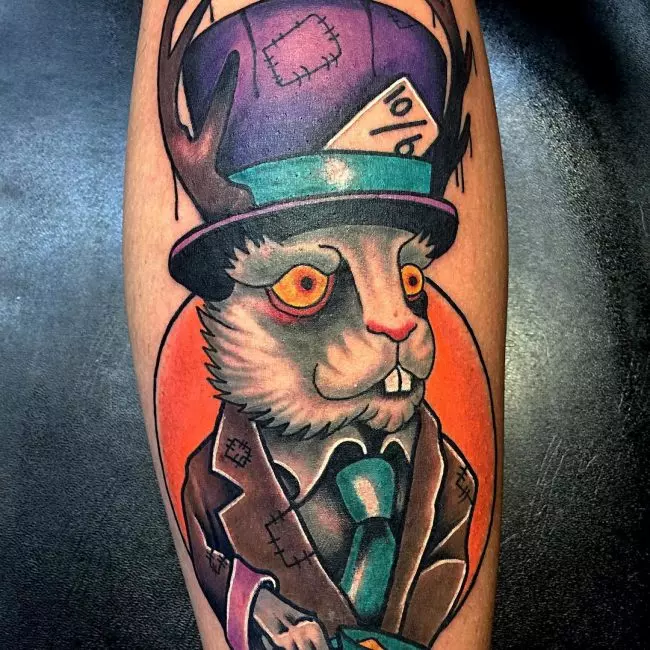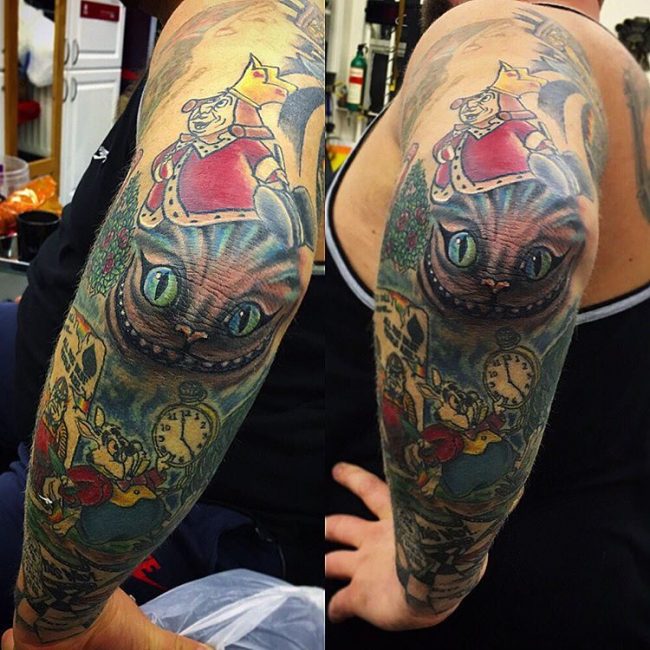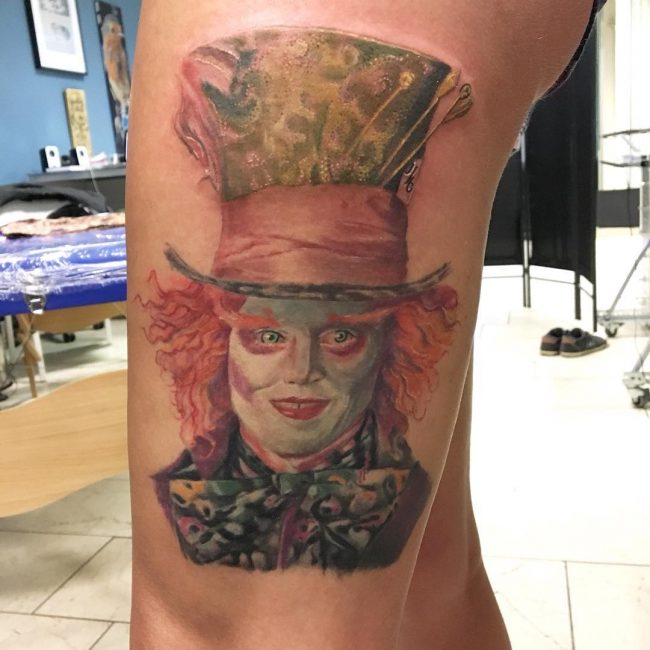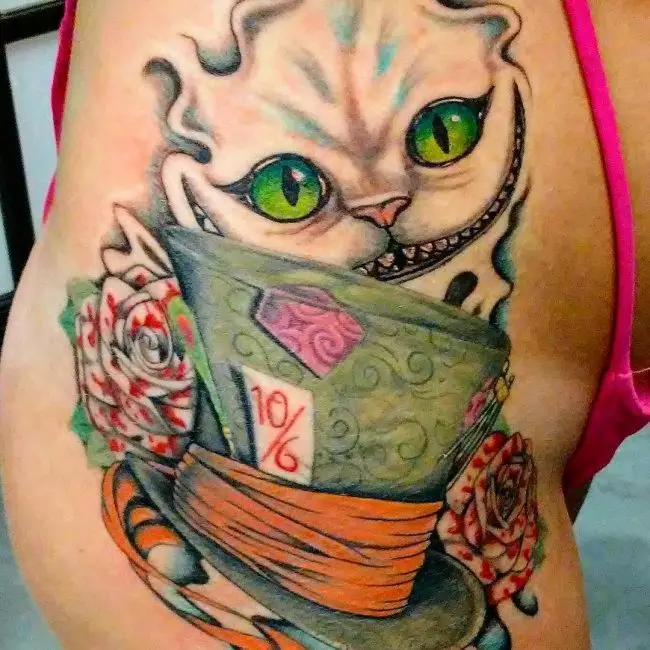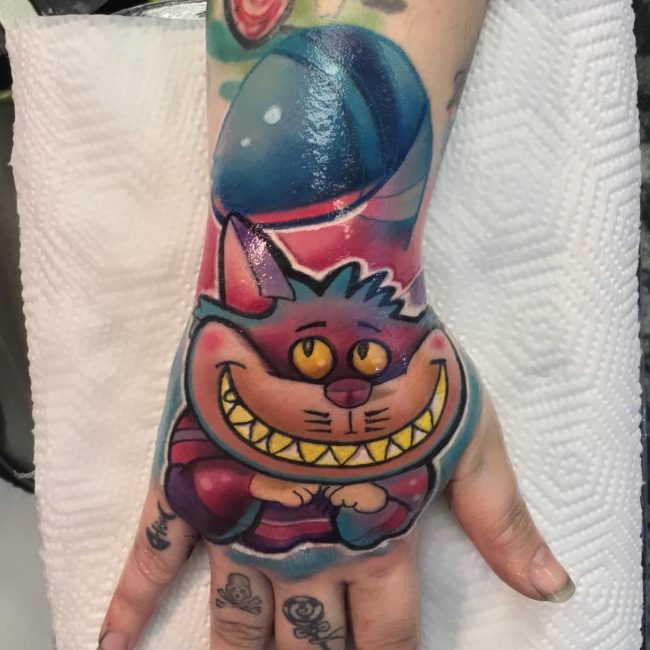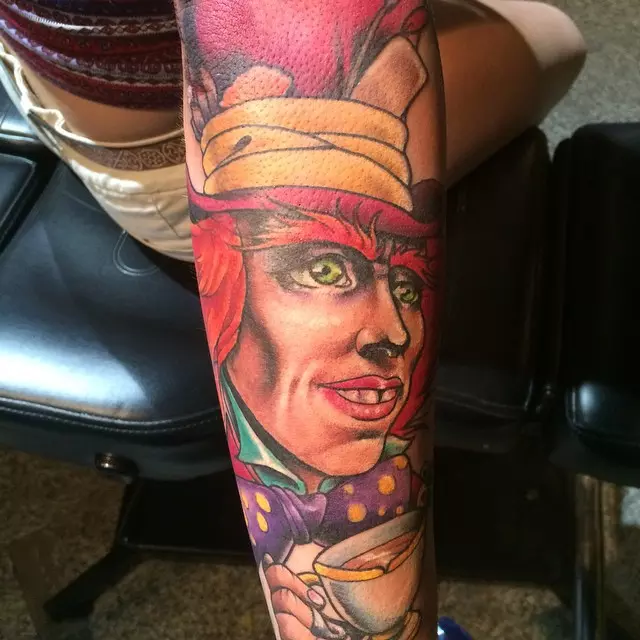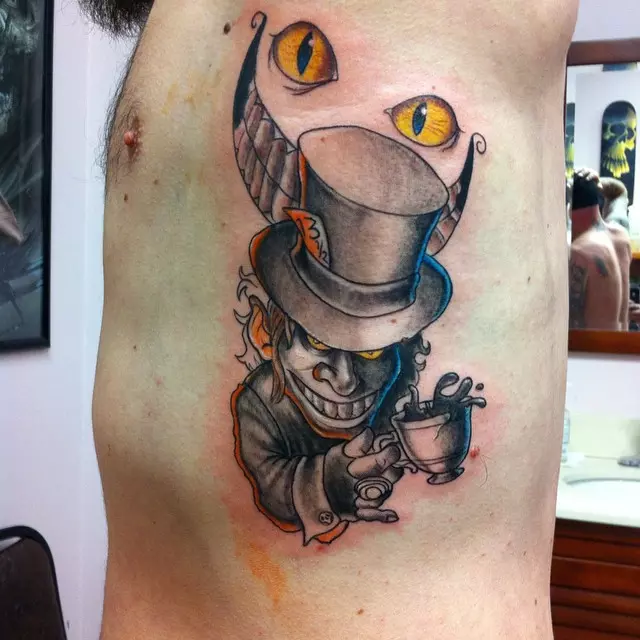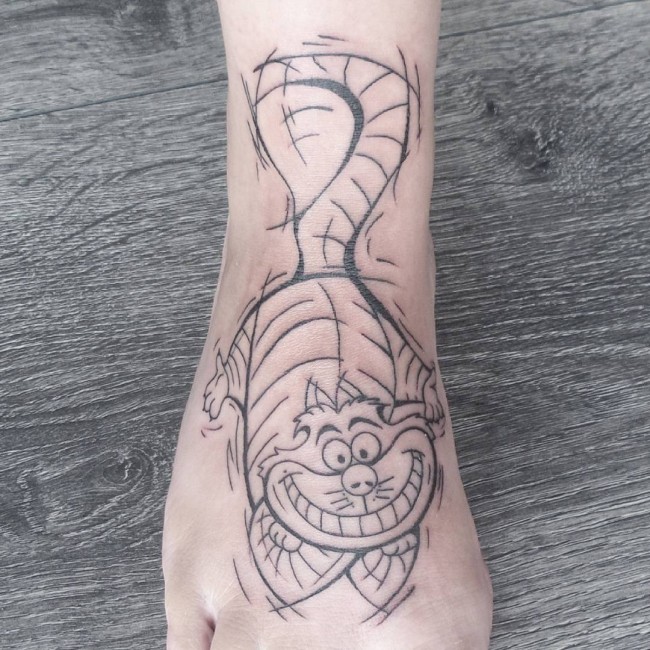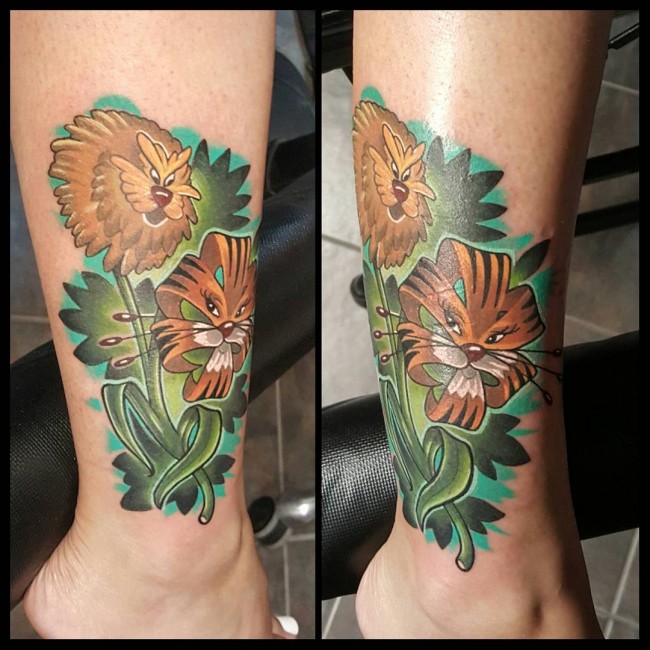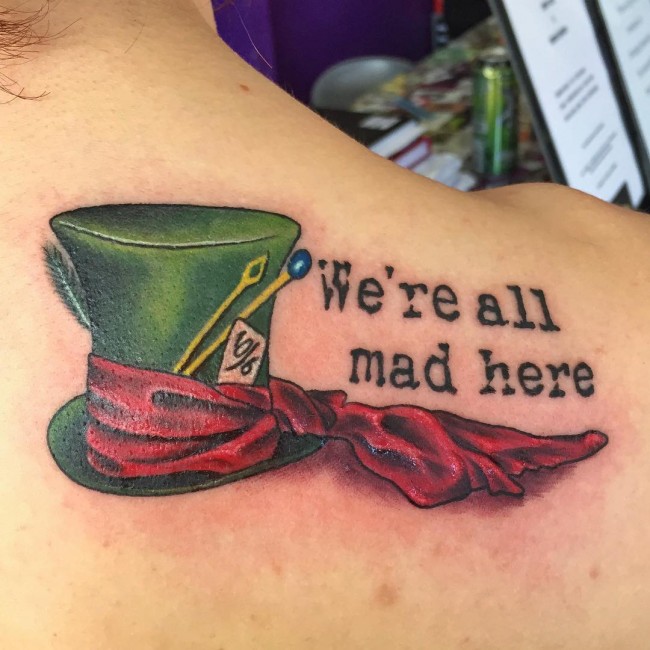 Fans of the story have drawn tattoos of their favorite Alice in Wonderland characters on their skin. Many of these draw the characters as they were depicted by Walt Disney Studios in 1951. This world famous animator made a cartoon movie of the story and had audiences glued to the screen.
Since color animation was new in the 1950's, Walt presented them with a visual feast that inspired Alice in Wonderland tattoos all over America and across the world.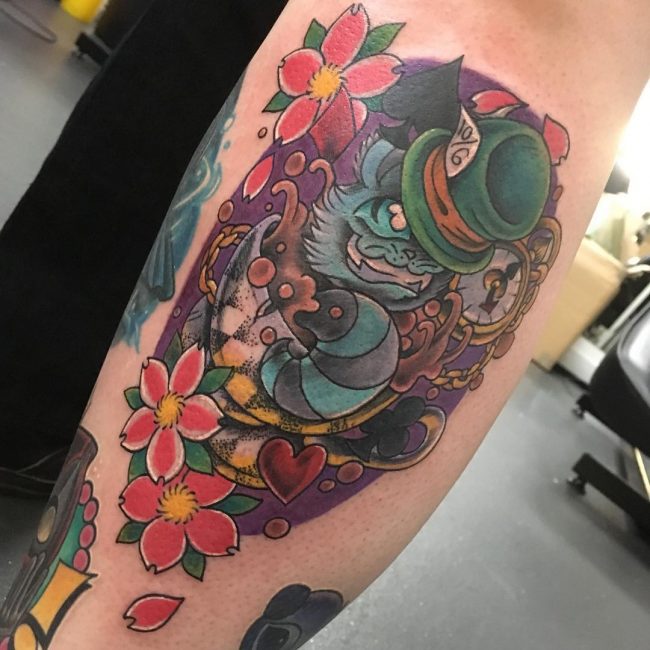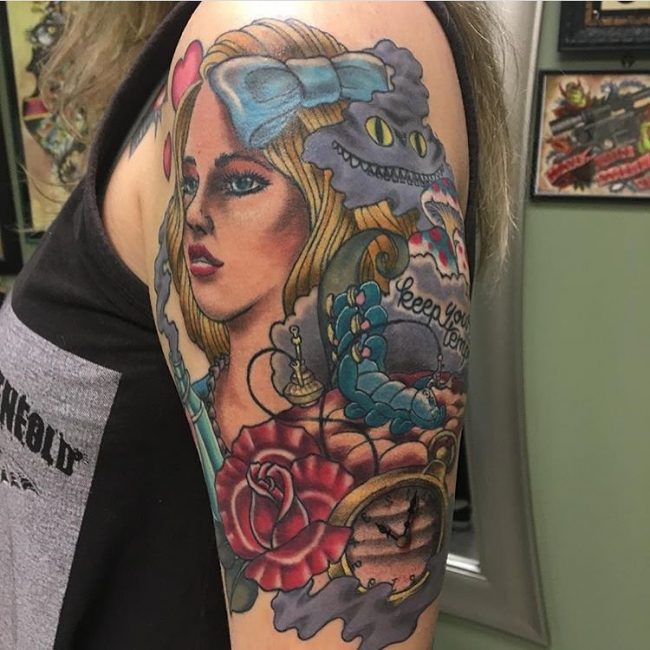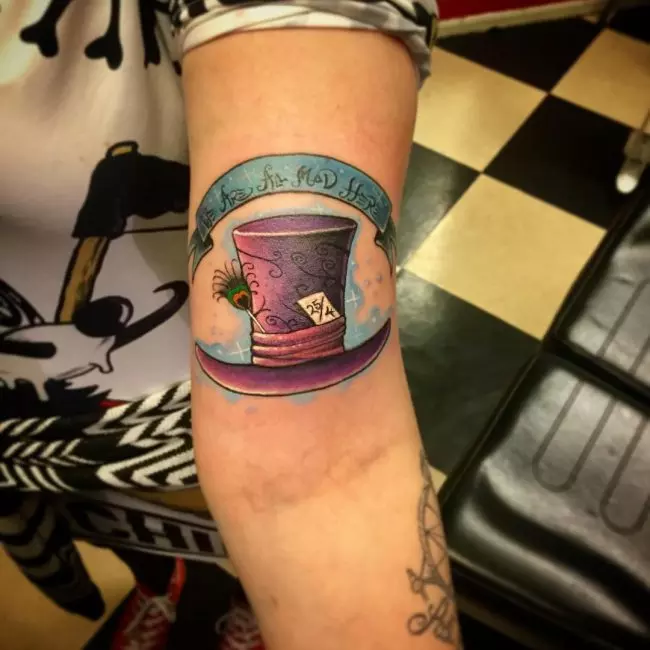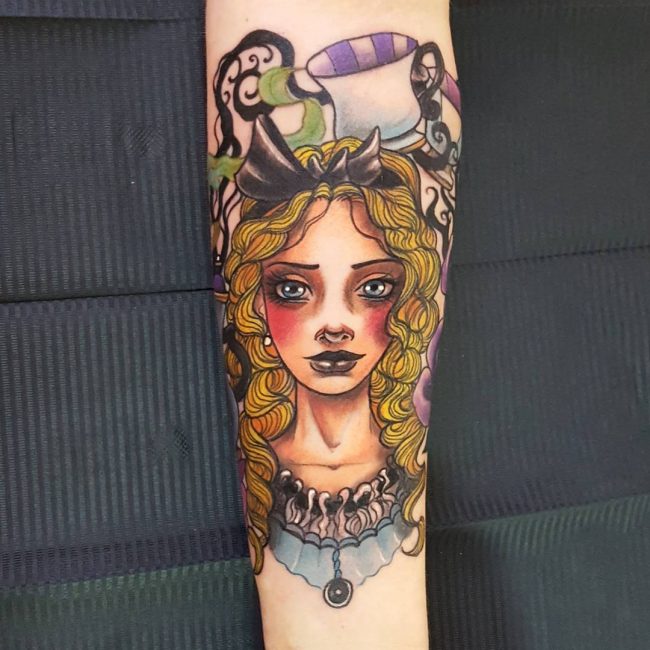 Meaning of Alice in wonderland tattoos
Tattoos about this popular storybook character often have playing cards in them for example one can have a tattoo of Alice falling down the rabbit hole with playing cards shuffling under her. The cards symbolize the events that happen in the story.
The plot is a sequence of events that unfold much like the moves in a game of cards. Another meaning of the Alice in Wonderland tattoos has to do with the caterpillar in the story.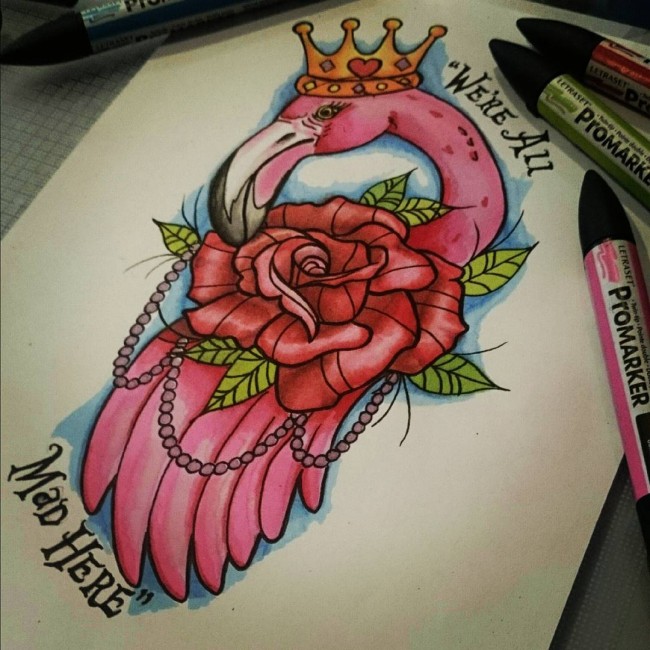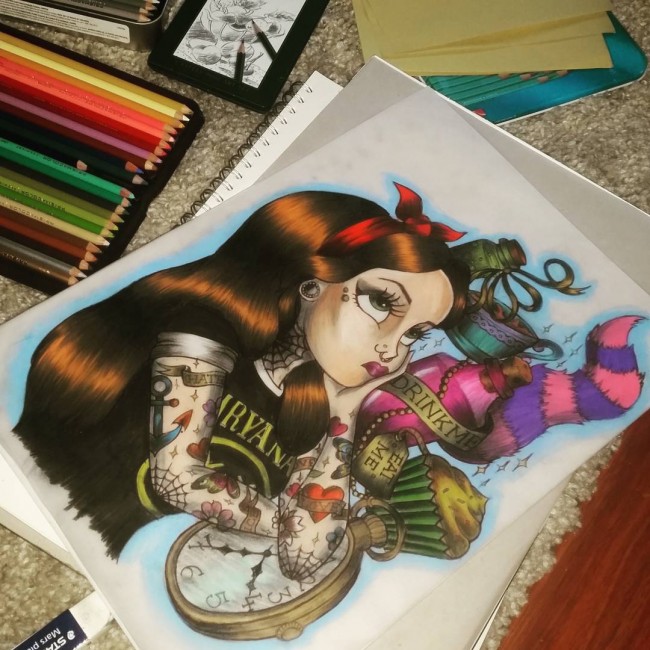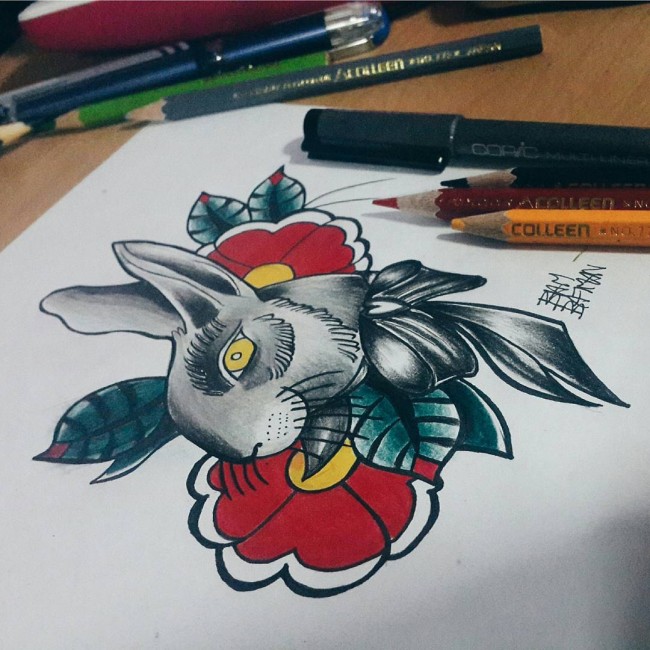 It is a tattoo of the caterpillar sitting on his mushroom smoking hookah all day. This character has great knowledge that he impresses Alice with. However, due to his permanent position on the mushroom, he doesn't do anything to improve things in Wonderland with his knowledge.
This tattoo means the wearer has skills in communication, high intellect and is unwillingness to act on the world around them.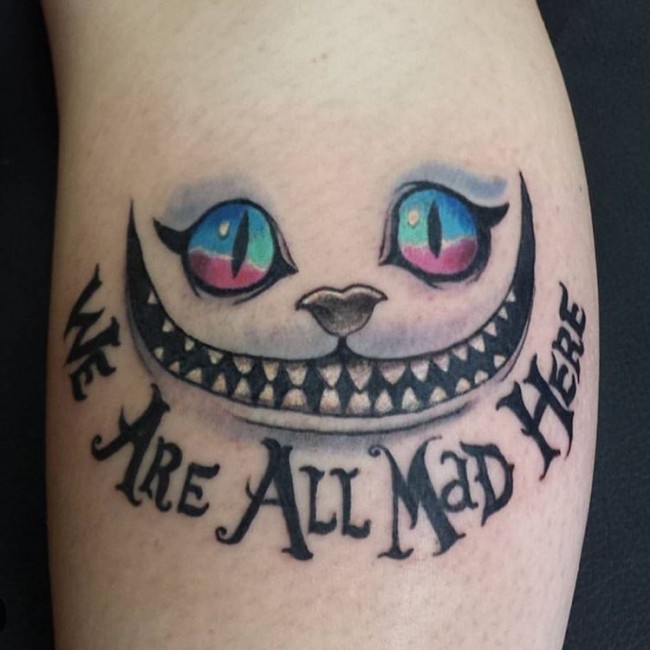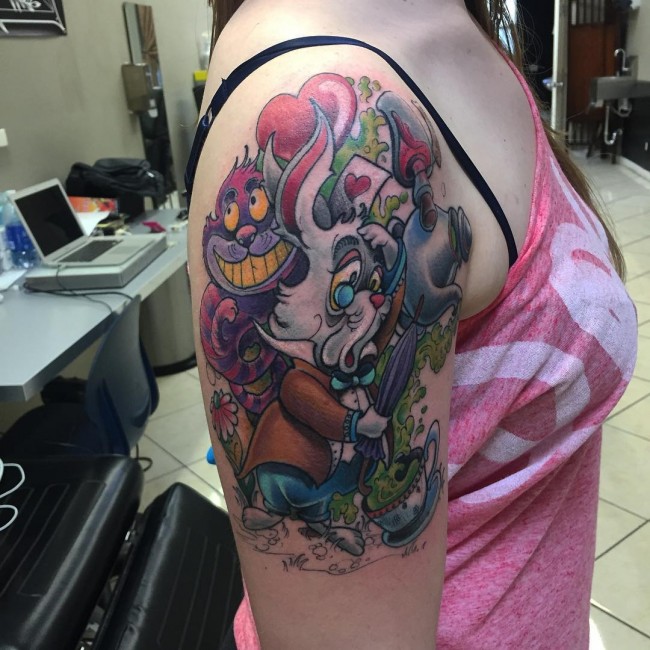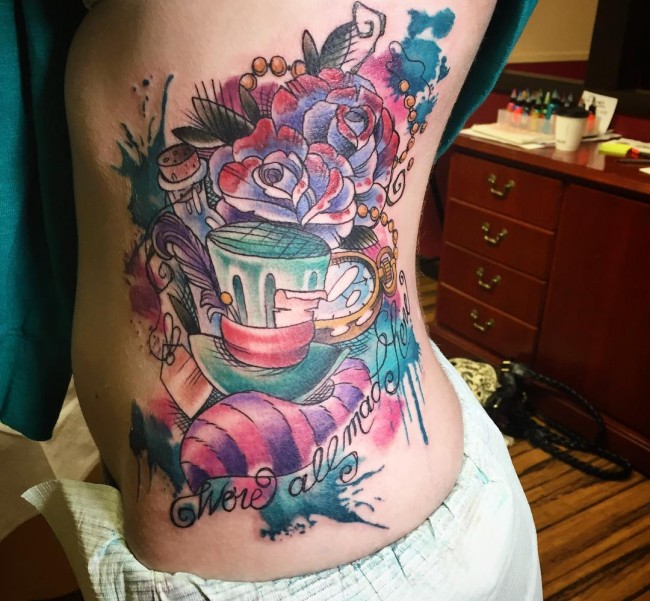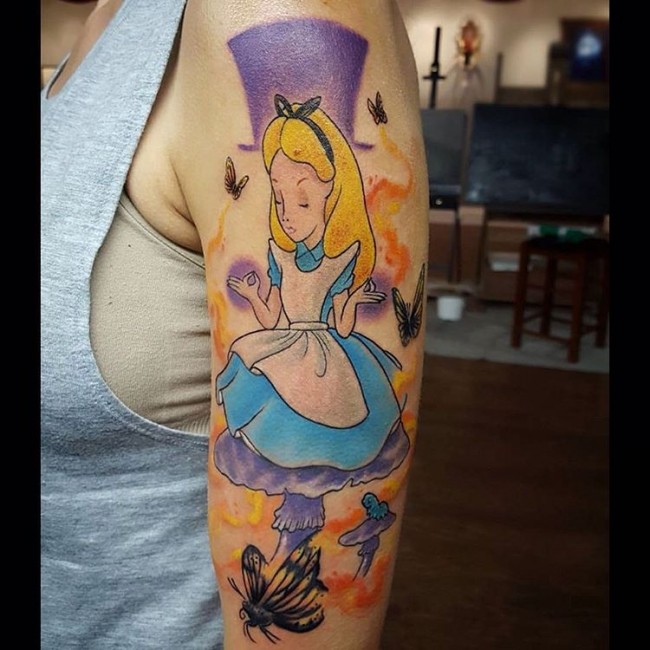 Tweedle Dee and Tweedle Dum are identical twin brothers. They are characters in the Alice in Wonderland story and are very popular in tattoos. They mean the same as the zodiac symbol Gemini. One of the most popular characters in this story is the Cheshire Cat.
He is also extremely popular in the Alice in wonderland tattoos. The Cheshire Cat is a floating cat who grins from ear to ear and frequently confuses Alice throughout the story until she decides to make her own decisions and pursue her own path.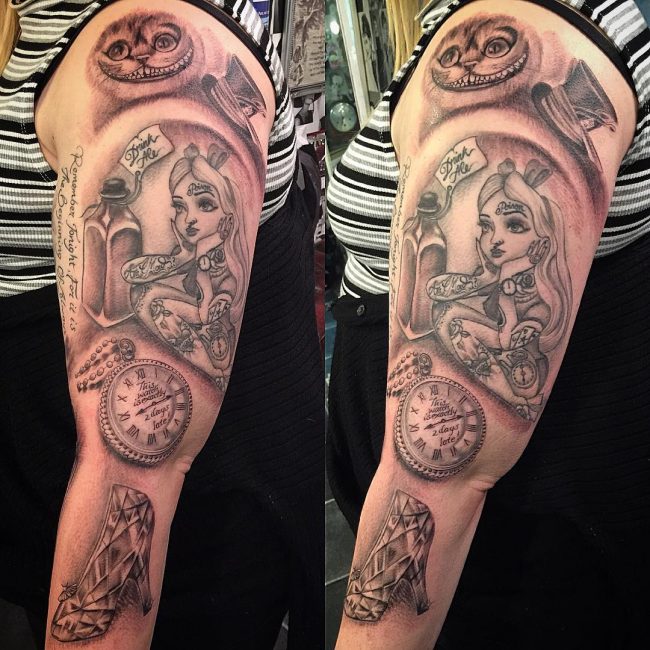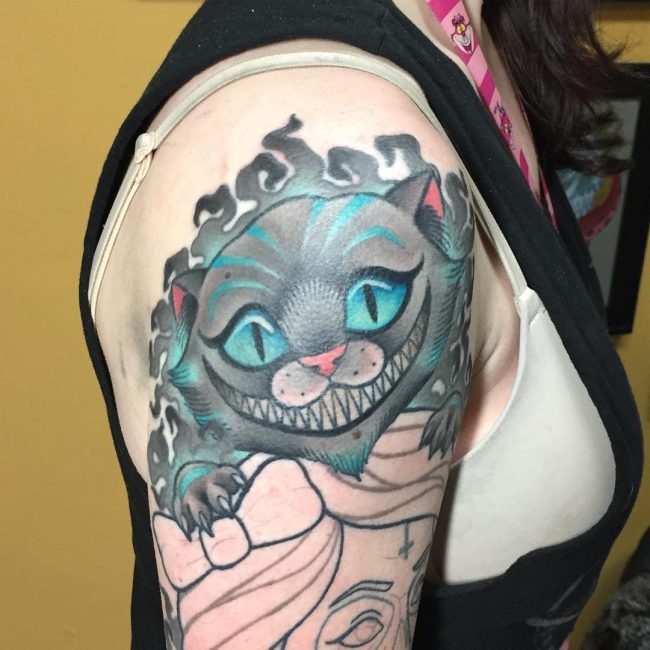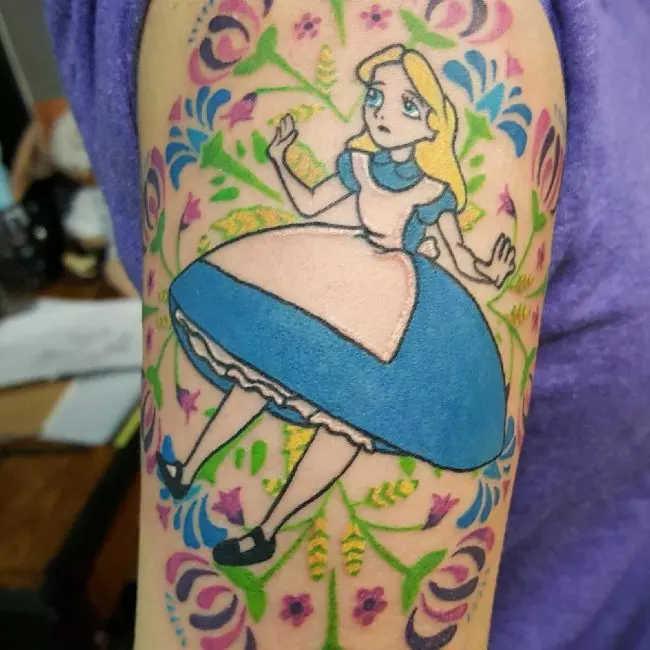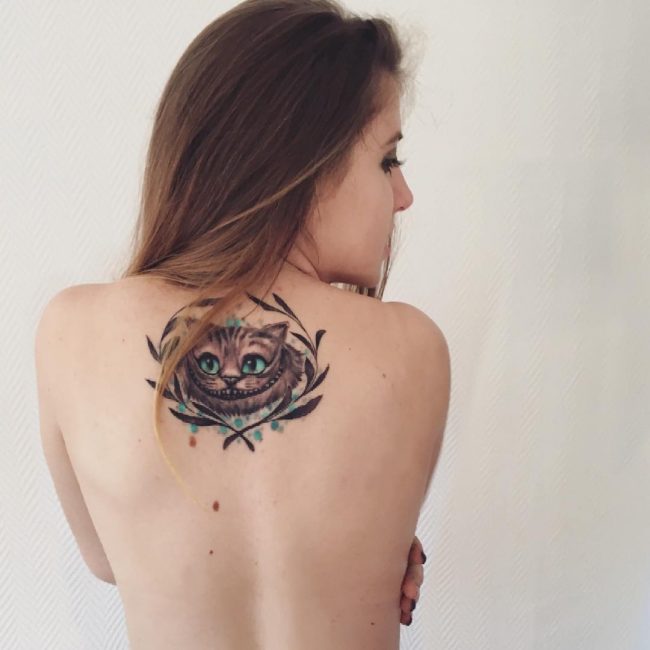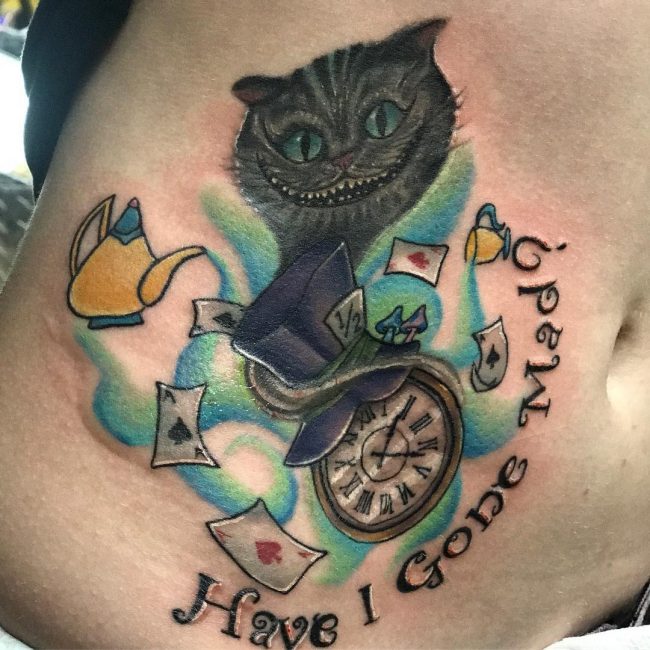 A tattoo of this cat means that one is capable of seducing, manipulating and confusing other people. Since the Cheshire Cat is also known to change forms from one to another, I also means that the wearer is capable of having various personalities to fit the situation they are in.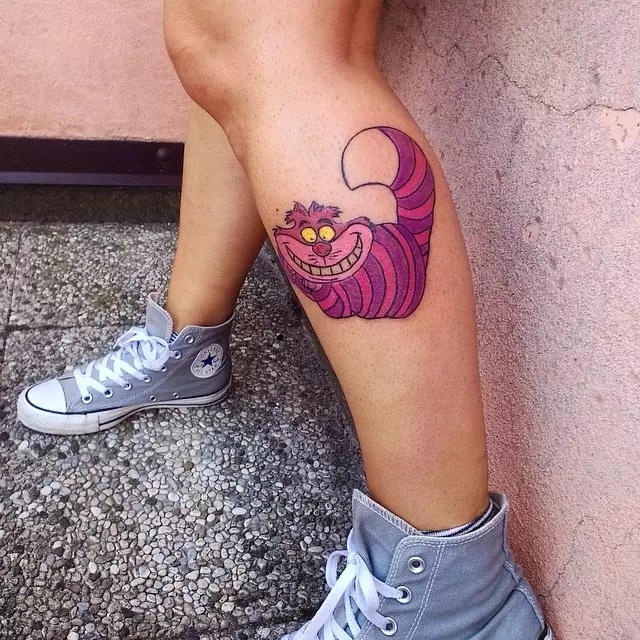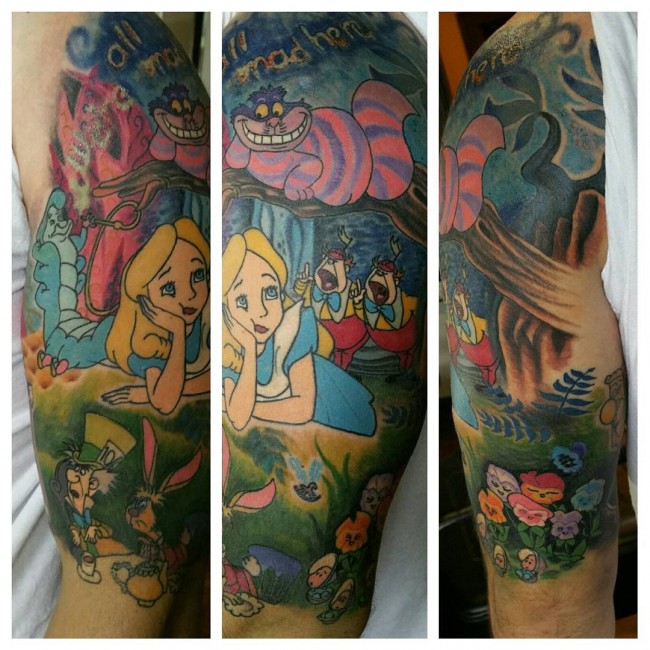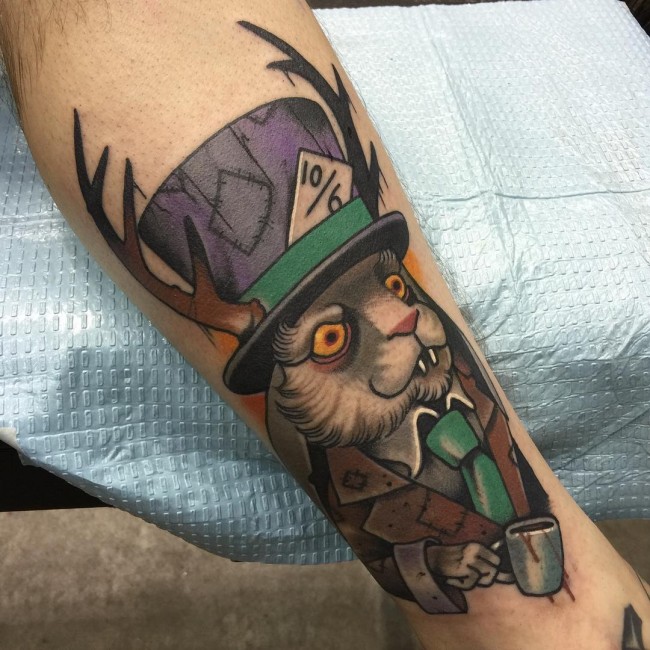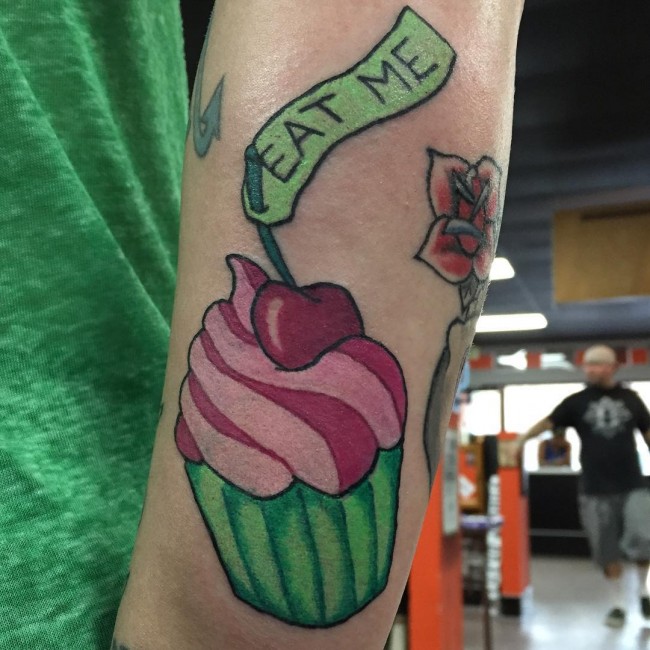 Anyone who has read or watched Alice in wonderland can vividly remember the Mad Hatter and the March Hare. These are two characters who throw tea parties all day every day.
They invite Alice to the party and serve her tea but as she is about to drink it, they take the cup and replace it with another and do the same again as she takes a sip. Eventually, Alice decides she has had enough of the teasing and leaves. These characters are popular in tattoo culture.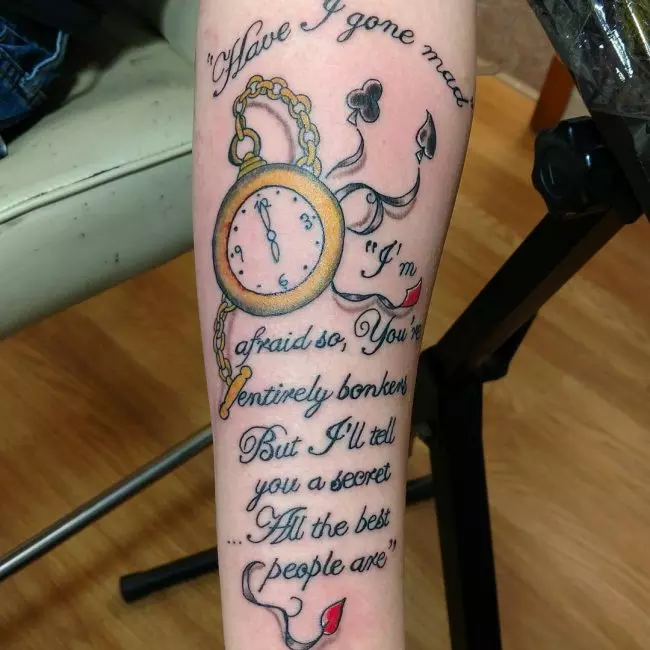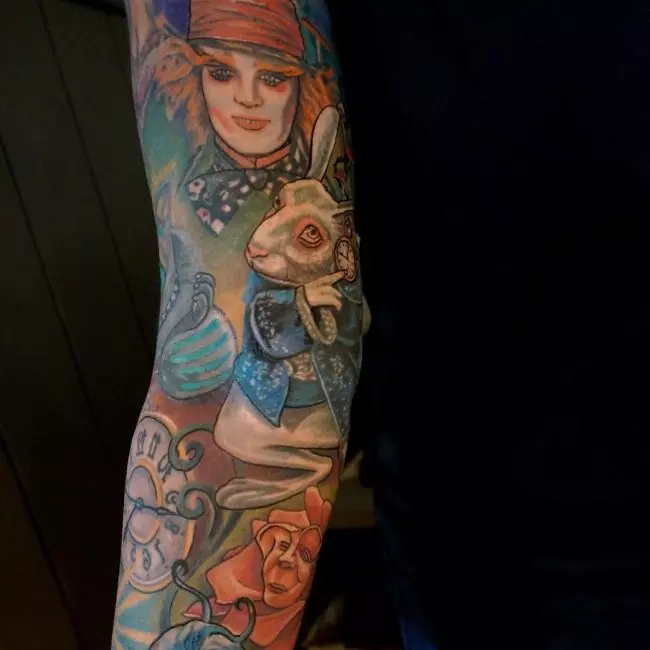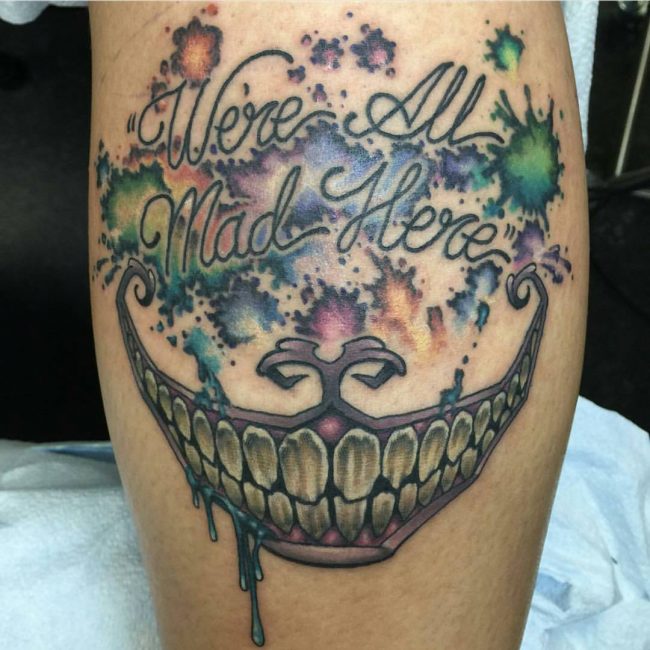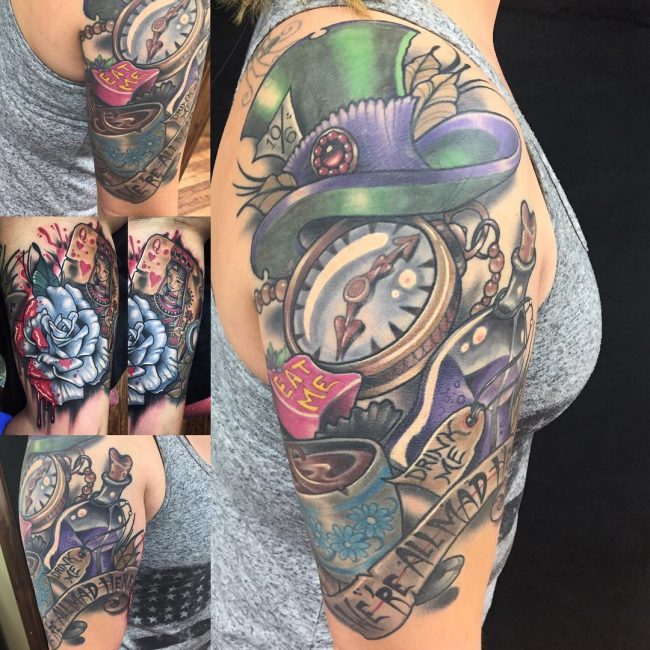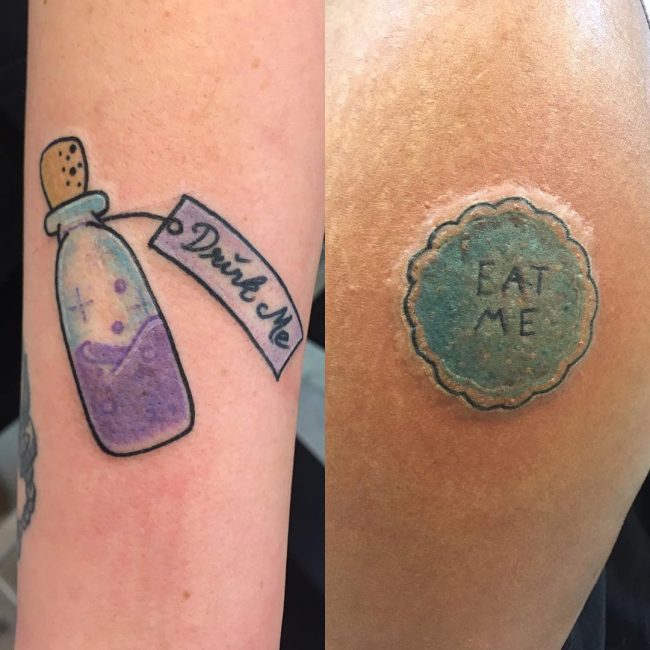 A tattoo of the Mad Hatter means that the wearer lives their life being a different person everyday and has no real sense of identity. This is because the Mad Hatter would wear different hats throughout the story.
If a person has a tattoo of the March Hare, it means that they are capable of doing very crazy things in pursuit of a thrill and they end up hurting themselves or others in the process.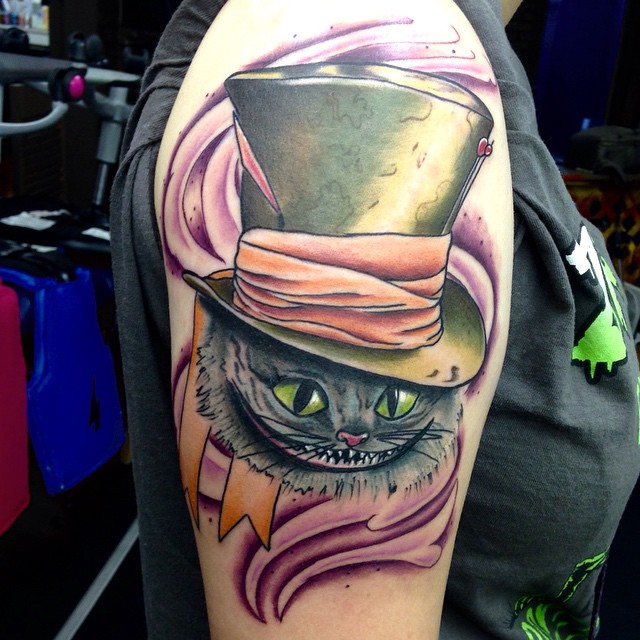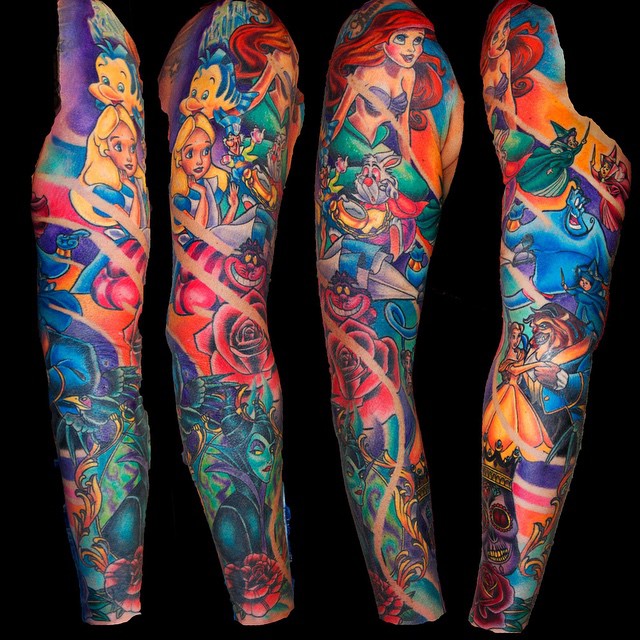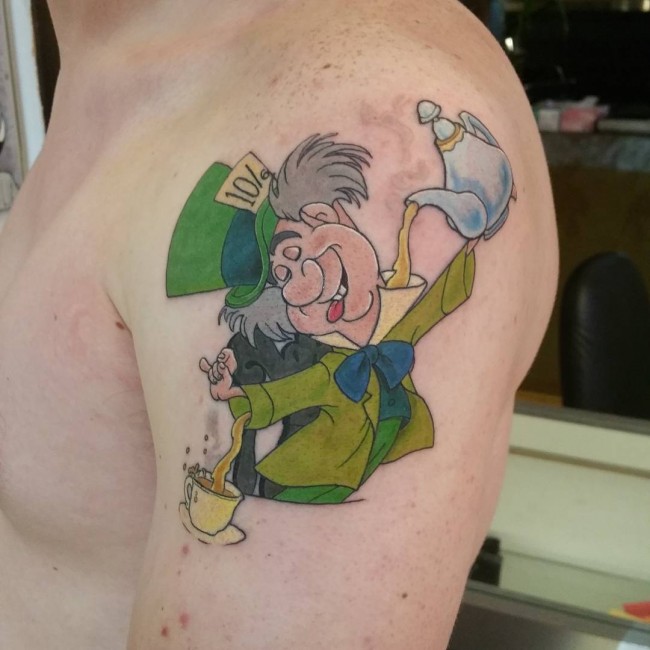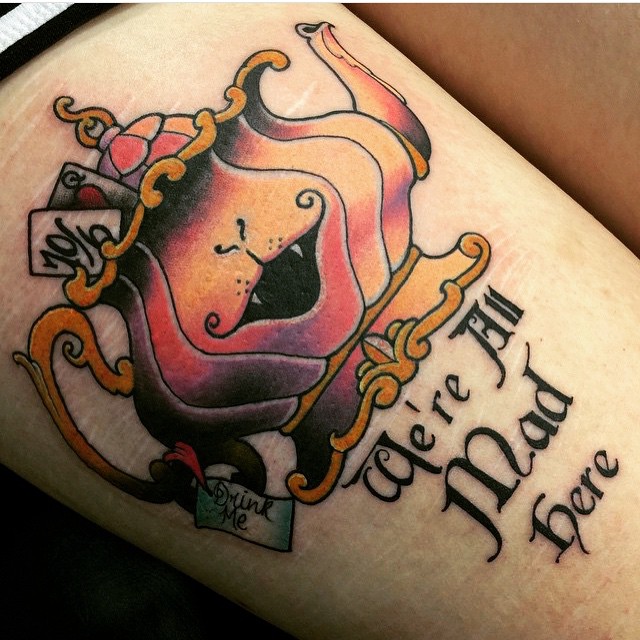 ---
back to menu ↑
Placement of Alice in wonderland tattoos
One can have Alice in Wonderland tattoos drawn on various areas of their body. One of the most popular places for these tattoos is on the upper arm. When drawn here, the tattoo is highly visible. Moreover, if it is done in color, it will be vividly seen and admired by all that you come across.
Another area where one can have such a tattoo is on the back of the neck. This space is quite small. As such, it is suitable for small tattoos.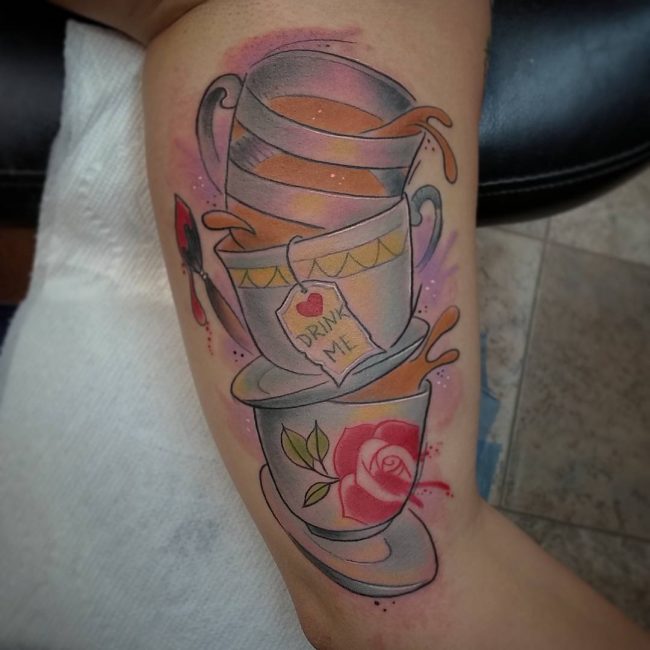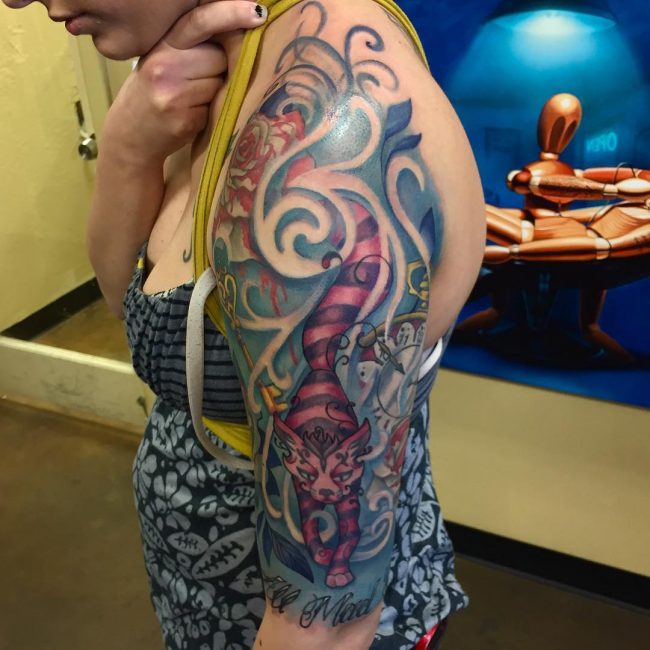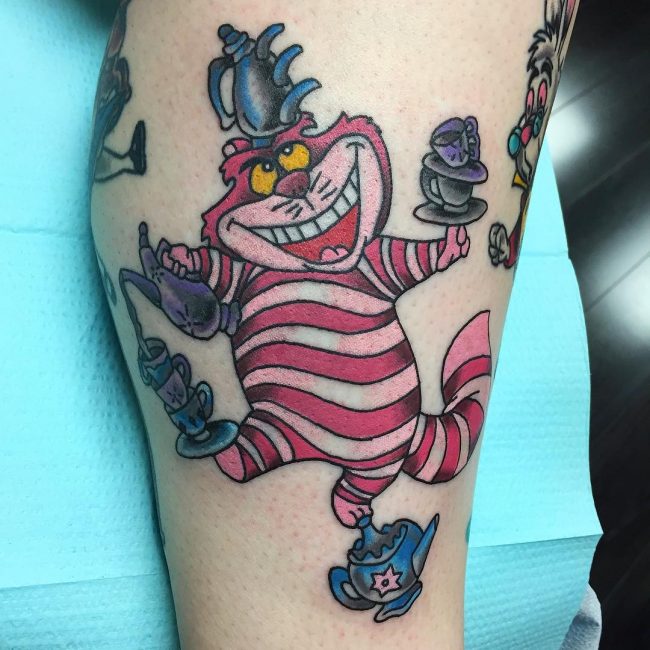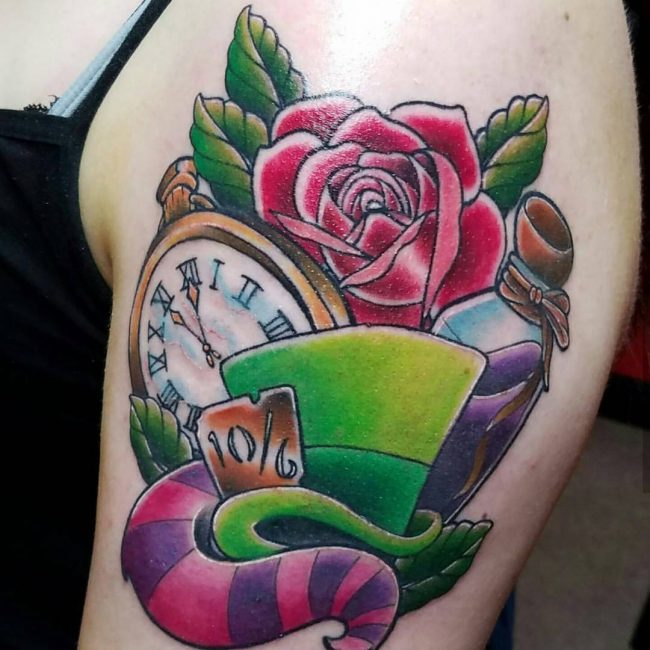 Thus, if you have a small Alice in Wonderland character in mind, this is a good space to draw them on. The back is a popular spot for the larger characters in this classic story. The Cheshire Cat and the March Hare are often drawn on the back.
This is because these characters have a lot of detail in their appearance and the back is suitable fur such detailing. There are many types of Alice in Wonderland tattoos that one can get. Read on to discover them.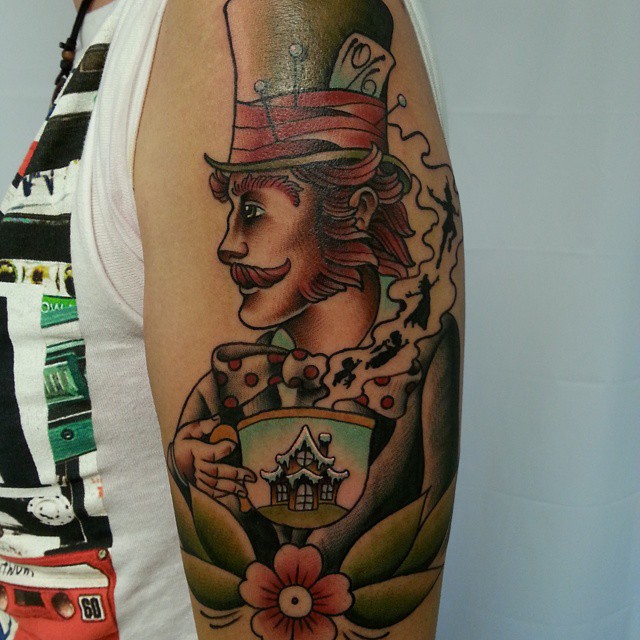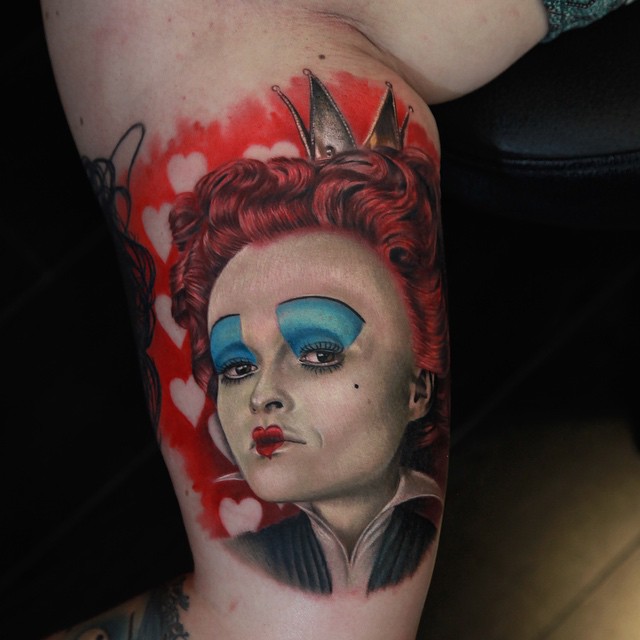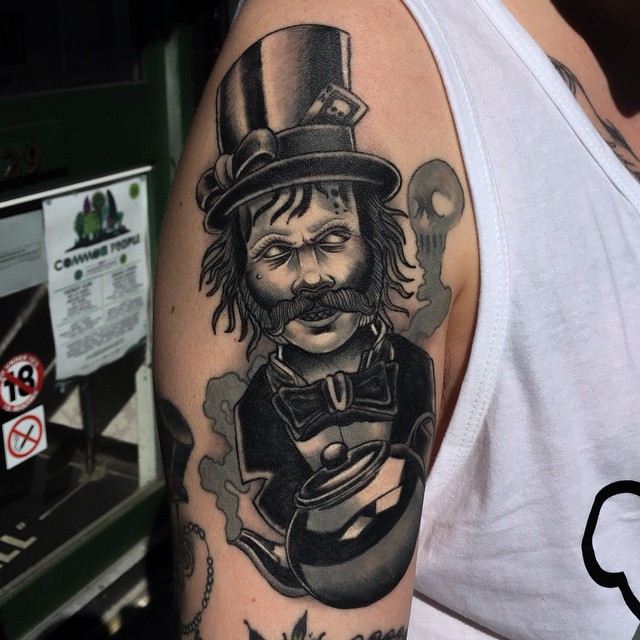 ---
back to menu ↑
Types of Alice in wonderland tattoos
Illustration Alice in wonderland tattoos
This type of tattoos is drawn such that it is similar to the drawings done in animation movies or storybooks. The characters have a clear outline that is often black in color. They are them filled in with various shades of color to indicate movement and attitude.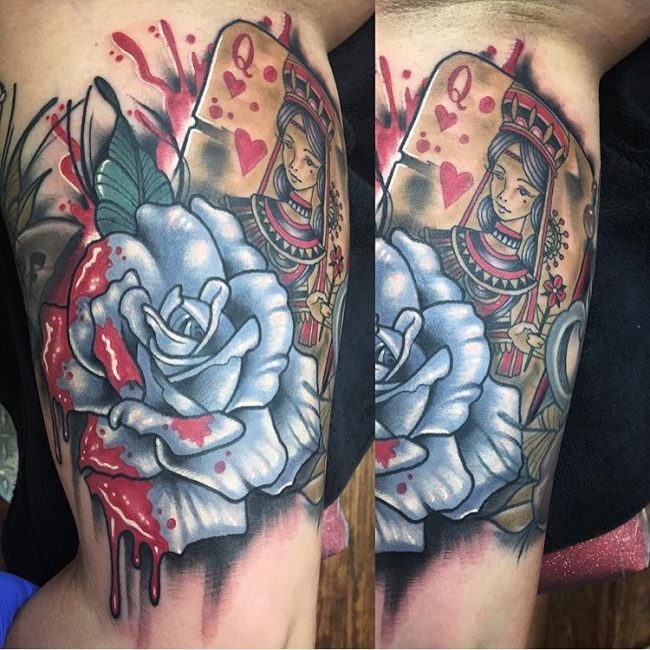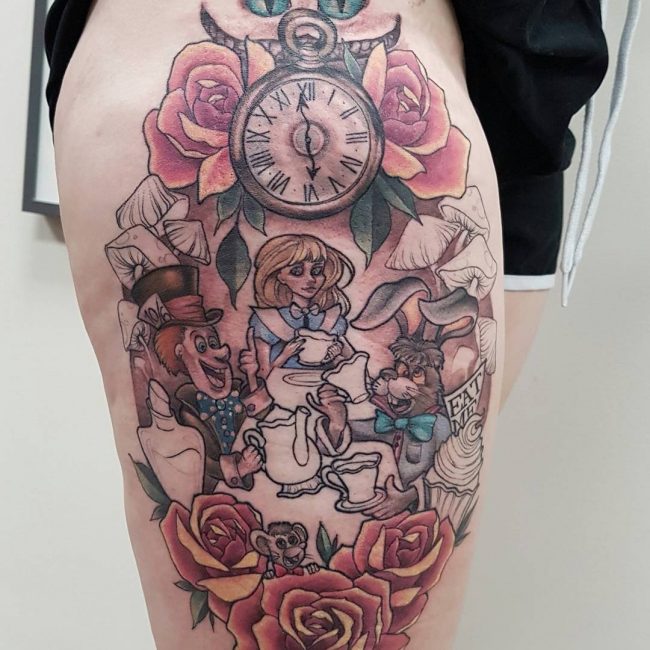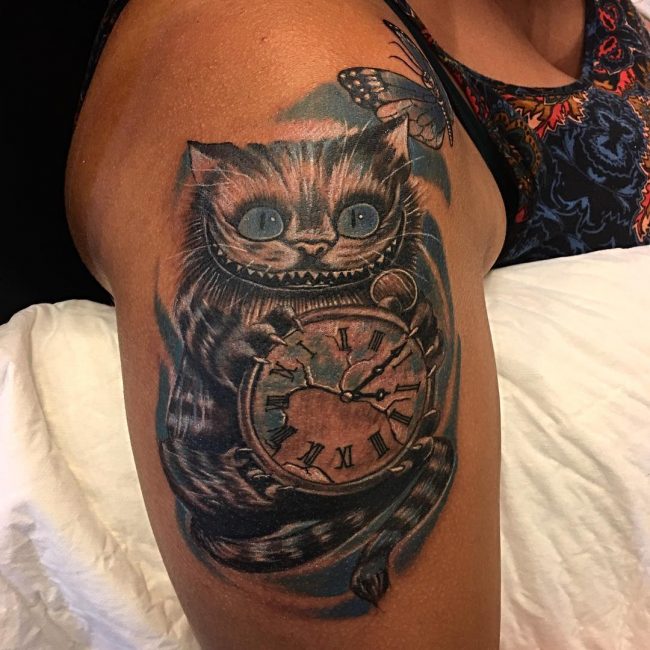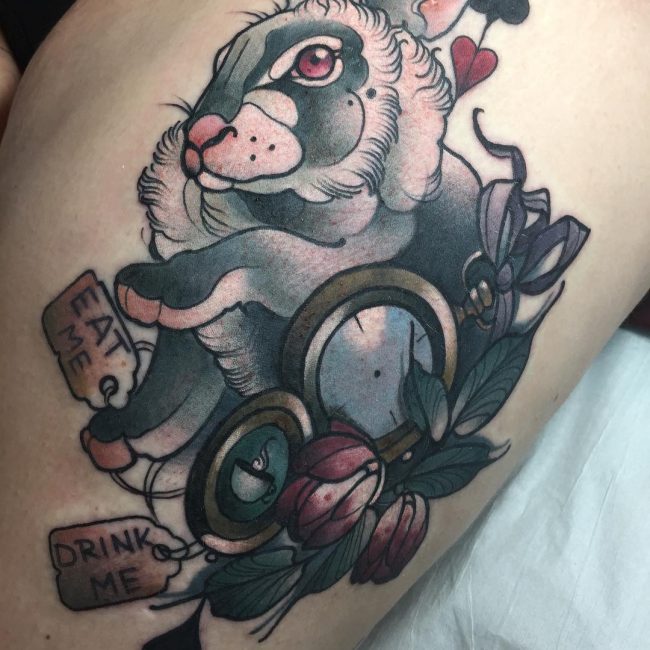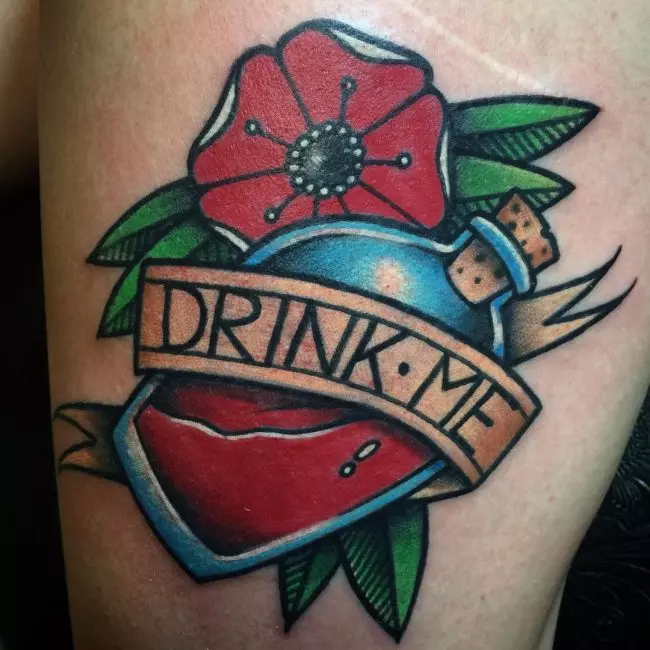 The illustration type of Alice in wonderland tattoos are very attractive to look at. They are often medium or large in size. As such, the best places to draw them on are the back, upper arms and chest. They are unisex in nature since buys and girls can get these tattoos and gladly show them off.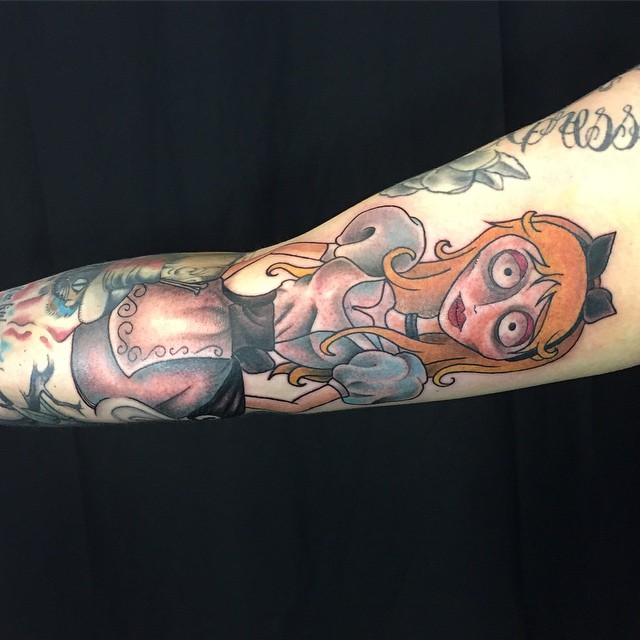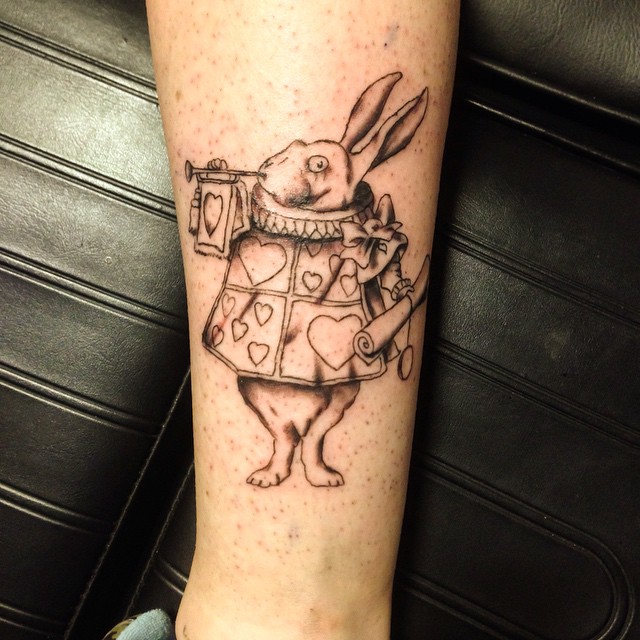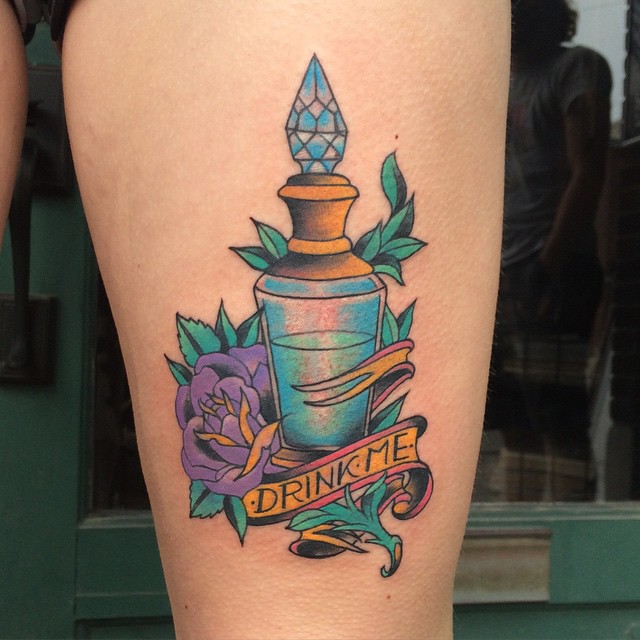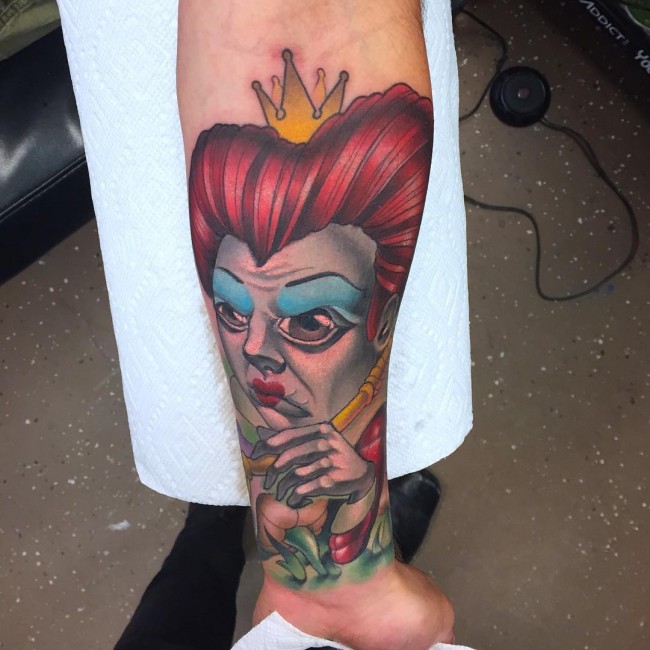 Newspaper cartoon type tattoos
This type of tattoo is ideal where the character is humorous in nature. If you have a funny character from Alice in Wonderland that you want drawn on you, this is the style to pick. It features pencil lines in the image to give it shadow and 3 dimensional effect.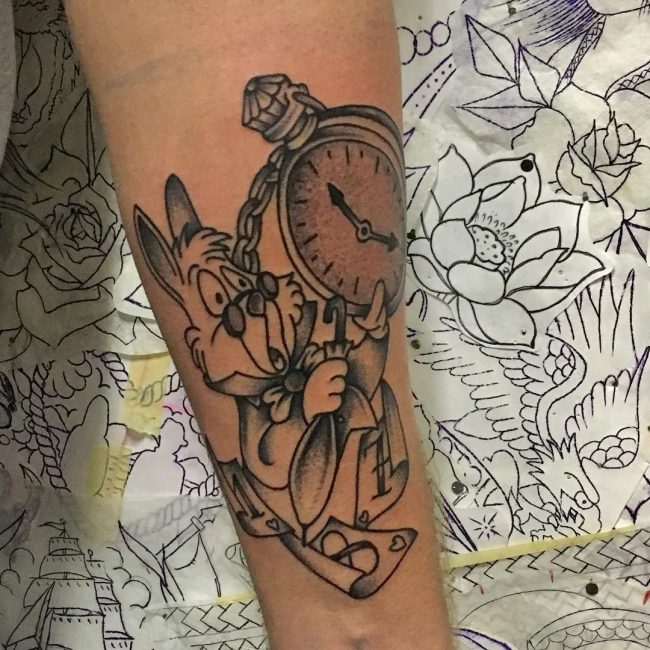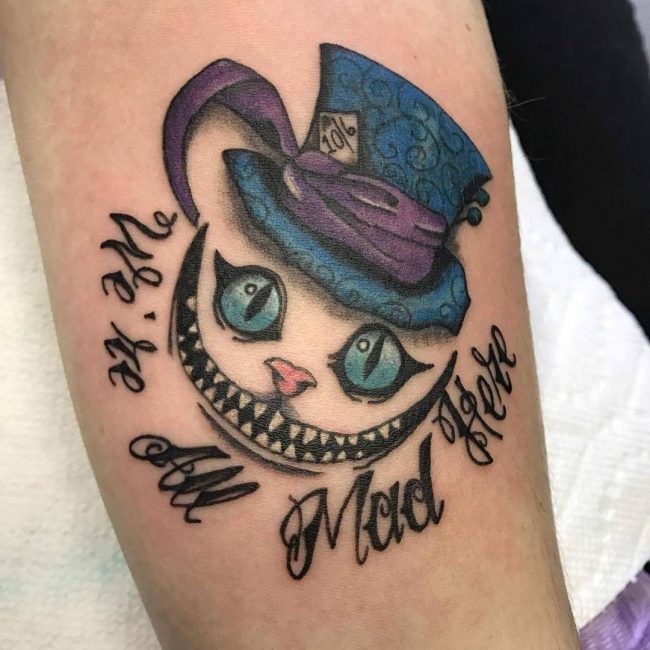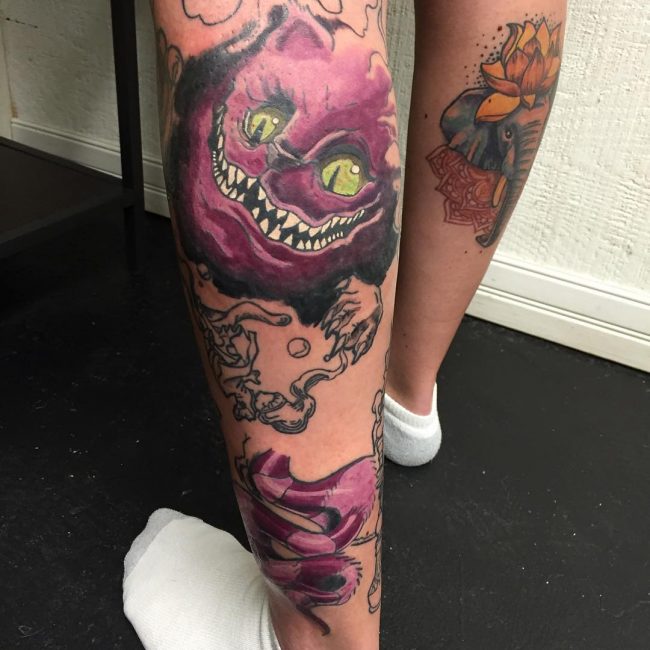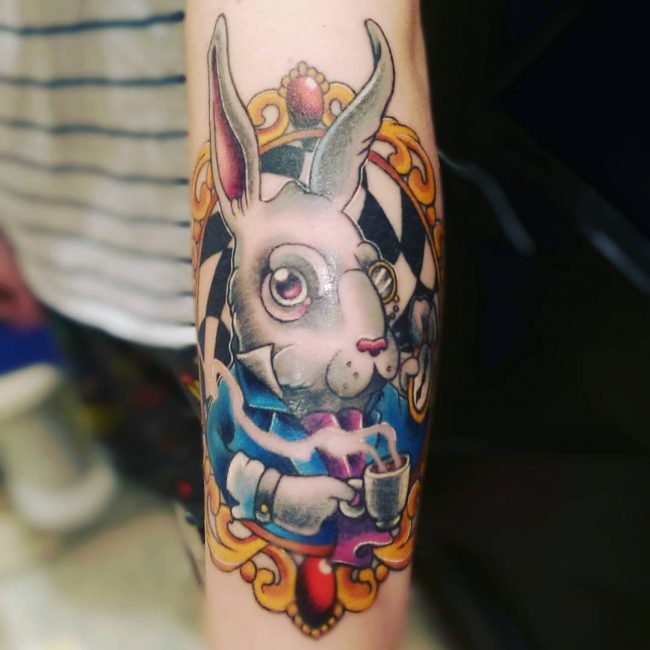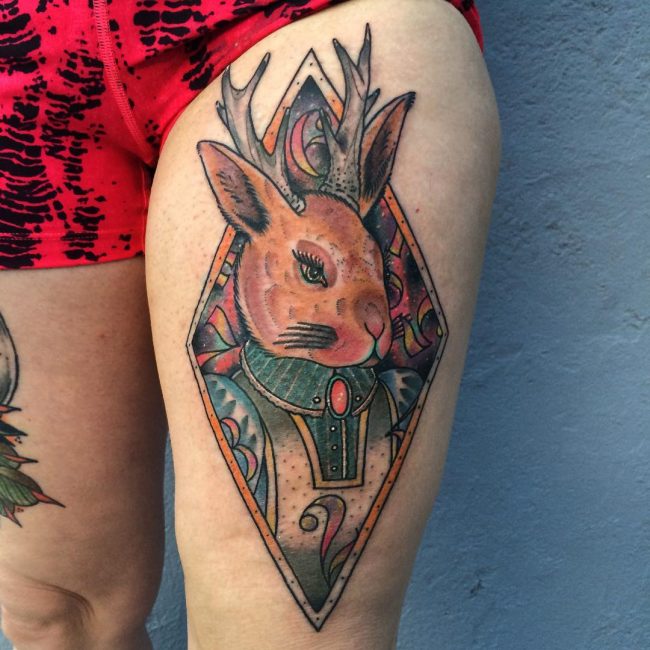 The tattoo does not have any color. Instead, the pencil lines in it serve to give it texture and movement. This type of tattoo is best used for small to medium size tattoos. Moreover, this type of tattoos can be drawn on girls and guys alike.
It is a great type to use for funny characters from the story of Alice in Wonderland.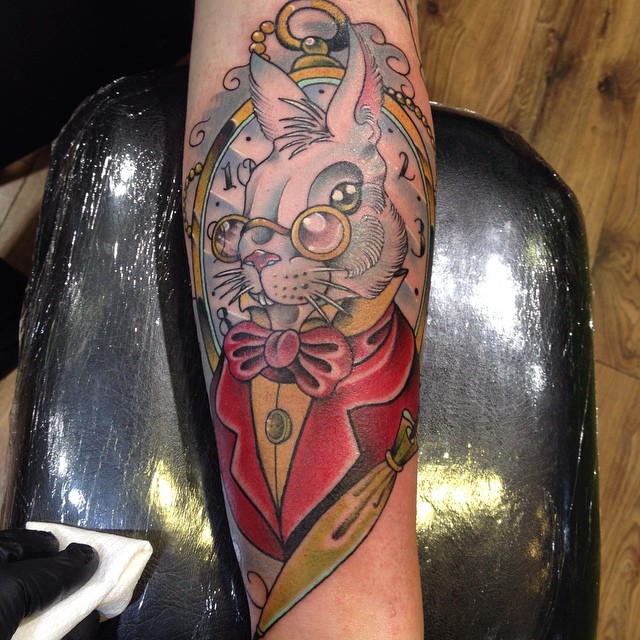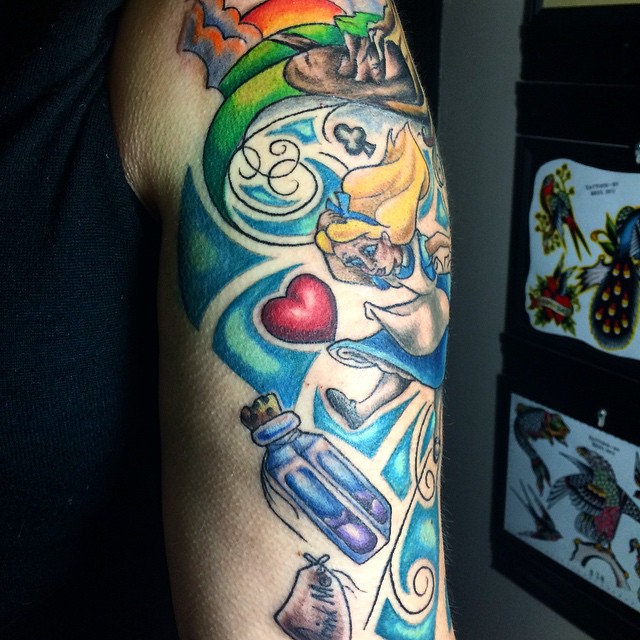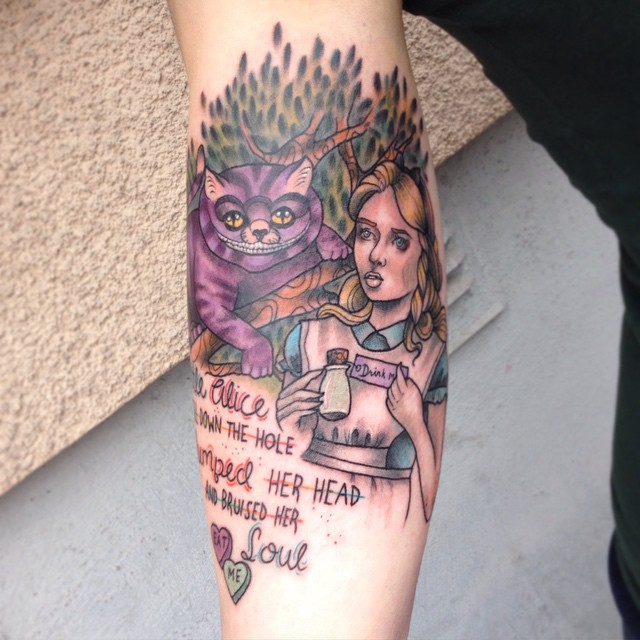 This is a simplistic type of tattoo that one can get. The Alice in Wonderland character that you want can be drawn as a shadow contrasting with your skin. It is a very interesting and artistic type of tattoo. The characters can be drawn in solid black color inside an ornamental frame.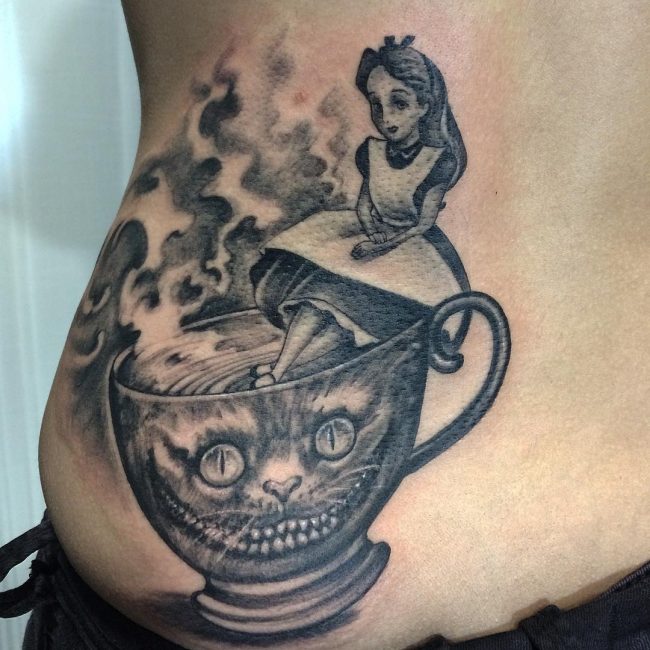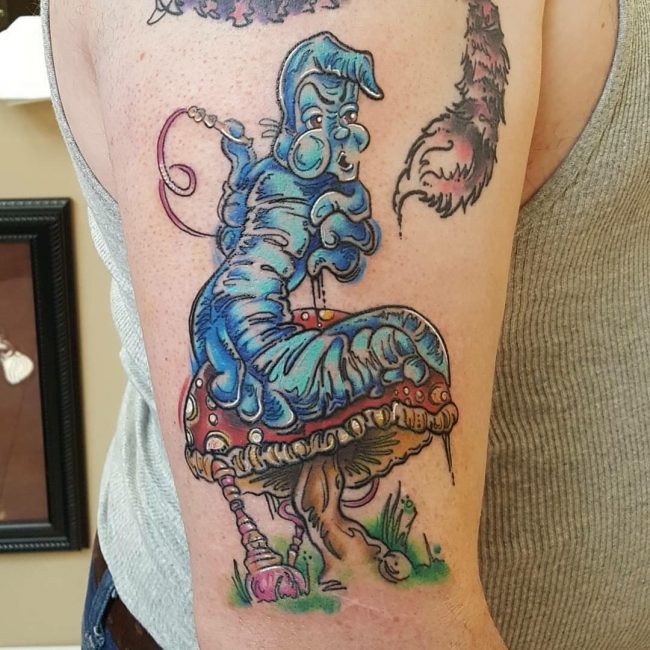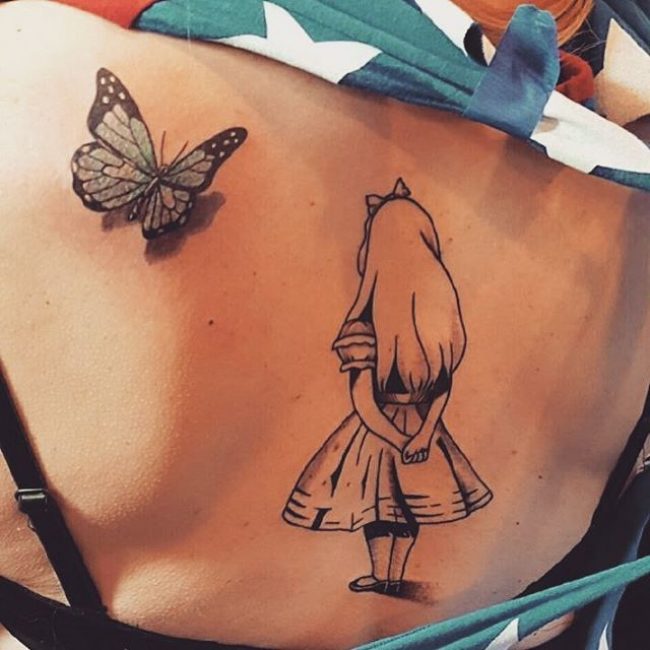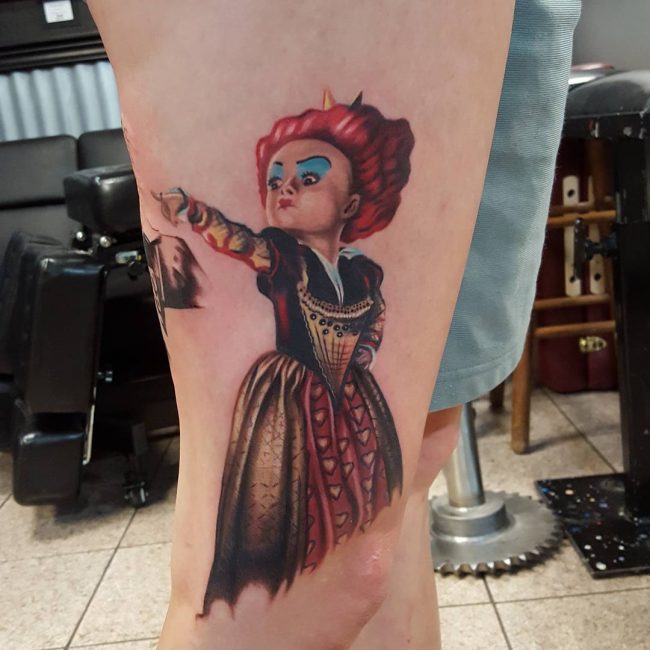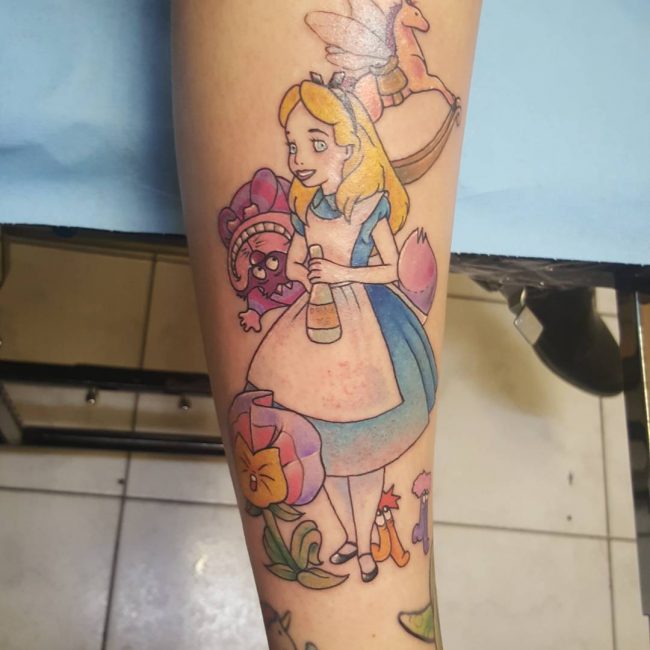 It is a type of tattoo that looks best when it is small to medium in size. Moreover, it is feminine and looks superb on girls and ladies.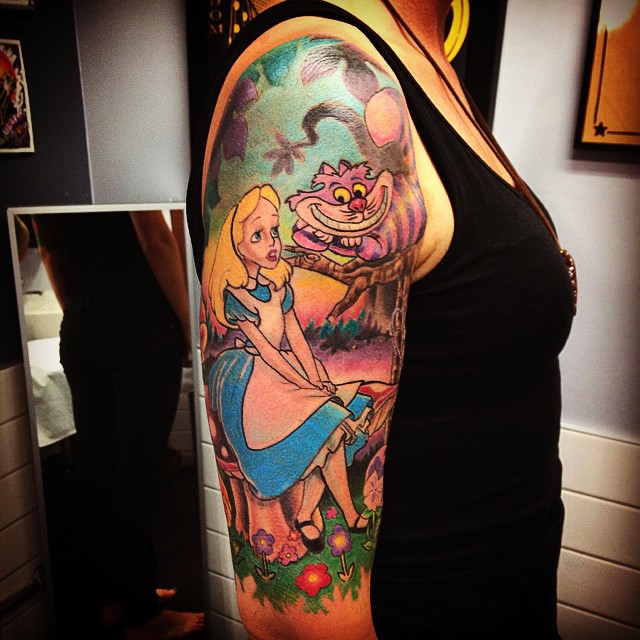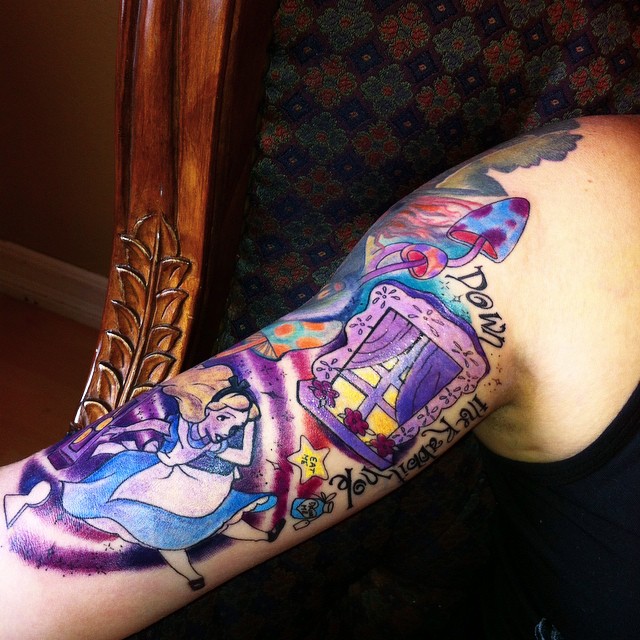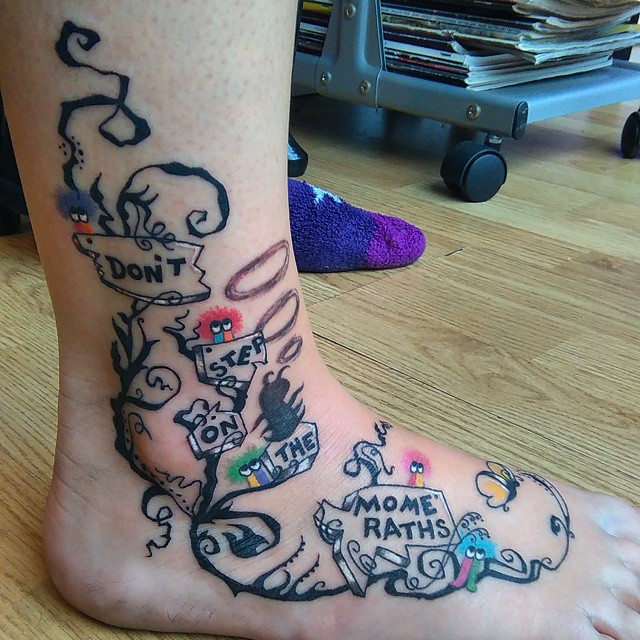 Full color mural type of tattoo
This is a type of tattoo that has vivid color in it and all sorts of characters in it. This type is usually large in size. As such, it is best done on areas such as the entire sleeve, the chest or the whole back. It can feature scenes in the Alice in Wonderland story.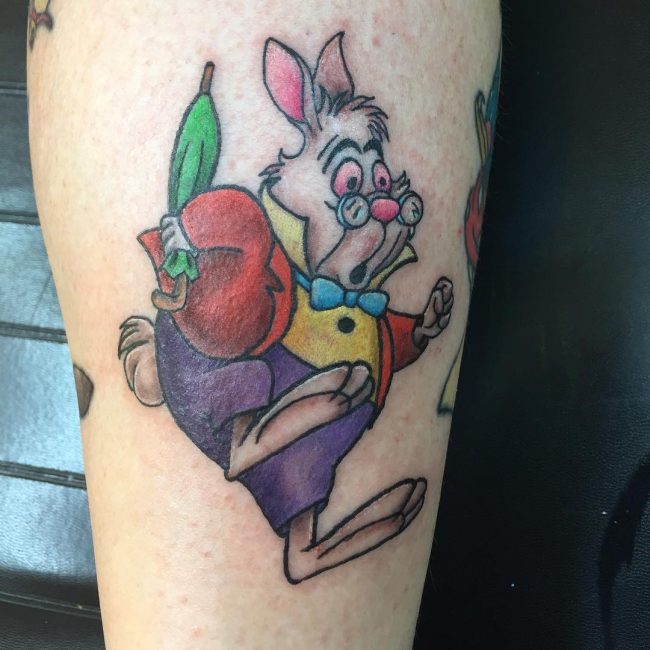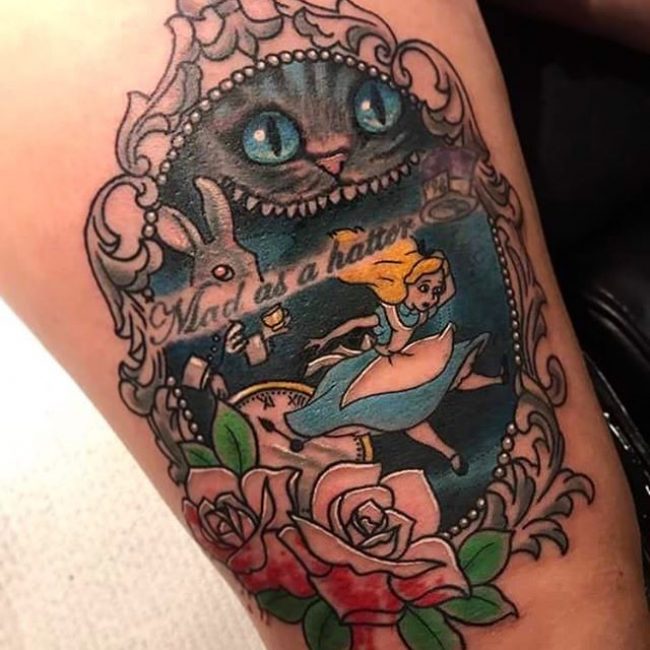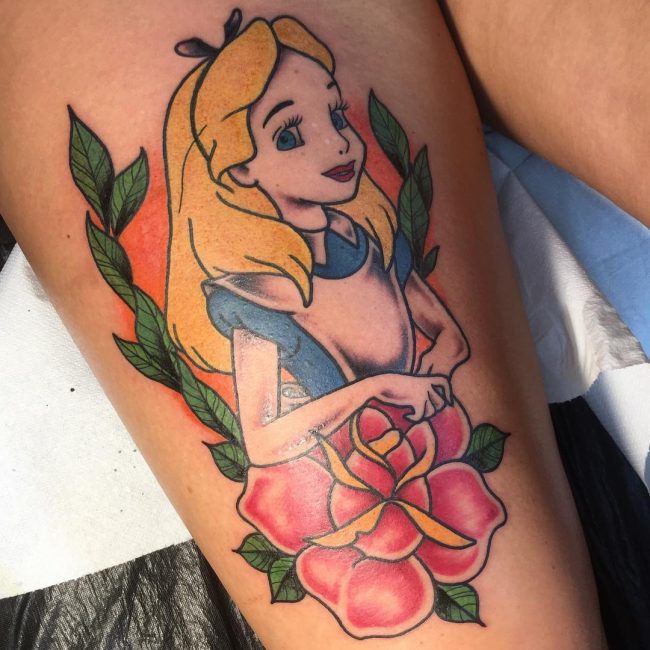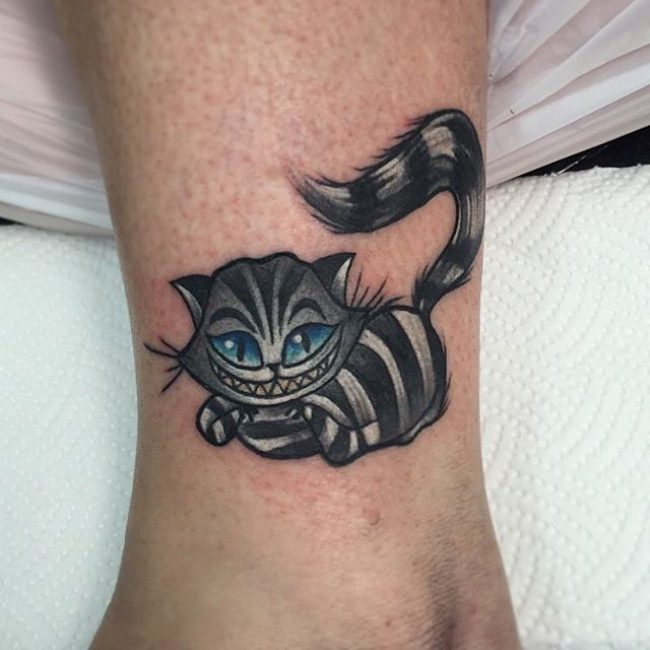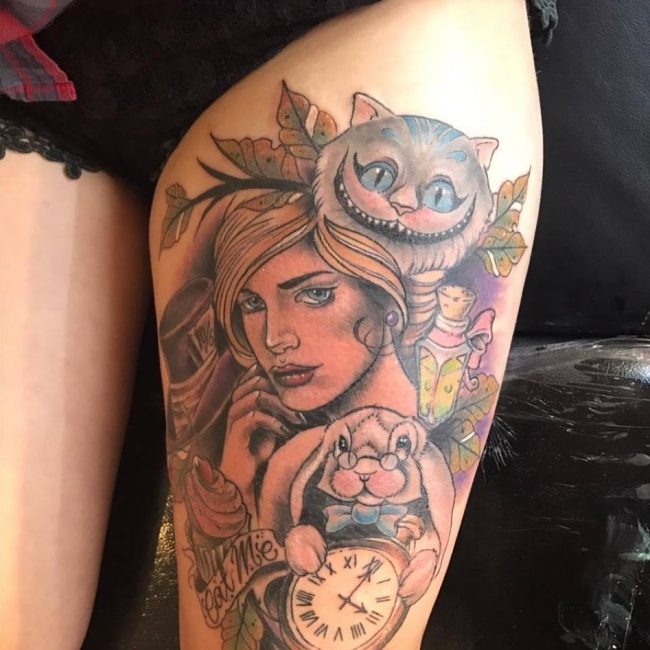 In this type of tattoo, there is depth and perspective in the tattoo. As such, when looking at it, one can see the foreground, the middle and the background. Moreover, the artist can draw the characters such that they go along the curves of the body.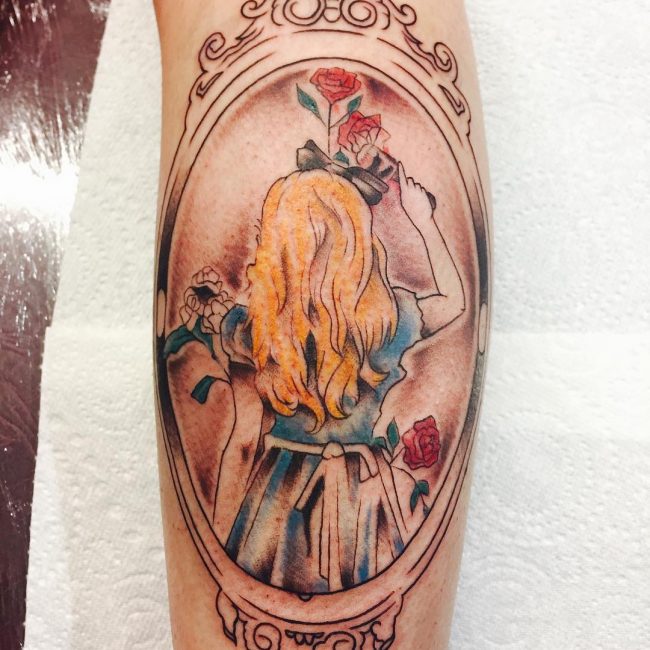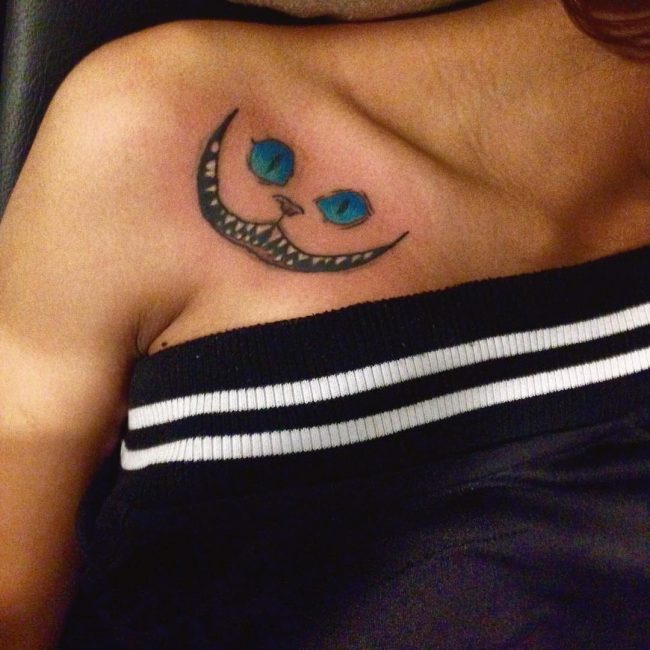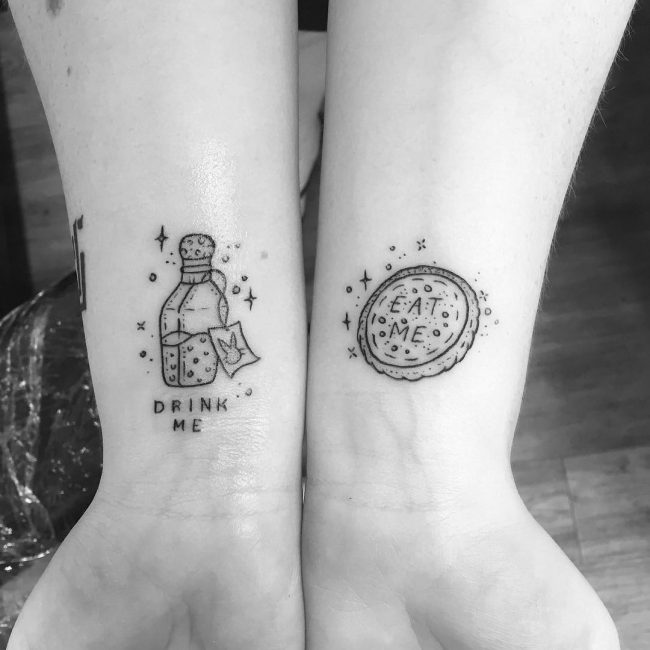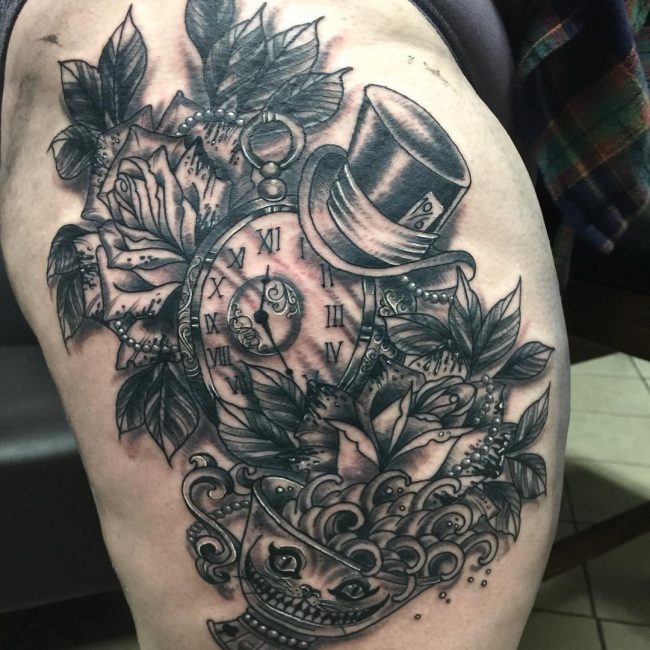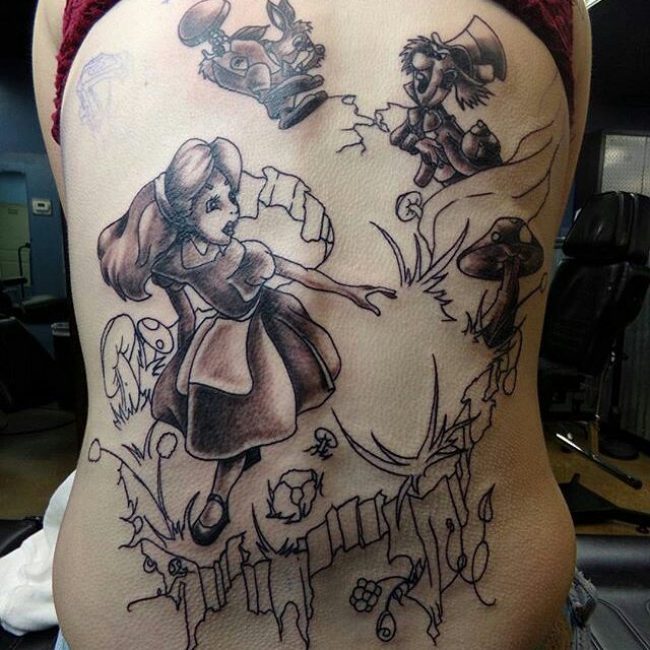 It can be worn by guys or girls and is a type of tattoo for the serious tattoo enthusiast.