80+ Lucky Swallow Bird Tattoo Meaning and Designs – Fly in The Sky (2019)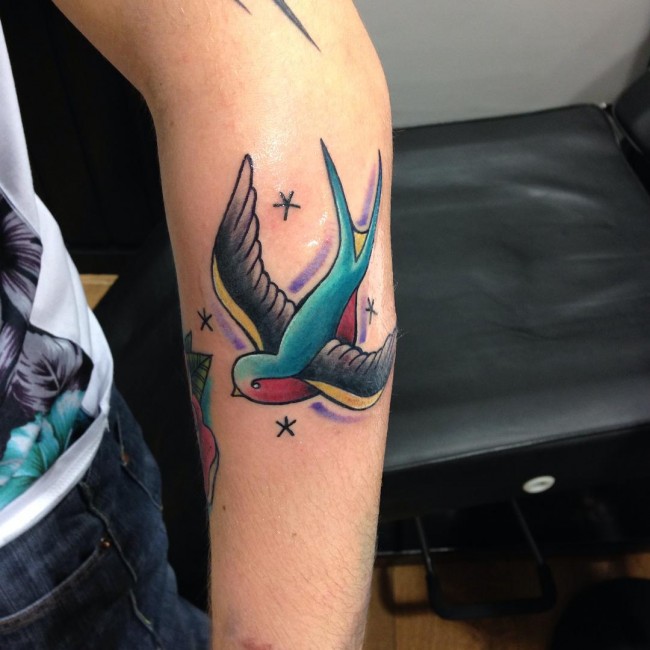 Swallow tattoos are among the bird tattoo designs with deeper meaning. Most people get the tattoos for their cute designs and the traditional meanings. Originally, the tattoos were common among British sailors who used them to display their experience in sailing.
They also used them as a way of expressing their hope to return to their homes safely. A sailor who spotted a swallow when coming from a tour of duty knew that they were nearing their home. The swallow is a lovely bird that selects its mate for life. And it only nests with the loved one.
Contents: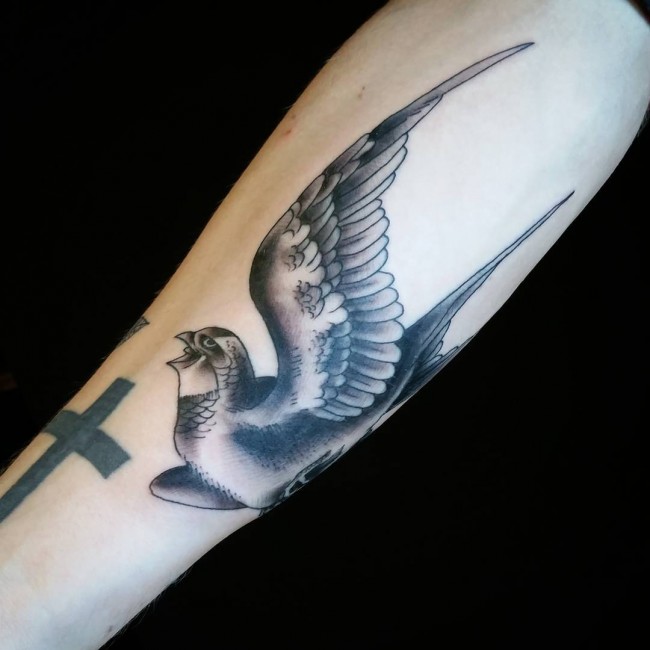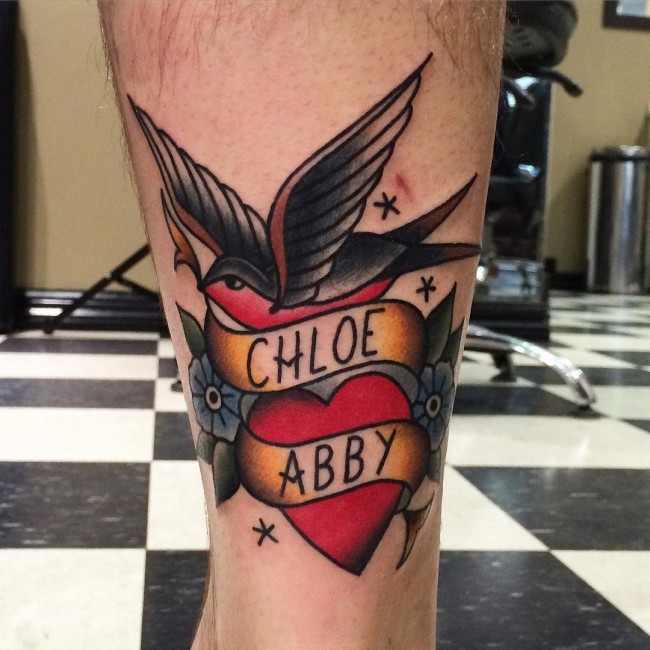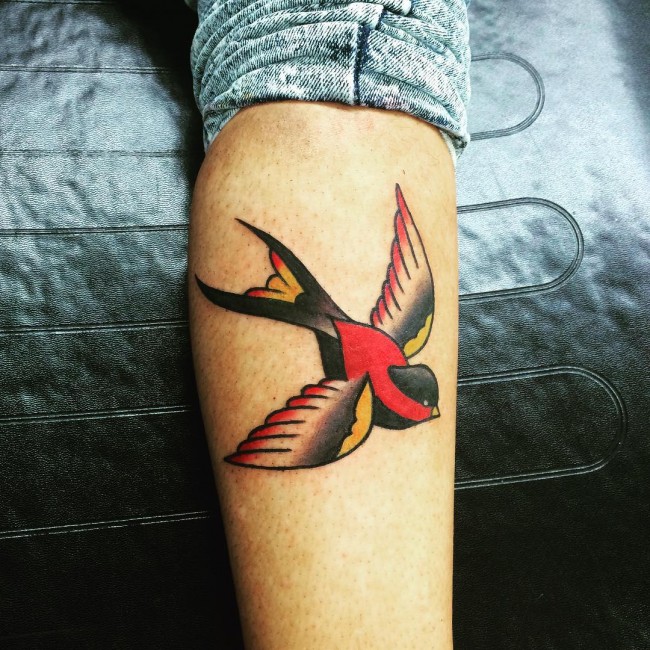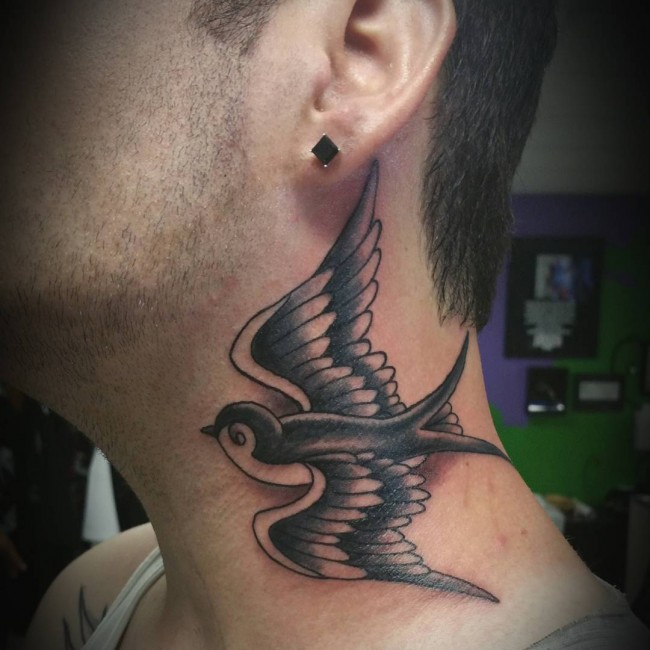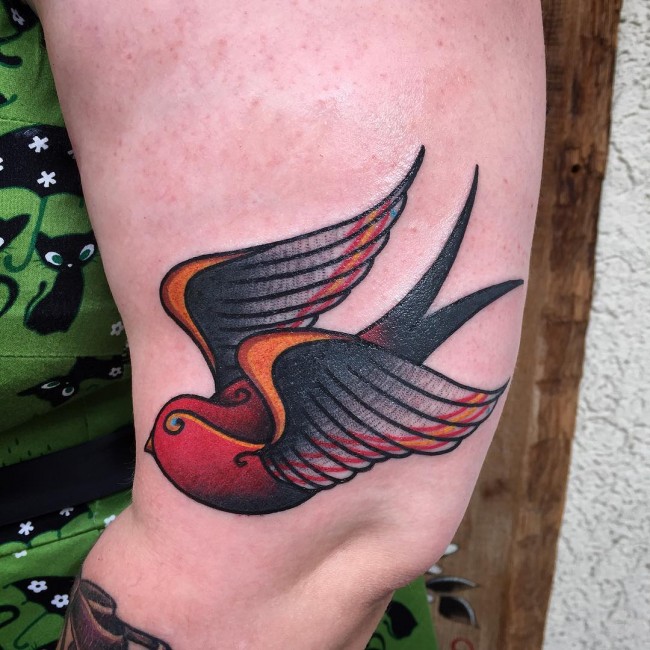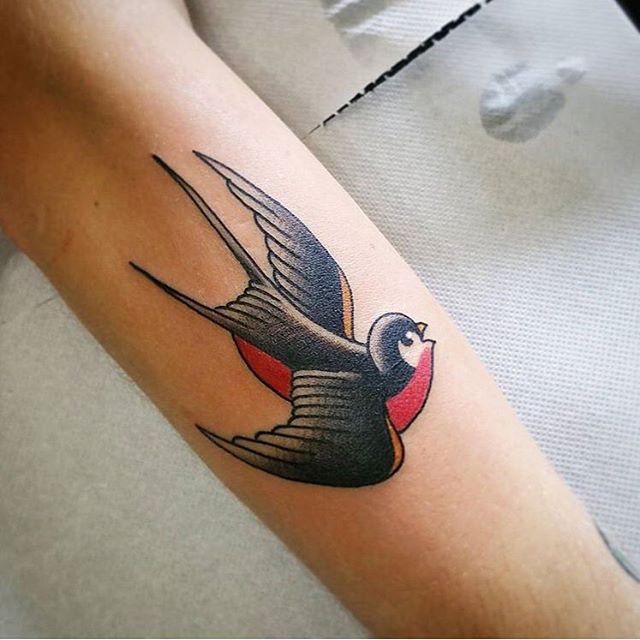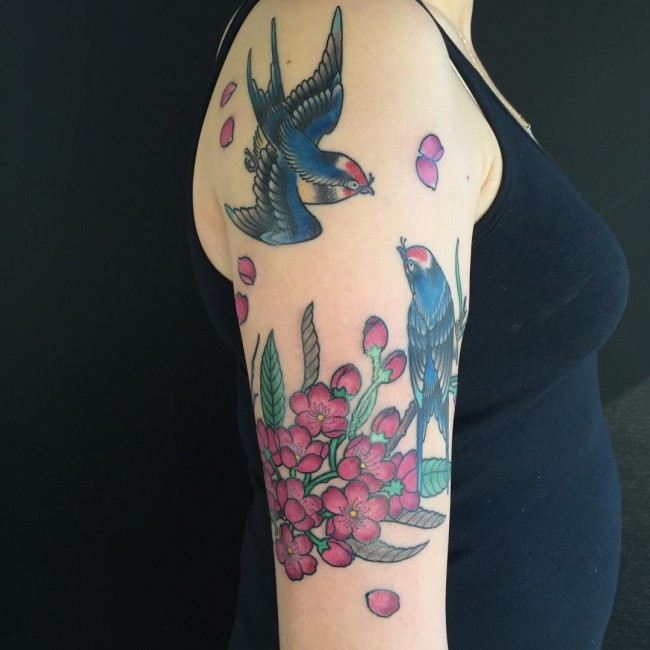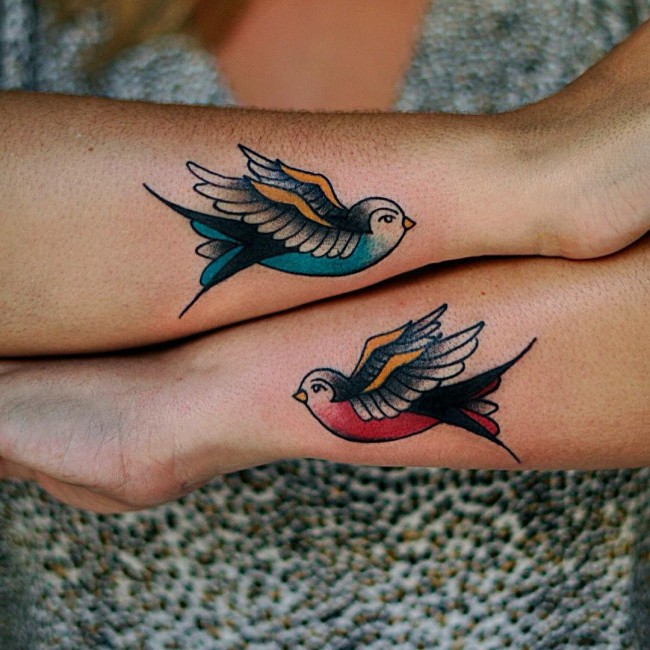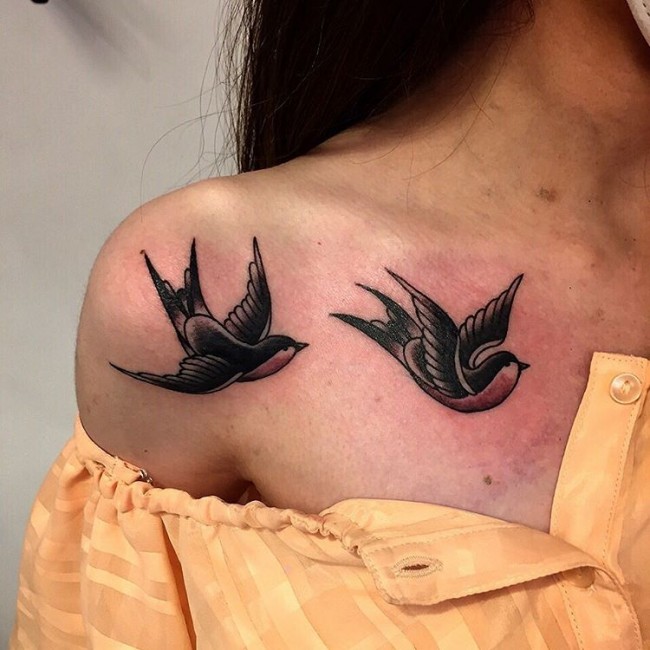 Meaning of swallow tattoo
Historically, sailors have used the tattoos as symbols to show off their sailing experience. The form of tattooing has its origin in the early sailing days in Britain and initially it was an Barn Swallow image mostly placed on the neck, chest or on the hand.
According to a legend, a sailor would get a swallow inked once they had traveled for over 6000 nautical miles which is equivalent to 9260KM. And a sailor with two swallows had traveled over 10000 nautical miles (18520KM).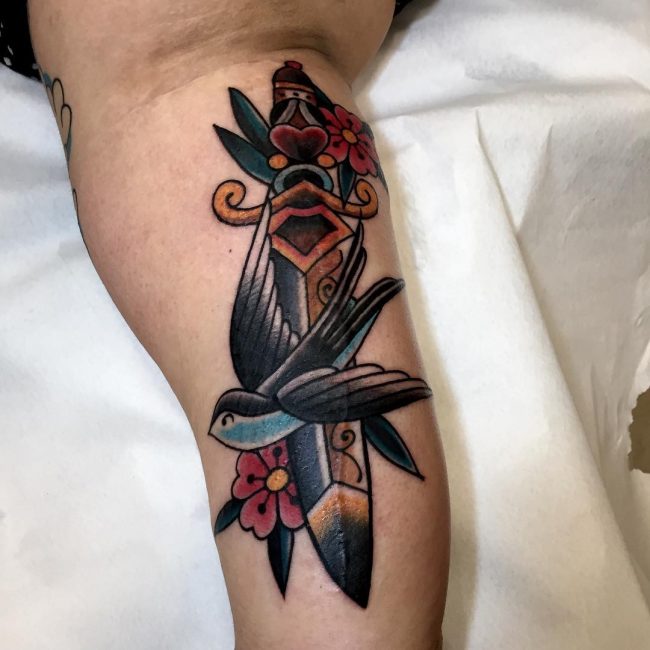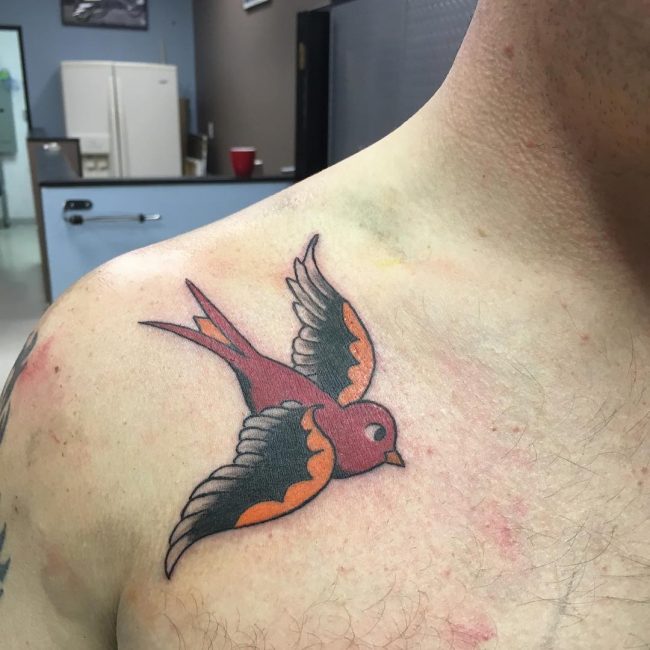 It was extremely dangerous and hard to travel the two distances in the earlier days and more than one tattoo denoted a reliable and experienced sailor.
All swallows have to return to the same place on annual basis to nest and mate. Another legend suggests that the tattoo guaranteed the sailor safe return to their home. Sailors would often get swallows inked on their bodies before setting for journeys.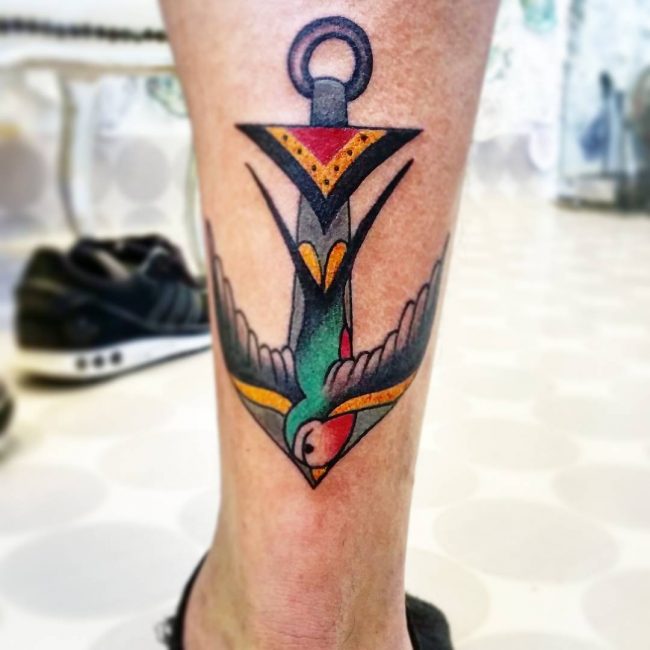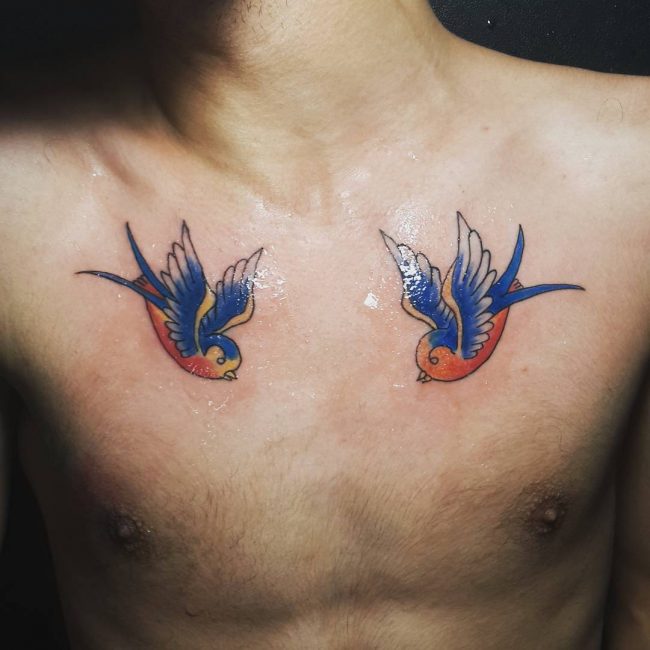 They would also get a second swallow after the end of their tour duty upon returning to the home port. People in the early days also believed that if the sailor drowned, the swallow would carry the soul to heaven.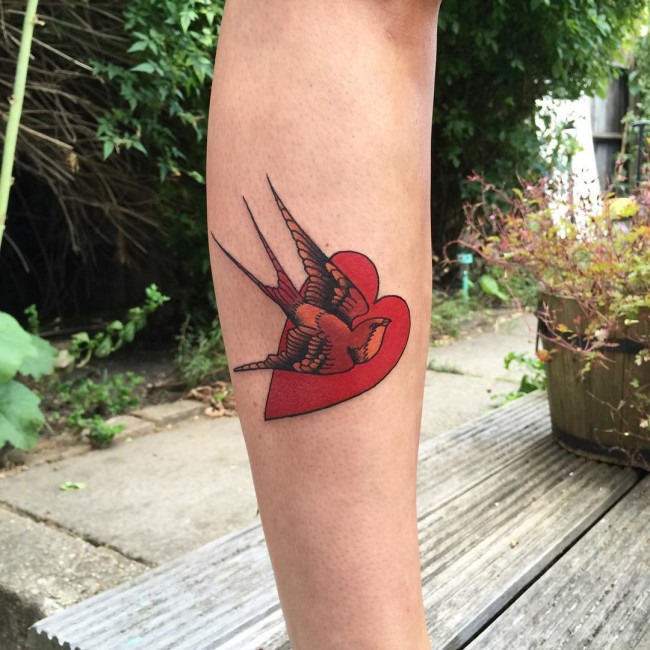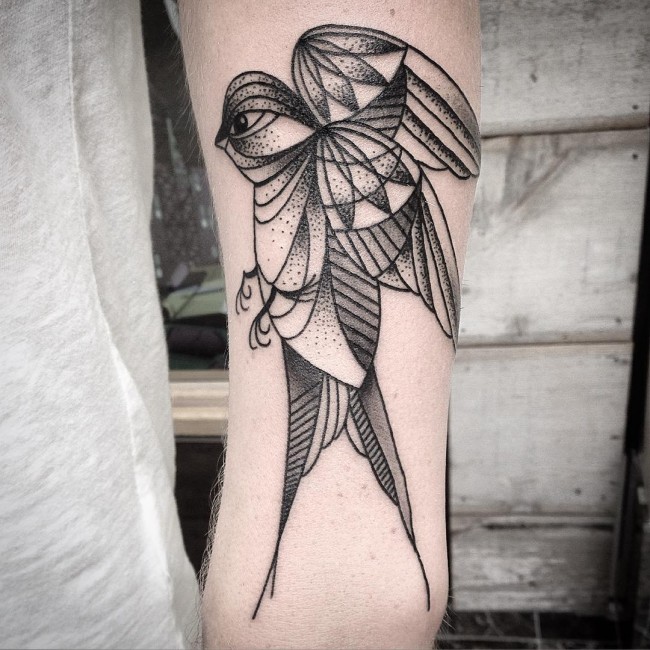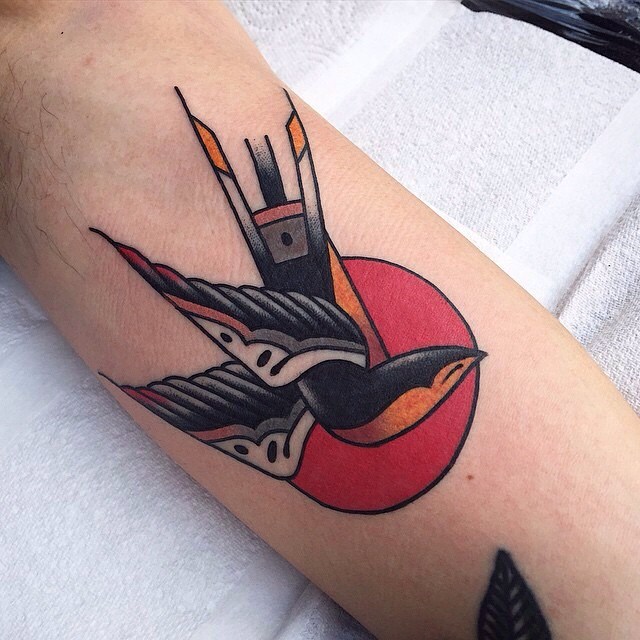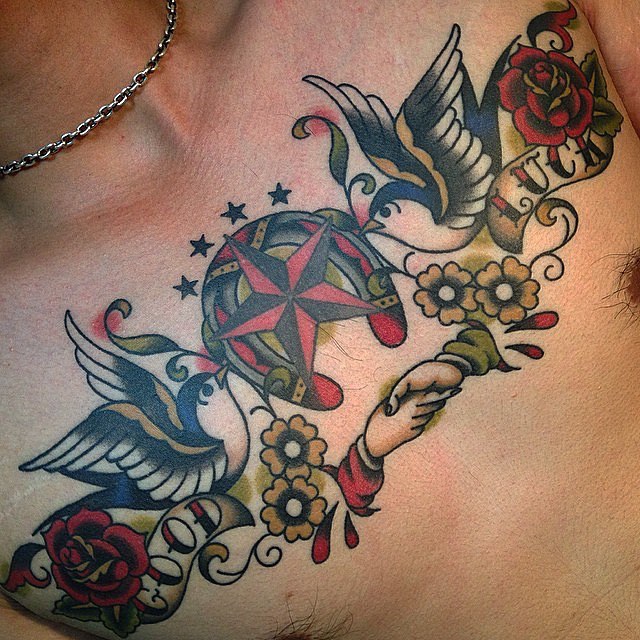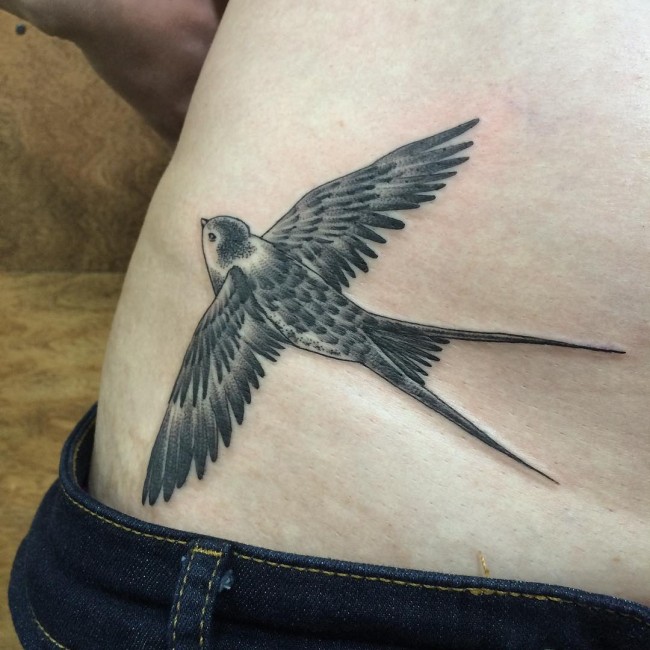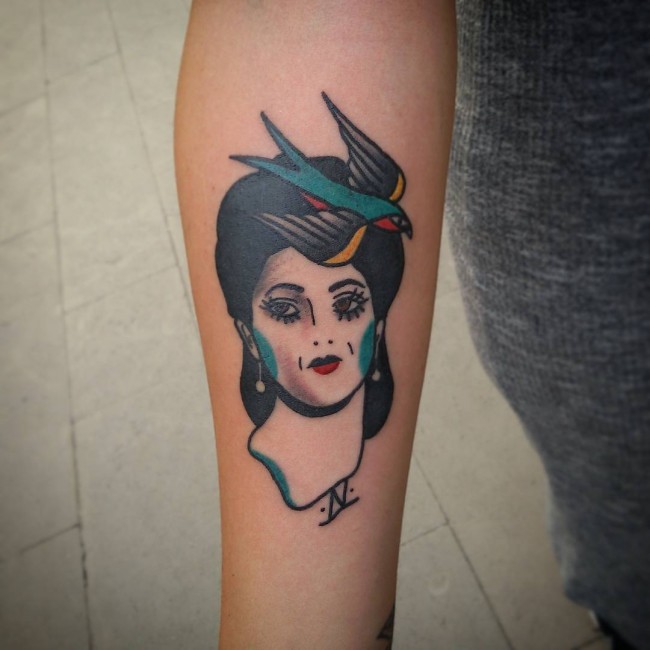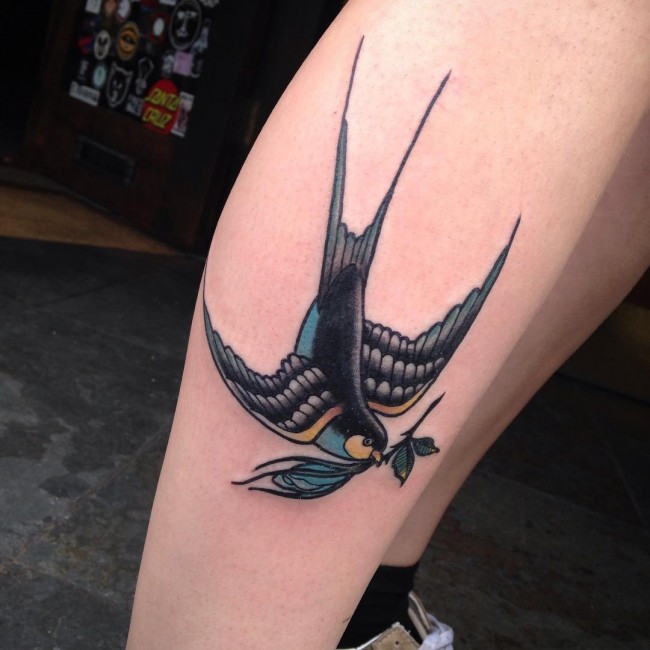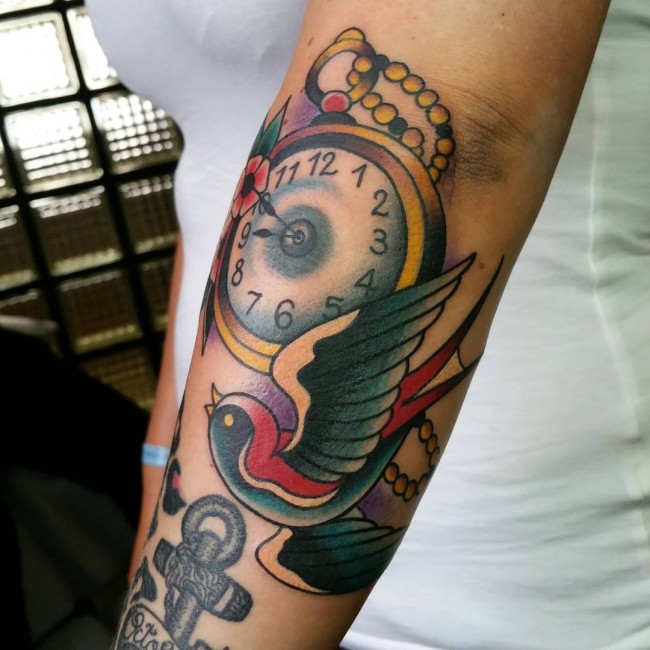 In the modern world, the tattoos represent many differentiated things. The form of tattooing is a staple of the British Traditional and the tattooing style of Sailor Jerry. The British Royal Navy sailors have tattoos on their wrists to symbolize their successful voyage.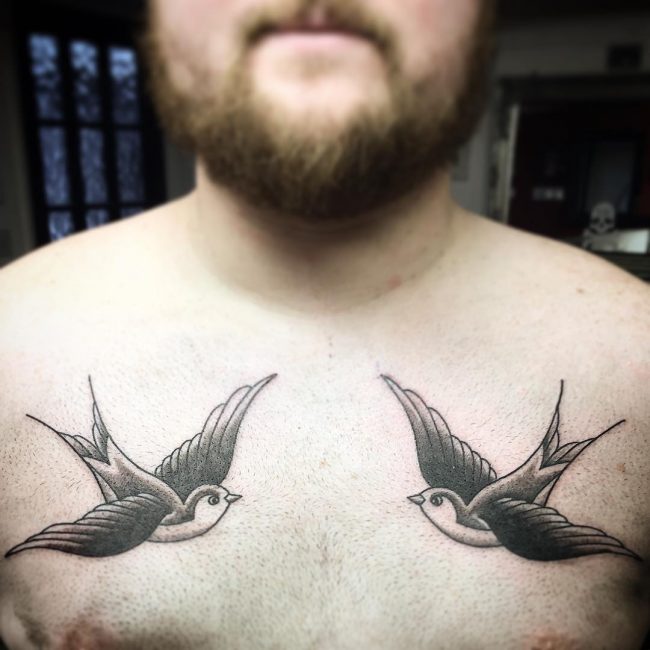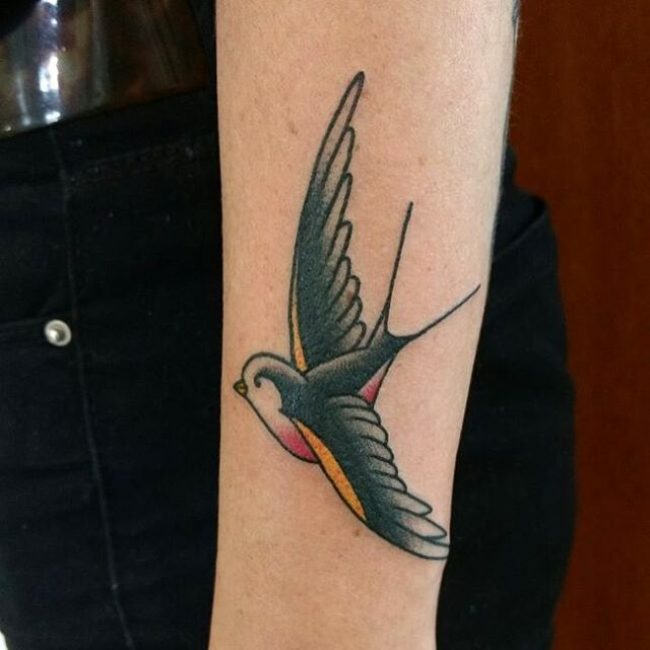 Still in the UK, a tattoo design on either hand may represent a prison sentence. When inked on an ex-con it stands for "done your bird, done your time."
Tattoos also represent love, fidelity and loyalty. As a result, swallows are popular among women and girls. The wearers get two loving birds and they may also choose to include a loving heart.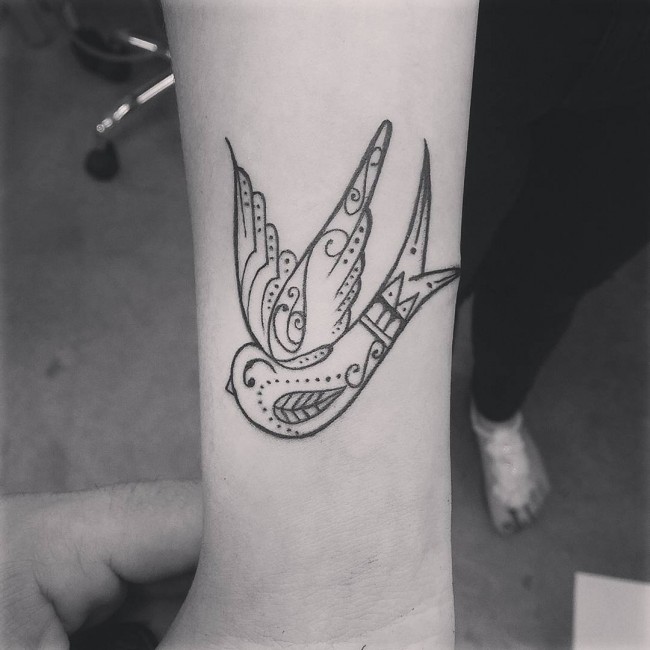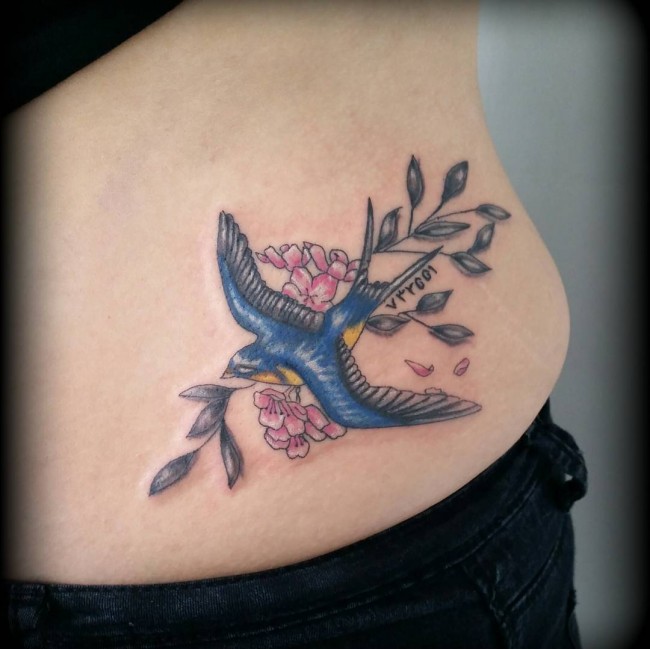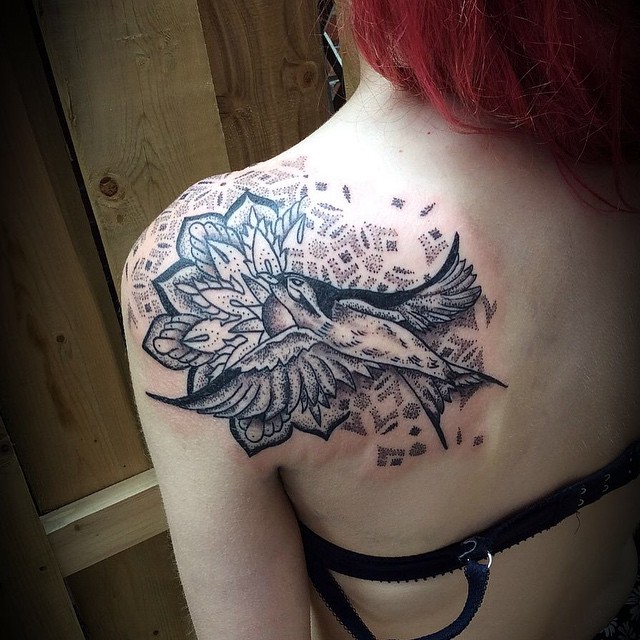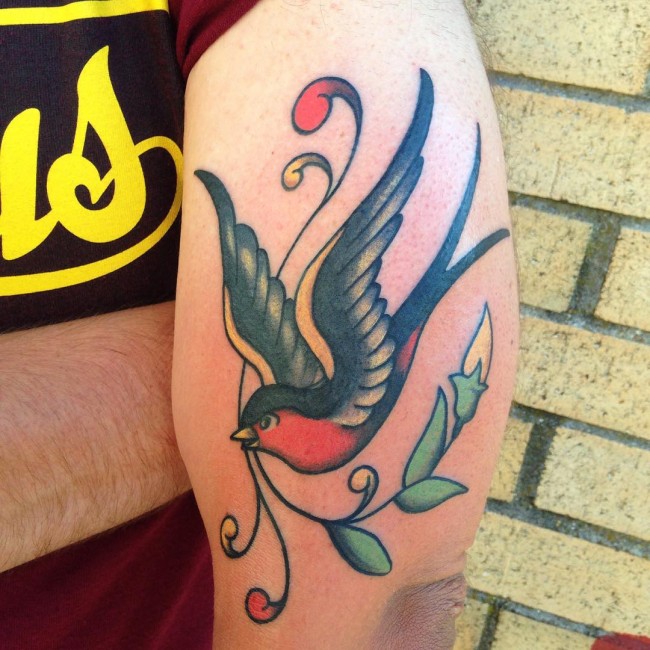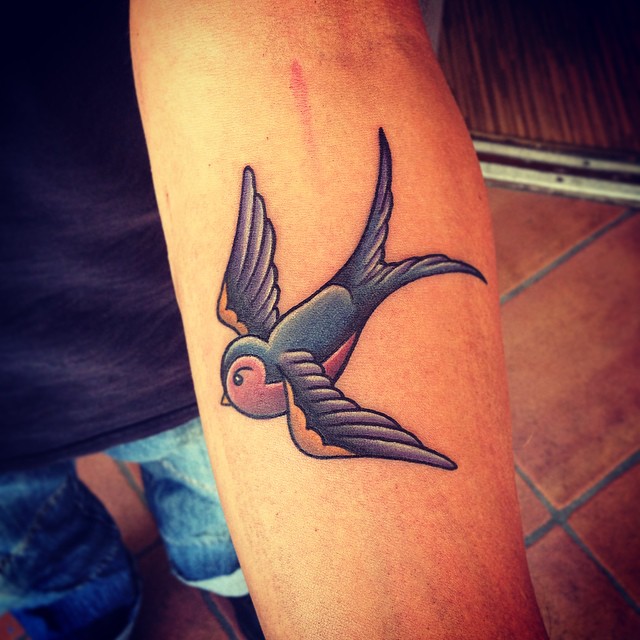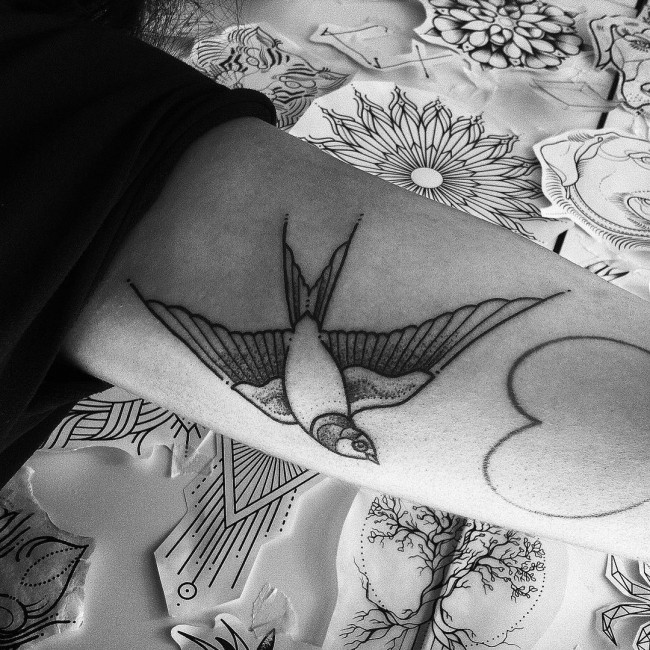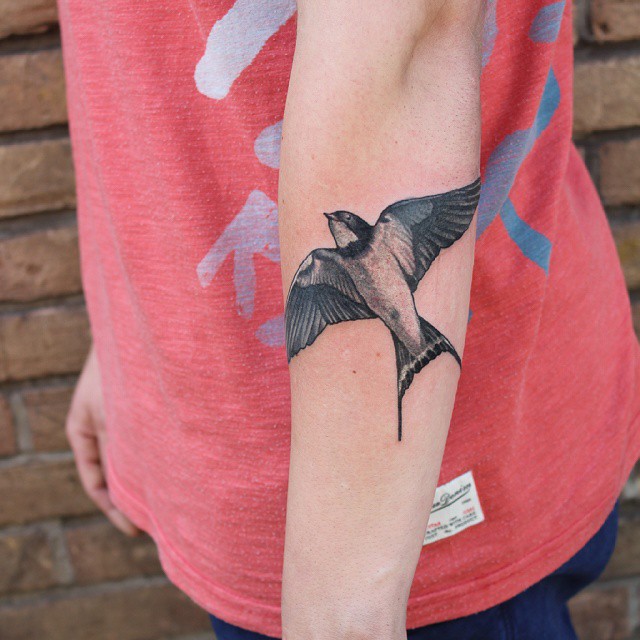 And finally, London Hard Men and Glasgow had tattoos on the back of their hands standing for "this fist flying." The design symbolized art in street fighting.
---
back to menu ↑
Swallow Tattoos Placement
Traditionally, sailors often inked the swallows on their chest but today, their placement is not limited to the chest. Due to their cute size, you can ink a tattoo on your back, chest, neck, and wrist or behind your ear.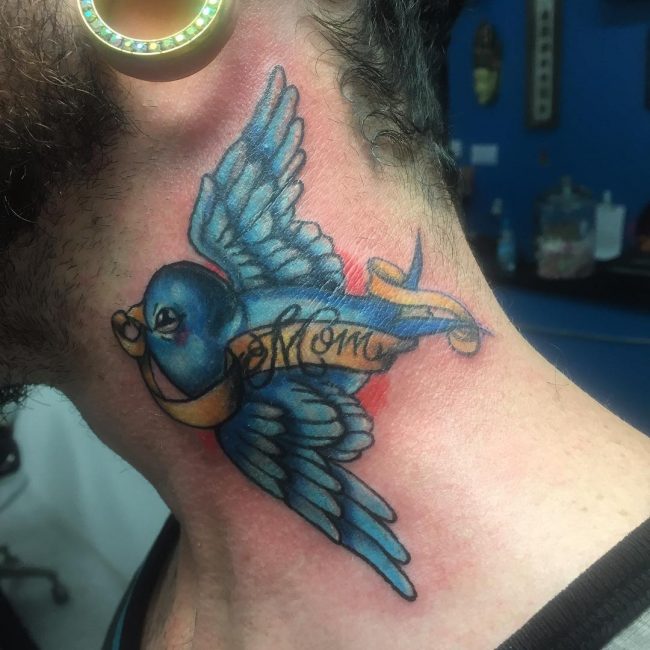 Swallows are charming and carry deep symbolic meanings. They are also ideal for both sexes. They are more versatile as you can ink them in a small, medium or large size. If you need large designs, you can consider your shoulder, back, thigh, hip, the side or the arm.
And if you need a smaller size featuring a pretty swallow, you can consider your wrist, fingers, and the back of your neck or the ankle. When selecting a tattoo, you should keep in mind that it will bear a certain meaning and it will also be a permanent piece which you will stay with for a lifetime.
This is why you will need to select the body tattoo after due consideration.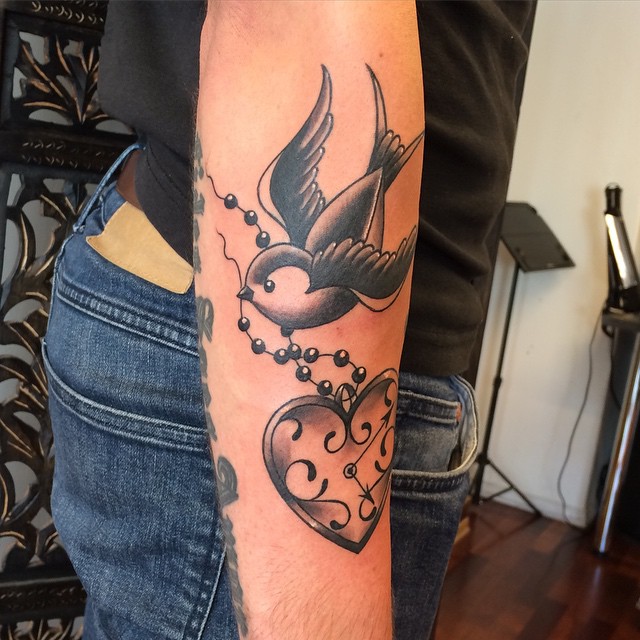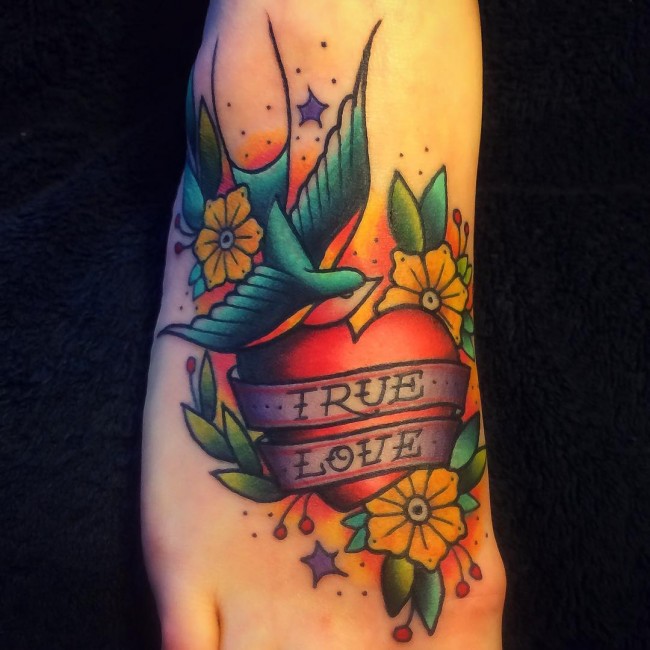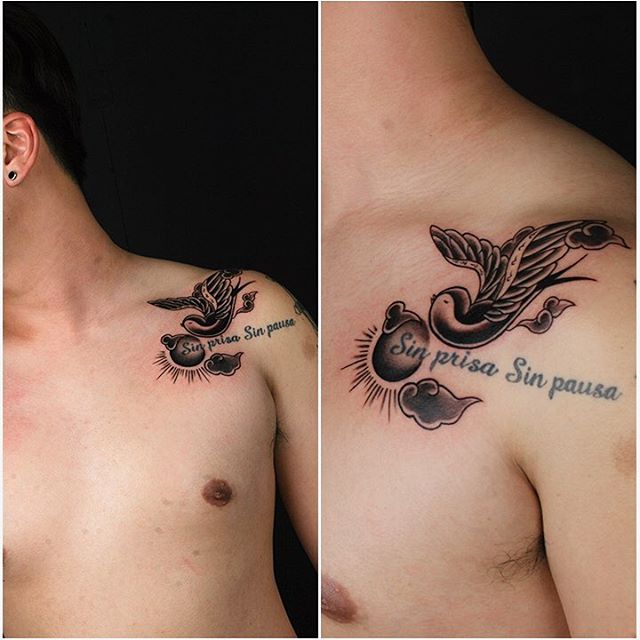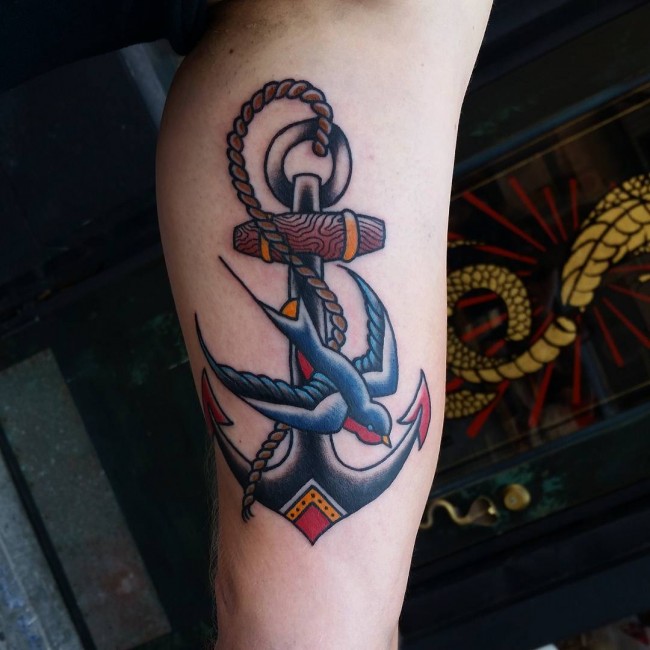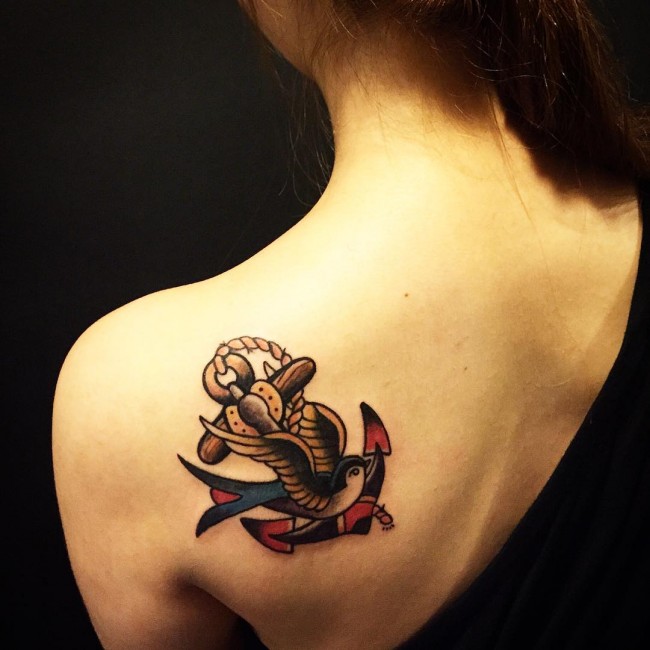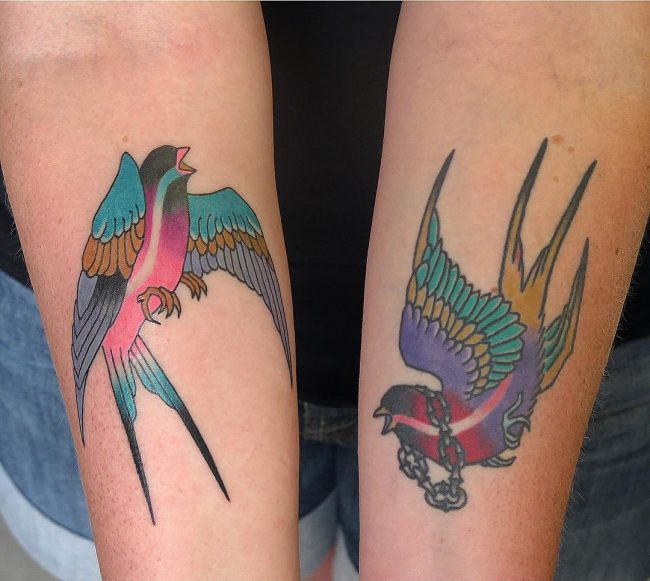 ---
back to menu ↑
Types of swallow tattoo designs
There are many tattoo designs which also include different elements to offer them different meanings. You can interpret the meaning of the tattoo by looking on how the swallow appears. Here are some of the most common swallow designs and which you may consider:
A tattoo design featuring a flying swallow symbolize good luck charm. People often wear them with an expectation of success, wealth and good luck.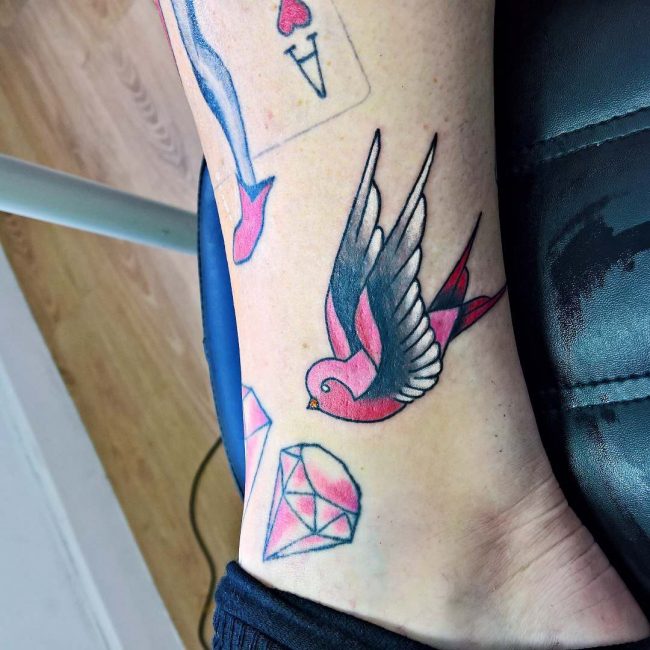 A swallow holding a flower.
This is another common tattoo design. The design includes a swallow holding a colorful flower inside its beak. The tattoo symbolizes the spring which is a happy time.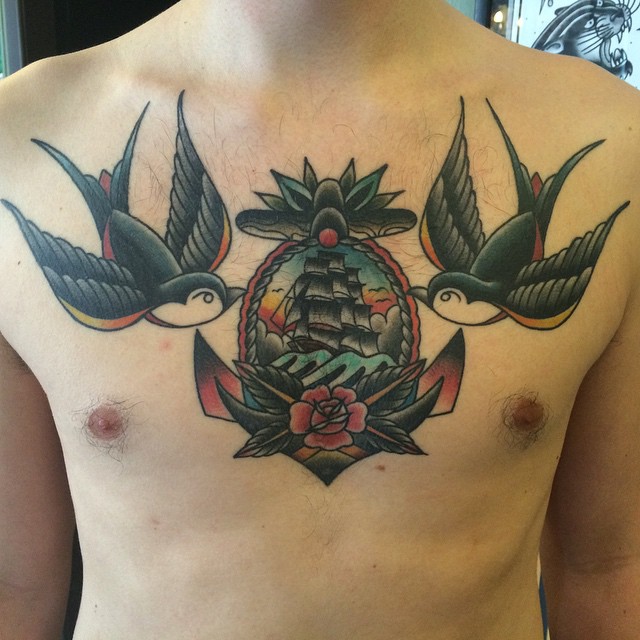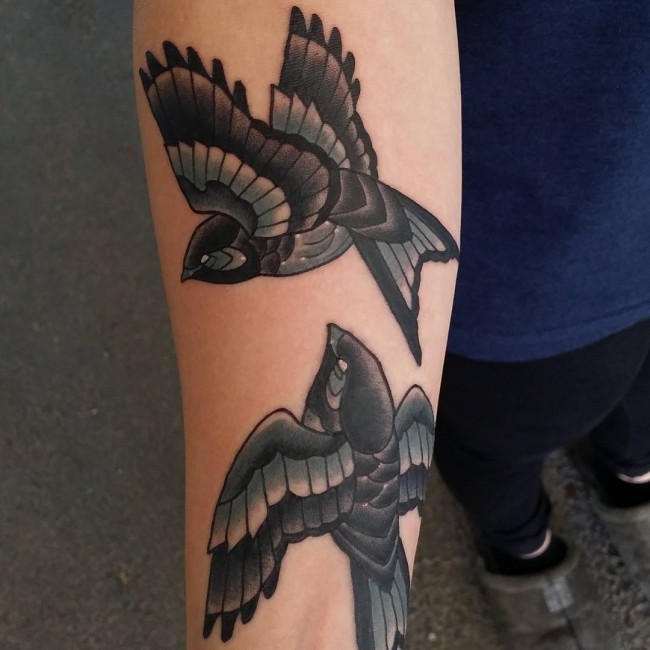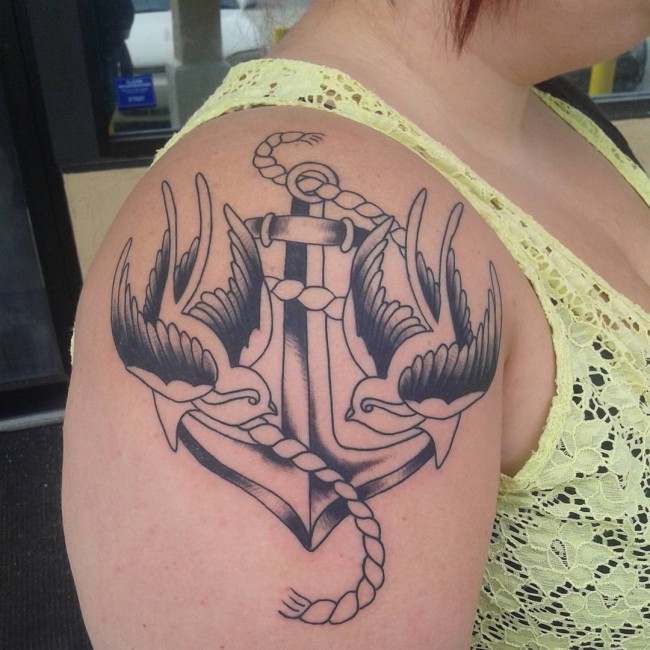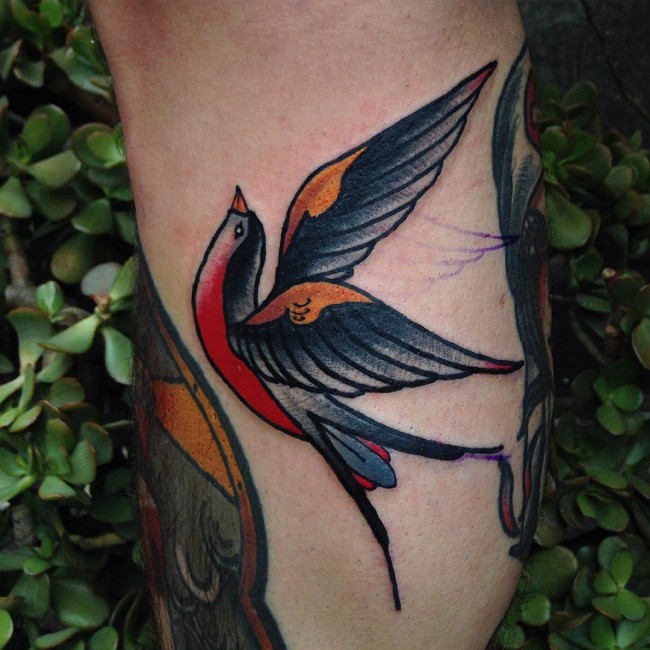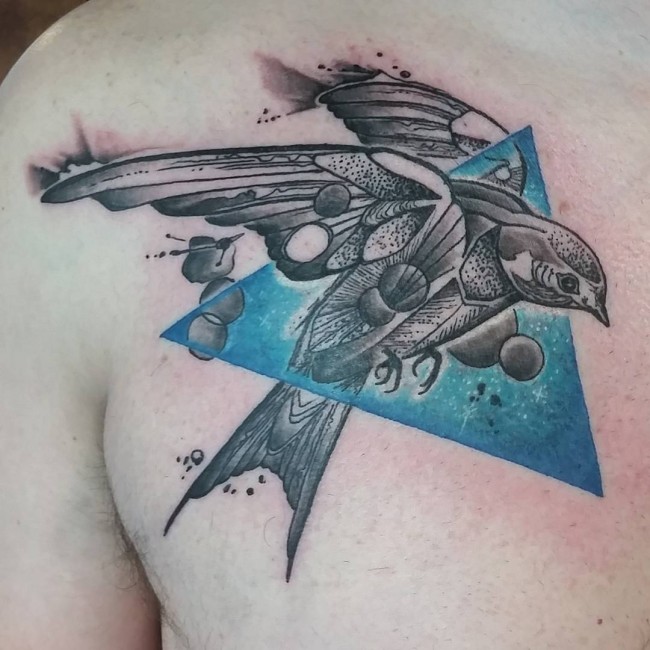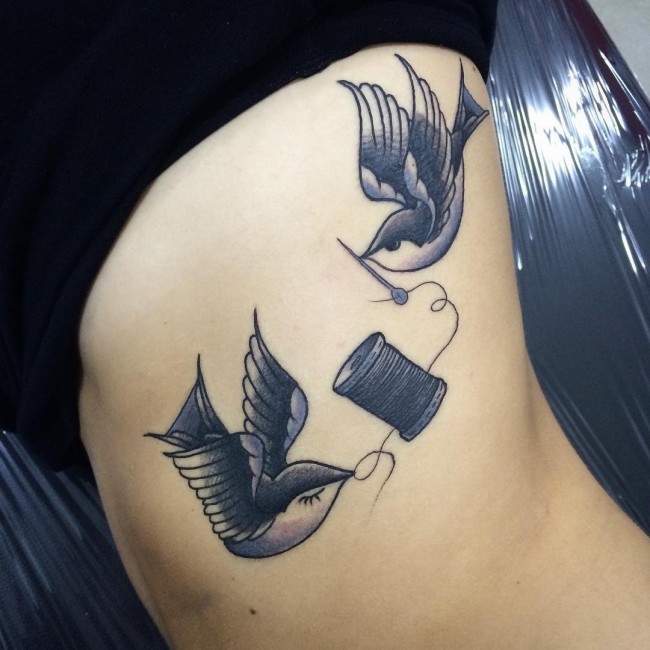 A swallow design inked on a man symbolizes strength and power. In the traditional tattooing, sparrows on the hand indicated that the man was a prowess in fighting.
Some swallow designs on gamblers denote good luck. The designs involve swallows alongside poker chips, cards and rolling dice.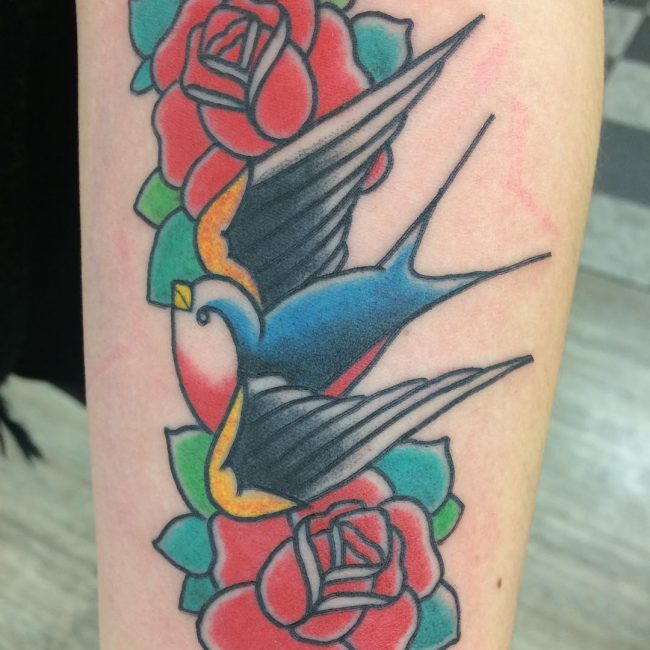 The tattoo design stands for happiness and fun and therefore the name "blue and chirpy." Almost every tattooist can make this design and it is among the most popular swallow designs. However, you should be careful when getting the design since it is a color tattoo and requires moderate fair to fair skin.
If you ink the tattoo on dark skin, it will fade with time since the skin makes color support hard.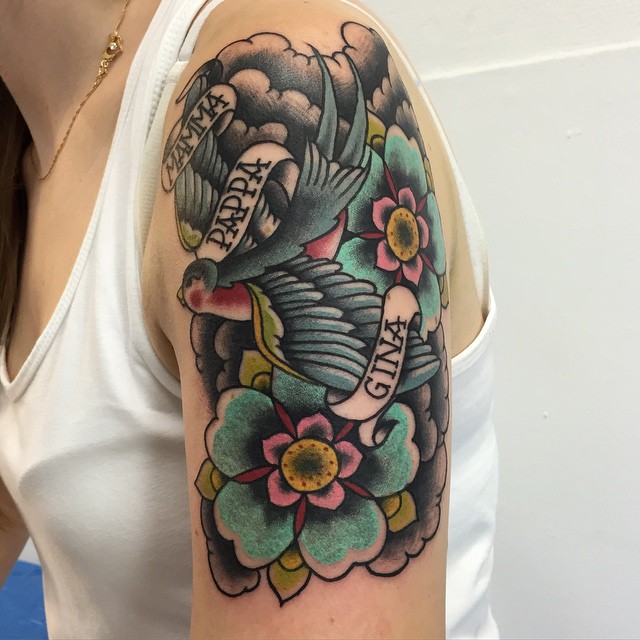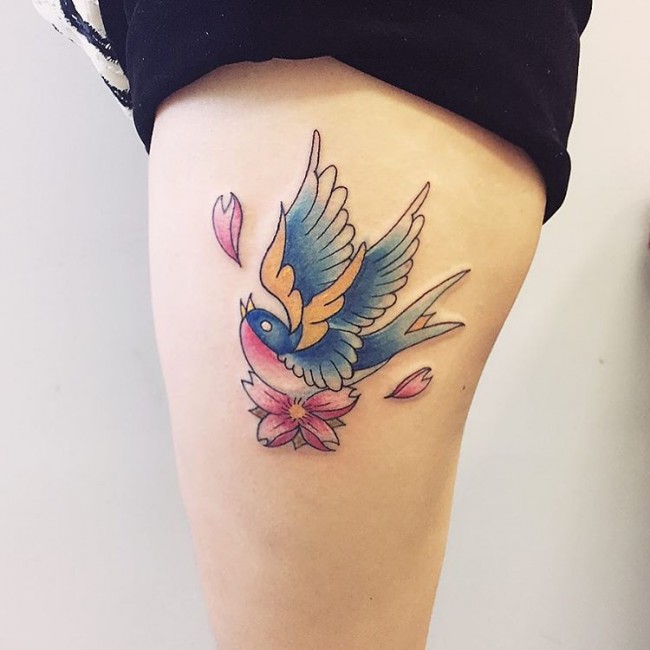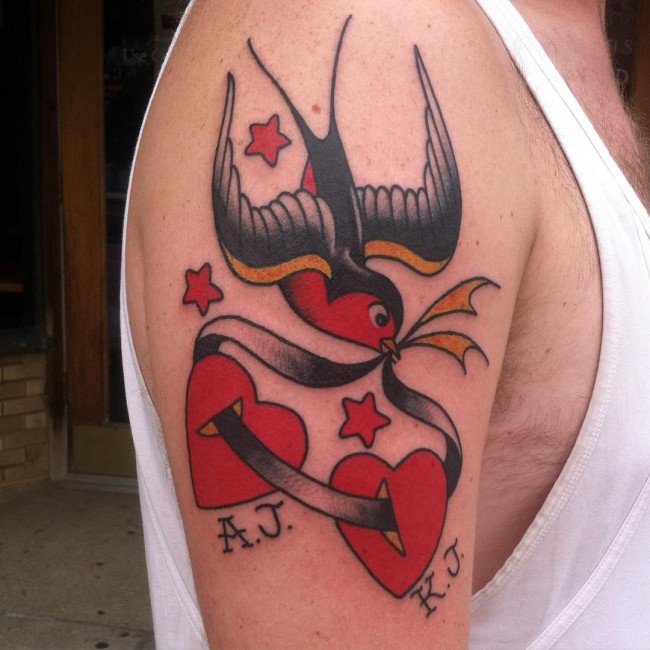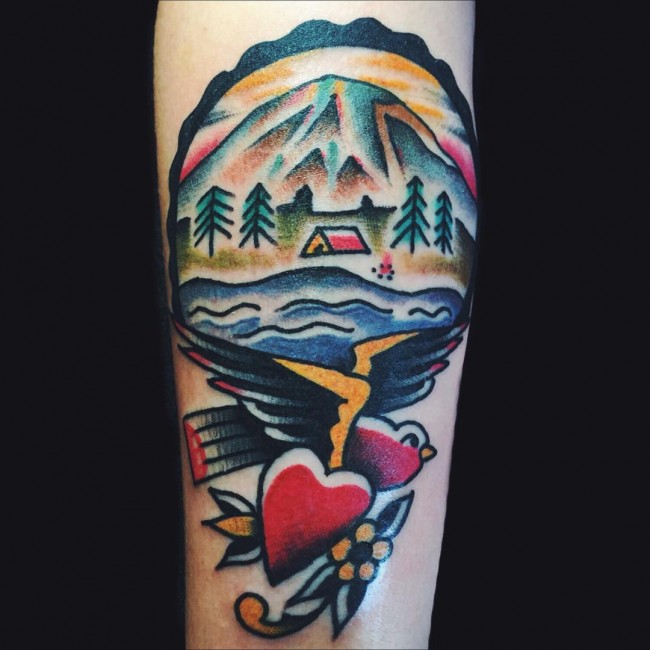 This is a unisex tattoo design and its great artwork makes it popular. Individuals around the world started getting this design around the 1980s although at the time tattoos were not very social. It is a spectacular art representing peace and enlightenment.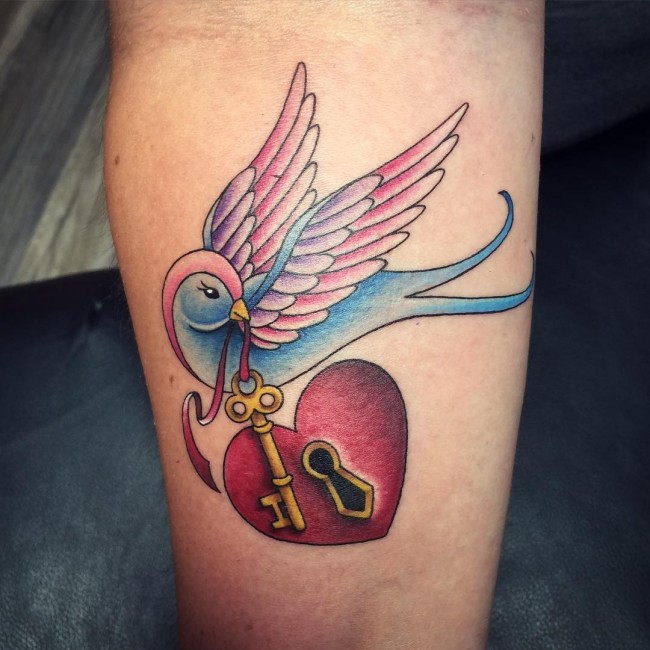 Newlywed brides get the design to prove to their husbands what the union means to them. The designs origin remains unknown even though it is very popular. Two swallows show the bond that exists between two lovers and the key and lock binding them in the bond.
You can get a swallow in love to denote a newly found love or deeper love for your counterpart. The tattoo features a pink color, but you can also experiment other colors to enhance its appearance.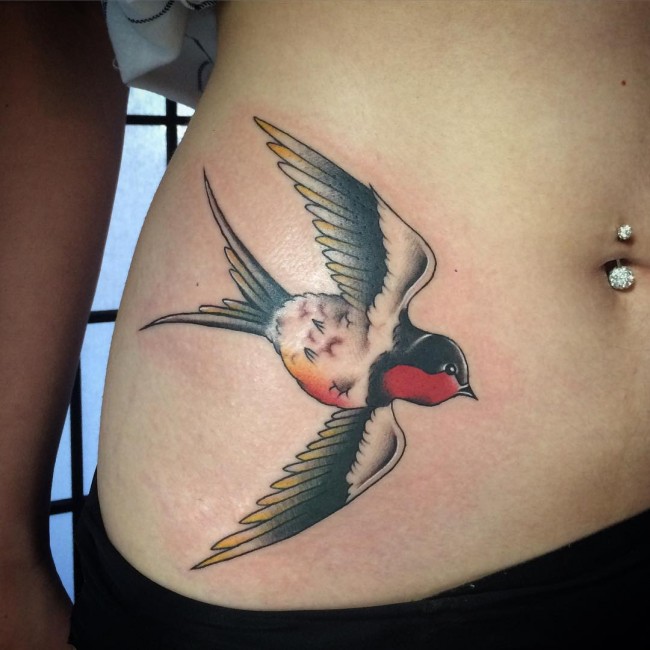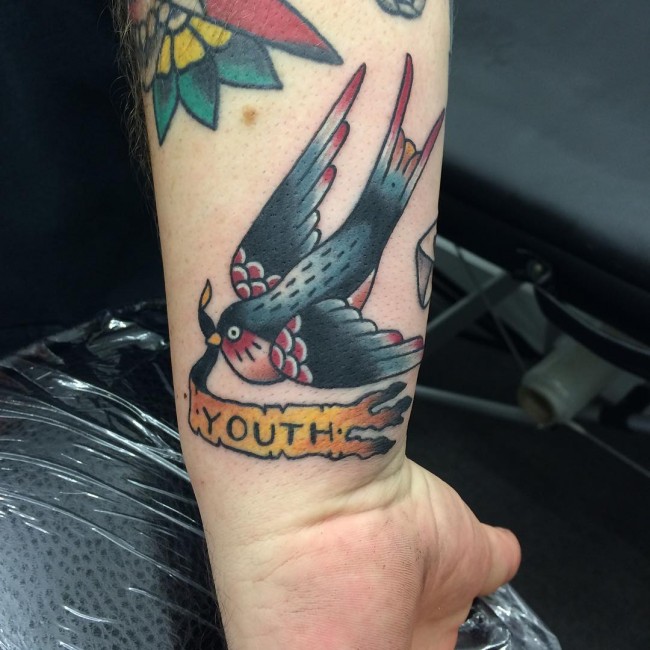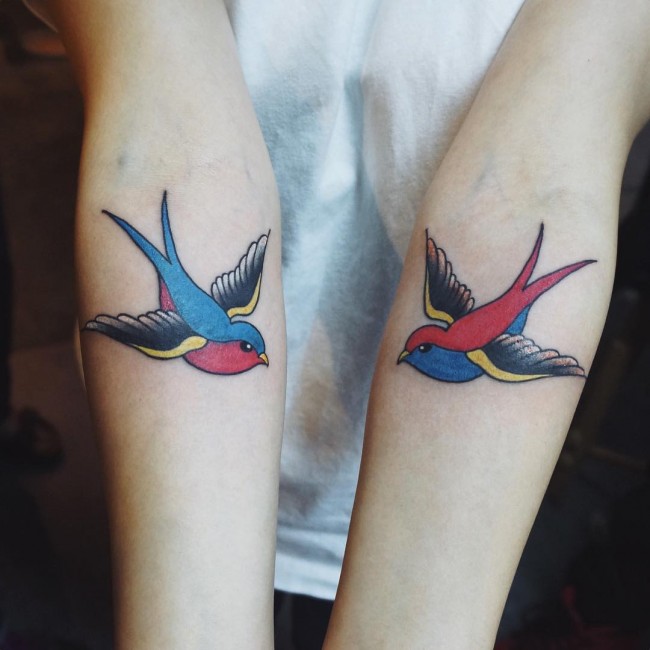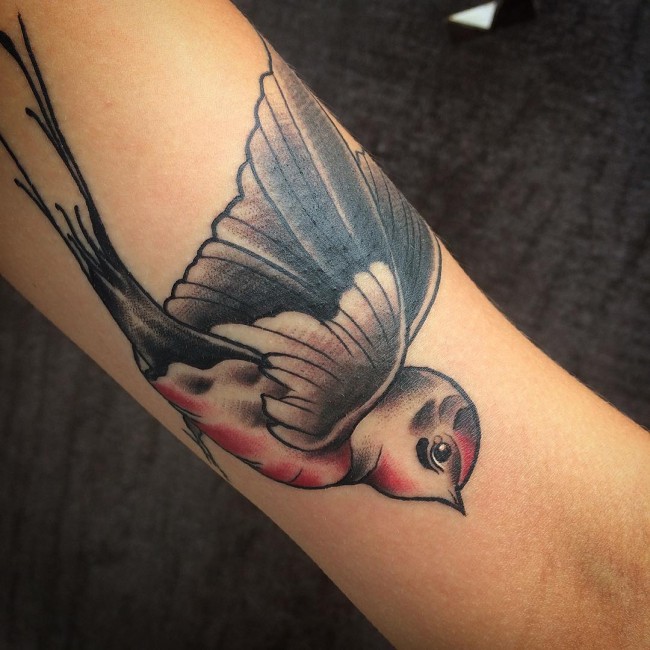 The design features a distinct halo around the head of the swallow. It denotes enlightenment and innocence.
The tattoo has two meanings. It may symbolize a swallow in love with a past grief and a person who just met the love of their live can wear it. The other meaning can be a hurt emotional swallow and an individual hurt in a certain way can get it.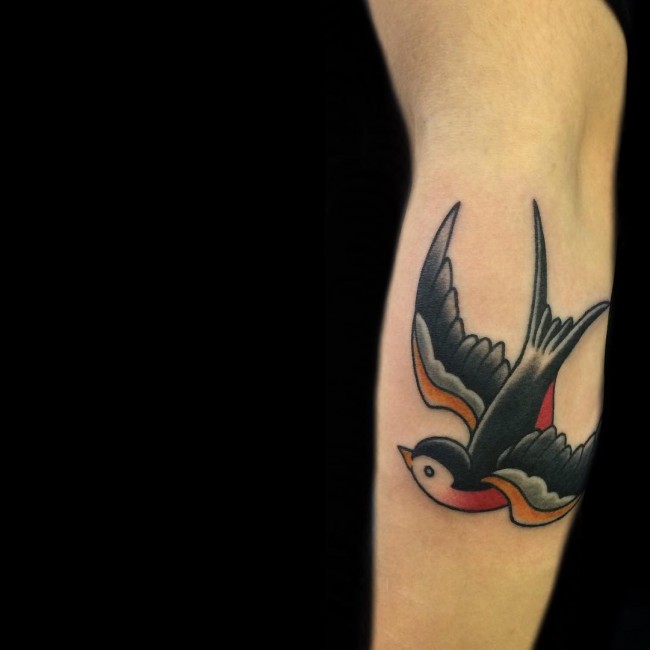 This is a newer school design with intricate colors and therefore requires a longer sitting to complete.
Some people also include some other elements into the designs like stars, dream-catchers, leathers, bows, locks, anchors, ribbons, arrows, and hearts. Furthermore, there are others who choose to include quotes and names to the designs to make them personal and give them a special meaning.