125+ Best Sugar Skull Tattoo – Designs & Meaning (2019)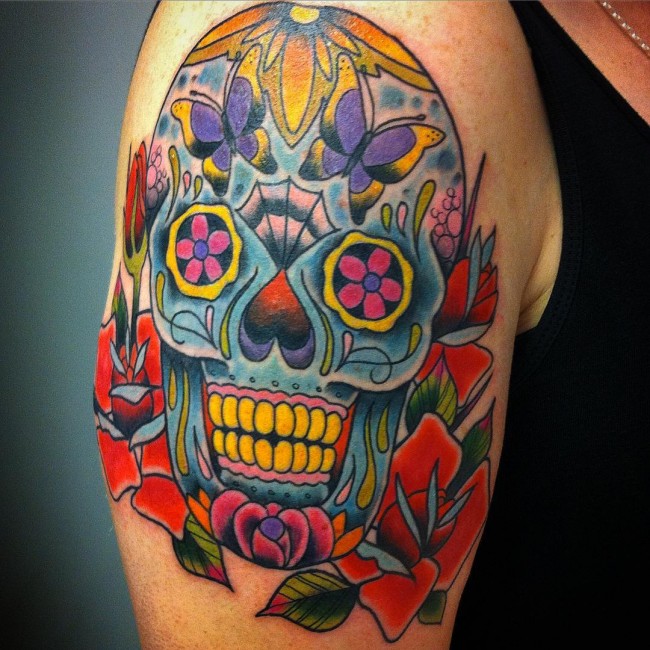 Due to the nature of the Meso-American history it is unclear when sugar skulls were used to mark the famous Die de Los Muertos festivities. However, reliable historical evidence indicates that the sugar skull was first brought to the Americas in the 17th Century by Italian missionaries.
The Italians had been using this skull in Easter celebrations to mark the rising of Jesus Christ from the dead.
Contents: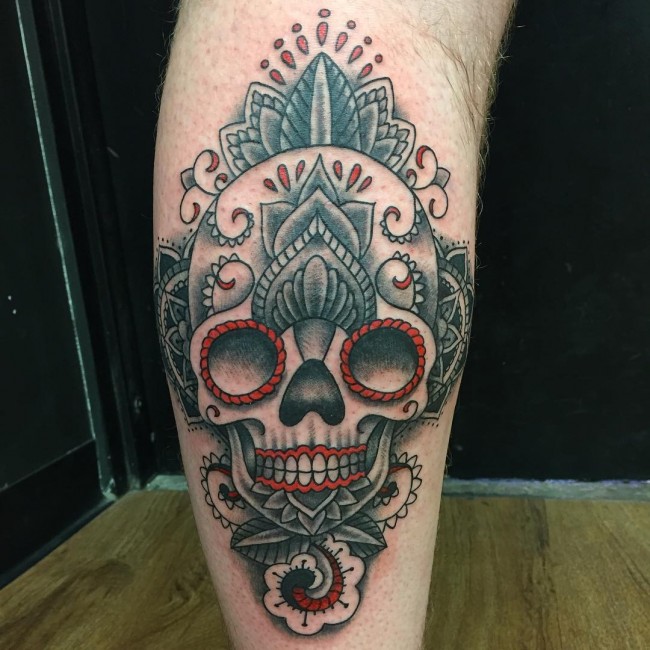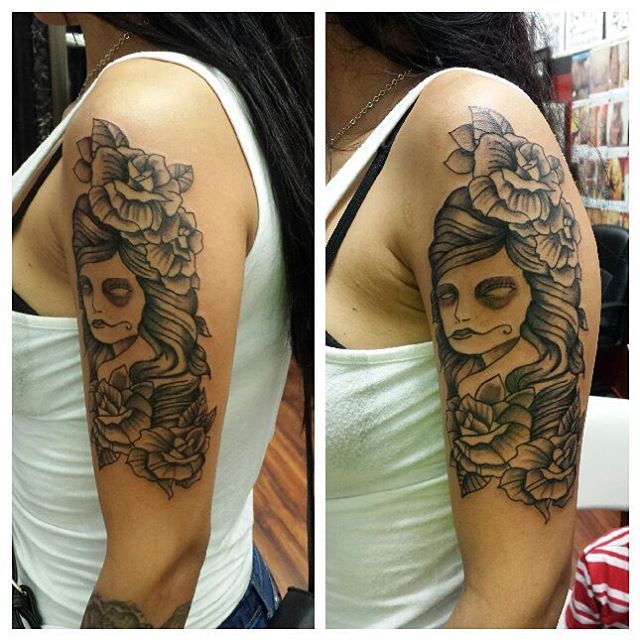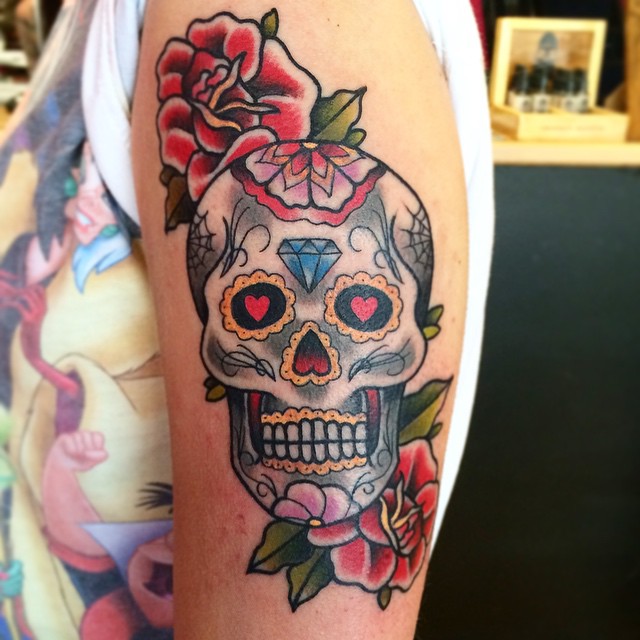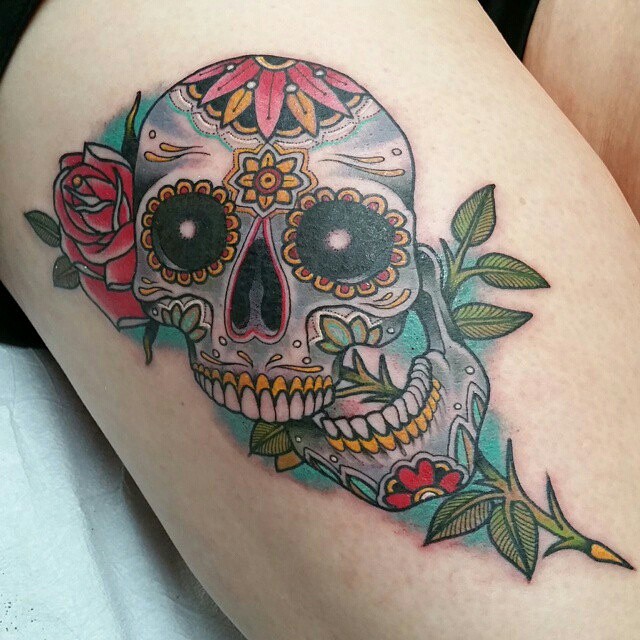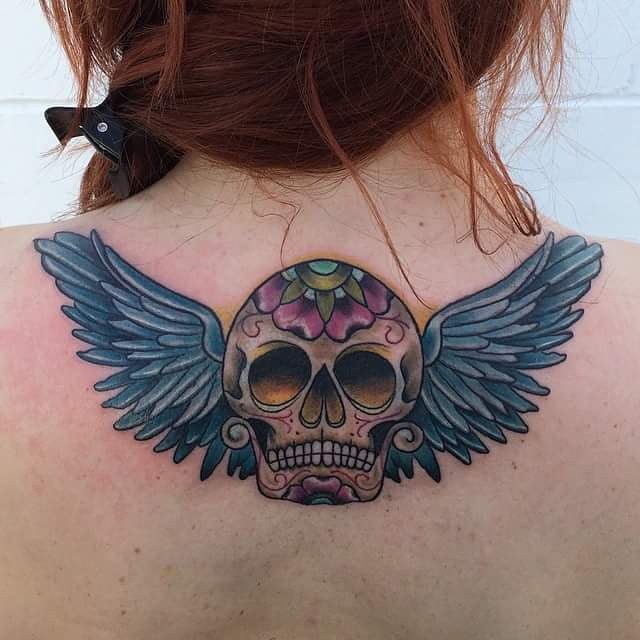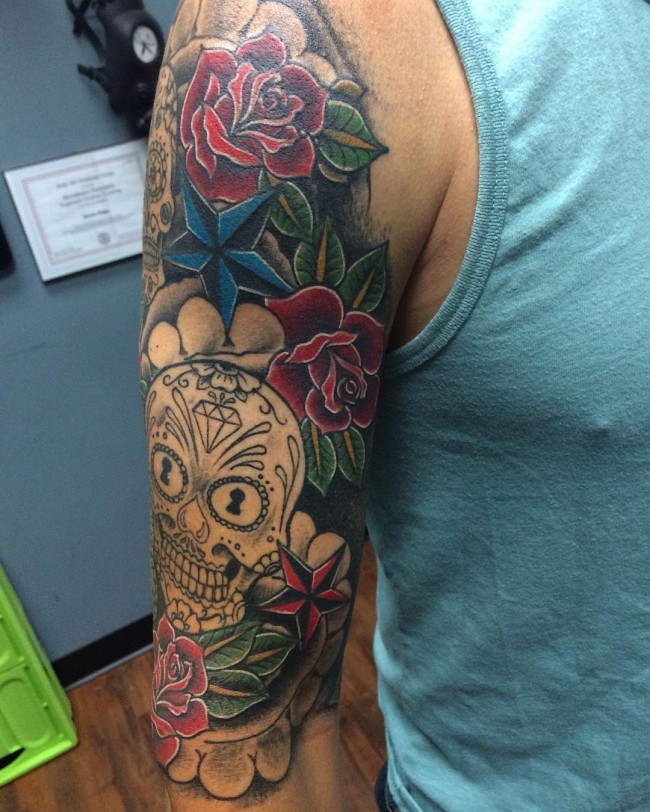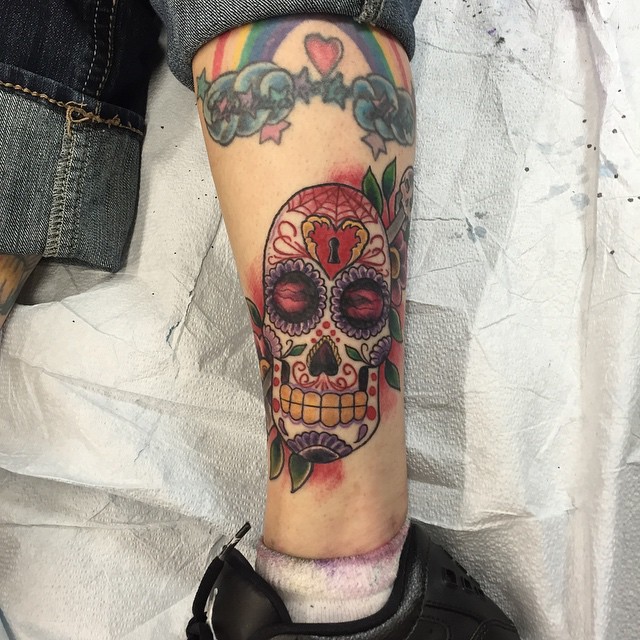 The introduction of these skulls by the missionaries was meant to Christianize the indigenous rituals since the missionaries knew it would be close to impossible to get the locals to abandon them.
Slowly the trend of sugar skulls caught up with the indigenous people, and this is how it was incorporated in different festivals. Due to the attachment that the population of the Americas has to their culture they soon started having the skulls inked on them.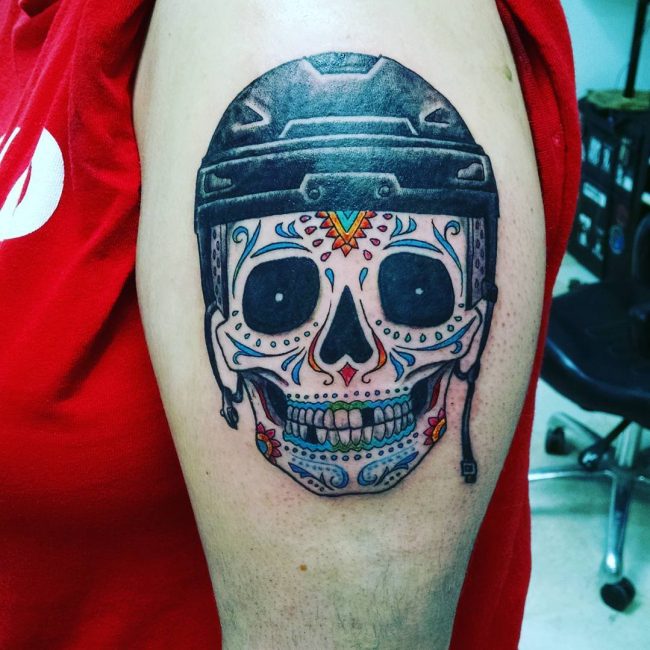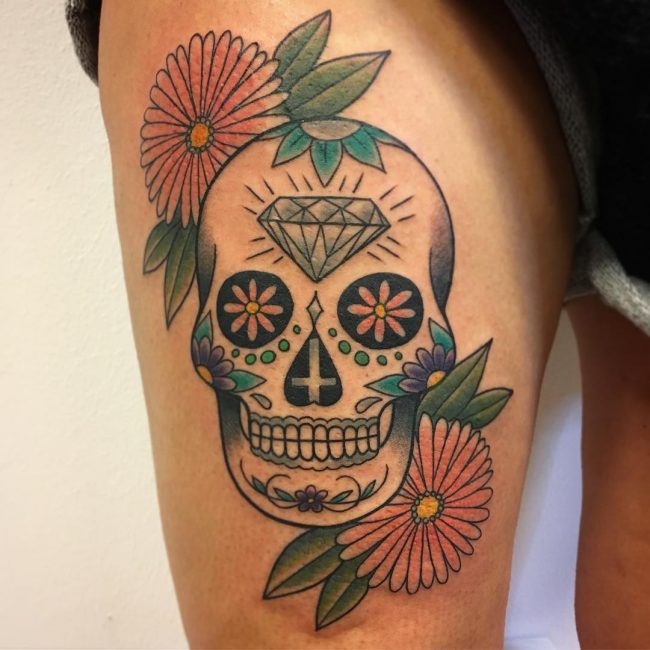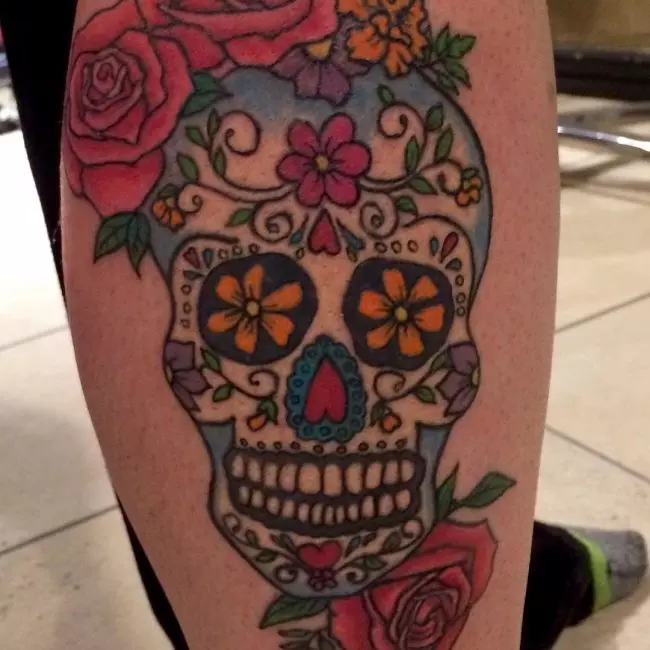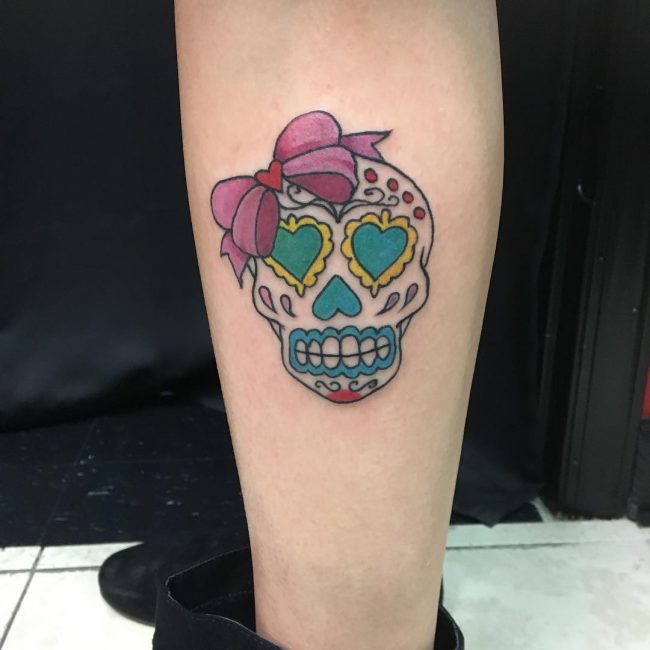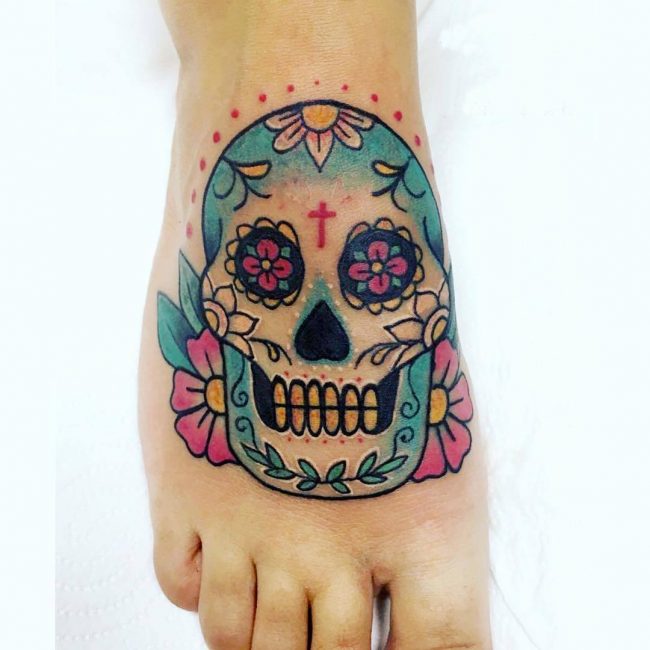 Meaning of these tattoos
These tattoos have different meanings to different people and as the Mexican tradition continues to spread across the world so do these tattoos. The skull is mostly associated with death, and so many people will get this tattoo to represent something related to death.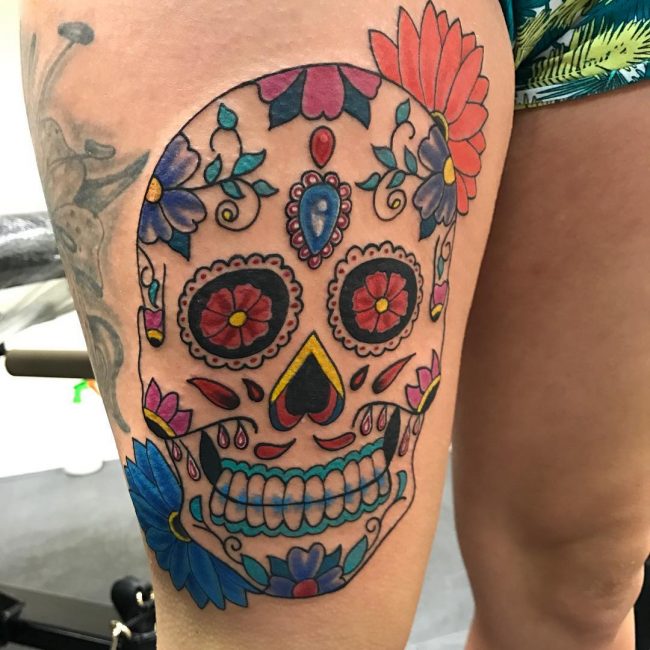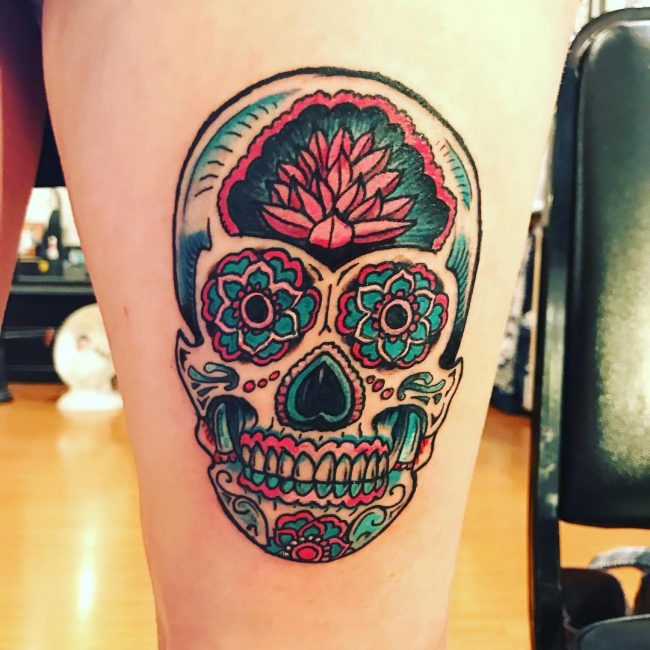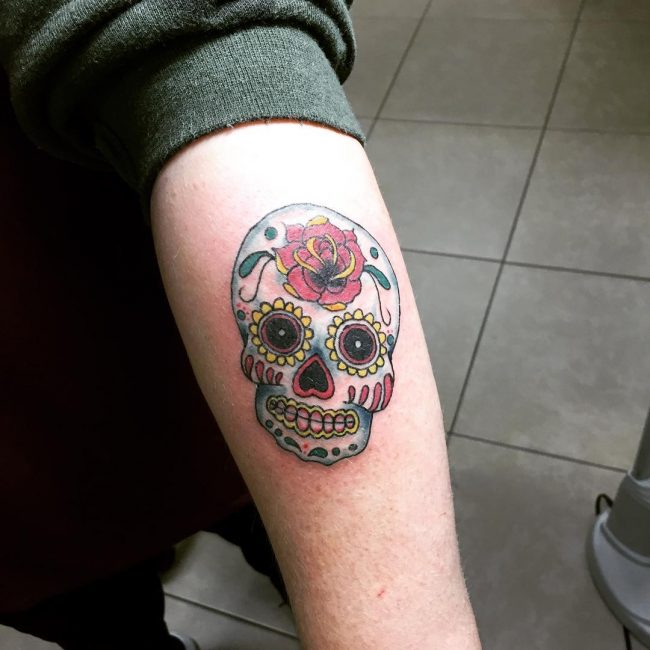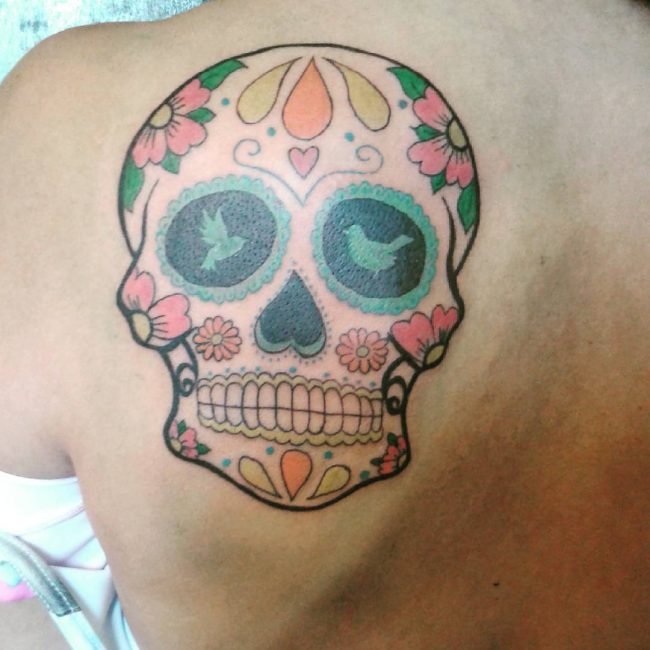 Sugar skull symbols are used to represent ancestors. According to tradition, the size of the tattoo represents the age of the deceased. Big tattoos are used to represent adults that one would like to remember while small ones are used for representing children.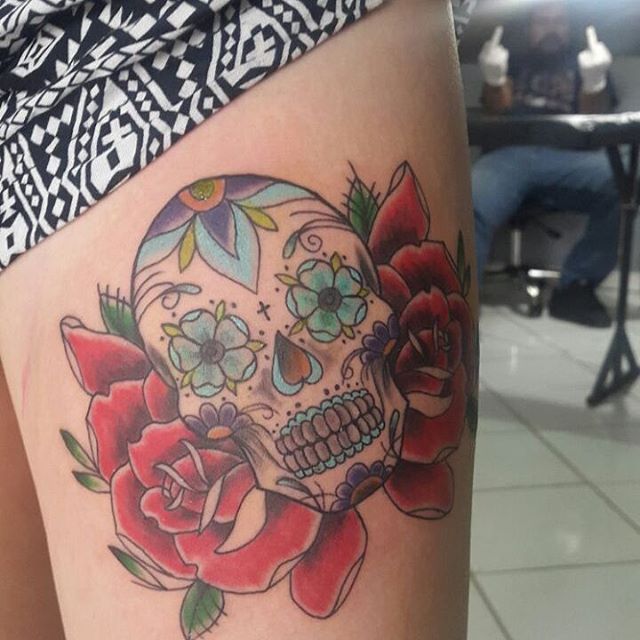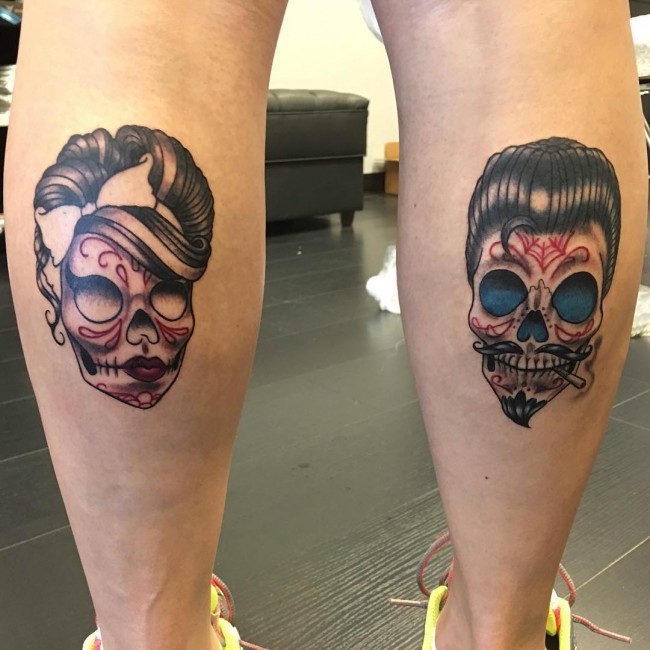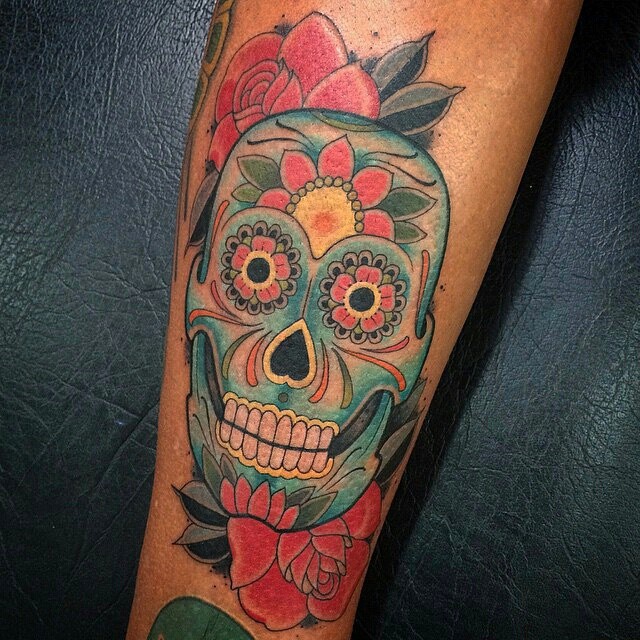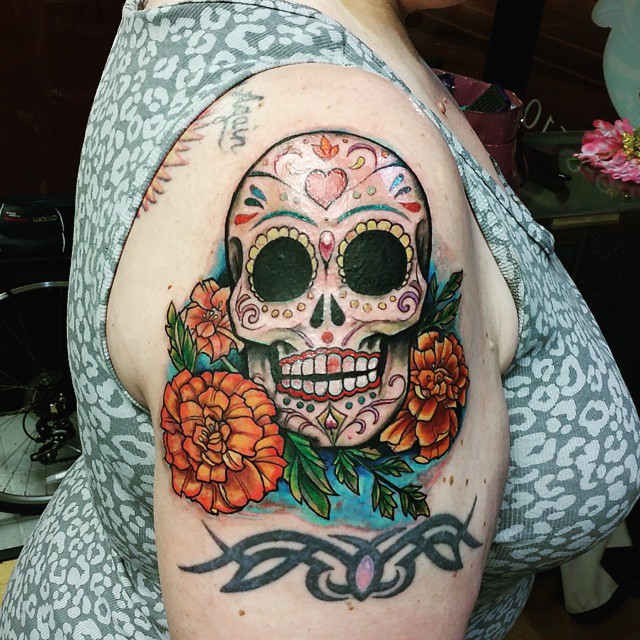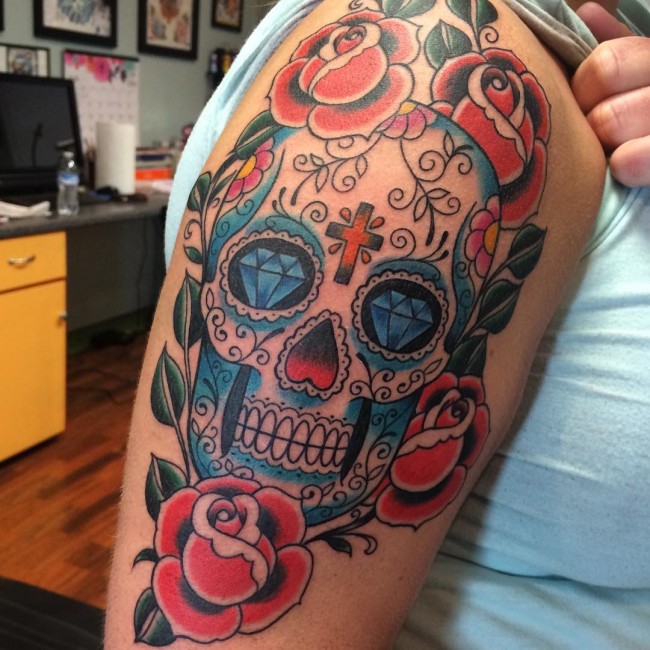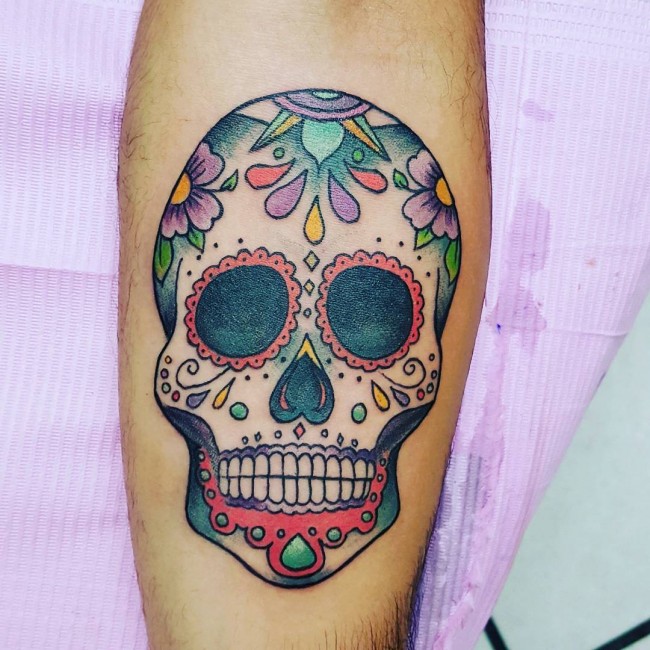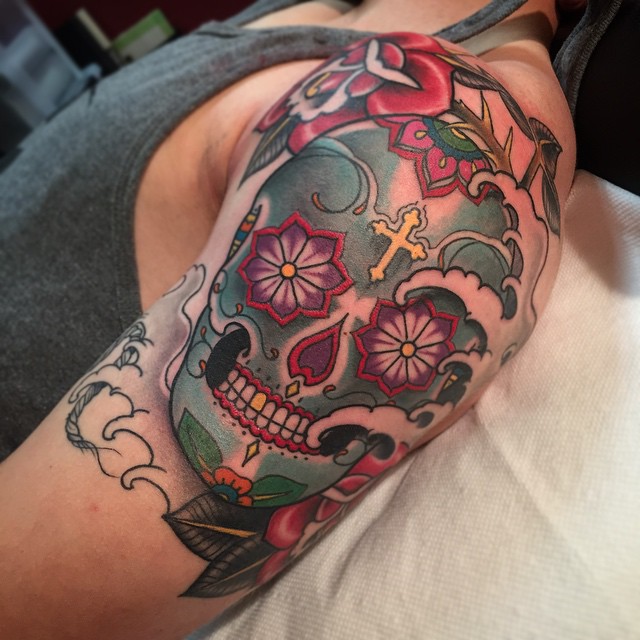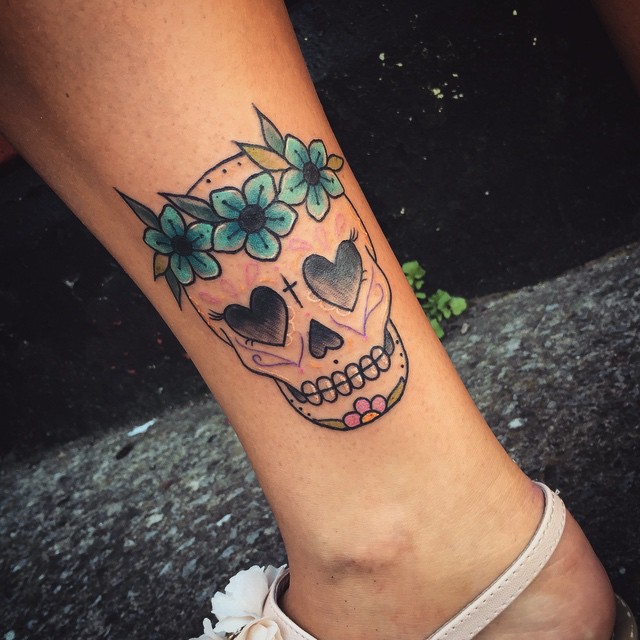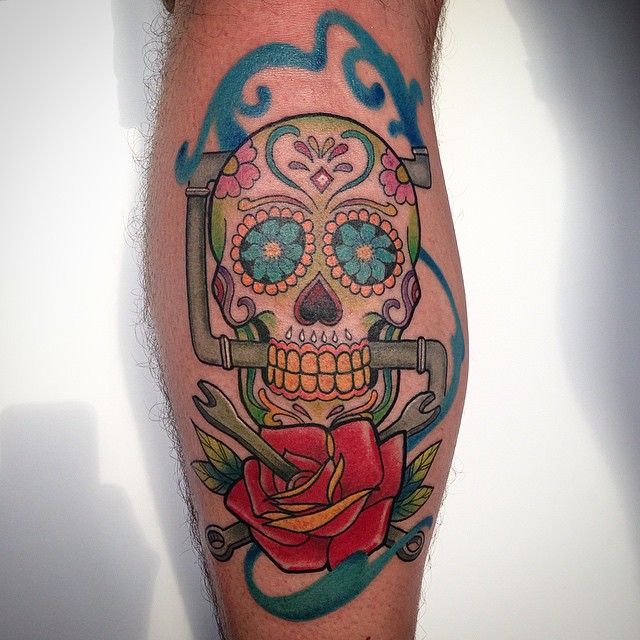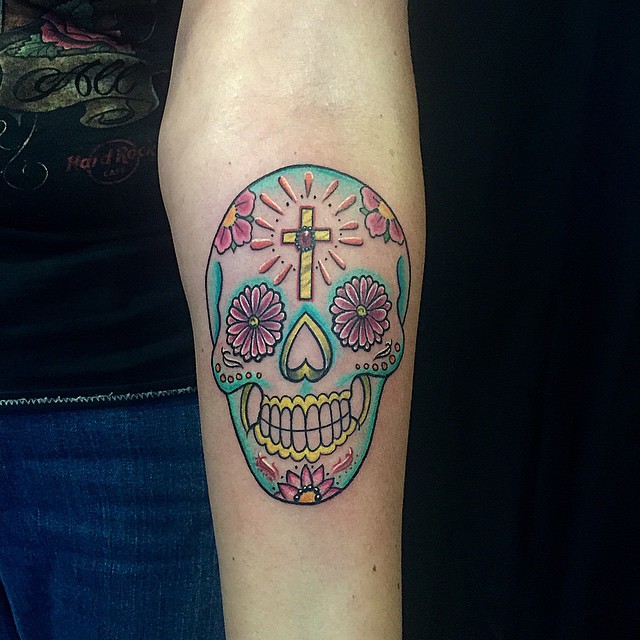 Each tattoo pattern and design has its meaning, and so one can choose to get one that portrays the meaning that they wish to pass along. A tattoo with a flower decorating the skulls eye socket represents life. Some people have this tattoo to show that they believe in life after death.
On the other hand, a tattoo with webs represents death. A more interesting tattoo is one with firing candles. Besides from this tattoo looking incredible it represents reminiscence, and it can have a deeper meaning depending on the person getting it and their beliefs.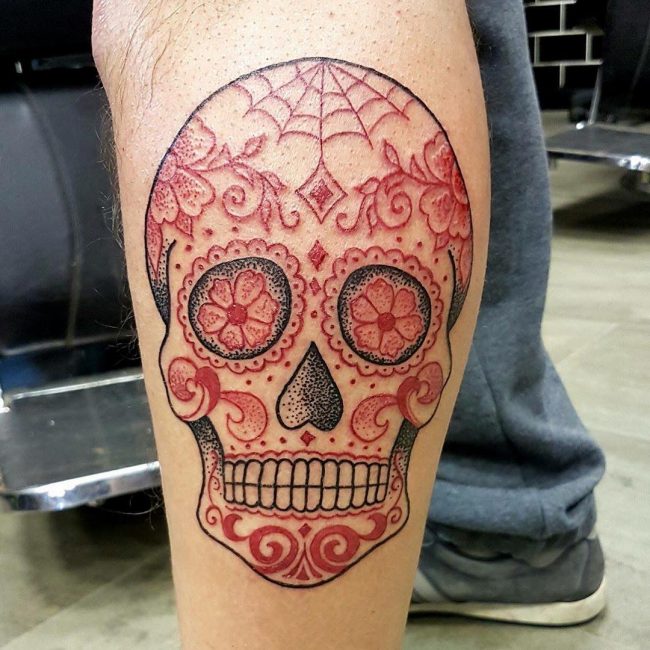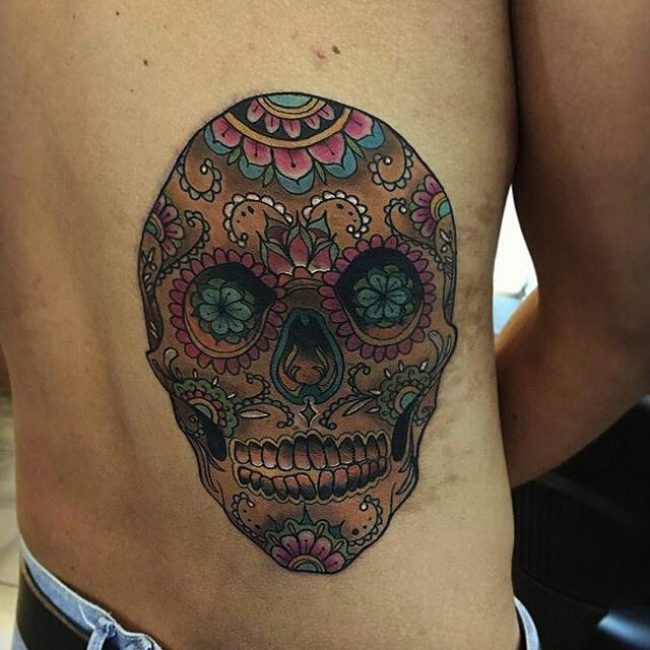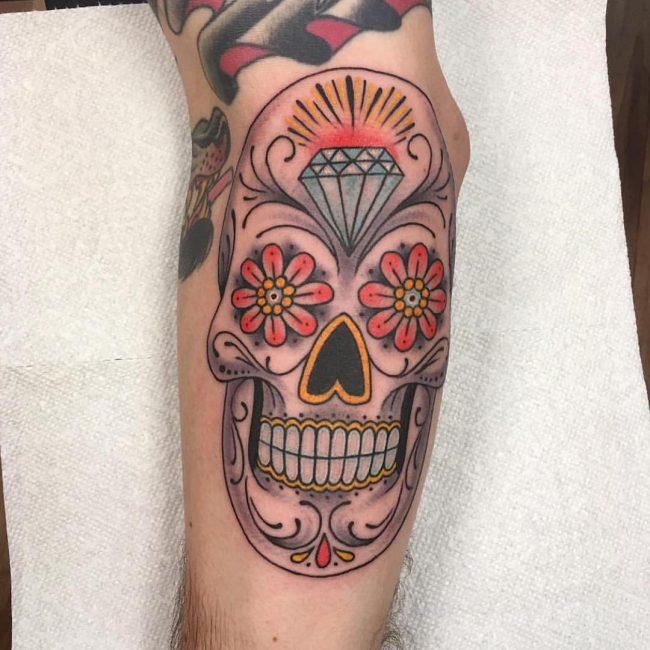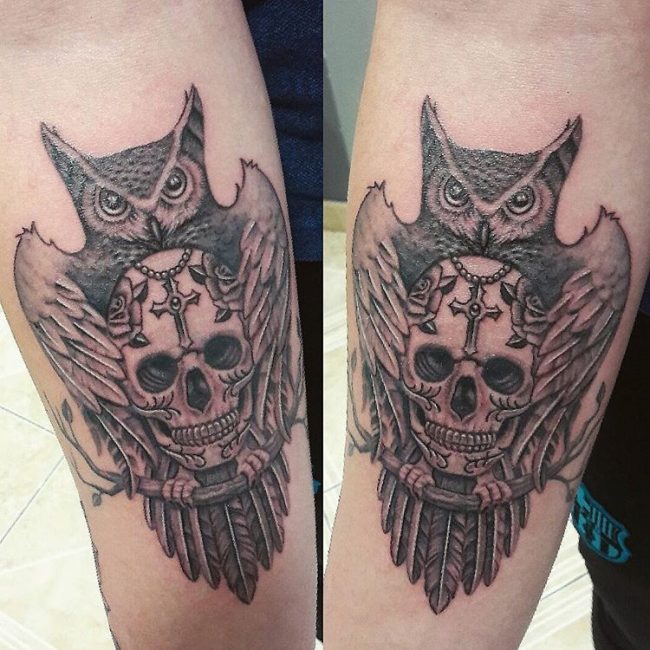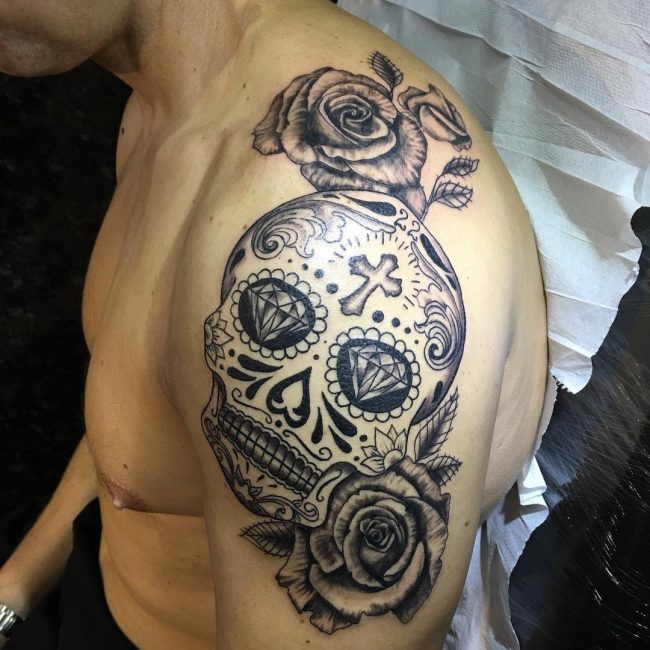 Besides from the various meanings that these symbols have to different people they have one universal meaning especially to Mexicans. Mexicans generally love tattooing, and they have different types, but this tattoo is probably the one that helps them associate themselves with their culture.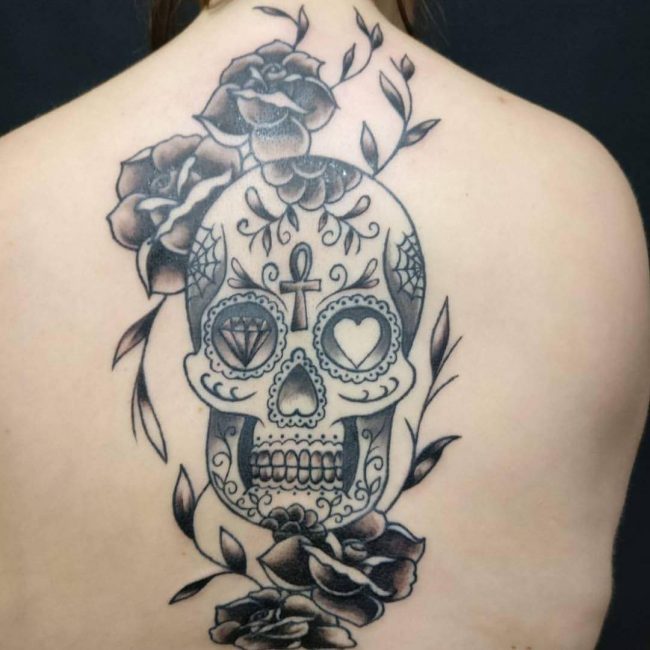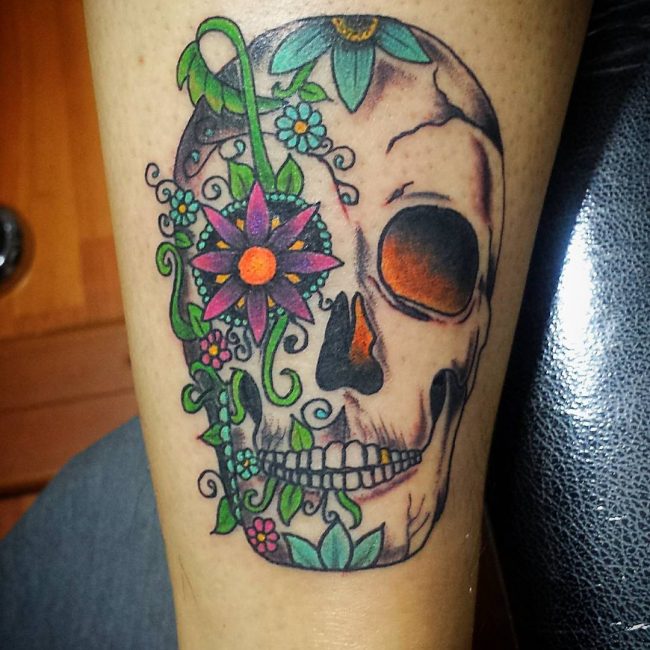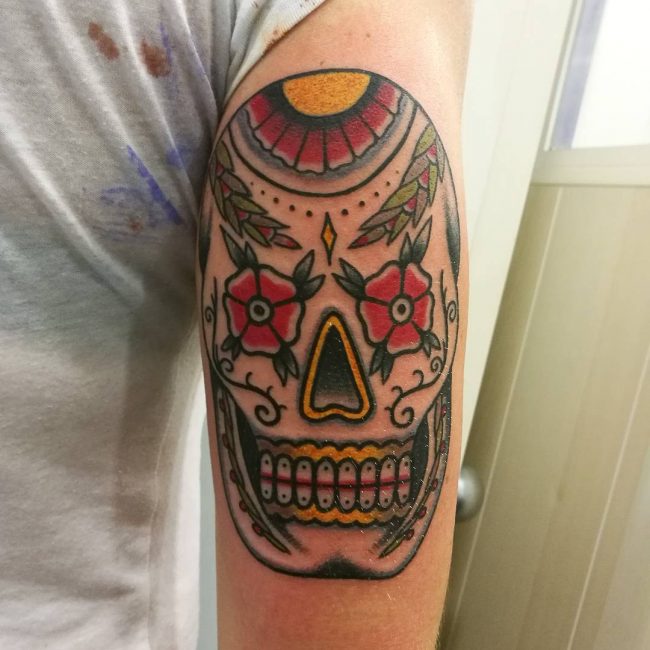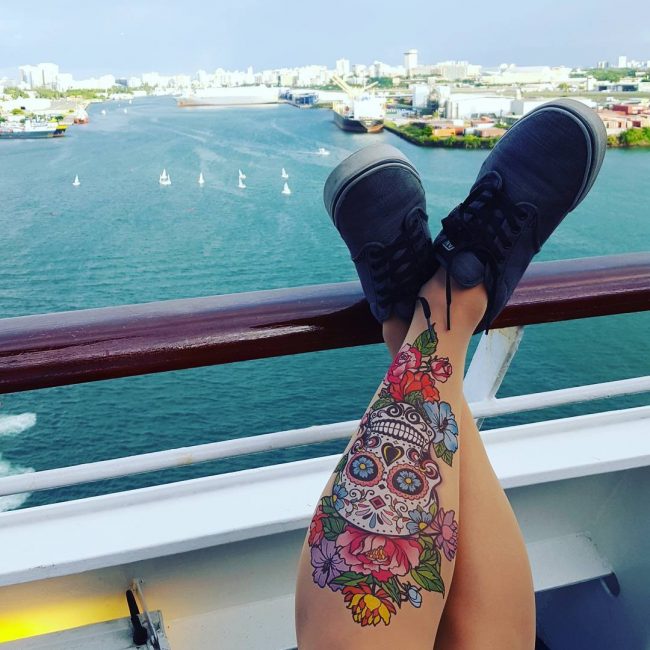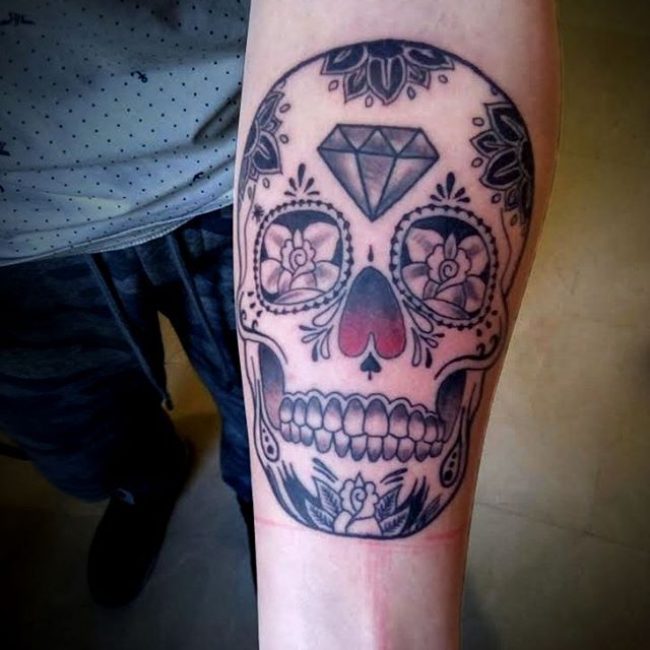 This symbol can be used to show that one is proud to be Mexican or is proud to associate himself with the Mexican tradition or culture.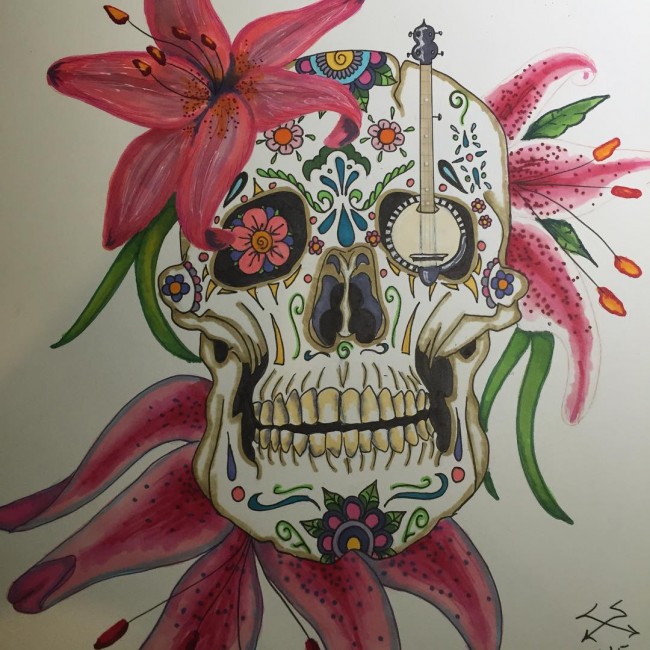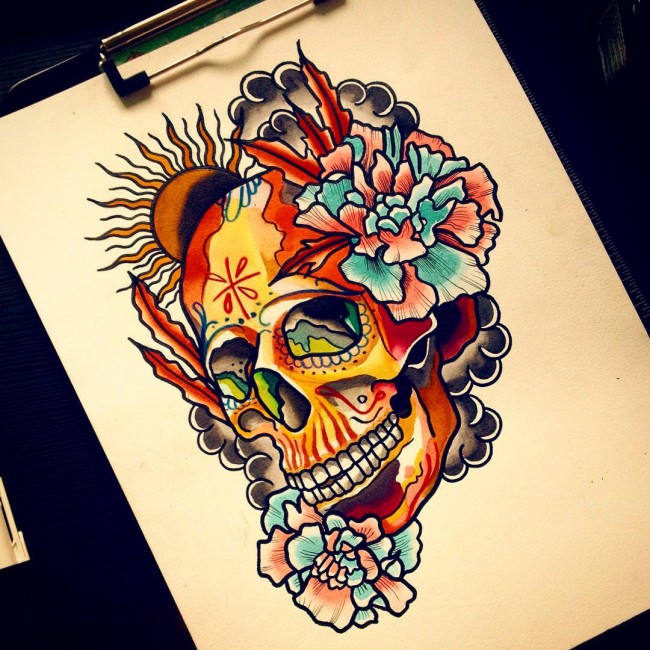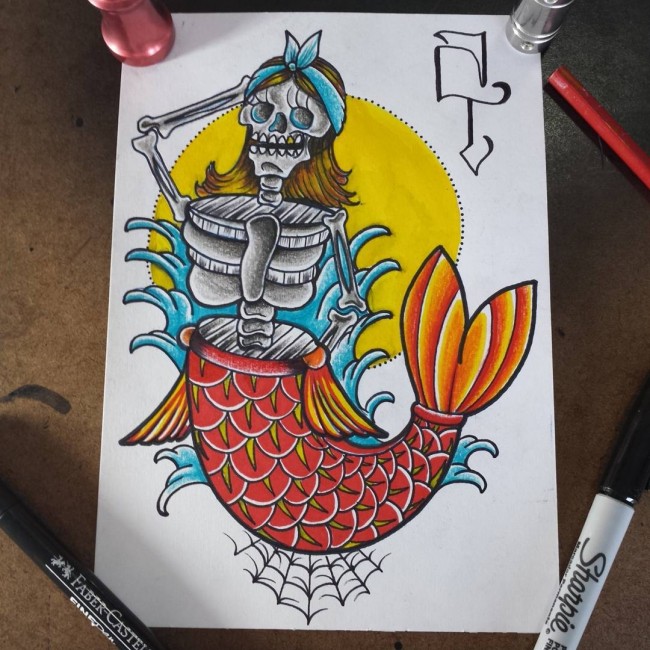 ---
back to menu ↑
Placement ideas
When choosing a tattoo placement location, there are several factors that you have to take into consideration besides the type of tattoo. For example, you have to consider the spots on the body allowable for your career and your attractive attributes that you can improve with this tattoo.
For Sugar Skull tattoos, here are a few placement ideas.
This is a very classy place tattoos especially for men. Due to the nature of the sugar skull you can place it almost anyhow you like on the back, and it will still look fabulous. You can have this tattoo between shoulders, across the back or even in the middle of the back.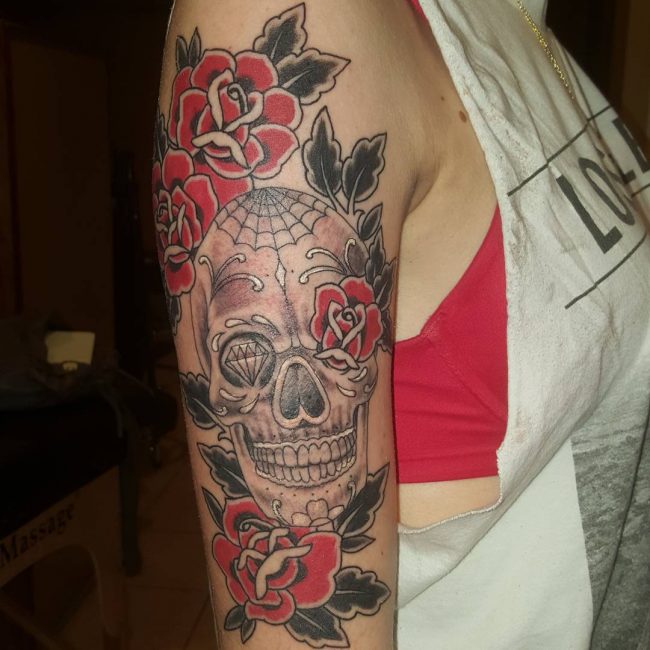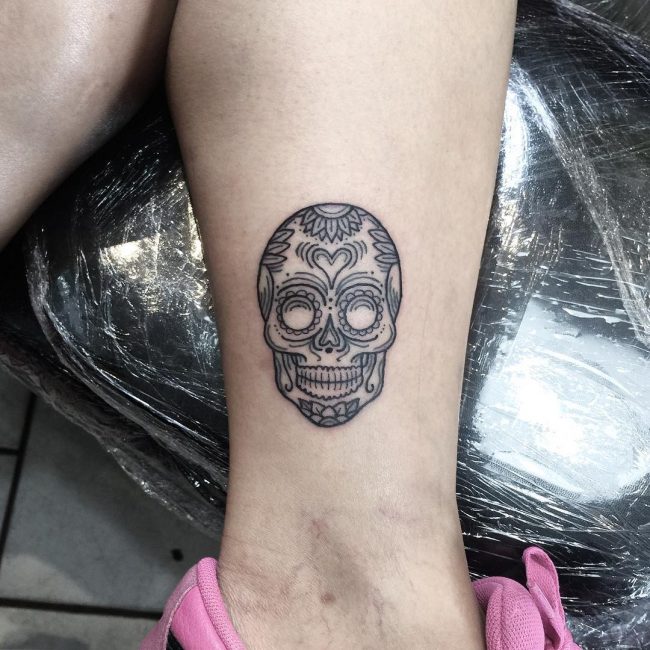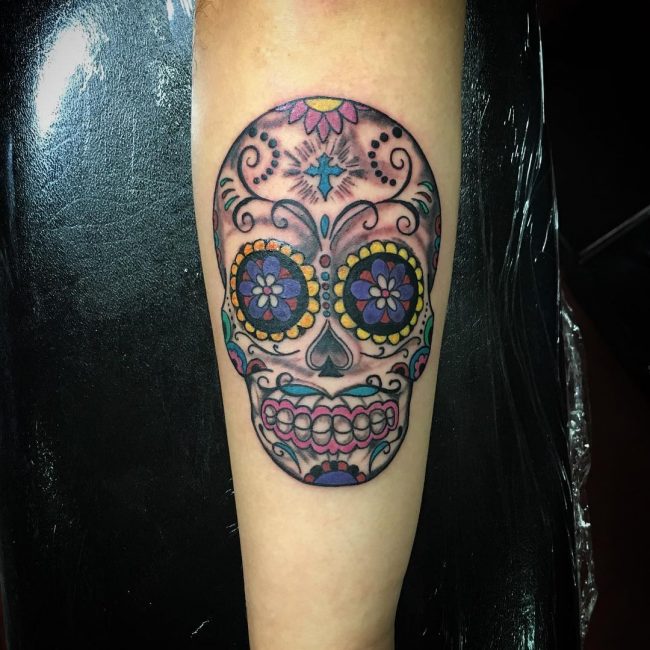 Anybody can look good in a shoulder tattoo and so it would be a great idea to place your sugar skull here. The best thing with shoulders is that you can control how much you expose it.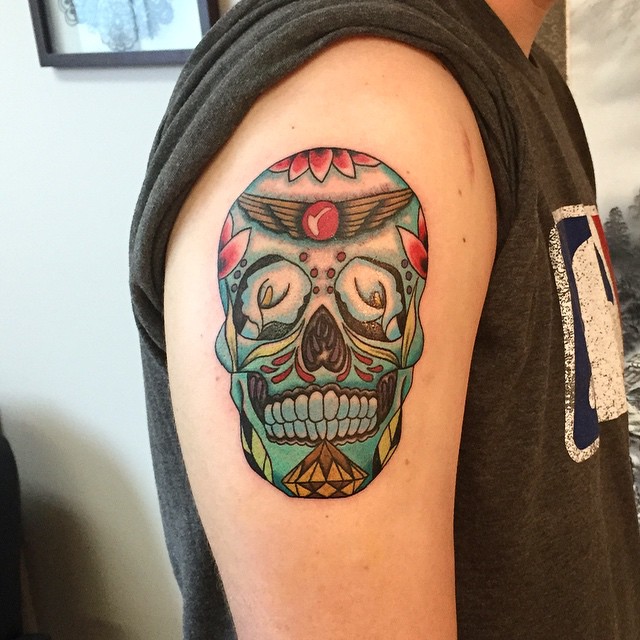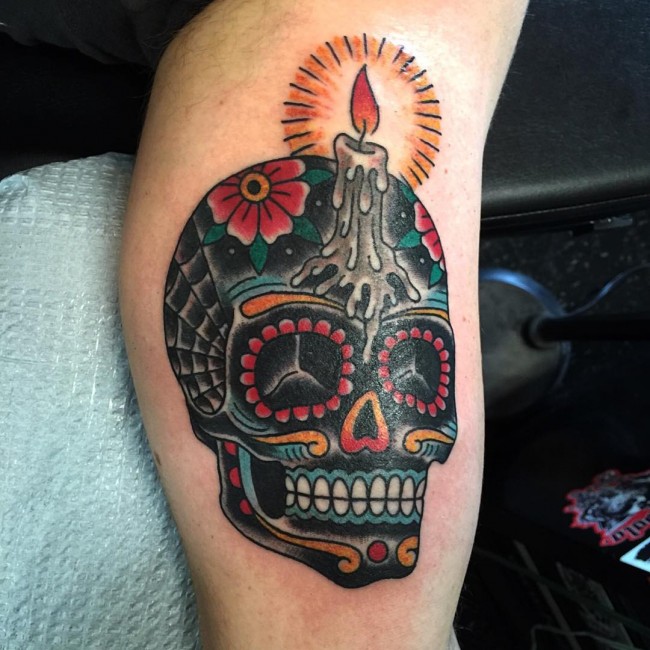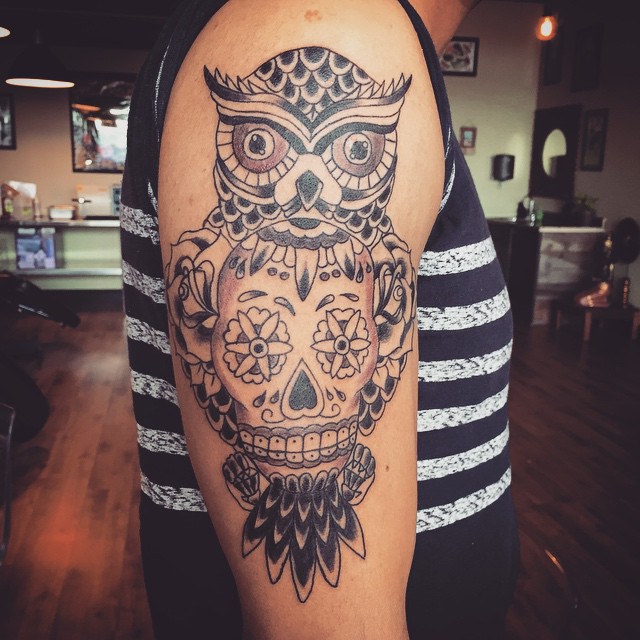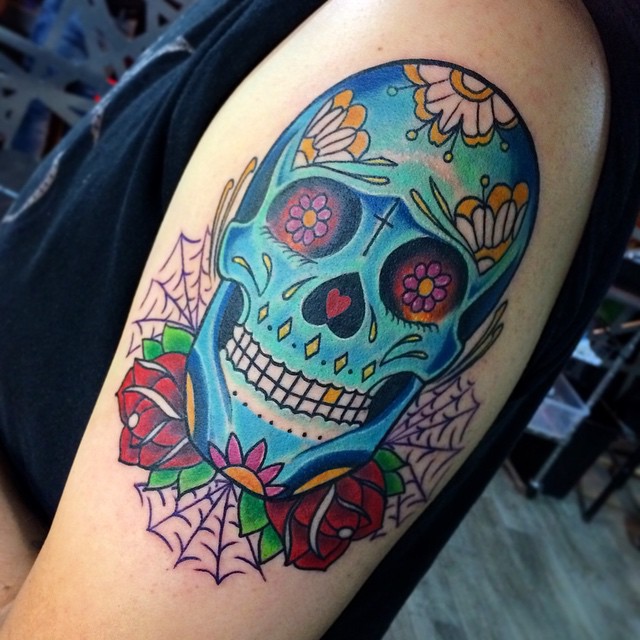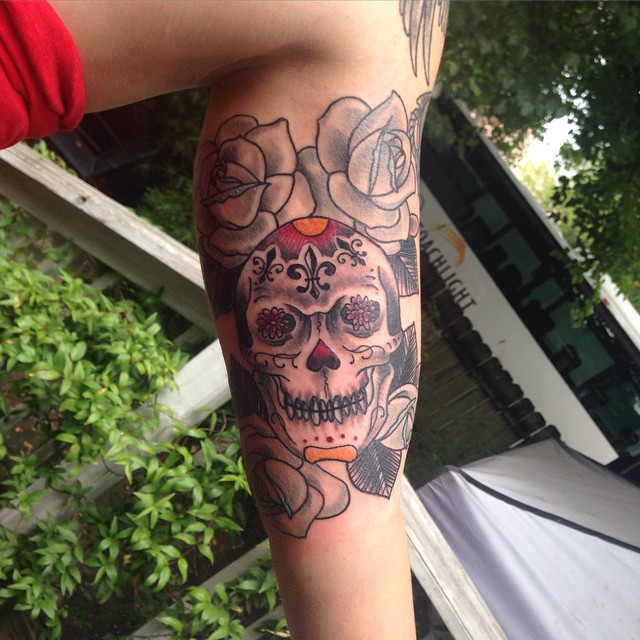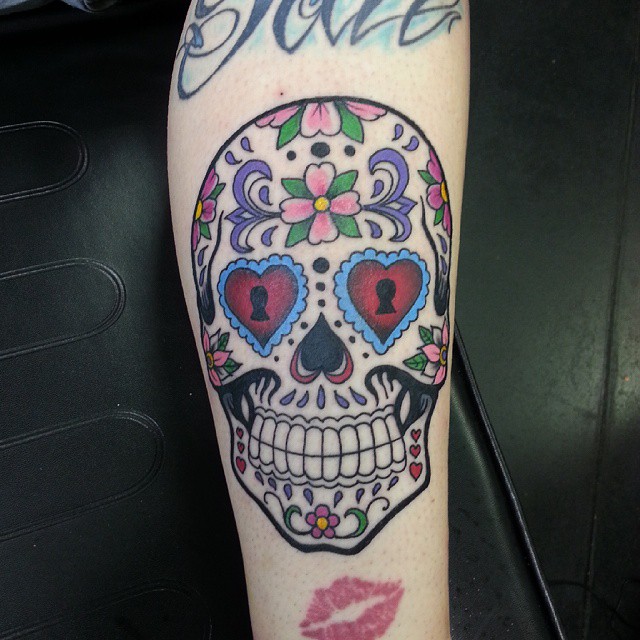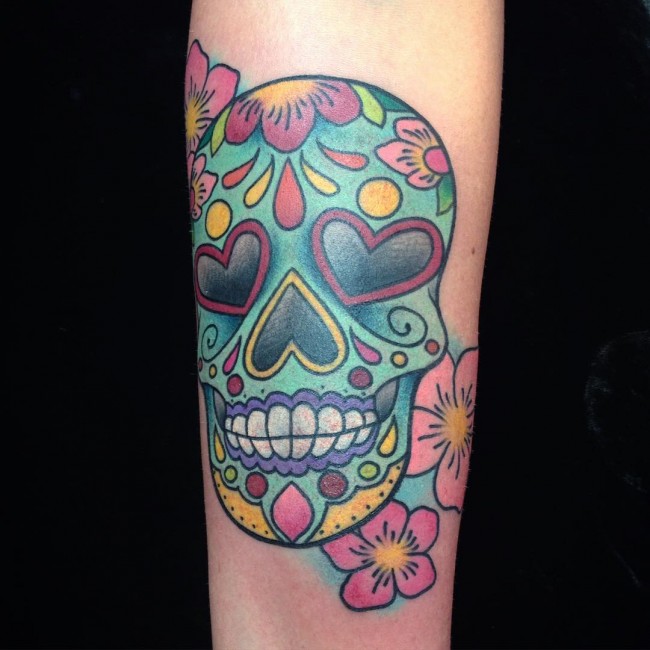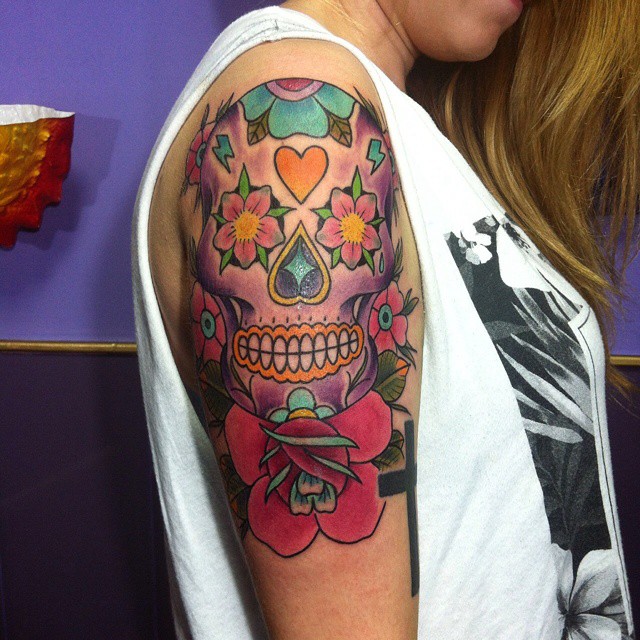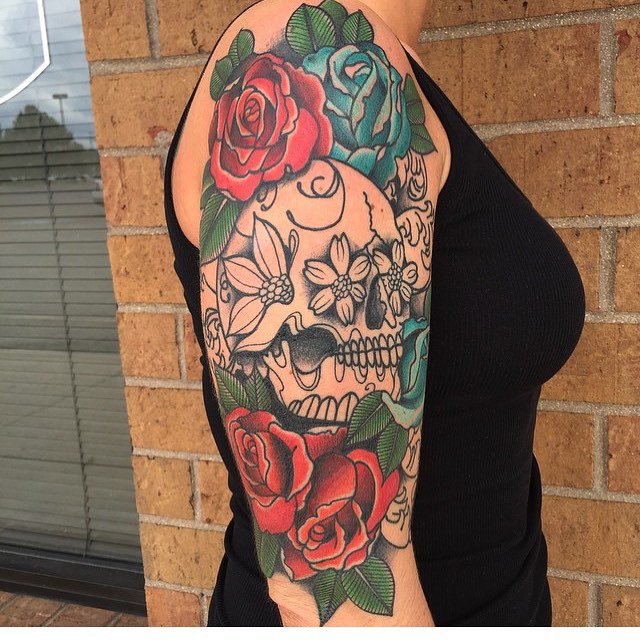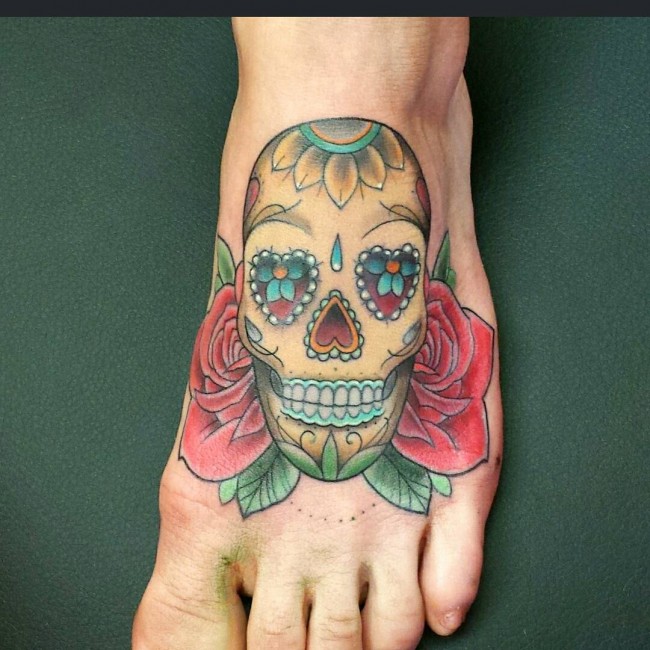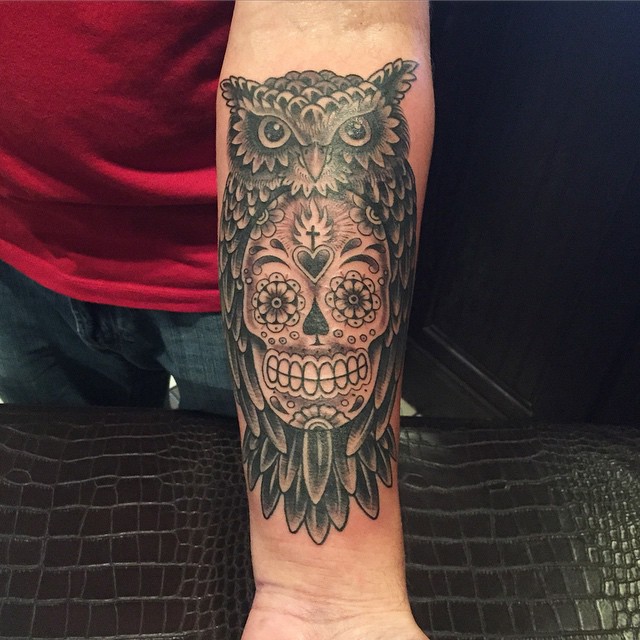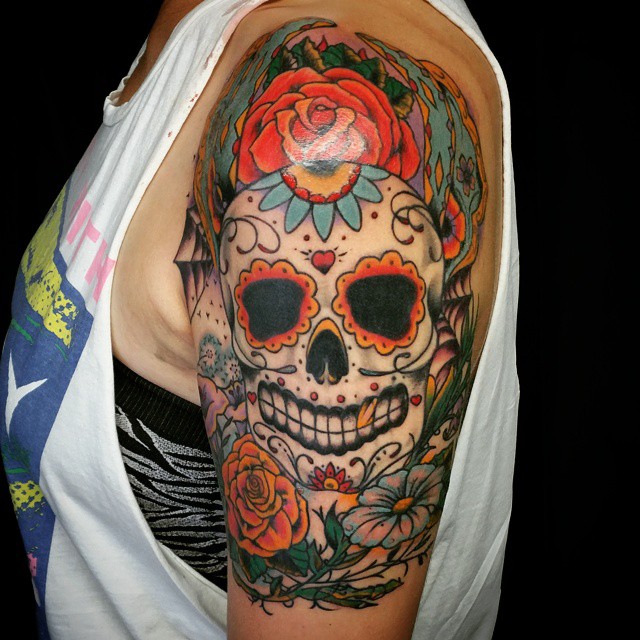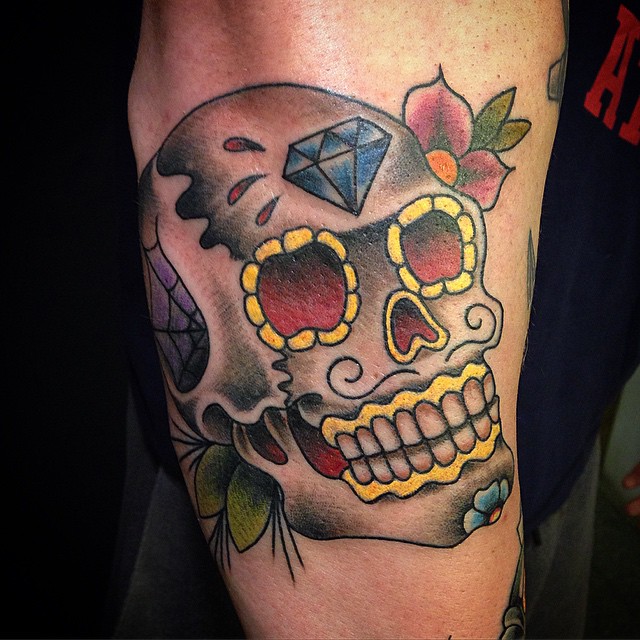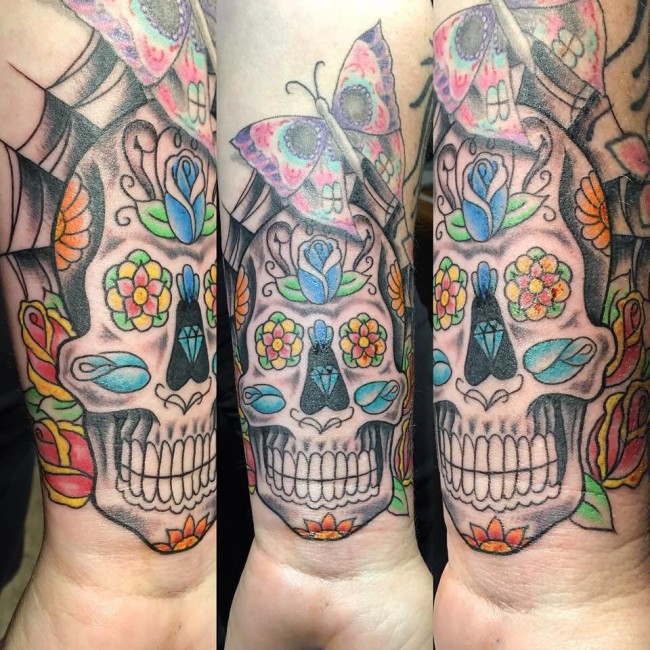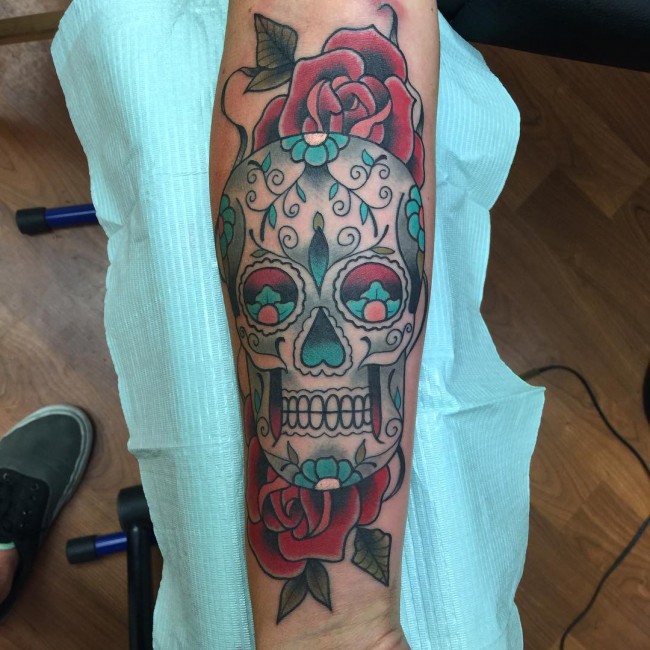 This is the most attractive place to have a sugar skull tattoo for men. Even ladies can look great if they get a creative artist to tattoo them. In the chest, there is more than enough space, and so you can get even huge tattoos.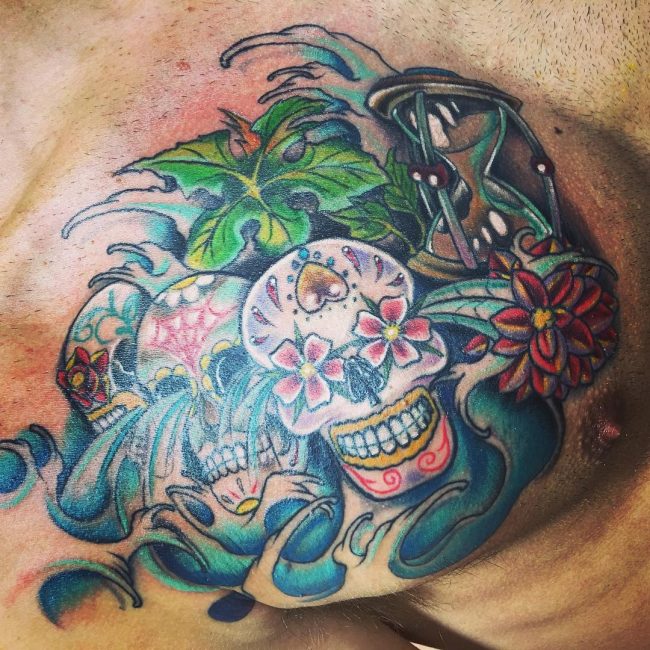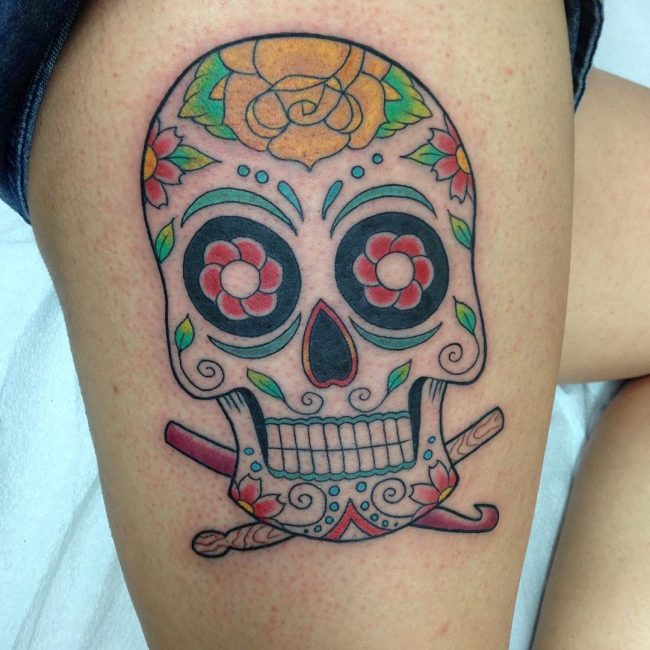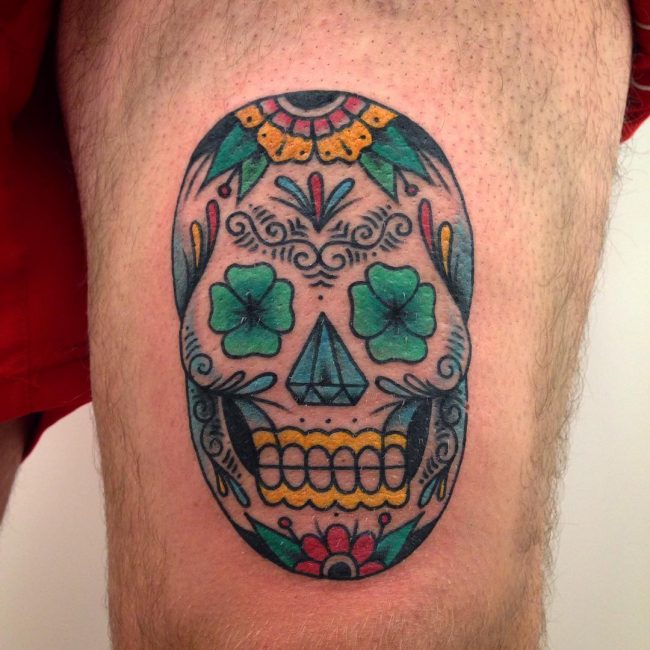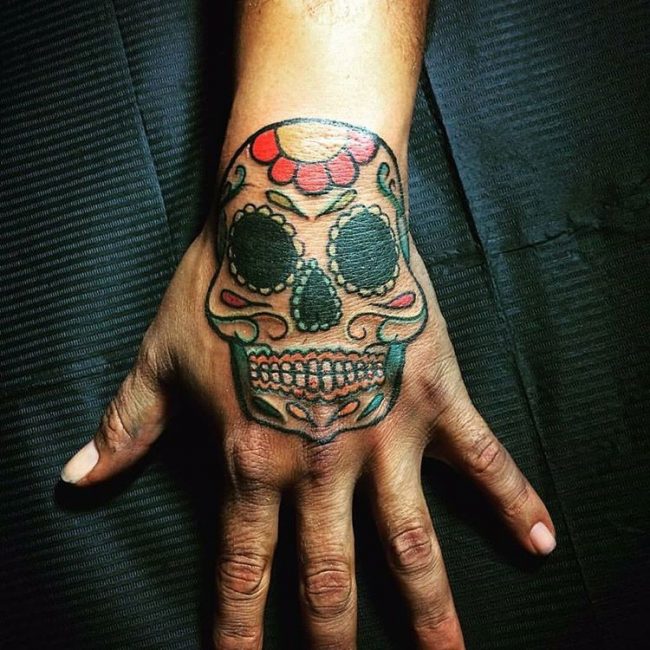 If you prefer to get small sugar skulls then the wrist is probably one of the places that you should consider placing yours. Due to the small area around the wrist the tattoo will appear more outstanding despite being small.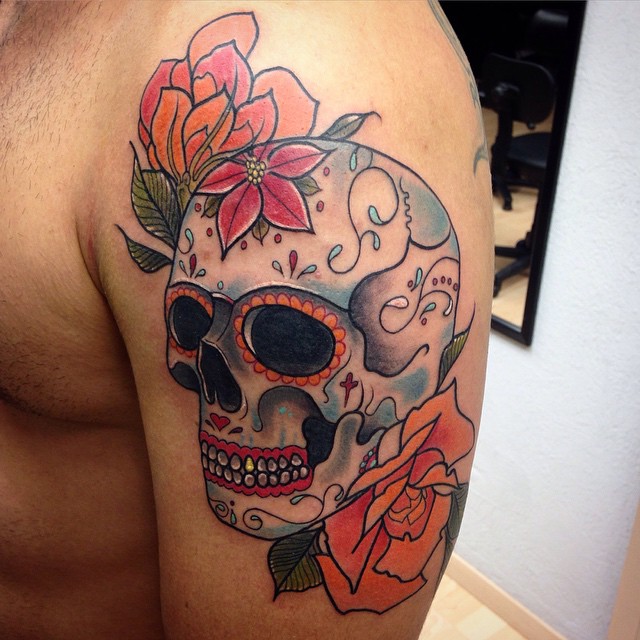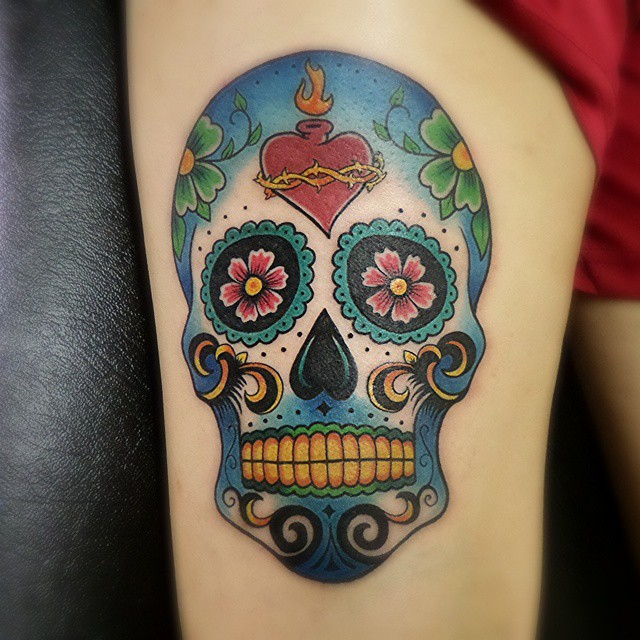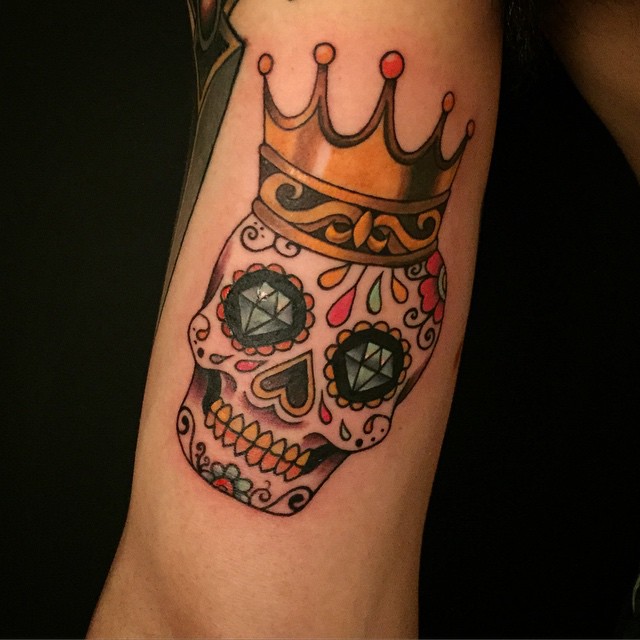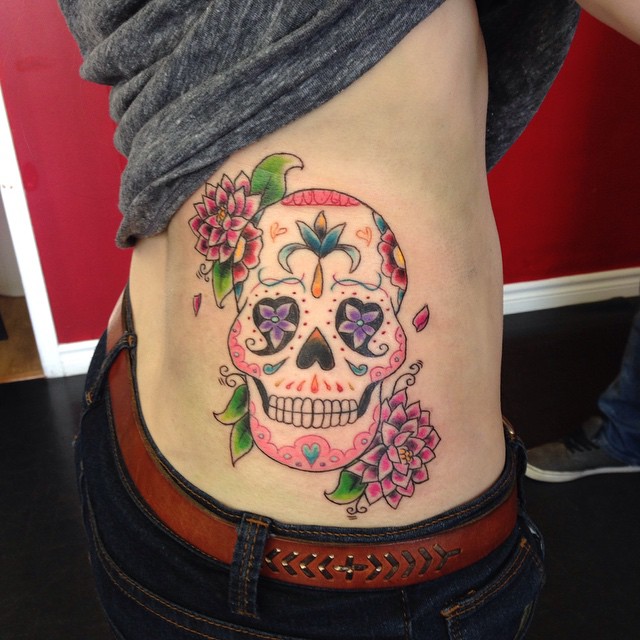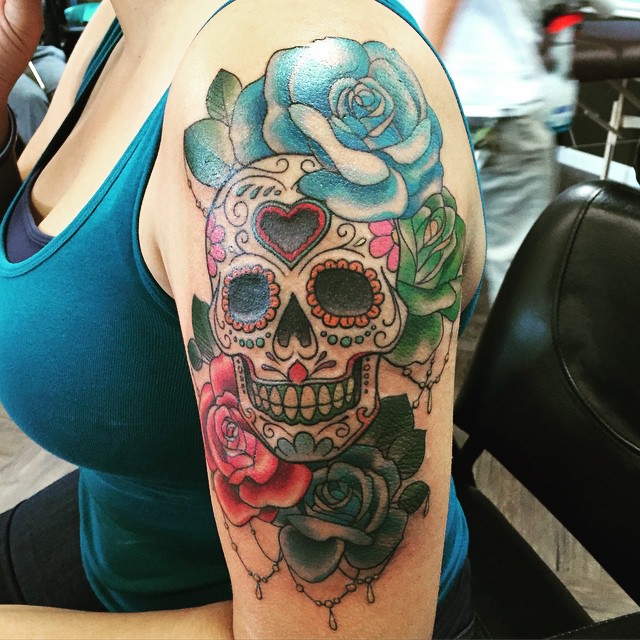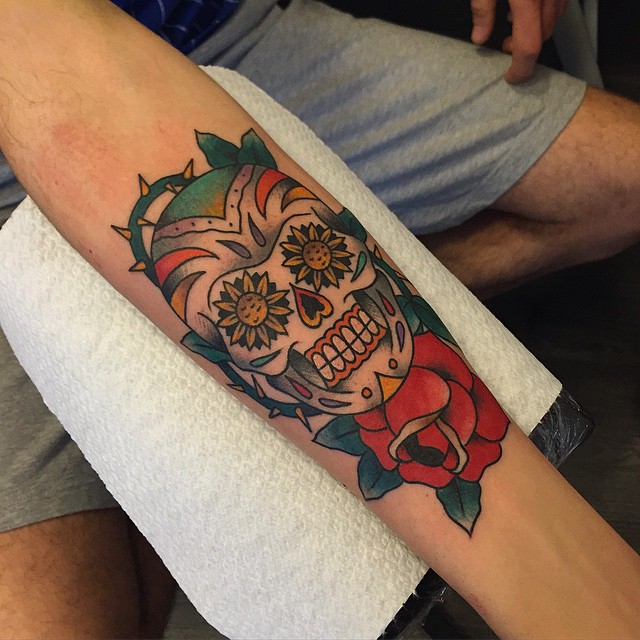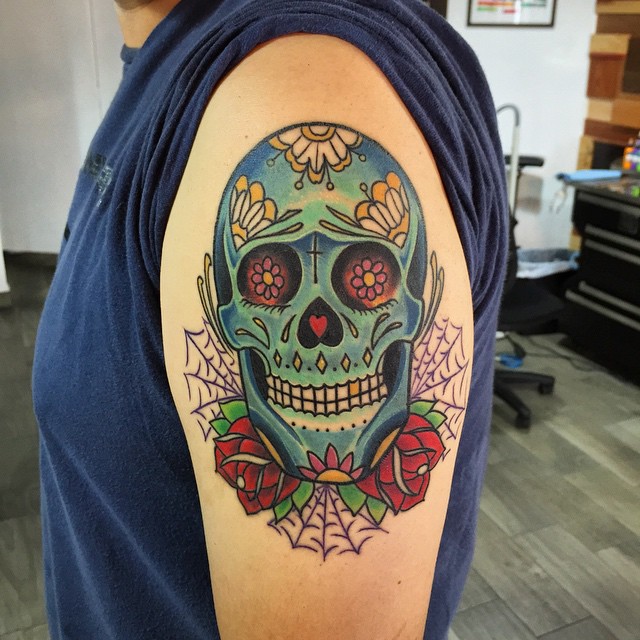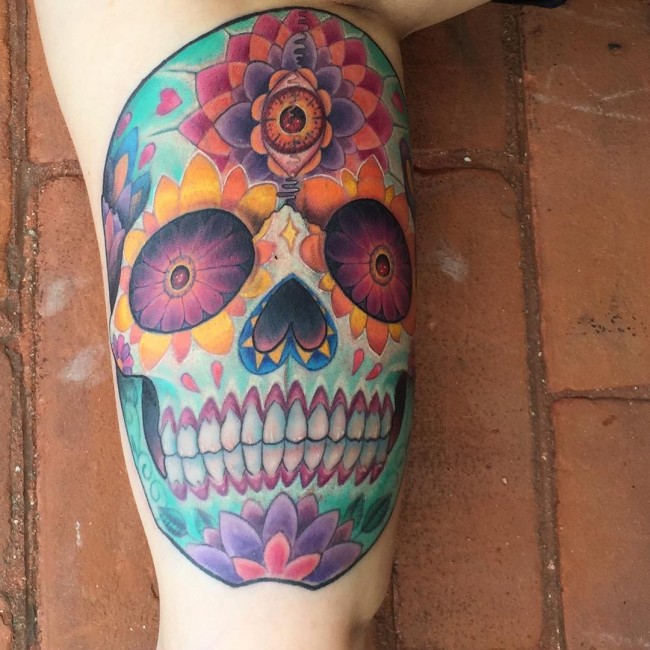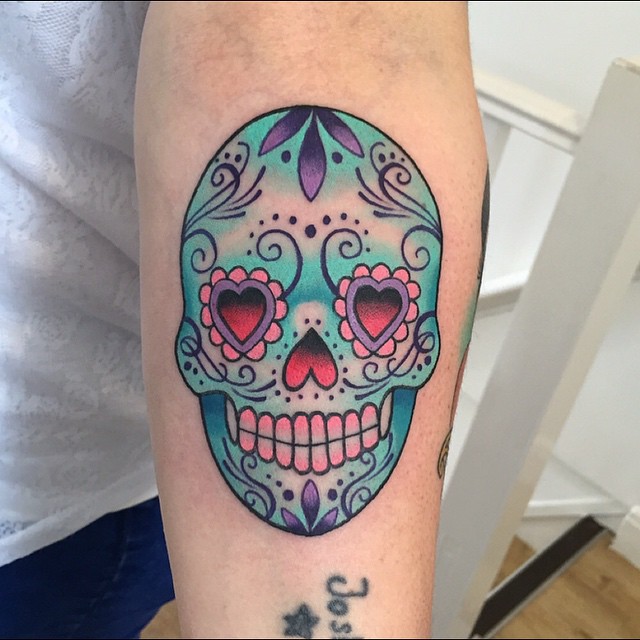 ---
back to menu ↑
Types of Sugar Skull Tattoos
When going out to get a tattoo most people are probably thinking of getting the most colorful tattoos. Although colors make tattoos look great one can still get a good black and white sugar skull tattoo and still look outstanding.
The trend of black and white sugar skull is slowly catching up, and this type of tattoo is set to become one of the most popular types in the near future.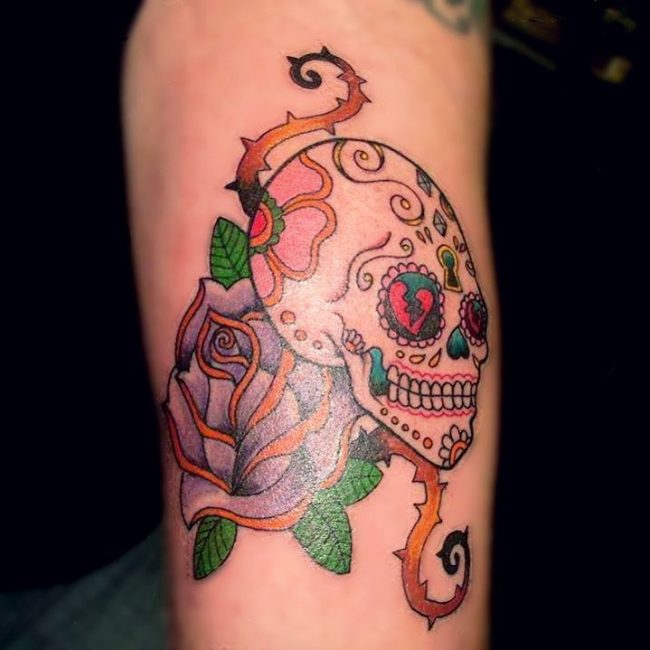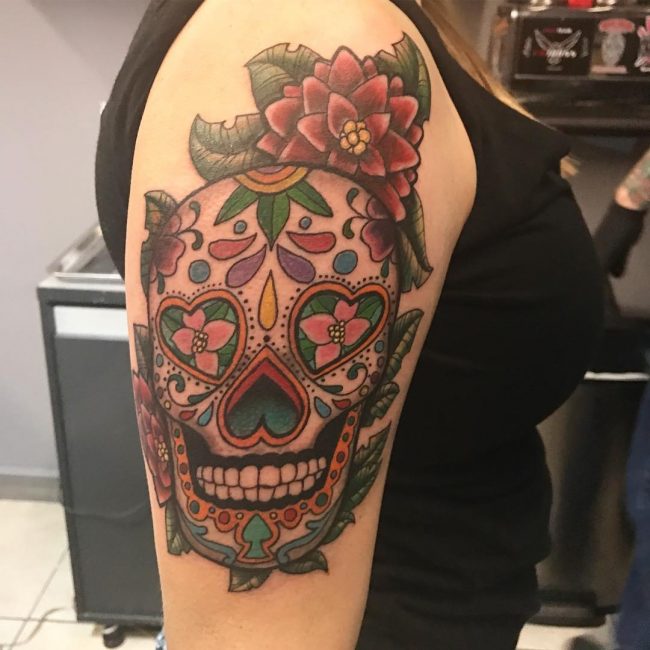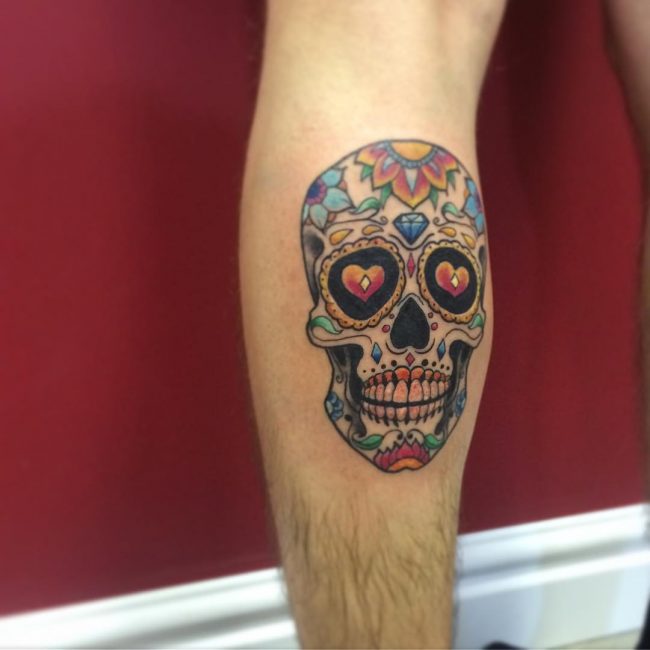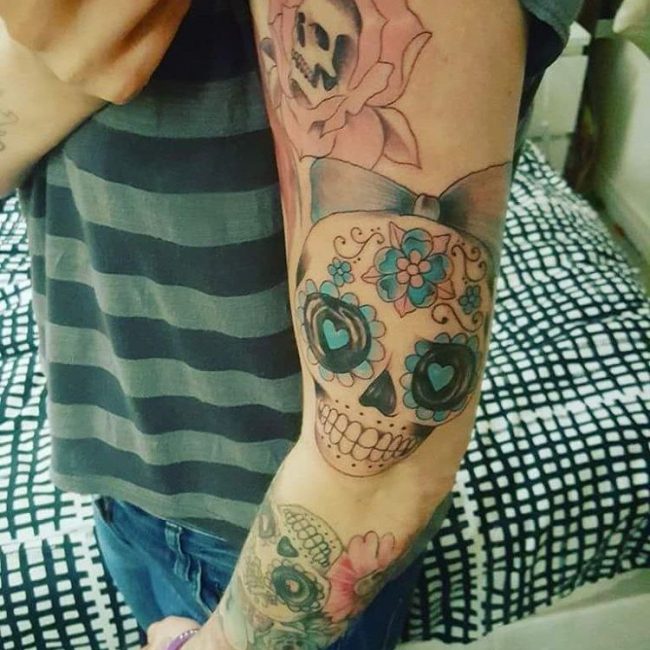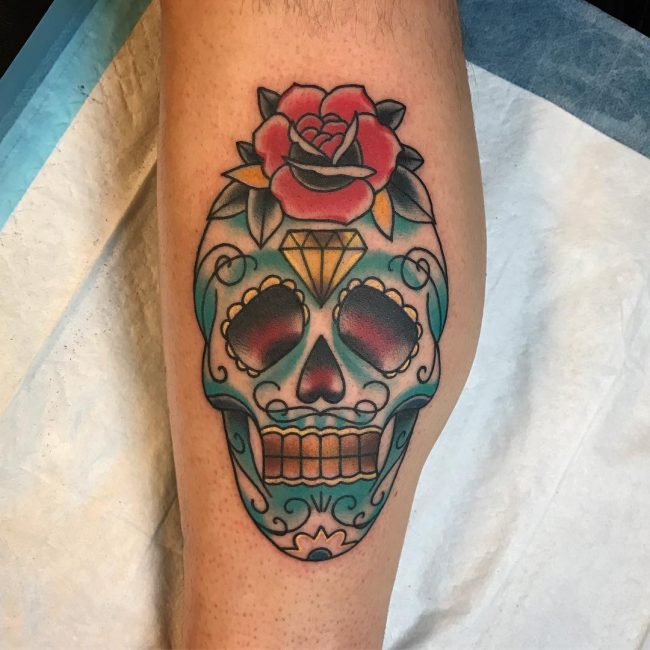 As mentioned above color is the key for any tattoo to look beautiful. This is perhaps what led to the development of the super colorful sugar skull. This type of tattoo combines many colors with most of them being bright colors.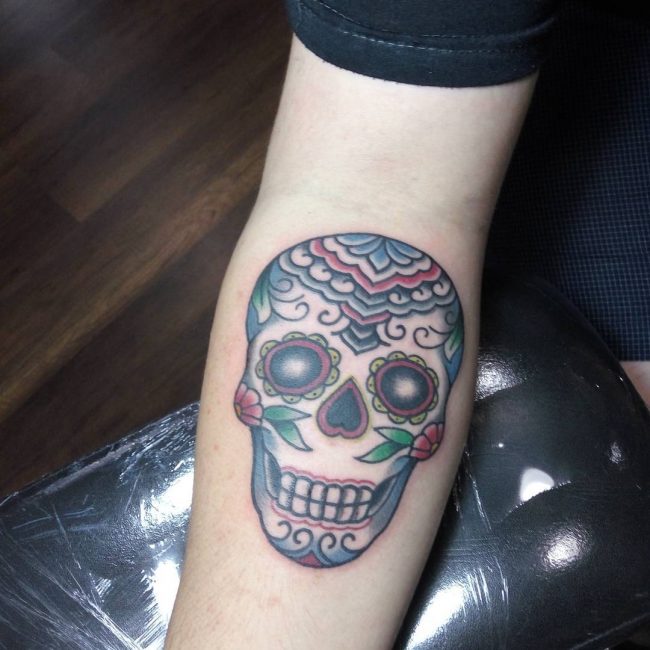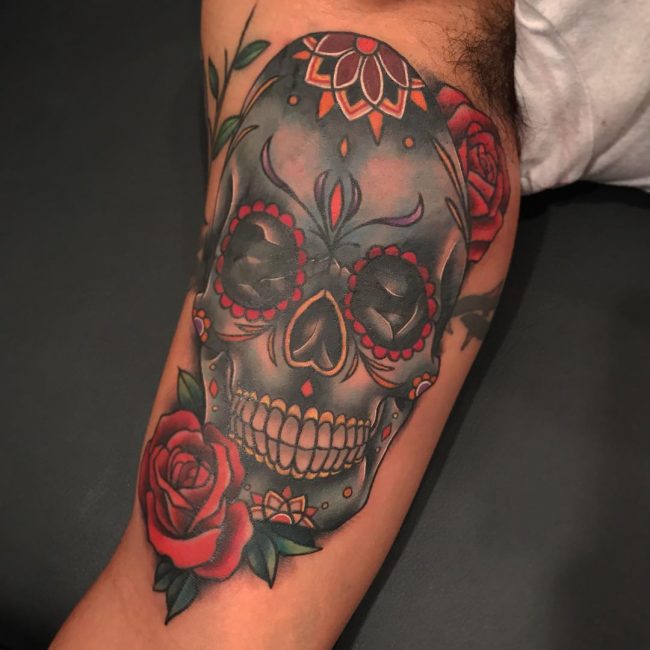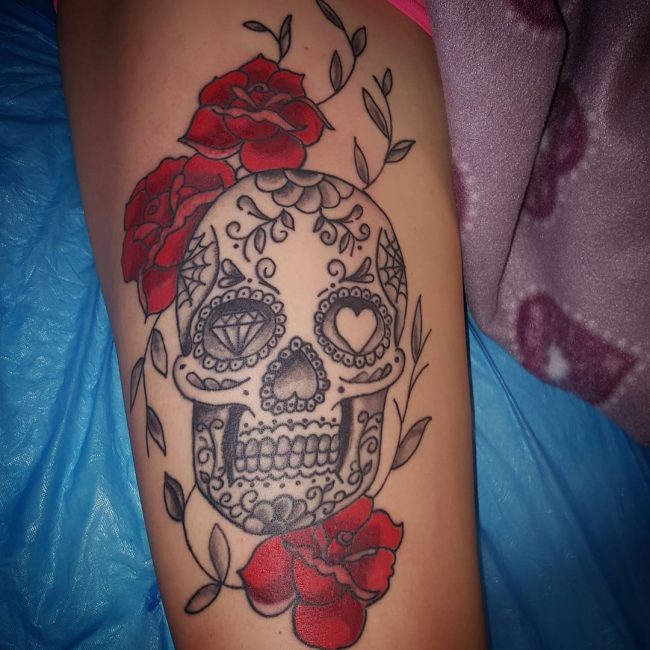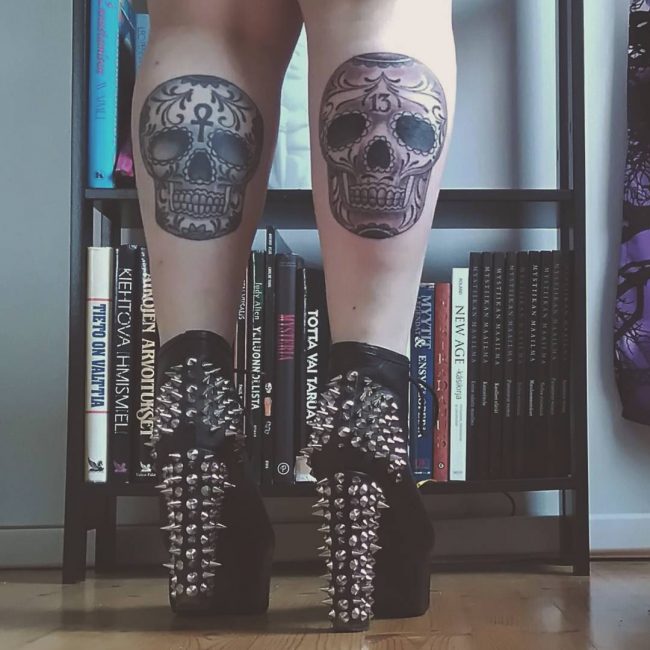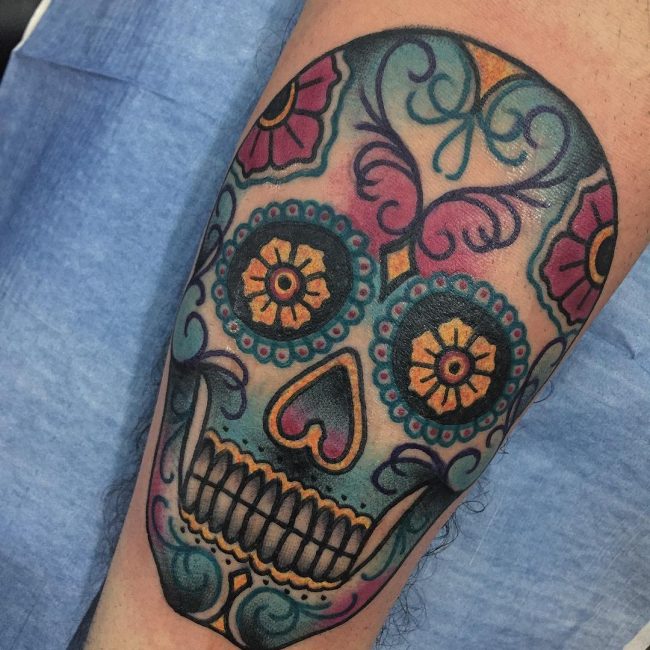 However, when getting this kind of tattoo, you should be careful with your choice of colors as some may look awkward when combined.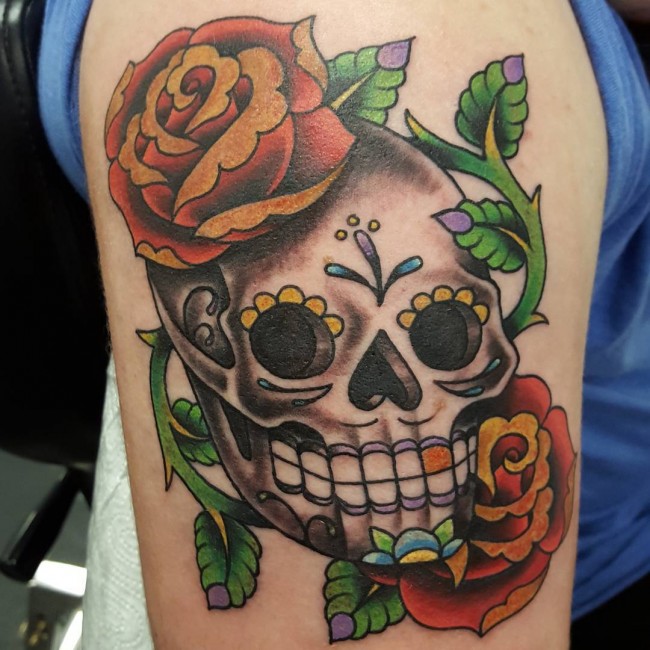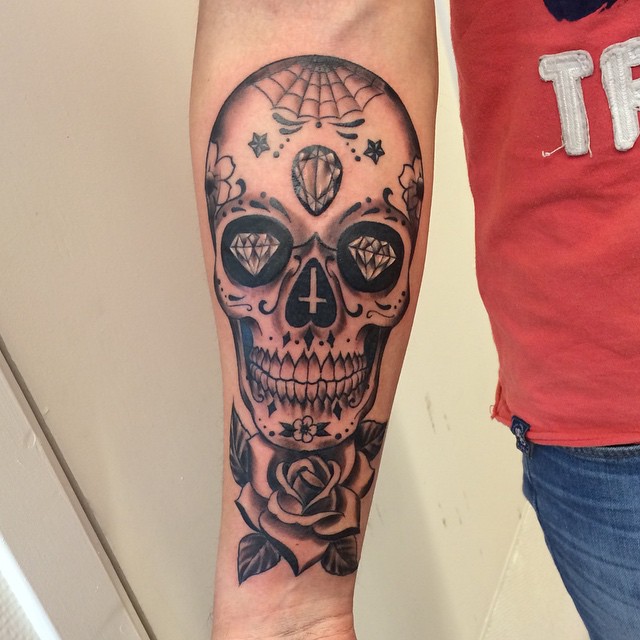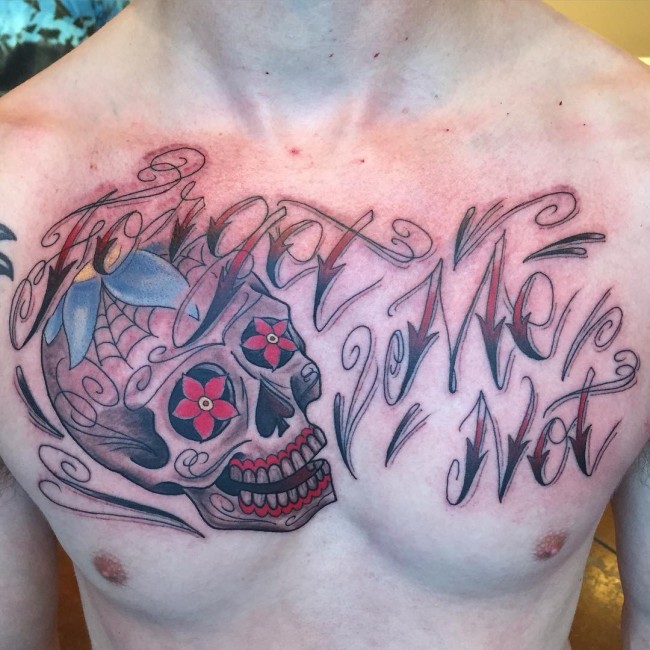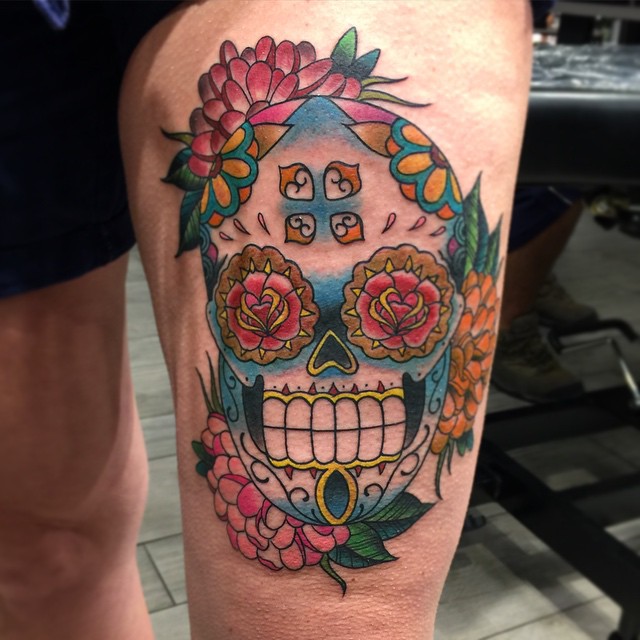 In this type the tattoos come in pairs, and they are inked close to one another. The two tattoos can be similar r they can be slightly different. In any case, they will still look great when a good artist draws them. To complement their appearance the tattoos have flowers or webs drawn around them.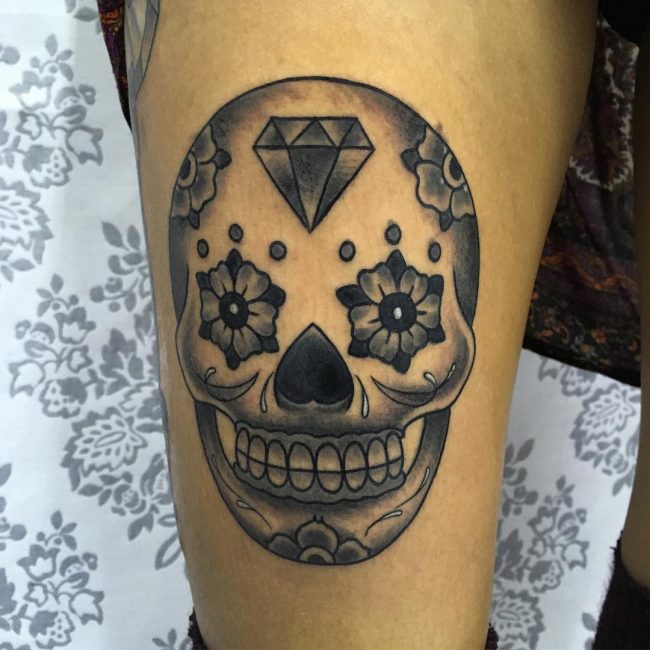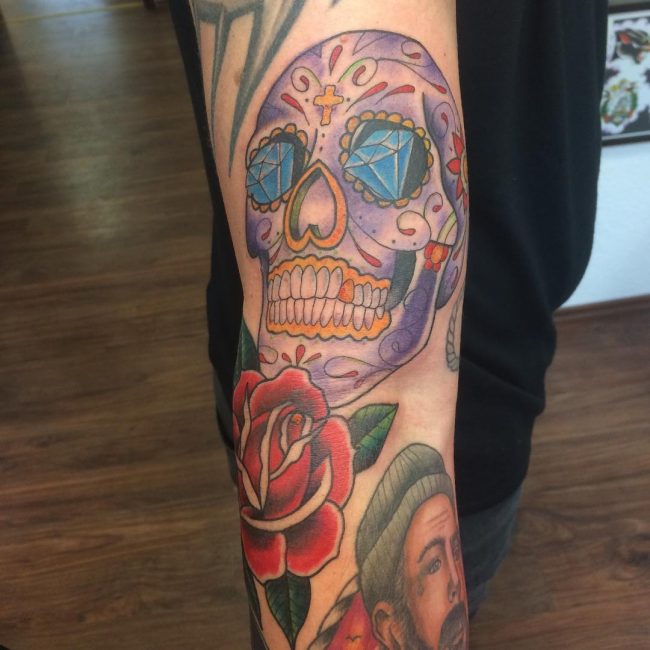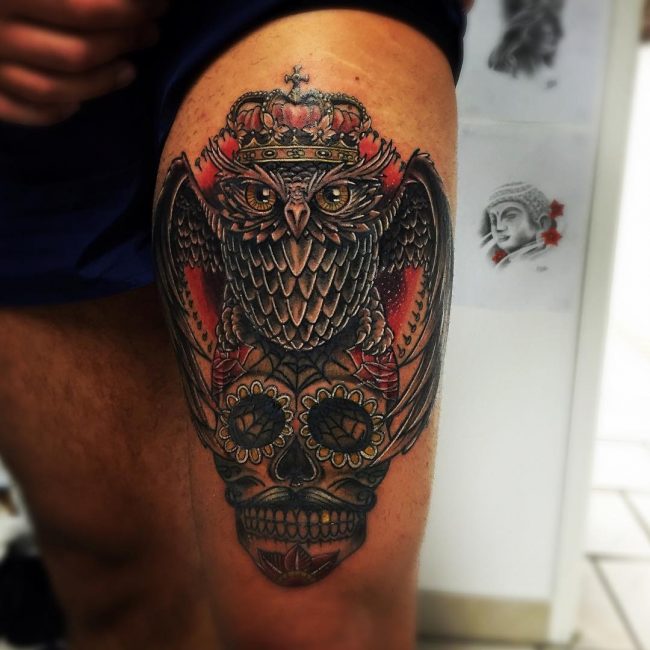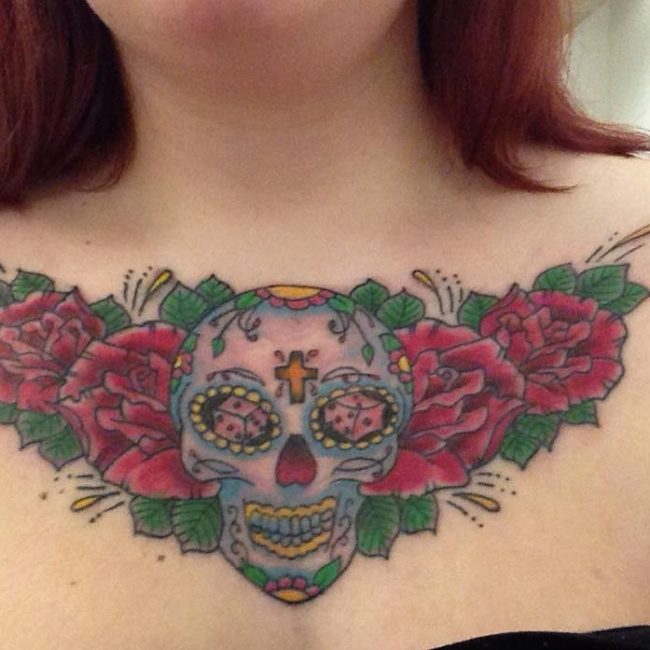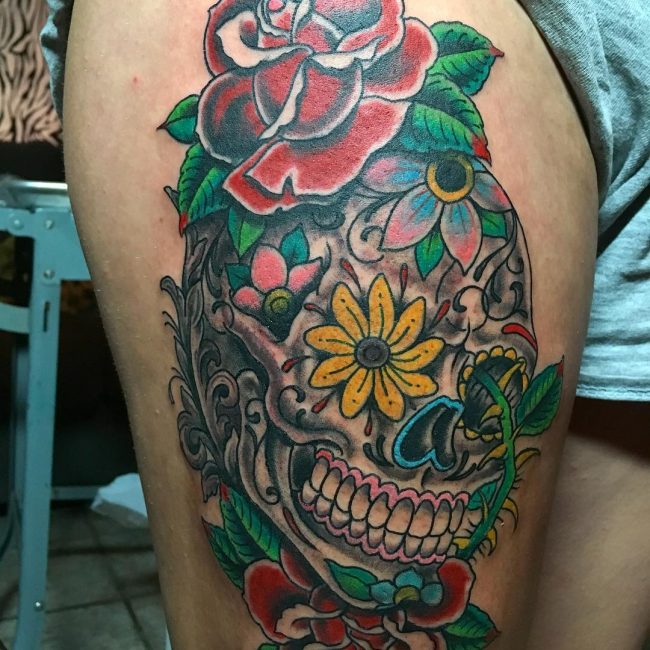 Flowers can be used to spice up any tattoo, and the sugar skull is no exception. In this variation the skull can be drawn with a flower background, flowers can be drawn around it or placed above or below the tattoo.
No matter, how you choose to have your flower and skull tattoo it will look god if you chose your flowers and their color carefully.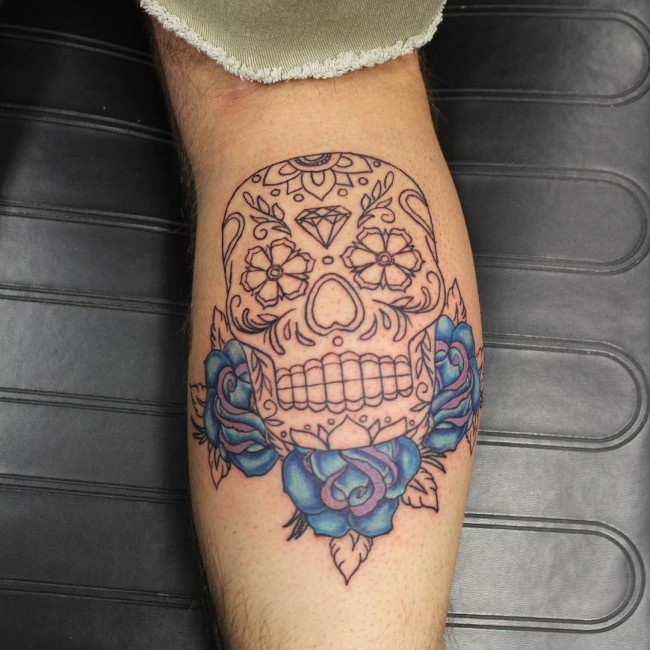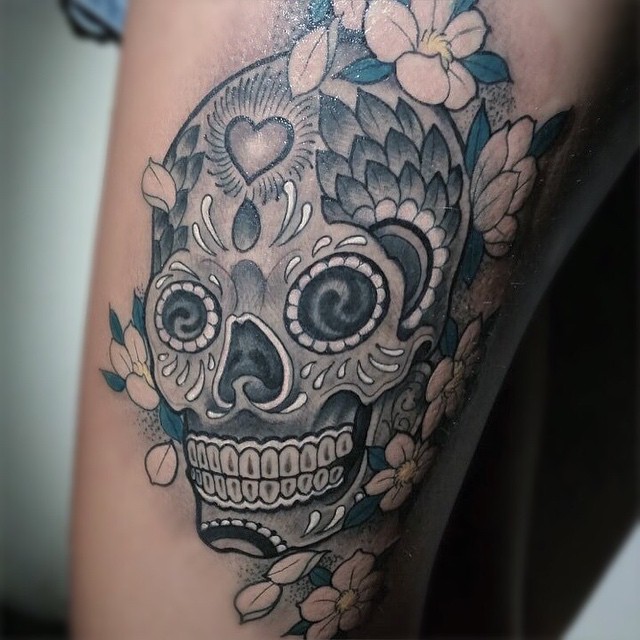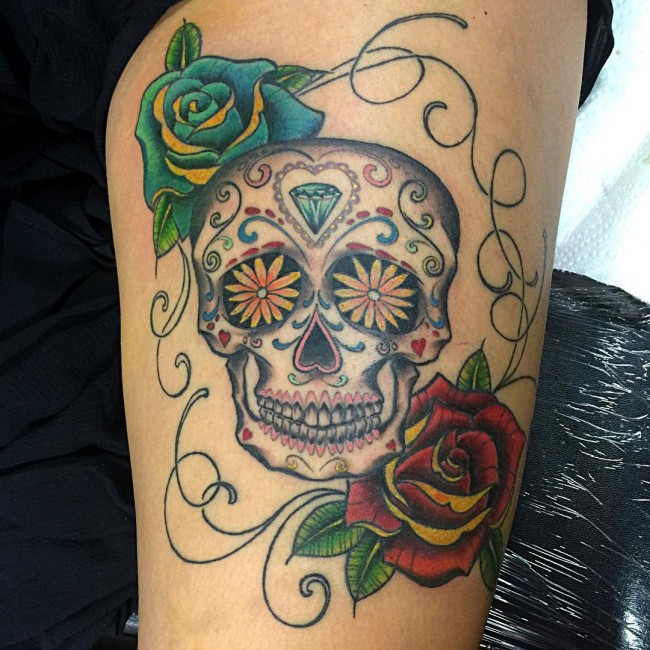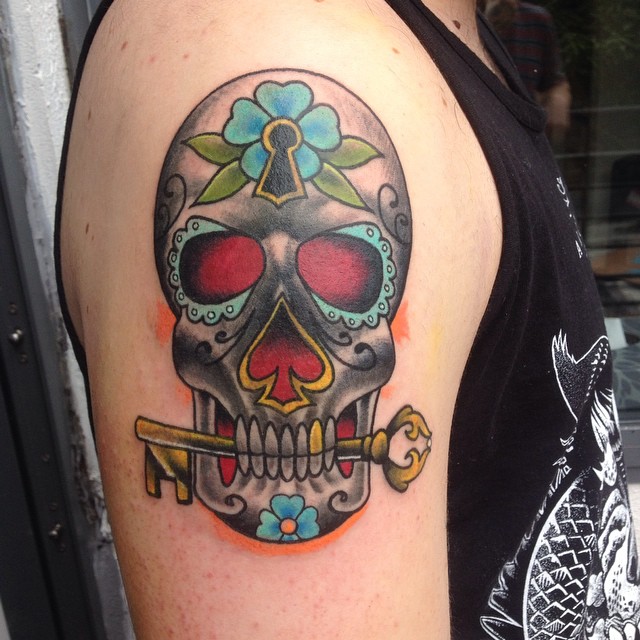 The hyper realistic sugar skull takes creativity to a whole new level. If this type of tattoo is drawn by a talented and experienced artist, it looks very realistic, and one can hardly tell that it is a tattoo. This tattoo can also be drawn in 3D to make it look even more realistic.
This type of tattoo combines different images with the sugar skull to give a unique and more appealing look. The most common image that is often combined with this tattoo an owl image. There are many ways to combine the images and so creativity will play a fundamental role in getting the tattoo right.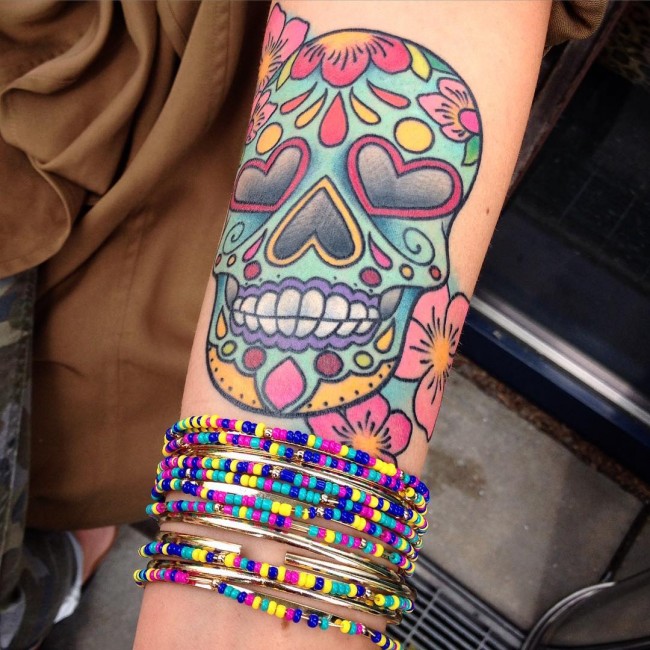 As this tattoo continues to spread in popularity across the globe, it would be a good idea to get one. However, to get a perfect one the most important thing will be to get a creative and talented tattoo artist.