75+ Incredible Sternum Tattoo Ideas — Pick Yours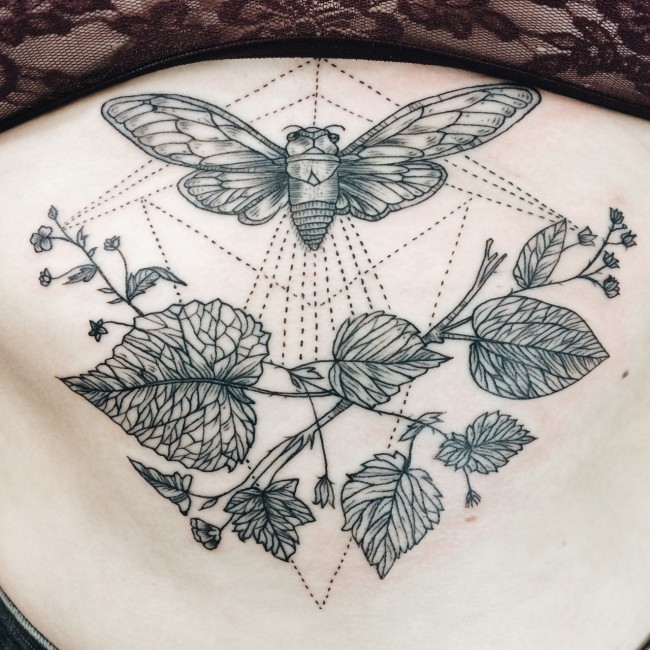 Source
Few others if at all any symbols are as feminine as a sternum tattoo. It is also often referred to as the under breast due to its placement area, and it is one of the newest trends with feminine symbols.
However, the concept has only become popular in the last few years, but ladies have been getting inked below their breasts for many years. The idea of this tattoo started almost by chance as women become interested in getting an image on the front part of their body.
Due to the sensitive nature of their breasts, many women did not like inking them as it was not only painful but was also an extreme thing to do.
The area below and in between the breasts (sternum) provides ladies with a perfect alternative to get inked without interfering with their tits. And although it is still very painful it offers enough space and a unique shape to get very amazing body markings.
Initially, ladies would only go for simple images such as a flower, a butterfly or a couple of letters but nowadays their sternum totems are more intricate as they try out different things. With the modern body marking techniques, it is also possible to get anything that you wish inked under your breasts.
And as more ladies discover the beauty behind these totems the sternum is probably going to be the most commonly tattooed area on female bodies.
Contents:
Why You Should Consider a Sternum Tattoo
Ladies are more conservative when it comes to body art, and most would prefer to have simple things that they can also conceal or choose to reveal when they wish.
And this reason alone makes these tattoos perfect for ladies as they are both simple and you can cover by wearing regular clothes due to their location.
Breasts are one of the things that define a woman and so having a tattoo on your sternum can help bring out your femininity.
Most of the symbols and images used for these tattoos are very gentle and feminine and so if you want to get in touch with your inner feminine side then these are the perfect totems for you.
They are unique and sexy in equal proportions, and this makes them worth trying out. Since it is one of the most painful places to ink very few ladies can withstand the pain and so you can be sure that you will hardly see your tattoo with anyone else.
Apart from this uniqueness they are also very sexy and so you better half will find you irresistible.
Since this is a concealed place, you can get naughty and draw anything that you feel like or that which you cannot have in an open area. The sternum gives you the freedom and space to have anything you wish as you can easily control when to show it off and when not to.
Another reason that you should consider this tattoo is the fact that you have many symbol or image options. Whether you like the floral patterns or other complicated designs, there are many types available.
And since there is enough space you can also come up with a unique design that is more personalized.
back to menu ↑
Common Types of the Under Breast Tattoos
There are many ways to categories tattoos, but most of them use pattern, design, size and the theme. And so when you are looking for an under breast body marking you have to consider all these factors to choose the right one.
Although there are no specific categories of these tattoos there are some common ones that ladies prefer to have. The type of symbol that you choose to have on your sternum will also determine the meaning.
The colors and sizes will vary from one lady to the other, but the following are some of the most common.
# 1 Lotus Flower
A lotus flower is a prominent symbol in Buddhists and Hindu cultures where it used to represent purity. It is an interesting flower because each of its numerous petals can mean something different just like when used for religious purposes.
And so if you choose a lotus flower you can also have a specific number of petals with each one of them representing something or someone special in your life.
The color you chose will also have a particular meaning since red and pink ones represent undying love, and the white ones are a sign of integrity and purity.
# 2 Sugar Skulls
Sugar skulls are more popular in male tattoos, but they also make an amazing totem when inked on the sternum. The shape of the sugar skulls and its other characteristic features make it fit in this area, and it also has some symbolic meanings.
It is a sign of respect for both the dead and living, and it is also a fondness for memories and stories. When getting this totem, you can have it plain, but it will look attractive if you have some patterns or floral designs also.
# 3 Angel Wings
The shape of angel wings makes them one of the best images you can have on your sternum. They spread well under the breasts, and you need not use any other patterns with them. With the angle wings, the only thing you may need to add is a body at the center of the pair to create their distinctive look.
You can draw an angel if you like or heart between the pair of wings to symbolize love. The angel wings can be used to show religious devotion or as of protection against all the evils of the world.
# 4 The Butterfly
Butterflies are a symbol of femininity and hope, and there is probably no lady that does not love these cute creatures. Their beautiful colors and body shape make them fascinating beings to draw on your body.
Apart from this, they are also easier to draw than most other designs and so you will also not have to go through a lot of pain. For this tattoos, you can choose to have a couple of small butterflies flying under your breasts, or a single and large colorful one at the center of your sternum.
# 5 Naughty/Epic Quotes
Even if you are not the type that likes to have fancy designs or images you can still rock a cool tattoo with an epic quote. There are many things that you can write, and you only need to think of a couple of unusual words that you like.
And the best thing about this location is that you can get naughty and write anything that you want as you can control who can see the quote. However, for your quote to look beautiful, you have to choose the font or calligraphy well and also a size that will be visible and also not too large.
# 6 Tribal Designs and Patterns
Tribal patterns are fantastic, and they can make a perfect tattoo anywhere in the body whether it is a full sleeve or a small finger marking. The patterns also work well when drawn under the breasts as you can draw them to conform to the contours of your breasts.
Although there are many tribal patterns that you can have the most famous ones are Maori, Celtic, Aztec, and African. They are lovely designs, but they can also be used to show pride in your heritage or culture.
# 7 Geometric Shapes
The options are endless with this body markings, and the only thing that may limit you is your creativity. Geometric patterns can also form lovely patterns is they are drawn creatively and by a skilled artist.
These shapes do not have to be plain and straightforward to look great as you can enhance them with floral and other patterns. What you choose to have should also have some meaning, and it is a good idea to do some research and know what the different shapes represent before getting inked.
# 8 Womanly Shooting Stars
Shooting stars are a symbol of divinity, and they are also believed to grant wishes, and so this makes them perfect images to have. Whether you want them for their divine powers or to grant all your wishes in life they are still charming.
Although they might be a small bunch of stars, you can spice yours up with some colors and by arranging them cutely to get an incredible look.
# 9 The Locket
The sternum is very close to your heart, and so you can have a locket drawn here to symbolize that it is the gateway to your heart. Heart shaped locket under your breasts surrounded by some beautiful flowers will look fantastic making this a classy sternum tattoo that every woman would like to wear.
There are many ways to draw the locket but the vintage looking ones look the best especially for this type of tattoo.
# 10 Wonderful Little Birds
It is hard to say no to a cute little bird or a couple of them perching on a tree or flying away. Apart from looking cute, these little birds enable you to get a simple image while still looking elegant.
However, different birds hold various meaning and so you should be sure of the message you want to pass before choosing to have a particular type inked on your body.
# 11 Classic Crown
Every queen deserves to have a crown, and it does not have to be a physical one. If you feel like a queen or consider yourself one, then you should have a crown inked on your sternum or between your breasts.
The crown does not have to be very complicated to look outstanding because even a very simple one will be enough to pass the meaning that you want.
back to menu ↑
How to Choose the Right Type for You
Although there are many types and options available you have to choose one that will work well for you by considering things such as the design, size and the message you want to pass.
The size that you want to have will dictate the type of tattoo that you get since some will only look good when drawn as small images while the opposite is true for others. If you want to get an intricate design, then you should be sure that your tattoo artist has the skills to draw it to avoid any disappointments.
You would rather go with something very simple rather than have an artist mess up you sophisticated design as you will not be able to reverse the effect.
Finally, you also have to know what the totem means before choosing it since you may end up having something that means the complete opposite of what you want. For example, if you wish to show purity a lotus flower will be an ideal image.