80+ Insanely Hot Tattoo Ideas for Men and Women – Top Picks
It is hard to define the excitement and emotion that come with getting a tattoo whether it is your first time or not. Deciding to get a tattoo is always hard but what is even more challenging is picking the right design and where to place it. But, with a little research and the services of a skilled tattoo artist, you can be sure of getting some hot tattoos.
Like most other forms of body art, tattoo designs and trends are always changing as new technologies emerge and artists get creative. And so it is an excellent idea to do some research to determine what is on trend and also know what most men or ladies prefer to ink. In this piece, we will showcase some of the most outstanding designs for men and women and different placement areas.
Contents:
Tattoos for Men
For guys choosing a tattoo can be a little complicated. What guys want from a tattoo is something that draws attention to a particular body part. The totem also has to bring out their personality while also keeping up with the times.
#1 Sleeve Tattoos for Men
Sleeves tattoos are perfect for men that have no problem tattooing vast areas of their body. Here you can choose to have a quarter, half or full sleeve. The ideas for a sleeve tattoo are endless, and you only need to determine what you want to draw or the theme.
A watercolor themed full sleeve tattoo will look great on any man, but you should also choose a good image to go with this theme. An artistic Japanese carp/koi swimming down the shoulder is an example of a perfect image for your watercolor sleeve tattoo. The tribal patterns will also make beautiful half and full sleeve tattoos, but they always look best when you draw them in black ink and when you avoid complicating the design.
Another great idea for your sleeve tattoo will entail drawing a huge dragon. The dragon is an impressive image, and it is one of those tattoos that will always draw attention everywhere you go. An interesting way of drawing it will be to have a large dragon head around the shoulder and a realistic claw below it. You should also include a burst of some bright colors to complete this menacing look.
#2 Chest Tattoos for Men
The chest is one of the favorite places that men like to draw since it is flat and provides sufficient space to draw almost anything. Chest tattoos are always very trendy, but the best thing is that you can choose from many designs and styles. Some men prefer to have a small tattoo on one side of the chest while others prefer an entire chest tattoo. But, regardless of what you like there are still many options available.
For an entire chest tattoo, you can combine different elements like flowers, birds, clock and a skull to create a hot and trendy tattoo. The color also affects the appearance of the piece, but you can never go wrong if you use traditional black ink or combine bright colors like red and blue to make it more colorful.
It is common for some men to combine a quote with the tribal patterns to create an intriguing chest tattoo. In this piece, black ink is always the best option, and for the quote, you can take a verse from the bible or any other book or even use a line from your favorite movie. This tattoo looks best when you have the patterns on one side and the quote on the other but make sure that the artist merges them well where they meet.
#3 Back Tattoos for Men
The back is a blank canvas that you can use to create some hot tattoos. Whether you want to get your first tattoo or the tenth the back is a perfect place to have it. Like the chest, you can have almost any design that you want. And the best thing is that it will be covered when wearing clothes and so you have the freedom to draw something that you would not have in open places like the hands or ankles.
Angel wings are one of the most popular back tattoos for men. It entails drawing one wing on each of the shoulder blades and having an angel or a large cross along the spine. You can have the wings in 3D, incorporate some tribal patterns into them or even draw them in watercolor design. Some men also prefer to extend them all the way to the arms to create a half sleeve.
The skull head is another favorite back tattoo for men. Skulls offer versatility since there are many ways of drawing them. You can have a huge one covering most of the back and with some flowers around it or forming the background. It is also possible to spice up the full back skull with other symbolic images like  stars and geometrical symbol
Source
#4 Bicep Tattoos for Men
Nothing draws more attention to your biceps than a beautiful tattoo. You only need to flex the muscles and show the world the adorable image or message. Bicep tattoos are also possible to hide if you want. Tribal pattern tattoos are the most popular for the biceps. Most men will prefer to draw the tribal as an armband around the biceps. But there are still many other ways of having it such as drawing it on the inside where it is easy to conceal.
Quotes will also work well for the biceps, and you can have them both on the inside and outside (of the biceps) depending on whether you want it to be more visible or not. 3D portrait tattoos covering a part or the entire biceps are also quite common. These tattoos can be very symbolic, and most men will have them to symbolize inner-strength and realism.
back to menu ↑
Tattoos for Women
Ladies will have many options when it comes to tattoos because they can draw almost anything and anywhere in their body. Most women are also not very conservative when it comes to the designs and colors. But, there are still some particular hot tattoos for ladies that most will prefer to get.
#1 Hip Tattoos for Women
The hip is one of the most seductive parts of a woman's body, and so it will always form a perfect placement area for a tattoo. Ladies also prefer to get hip tattoos since they can control who sees them. Flowers are one of the favorite hip tattoos for women and most like them for their symbolism. Although the meaning will depend on the particular flower type, in general flowers on the hips will symbolize femininity, undying love, hope, and purity.
Portrait hip tattoos are also quite common, and ladies will draw them as a symbol of their femininity, and some will also draw the images of important people in their life. An awesomely placed mandala on the hip and just next to the bump also makes an adorable hip tattoo for a woman, and this is more so when it is in black ink.
If you like tattoos with an Asian theme, you will love the koi hip tattoo. It is a breathtaking image that will involve drawing a beautiful koi fish on the hip or even having a couple of them. Some ladies will prefer to have it in 3D to make it more realistic while others will want something that is in their favorite colors. The koi will also make a great hip tattoo if you combine it with some beautiful rose, lotus or cherry blossom floral tattoos.
#2 Back Tattoos for Women
Back tattoos are some of the hottest ones for girls. And although men will also have them they seem to work better for ladies. The owner might not be able to see them, but they are the kind that will always be a magnet for other people.
A back tattoo for women does not always have to be huge. Unlike men, many ladies will prefer to have something subtle on their back. Small flying birds that cover the entire back are one of the popular tattoo designs for women. These tattoos not only look beautiful but can also be symbolic. You can draw them as tiny birds in black ink or have some realistic looking ones and with some lovely colors.
The dreamcatcher is another beautiful tattoo design that will fit the back well. This symbolic totem can be a way of keeping evil and negative energies away and protecting one from bad dreams and nightmares. It is also possible to adorn your dream catcher with other symbolic images to make it more meaningful.
Geometric designs will Also make a hot back tattoo for ladies. Most of these tattoos will fit behind the neck excellently, and so you will not need to worry about where to place them. Floral designs, ribbons, butterfly, the galaxy and the all-seeing eye are other adorable back tattoo options for women.
#3 Ankle Tattoos for Women
A tattoo is one of the few ways that you can adorn the ankle. Ankle tattoos are not always easy to obscure, and so you cannot afford to go wrong with the design or your choice of colors. Luckily, there are many hot designs that you can draw.
The star ankle tattoos are very popular with young girls since they are a symbol of fantasies and dreams. If you are a conservative woman that does not like having too much ink a single star around the ankle or a couple of them will be ideal for you. However, if you are ready to withstand some pain and do not mind a lot of ink, you can have a realistic constellation wrapping around the ankle or have it flow towards the lower part of the foot.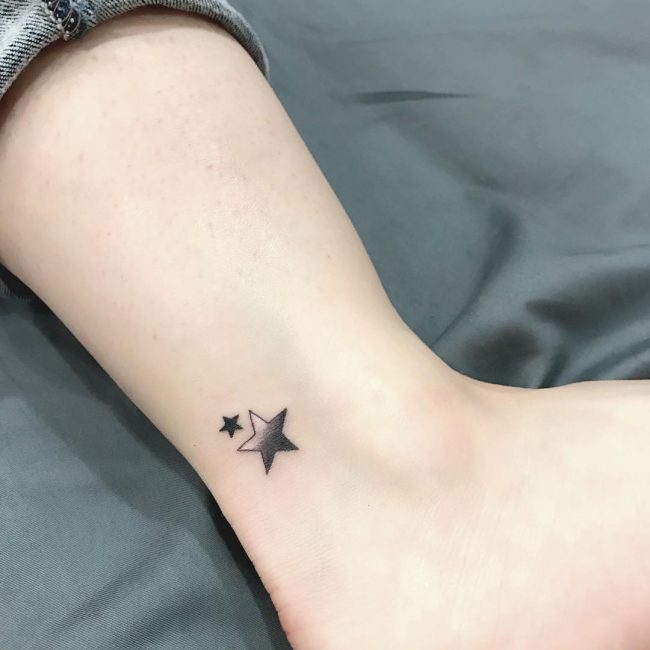 Source
Bird ankle tattoos are another great idea for ladies that want something interesting to draw on their feet. There are many designs available for this symbol, and so you will only need to find a creative and skilled artist. You can draw a small hummingbird, eagle, crane or dove depending on what you find symbolic or even have a small flock flying around the ankle.
The cross ankle tattoo is very adorable, and this is more so for a religious person. One of the best ways of having it will entail drawing a rosary that wraps around the ankle to create an anklet-like look.
#4 Inner Wrist/Arm Tattoos for Women
Some ladies prefer to have a small totem on their inner wrist or arm instead of having large images in other parts like the back or chest. For these tattoos, many will also opt to go for simple outline designs instead of complicated images. One of the trendiest designs for these tattoos will involve drawing a small moon on one hand and sun on the other inner wrist
Tiny key holes or a key and lock also make some stunning tattoo designs for the inner wrist. The inner wrist/arm is also a perfect place to have a matching tattoo. Matching tattoos are hot and trendy, and they ensure that you always have something to remember that special person in your life. Some of the most common designs of these tattoos are the bird and cage tattoos, Mickey and Minnie, infinity and beyond phrase and the ying yang.
If you do not feel like going for the matching tattoos, there are still many other trendy options for your inner wrist. The nautical star, armbands, anchor, arrows, small skull, tribal and flower patterns are some other beautiful tattoos that you can have on the inner arm. However, you can also have symbolic creatures like butterflies and dragonflies which symbolize bravery, joy, and strength.
back to menu ↑
Conclusion
There is always a new design and style to try when it comes to tattoos, but you can not afford to blunder with these permanent body markings. Before you decide to draw anything no matter how trendy it might be, you should make sure that you are comfortable with having it in your body for the rest of your life.
Also, it is important to know that what is hot for someone else will not necessarily be appealing to you. And so instead of just copying you should always go for a totem that conforms to your preferences and looks and feels elegant to you.