120 Mighty Warrior Tattoos – Feel the Power
Warrior tattoos vary in different meanings depending on the nature of application. Warrior tattoo designs have numerous meanings and are becoming one of the most body styles around. They are a representation of power, inner strength and cultural heritage. A warrior tattoo portrays a degree of inner strength, symbolizes an individual's heritage and reminder of goals.
They have different meanings, either in men or women. Sometimes they maybe symbolic of virility and protection. Therefore, warrior tattoos have different variations and meanings. Angel tattoos are applied and they all symbolize different meanings.
In the past angels were said to play the role of protecting, and deliver message to human beings. Warriors who apply the angel tattoo as assign of spiritual protection and covering their body with the power of that angel.
Women apply angel tattoo as a symbolic meaning of serenity and calmness. All the tattoos represent spiritual faith, protection, devotion and peace. However, many people believe that if someone has died becomes an angel. Therefore, warriors use these tattoo as a sign of commemorating their loved ones in case they had good deeds.
Warriors remember the deceased through such tattoos and it is a representation of protection and peace. Warrior tattoos are not about men, there are exceptional female warriors who have made history too. Joan of Arc and Maeve are one of the greatest warriors in our history.
However, to place this tattoos is one of the most complicated procedures. Every tattoo must have set of wings drawn by professionals to achieve the size required. The most common areas to place the tattoos are arm, thighs, back and side of the belly. Therefore, they are applied in areas with more skin.
Contents:
Common styles
There are particular designs that are unique and are drawn in line with particular core values, beliefs and traditions. In order to have a detailed tattoo, you need professionals to carry out the design and come up with various ways to have different objects and symbols displayed. Some of the common styles include:
The Archangel Tattoo
This tattoo is known to be the highest ranked angel tattoo in the spiritual world. It is believed to bring warriors close to God and help them have extreme powers to defeat any other Angel that is more popular. Some tattoos can be drawn with Angel Michael fighting Lucifer. This shows victory over forces of darkness.
Cherub Tattoos
This is one of the type of angel that is mentioned in the bible. It is one of the tattoo that is drawn with a bow or trumpet in the hands of the angels. However, many people believe cherubs are a sign of love, therefore, many lovers apply them to bring good luck in their love. Mostly cherub tattoos appear like male baby angels mostly naked with wings.
The Fallen Angel Tattoo
Originally fallen angel tattoo is said to be those that were rejected by God and were thrown down from heaven. Most tattoos are drawn while the Angel is looking up in heaven, others are drawn head down and the feet up. Others are drawn the head bent down while on one knee, head tucked between the knee while sitting, and finally fallen angels with a broken wing.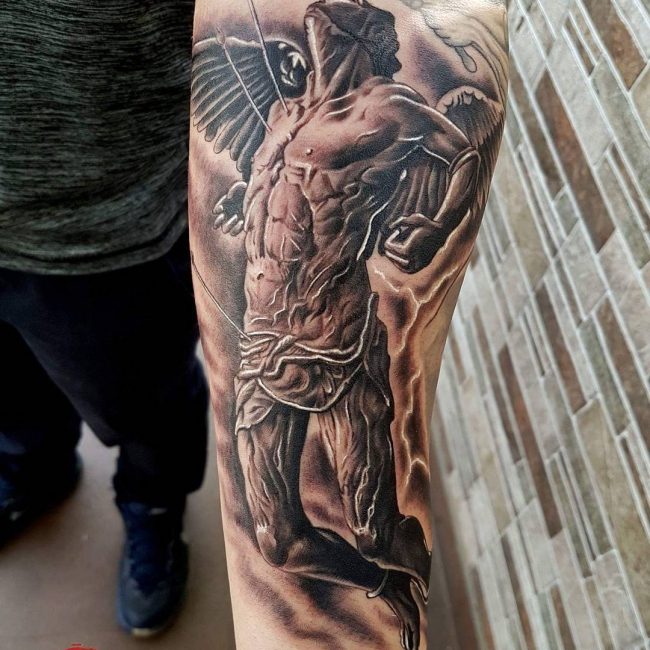 Source
They are applied to symbolize various negative meaning, including a rejection. However some fallen angels represent victory over a past trouble or event.
The Celtic warrior tattoo
It is one of the most popular warrior design tattoo that is decent and features helmets, shields and backdrops of the warriors. They symbolize the power, virility and strength to go up against an opponent.
Angel of death tattoo
They are designed with angels with no wings while some have wings. They all have a hidden meaning though, the meanings are usually negative.
The mandala Tattoos
They symbolize Hinduism religion. They are significant to the universe, and they have surpassed the line between the religion and culture among the most unique and populous countries. Even non-Hindu are applying the tattoo because of its elegant design and default meaning that applies to everyone's life.
The Ancient Warrior Tattoo
Ancient warriors are said to be the most powerful warriors in the past. These tattoos are designed and applied to represent primal, power, strength and fearlessness. These warriors were part of the cultures like the Vikings, Mongolians and Greeks. Best tattoos are based on the choice of the individual. However, warrior tattoos are real and periodic oriented.
They are made up of the person who are doing the tattoo. Majority of warriors are men but occasionally there were ancient female warriors who were famous and had the fearlessness the same as the male characters.
Application of the ancient warrior tattoo depends on the positioning of the warrior, warriors are tattooed standing on top the enemy as a sign of victory. Mostly warriors look for aspects that show a fighting spirit, courage, skill, strategy, aggressiveness, fearless character and bravery.
The Tribal Warrior Tattoo
These designs are perennial, and most warriors considered them as a connection to family and the fearlessness to fight any opponent no matter how large or how big the opponent is. Tribal tattoos portray unwavering power and a strength. Therefore, warriors consider ancient tattoo as a way to strengthen their mentality and be fearless when facing any type of opponent.
The Roman Warrior Tattoo
For the last decade, Roman warriors have been known for their amazing fighters, and strength in numbers to tackle their enemies no matter how great. Roman tattoos are designed in Latin example: Veni, Vidi, Vici, this means I came, I saw and I conquered the opponent, Carpe diem means "seize the day". Therefore, Roman tattoos symbolize coordination and unlimited strength no matter which traditional weapon you choose.
Samurai tattoos are the most popular and unique warrior tattoos. They are a fantastic way of representing ancient warriors and culture. It demonstrates affinity and the ancient warrior class. The designs are applied with warrior's swords drawn with fresh blood on them to show the number of enemies they have defeated during the past fights.
Samurai is rich in tradition, fearless, confident, and the power in the hearts of their opponents. Samurai tattoos are great for both women and men and bring rich history of cultures among the globe.
Addition of weapon such as spears, crossbows, different types of sword and spears to samurai tattoos corresponds with the warrior you choose. The armor you choose when designing the samurai tattoos must depict weapons which belong the same era as the warrior you choose.
Scottish warrior
Warriors may choose Celtic tattoos that symbolize their Scottish heritage. Some of the traditional symbols include St. Andrews cross, thistle, and tartans. You can have your scotch warrior tattoo designed clearly linked to Scottish heritage about culture.
Some of the famous legendary Scottish warriors include Highland warrior, Robert the Bruce and William Wallace. Scottish warrior tattoos are uniquely designed and color is added to them to make them more precise and reflect the actual warrior you wish to depict.
The Ouroboros Warrior Tattoo
These tattoos have special meanings. They were used by the Greeks to represent a dragon or a serpent that destroys its own tail. It is used to symbolize self-flexibility in the circle of life and death, two serpents are drawn joined on the opposite ends of each other to symbolize volatility.
back to menu ↑
Conclusion
To be warrior takes a lot of dedication and hard work, that's why there is a lot of pride associated with being a warrior. These noble fighters therefore, deserve to show off their strength and brute force with tattoos and style. Each warrior has their own archetype that offers a way to reveal their strong spirit.
However, among the elegant tattoos, angel tattoos are common across the world and many people apply them to represent their different motives. Angel tattoos used by the warriors are one of the most symbolic and amazingly elegant. They are drawn with different meanings according to the type of the tattoo, but are connected to spiritual life of the warrior.
There are so many angels that one can choose to apply to symbolize an image of love with cherubs and an image of war. However, angel tattoos are used by the warriors to convey a message of protection and guidance. Warriors choose the angel tattoos as a significance of their own personal guardian angel to watch over them.
When the Angel tattoos are uniquely applied to your body, they look gorgeous and with insane detail especially among the wings of the Angel. They have grown to be the most populous tattoos in the past decade, many warriors prefer them to convey their message to the opponent or keep them safe from harm.
The art applied on the warrior's body, represent symbols of power and are used to tie into the warrior's mentality, warriors can convey their superiority and strength in silence with that piece of body art.
It is important to note that warrior tattoo designs have numerous meanings and have grown to be one of the most popular art in the world. It is an inner representation of the power, strength and cultural heritage of the warriors, others might be a symbolic of protection and guidance.