Oliver Peck Tattoo – Great Master & Artist
There are thousands of skilled tattoo artists in the USA and much more across the globe. However, there are still those that manage to stand out due to the quality of their tattoos and their unique styles. One of them is Oliver Peck who has been in the business for several decades. Oliver Peck tattoos are famous for their classic American style and theme and the attention to detail.
Getting a tattoo from one of the most reputable artists is something that every tattoo enthusiast looks forward to, and this is more so if the artist has an international appeal like Oliver. However, it is always a good idea to know the story behind the artist as it will make you appreciate his work more and also help you understand what his style is all about and some of his most famous works.
Contents:
About Oliver Peck
Oliver Peck grew up in Dallas, Texas and developed and interests in the arts from a very early age. His love for arts is what drew him to tattoos, and by the age of 19, he was already inking his friends. Since the young artist could not afford to buy tattooing equipment and the other necessities that an artist requires when starting, Oliver had to source funds from his friends and later repay them with tattoos. He had such a great love for tattooing that he did hundreds of tattoos before he was even twenty.
After many years of learning the art hands on and many tattoos later Peck partnered with Dean Williams to start Elm Street Tattoo studio. Elem Street is one of the most recognizable tattoo studios not only in the USA but also across the world and the two still co-own it to date. However, Peck has been expanding his artistry in the last few decades as he tries to spread the reach of his impressive classic American style. He bought True Tattoo studio in Hollywood from a long-time friend, Clay Decker in 2011 and so he is always moving between his two studios.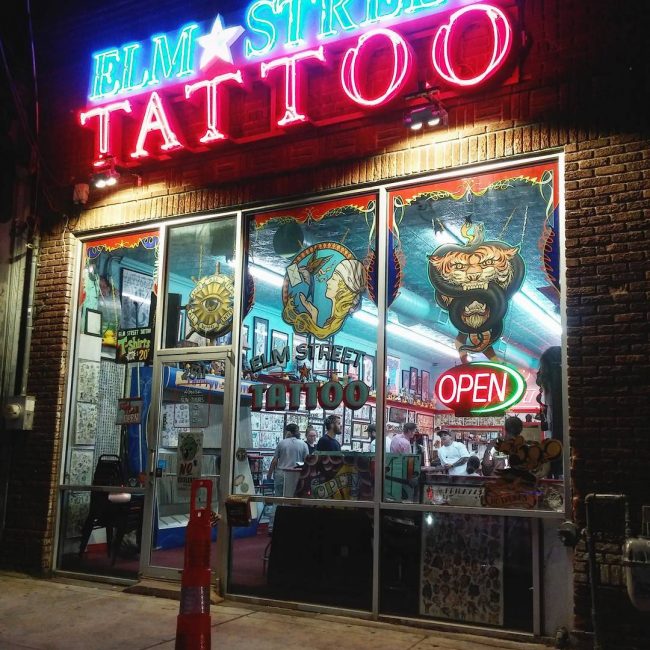 Apart from working from his famous tattoo studios Oliver also travels a lot. He has featured in tattoo conventions in various parts of the world. Peck has been to countries like Italy, England, Germany, Norway, Thailand, Ireland and Japan. Both experts and tattoo fans now consider Peck as one of the most seasoned tattoo artists, and this is what gives his style a global recognition.
Peck Breaks Guinness World Record
One of the least known things about Oliver Peck is that he has a Guinness World Record. Back in 2008, Peck broke the record for the most number 13 tattoos in a consecutive 24 hour period. He set a new record by tattooing a total of 415 different renditions of 13. What is even more interesting is that he broke the record that his ex-wife Kat Von D previously held. She held it by drawing 400 numbers 13 back in 2007.
He Was Married to Kat Von D
Kat Von D is presumably the most famous female tattoo artist, and she has been tattooing celebrities and regular people for many years. She and Oliver were married in 2003 and later divorced in 2007. Before their marriage, they had been dating for a few years. It was while visiting Kat that Oliver made his first TV appearance on the show Miami Ink.
Oliver Peck at Ink Masters
Apart from his tattoos, Peck is most famous for his appearance on the TV show Ink Masters as a judge. He has been one of the three judges on this show for several seasons now. This popular Spike television series is one of the most-watched shows by tattoo lovers across the world, and it entails competing on various tattoo-related challenges.
Why is Oliver Peck's Style Special?
Although Peck is a traditional American style tattoo artist, his totems have some unique elements, and this is why many people across the world including celebrities love his pieces. Oliver Peck tattoos will have everything that you would expect to see in a classic style tattoo. They will feature simple, strong and clean images with a hint of boldness that makes them look outstanding.
In his tattoos, Oliver Peck will limit the use of color palettes and incorporate some bold lines using black ink and some beautiful whip shading. When creating his body art, he tries to capture the American spirit which is what makes his style distinctive and appealing to many of his clients in Dallas and Hollywood. As much as he attempts to maintain the traditional American design he also refines them to suit the modern age. His flawless execution of the pieces also ensures that they will appeal to all age groups and for any gender.
back to menu ↑
Examples of His Famous Tattoos
For the many years that Peck has been in business, he has tattooed thousands of people, and his client portfolio includes everyone from athletes to TV personalities. And so he has given thousands of different totems if not more, but the three below are some of his most famous works.
#1 Eagle Snake
The eagle snake is an adorable piece that features a traditional image of a dragon but with a twist. It has the long body of a dragon or snake but with the head of an eagle. Oliver makes use of red and black ink and some bold lines when making this tattoo.
#2 Hell Diver
The Hell Diver is one of the most outstanding Oliver Peck tattoos, and it is an accurate representation of the classic American style. This piece features a traditional skull head totem but with a few enhancements. It has an old-school diver's headgear, two crossing bones, and the phrase "Hell Diver" at the top.
#3 Eagle and Flag
Nothing works better than the eagle and flag when it comes to capturing the American spirit. Oliver uses both in his tattoos prominently. For this piece, he draws an eagle perching on or behind the flag and with some stars at the top of the image.
back to menu ↑
Conclusion
Oliver Peck has been in the tattoo business for close to three decades now, and so he has had ample time to perfect his skills. Although he uses traditional American styles, he is still able to refine them to suit the modern age. Peck plays an integral role in maintaining interest in the old-school totem. But, he has also contributed to the development and growth of the industry in many other ways. And as he continues to perfect his craft and come up with new ideas Oliver has already secured his rightful place as one of the greatest tattooists of all time.