75+ Amazing Masterful Pirate Tattoos Designs & Meanings – Be Creative In 2019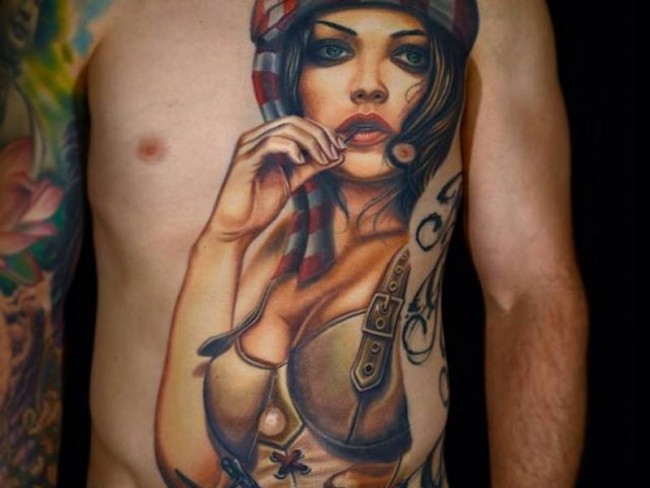 Tattoos have become an inseparable part of the life of pirates today. Pirate tattoos are coming with a variety of different symbols, which are associated to the pirate theme. Both men and women like to art their body with these tattoos.
Though this theme is not considered as the main stream tattoos, it provides several unique perspectives of pirate art in tattooing.
Contents: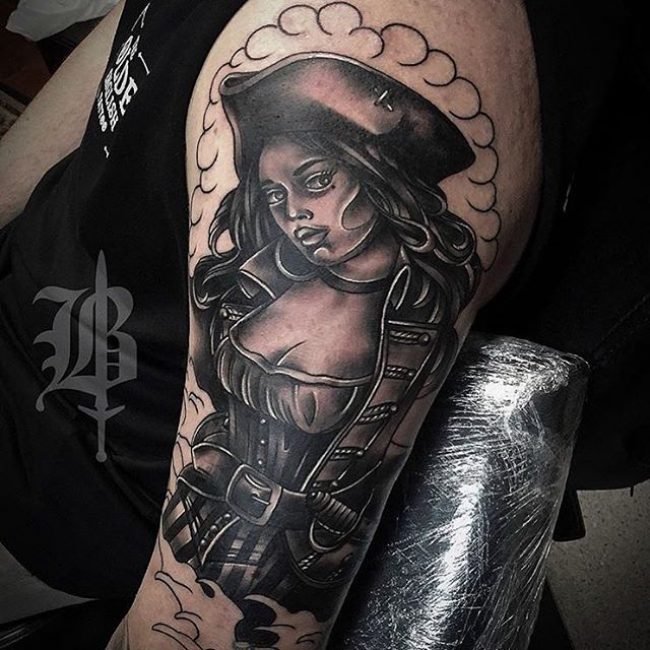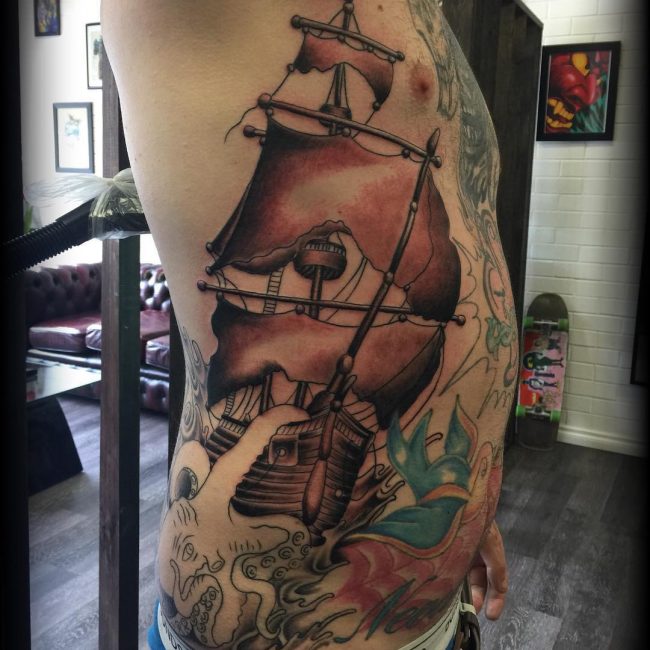 Pirate theme offers a wide variety of different styles, which is the major attraction of these types of tattoos. Several different symbols can also be applied to the pirate theme tattoos.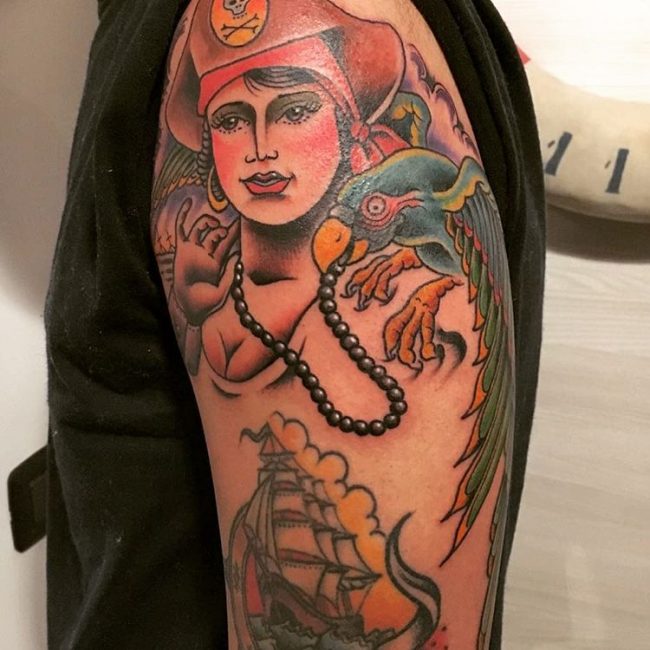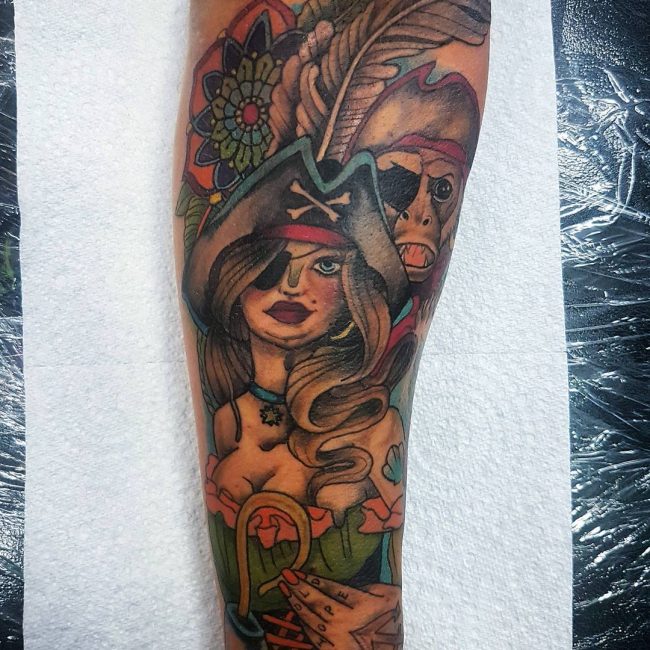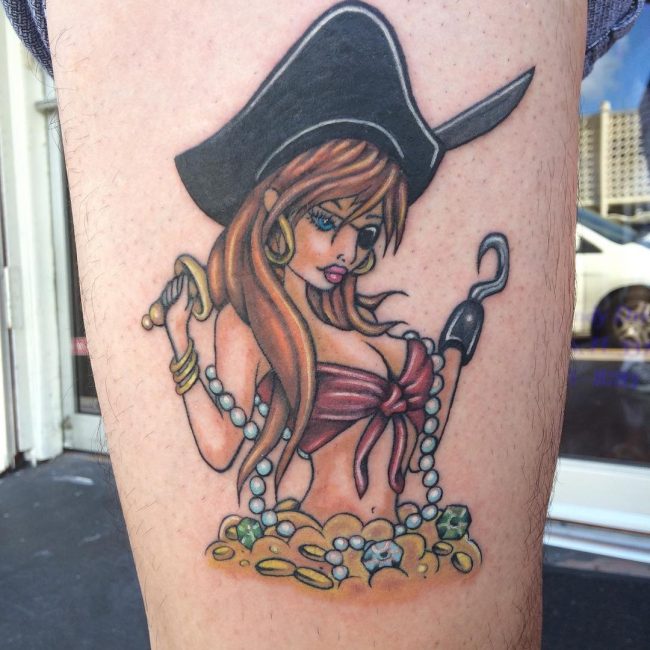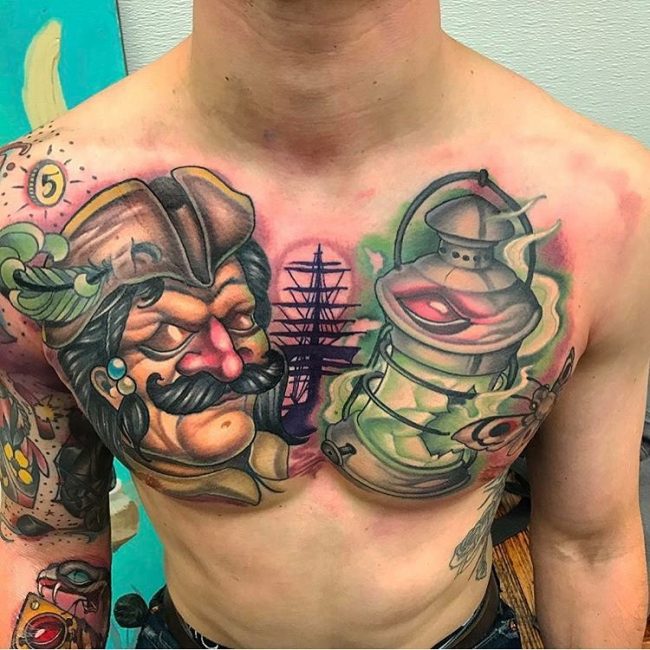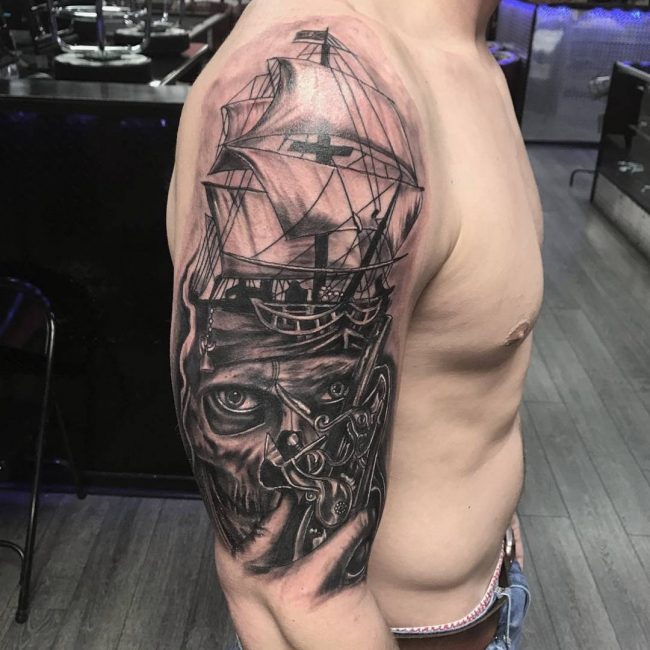 Skull or skeleton are the most common and famous symbols used in these types of tattoos.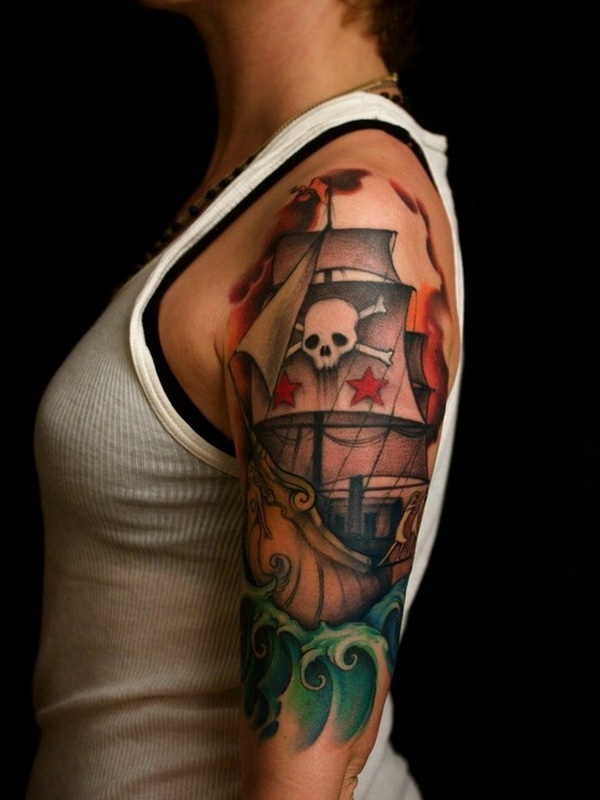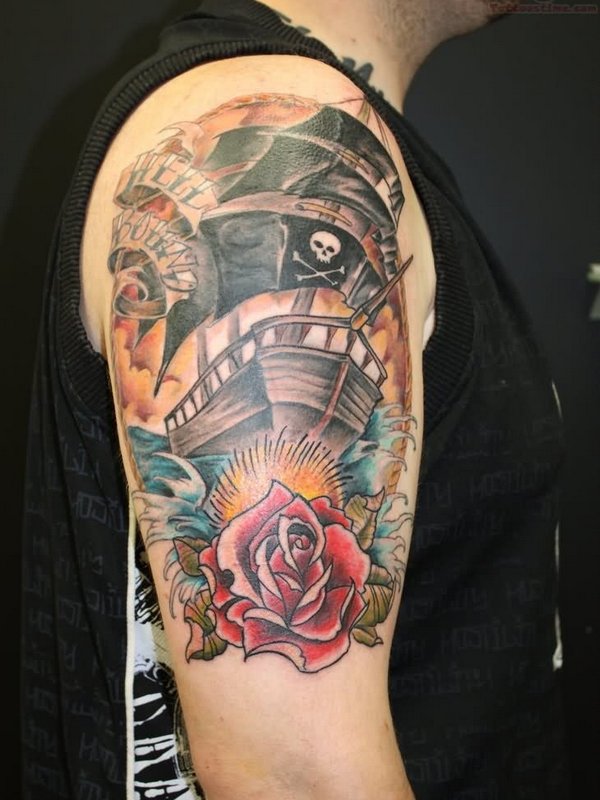 History Of Pirate Tattoos
In the middle of 19th century, a great scandal was aroused in the USA Navy Army because of the naked girls tattoo design. These were considered offensive. Though, after long debate, the authorities reached in an interesting decision.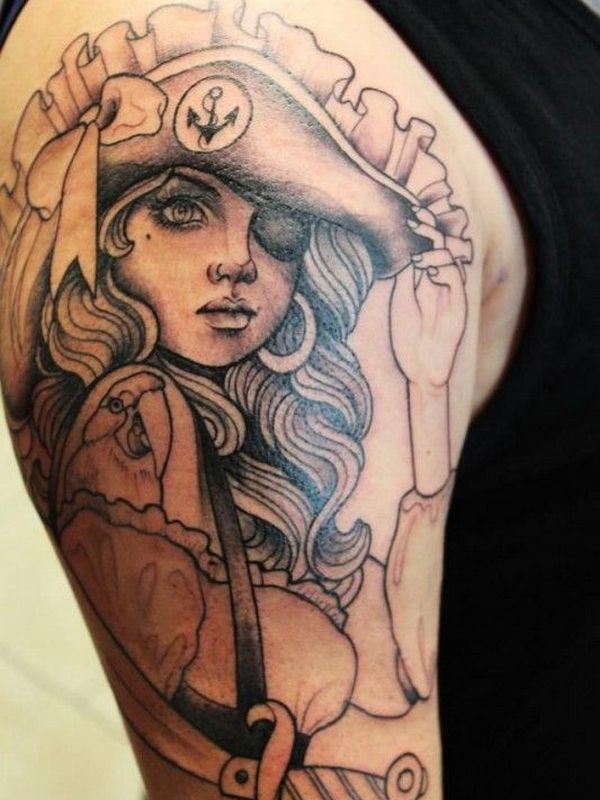 Make naked girls wear clothes was that decision. Sailors popularized tattoos in the western world. Since then, pirate theme tattoos have been the favorite body art for tattoo enthusiasts.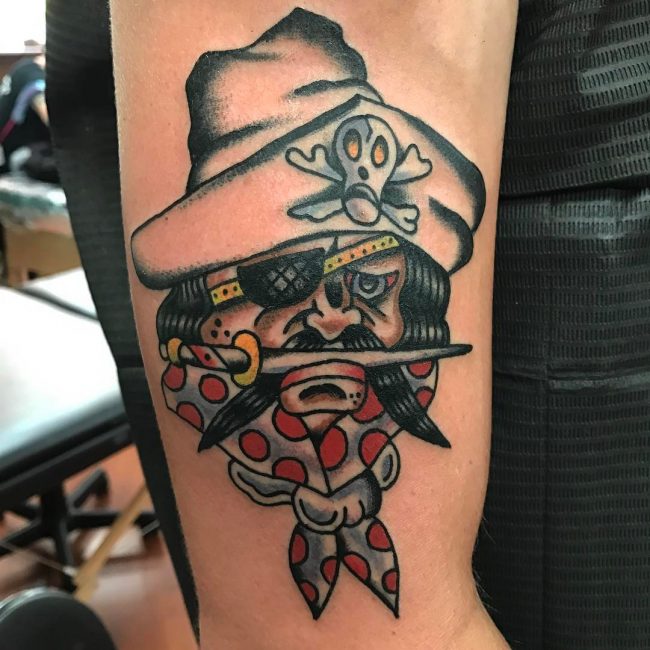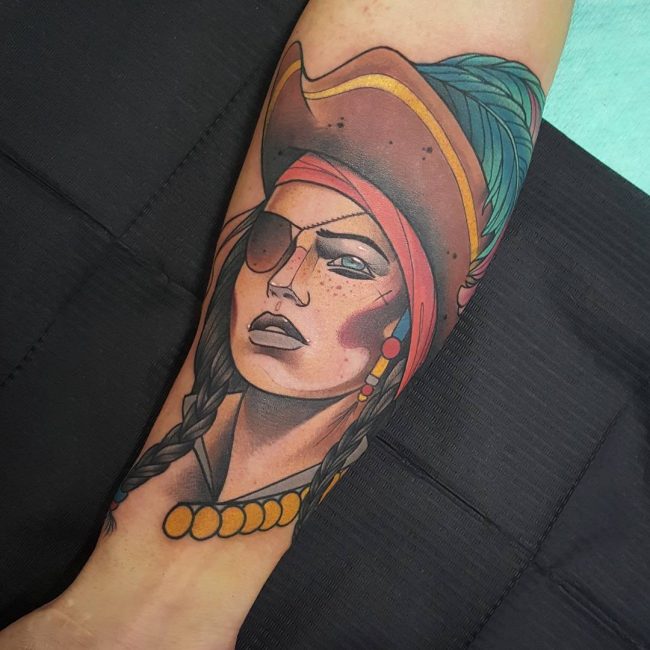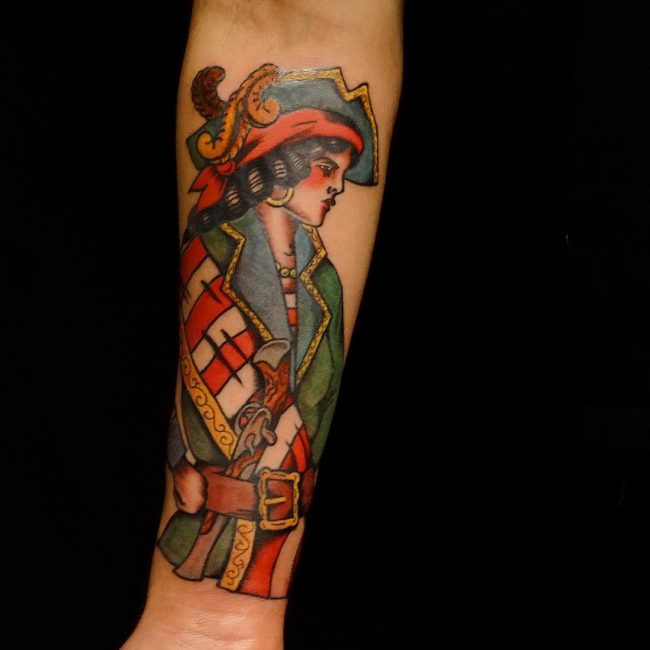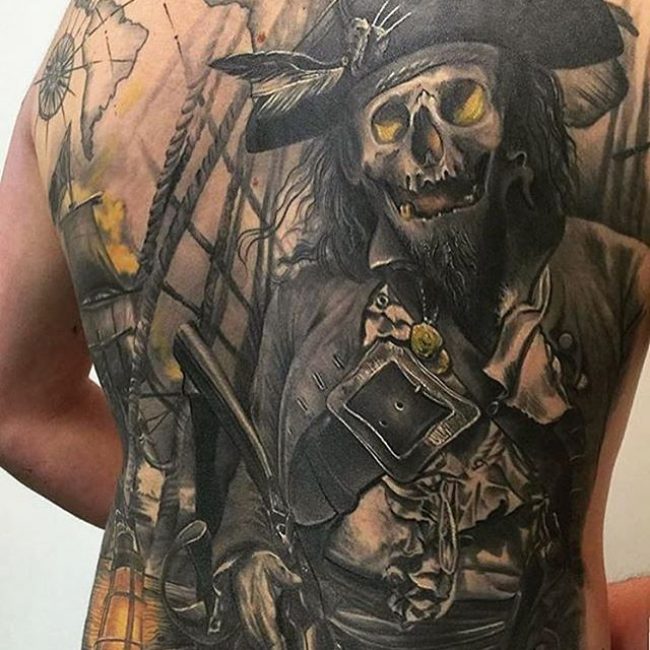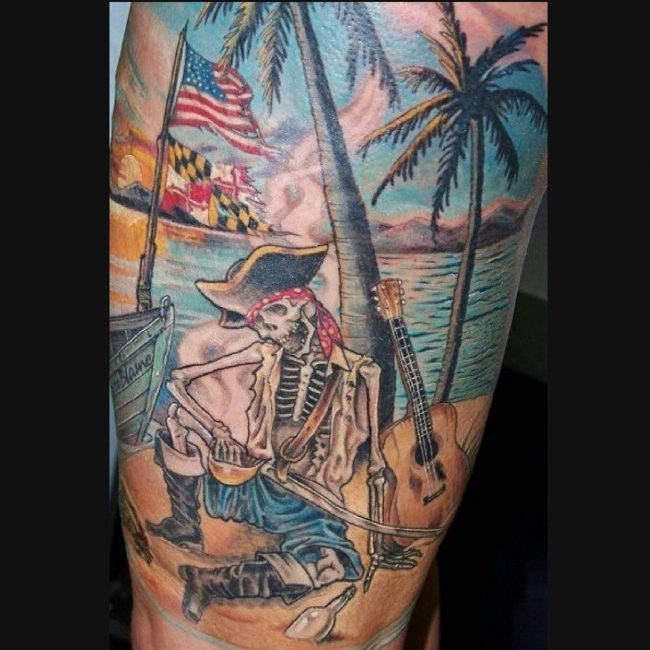 These tattoos became more popular after the release of 'Pirates of the Caribbean' movies.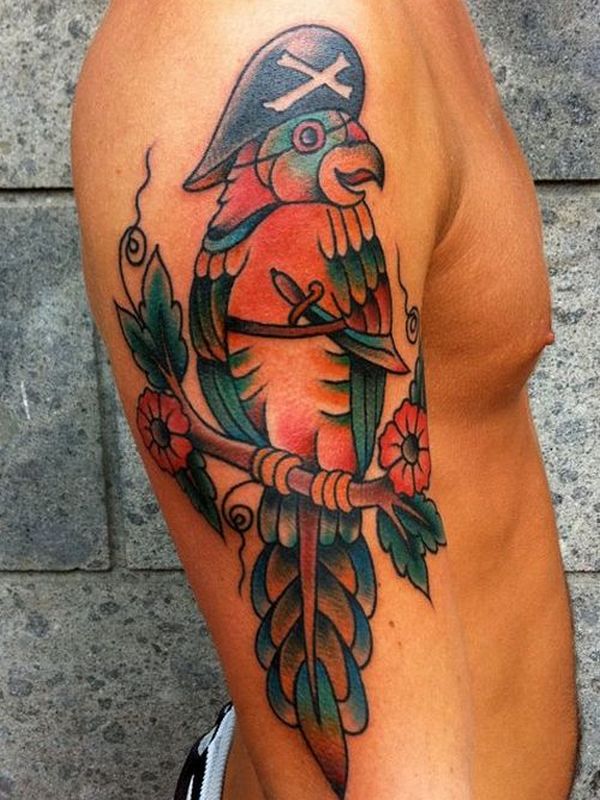 ---
back to menu ↑
Meaning Of Pirate Theme Tattoos
Pirate theme is one of the most favorite designs of many tattoo artists because of its versatility. This tattoo design provides them the opportunities to work with plenty of symbols.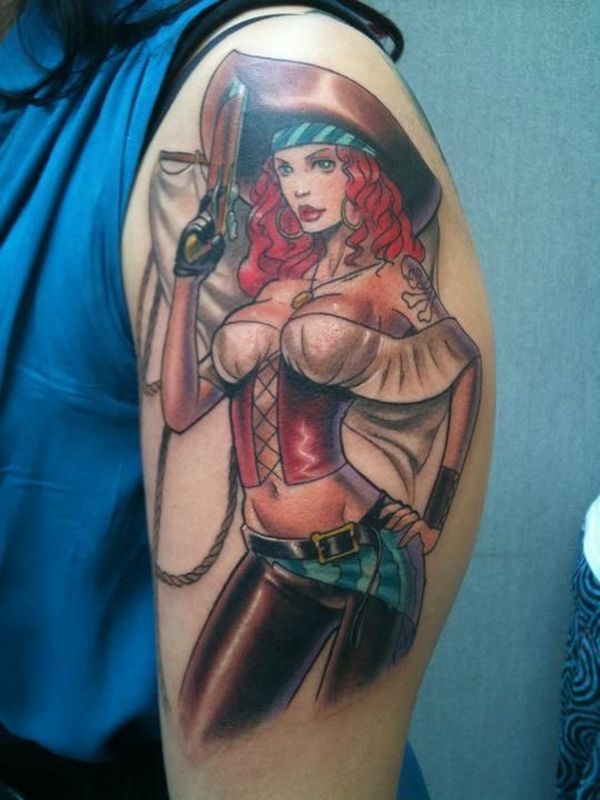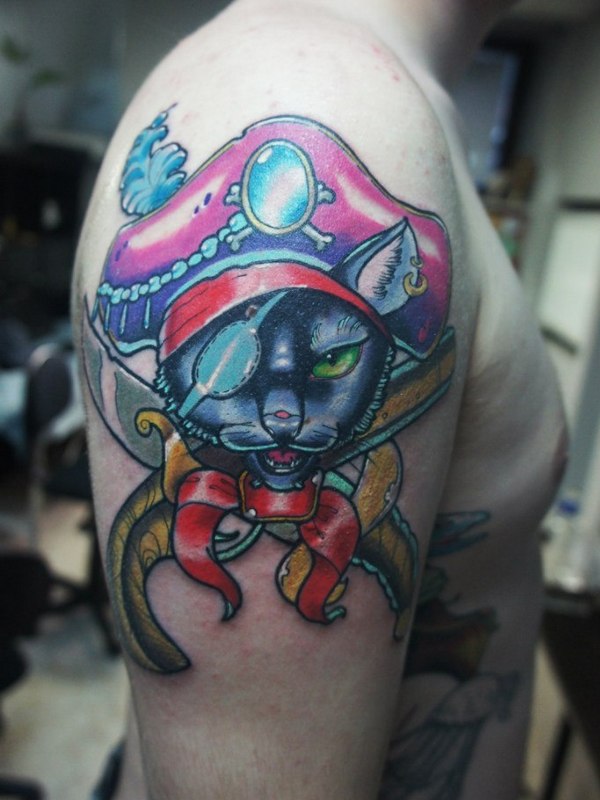 Pirate theme is also the best way to create a masterful tattoo design. The meaning behind pirate themes usually depends on the symbols and elements. Many symbols can be included in a pirate theme.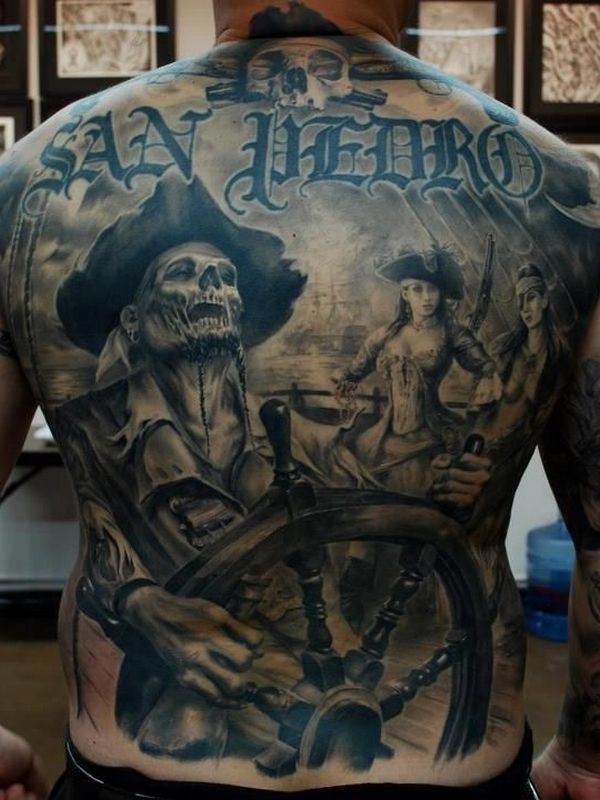 Therefore, it is very difficult to pinpoint the overall meaning of a pirate design. However, some of the general meanings that are associated with these tattoo designs are: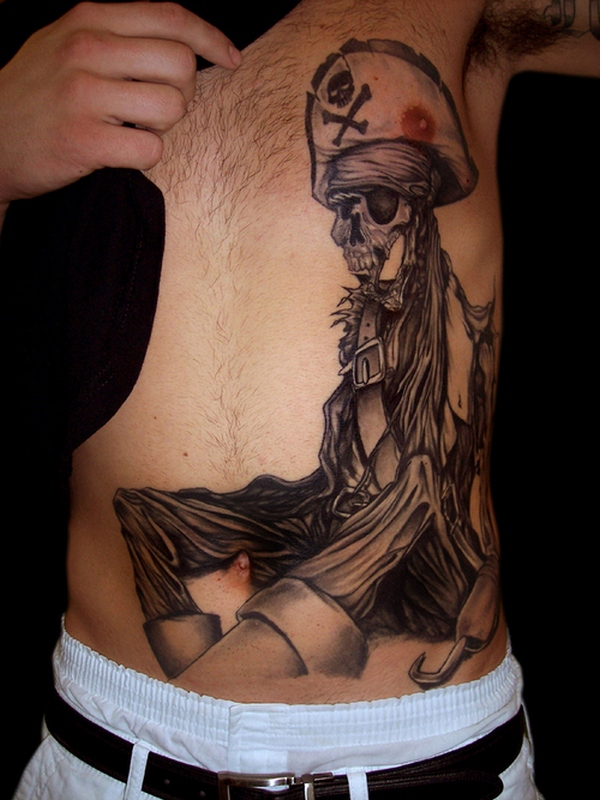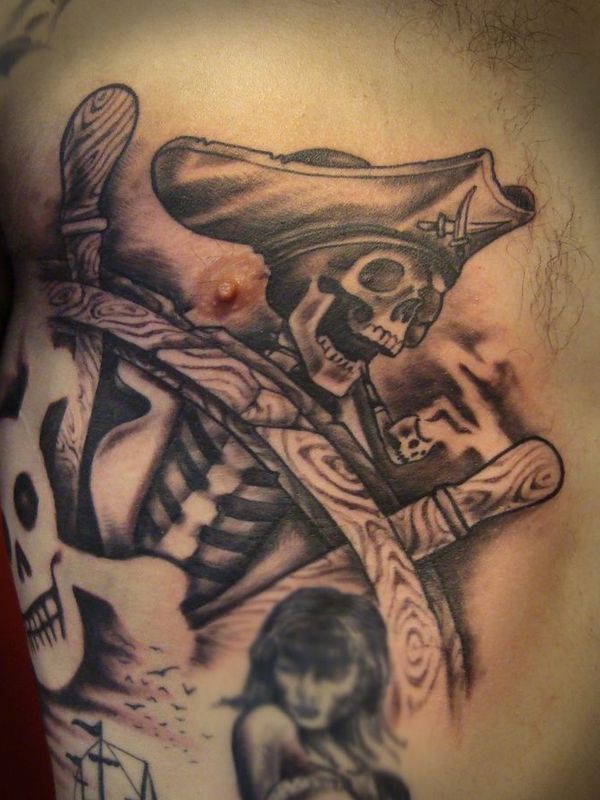 Unity
Freedom
Courage
Travel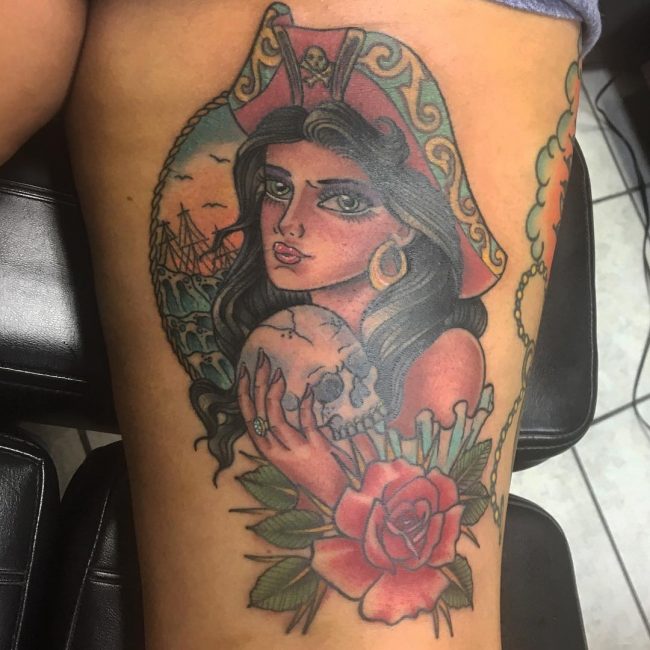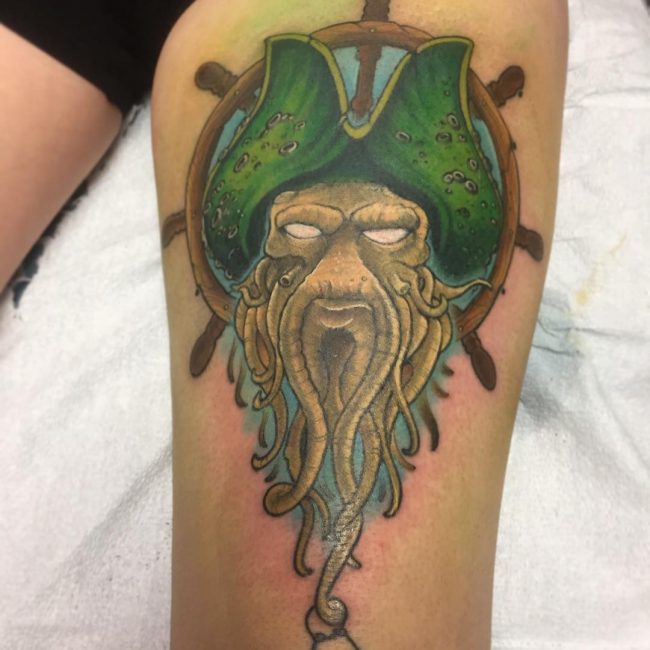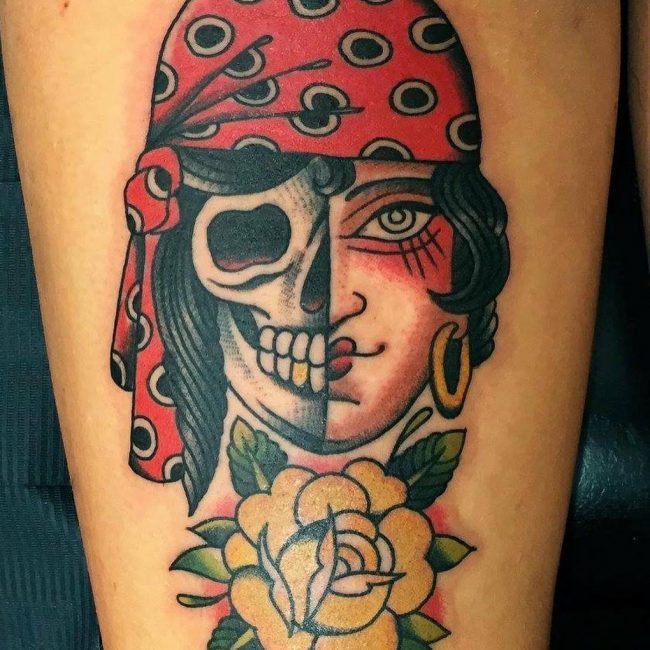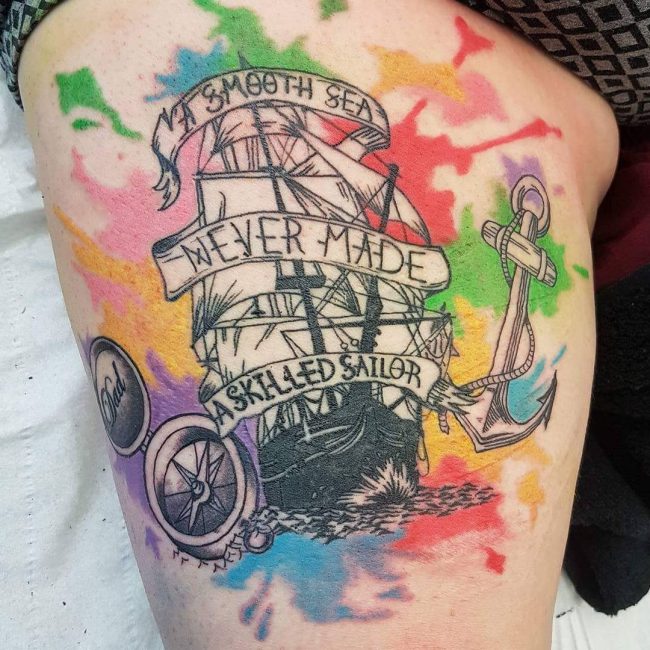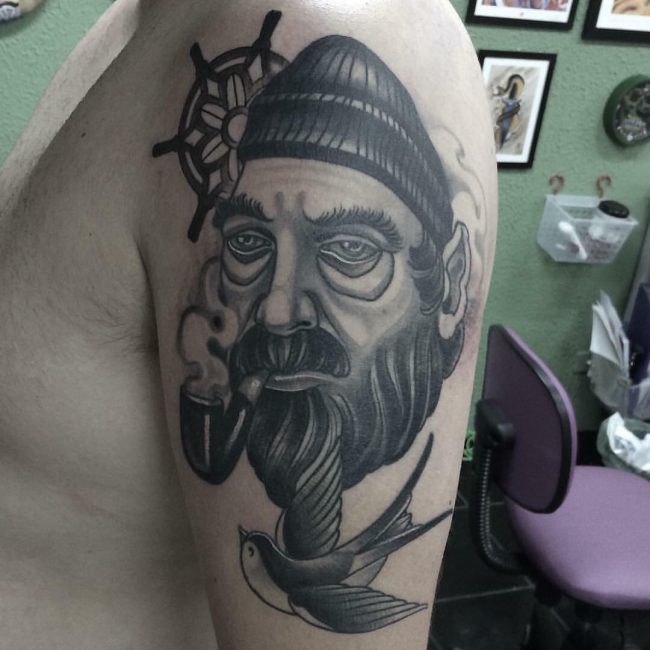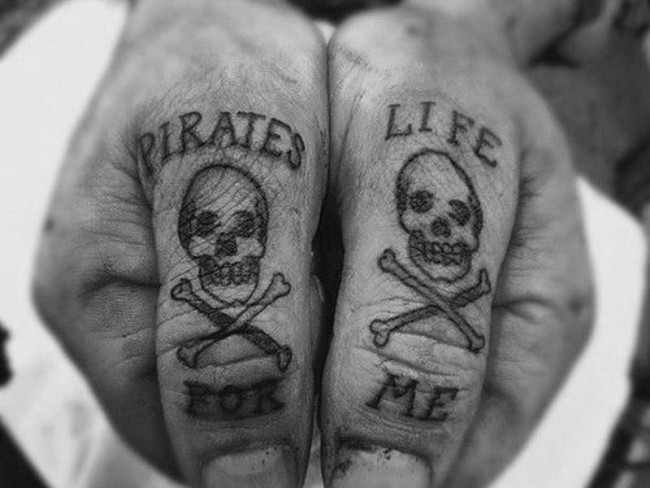 ---
back to menu ↑
Pirate Designs
As mentioned earlier, different symbols and elements are associated with a pirate theme. Skull cross bone is the most popular symbol. Pirates started using a black flag with a white cross bone hundreds of years ago and it is the trade mark of pirates.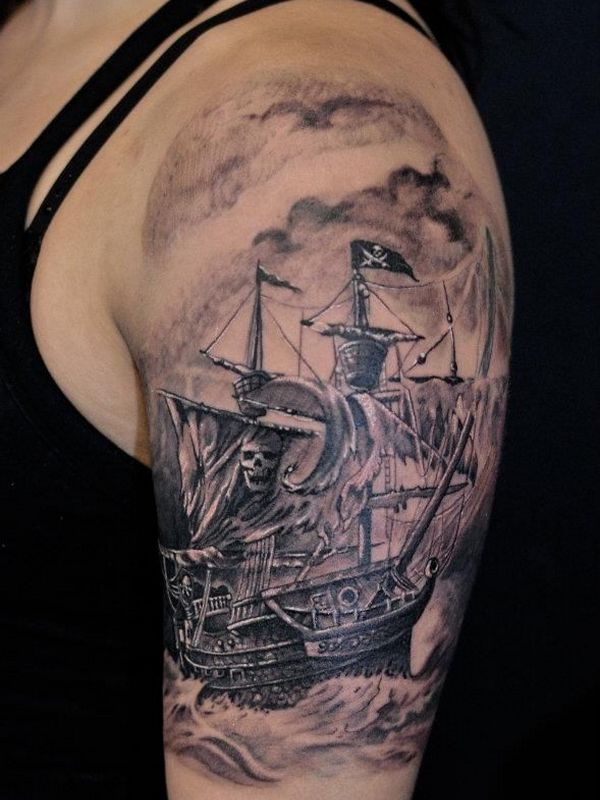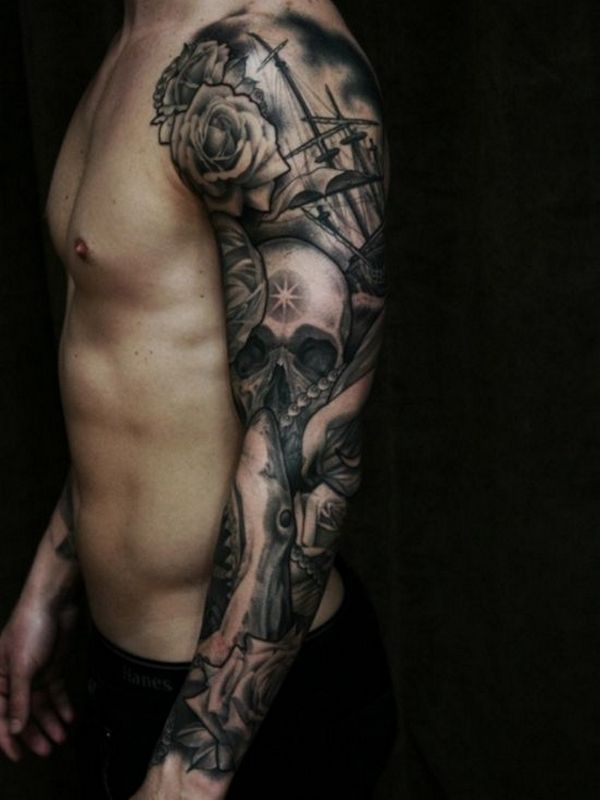 A large portion of pirate theme includes some type of skull or skeleton figure. This design can be seen in the attires of pirates such as cap, eye patch, or hat. Some of the other popular designs are: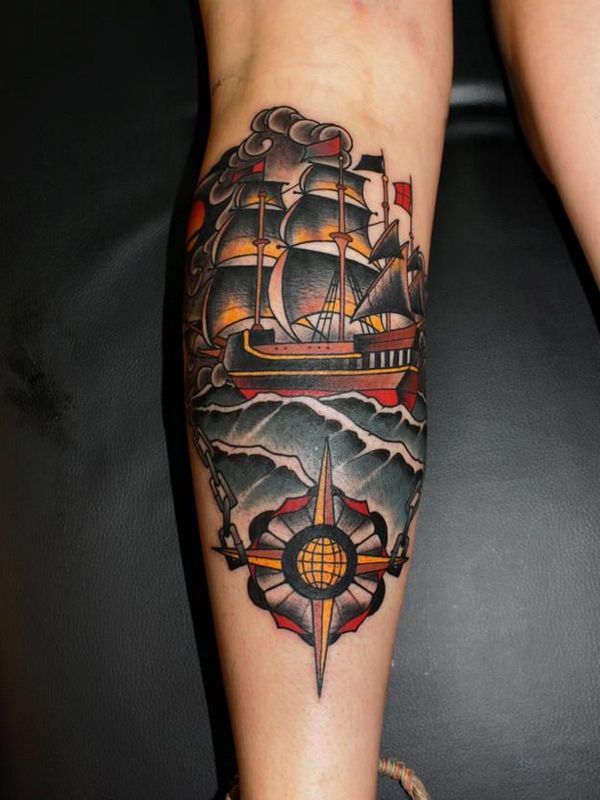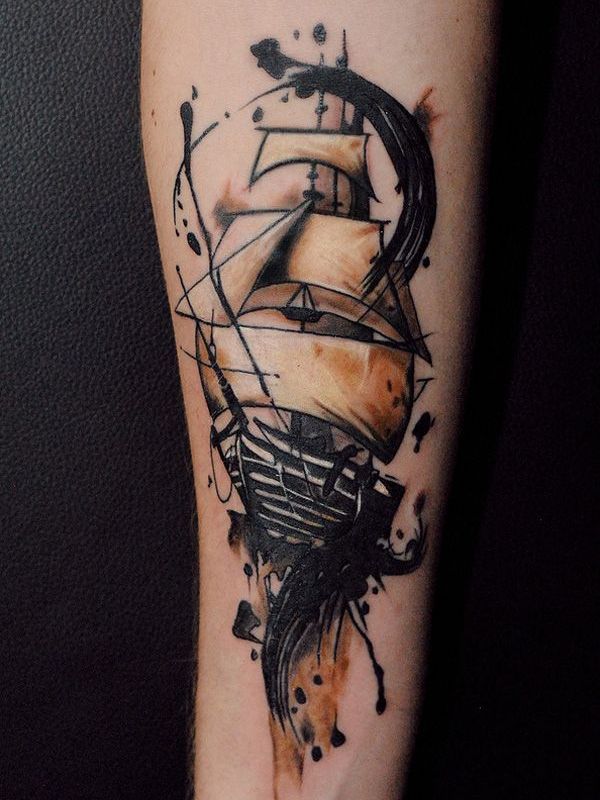 Pirate ship
Treasure maps
Pirate flags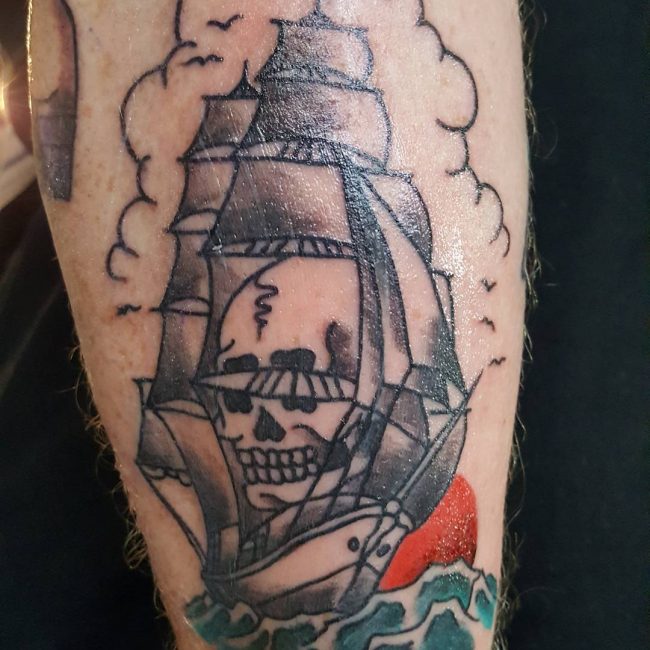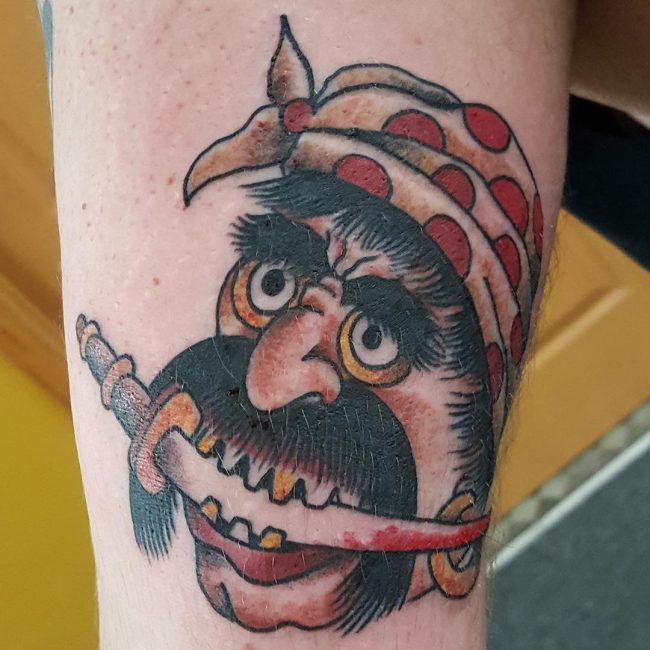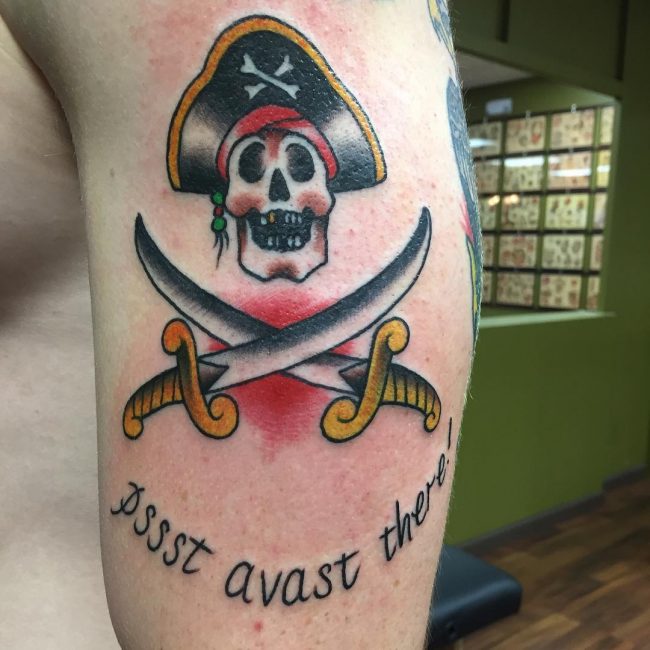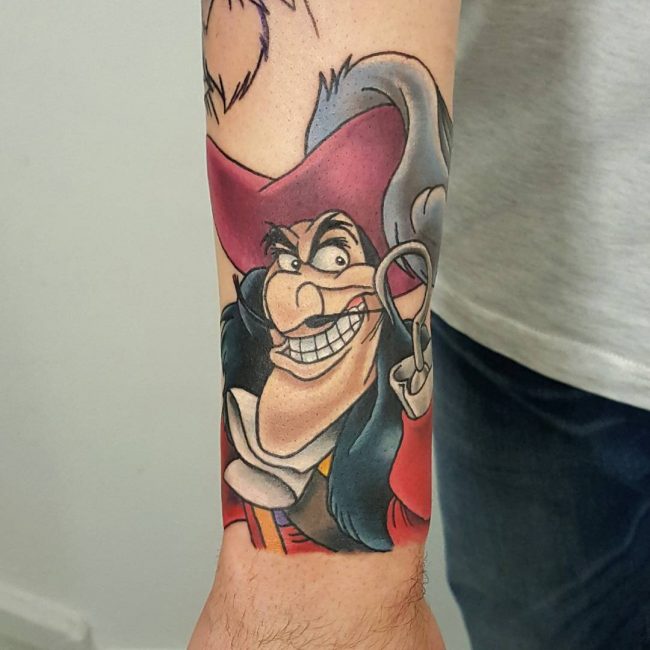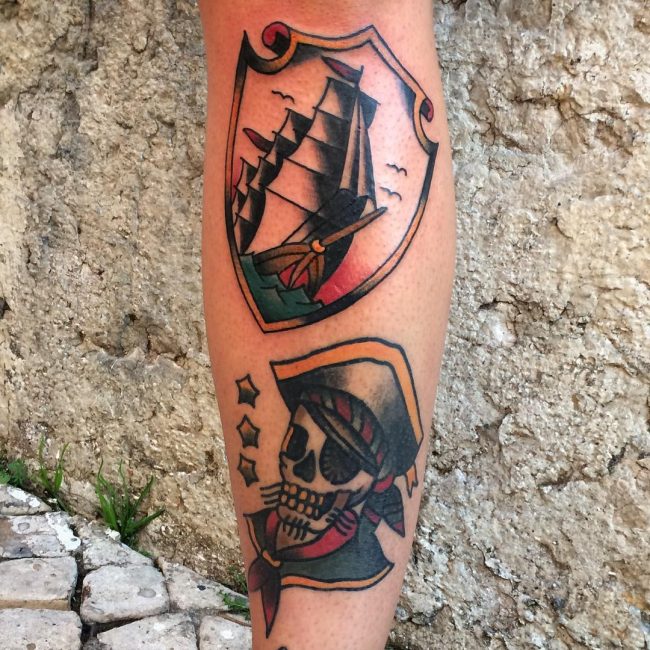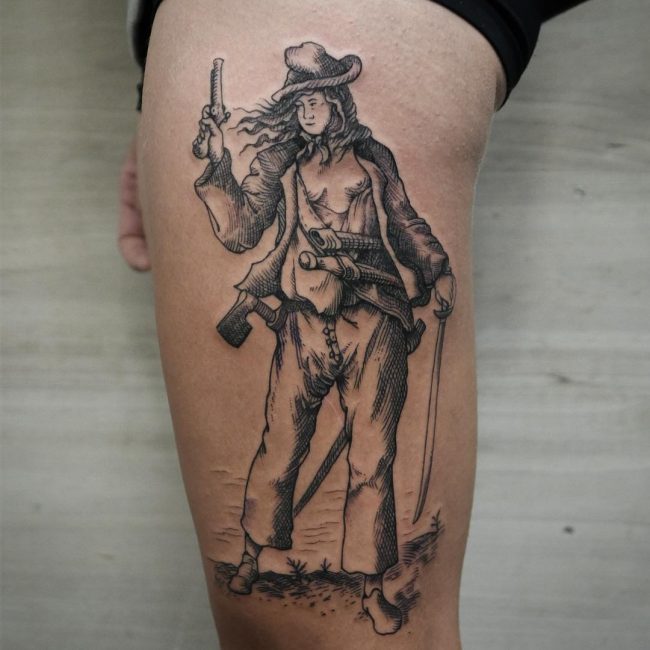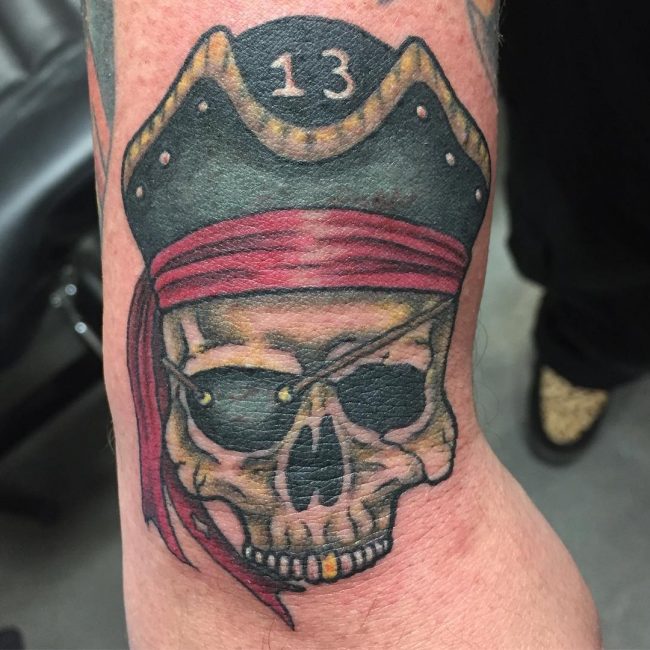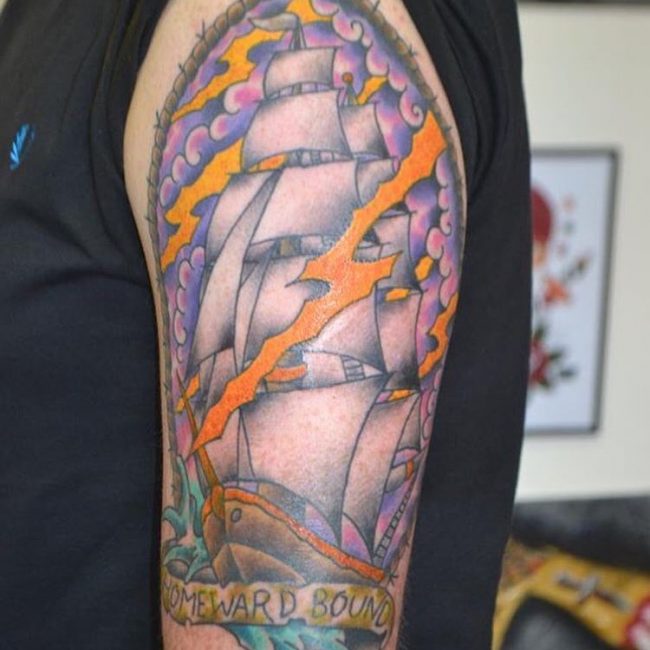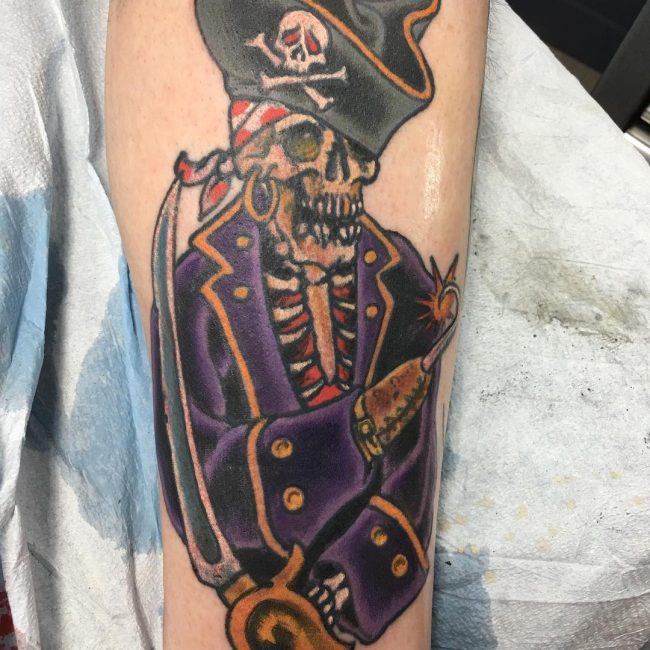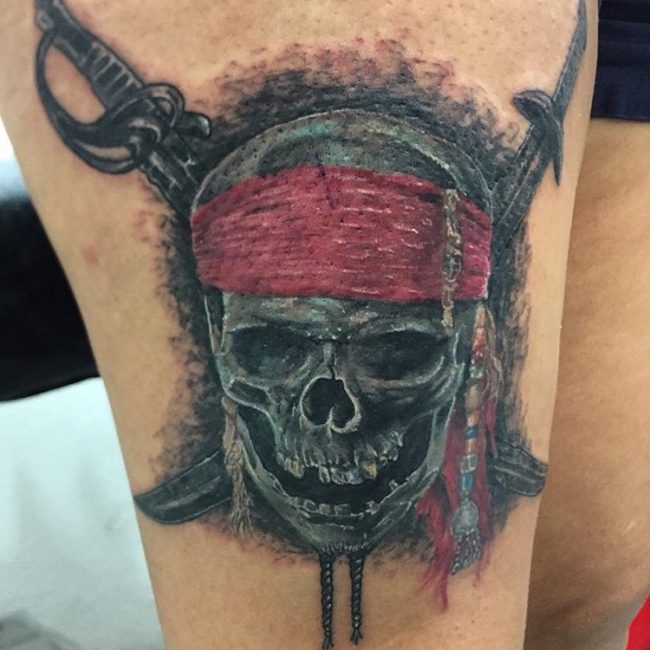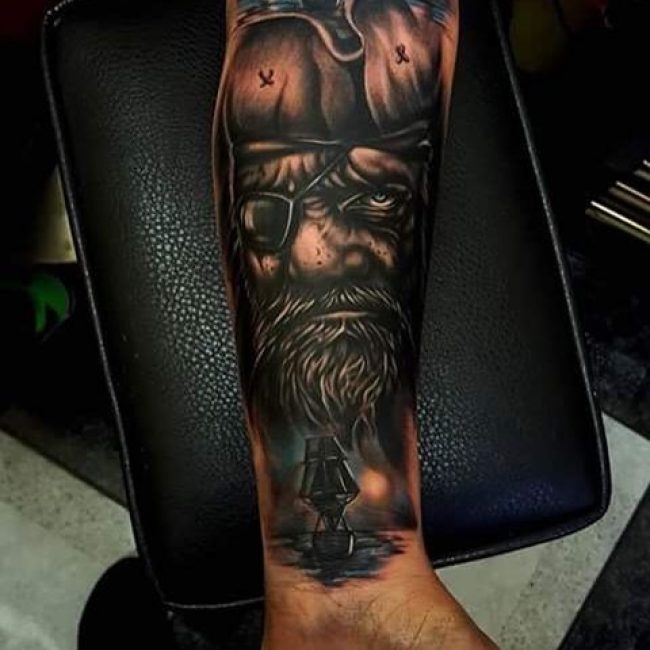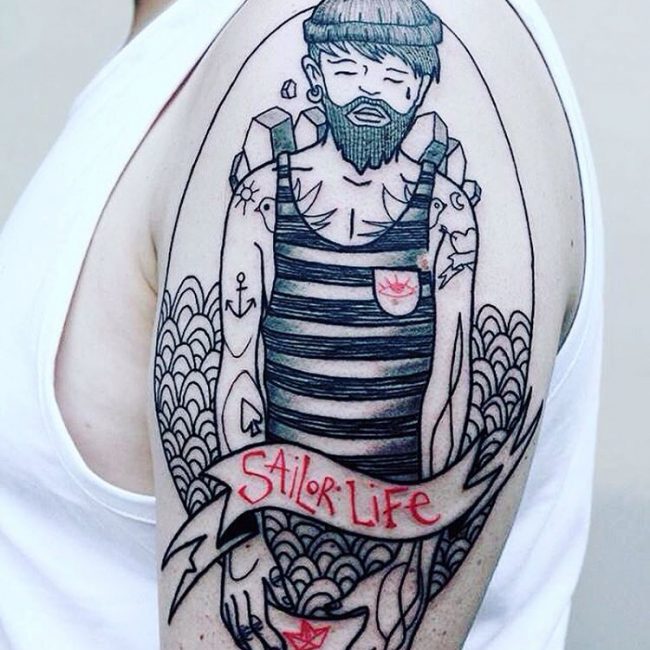 Pin-ups
Nautical star
Pig and rooster
Shell back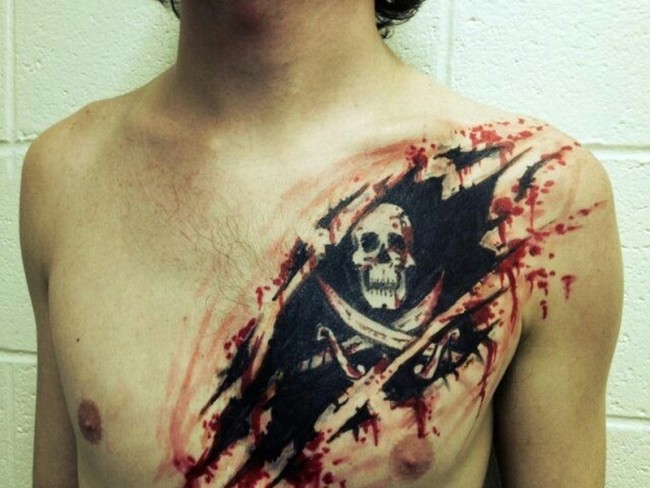 Pirate Ship Tattoos
Pirate ship is one of the most popular tattoo designs in pirate theme. Usually, the pirate ship is designed in great detail. If it can be done correctly, this one can be the most stunning piece. It can be portrayed in your full back. Artists will get plenty of room for doing the design.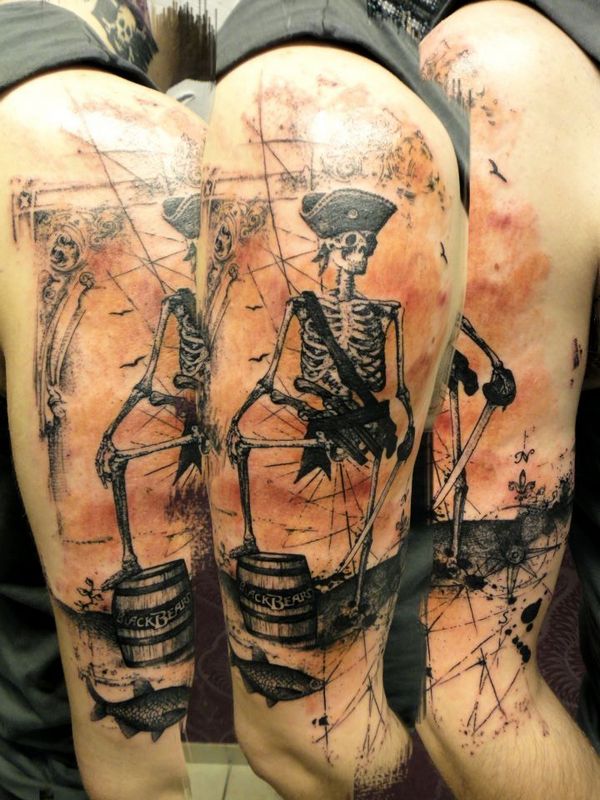 Lady Pirate
This is the other popular pirate design. This is a simple portray of a lady pirate. This theme can be designed with a cap or an eye patch. Mostly, lady pirates are designed with very little clothing. This theme may be designed to look bad to the sexy or bone.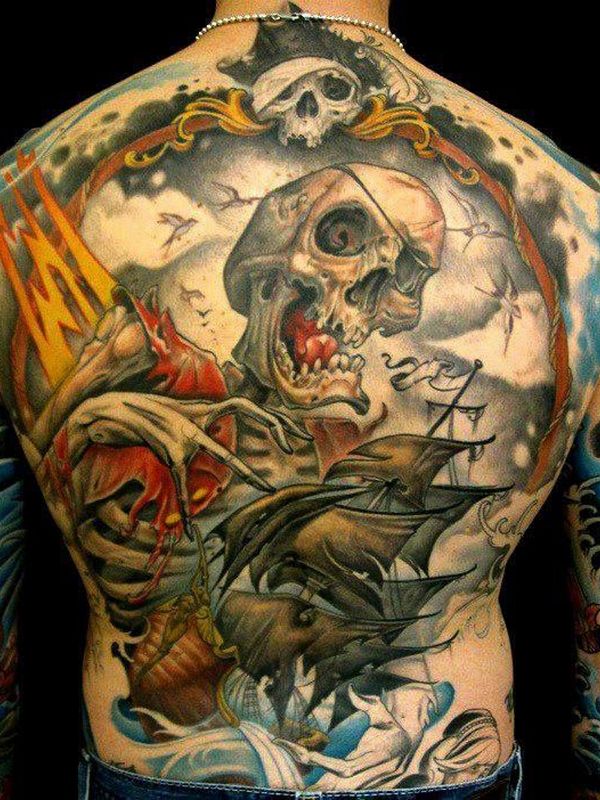 The theme swallows has two meanings, one is the sailing of a far distance and the other is associated with the idea of return. Swallow's famous migration pattern and returning home is the first symbolism of a Swallow theme.
If a sailor dies at ocean, his soul will be carried to heaven by birds, which is the second meaning of this theme.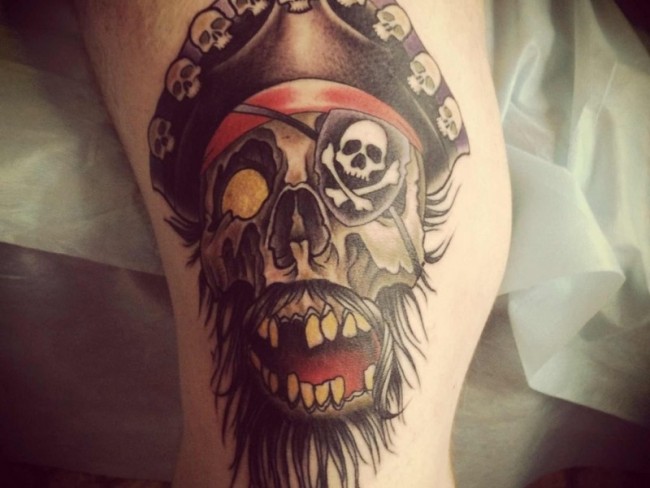 Anchors
Anchor is the most secure object in the life of a sailor when he is at sea. So, it is the perfect representation of stability. Therefore, this theme is often emblazoned with the name of a sailor's lover or mother.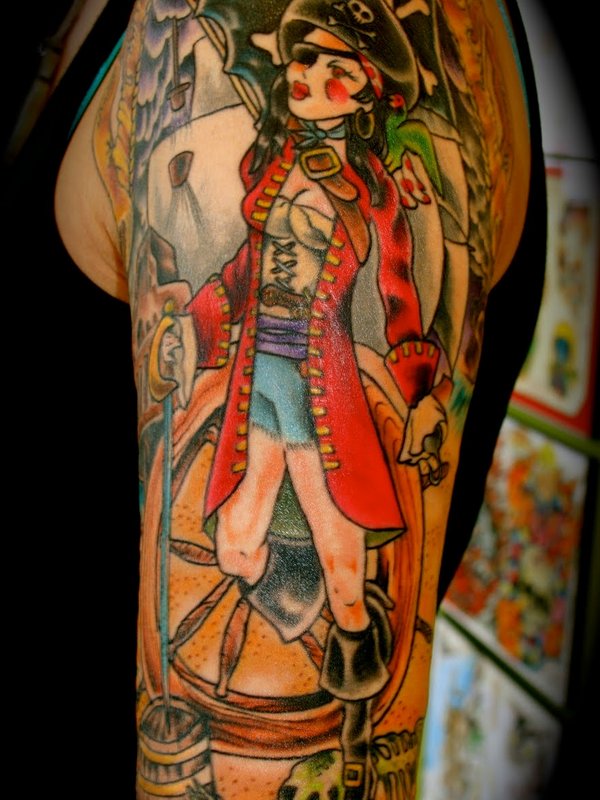 Anchor is a popular tattoo design in the general tattoo culture. However, the symbolism of anchor is still the same. This design reminds you the things that keep you steady.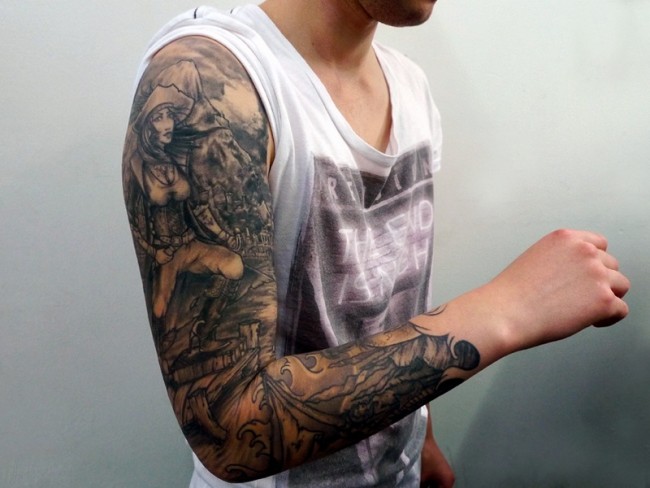 Compass Rose Tattoos
Sailors never set to sea without compass. The combination of these two tattoo designs is great in rustic map motif. Compass symbolizes direction, so it works well with your life theme as well.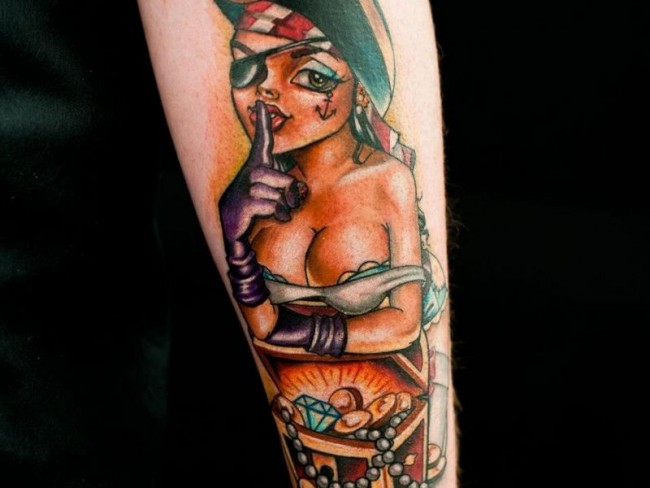 Bluebird Tattoos
Sparrows, bluebirds and the like are used by sailors often to symbolize how many miles they have covered on the open sea. While tattooing, you can add smaller sparrows tagging along the ship or perching on the crow's nest, which helps to enhance your design.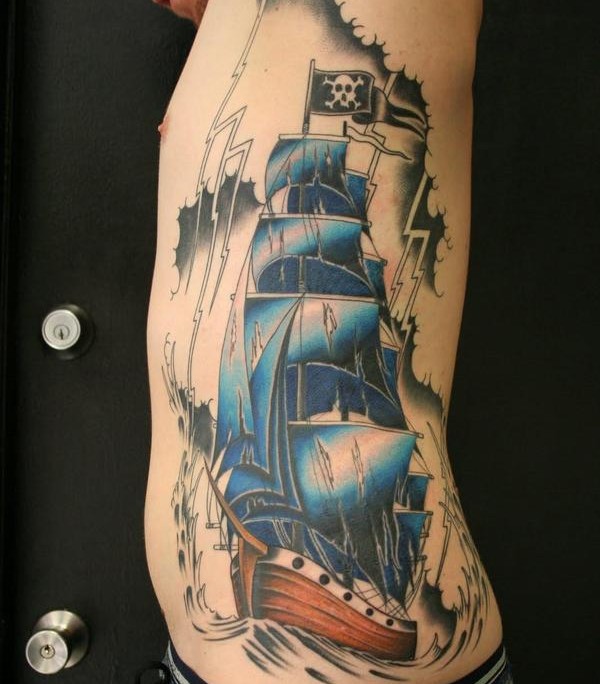 Treasure Maps
These are 'X' marks, which are used to find riches on a treasure map. Treasure maps are associated with pirates and their stolen wealth.
Pirate Flags
The universal symbol of pirates is cross bones and skulls of Jolly Roger flag. Flying flags tells the way pirates waged psychological warfare on their victims.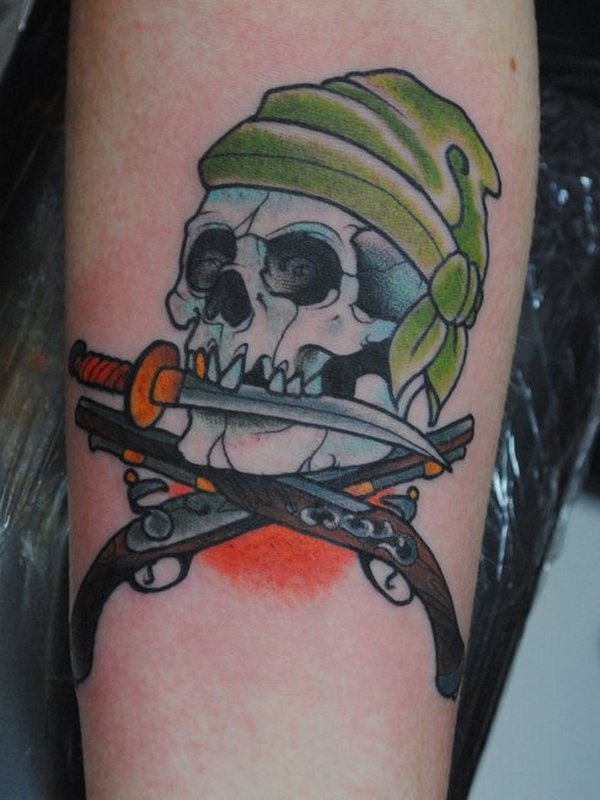 Nautical Star Tattoos
They represent different meanings for sailors. However, one of the most popular themes is the North Star, which is the brightest star in the sky. Sailors used this star to navigate the waters.  Pirate characters can also be created from novels or movies.
The modern day pirates often like to ink Jack Sparrow on their body. This character is played by Johnny Depp. You can find lots of characters in the movie series, Pirates of the Caribbean.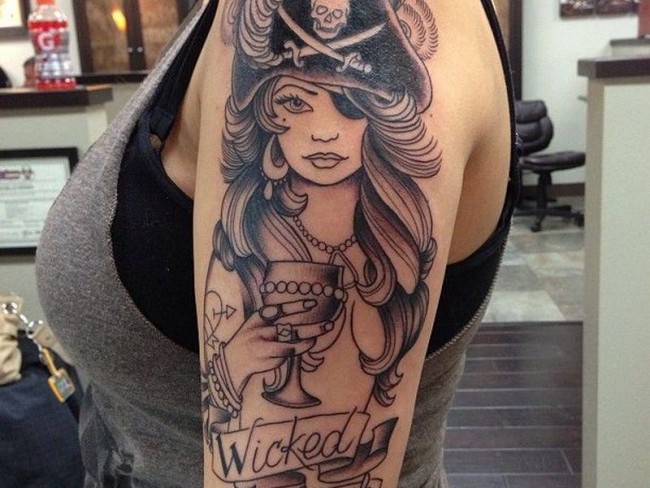 ---
back to menu ↑
Placements
Once you decided your favorite theme, the next important thing is where it should go. You can place a treasure map on your heart. You can place flags beautifully on your shoulders or upper arms. Tall ship tattoos need lots of details in the sails and rigging.
Therefore, designing them in larger pieces is attractive. Therefore, it can be designed on your full chest or back murals. If you are willing to design it a bit simpler, it can be designed on your shoulder or leg.
You must think about a few things when you consider to get a pirate or any tattoo design. You should take lots of time to do a thorough research. You should gather all the information regarding a design and what it really represents and stands for.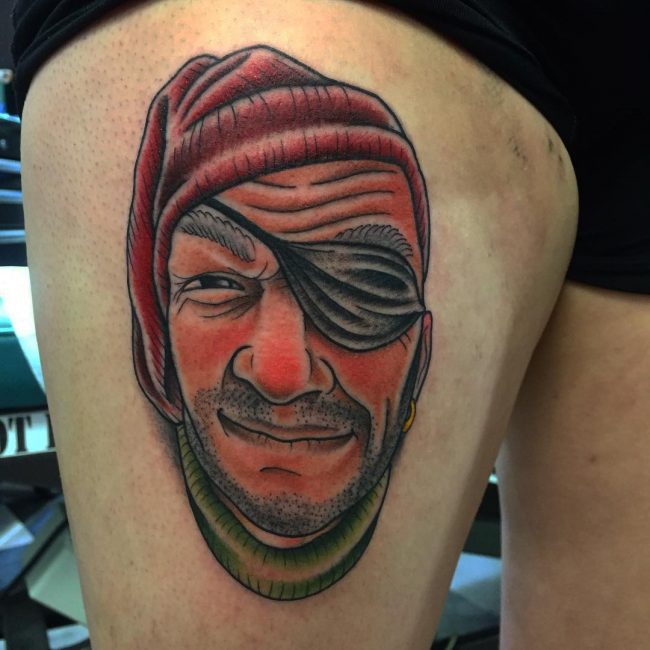 Once you made a tattoo, it will be with you in the remaining life. You must take the right choice while designing your body. Pirate tattoos are really great because it can provide you versatile designs. Ultimate pirate theme tattoos can be designed in number of ways.
All those designs are associated with symbols and elements. Just observe and think carefully, then proceed with the best one.