105+ Powerful Military Tattoos Designs & Meanings – Be Loyal (2020)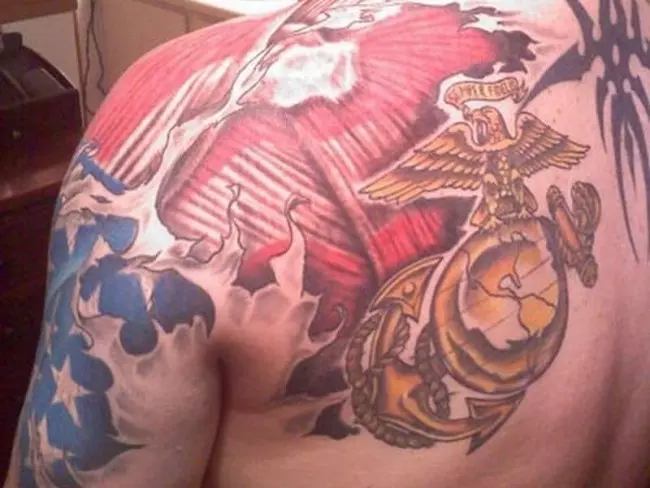 Besides from the uniform, body structure, and other general traits one of the other ways that you can identify a soldier is through the tattoos on their body. Although not all of them have tattoos, many soldiers have one or a few on their bodies.
These tattoos are more commonly referred to as Military tattoos.
Contents: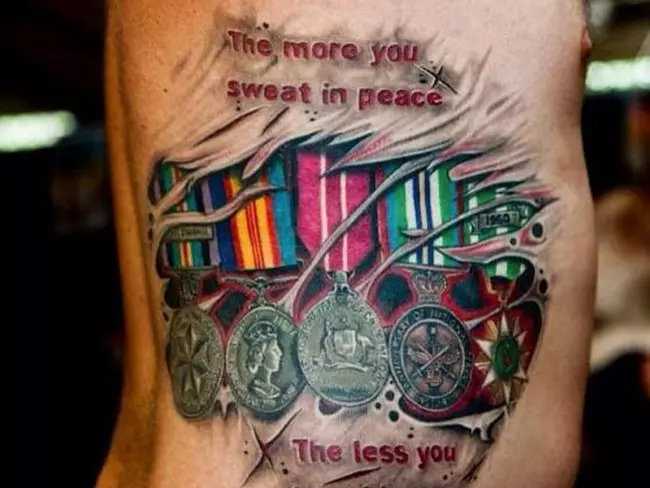 Although nobody knows exactly when these symbols came into being, historical evidence shows that they are as old as the idea of the military itself and warfare.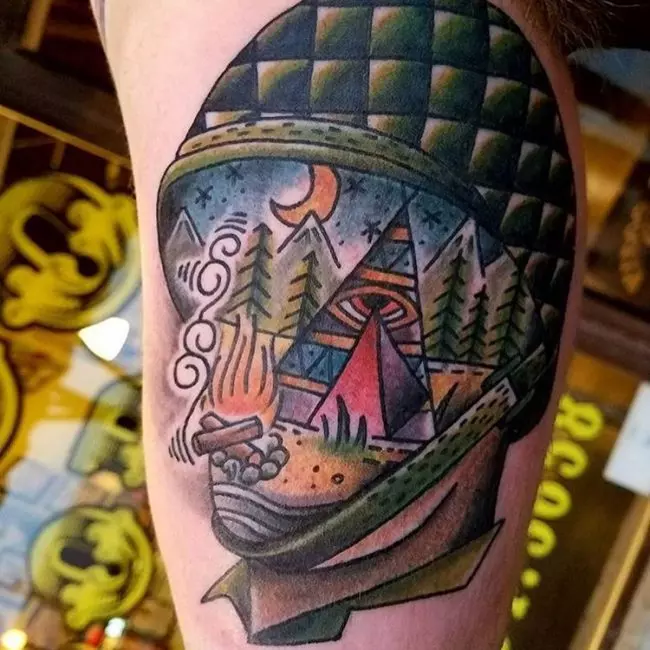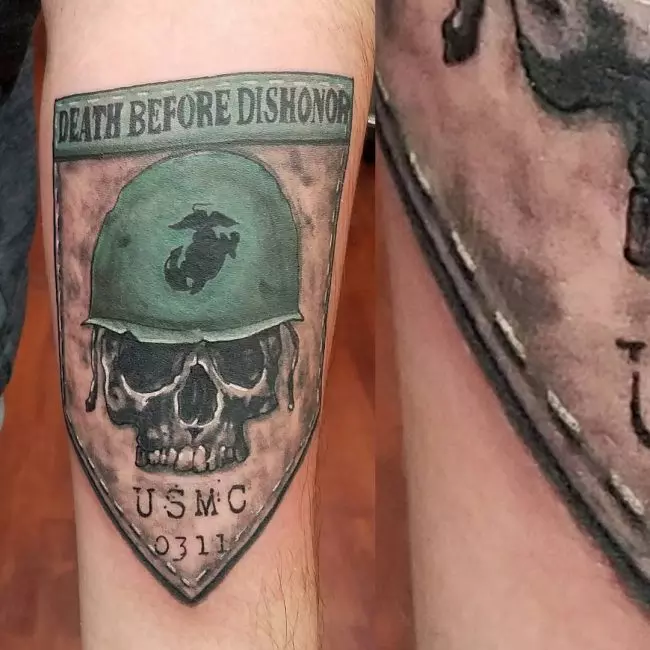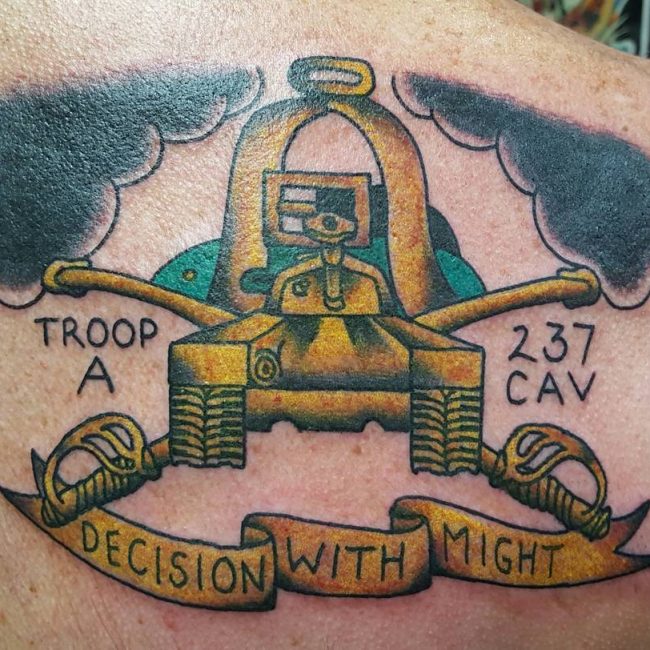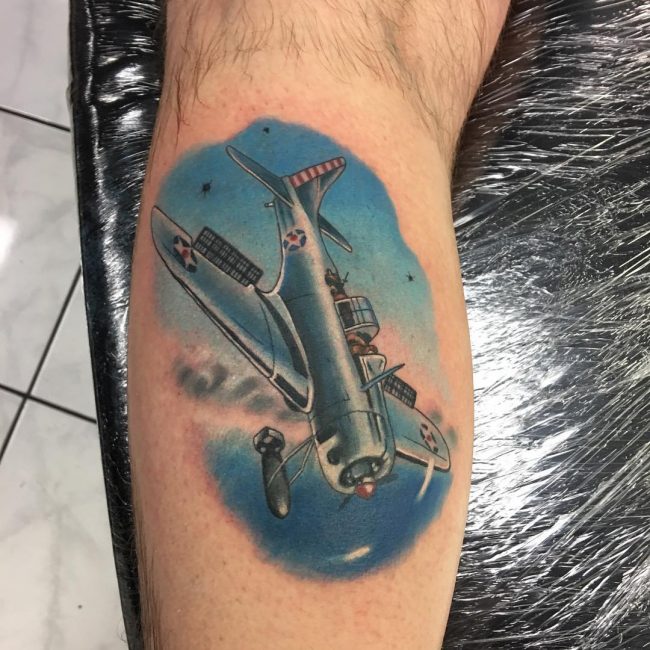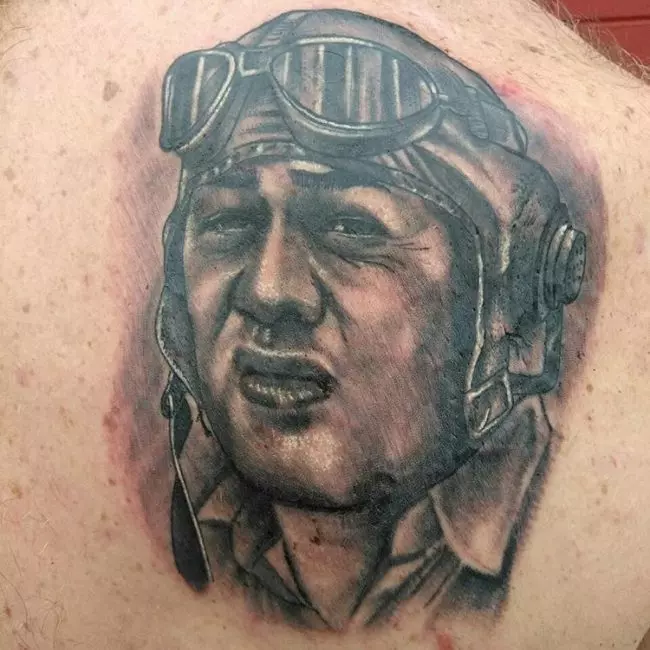 However, in those early days they did not have any significant meaning but were mandatory for every soldier so that they could be identified easily. This has since changed, and it is not mandatory for a soldier to have one, but most soldiers still prefer having them.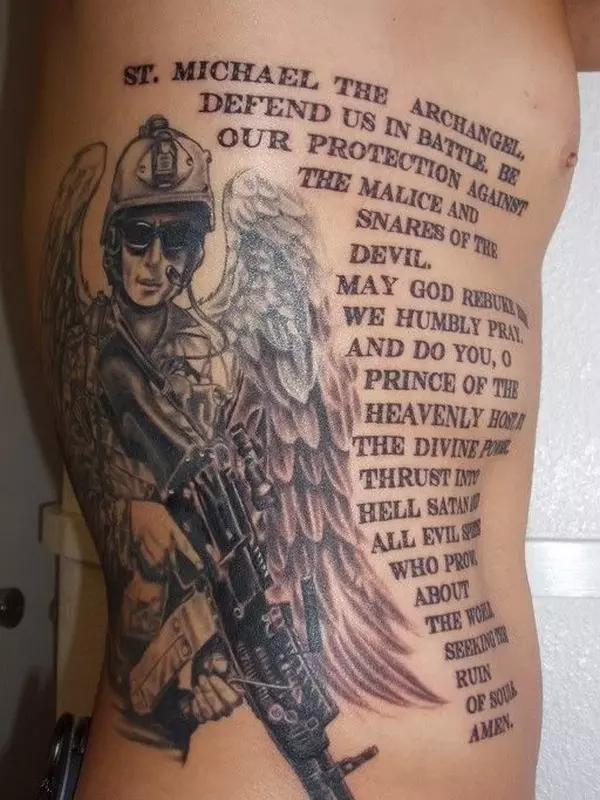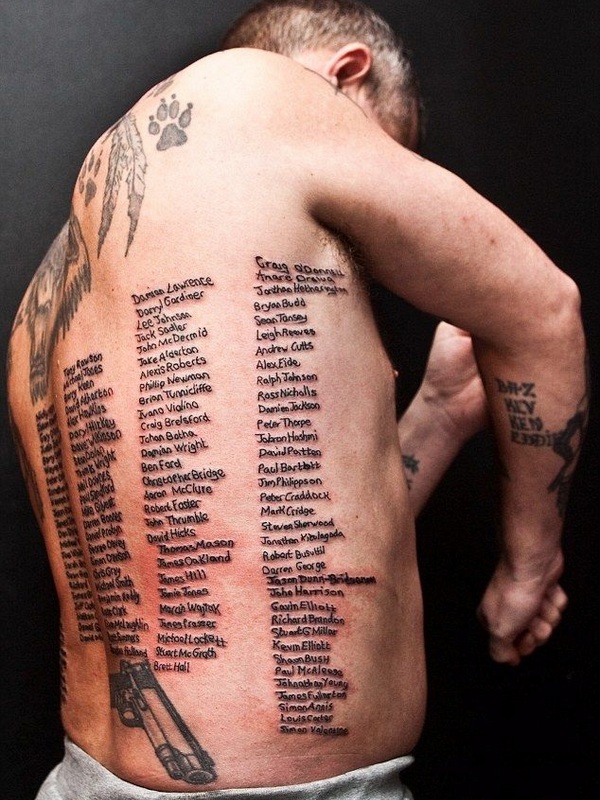 What do these tattoos mean?
Just like any other tattoo the meaning of these tattoos depends on the person who has it, why they have it and sometimes on the part of the body that they have it. However, the most common meaning of this symbols is an accomplishment.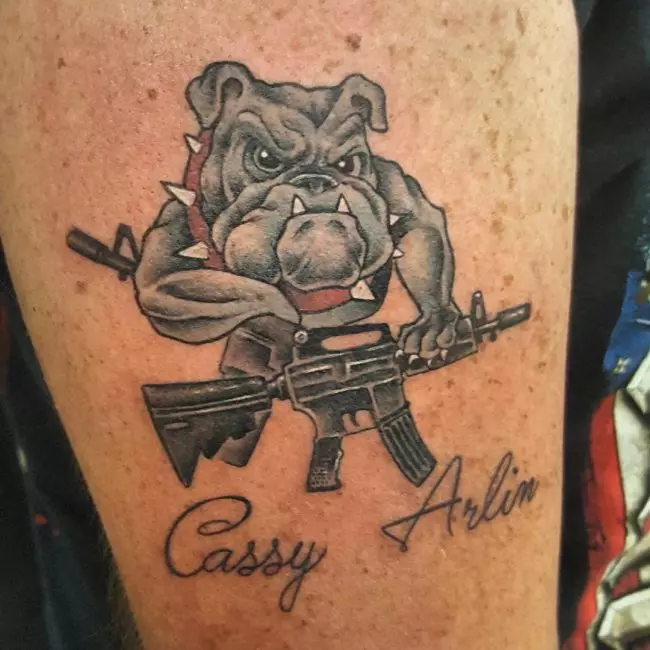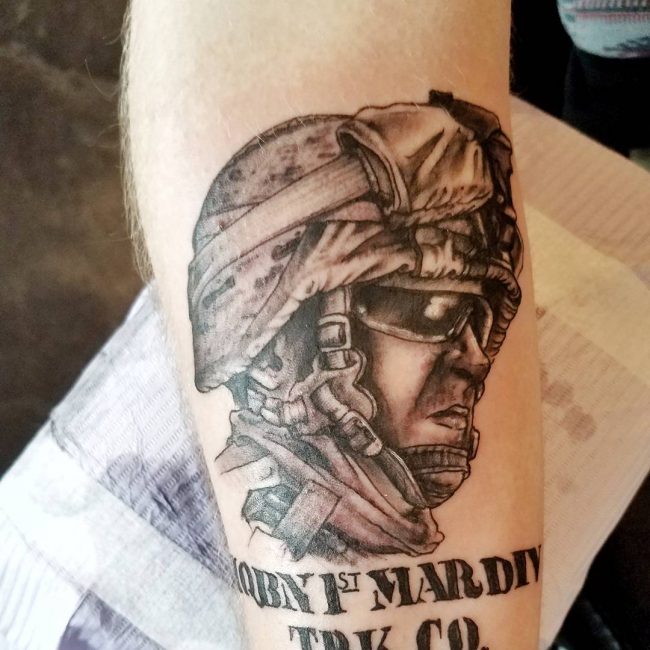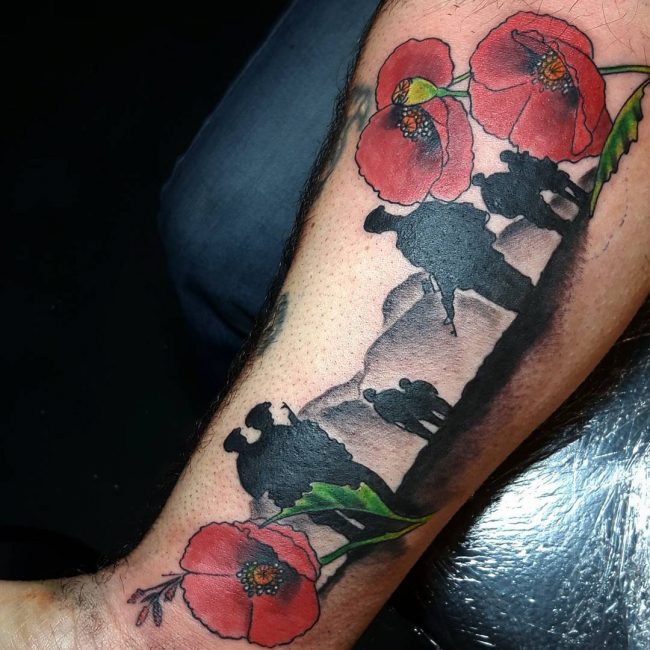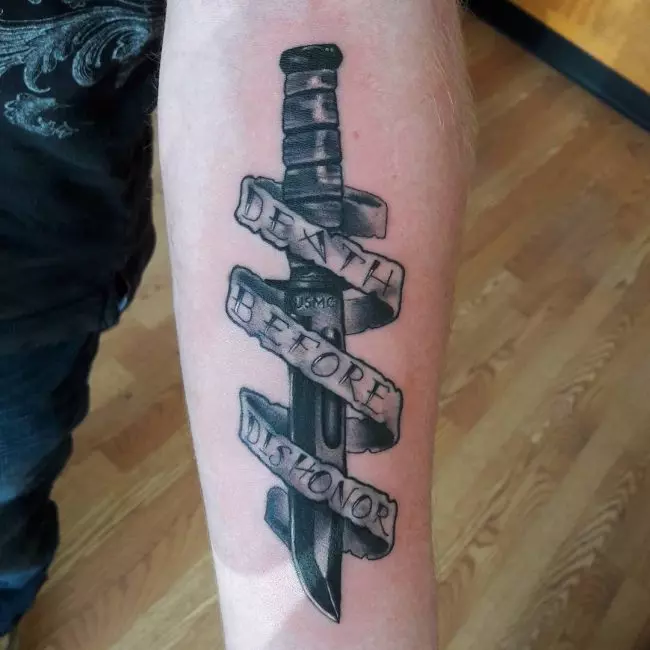 Having survived the hard training and qualified to serve in the military soldiers get these tattoos as a sign of their accomplishments. In other words, it is a sign that you are a soldier, or you were once one.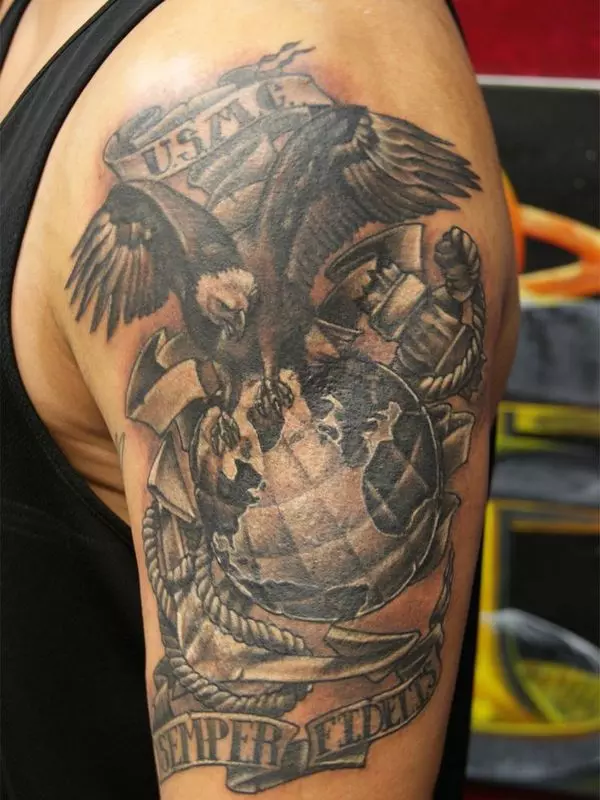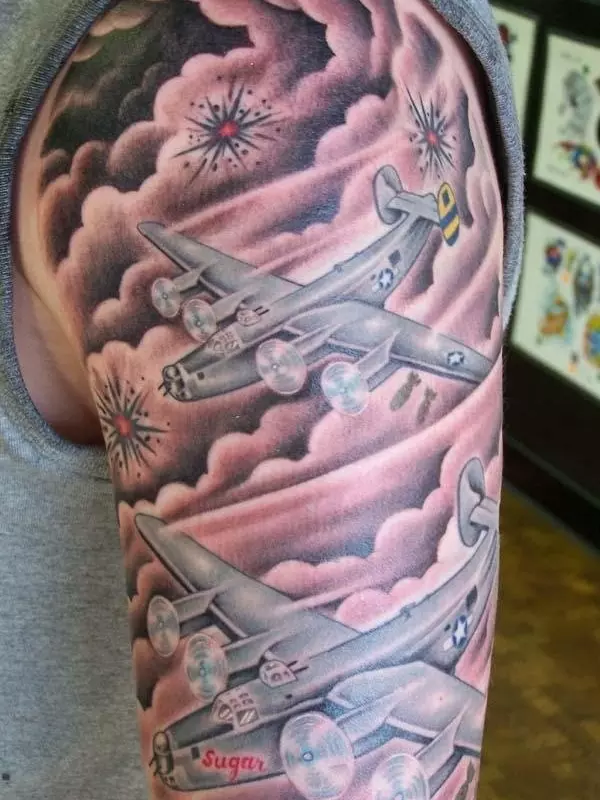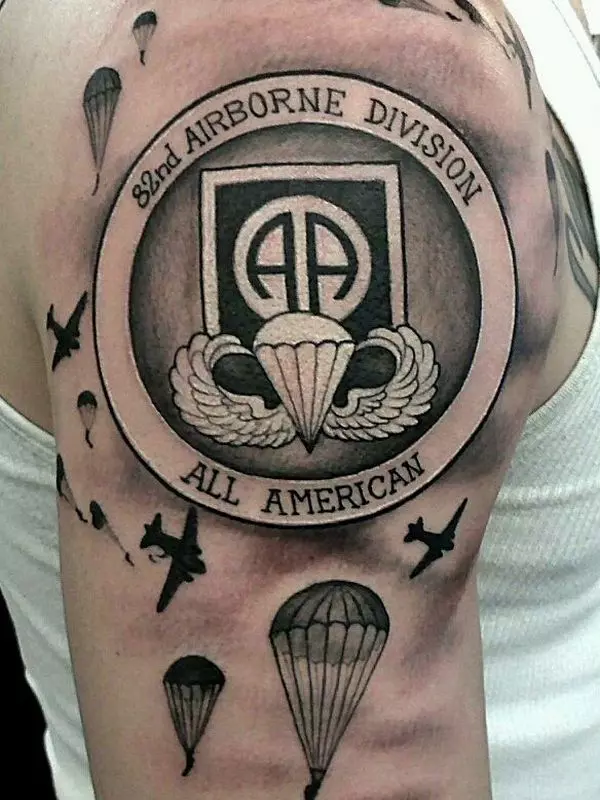 Another common meaning is remembrance of the friends lost in battle. When serving in the military it is normal to develop close relationships with your members of your unit and as it is the nature of any war not everyone always makes it home.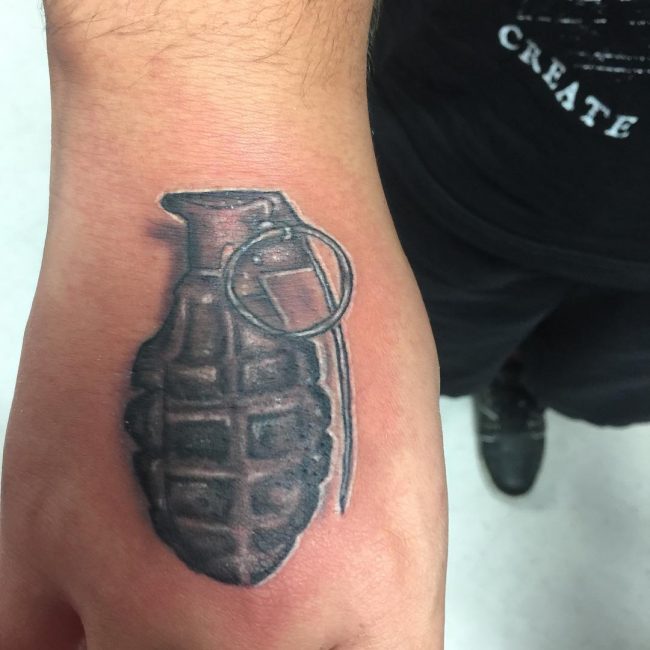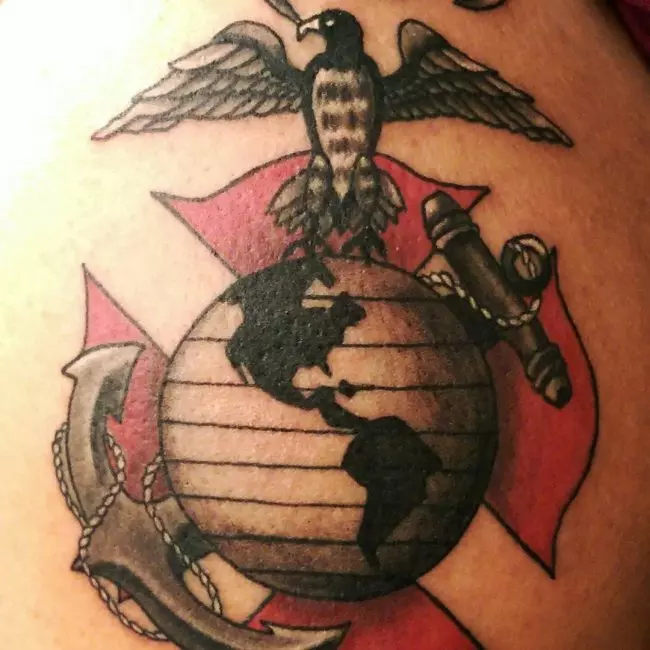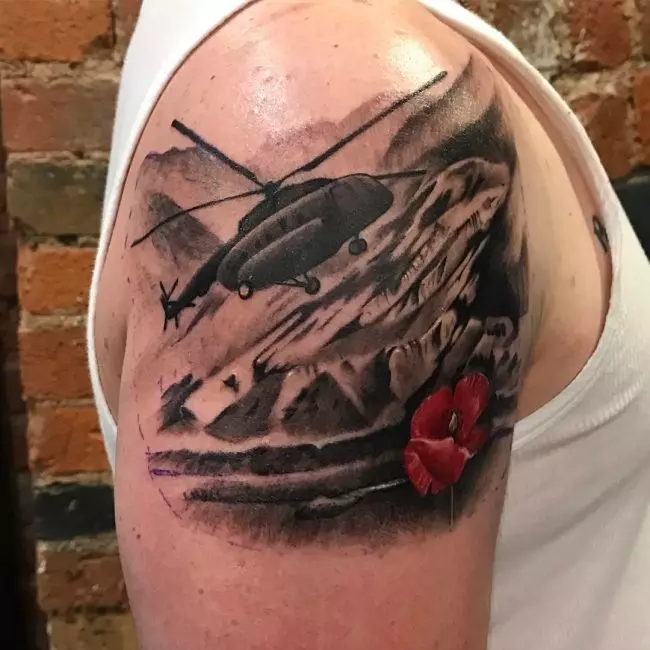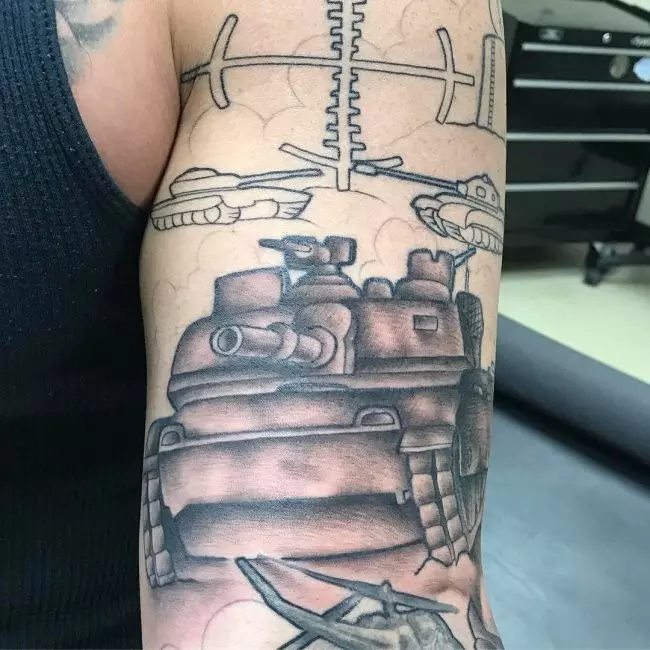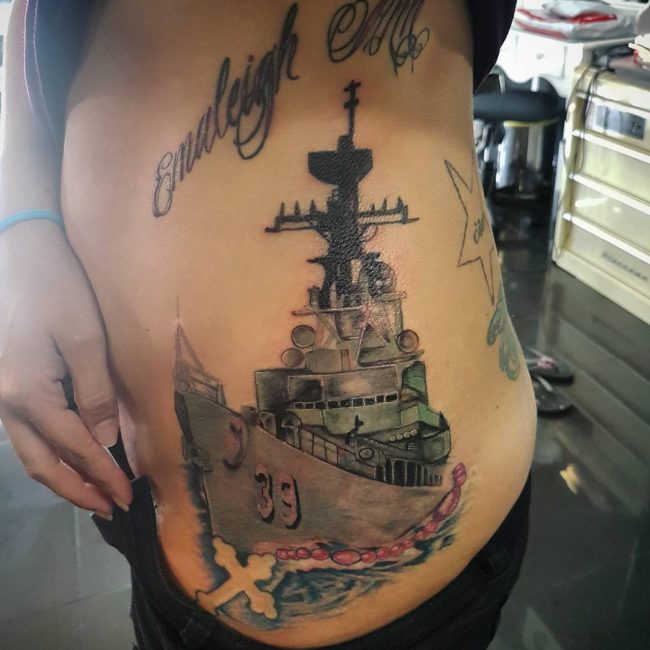 To honor the friends lost in battle soldier get this tattoos as it forever reminds them of the friends that did not make it out alive.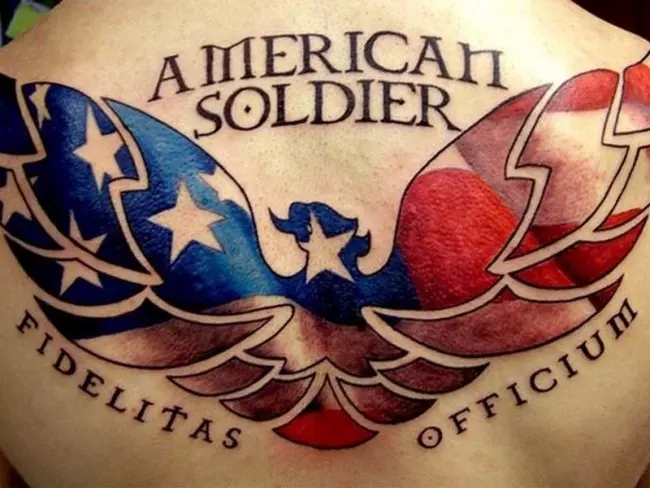 They are also sometimes used to identify rankings within the military. If a soldier is promoted to a higher rank, then they are more likely to get a military tattoo that is associated with that rank.
In other cultures, some centuries ago promotion to a higher rank in the military was indicated by being given a specific type of tattoo. Although this has since changed some soldiers still keep this tradition.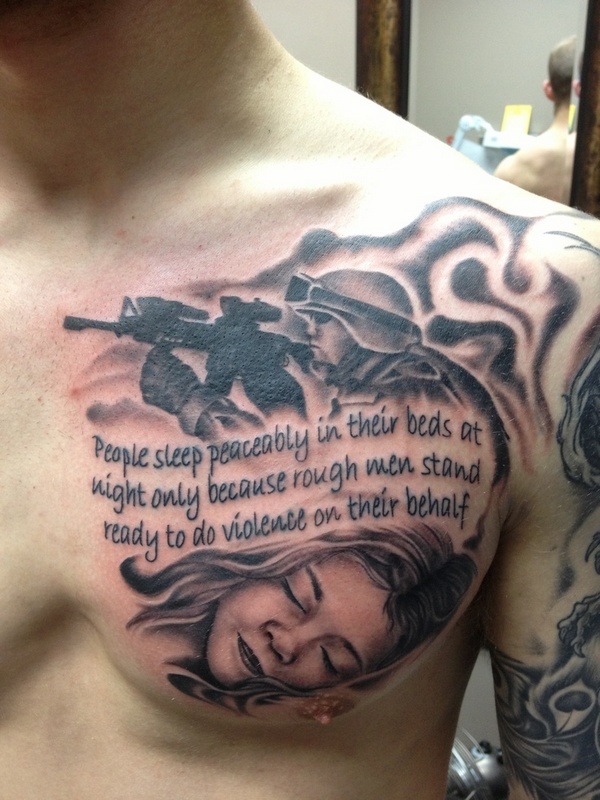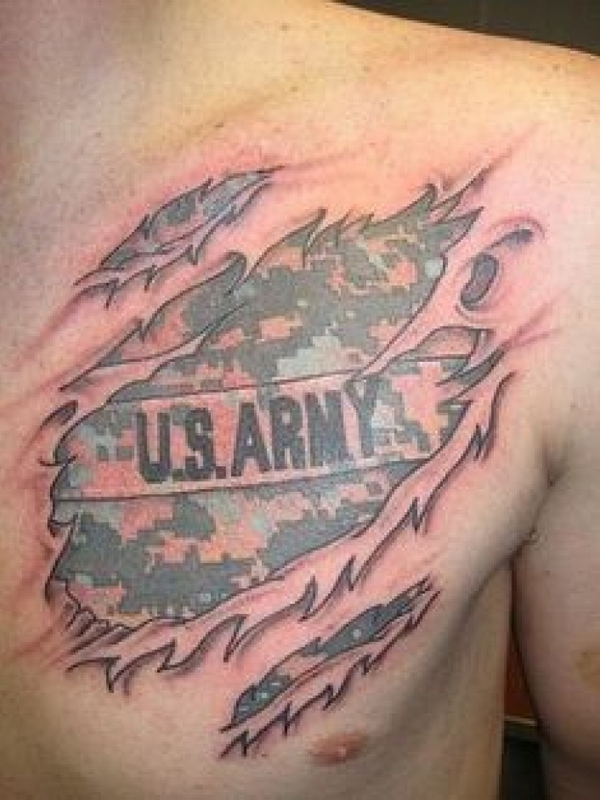 These tattoos are also a sign of love and loyalty to one's country. There are few other professions if at all any that value loyalty to one's country than the military. To always remind themselves of why they are soldiers and to get inspiration from what they are fighting for soldiers get inked.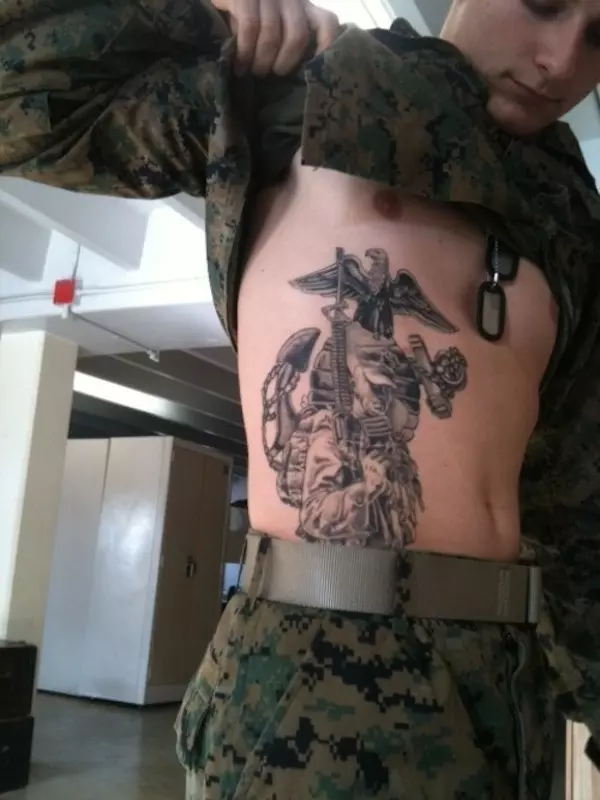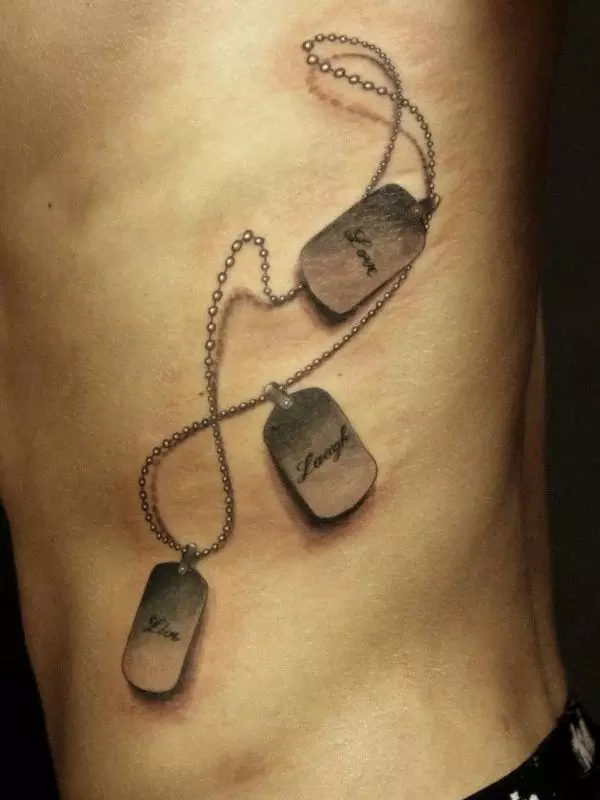 Nowadays these tattoos are not limited to the military as people who have never served in the military are also getting them. However, the reason for getting their tattoos is different from that of soldiers.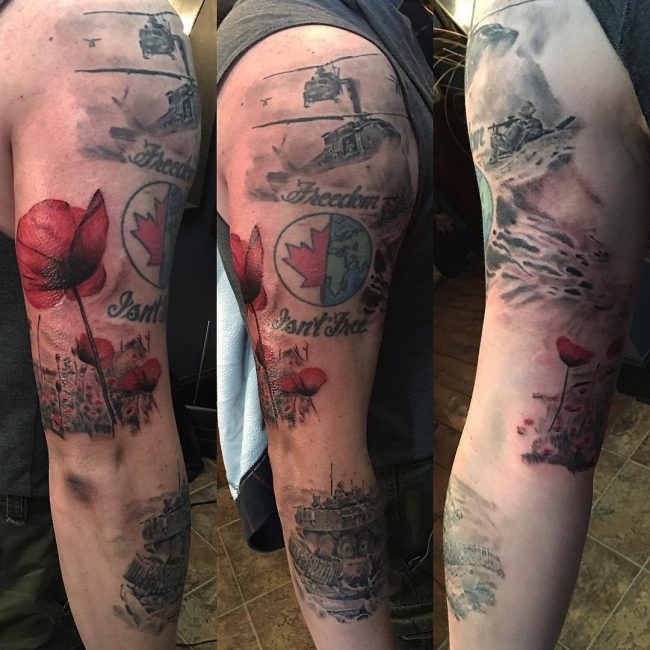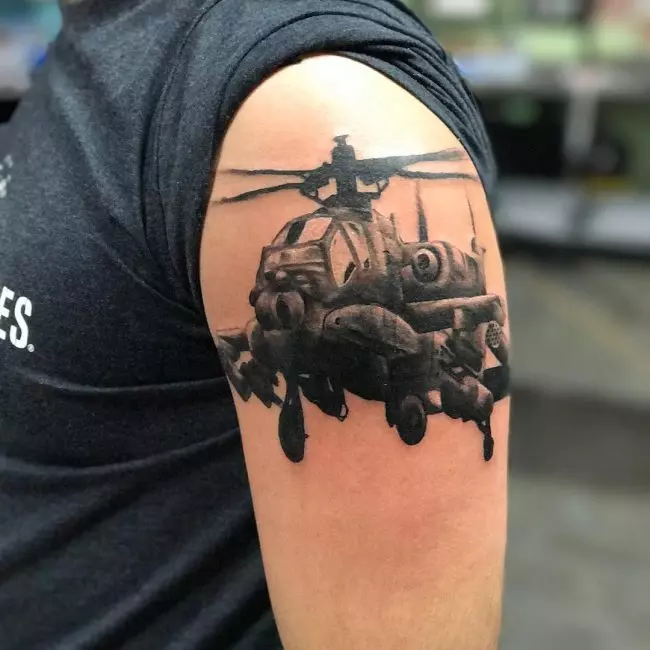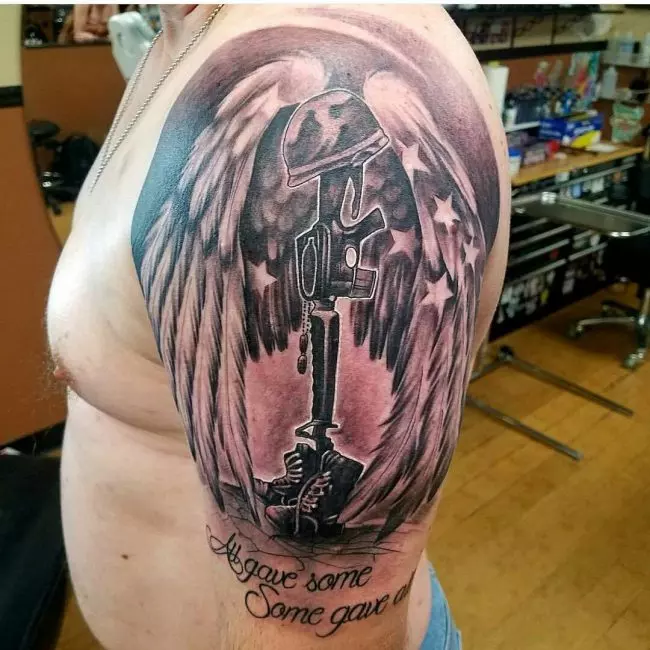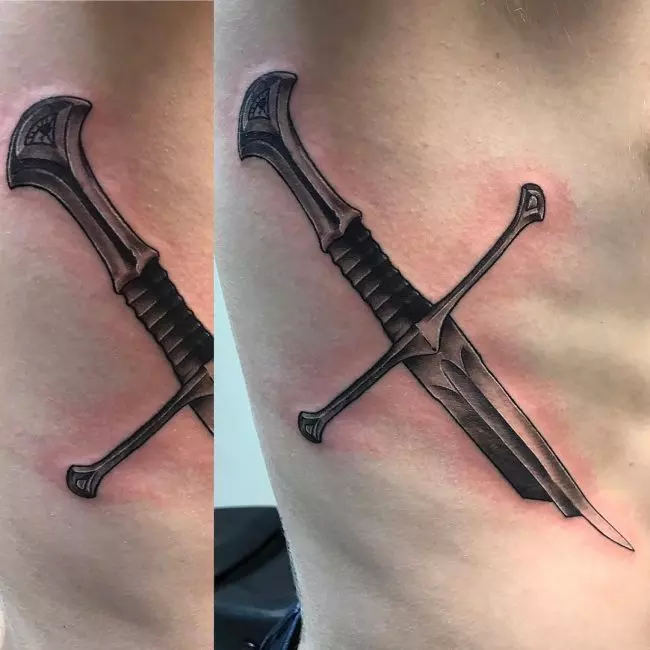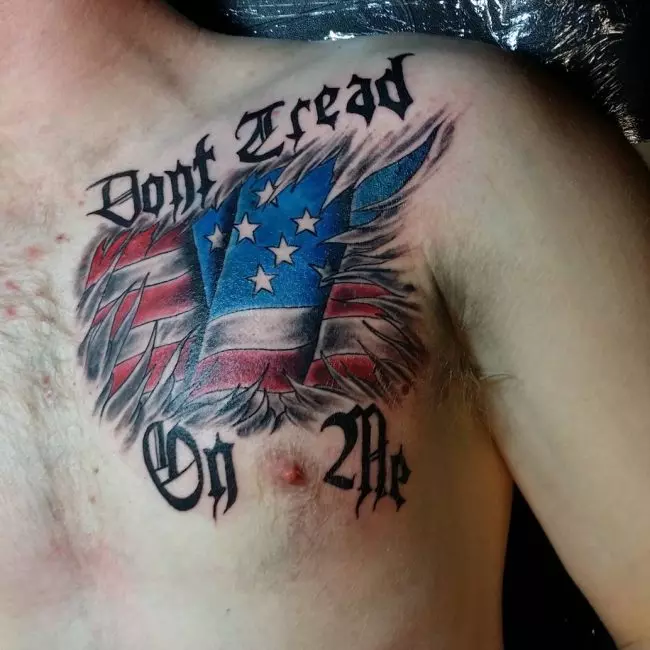 Some people simply get these tattoos because they think that they look cool or want to be treated with the respect accorded to soldiers and veterans. For others, these tattoos are a sign of patriotism and support for the military especially during times of war.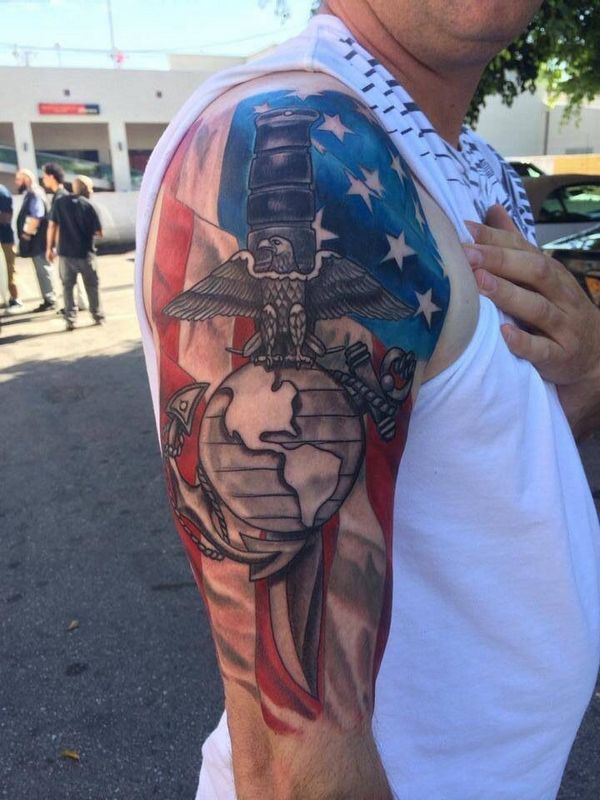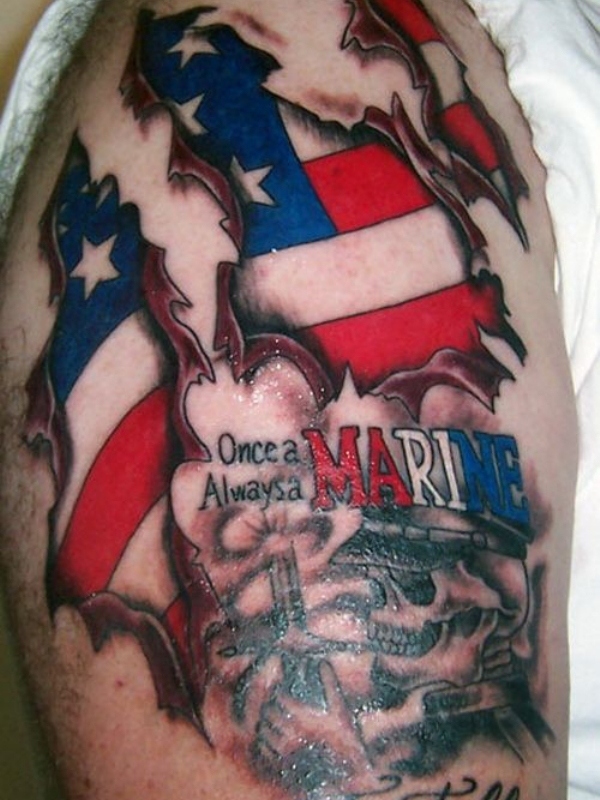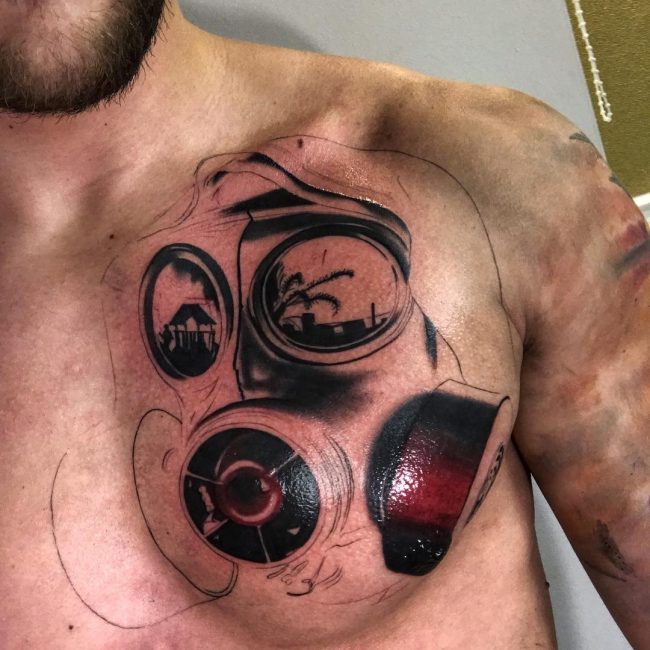 ---
back to menu ↑
Types of military tattoos
The modern military tattoos can be traced back to the American Civil War where both the Confederate and Union soldiers had tattoos symbolizing which side they were loyal to.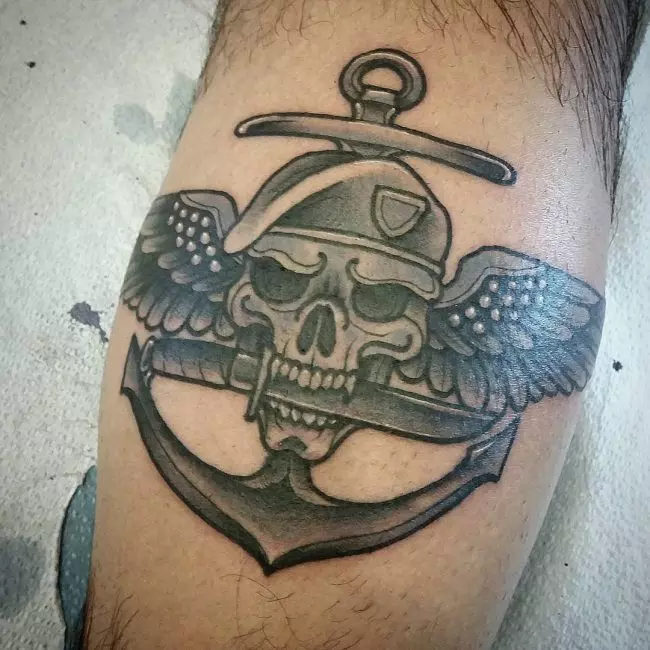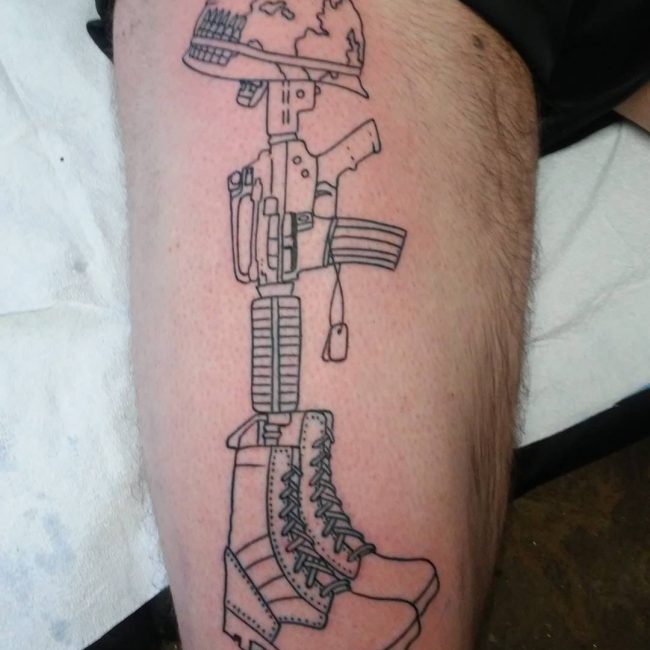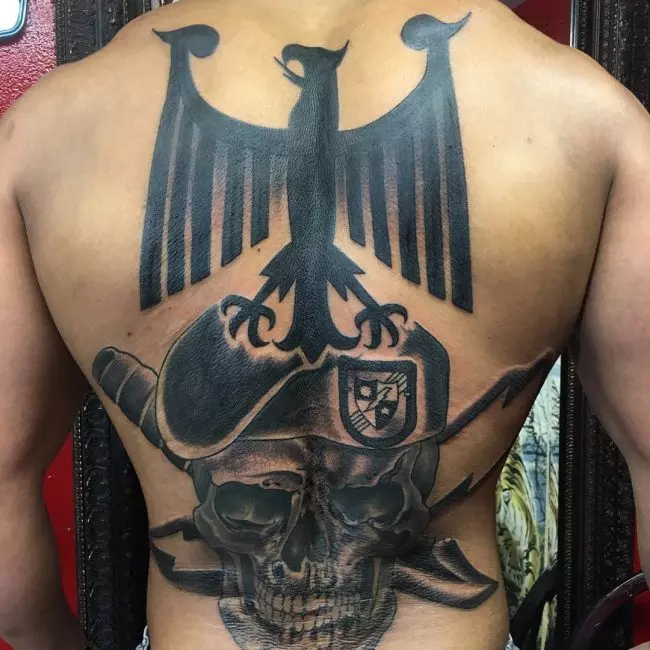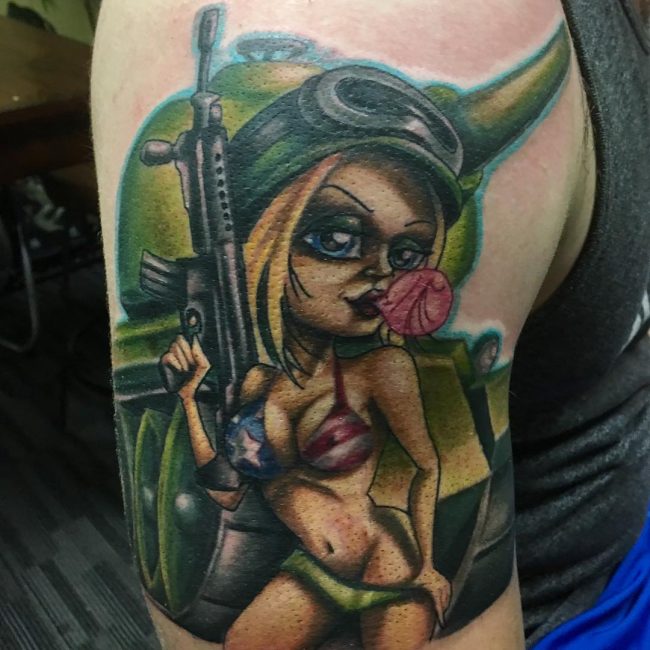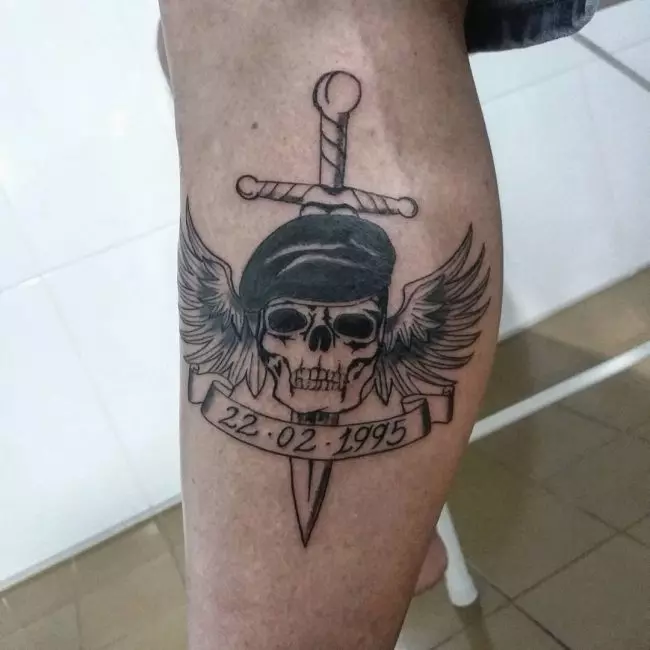 There were various types of tattoos during this era for example those representing slogans against the enemy and different variations of the American flag.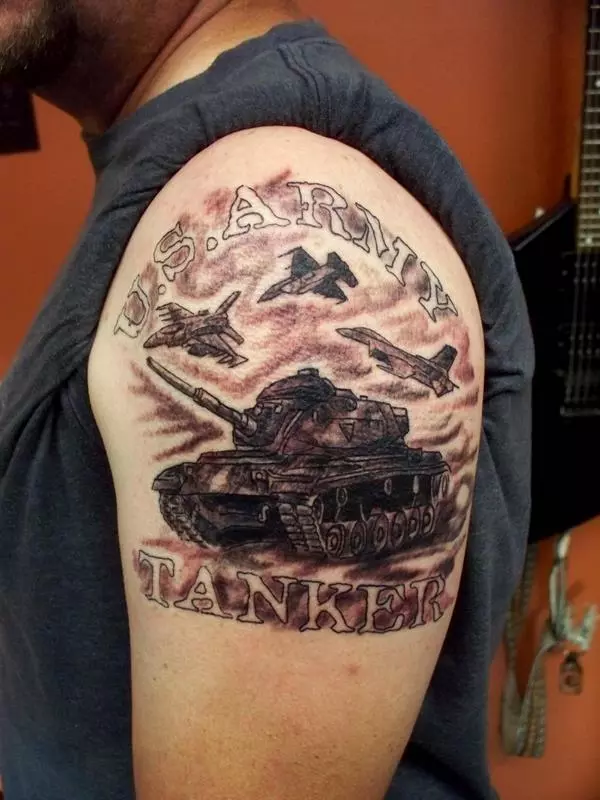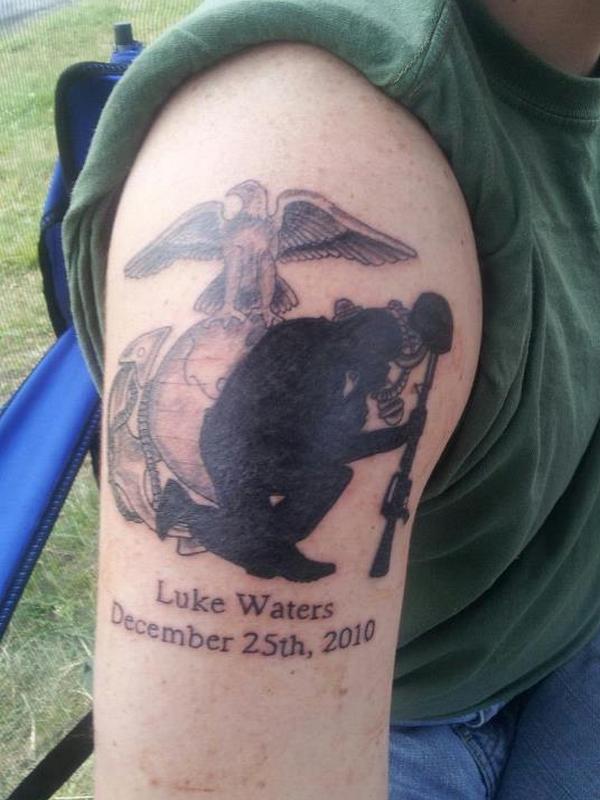 Each war that followed the civil war developed its tattoo styles and types. However, in recent times the tattoo types have been divided according to the branch of the military they represent.
The following are some of the most famous of these tattoos according to modern military branches.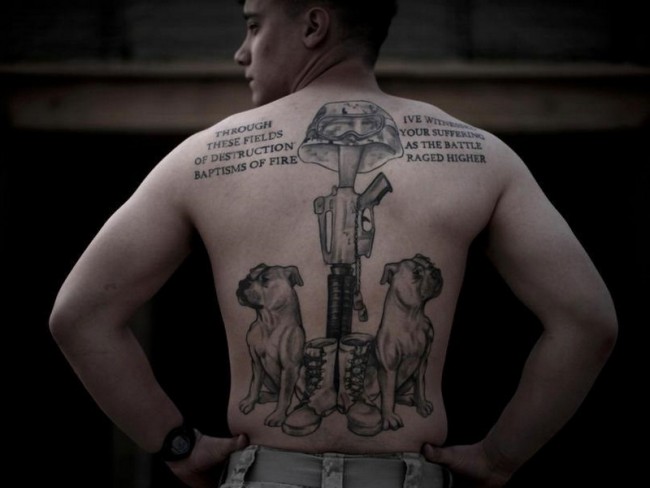 Army
Of all the military branches, the US Army has been the most conservative one with body markings. Until recently no army officer was allowed to have any tattoo or any other artificial body markings on the neck and the hands.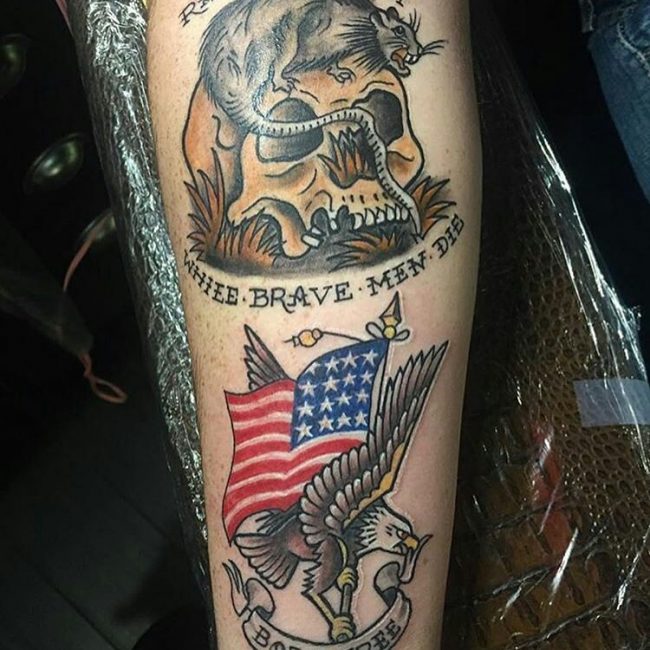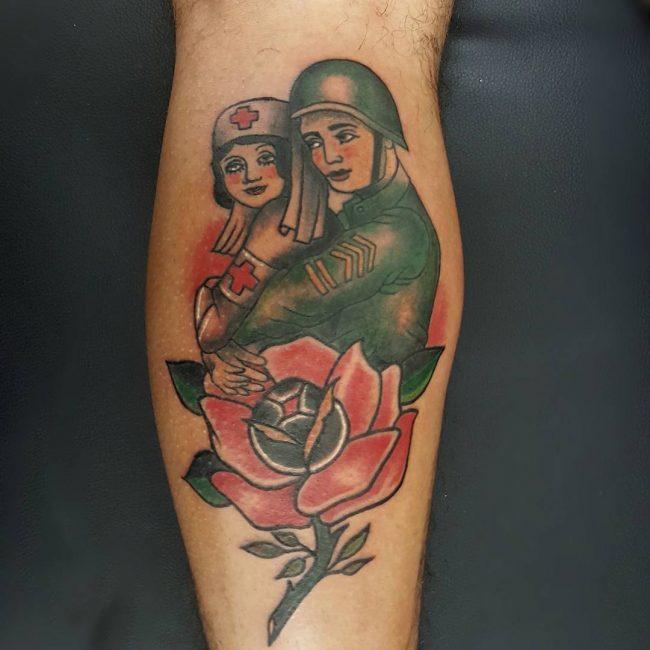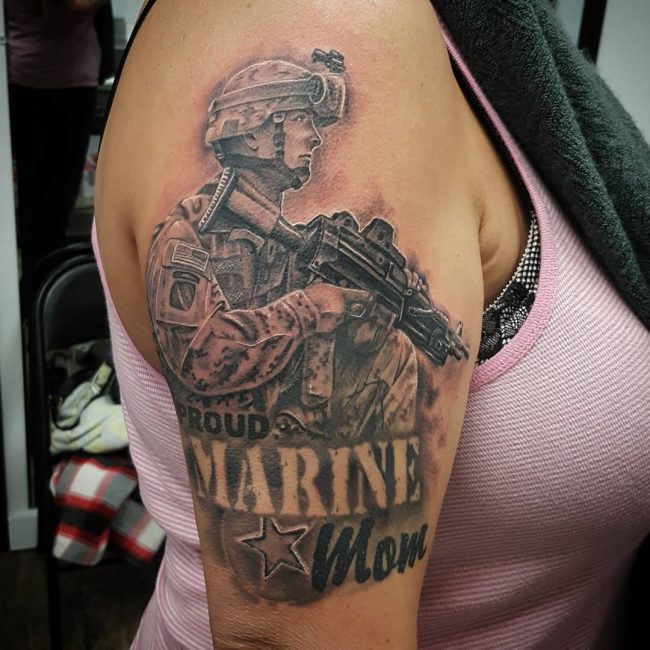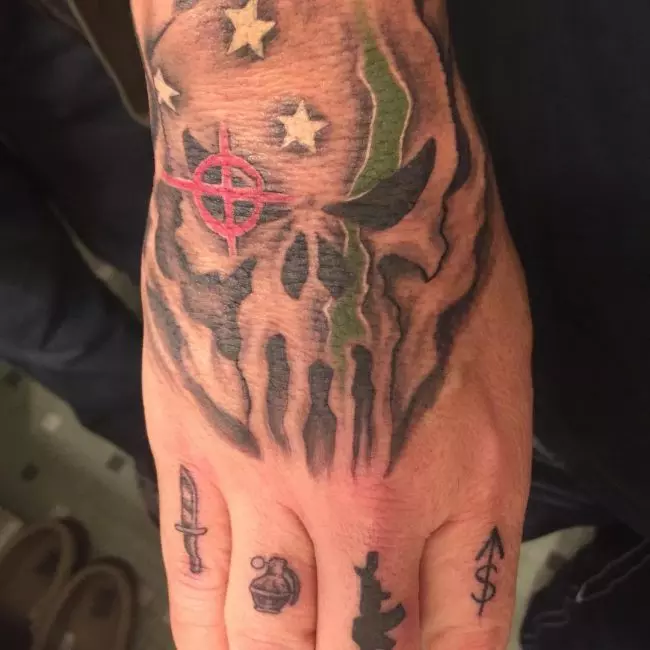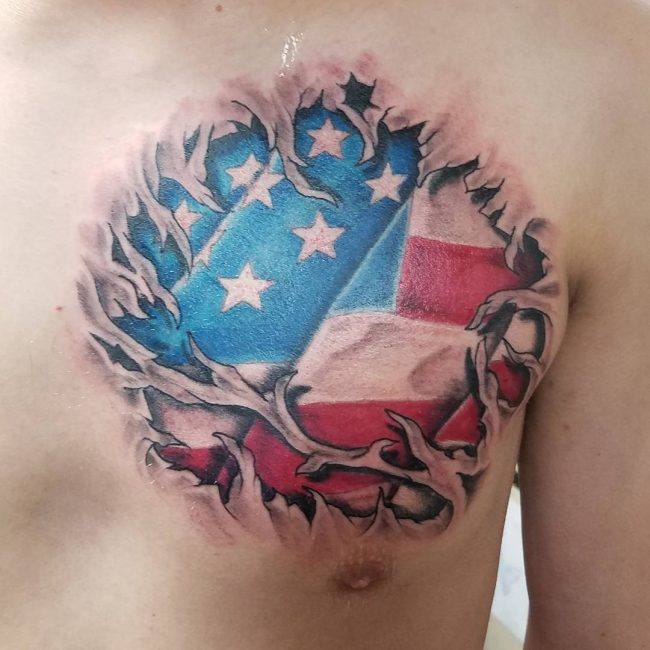 However, this has since been revised but as an Army officer you still cannot get a facial tattoo. The most popular Army tattoos include the following: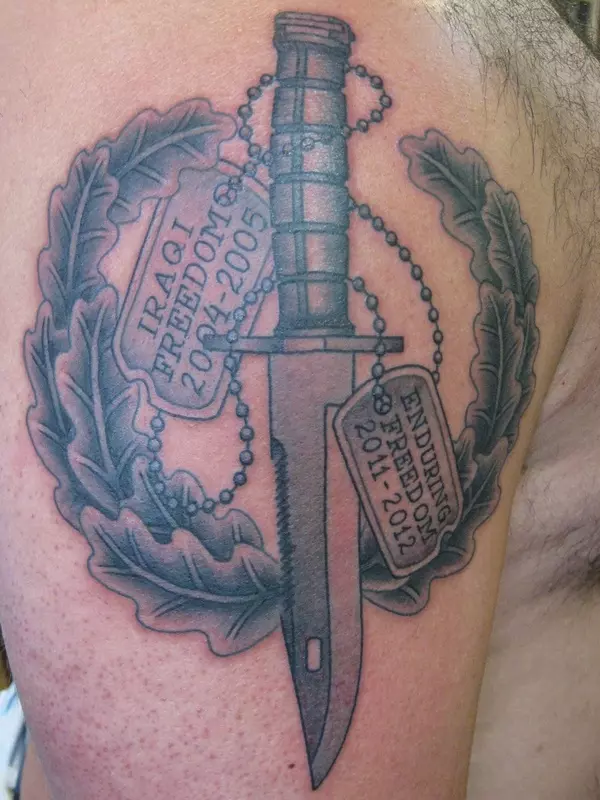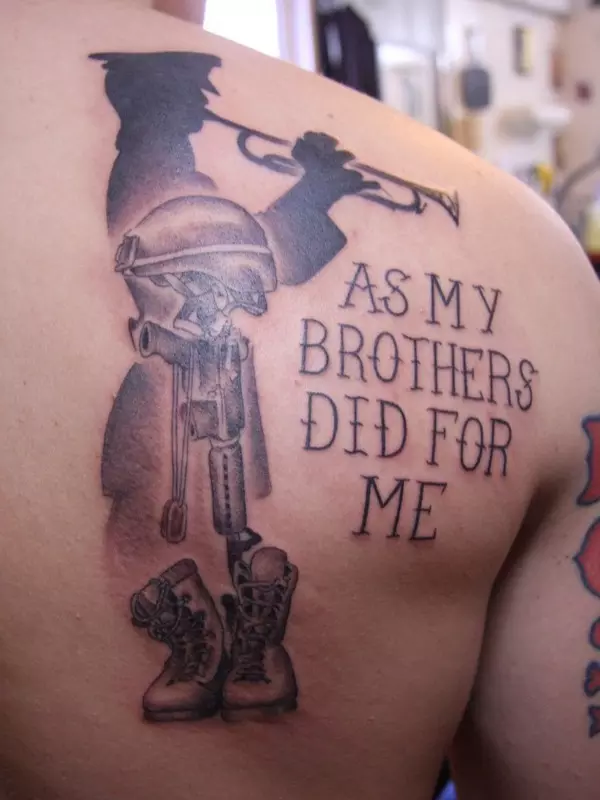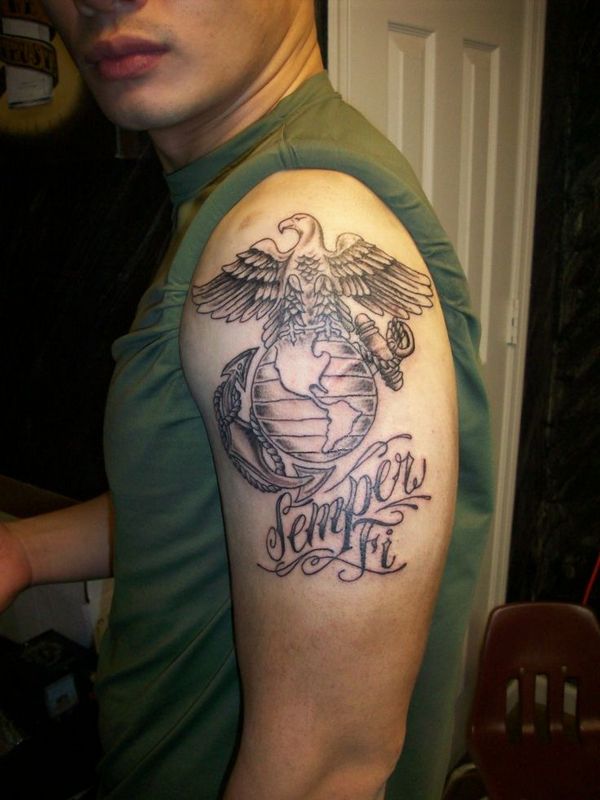 Red Beret: The popular tattoo is mostly found in the bodies of the soldiers that serve in the Airborne Division. Besides representing the color of their official beret, it also shows their readiness and willingness to be deployed in an active battle area.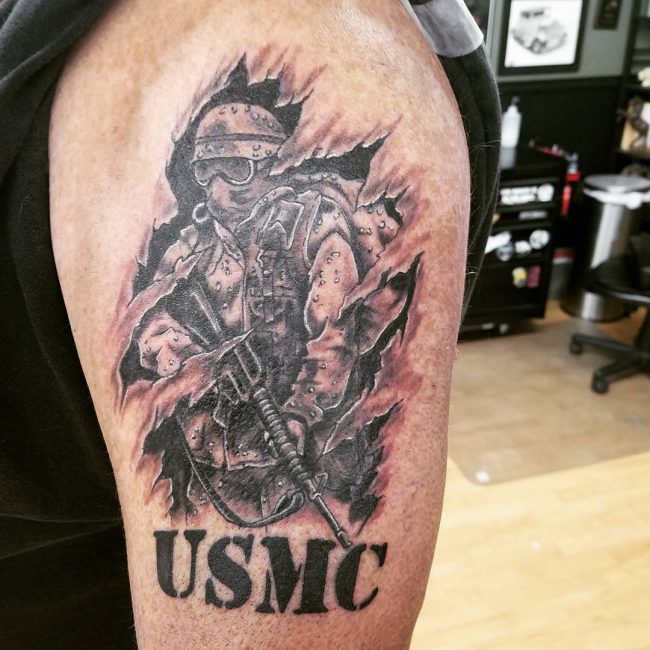 Camouflage: Although this tattoo is widely distributed in different military branches it is more popular with the army. It looks very great but due to regulations a soldier cannot have one if he is still active in service.
However, it is a cool tattoo for veterans and anybody out there who likes army tattoos.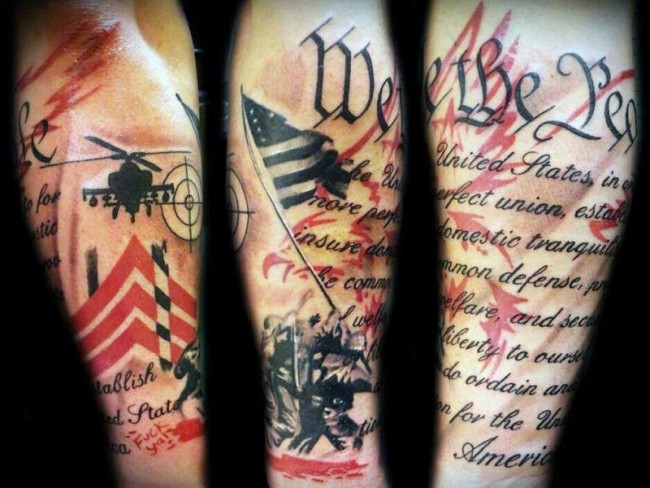 Tanks: Tanks are built to protect and destroy anything on its way to winning the a battle and so a soldier having this tattoo shows his willingness to do the same.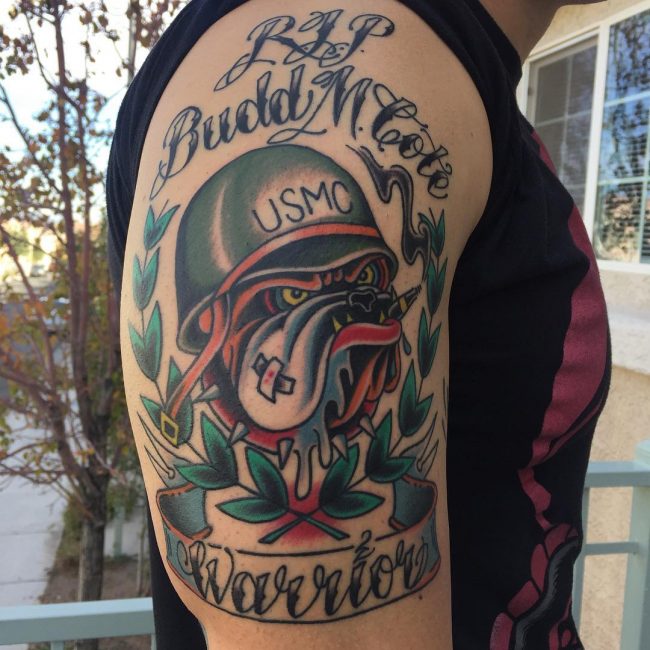 Dog tags: This type of tattoo can be worn with pride by a soldier from any military branch, but it is more prevalent in the Army. Besides from looking great it also serves important functions like identification.
Some soldiers will have the information from their dog tags inked on them permanently to make identification easy in case they die in battle.

Navy
The US Navy is more flexible with its tattoo policy. This has led to the creation of many types of tattoos associated with the Navy. The most common one's include the following.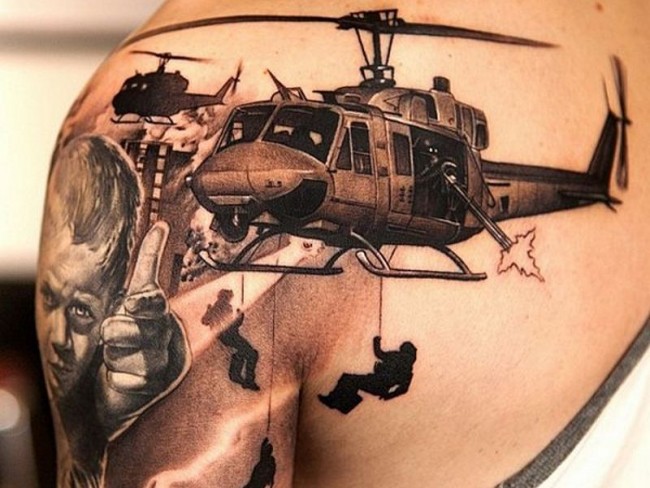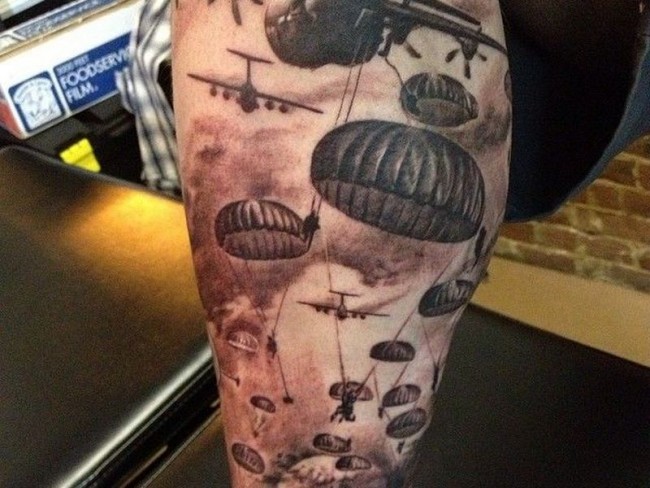 The Navy Emblem: There are different variations to this tattoos and with a creative artist the options are unlimited.
However, the main characteristics of this type of tattoo are the eagle clutching an anchor, the flag, gold chain links and the blue background that represents the Navy.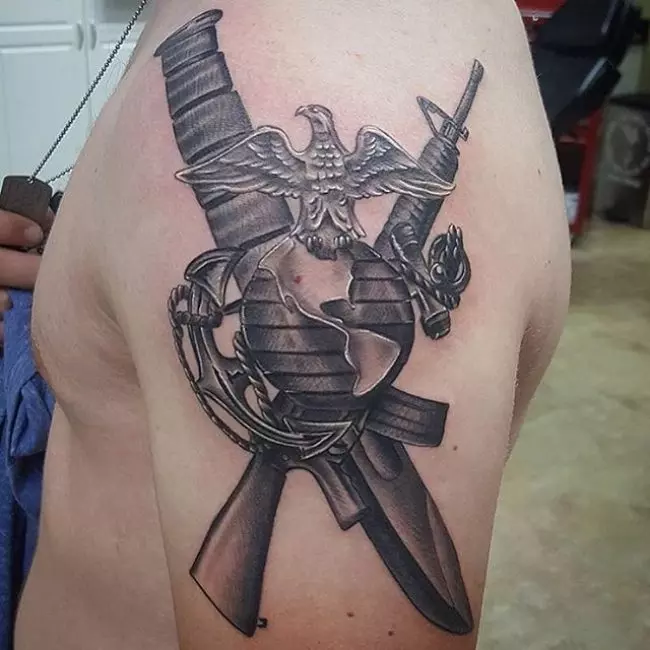 Anchors: This tattoo is not unique to the Navy as it is also very popular with other sailors having been around for ages, but it is still a beautiful tattoo by all standards.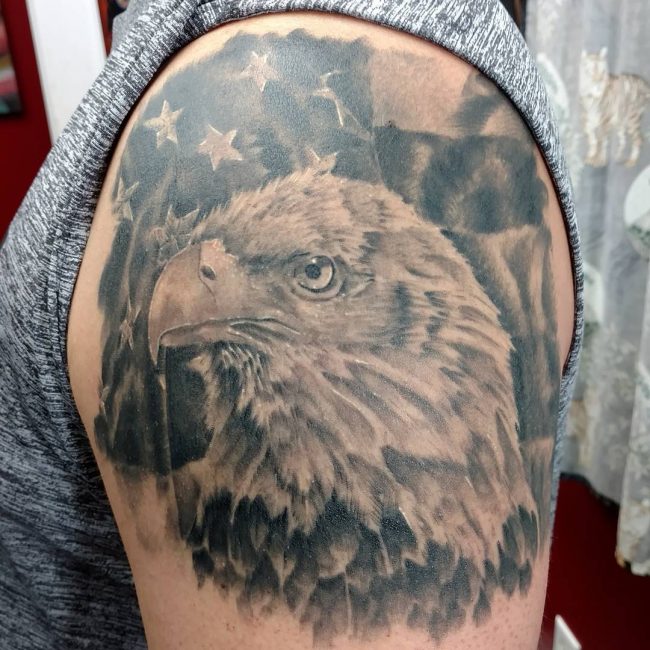 The Nautical Star: This tattoo represents the compass rose that helps to guide the sailors home from a voyage at sea. Naval enthusiasts love this tattoo due to the deep meaning it holds.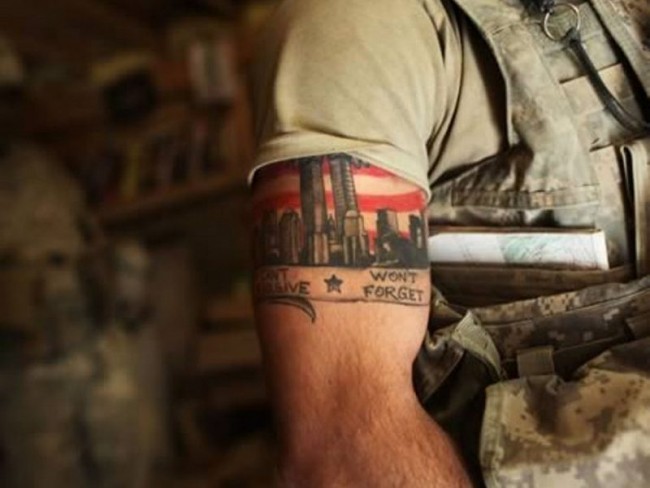 The Air Force
The Air Force has a strict policy that prohibits tattoos that cover more than 25% of the body. However, there are still many types of small Air Force tattoos for active soldiers and enthusiasts. These tattoos include the following.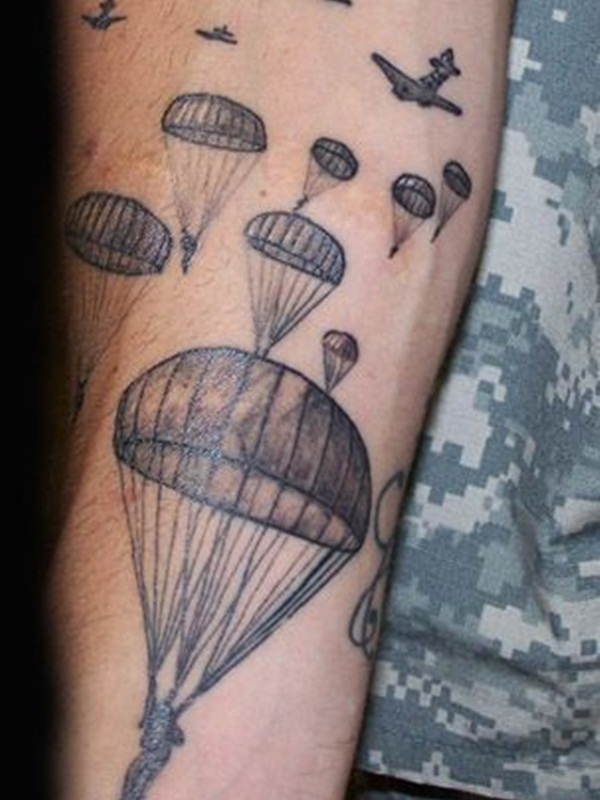 Air Force Logo: The logo mainly comprises of a star on a ribbon background, but you can enhance your tattoo using flags and eagles or any other symbol to portray your patriotism.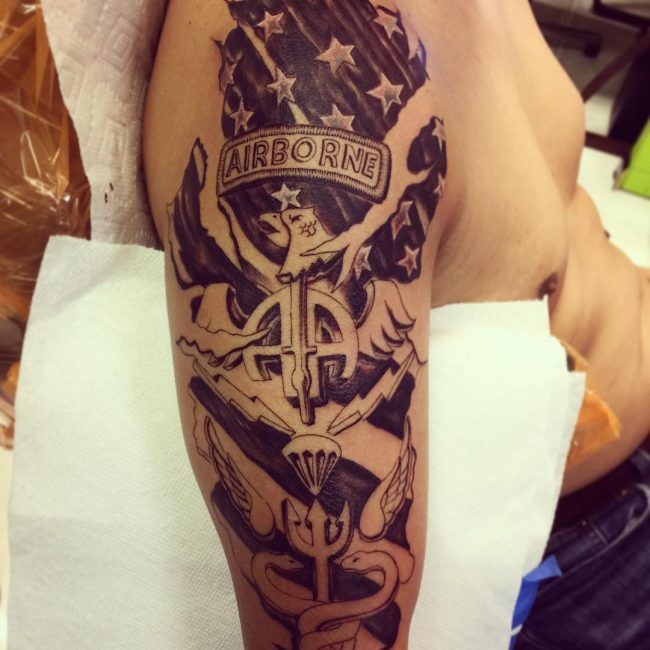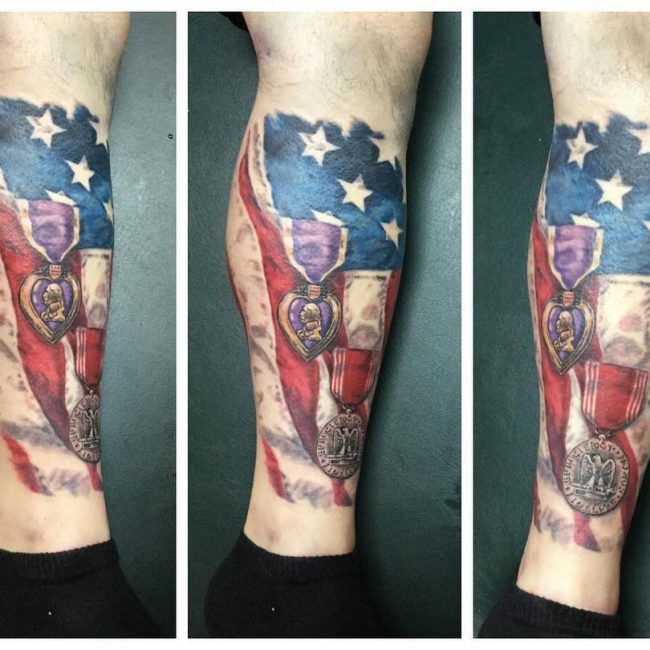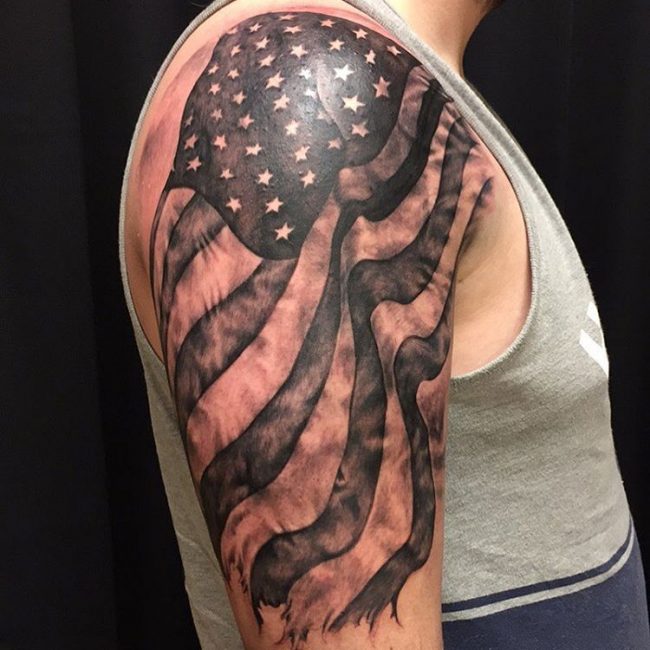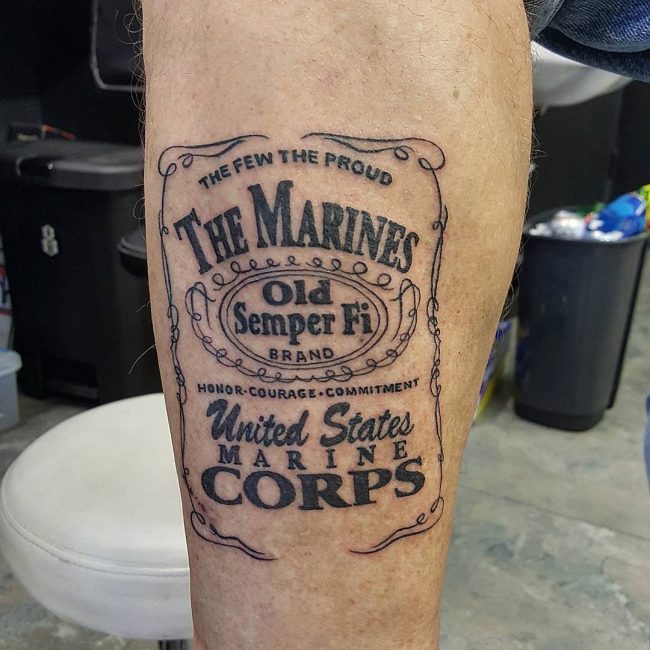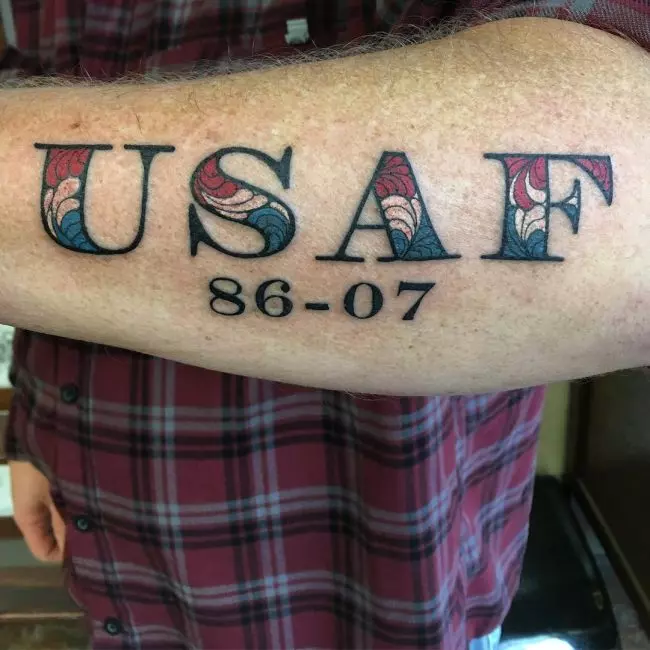 Jets: This is another favorite Air Force tattoo and with the right artist it can look good on you. You can choose any jet that you want, but most people prefer the F-16 which is drawn with flames to make it look more realistic.