75+ Best Biomechanical Tattoo Designs & Meanings – Contemporary Life Style (2020)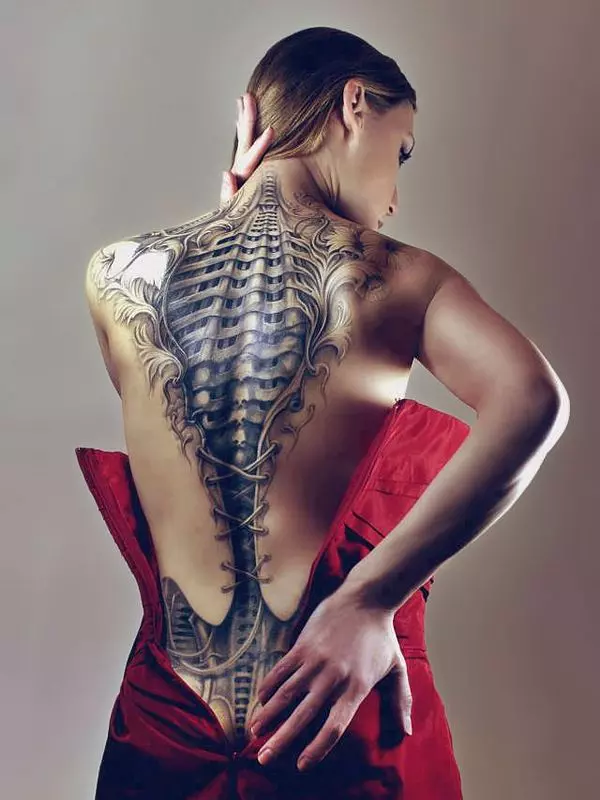 Deciding on a tattoo design for a permanent body decoration can be overwhelming. There are so many tattoo designs to choose from. They have different meanings and they can be used to express the inner of the wearer.
A biomechanical tattoo is a body art that melds some parts of the body by use of a machine to form a tattoo imagery of robotic or machine parts. Part machine, part man, this type of tattoo reveals the inner human biological body makeup.
Contents: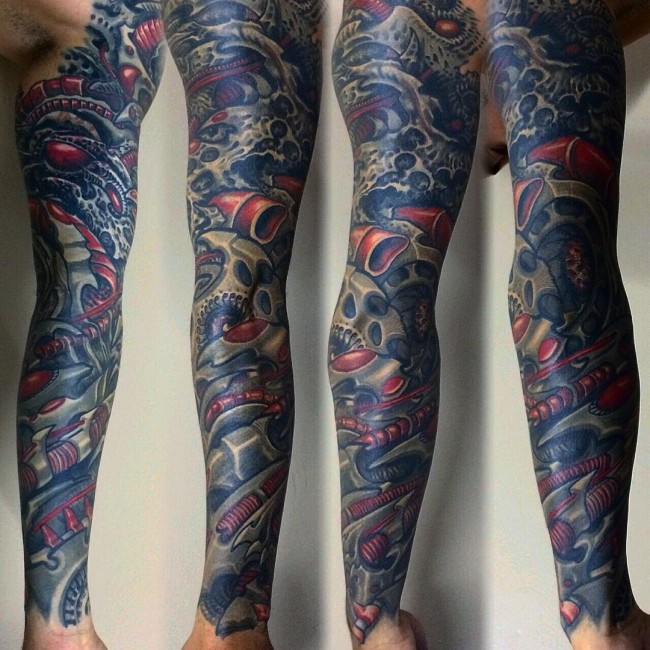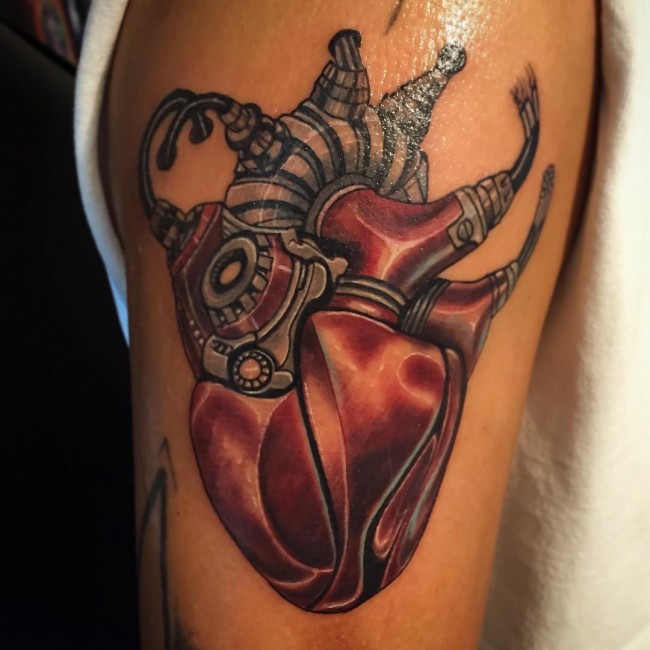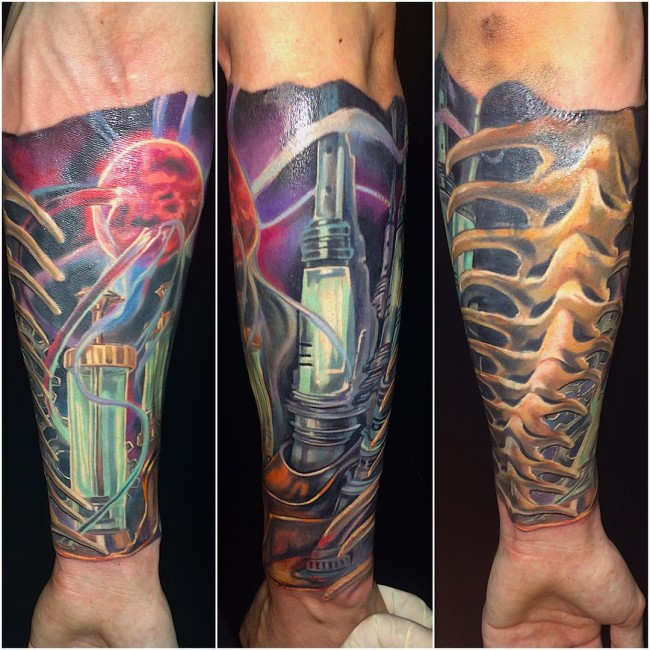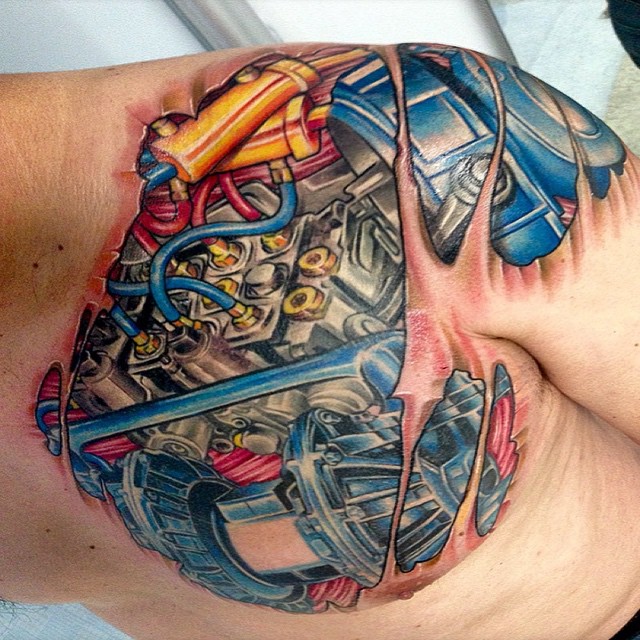 They resulted from biomechanical art, a unique type of art that depicts the anatomy of human body in terms of mechanical parts. For instance, the joints and bones are represented as parts of machinery such as pistons and gears.
The common tattoo designs such as birds, flowers, hearts, feathers, and bows are quit traditional while these types of tattoos represents some form of modernity.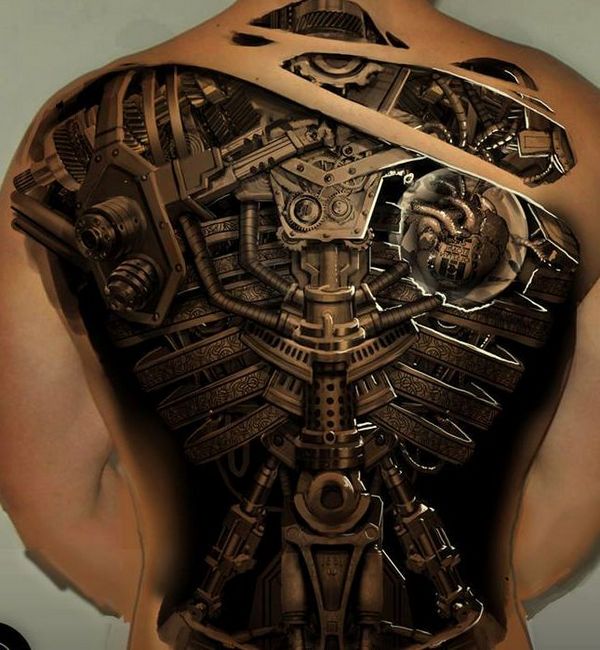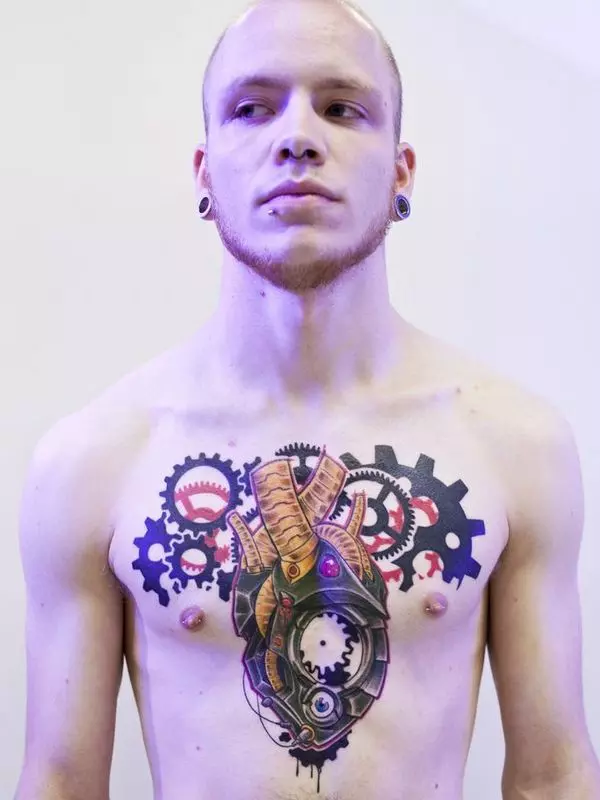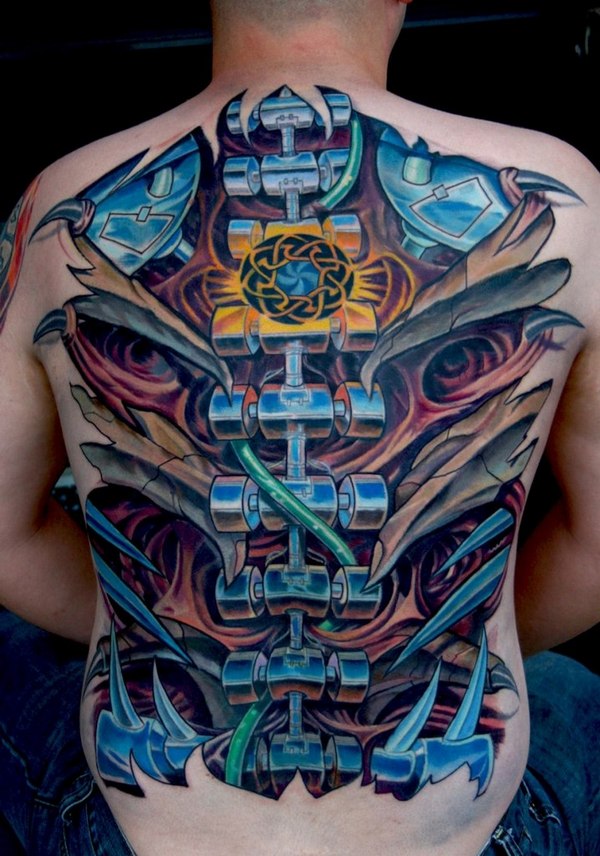 Biomechanical designs have become popular in tattooing because of their elegant design elements that trace their roots from robotics and mechanics. They are eye catching because of their intricacy of design and use of colors in a creative way.
These tattoos are of different types and with the right combinations and permutations used create unique tastes and preferences to the bearer.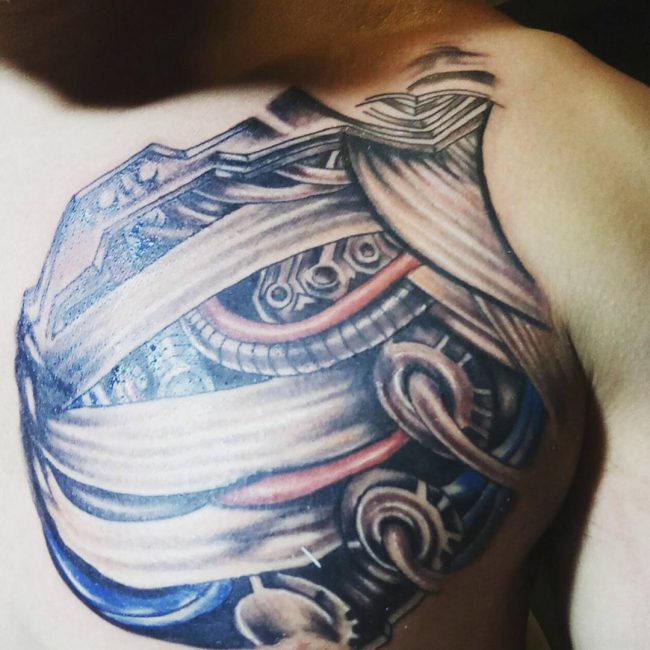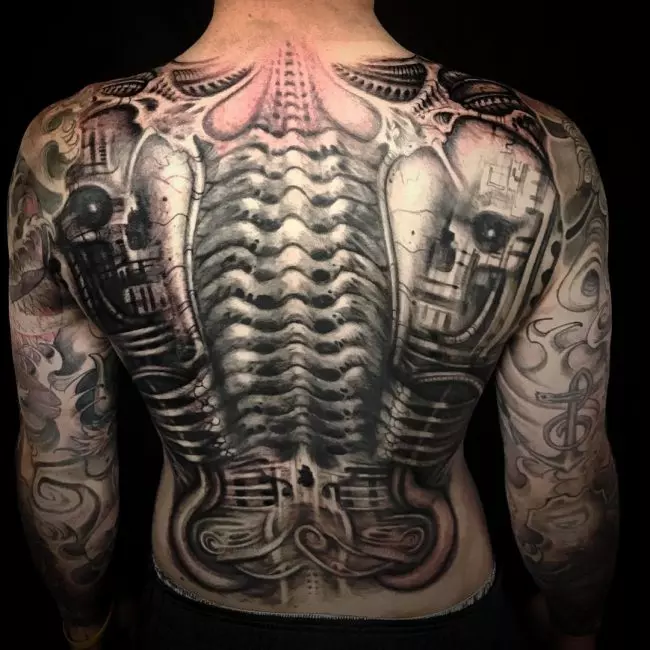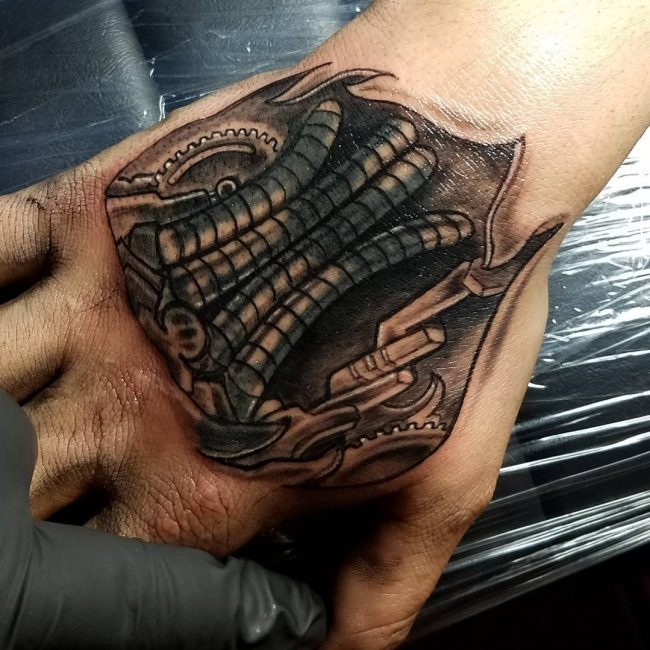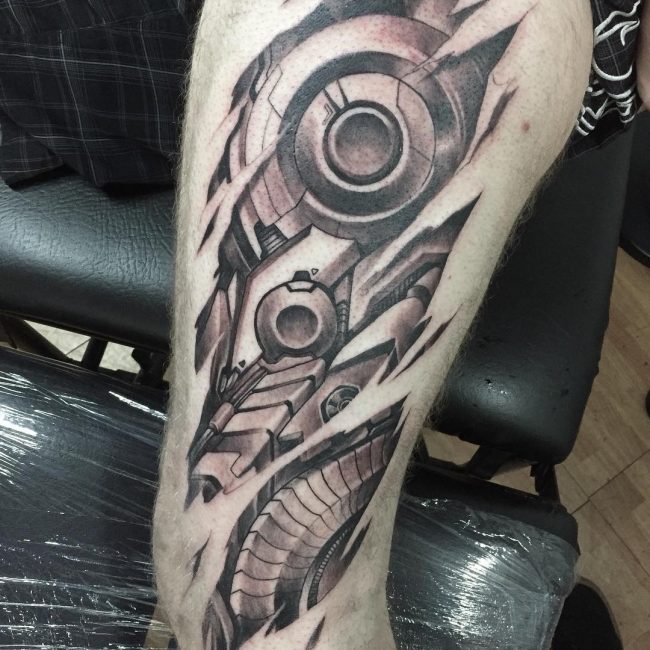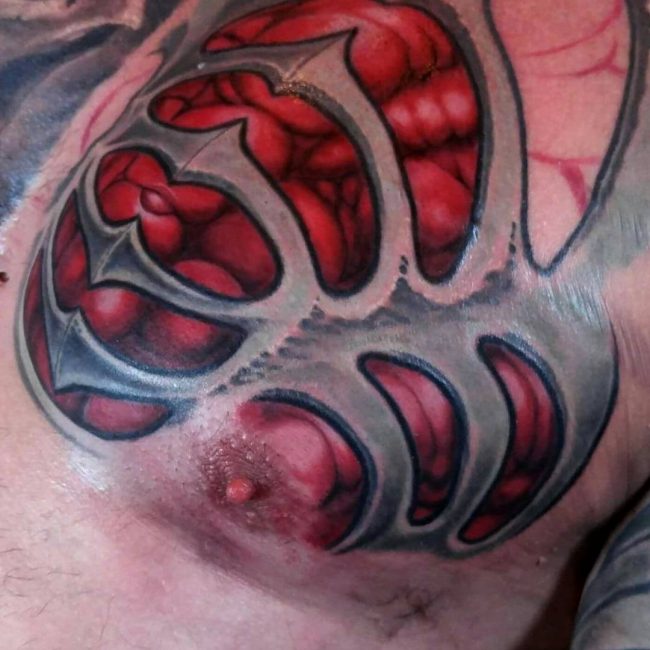 Components
These tattoos feature some amazing and intricate design elements. They can be designed by tattoo artists who are experienced in creating color and detailed combinations of these elements with great care. The tattoos depict different biomechanical parts of the human body as their primary elements.
The parts can include levers, gears, rods, pipes and chips.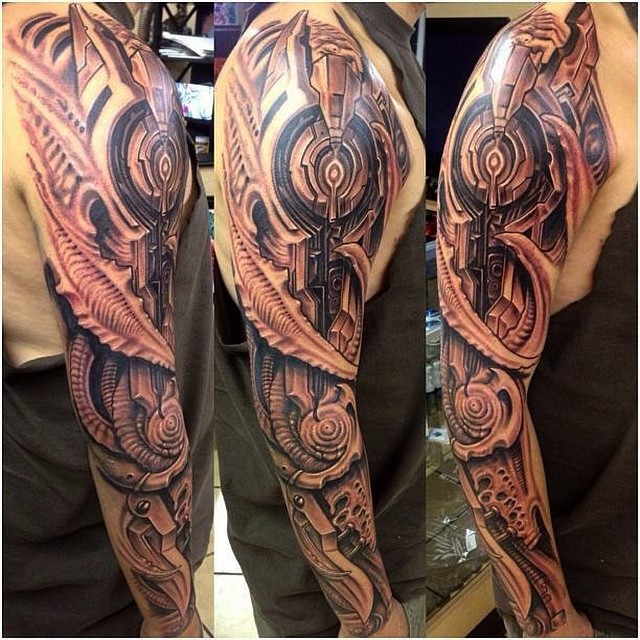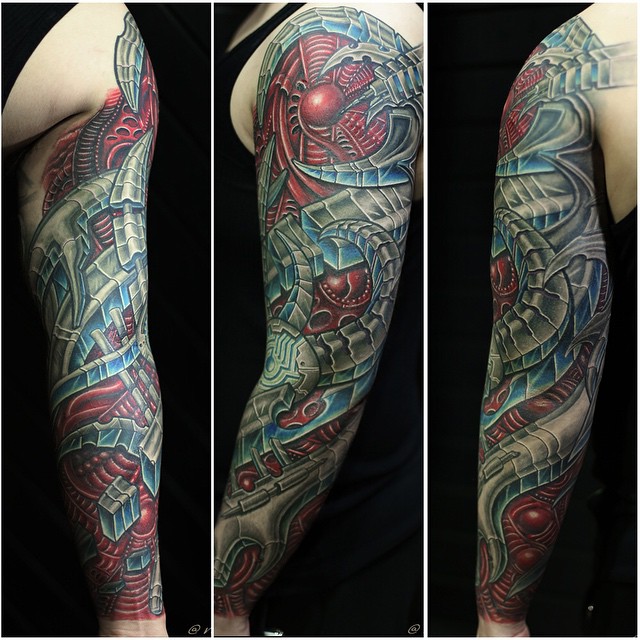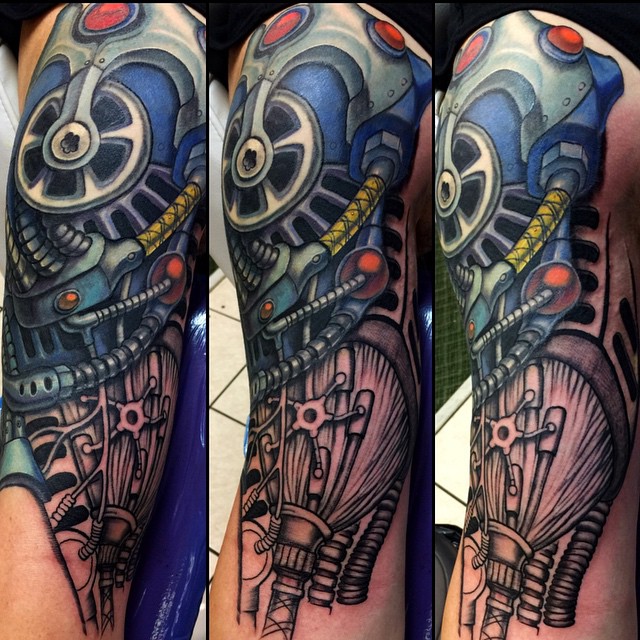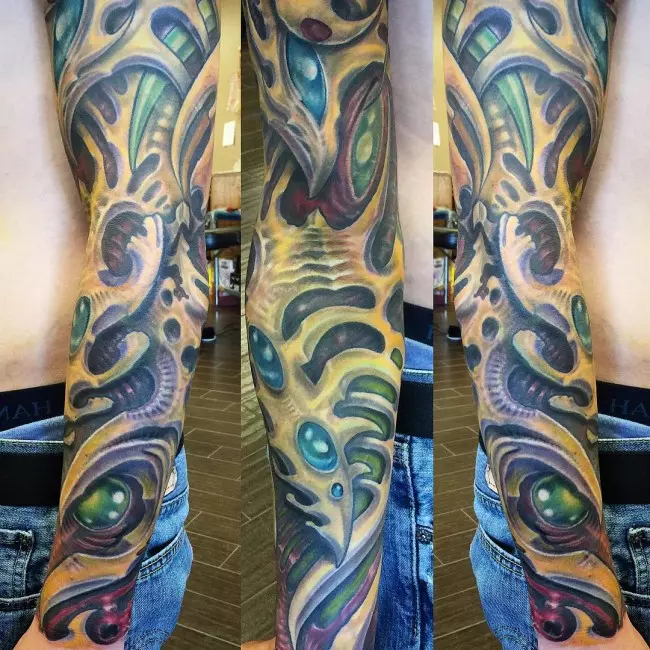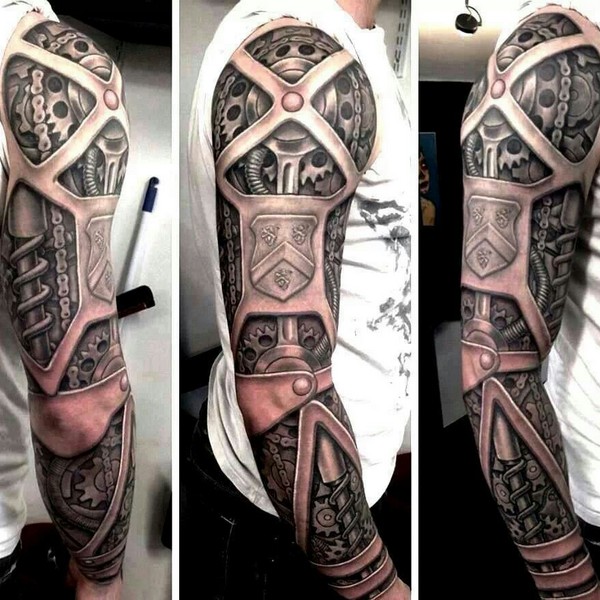 Any part that the tattoo is inked does not appear as if it is part of the human anatomy or blood and flesh, but as part of a machine. A tattoo on the leg or arm may depict that these parts of the body are made of mechanical parts that can be featured by the help of 3D effect.
This technique makes a beautiful result, enabling the tattoo bearer satisfied with the service offered.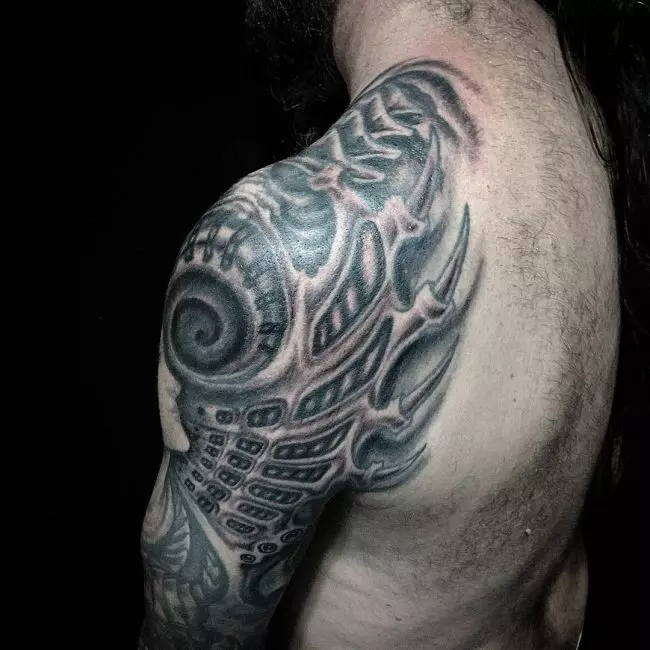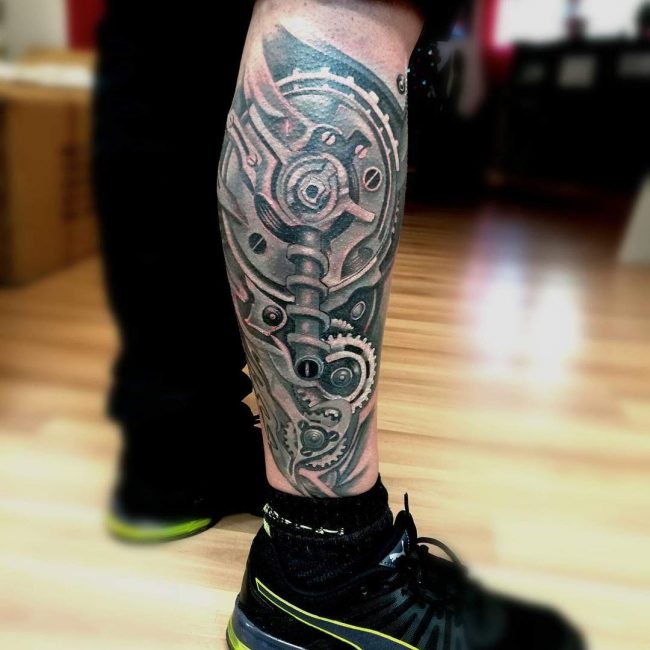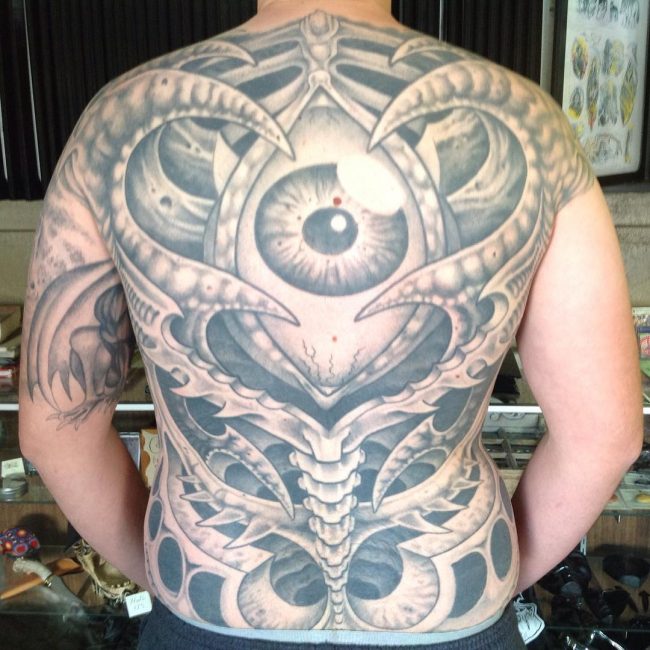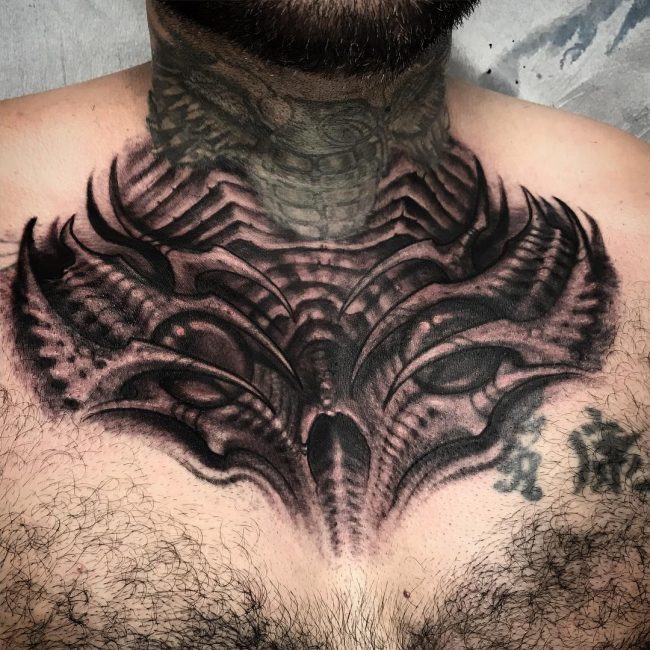 ---
back to menu ↑
Facts about These Tattoos
The tattoos are appropriate if you want to attract attention because they create some visual effects. It appears that the tattoo represents the machinery of the body parts of where it is inked.
It is therefore important to ensure that the tattoo is inked on the appropriate part of the body for you to have its proper effect. Some of the body parts that it can be inked include the back, shoulders, legs and the chest because they represent proper and realistic locations.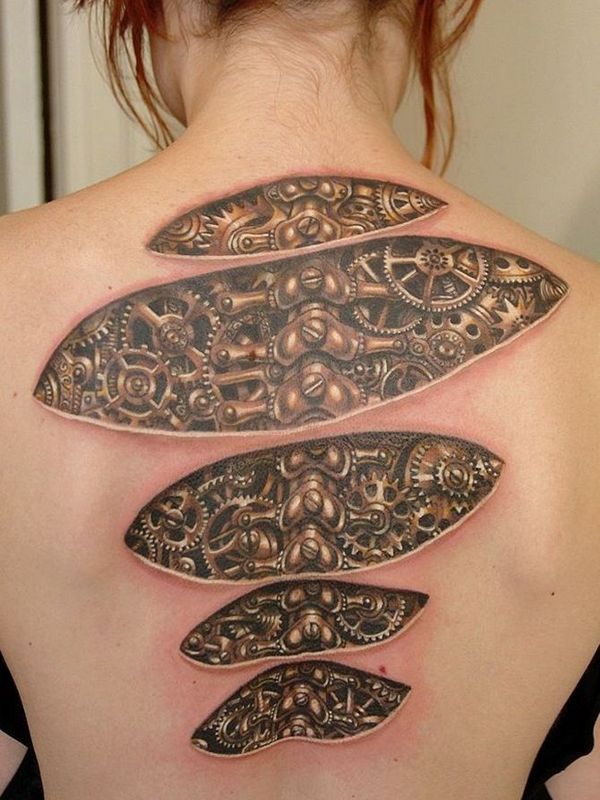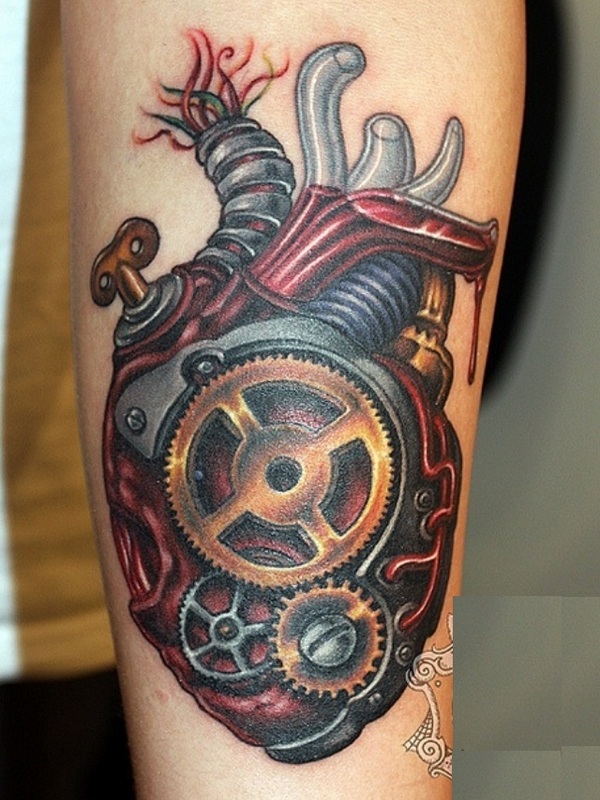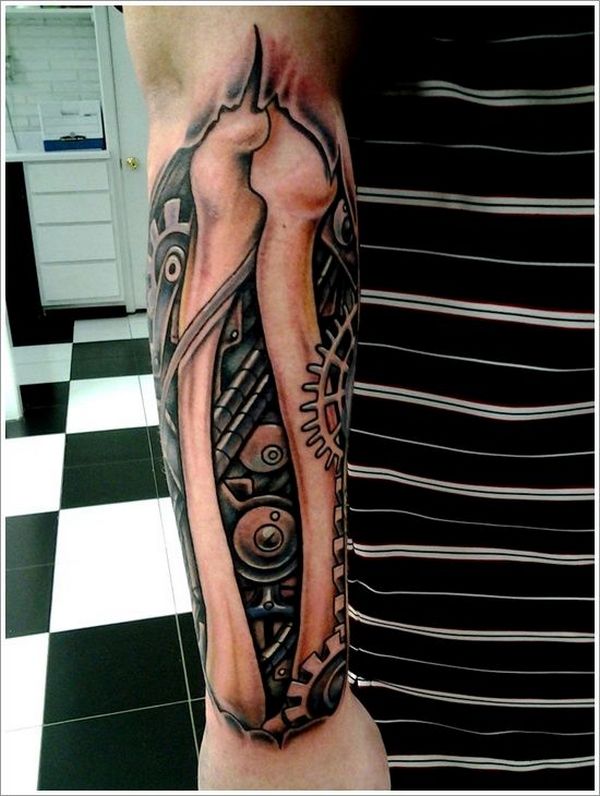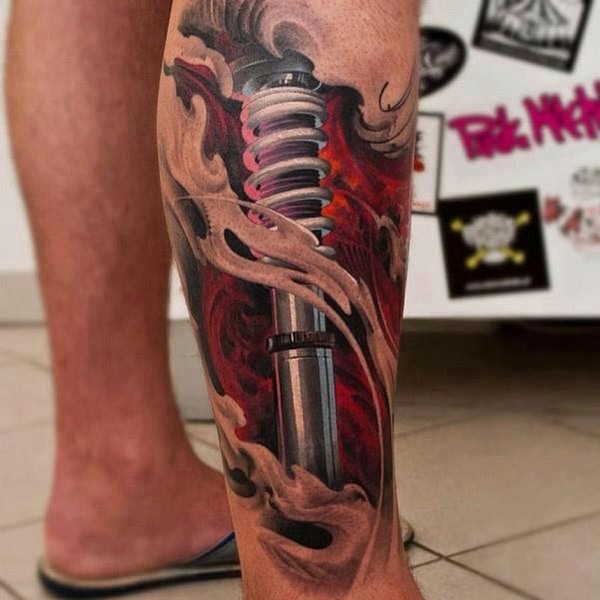 You can choose a multicolored tattoo but a classic grey and black design is better as these tattoos are used to portray machine parts. The grey and black tattoos features the 3D effect but you should prefer the colored versions if you want to show off the blood and flesh effects.
You can choose these colors depending on what you want this tattoo to feature. Apart from the color, you also need to consider the part of the body where you want it to be inked and the angle, because this should be done with great care and professionalism.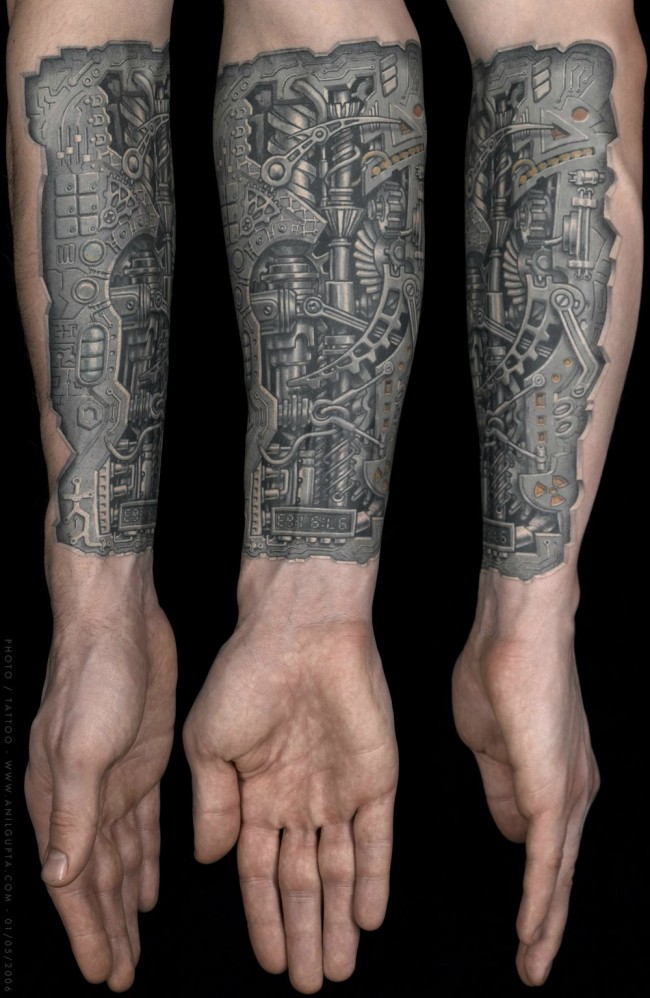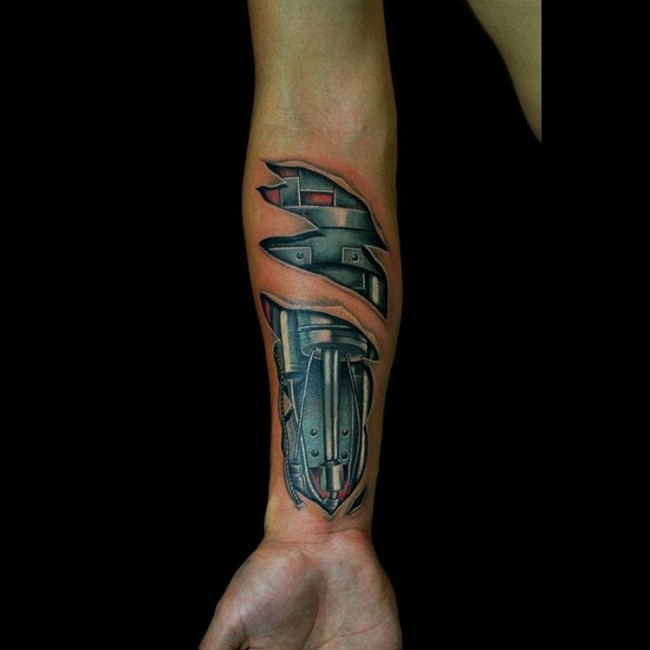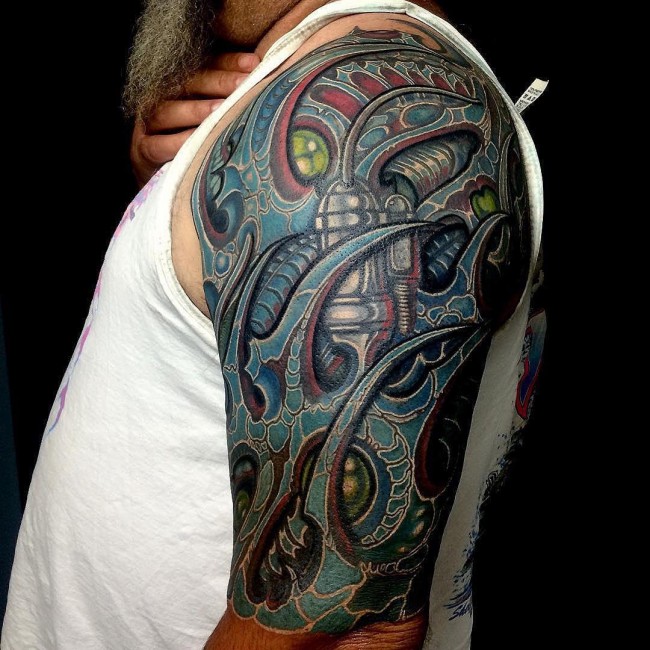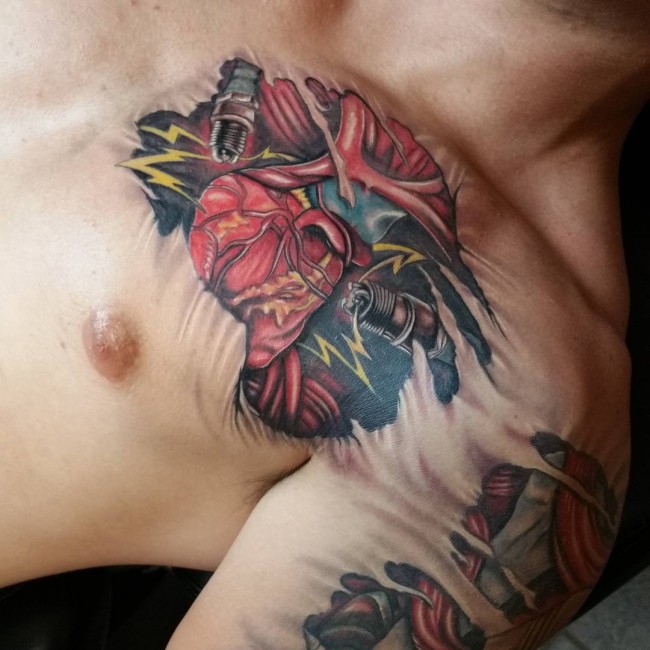 Remember that you have to go through some pain and it is cumbersome and costly. This means that you must be prepared for the process if you have made the final decision to have it done. Additionally, it is hard to get rid of the tattoo and this needs a lot of commitment as it will be on your body for the whole of your life.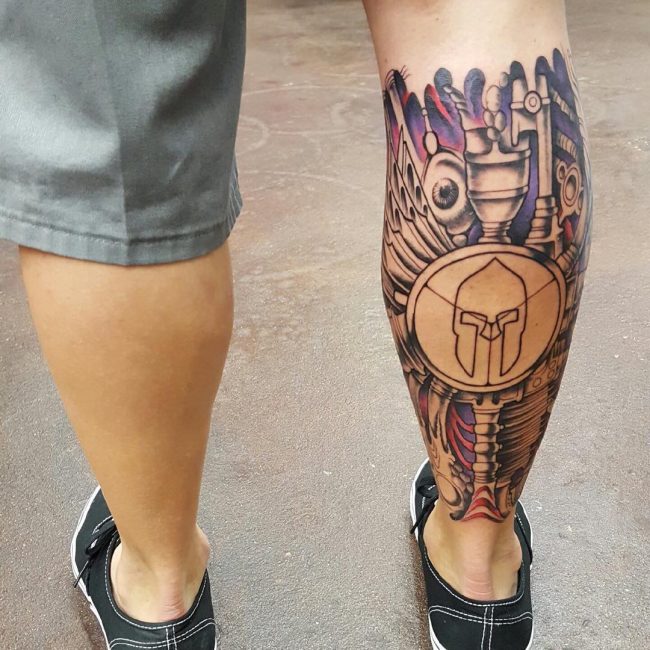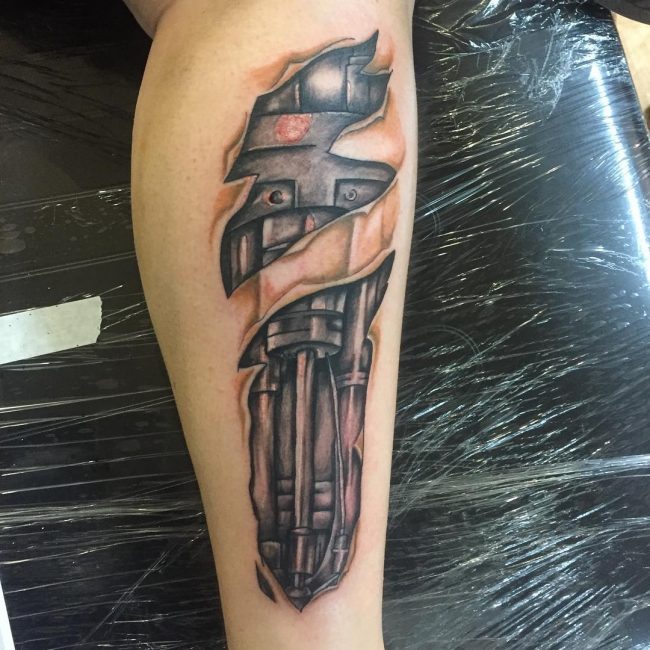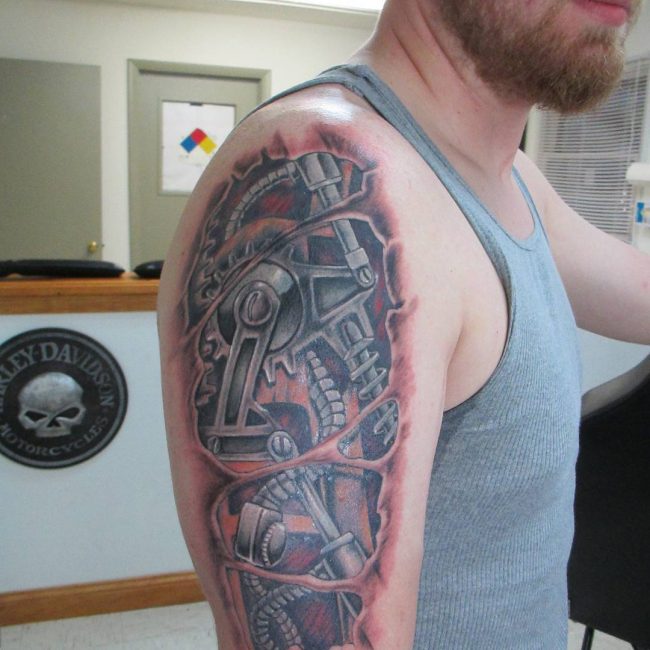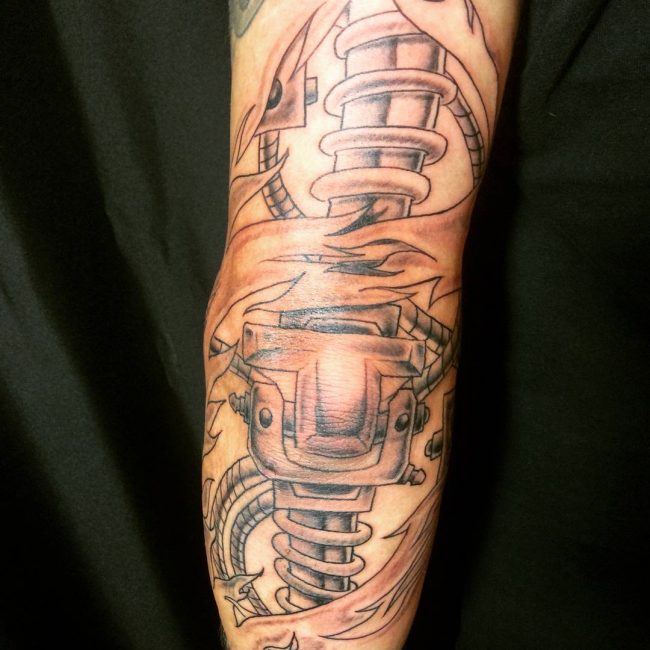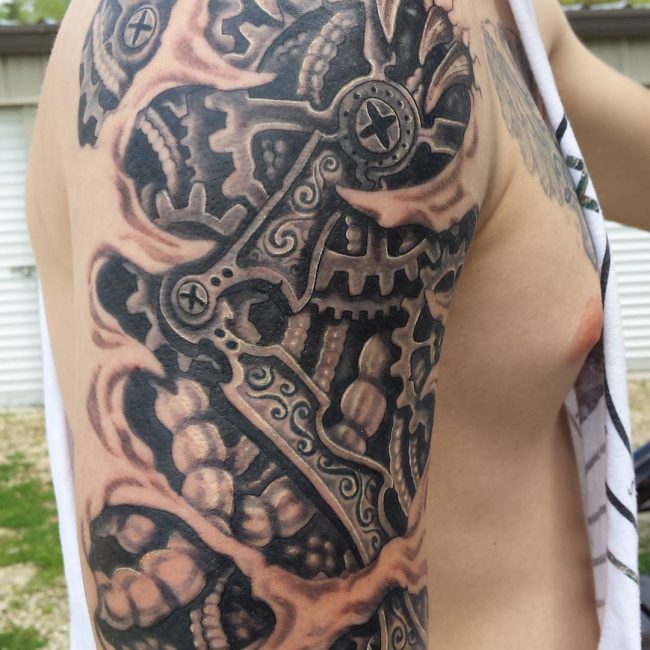 They are the most creative tattoos and the artists imagines and designs them to look like body parts. Tattoo designs are normally inspired by individual likes and passions and that is why the biomechanical ones have become popular.
They feature a lot of interesting things, majority of them being the robot elements. They are showcased with different colors and designs and can inspire you to have one.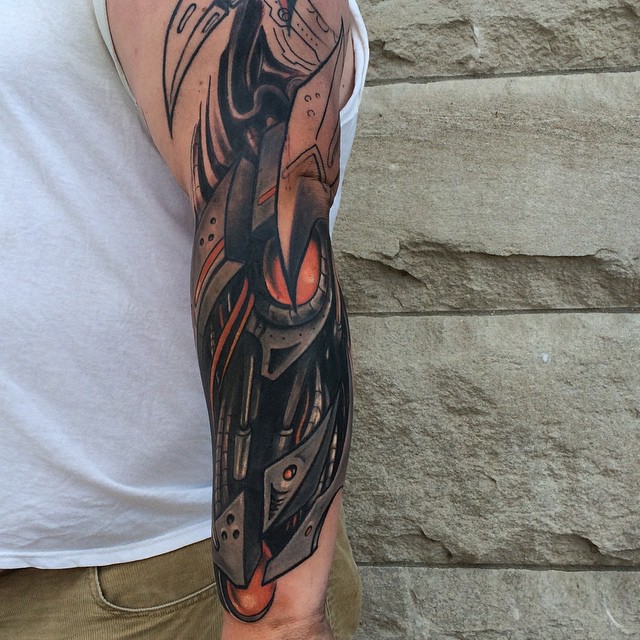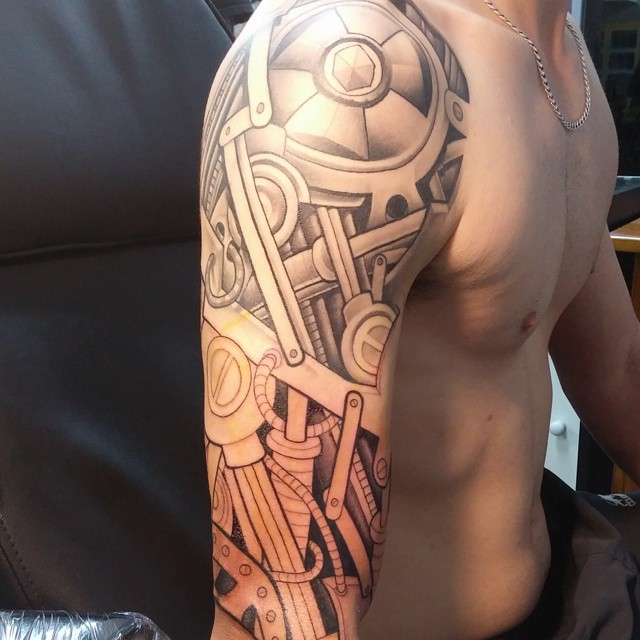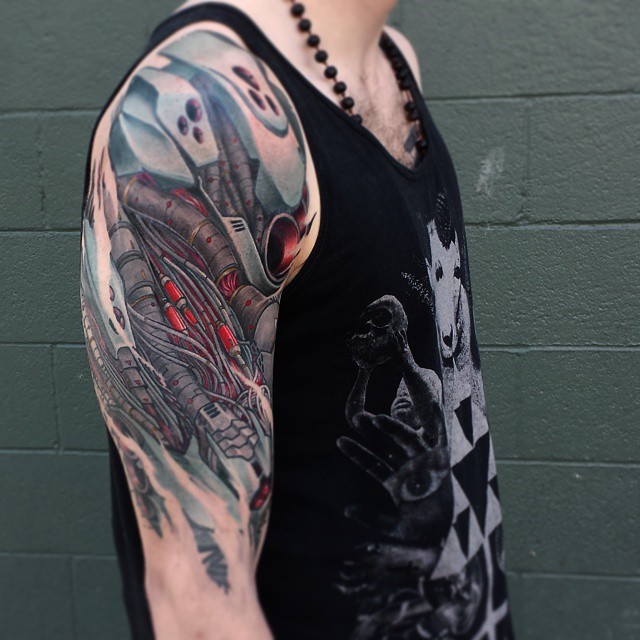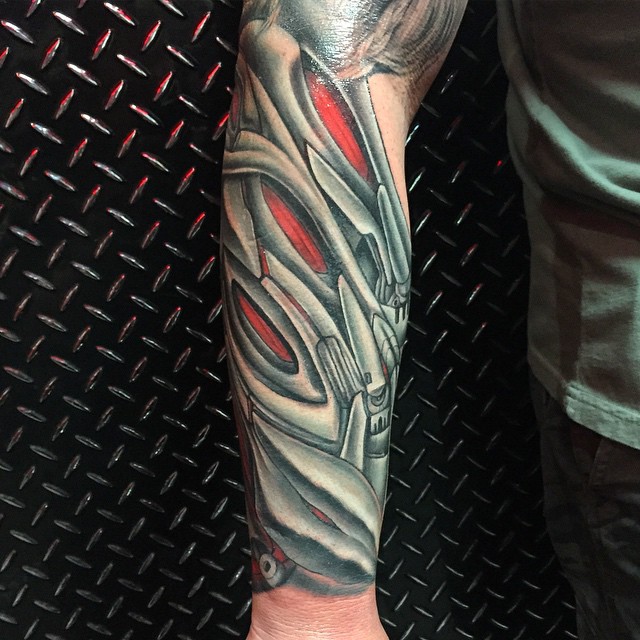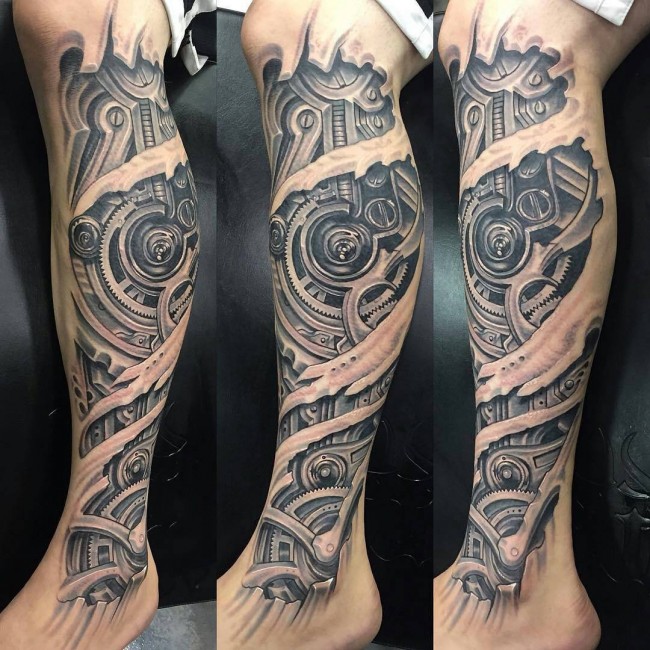 The black and grey colors gives these tattoos a realistic look and if you prefer something non-conventional, you can go for a multicolor tattoo. This type incorporates flesh colored and a ripped skin elements. For some individuals, these tattoos can imply that they love technical things.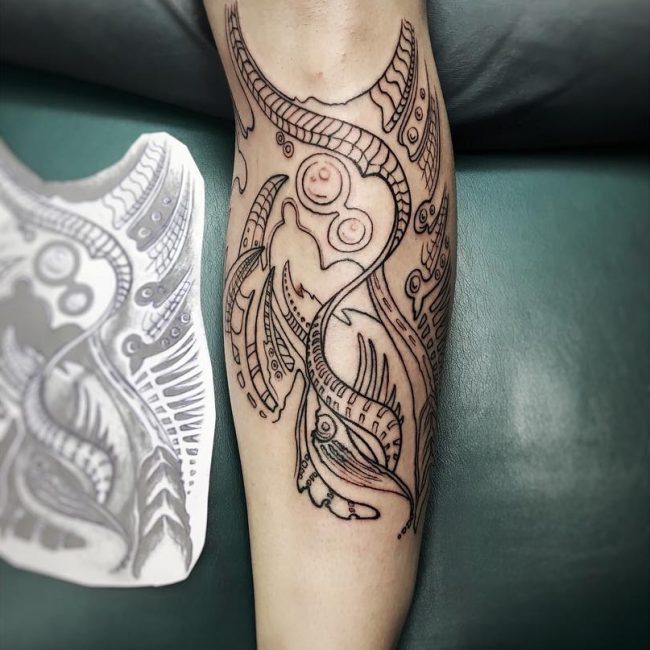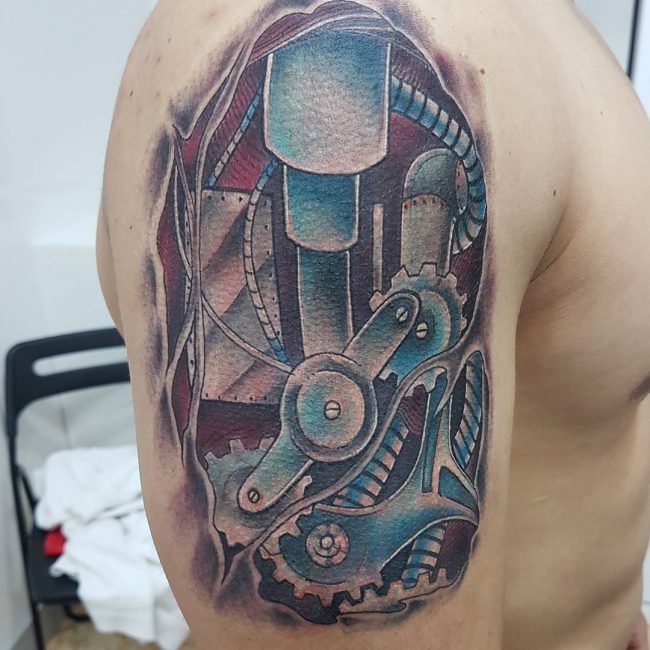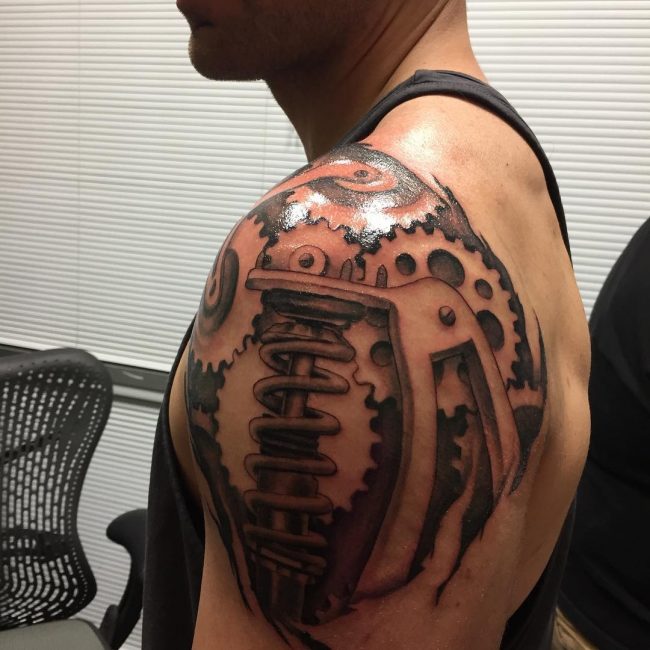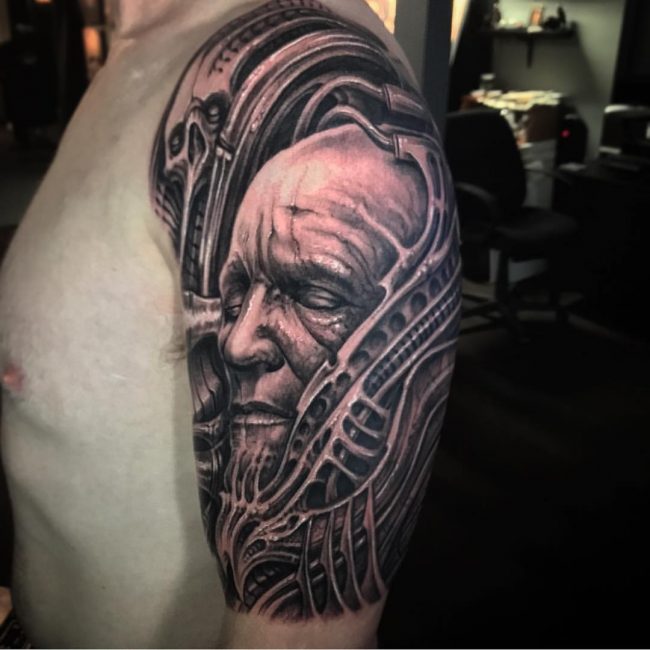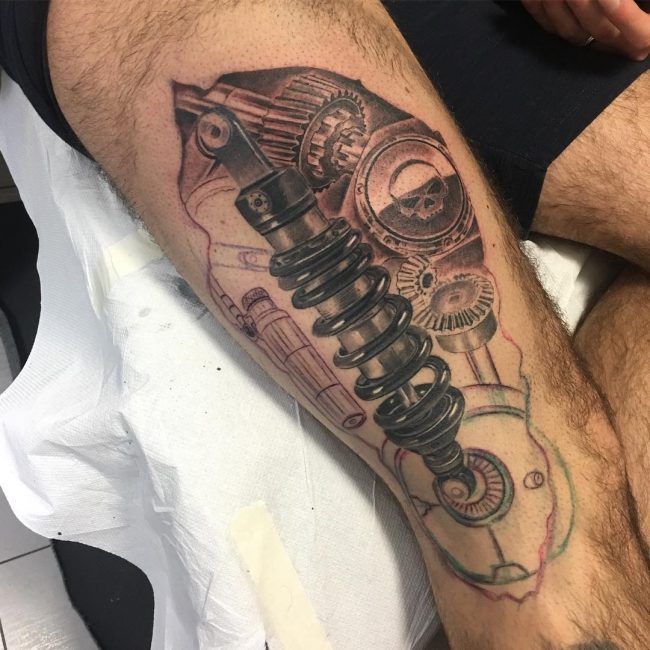 Moreover, other people can use them to show that they have passion for tattoos and they want to share it with others. It is a piece of art that is changing with technology and has no relationship with the past. For instance, you can have a heart tattoo with all its parts depicted.
You can prefer to incorporate some symbols such as the dreamcatcher, or a dragon alongside it.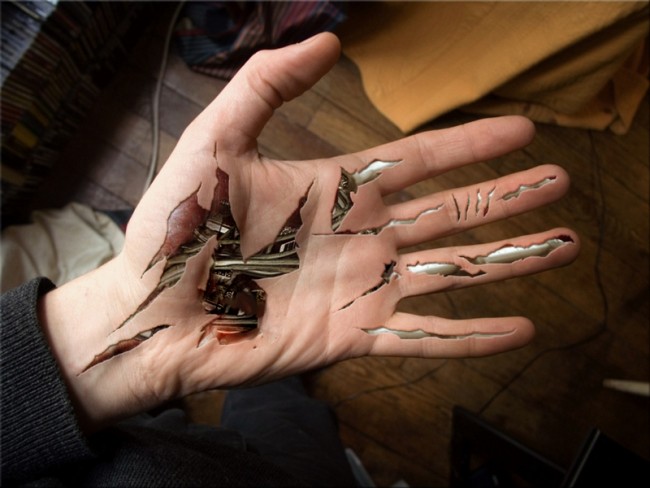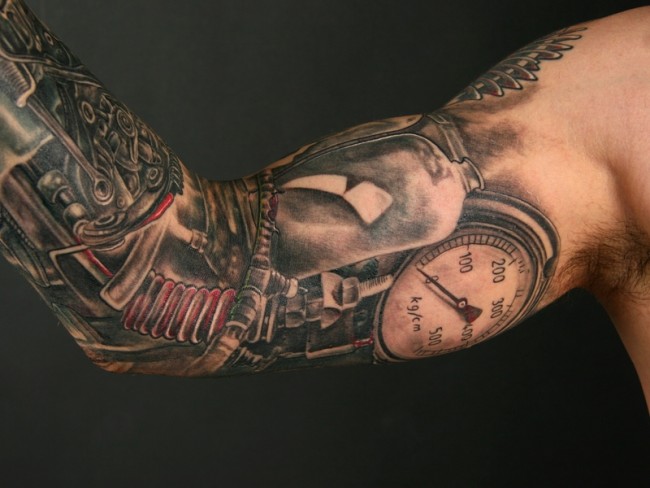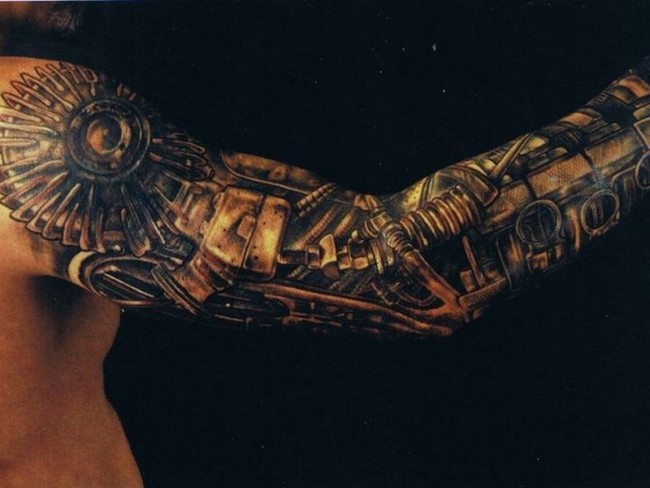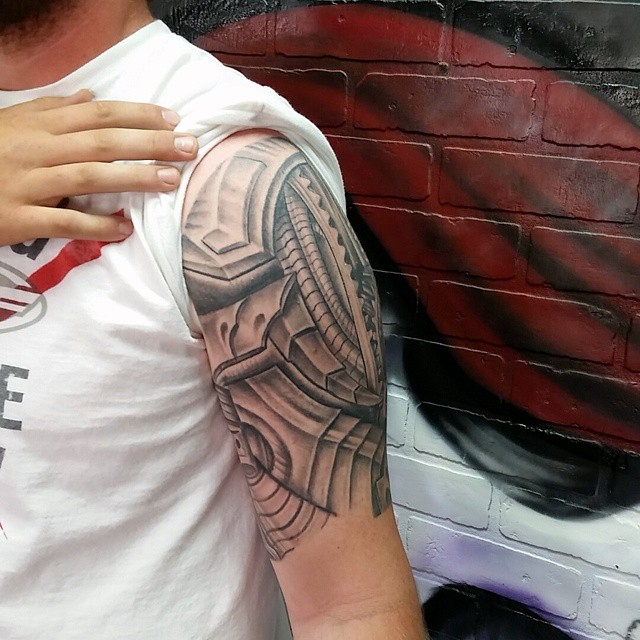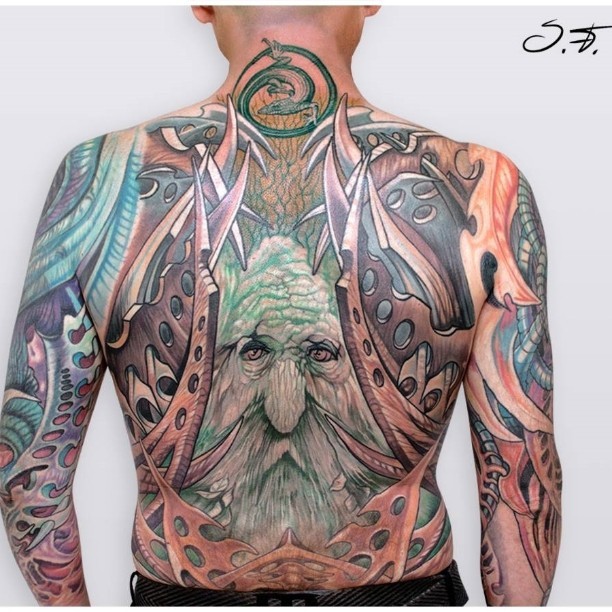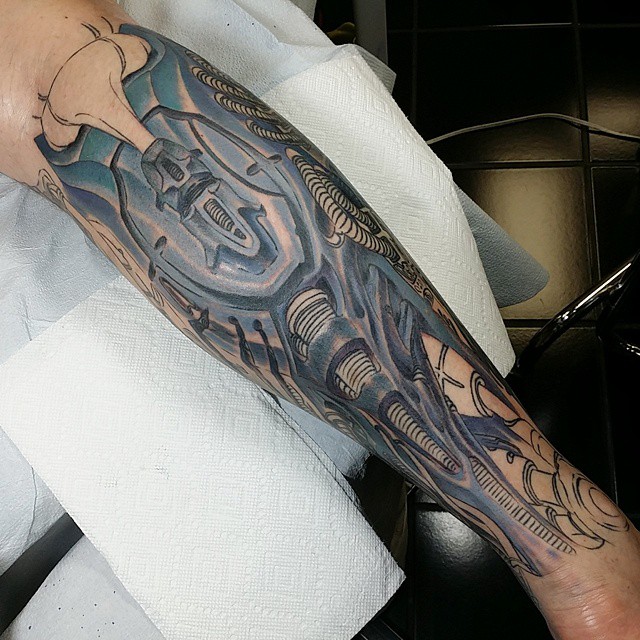 ---
back to menu ↑
Their Symbolic Meaning
Every tattoo design has a symbolic meaning. These types of tattoos are suitable for people who have the passion for technology and mechanics, and are technical at heart.
They are appropriate if you advocate for modernity, rather than believing in traditional types of tattoos and you want to show this as part of your body. You should go for these types of tattoos if you want to try something innovative from the tattoo designers.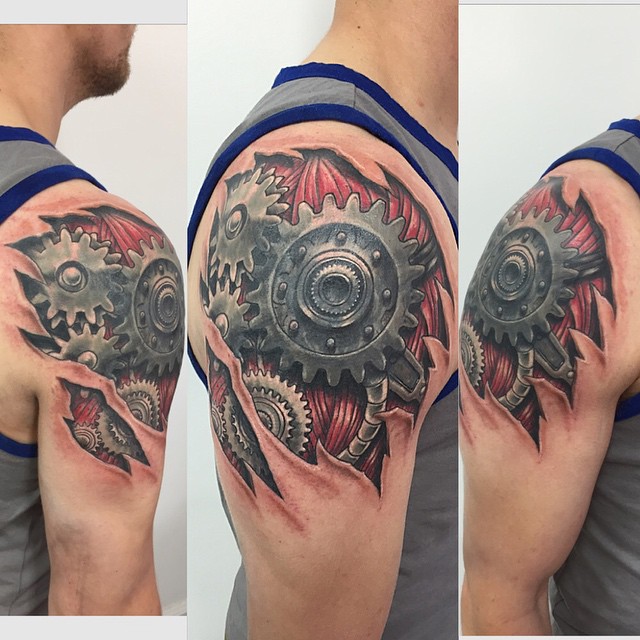 These tattoos are the most intricate and creative designs in the tattoo art. They do not have a standard format and the artists can mould them depending on their imagination and creativity.
Even if the primary elements are machine parts that are used to portray different body parts, innovation activities of the tattoo artists have now incorporated vampires, demons, and skulls in their designs. This is one of the options of adding some unique traditional elements into the design of these tattoos.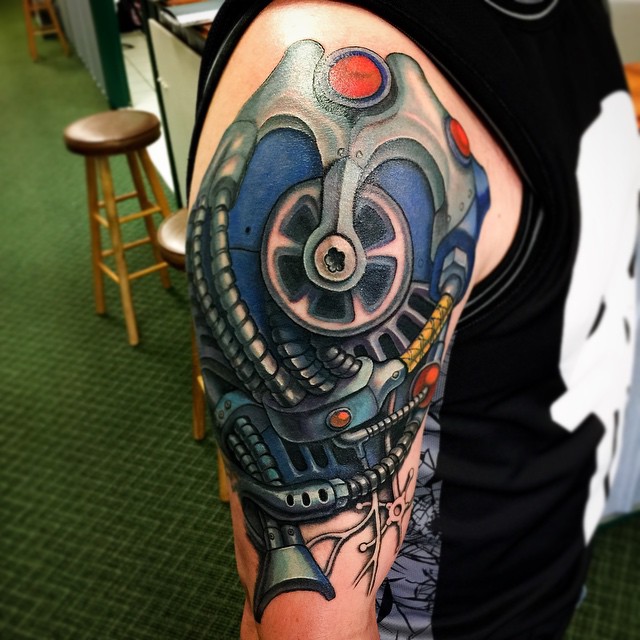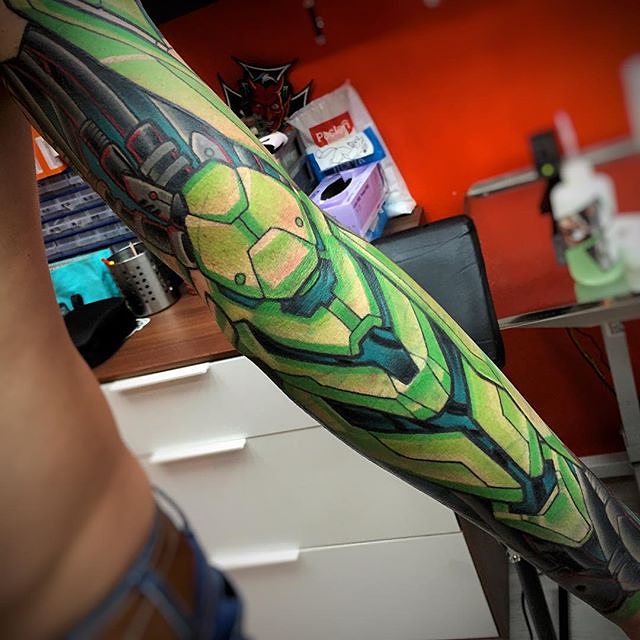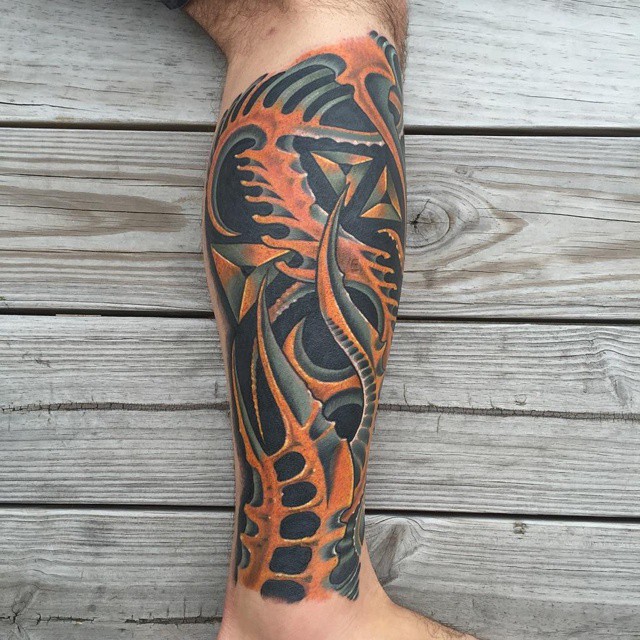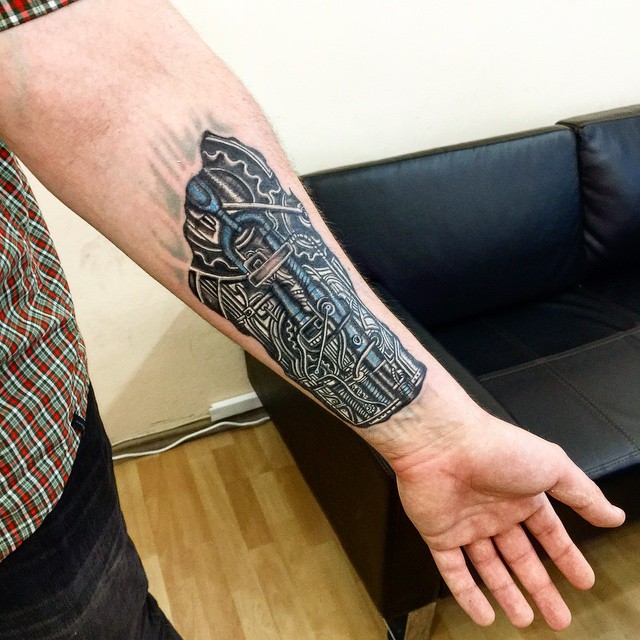 Some designers have come up with different tattoos to fit specific genders by designing masculine and feminine tattoos. For instance, men have half sleeve, full sleeve, thigh, or chest tattoos.
The symbolic value of these tattoos does not have any connections with individual believe or emotions as is the case of other tattoo designs. These tattoos represent a high level of commitment for the pain they endured for them to have it and the value for their money.
Additionally, it is a sigh for their love for imagination and creativity.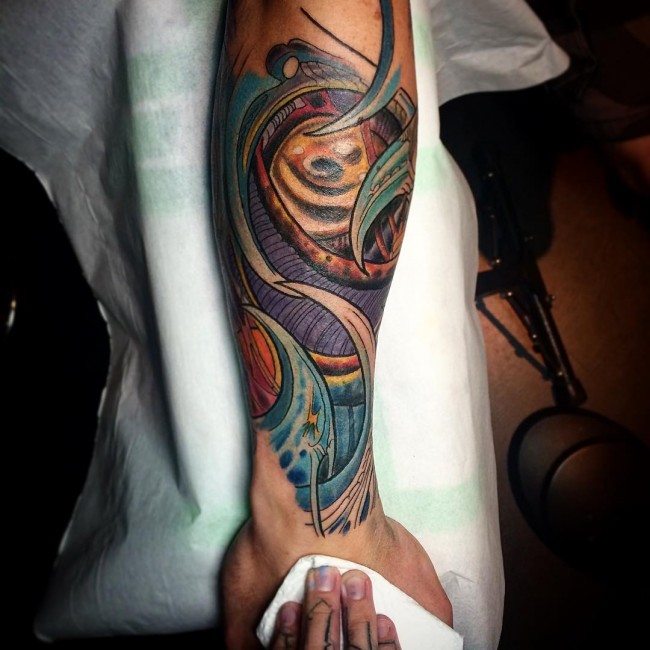 With the innovations and mechanization of the current world, people have been drawn to the new technology. The obsession and devotion that people have with biomechanical things have made them translate it into the tattoo business with the help of the innovativeness of the tattoo artists.
Even if these tattoos do not have symbolic value beyond the biomechanical love, their design looks great. They displays your love and imagination for creative thinking.