80+ Bright Sunflower Tattoos – Designs & Meanings for Happy Life (2019)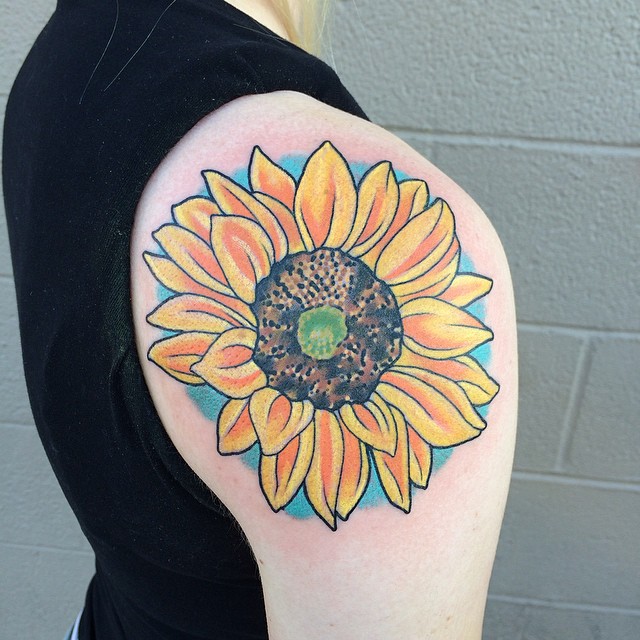 Sunflower is one of the most vibrant flowers and it can evoke the feelings of joy and exuberance in the minds of all. Countless painters around the world have been inspired by sunflower and they create great works of art on the basis of it. Therefore, sunflower is a valued and priceless form of body art.
Sunflower tattoo is very popular among girls and women. However, men also love to get this tattoo on their body. All ancient cultures revered the Sun with greatest importance.
Contents: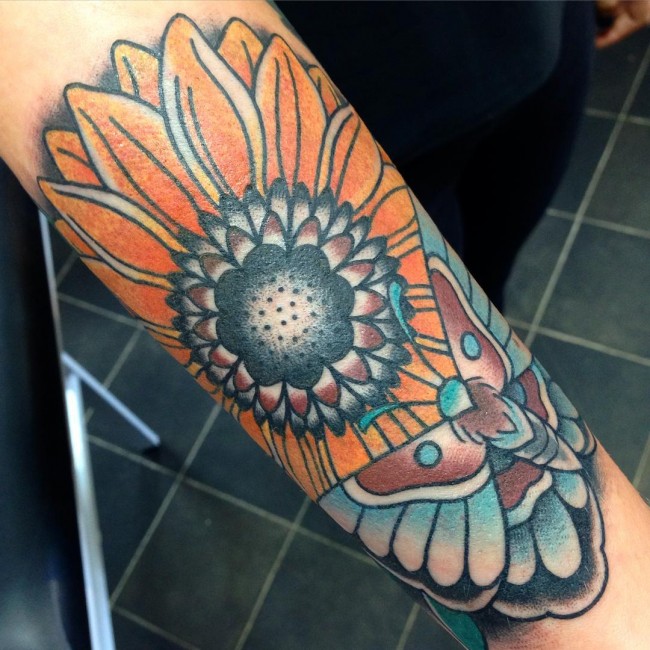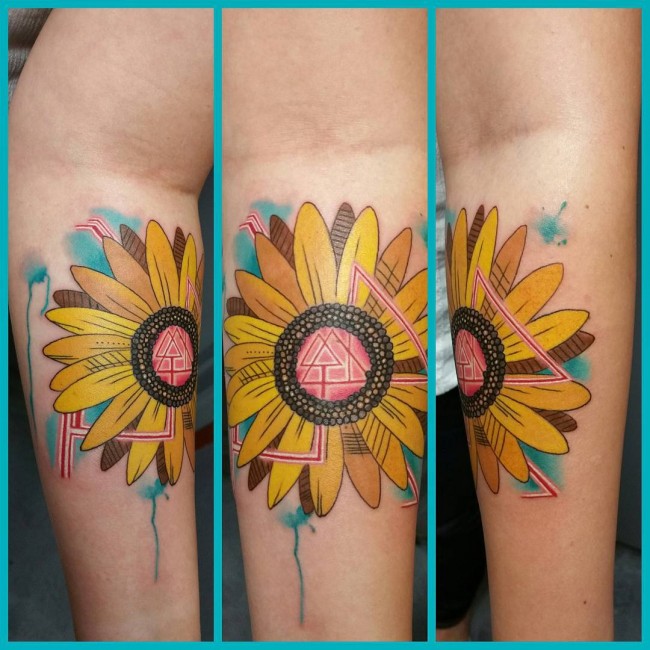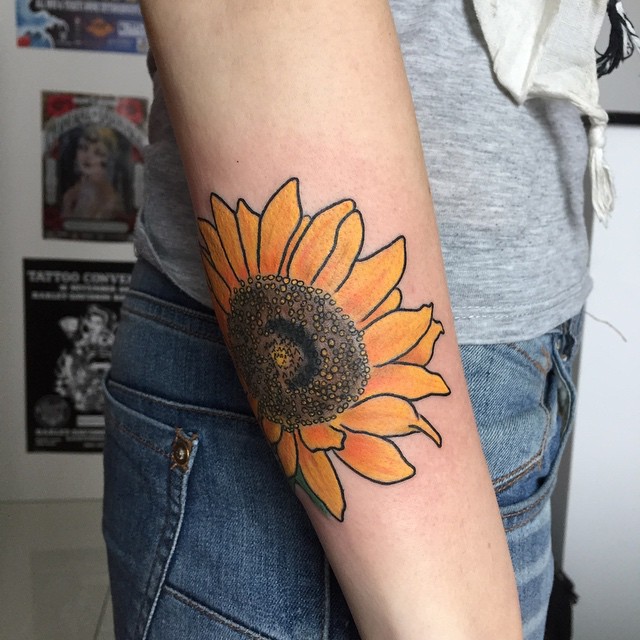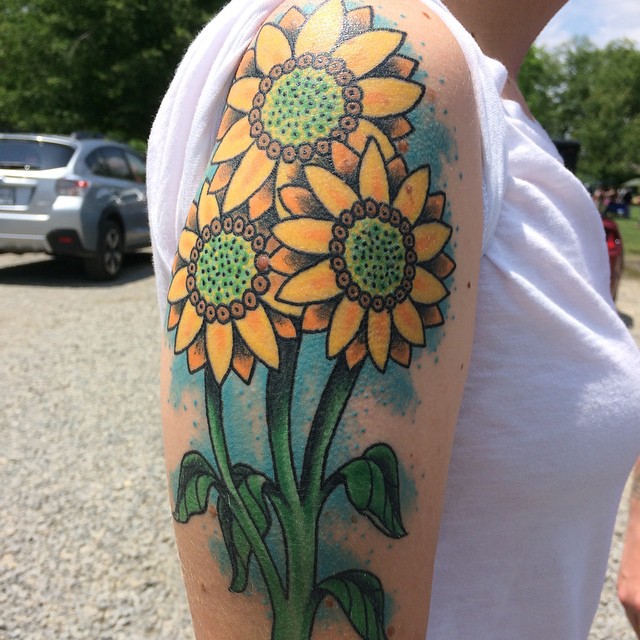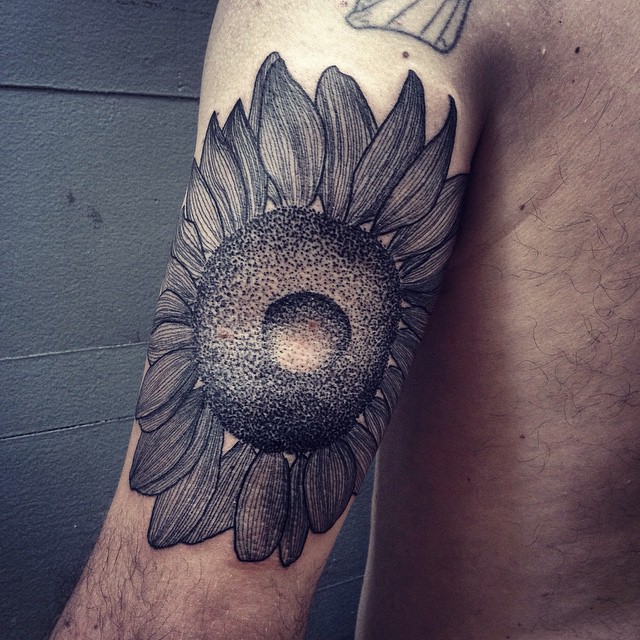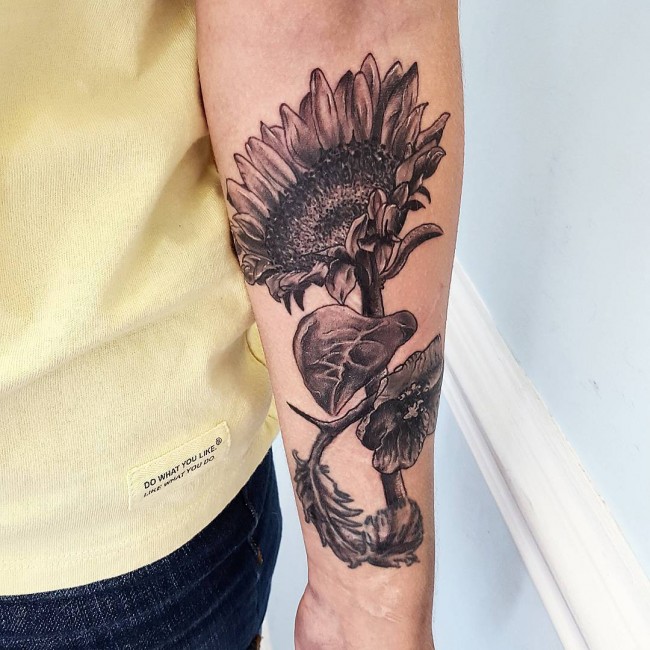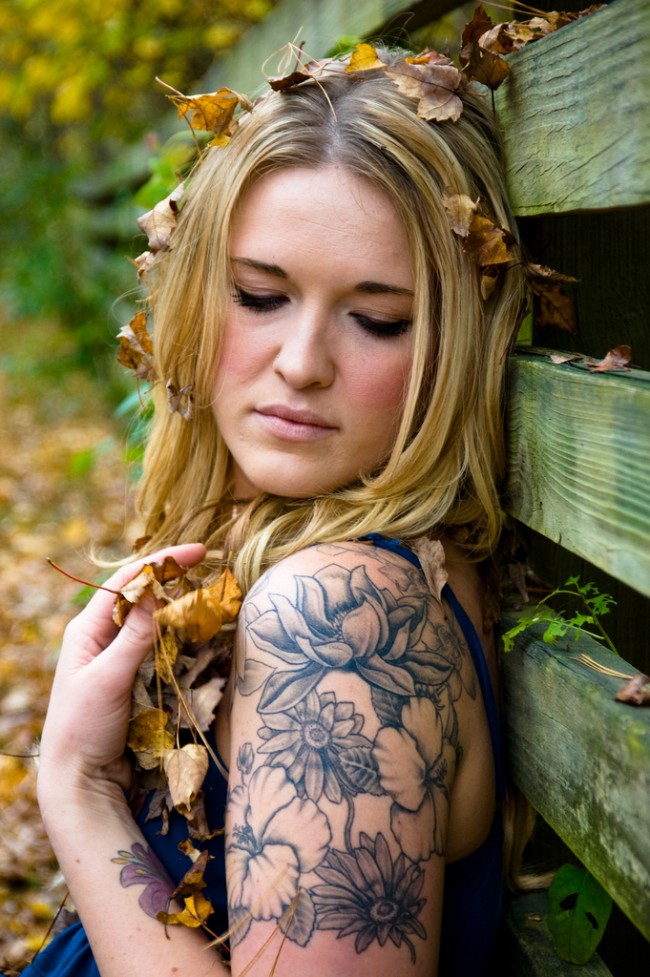 Sunflower gets its name because of its appearance. This flower has greater significance in the life of Native Americans. Ancient Greek mythology also provides prime importance to this flower. Sunflower tattoos are created in a number of different styles.
A sunflower with a hovering bee, a sunflower with two leaves, Celtic knot, vampire, vine sunflower, sunflower tattoos, sunflower with one or more butterflies, etc are some of the most popular sunflower tattoos.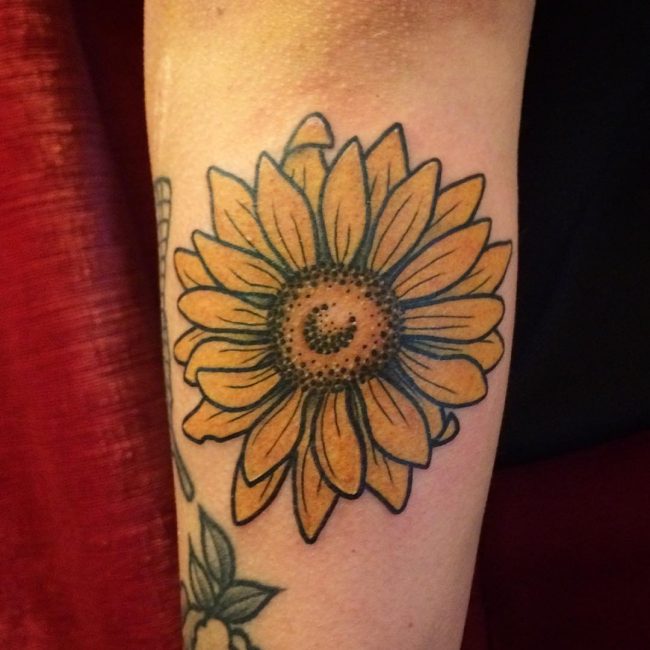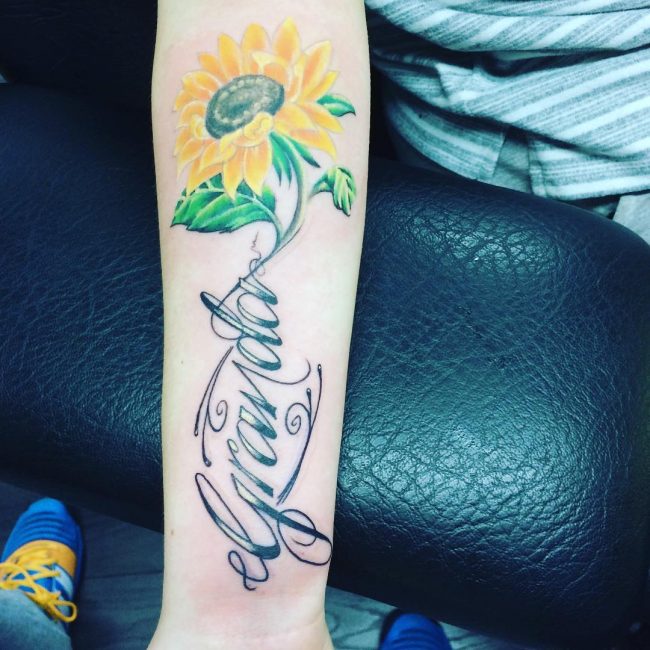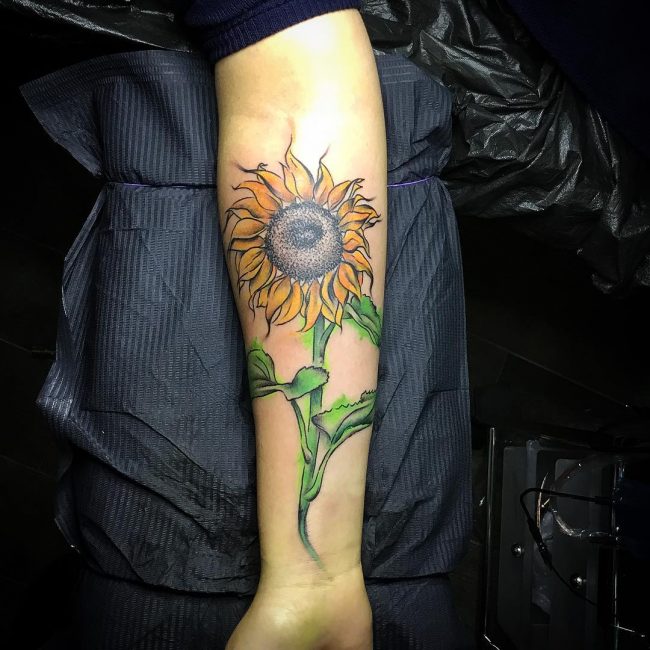 Sunflower Tattoos: What does it Mean?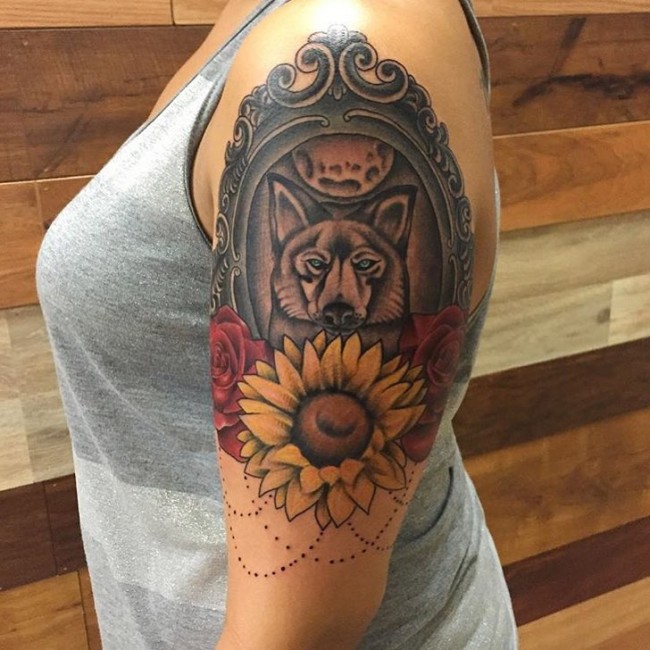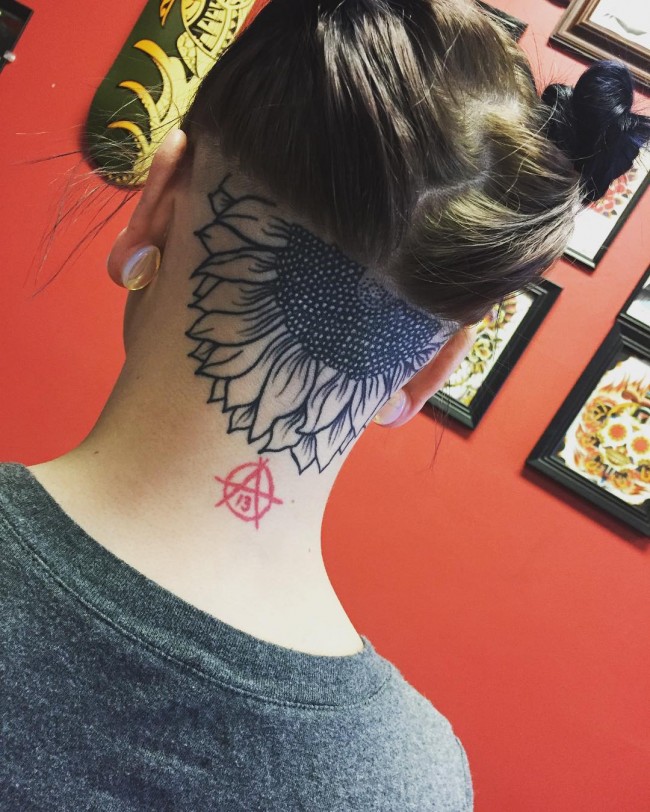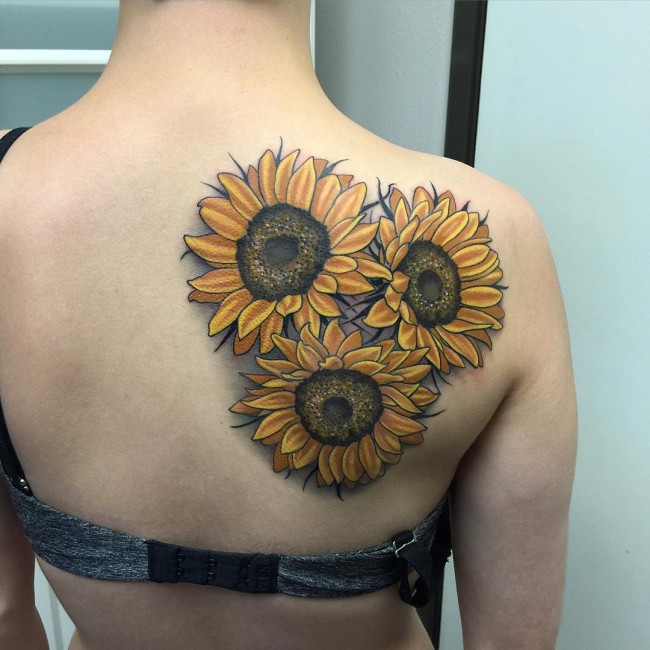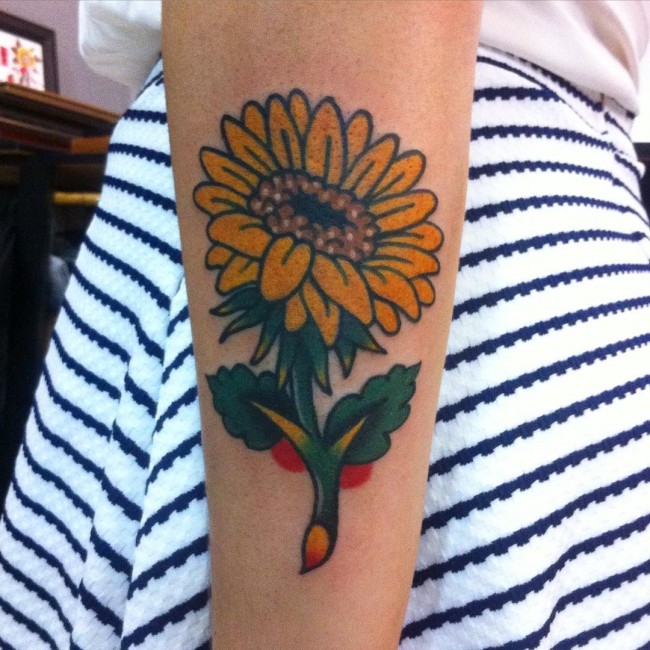 If you like to get a very colorful and meaningful flower tattoo, sunflower is the best for you. It is among the most famous and popular flowers that the artists use in tattooing. Sunflowers move its head towards the Sun as if it wants to meet the Sun. It symbolizes opportunity, flexibility and spiritual attainment.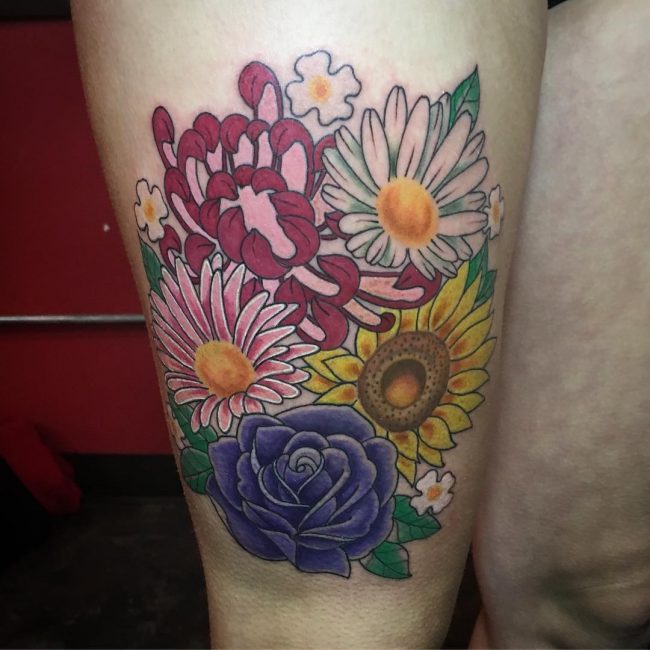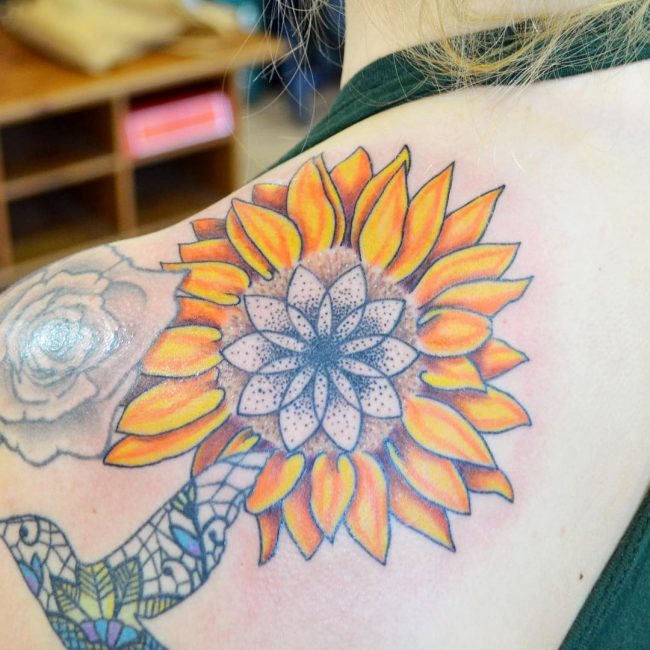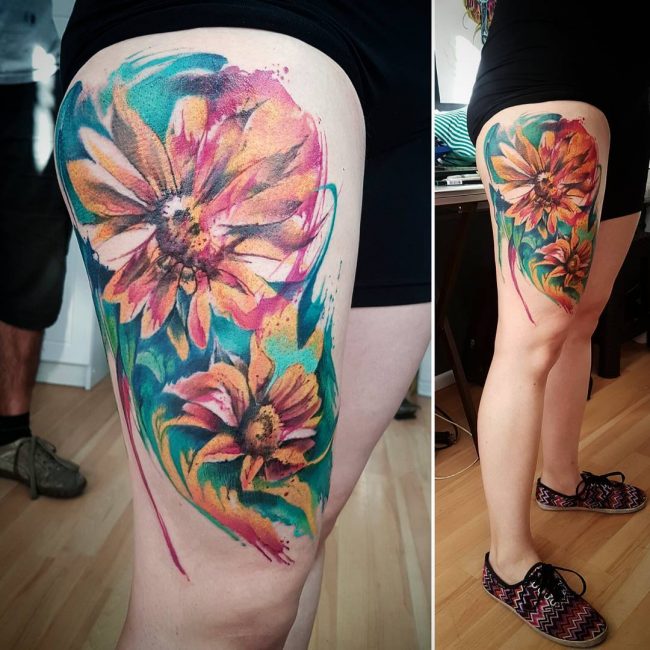 People tattoo their body with sunflowers believe that it brings wealth, good luck and ambition. In general, the meaning of sunflower is positive. In order to reveal the lost love or happiness, people get dying sunflower tattoos. These tattoos are associated with a number of feelings such as: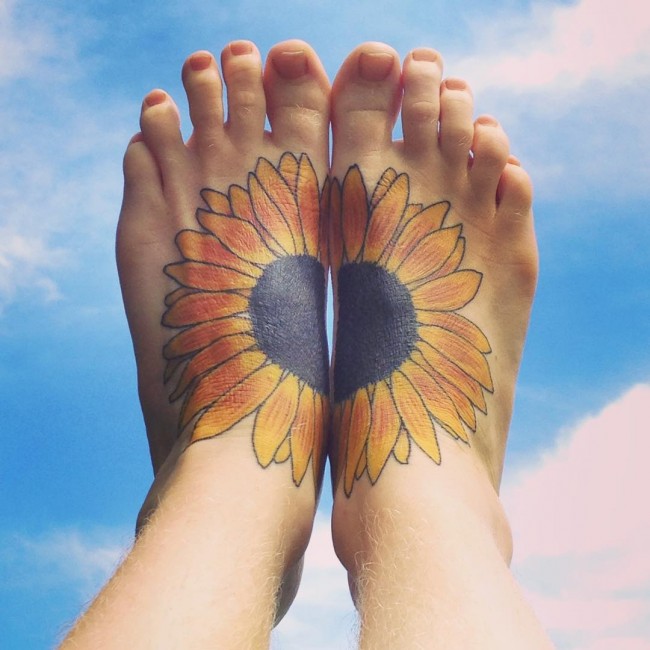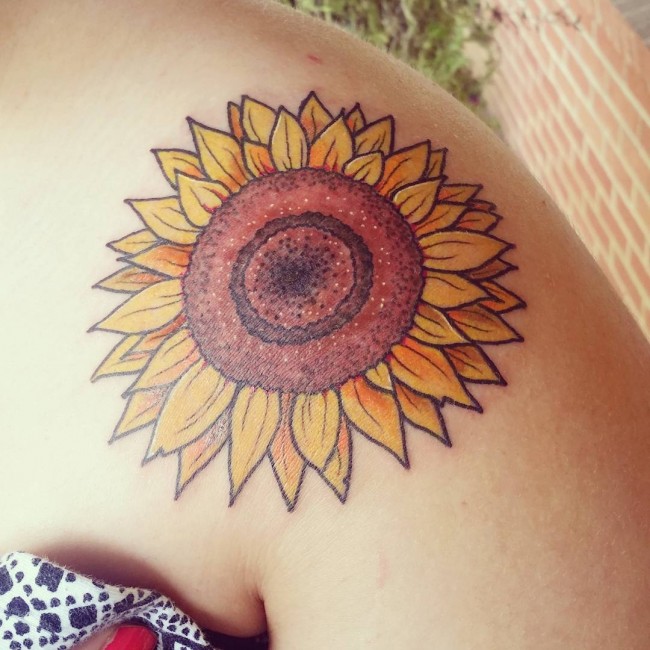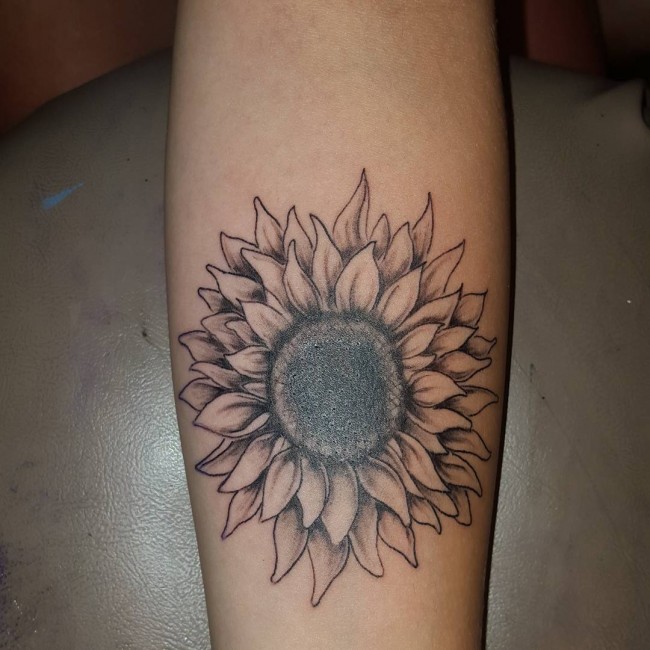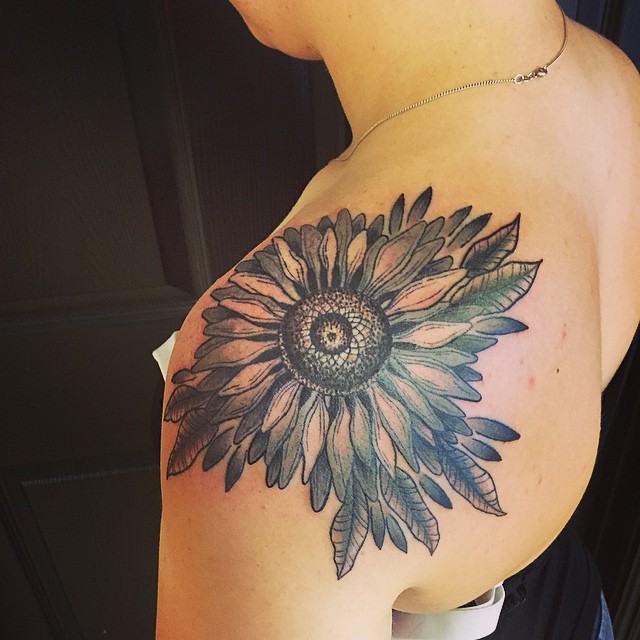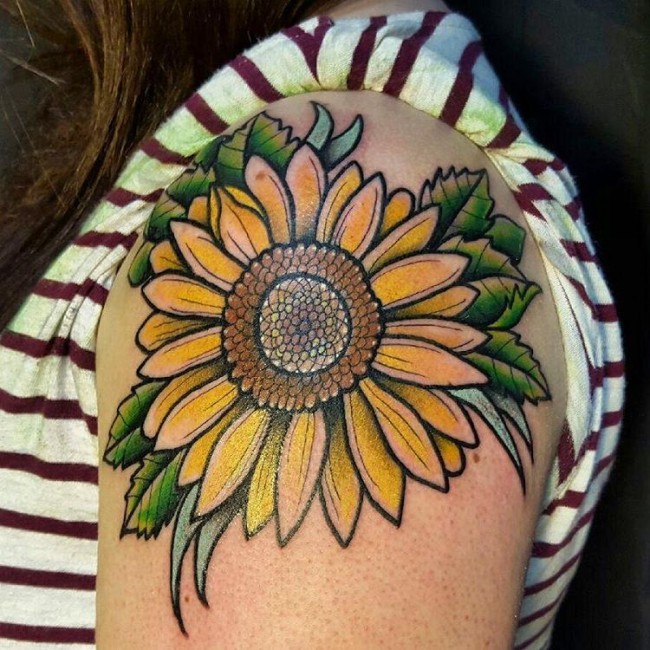 Happiness
Joy
Warmth
Religion
Devotion
Beauty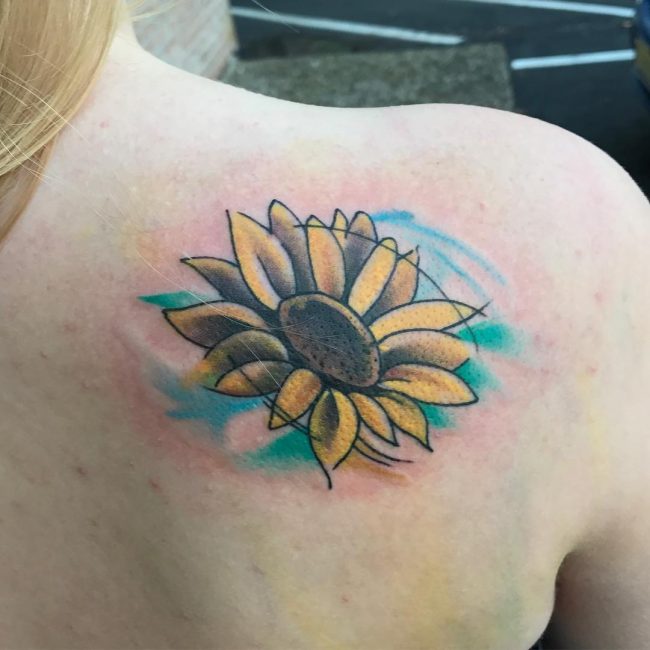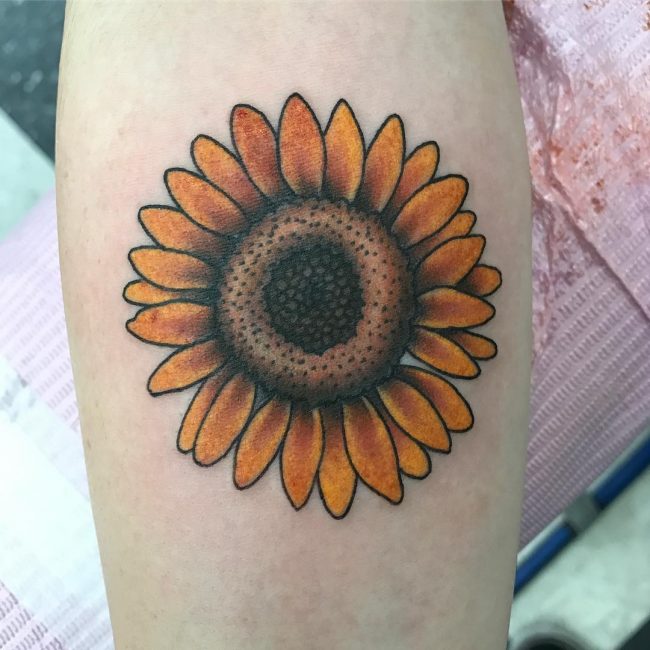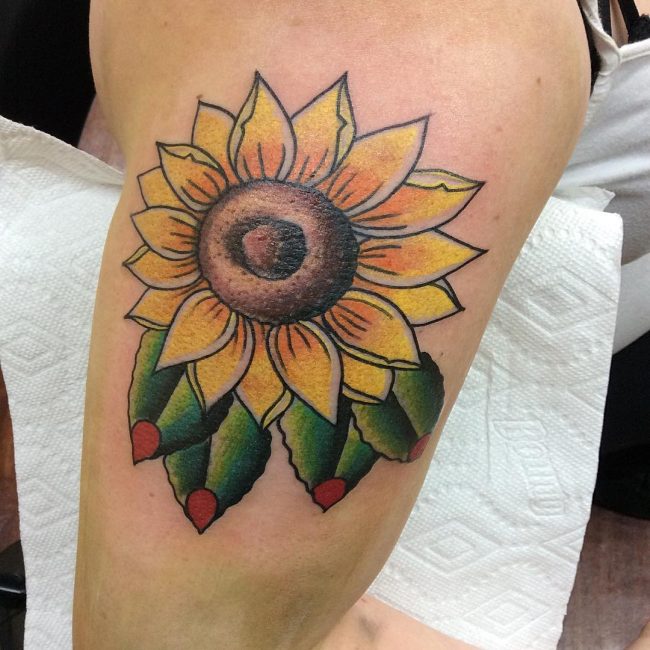 Adoration
longevity
Cheerful
Grace
Femininity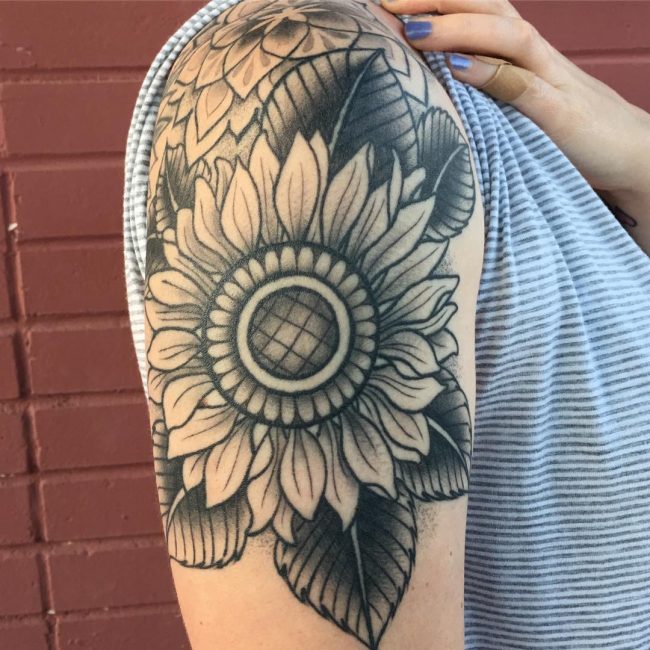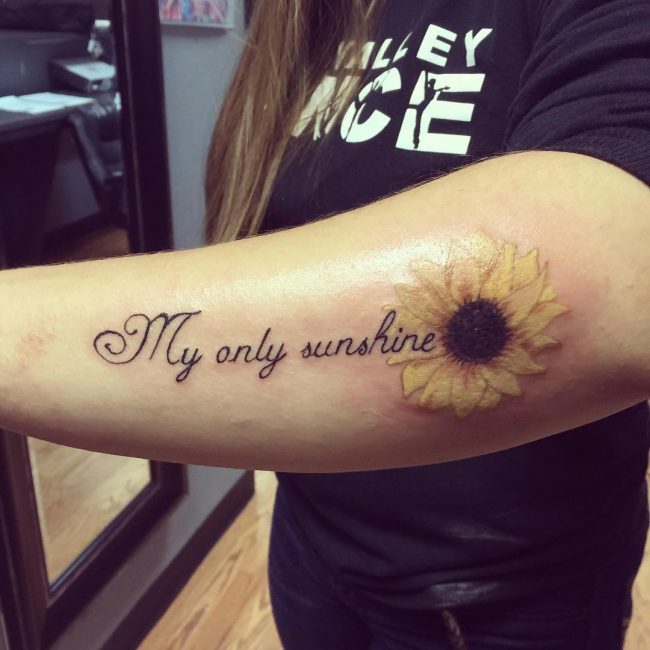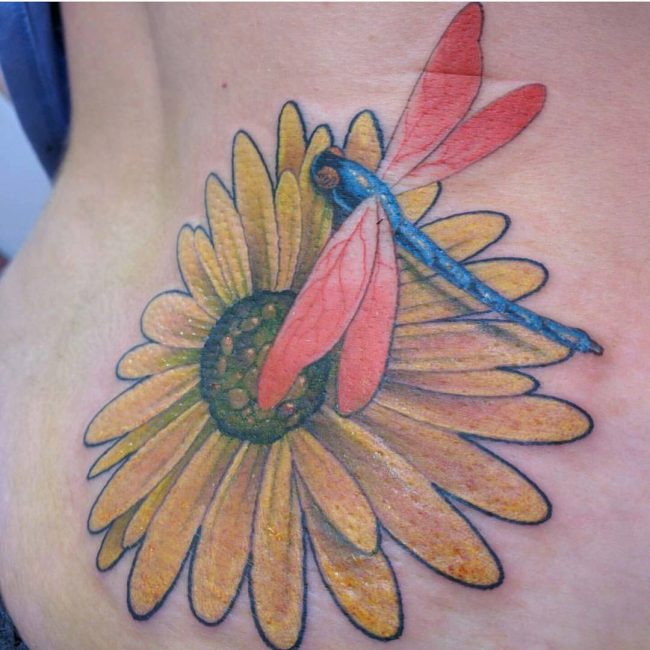 ---
back to menu ↑
Be Happy Like a Sunflower
Sunflower tattoos are the best way to reveal the personality of the wearer instantaneously. There are millions of tattoos in the world. When you avoid all of them and select sunflower, you are telling to the world that you are really optimistic. Sunflower is very bright and vibrant.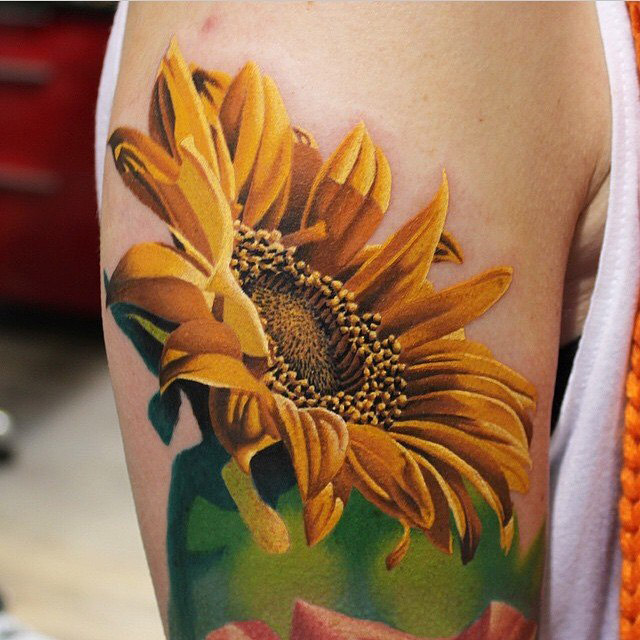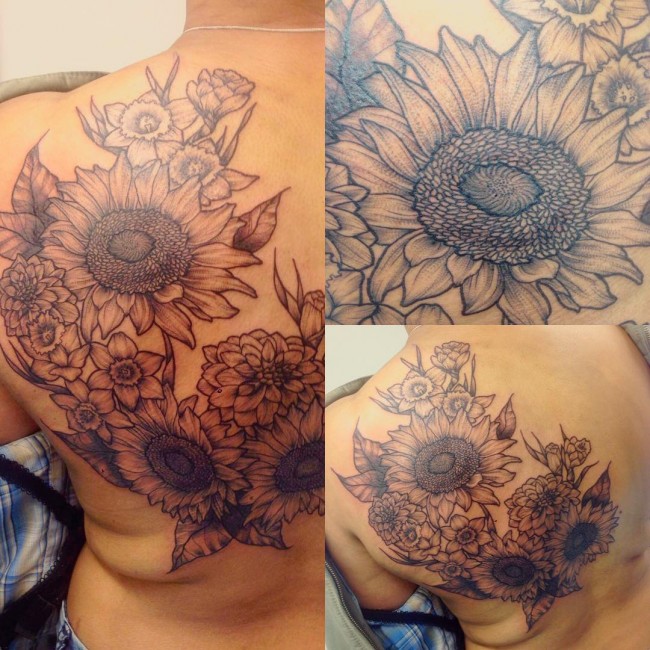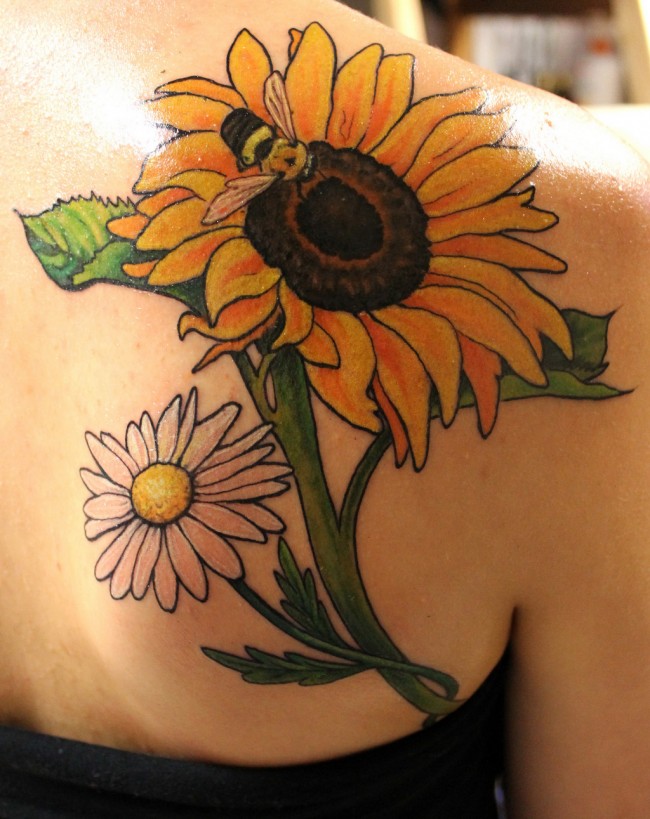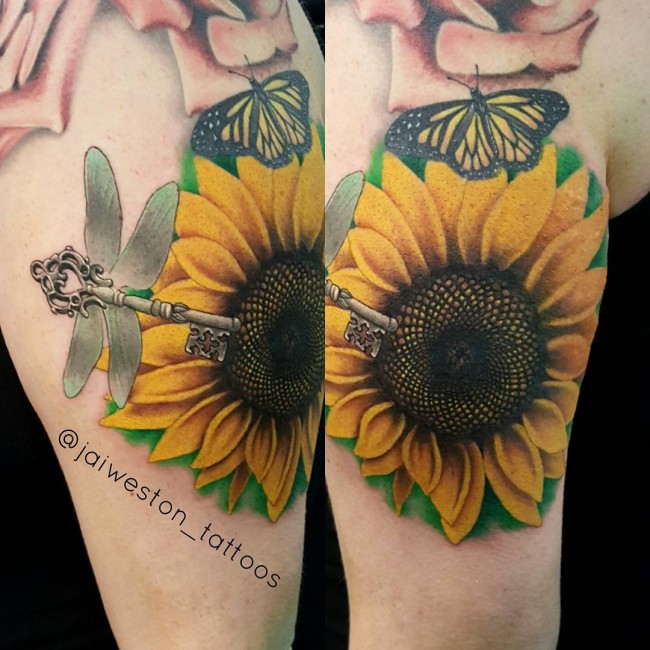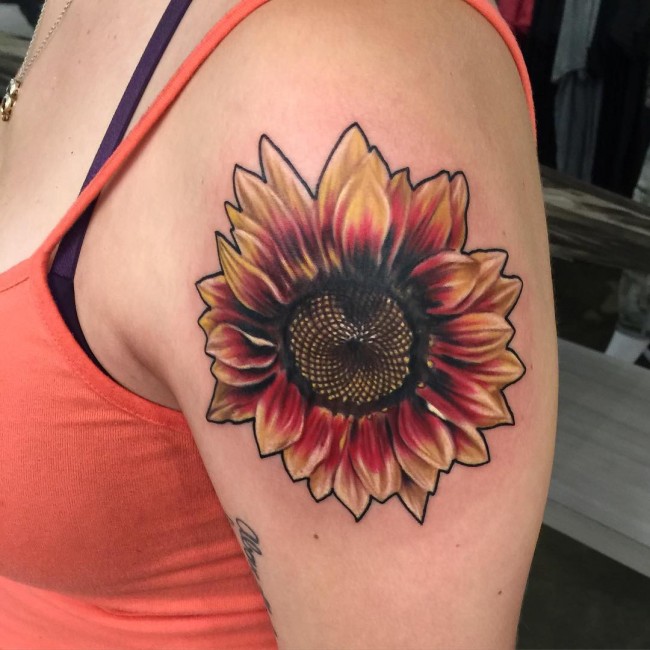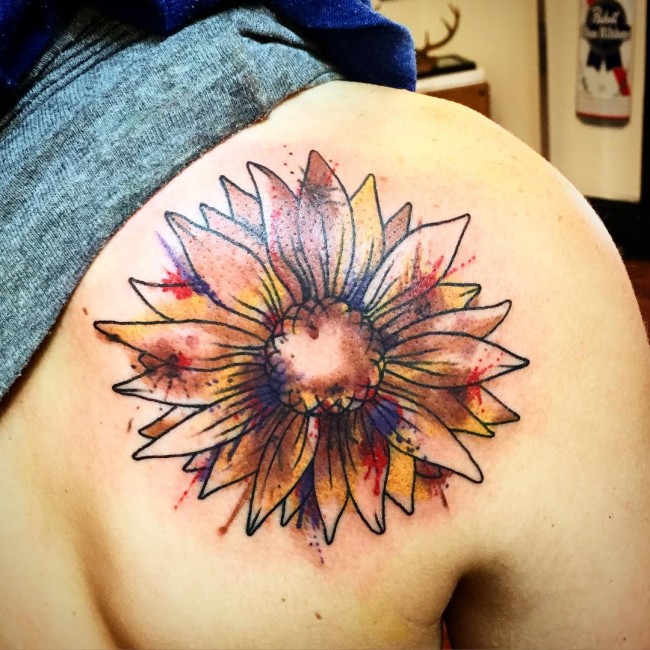 Just like this flower, the wearer of this tattoo is also jovial, bright and adaptive. These people live their life with the fullest. They move forward their life with full strength and inspiration. They can achieve great success in their life. But in the midst of their happy life, they are down-to-earth.
They also love to be connected with their roots.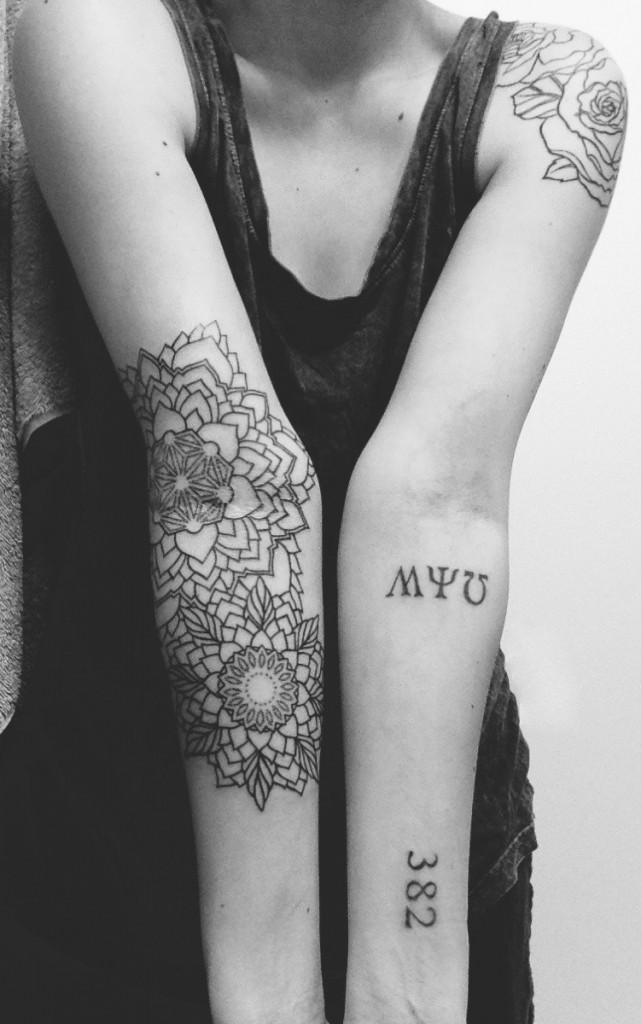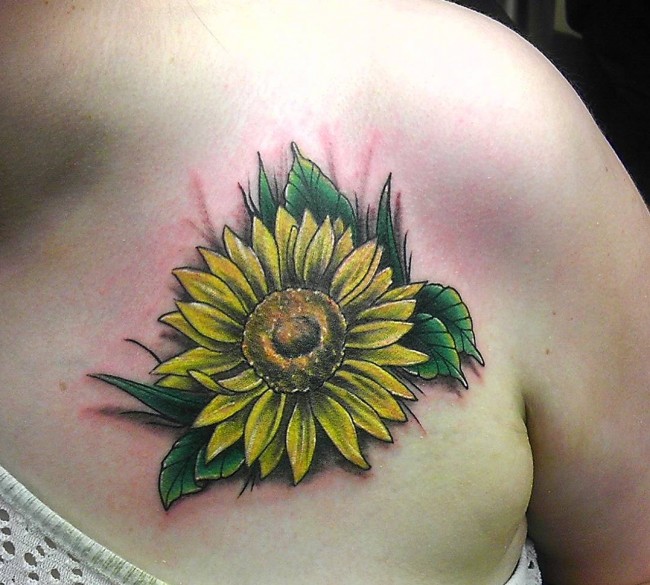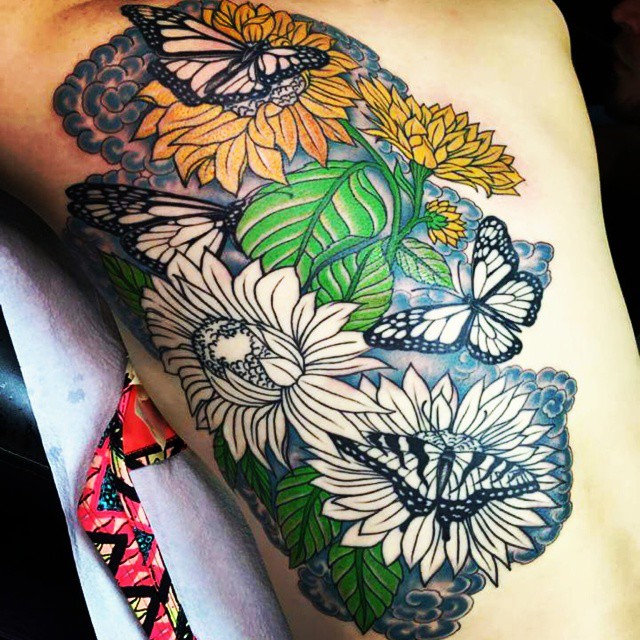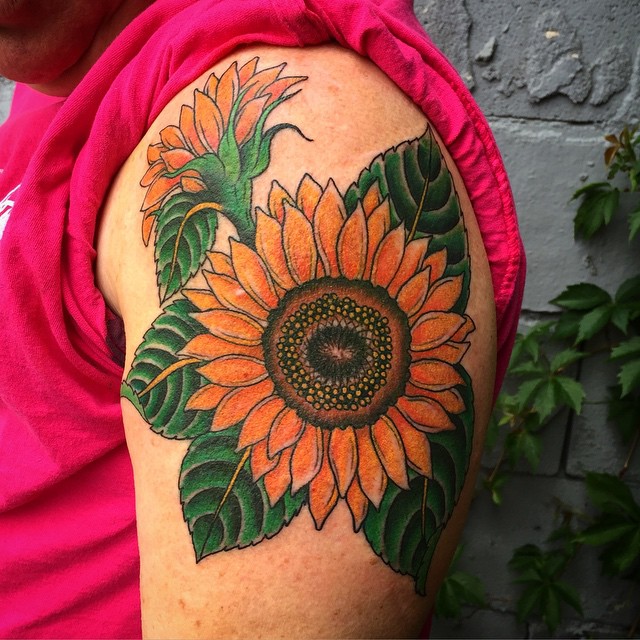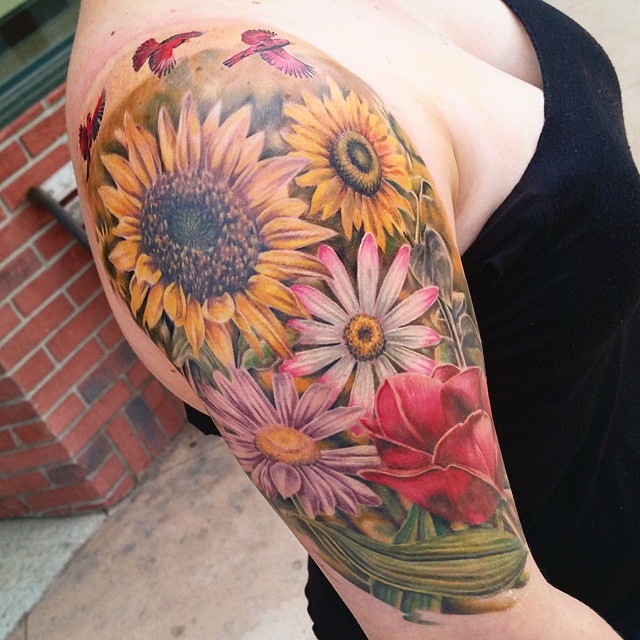 ---
back to menu ↑
Reveal your Loyalty and Friendship
Sunflower is the symbol of constancy. Tattoo with a sunflower represents everlasting friendship, remembrance and constant loyalty. People also get this tattoo when someone special departed from their life. It reminds you to be cheerful and happy.
You are revealing your family ties and eternal friendship through this tattoo. This is the reason some people like to get two or more sunflowers tattooed together.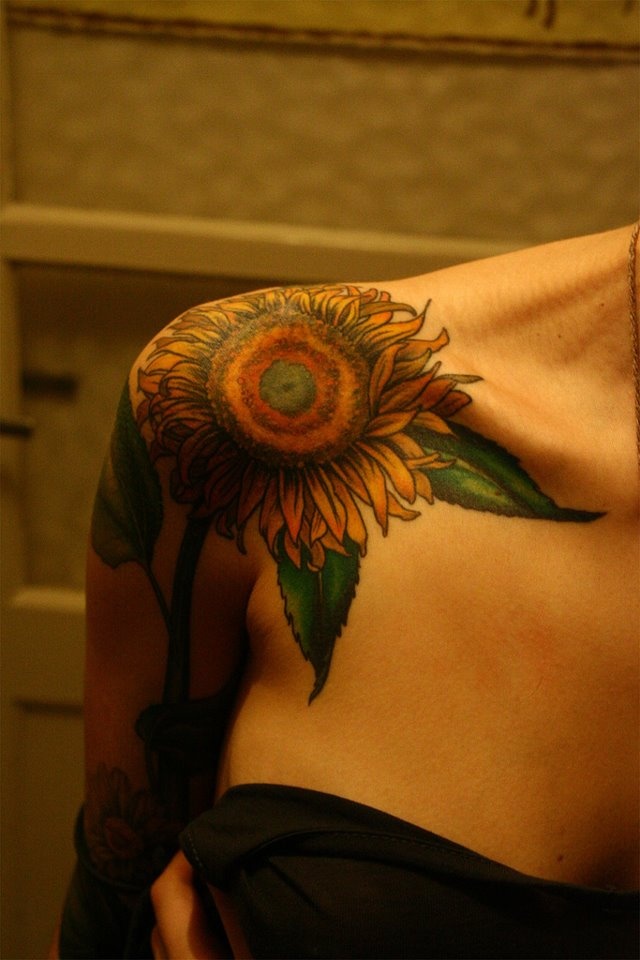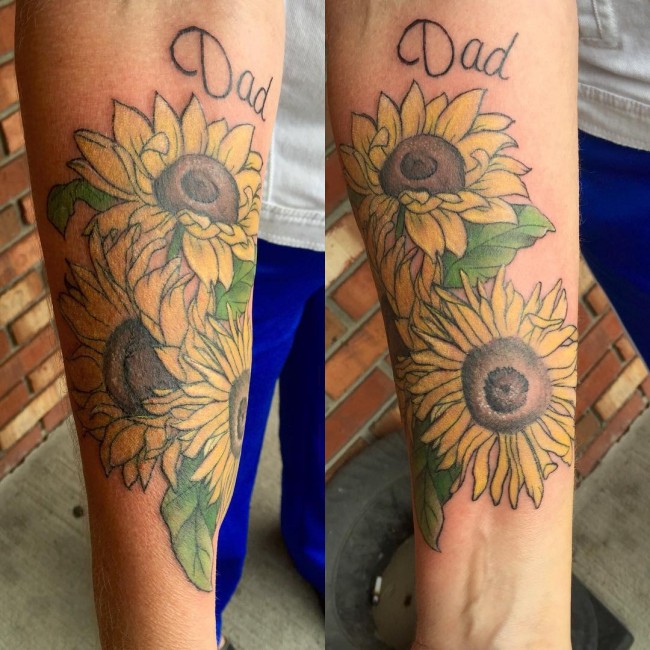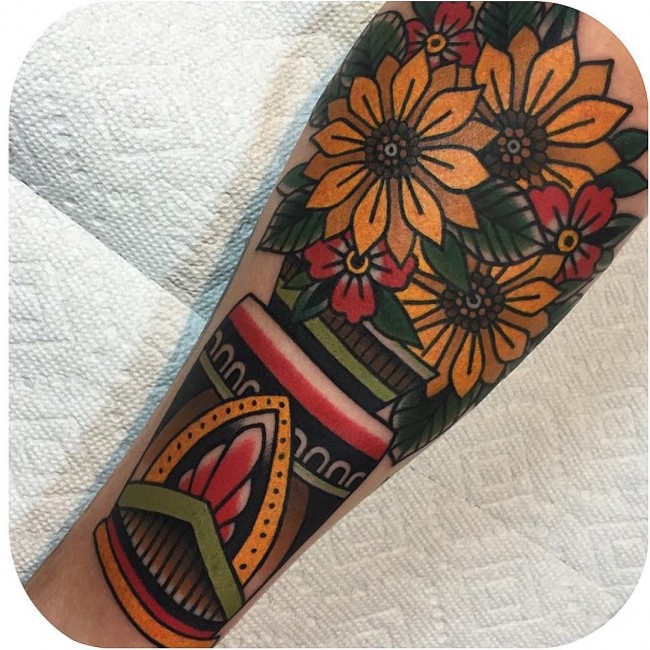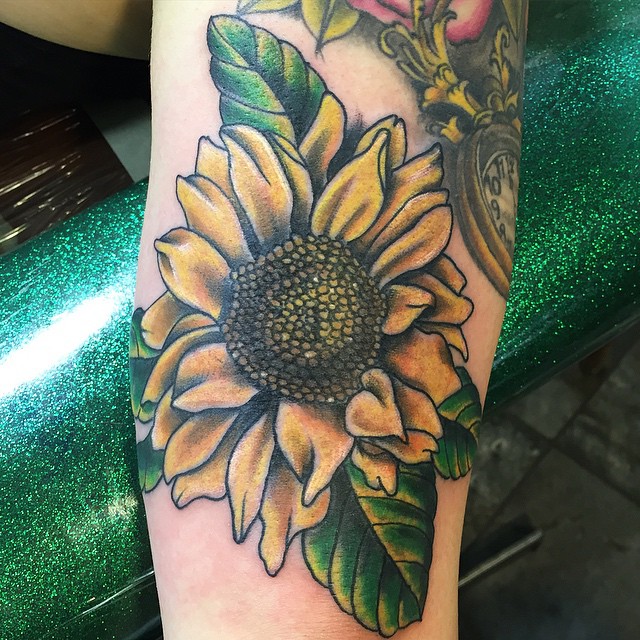 Usually, sunflower tattoos are used in a combination of Carpe Diem. The meaning of this word is 'enjoy the present.' The wearer of sunflower tattoos live every day like it is their last. This believe helps them to live positively with full of hope and joy in their hearts.
Sunflower tattoos resemble the everlasting love. The wearer believes that they can regain the lost love. So, it is a symbol of hope too.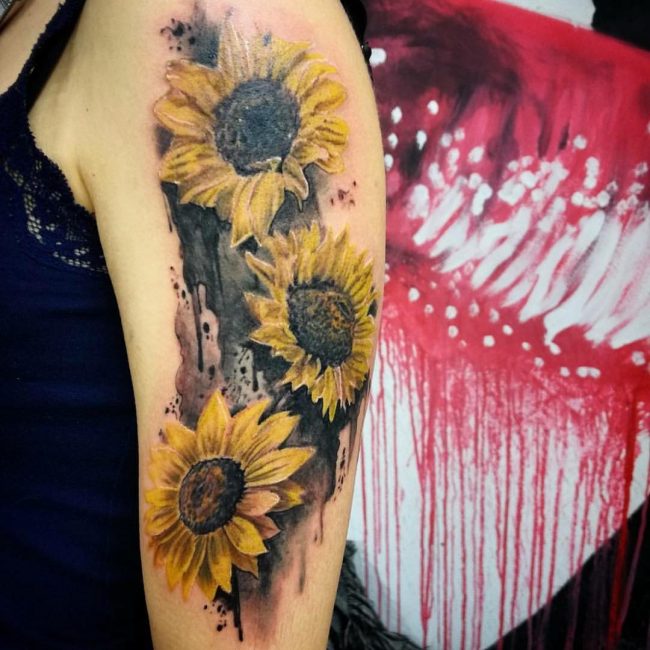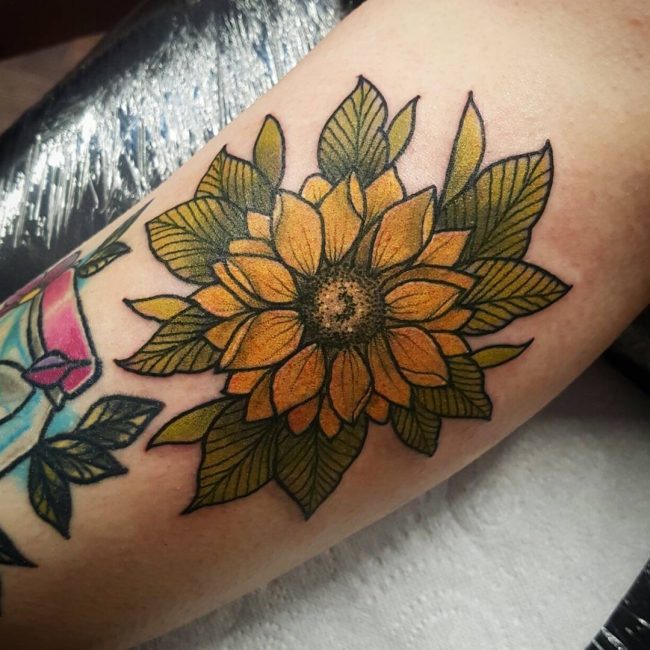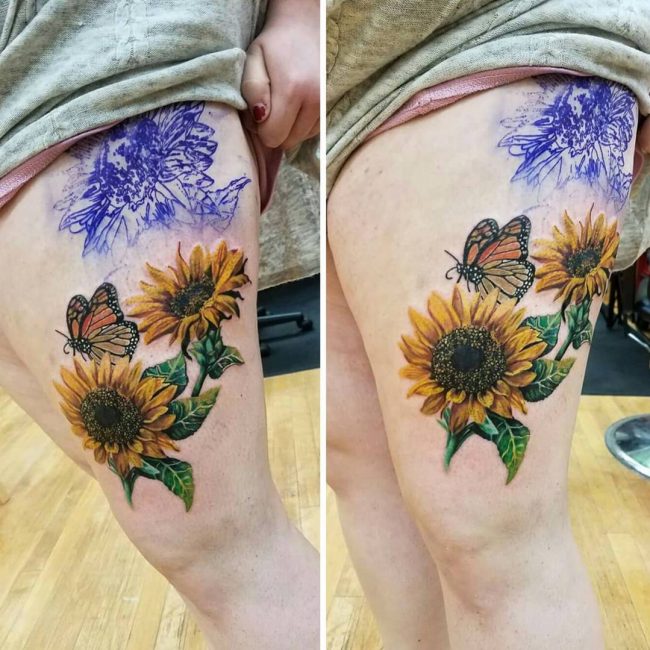 Sunflower always turns its face to the sunlight. Spiritualism tells light of truth to the humanity. Sunflower is the symbol of faith and it seeks the light. As sunflower seeks light, human soul seeks unity and spiritual strength through their faith.
A true believer in God wear this tattoo to stay connected with source of spirituality and belief.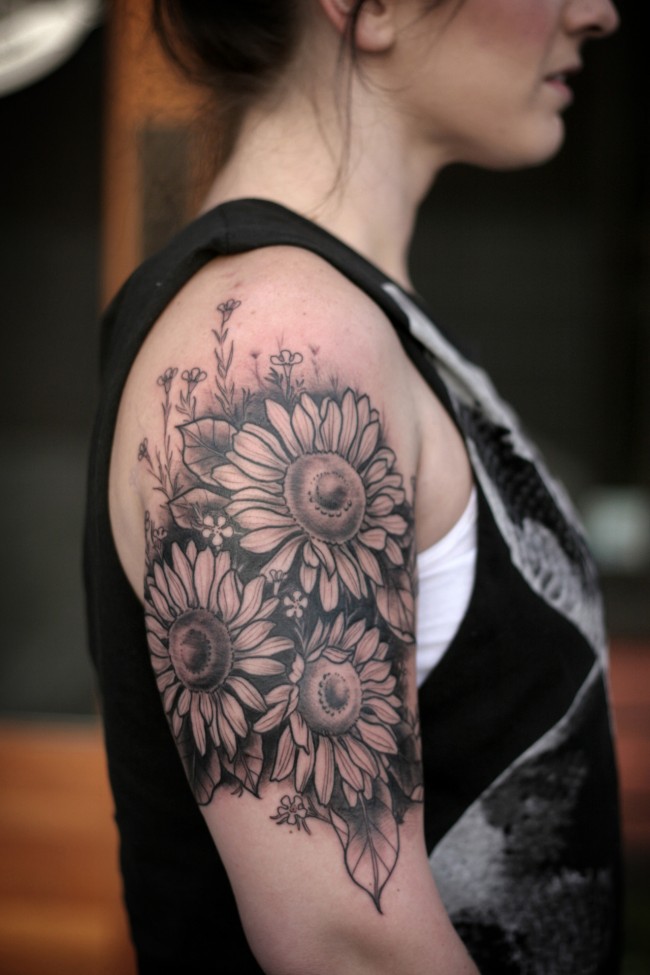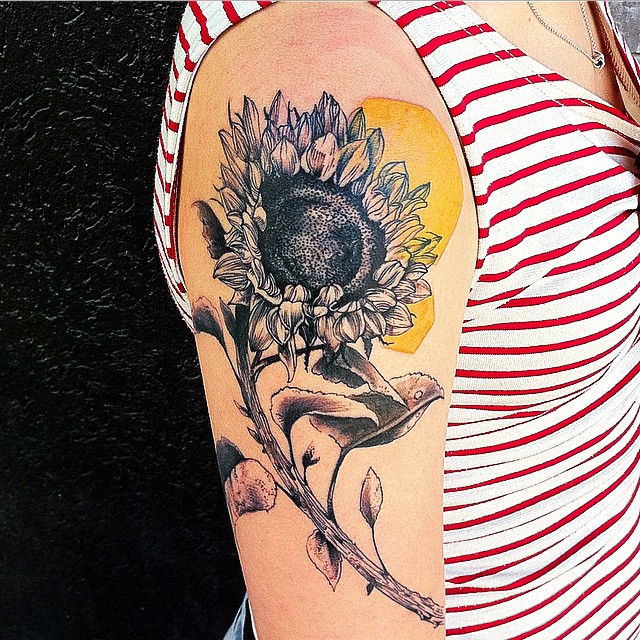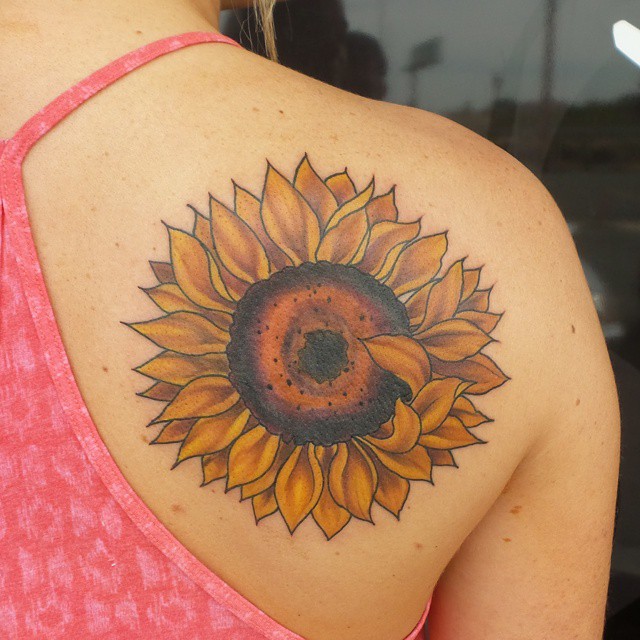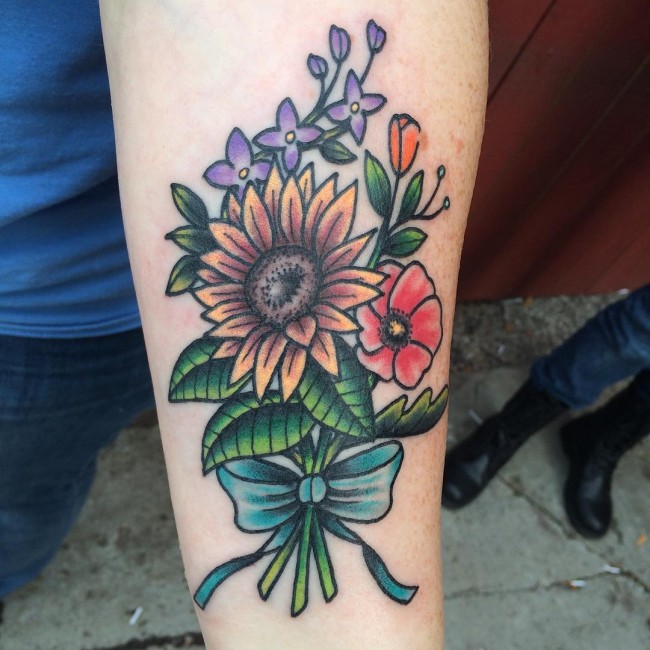 Sunflower is the symbol of the Sun deity for Incas of South America, Otomi of Mexico, Aztecs and Native Americans. These ancient civilizations worship sunflower because of its resemblance to the Sun. According to the Native Americans, this flower is the symbol of good harvest.
They believe that the sunflower associates with fertility, life-giving power and vitality of the Sun.
The yellow color in sunflower represents the Solar Plexus, which stands for inner potential, will, self-awareness, perception and intellect. So, pet sunflower tattoo to gain self motivation and inspiration.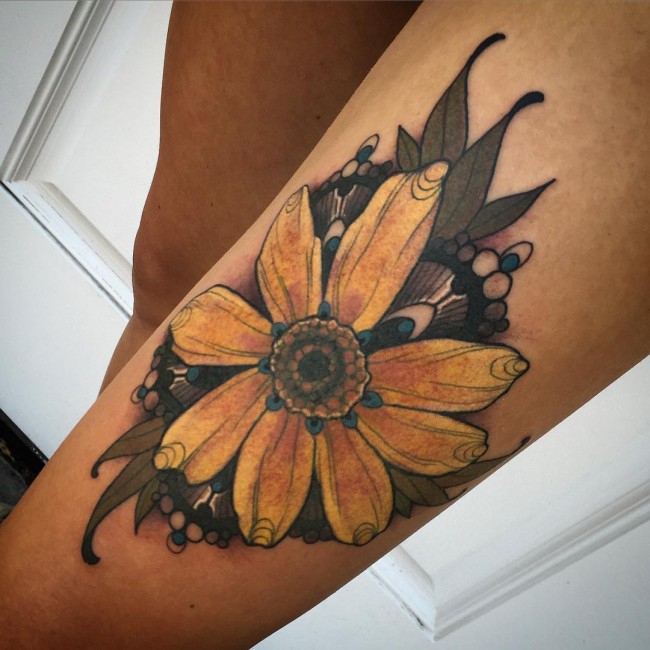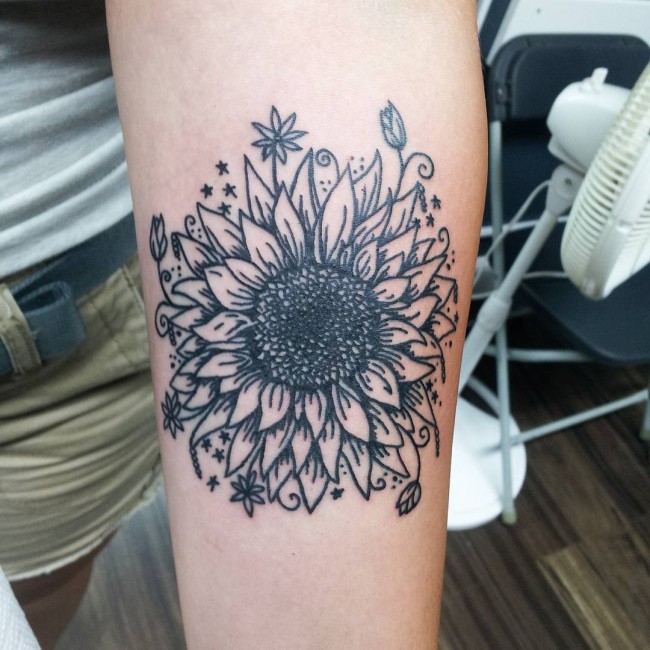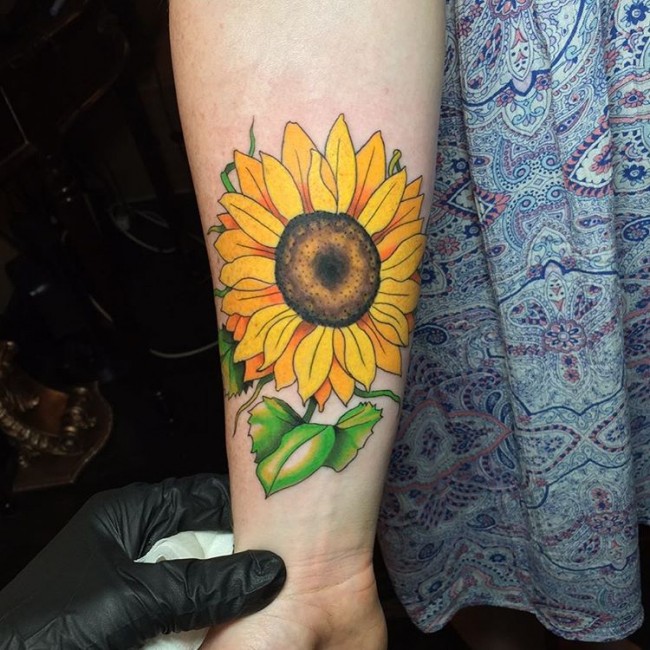 Sunflower has been used in art for centuries. This flower itself has proved as one of the most useful flowers to the mankind. The heart of a large sunflower contains hundreds of seeds. Sunflower can be eaten raw or cooked. It is crushed to get oil. The leaves of this plant are used for feeding cattle.
The stem is used for making paper. During summers, the flowers bloom. In short, it provides food and materials to the people.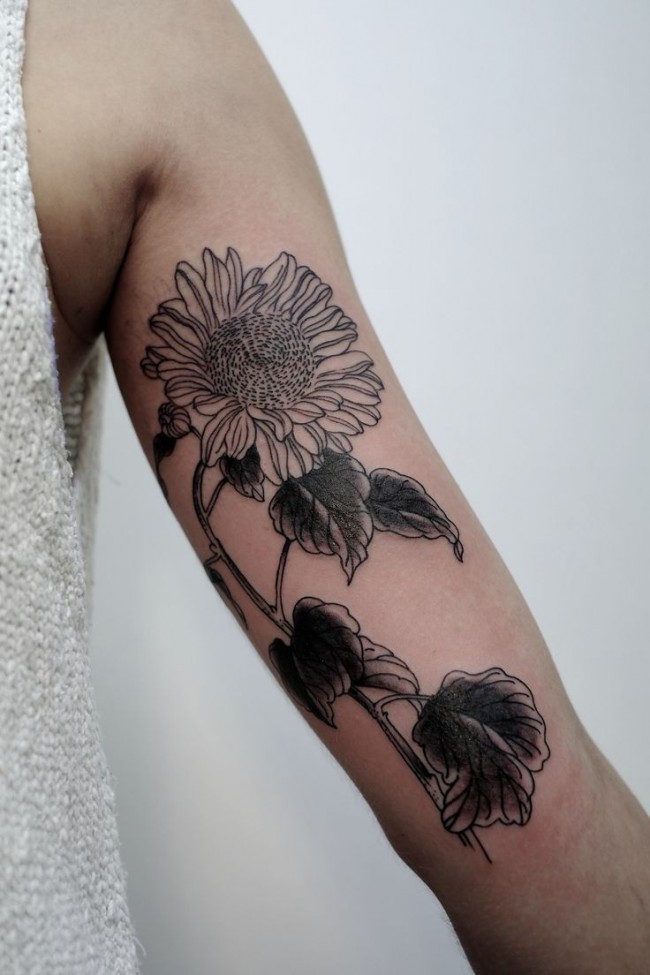 Chinese culture associates yellow sunflower with vitality, happiness and intelligence. The people in China use sunflower art to symbolize long life and good luck. This flower is also given as gift for wedding, birthdays, family events, etc. It is very difficult for people to look directly at the Sun.
So, they used a friendlier version in paintings and illustrations in the shape of a sunflower. It is the symbol of the Spiritualist church. By doing so, they claim that it is an excellent representation of their faith.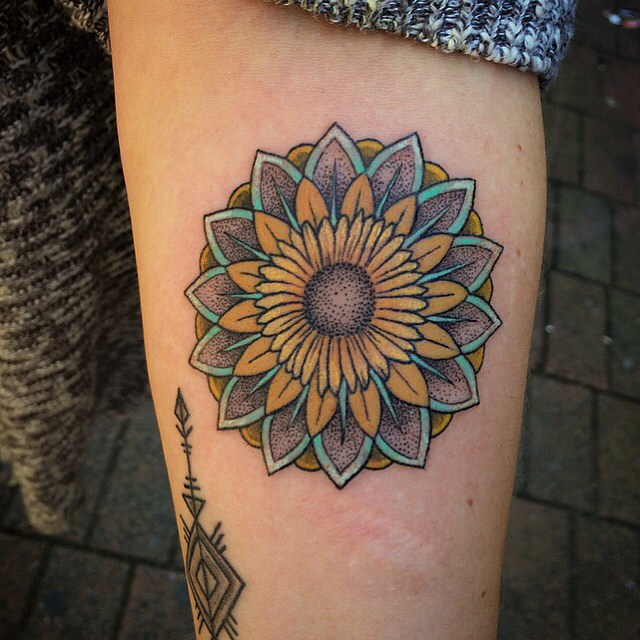 Sunflower is the logo of a number of health food companies too. In such a way, they create a link between the Sun, sunflower and its vitality.
---
back to menu ↑
Sunflower Tattoo Designs
Everybody wants to get unique sunflower tattoo designs. Some people like to get single sunflower on their shoulder, back, wrist, leg, etc. Small sunflower designs are highly attractive. However, if you want to get a startling look, you can get big ones.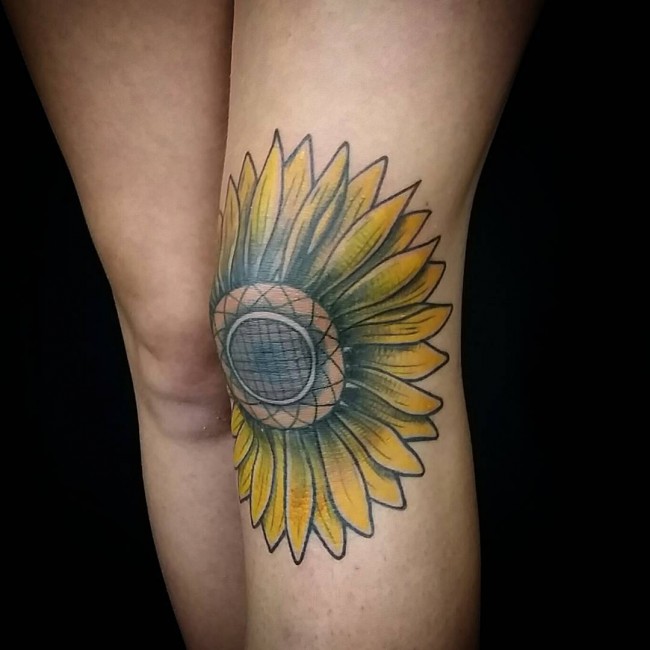 In order to bring all attractions to the center of this flower, some people try to change its center. Celtic art with a simple flower is the preferred choice for religious people. In such case, normal center of the sunflower is replaced with Celtic knots.
Tattoos of a bunch of sunflowers are more attractive than a single flower. Fun-loving girls select colorful design ideas. They like to add multiple colors in tattoo designs.
There are deep meanings in sunflower tattoos. You can place these tattoos anywhere on your body. However, it is really fun and friendly when you place it on visible parts such as shoulders, arms, ankle, etc. You can select the best design after exploring the meanings of tattoos of sunflowers.