40 Redoubtable Japanese Mask Tattoos – Designs and Ideas (2020)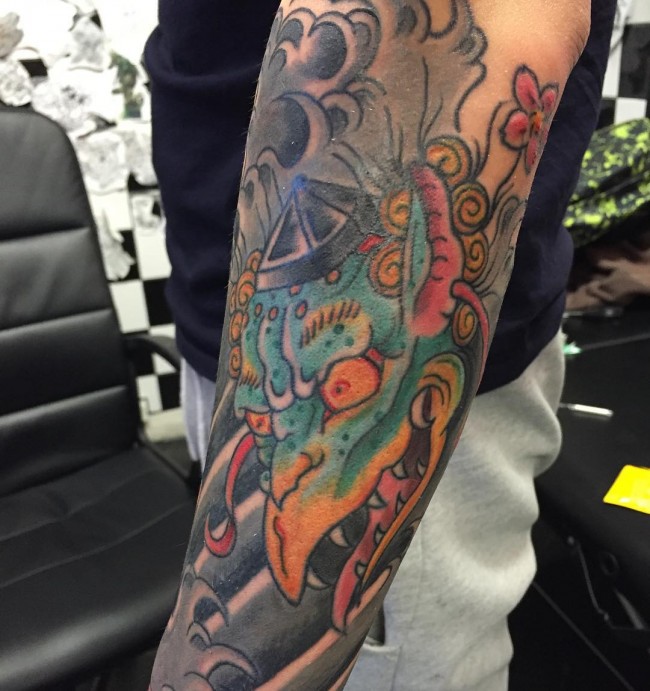 Japanese mask tattoos are among the most popular style when it comes to tattoo art not only in Japan but also other countries. Before you consider the idea of having Japanese tattoo mask, you need to understand that every tattoo has its meaning as well as purpose.
This could be one of the major reasons as to why the tattooing has continued to attract thousands of people outside the Japanese culture.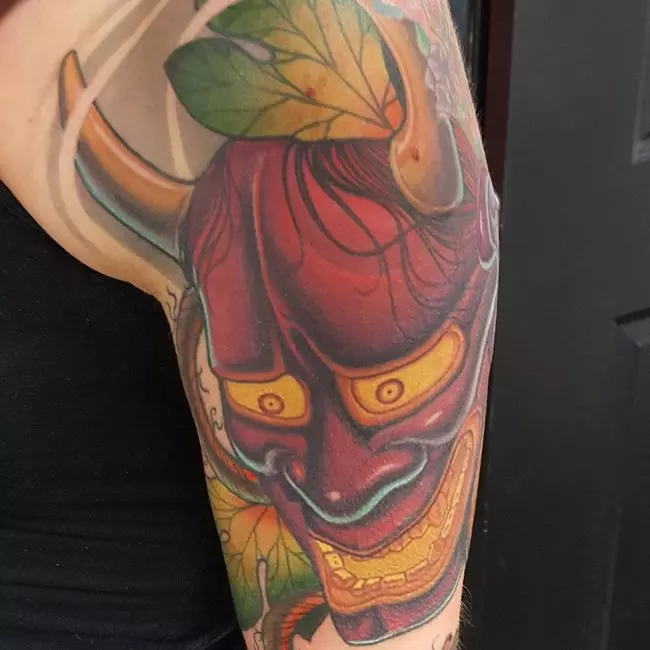 If you have been thinking of acquiring a tattoo that will last forever then you should go take time and read the following information carefully so that you do not end up with a tattoo that will make to start regretting a few years down the line.
Contents: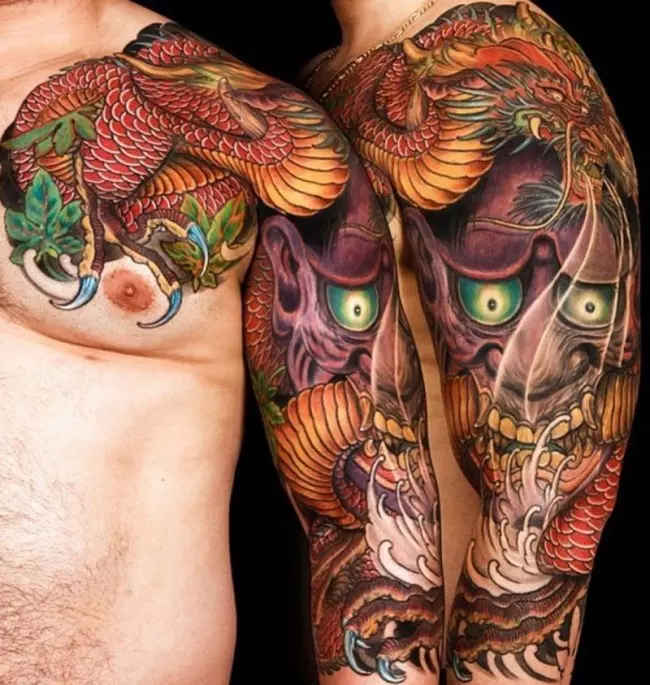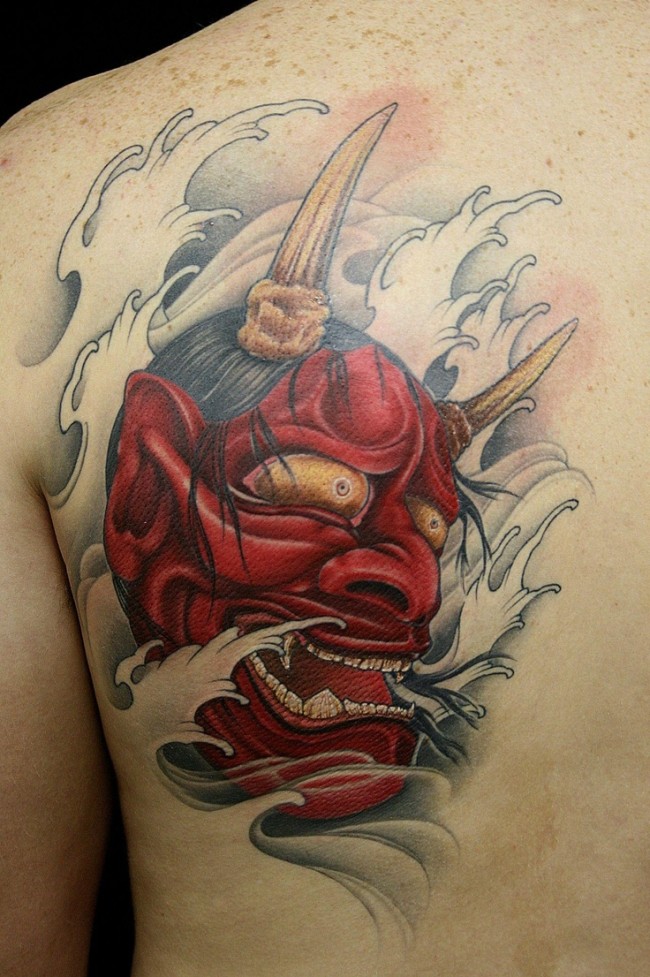 History and meaning of mask tattoos
Historically, tattoos began a means of communicating one's societal status. They also acted a symbol of spirituality to show devotion as well as protect one from evil forces.
With time, the tattoos have changed meaning with many people seeing them as form of punishment as it was in the Roman society where prisoners of war, slaves and criminals were among the people who went for tattoos.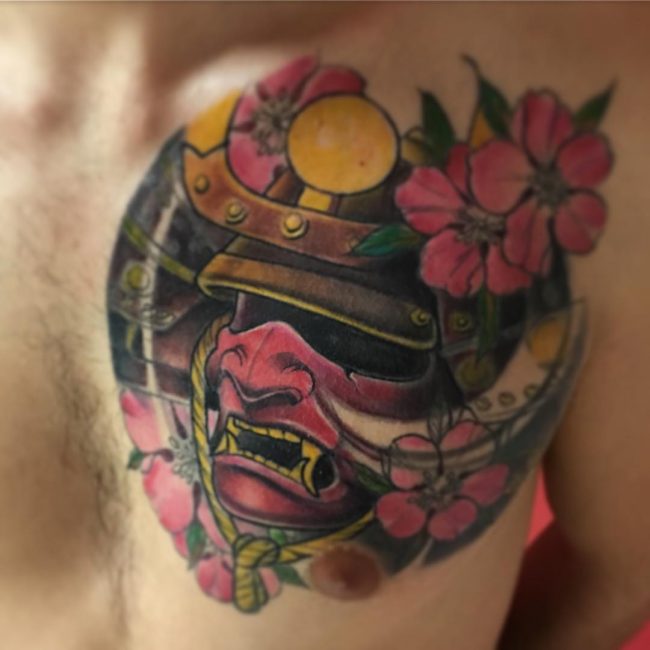 However, this practice faded only to come back once more a symbol for status. After war world II, the emperor of Japan declared tattoos illegal as a technique to improve on the image of the country.
The criminal element and modern view has seen the emergence of tattoos such as Japanese mafia and Yakuza among others that you may have come across at some point.
Today, people from all over the planet are going for mask tattoos because of the beautiful artistic merits, deeper meaning as well as flowing composition.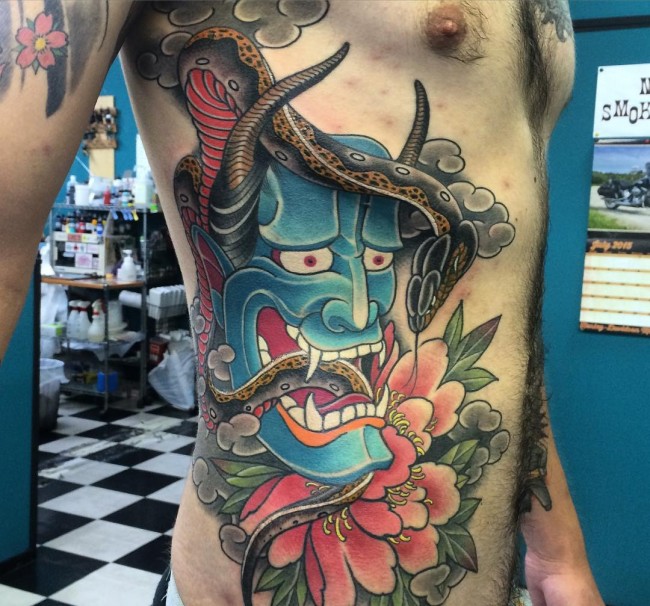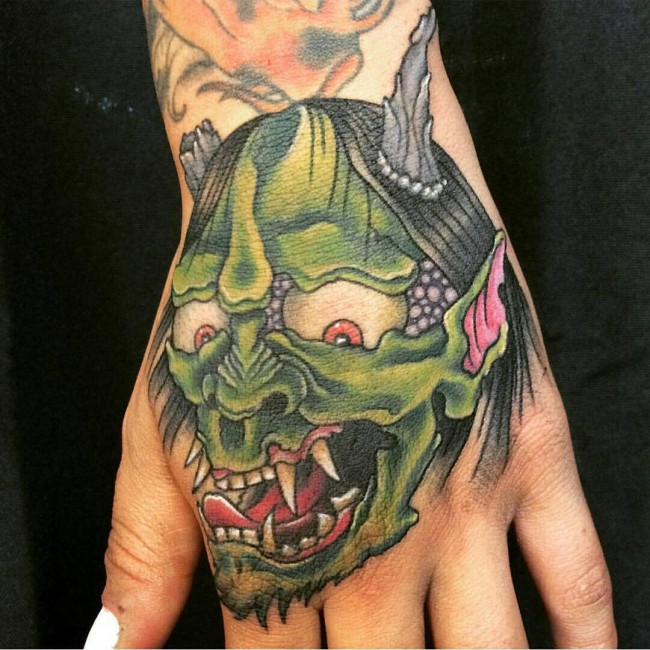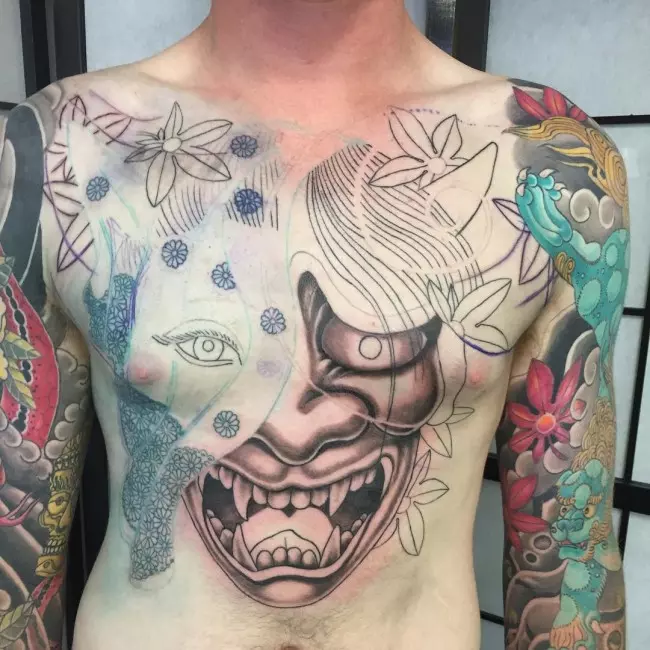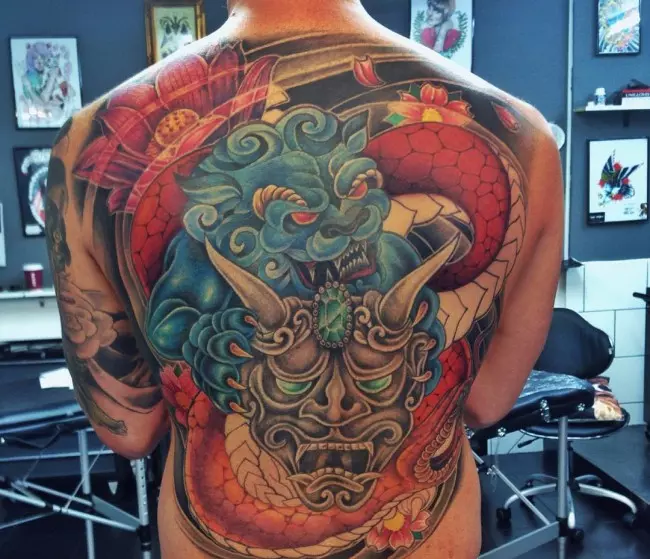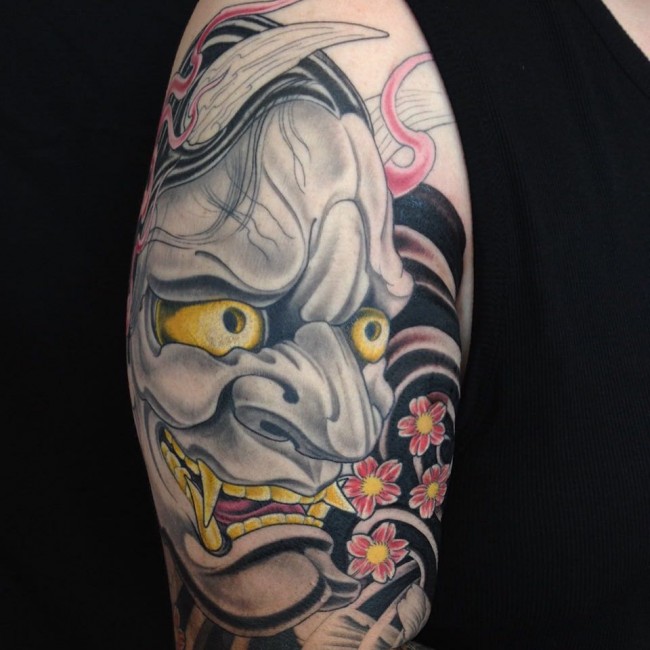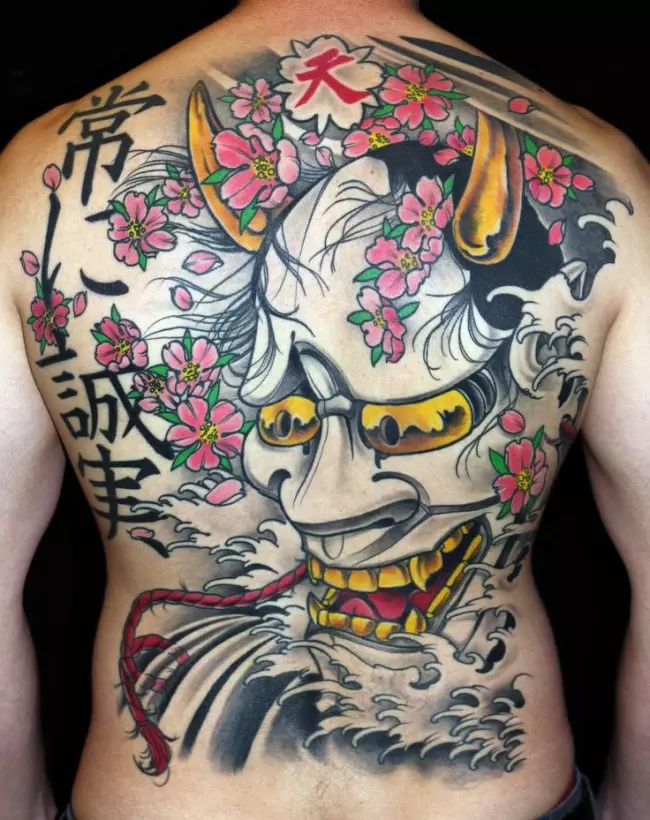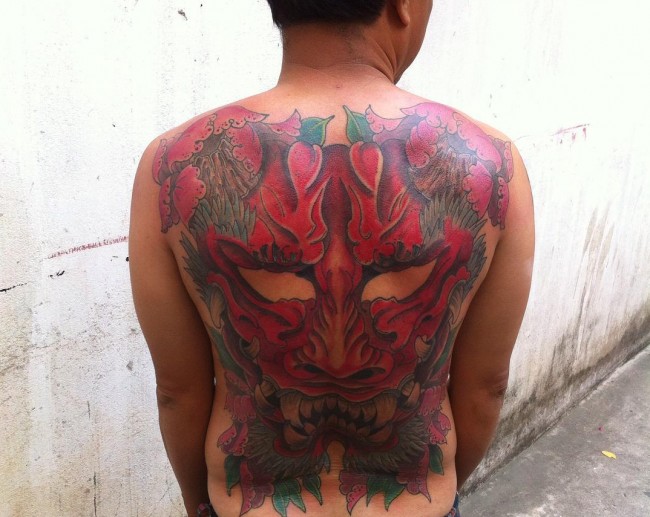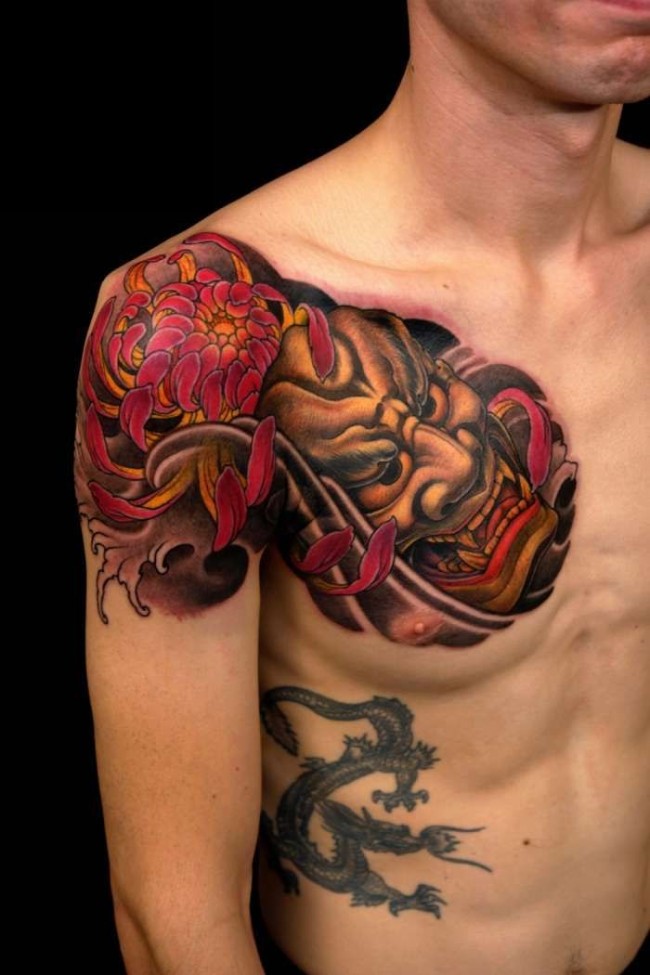 ---
back to menu ↑
Placement of mask tattoos
Determining the best part of the body to place a tattoos lies with the person who wants to have the tattoo. Unlike other normal tattoos, mask tattoos are likely not to fade even if you expose them to sun or any other element.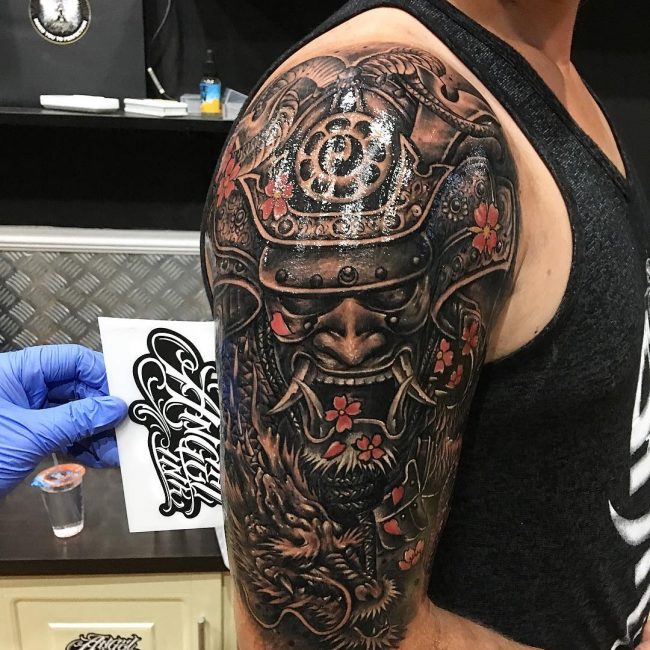 Therefore, choosing for the best part of your body to place mask tattoos needs adequate knowledge and advice from a professional tattooist within. If you want to hide the tattoo then you will have to avoid specific parts of your body. Some of the common areas where you can have a mask tattoo include the following:
Upper and lower part of your arm – the arm is one of the right places to have a mask tattoo. You can have it on the upper or lower part of your arm depending on your preference.
Shoulders – if you want to conceal your mask tattoos, simply place it on any of your shoulders.
ca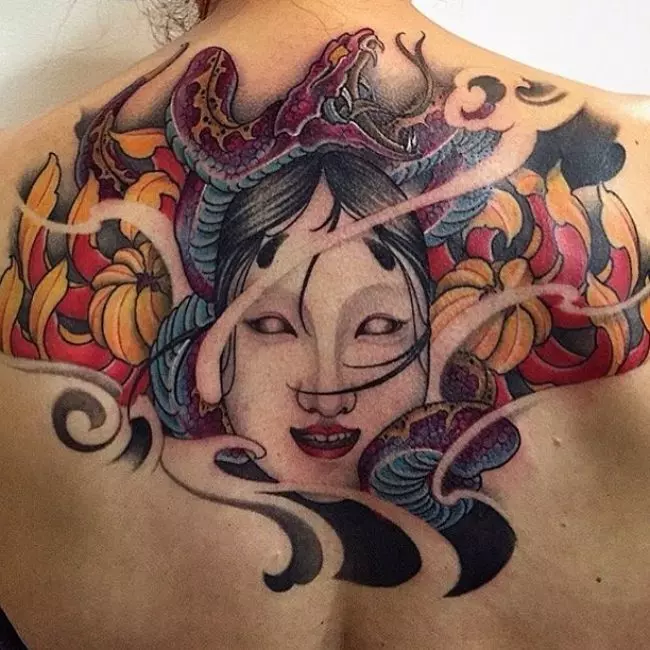 Calves – despite the fact that very few people have a tattoo in the region, you can create a wonderful Oni tattoo on your calves.
Lower part of your back – if you work with an organization where tattoos are likely to affect your relationship with your boss then simply have one hidden on the lower part of your back.
On your neck beneath your long hair – the area neck region beneath your hair is ideal for mask tattoo that needs hiding.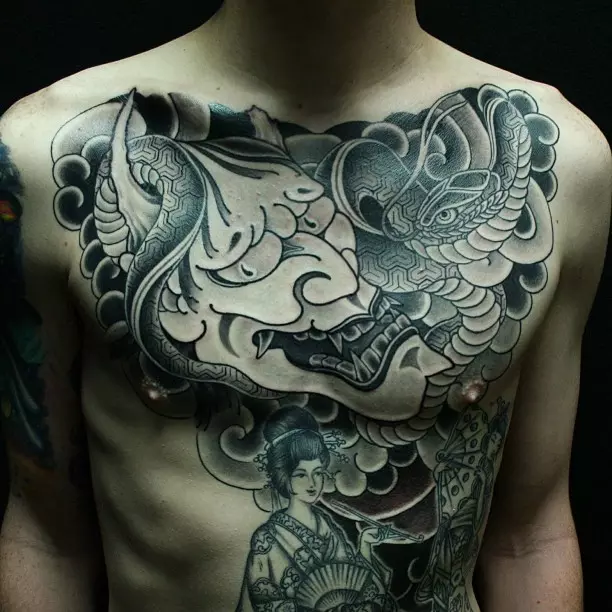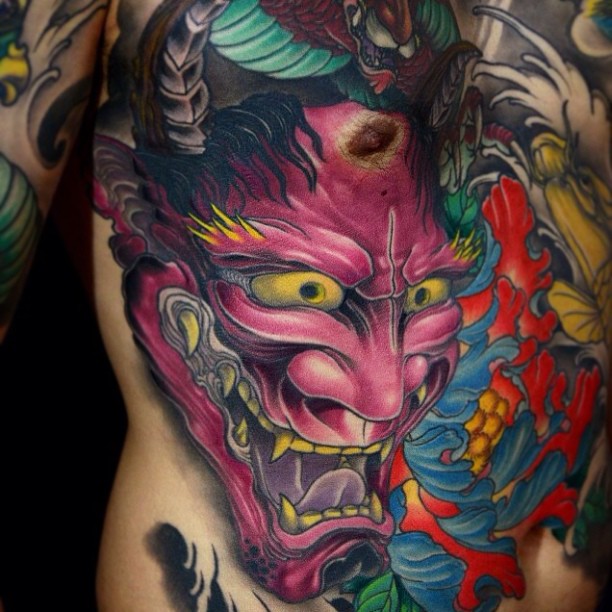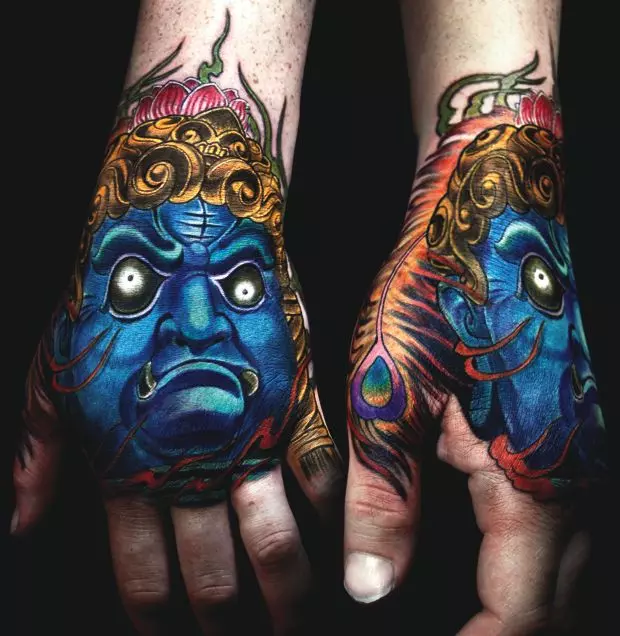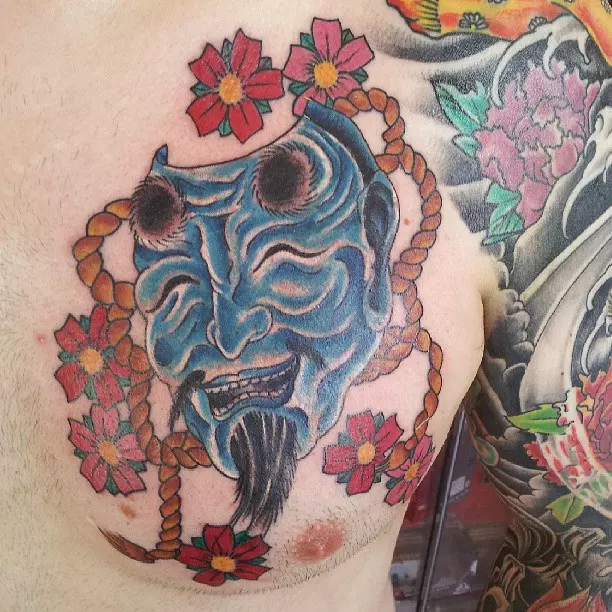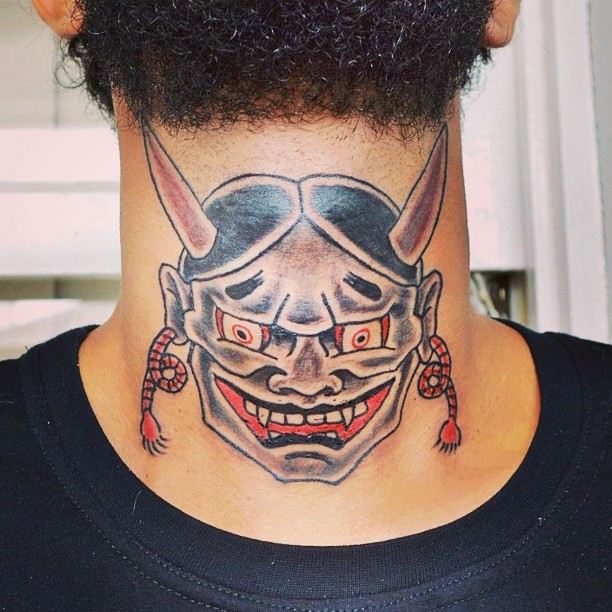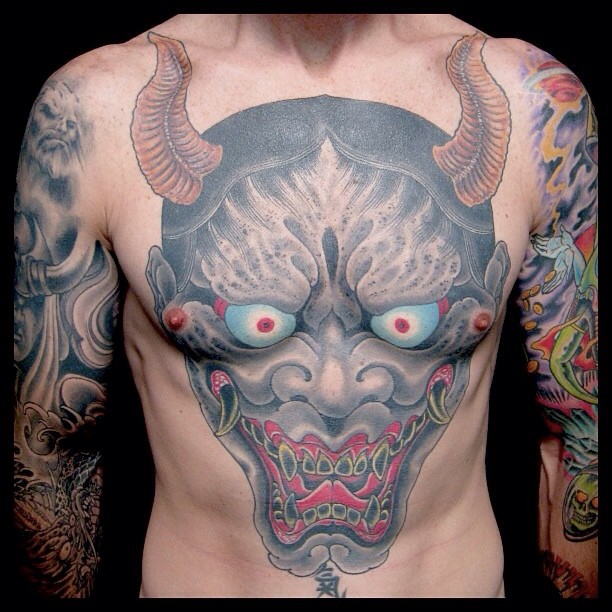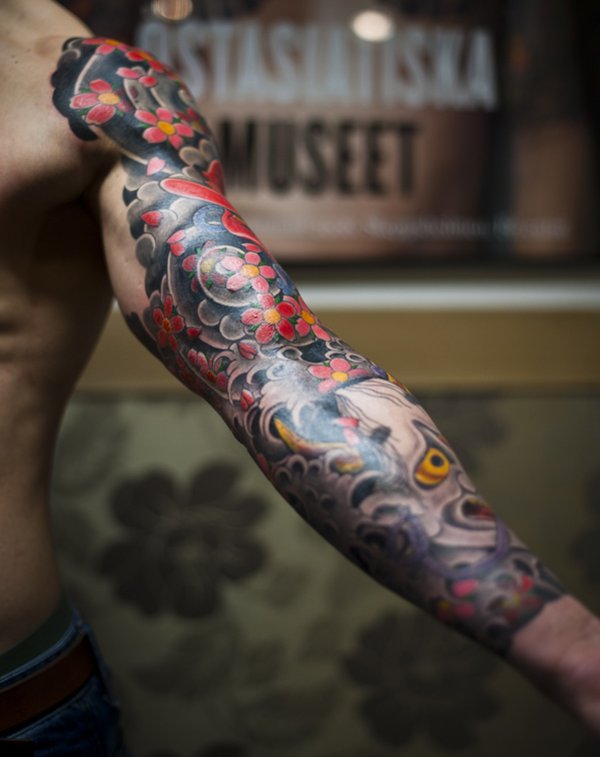 ---
back to menu ↑
Types of Japanese mask tattoos
There are two main types of Japanese mask tattoos that you can go for namely Hannaya masks and Oni mask/ demon mask tattoo
The Oni masks acts a protective symbol for those who believe in the spiritual world. According to tattoo experts, Oni tattoos mean represents devil's ability to punish any evil or unjust act.
The demonic mask features trolls and ogres among other evil creatures that you may or may not have existed at one time in history. In other words, the tattoo is a representation of evil and good fights.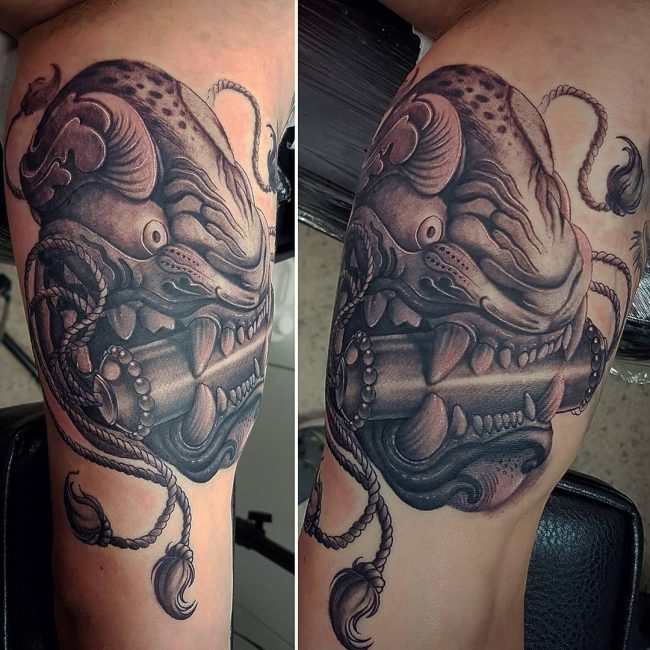 The demonic nature of the tattoos makes it tricky for you to determine what you want to depict especially if you are not familiar with tattoos. When you wear a mask of these humanoid demons, it implies that you have taken up their demonic character.
The mask can also connote a sign of growing from strength to strength or beyond humanity.
Despite the fact that many people relate Oni with evil, some of them are good towards human beings and help them during hard times. These masks are commonly associated with Yakuza within the Japanese culture.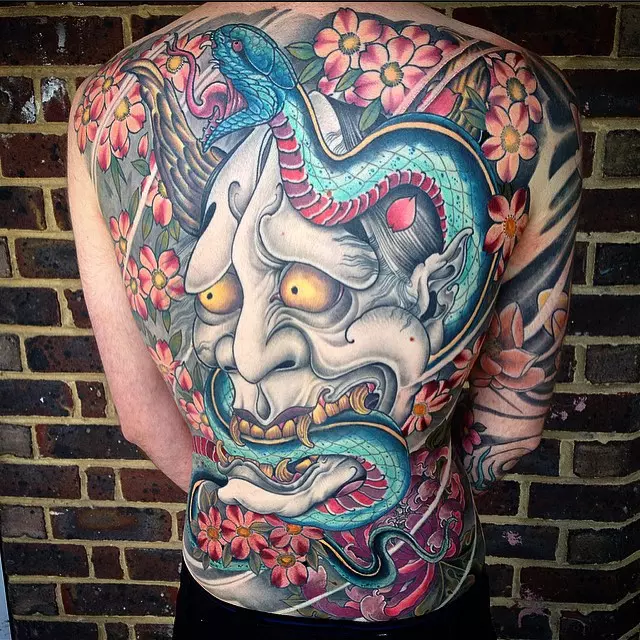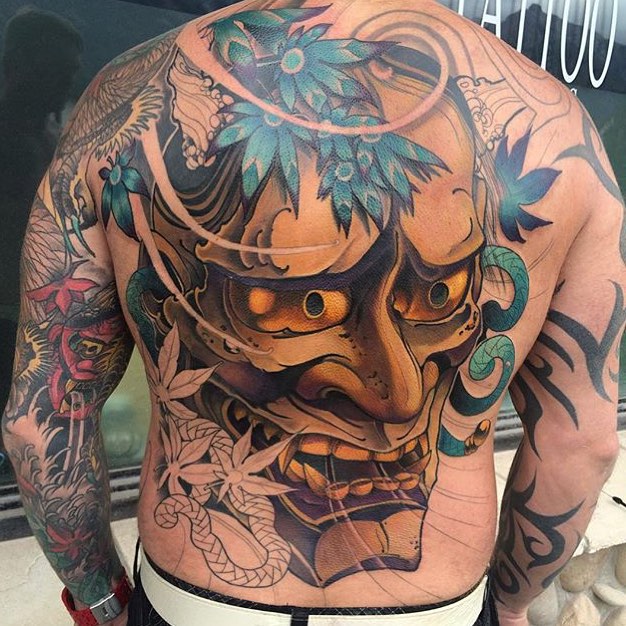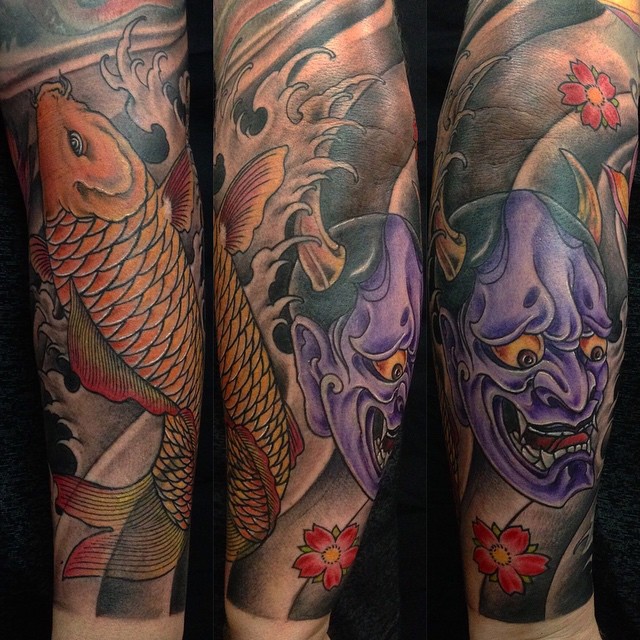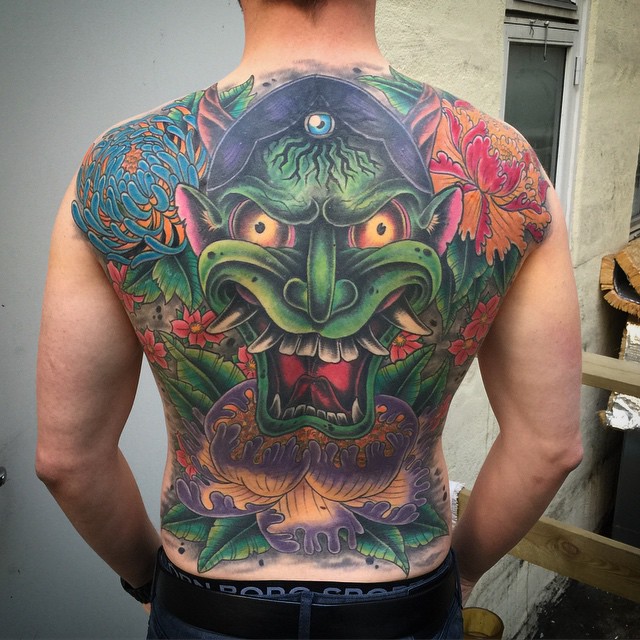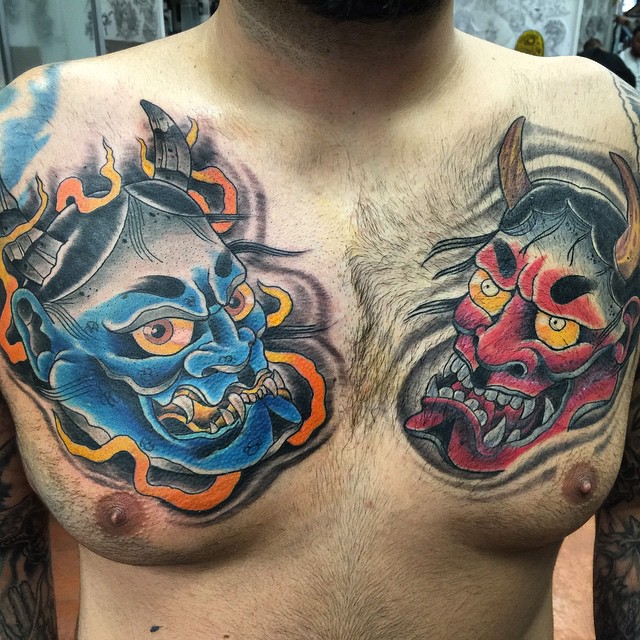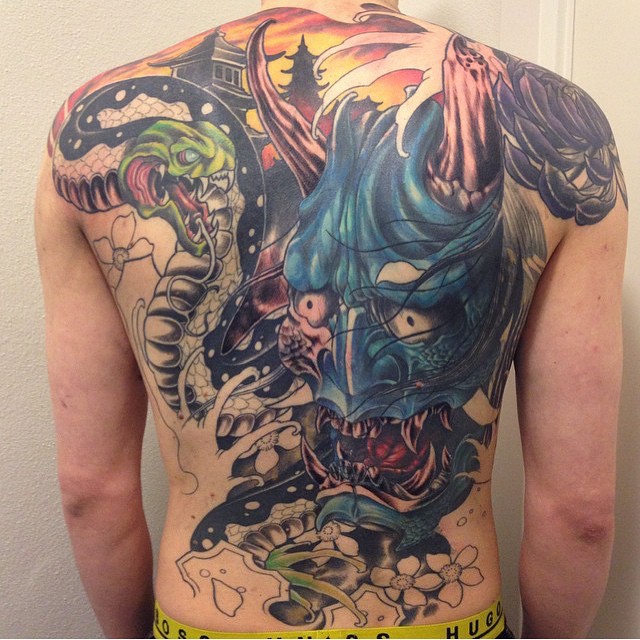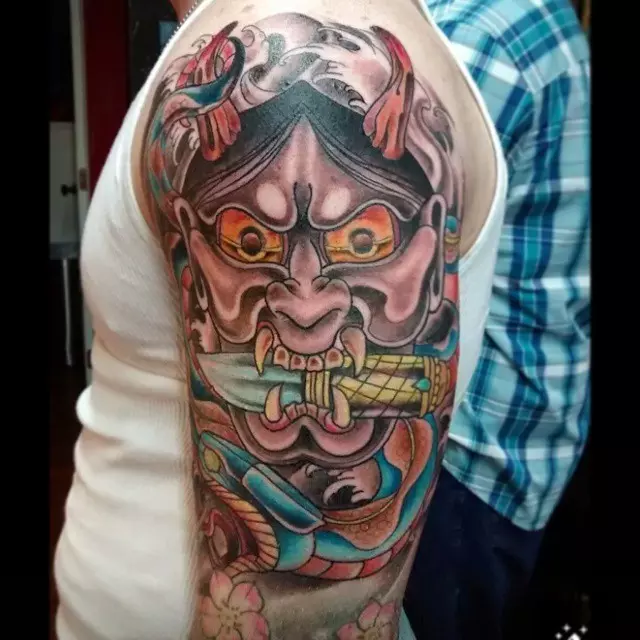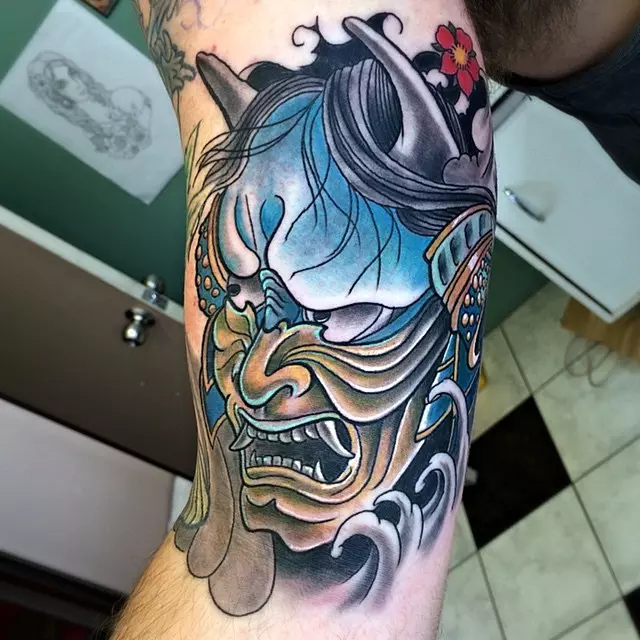 The Hannaya masks originate from the Kabuki plays that were among the earliest customs within the inhabitants of the country of Japan. The masks are similar to demonic masks that feature a symbol of a woman eaten by rage.
The factor right here is love and many people believe that the tattoo helps in fending off any wicked eye from the life of the person with the tattoo. Most of the people with these tattoos hold the view that the mask shows how fortunate they are in life.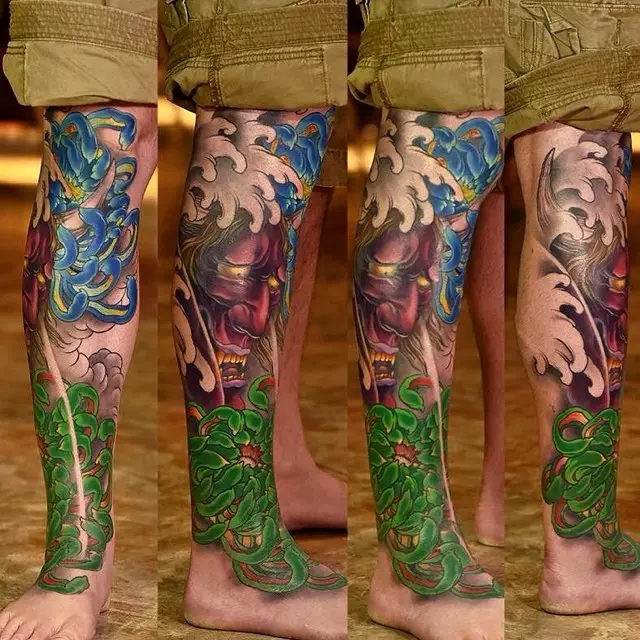 Although many people view it a sign of evil, the tattoo depicts a theatrical role played by a woman (Hannaya) who decides to act vengefully because of great affection and passion she has towards the love of her life.
The symbol can also mean the dark part of someone who wants to fight for someone without caring about the impact or his or her actions towards other.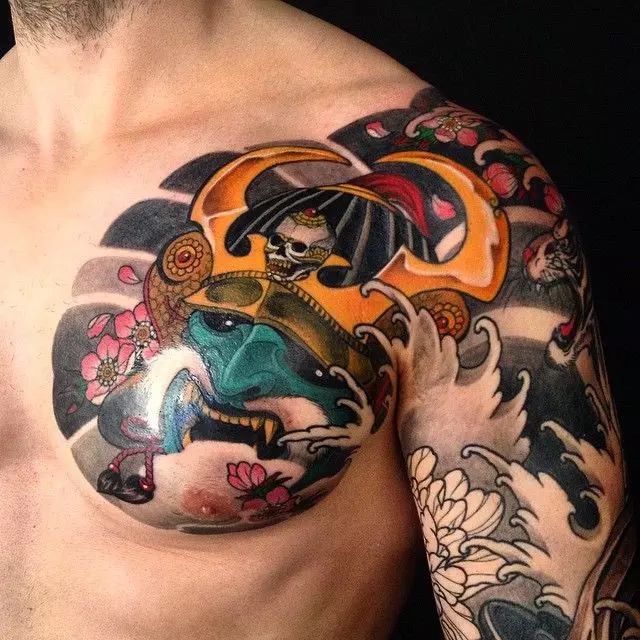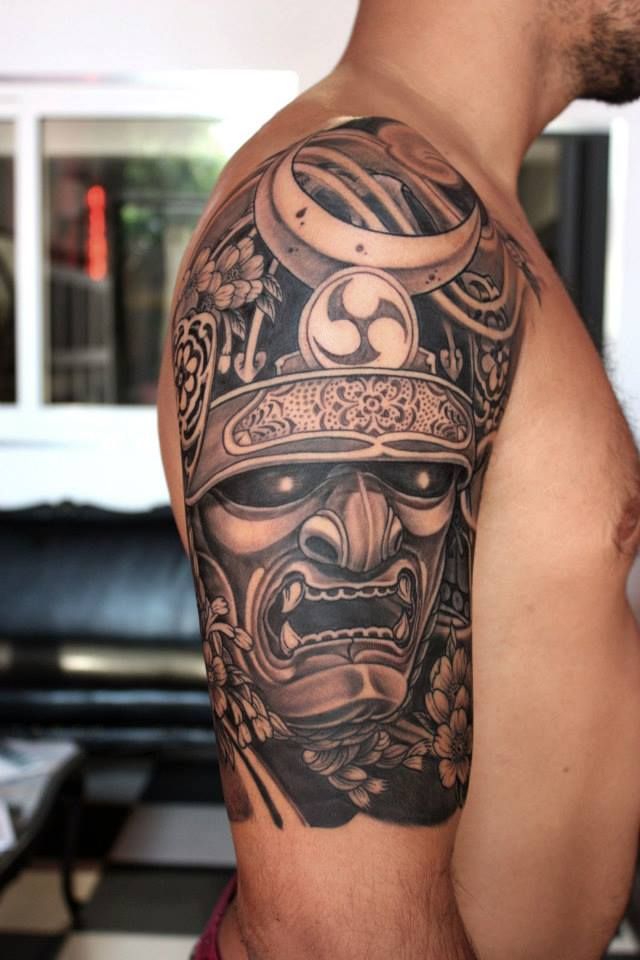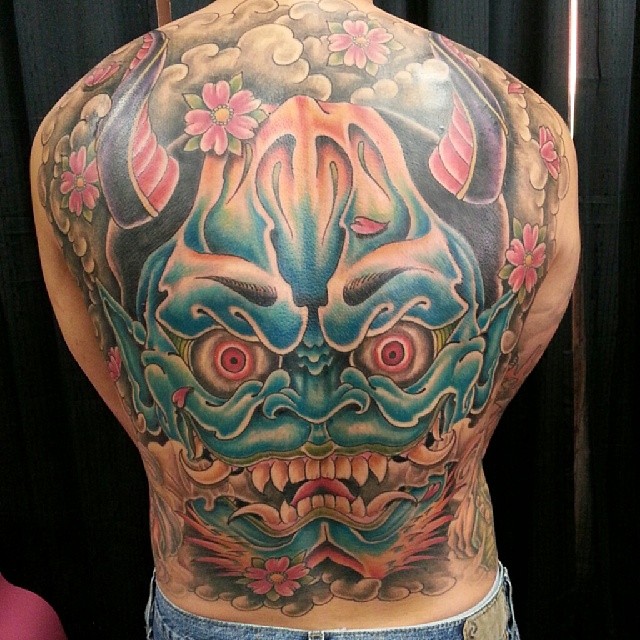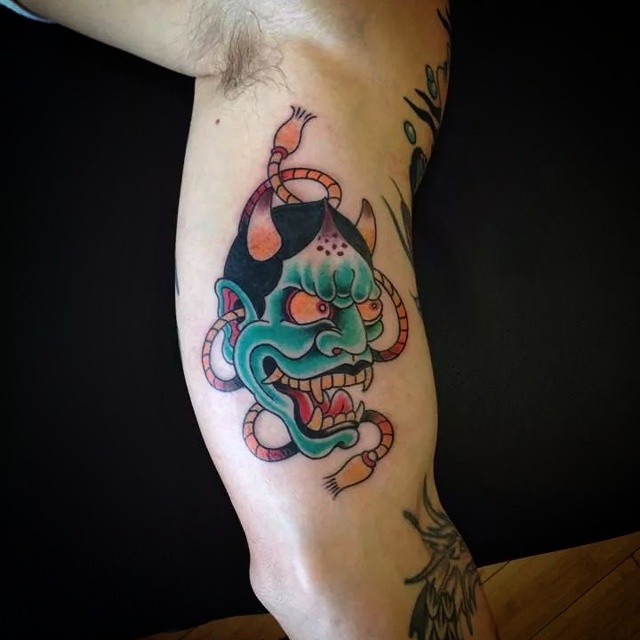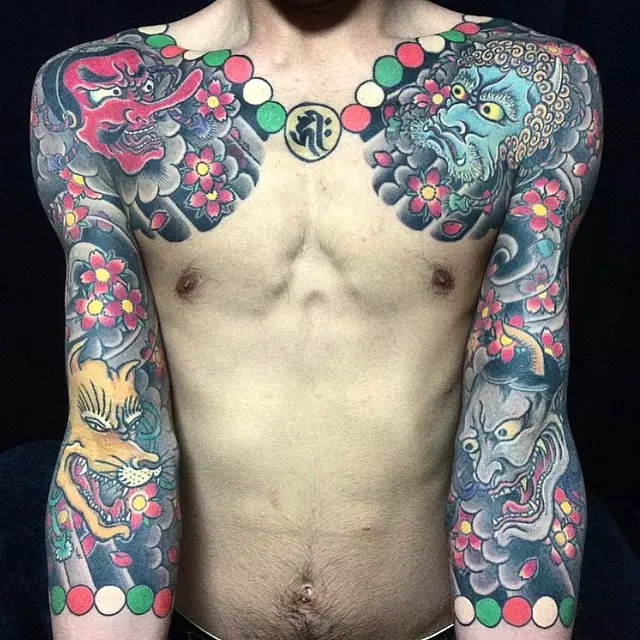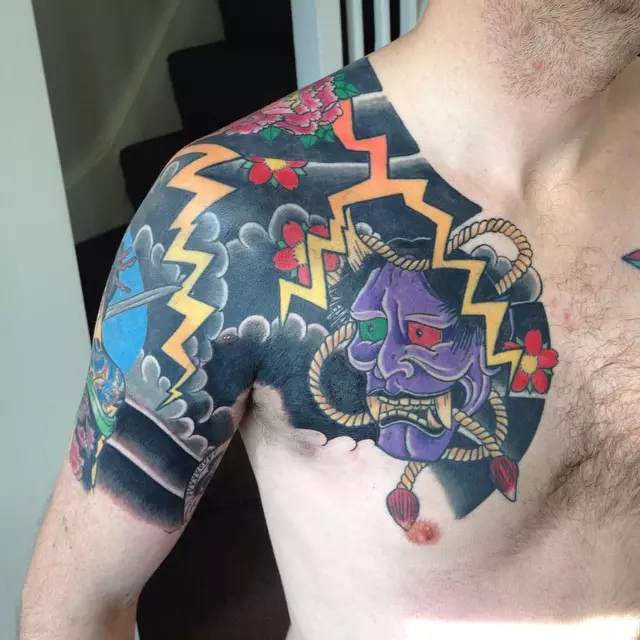 In conclusion, before you think about Japanese mask tattoos; there is need for you to understand their history and meaning. The two main types of mask tattoos from Japan are Hannaya and Oni or demonic mask. Each of them has its mean. Only pick any of them if you are aware of its history and meaning.
You should not go for a tattoo simply because your friend went after one. Some of the tattoos have creatures that you have never seen in life hence getting their meaning requires that you visit someone with adequate knowledge about them. This will help to find out whether you need one or not.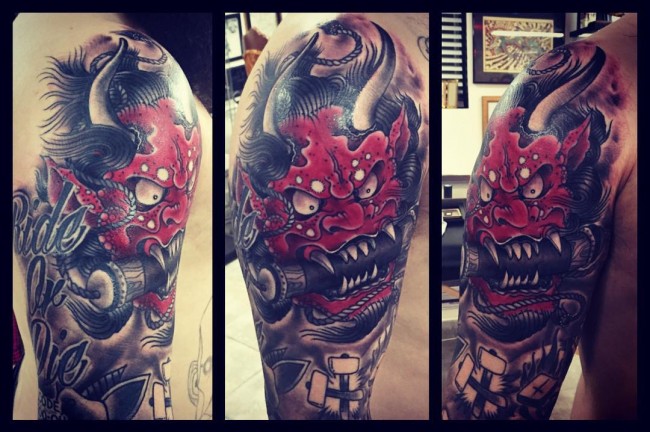 You need to know the message he or she wanted to pass across. Failure to know the meaning of a particular tattoo will only lead to portraying wrong impression unknowingly. In addition, you should also be aware of the tattoo placement and any risks that come with the process so that you choose wisely.
If you are not sure, we recommend that you seek for advice from three or more tattooists before you make your final decisions.
/