Sacred Fearless Angelina Jolie Tattoo – Designs & Meanings (2019)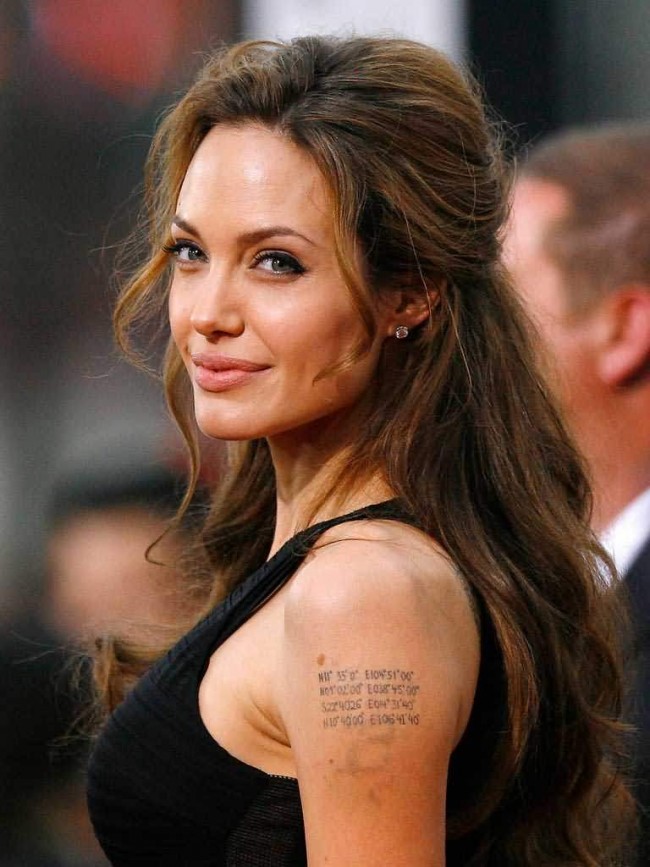 Angelina Jolie is a Hollywood famous actress and who have a serious love for tattoos. She often appears in celebrity news websites and magazines with her tattoo designs. She has over a dozen tattoo designs on her body and she has lots of experience with tattoo removal. She has removed several tattoos.
She uses makeup to cover all her tattoos when doing movies. And each of her tattoos has a unique meaning.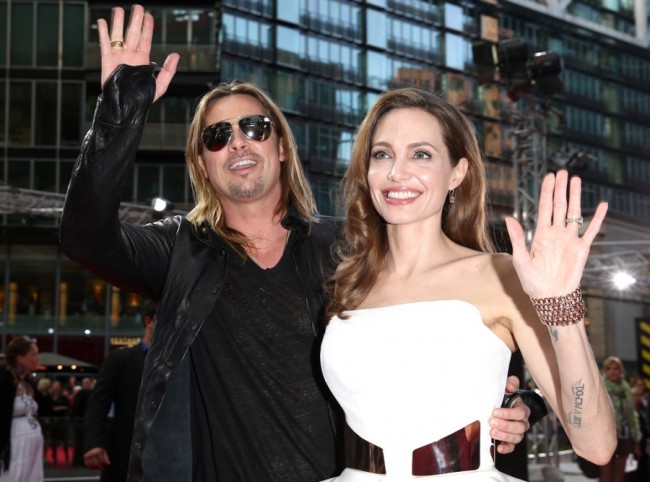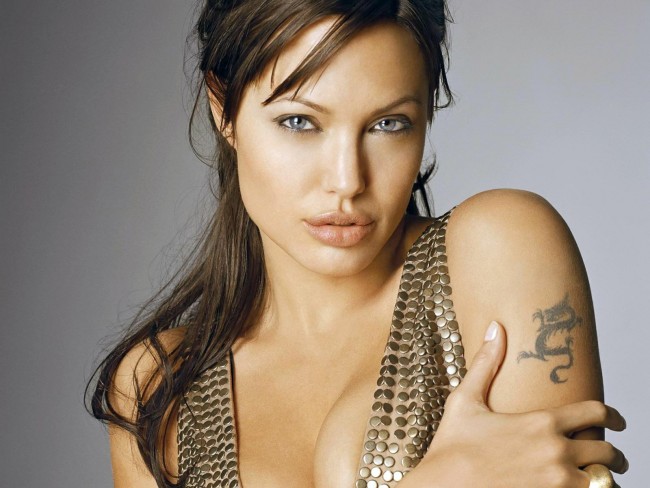 Here is an overview of her tattoos:
Angelina Jolie has inked the design between her shoulder blades in gothic letters. This tattoo design informs you that you should know all your rights and it is simply a title of a song from her favorite band.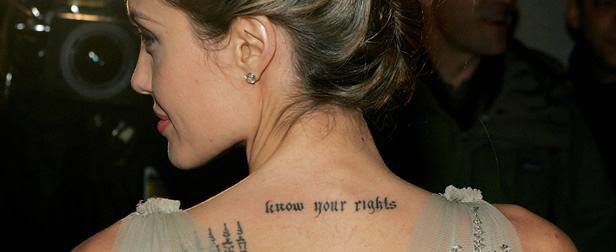 The tattoo is a very strong example of how music effects are powerful and how they influence people's way of thinking and lives.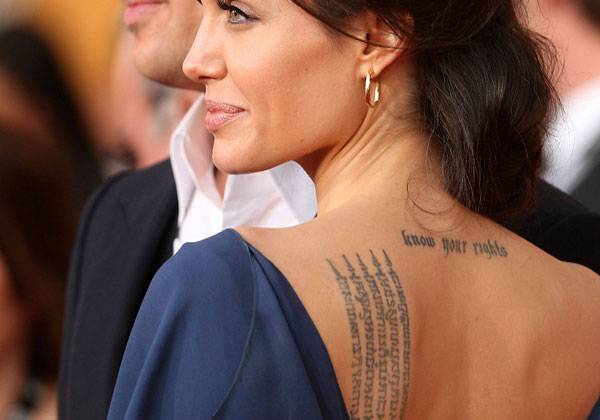 She inked the tattoo design to cover up the area where she had at first inked a dragon tattoo and her ex-husbands name, Billy Bob Thornton, before removing them. The numbers are longitudes and latitudes of the locations where she gave birth to her children.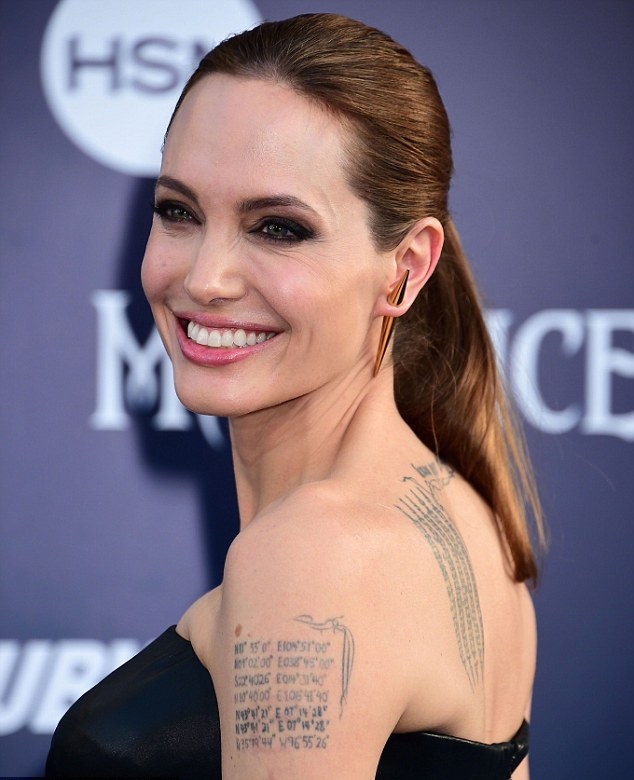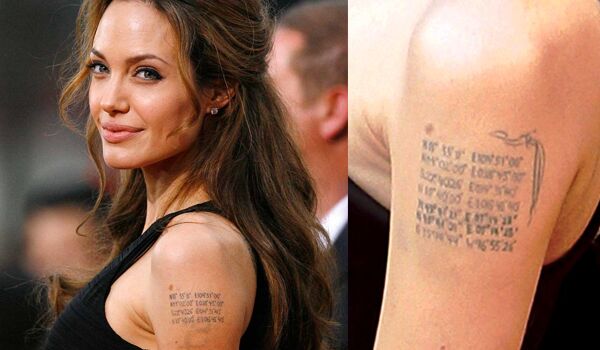 The first number represents a place in Cambodia where she gave birth to her eldest son, Maddox.
The second tattoo represents a place in Ethiopia where she gave birth to her daughter Sahara.
The third symbolize a place in Namibia where she gave birth to her second daughter from Brad Pitt Shiloh.
Another tattoo on her represents a place in Vietnam where Plax, her son was born
The 5th and 6th stand for a certain place in France where she gave birth to twins, Vivienne and Knox.
The last tattoo stands for Oklahoma – the birth place of Brad Pitt.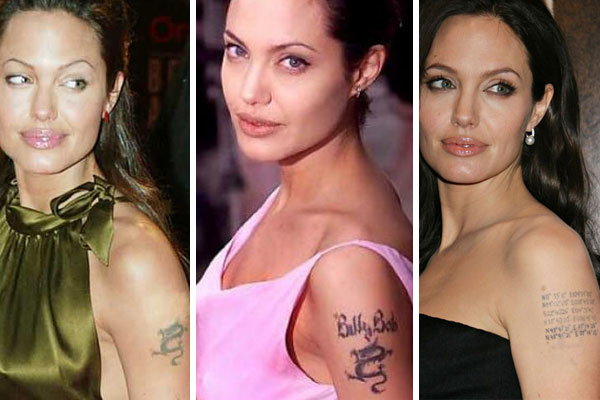 Rune tattoos were very common to Norwegians. Angeline Jolie has a letter "h" on her wrist. People believe that she placed it to remind herself about her own brother James Haven or her ex-boyfriend Timothy Hutton.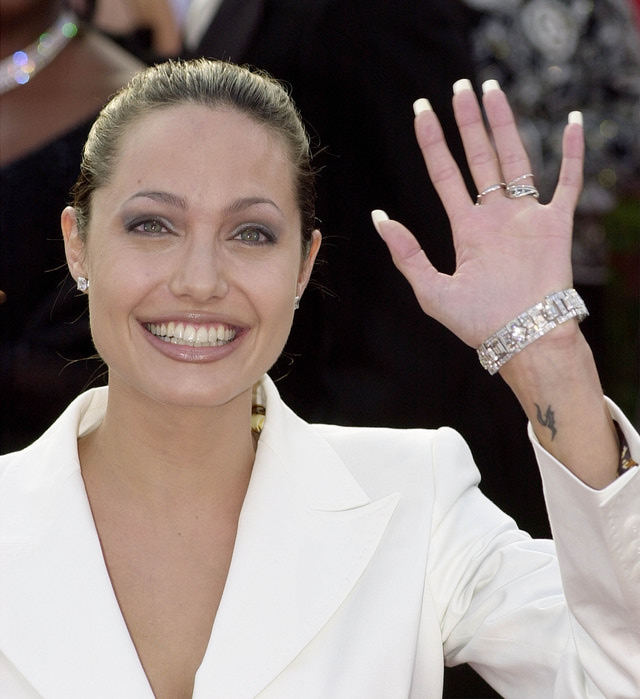 Originally, Angeline had gotten a little dragon with a blue tongue inked on her somewhere in Amsterdam. But she later decided to cover it up with a cross tattoo. Next to the cross tattoo design, is a Latin quote, "Quod me nutrit me destruit," which stands for, "what nourishes me and destroys me."
She had the tattoo inked on her in 1995, one day before she was married to Johnny Lee Miller.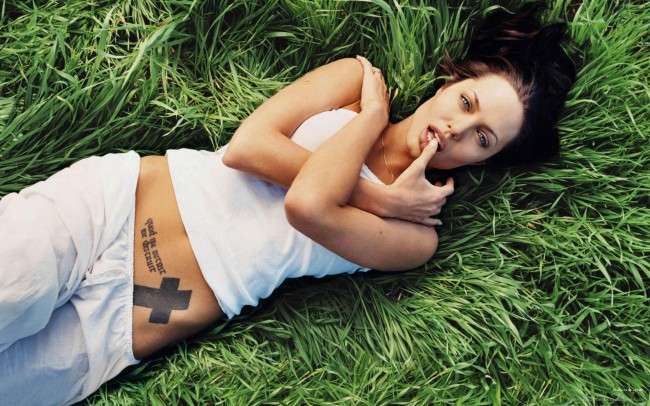 Buddhist Pali incantation
She has this tattoo on the left shoulder blade. She had it inked in hotel room in Pathum Thani which is approximately 20 kilometers north of Bangkok. The tattoo is a Buddhist Pali Incantation from the Khmer Script which is also the Cambodian language.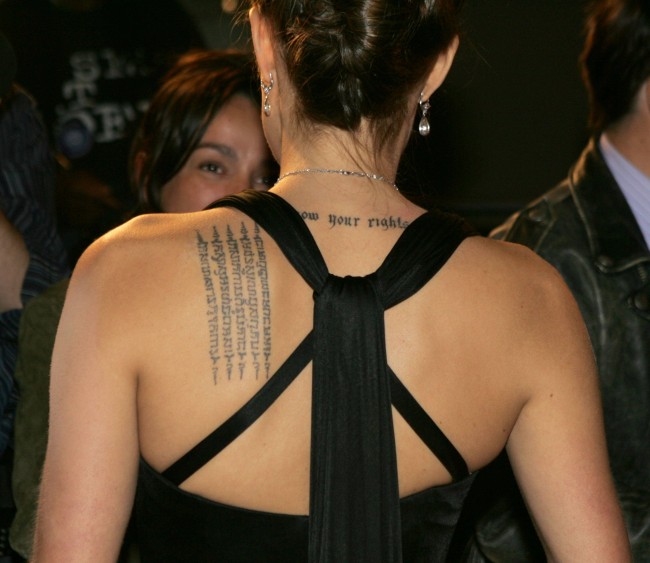 She decided to get the tattoo as a way of protecting her son Maddox and herself from bad luck. The tattoo means: "May your enemies run very far away from you. In case you acquire the riches, they should remain yours always. Let your beauty resemble that of Apsara.
Finally, wherever you decide to go or will attend, serve and protect you, surround you on all sides."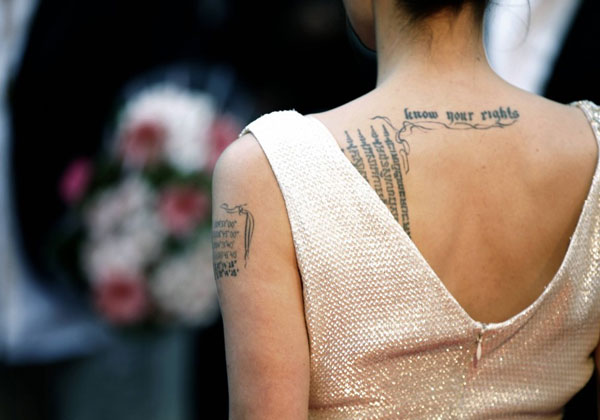 The Bengal tiger tattoo is 12 inches long and 8 inches wide. She got the tattoo inked at her lower back in Bangkok in the year 2004. The tattooist took about 2 hours to complete the placement process. To bless the tattoo design, the tattooist chanted an ancient hymn while inking it.
She got the tattoo as a way of celebrating her Cambodian citizenship. And she also got the design done in a traditional Thai style. The tattooist also used a manual needle to ink it.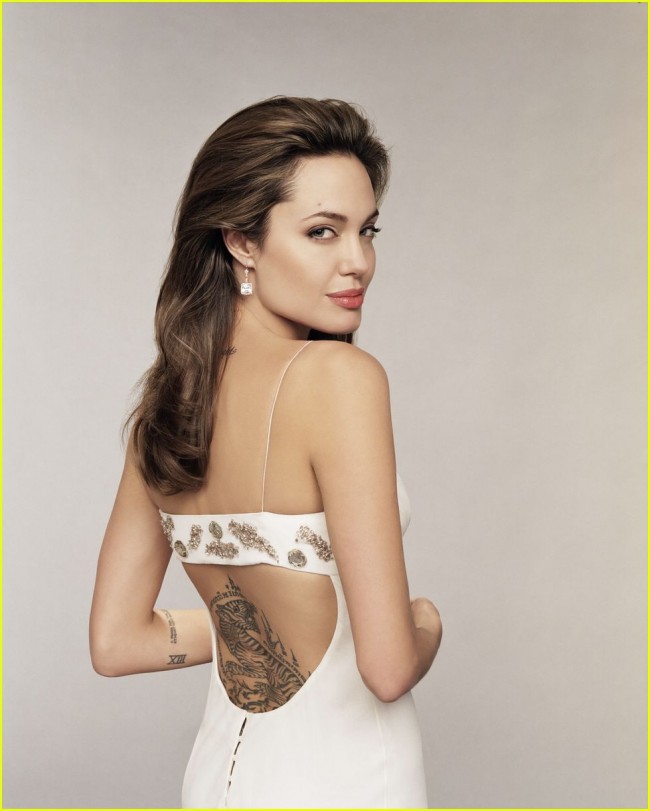 Angelina Jolie has an Arabic Script tattoo design on the right arm and below the elbow bone. The tattoo means determination. It covers abstract lines design she had initially done with Billy Bob Thornton who is her ex-boyfriend.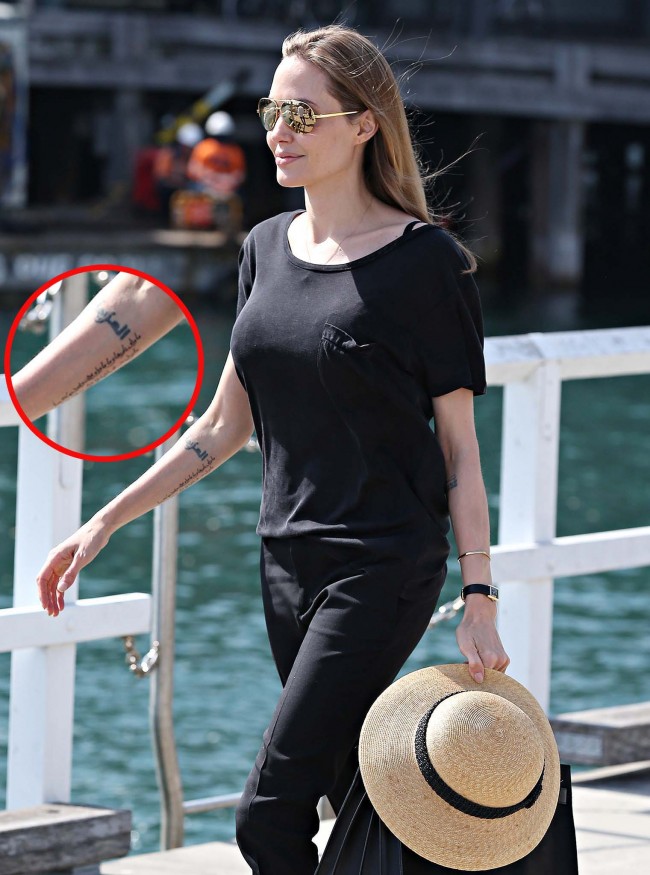 The roman number 13 is another Angeline Jolie tattoo on the left inner arm. She got the tattoo to show that she don't believe in superstition.
With that, what is your take on Angelina Jolie tattoos? Will you take a step to the nearest tattoo parlor to get a design inked on you? Getting a permanent tattoo inked on you isn't a joke. Most individuals have gotten tattoos only to regret where they place them or the designs they chose.
There are other people who fear getting tattoos mainly because they fear the pain or they don't want to go through the regret process. The following are some of the things you should consider to ensure that you get the best tattoo design and which you will never regret.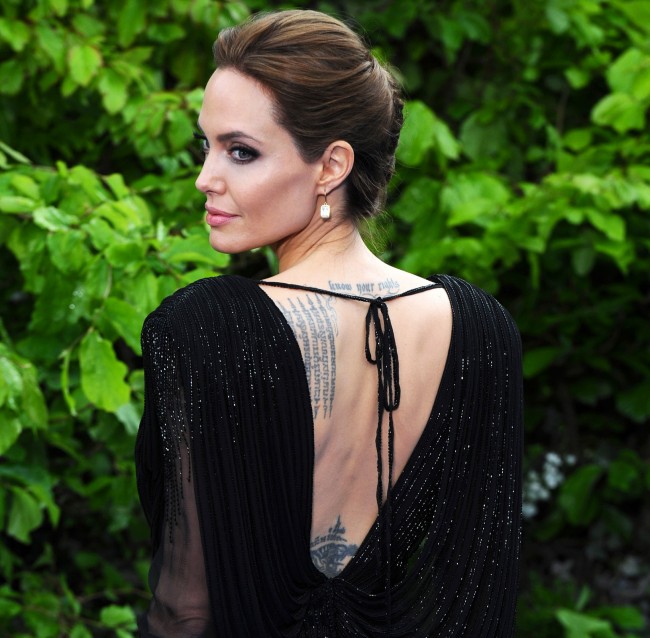 Decide why you need the tattoo
Do you want to get the tattoo because it is stunning or you want to get it primarily because everybody around you has it? Or do you want to use the design to express your personality? Whatever your reason, ensure that the tattoo you select will stand out including after a very long time.
If the tattoo is temporary, then you should go for a henna tattoo instead of a permanent one.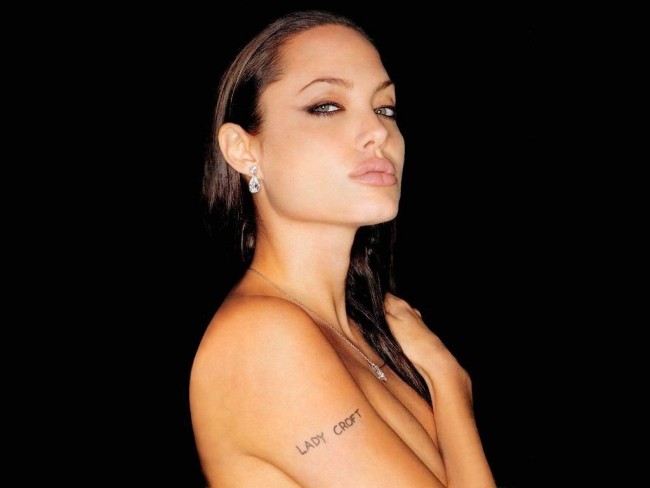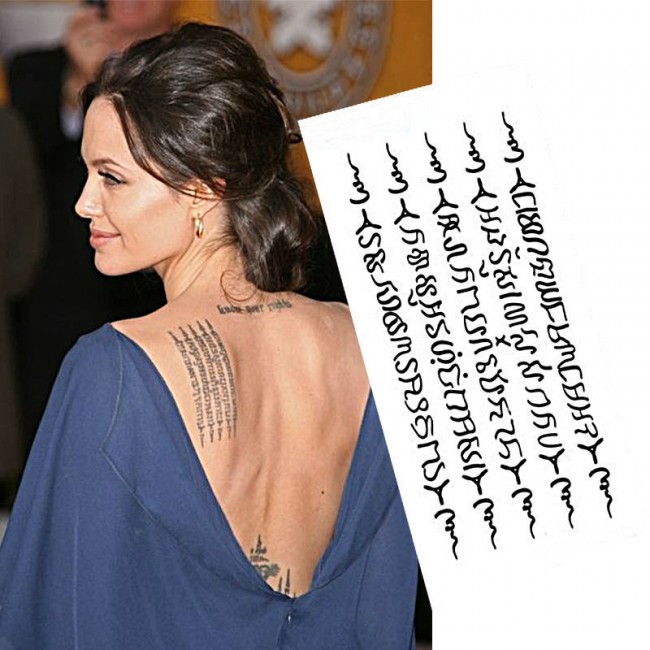 Having a body art will make you get closer and more personal with your tattooist especially if you intend to get the design on a very sensitive part. Therefore, you should ensure that you are comfortable and at ease with the tattooist you have chosen.
If you are uncomfortable with a tattooist, chances are that you will most likely back out even before you select a design.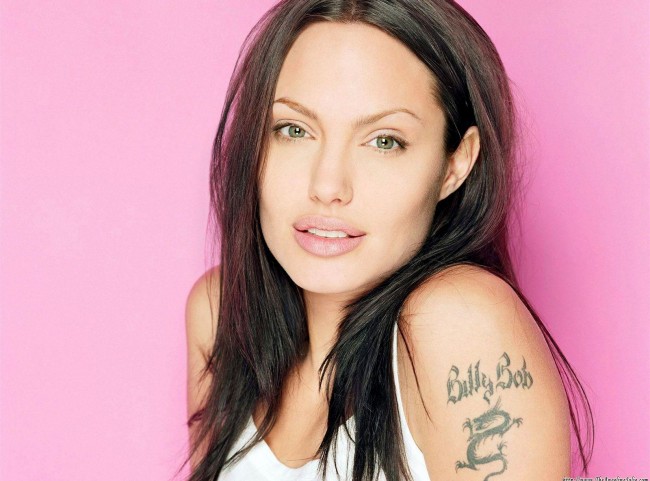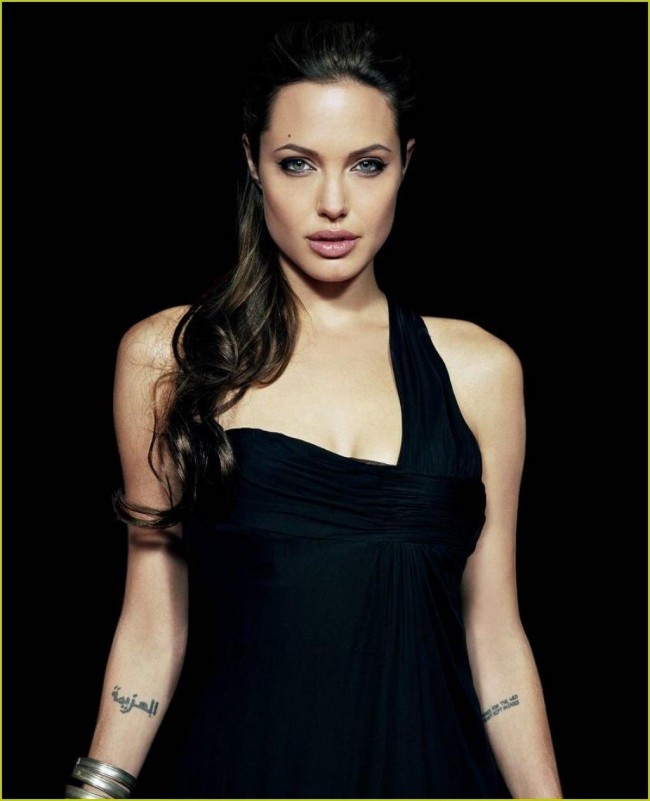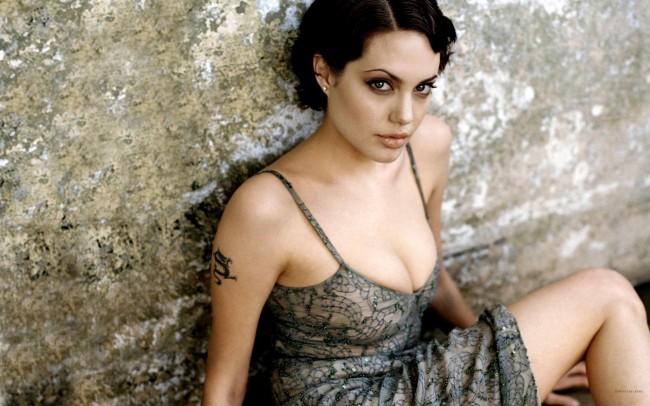 Look for the design that suits you
This means that you should thoroughly concentrate on your tattooist's artist book to get the design that will fit on you perfectly. If you decide to select the tattoo from the internet, then you should take your time. It is also important that you understand the exact meaning of the tattoo that you select.
After selecting the right design, you should have it inked on the right body part. You may spend lots of time in selecting the design but you should at least know that the design is unique and it's tailor made specifically for you.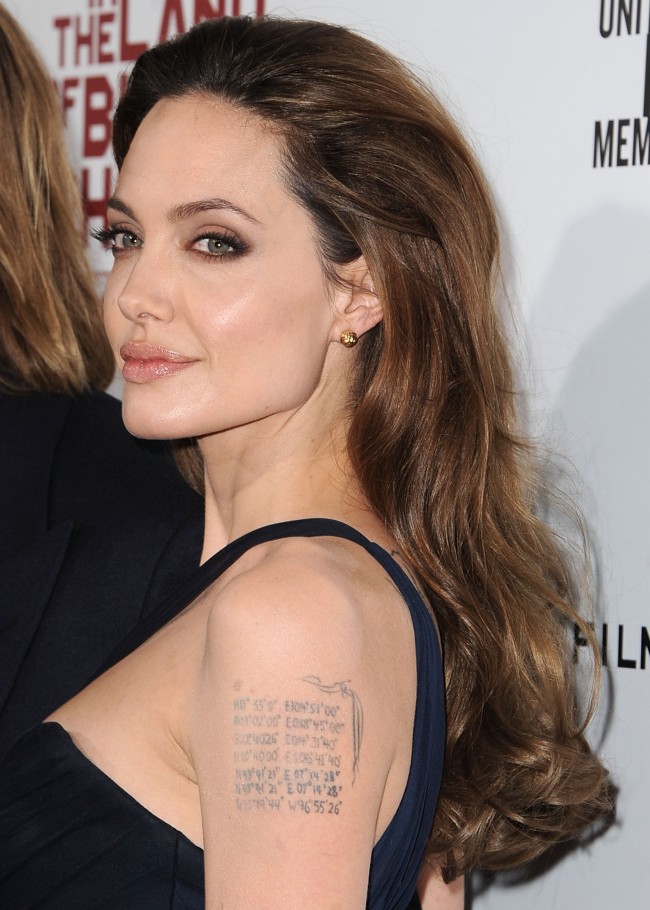 You can have the name of your lover inked on you. But what will happen when this love ends? Most individuals have found themselves in such circumstances and you should not be the next. The process of removing a tattoo is quite expensive and therefore many people choose to get the name tattoo redesign.