45 Awesome Back of the Neck Tattoo Designs & Meanings – Way To The Mind (2019)
Although you can have a tattoo inked on any part of your body, some places seem to work better than others and so they are the most popular tattoo placement areas. One of such places is the back of the neck.
The back of the neck is an ideal place to have a tattoo since it is both easily visible and also easy to cover up.
Contents: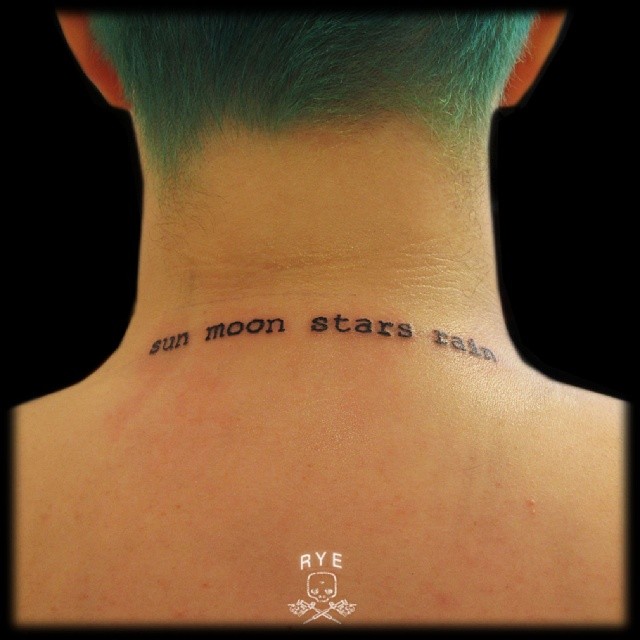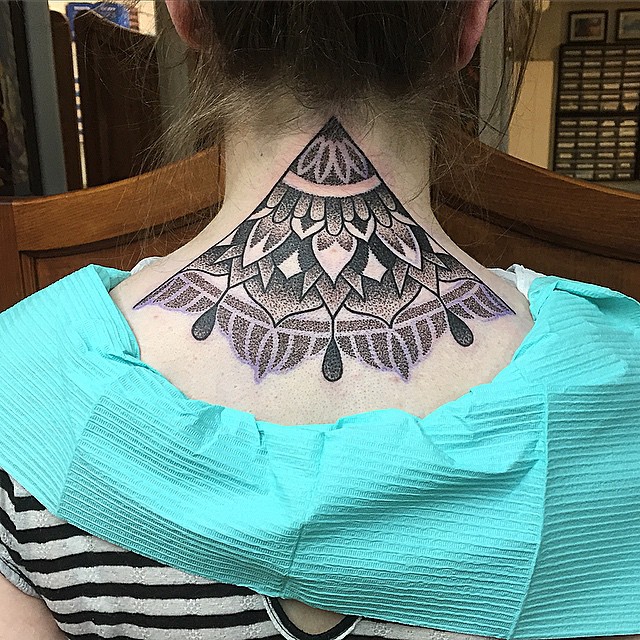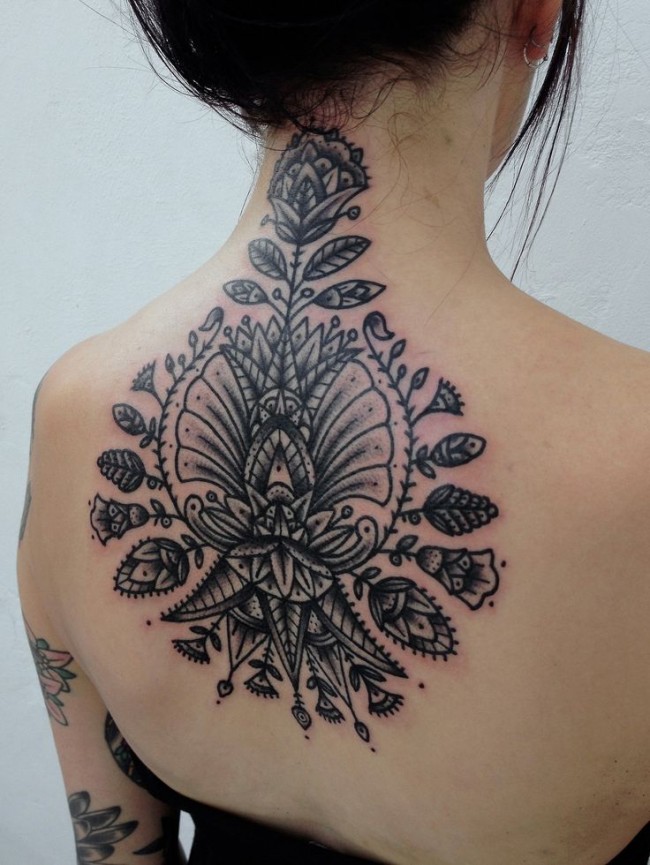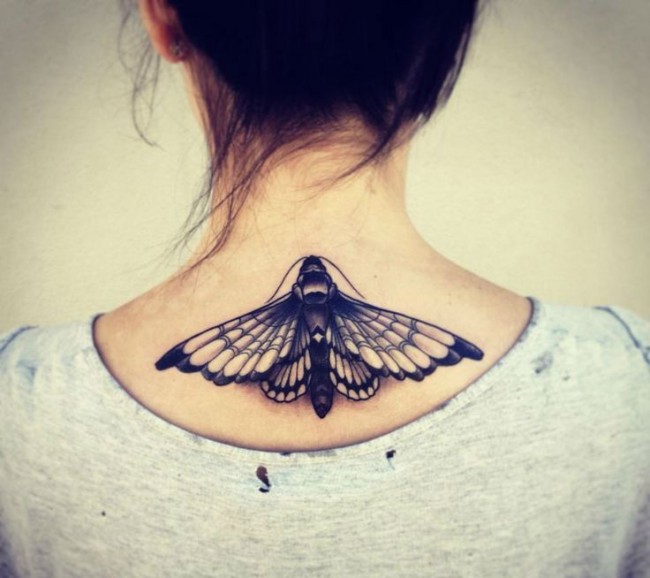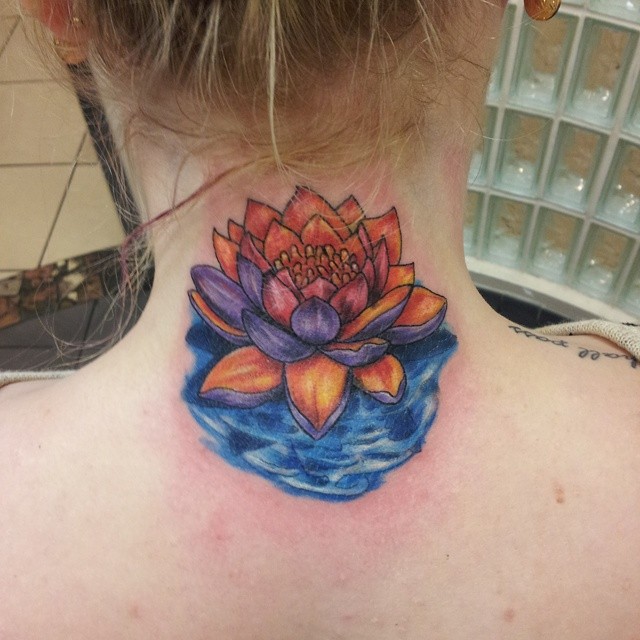 This part of the body is also not as painful as other parts when getting inked. However, despite it being an excellent place for your tattoo you still have to choose a good tattoo if you want it look fabulous.
With the back of the neck tattoos, the options are almost unlimited but the following are some of the most popular types.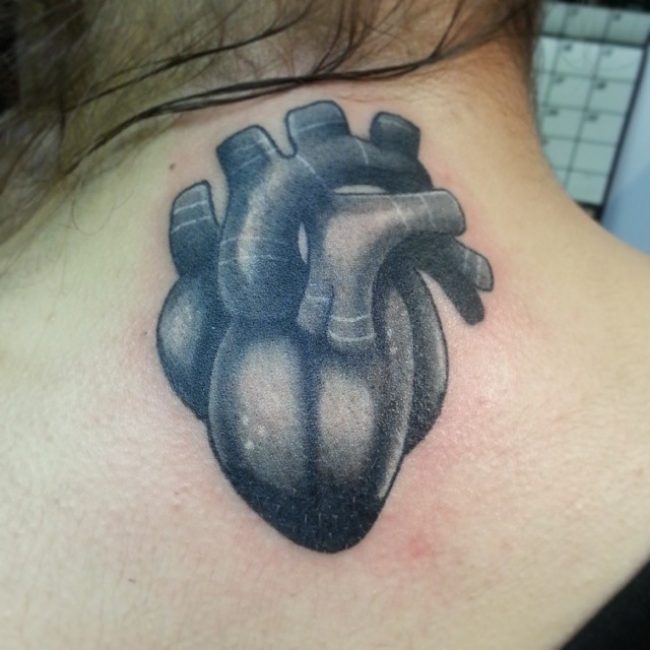 Types of back of the neck tattoos
Religious tattoo designs are the perfect tattoos for the back of your neck, and they are also perhaps some of the most commonly inked tattoos on the back of the neck. Some of the religious designs suitable for the back of the neck include the cross, praying hands and the angel wings.
Although a cross can look well when drawn anywhere on your body, it gives the neck a unique look. The best thing with cross tattoos is that you will have plenty of designs to choose from. The praying hands and wings also look perfect on the back of your neck.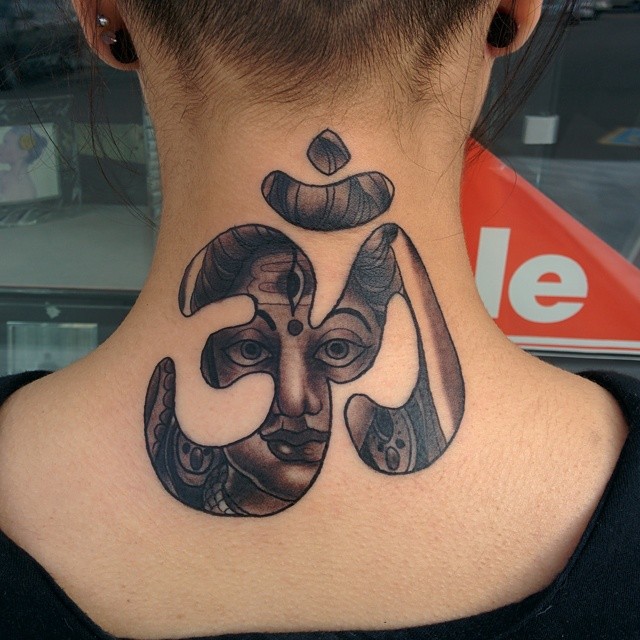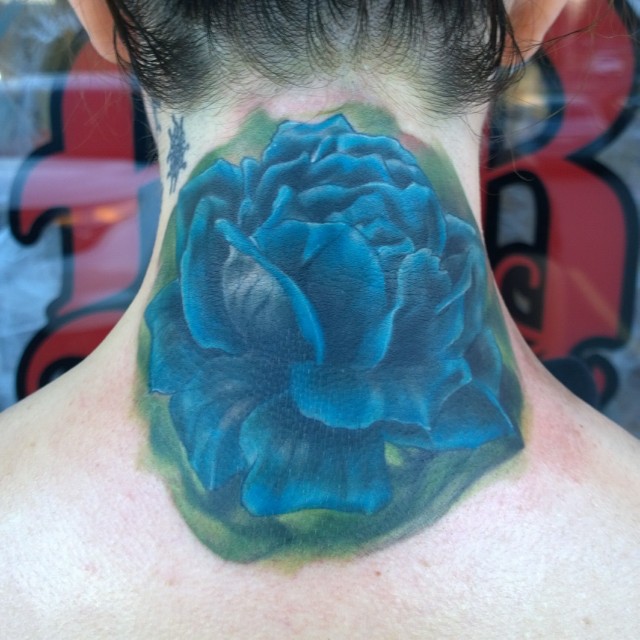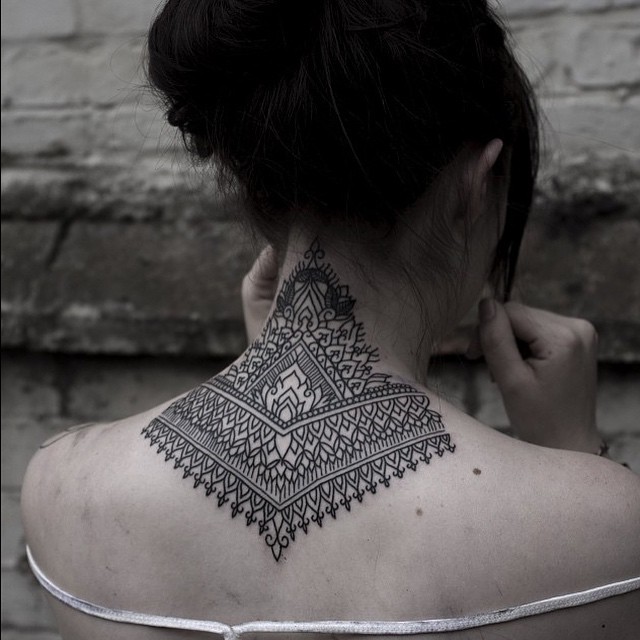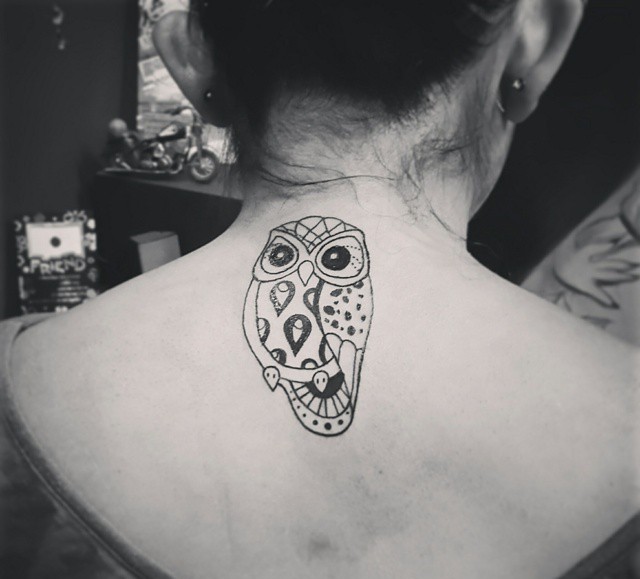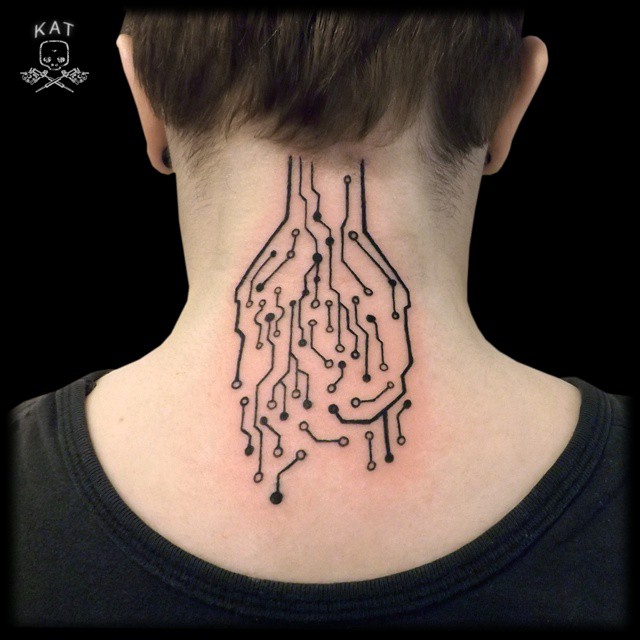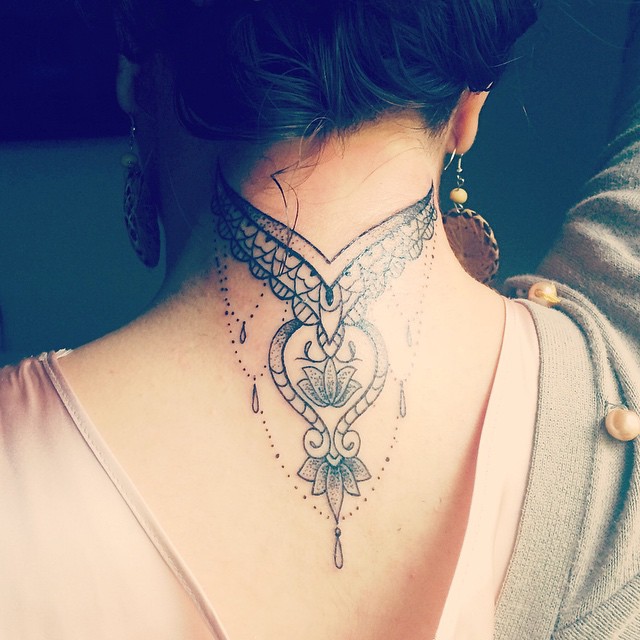 Although this tattoo will probably scare a few people, it still makes a good back of the neck tattoo. Besides from being aesthetically appealing this tattoo holds a lot of symbolic meanings, and so you should understand these meanings before having it inked on you.
With this tattoo, you can choose to have a simple skull inked on you without any other image or you can combine it with other images. The skull can also form part of another back of the neck tattoo.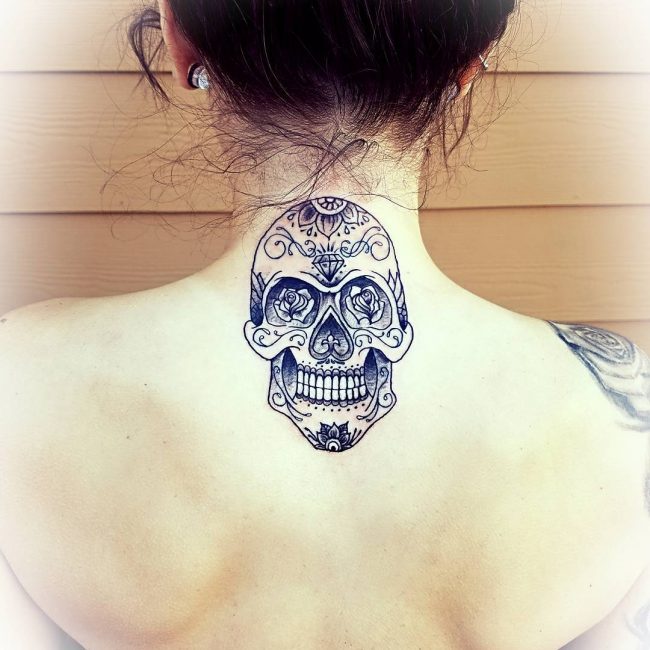 This type of tattoo can be drawn, but it would be better if a lady has it since flowers are more feminine than masculine. You can choose to draw any flower that you prefer on the neck, but roses look much better. Besides from having a flower drawn you can have a colorful floral pattern.
Floral patterns come in many forms, but your tattoo artist will advise you on which one will look best on your neck.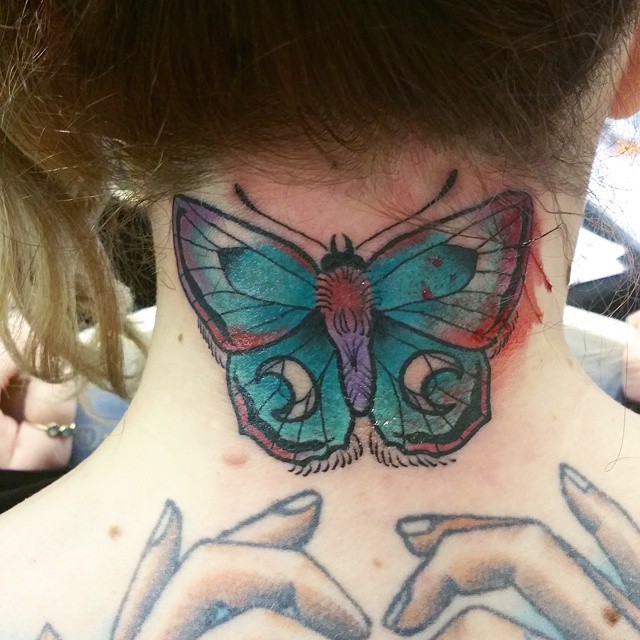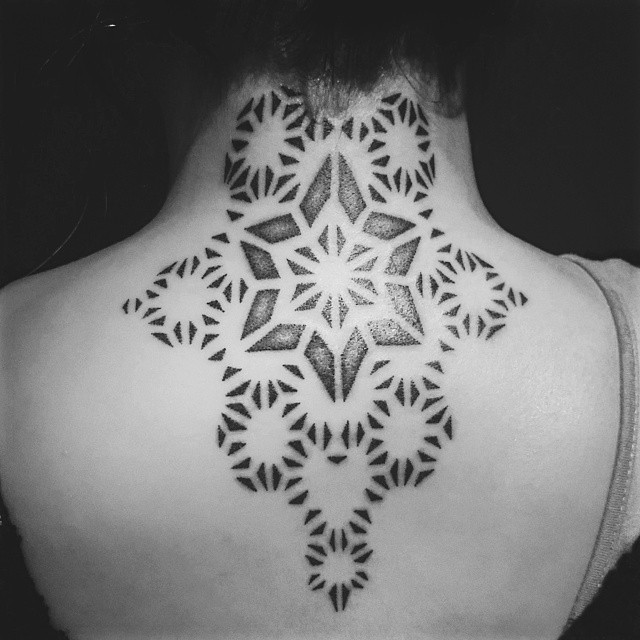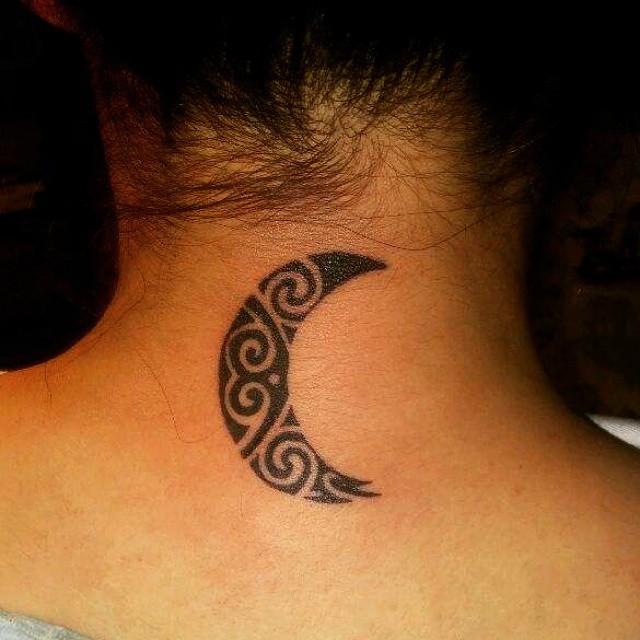 A butterfly is a beautiful animal and besides from its beauty it also holds different symbolic meanings like transformation and femininity. Due to the physical appearance of a butterfly it can be drawn as a back of the neck tattoo.
For this tattoo, you can choose to have a single butterfly, or a couple of them inked on you. If you want your tattoo to look fabulous use plenty of colors as butterflies are colorful creatures.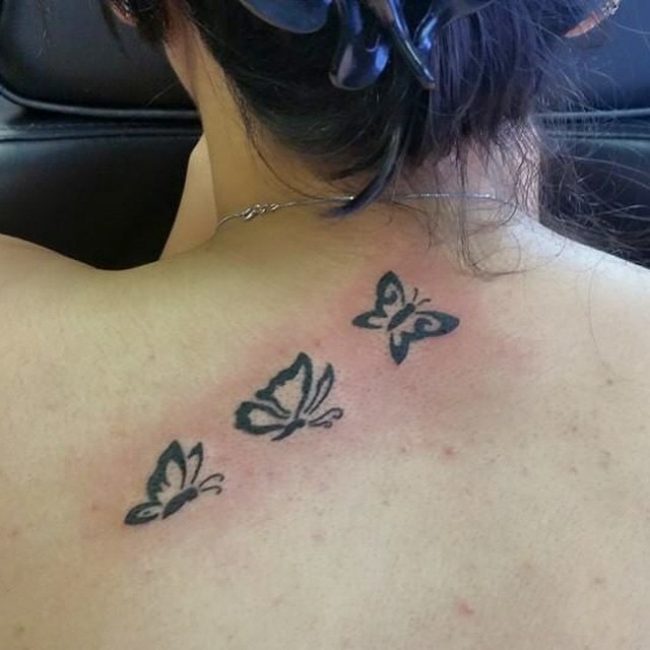 Triangles are a symbol of Trinity among many other things, and they are also perfect tattoos when placed on the back of the neck. Some people choose to have a simple triangle on the neck while other opt for the more complex triangle tattoos like the Penrose Tribar or a Celtic triangle.
Any of the triangles will look fabulous on your neck but make sure that you know what it means before having it inked on you.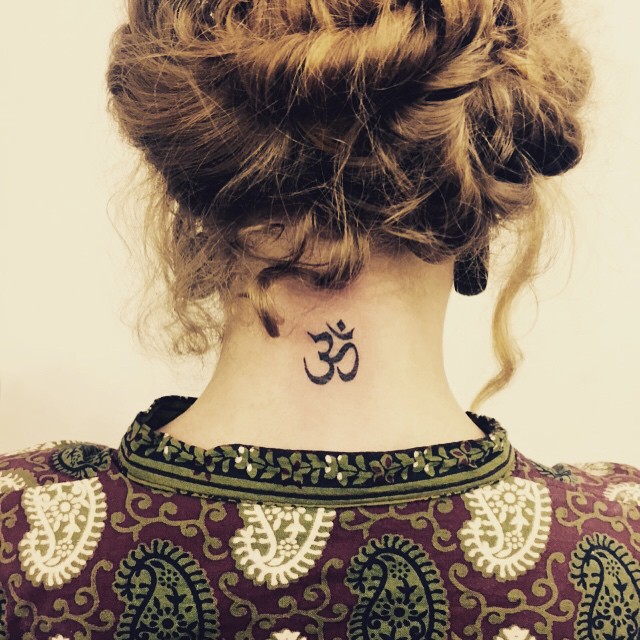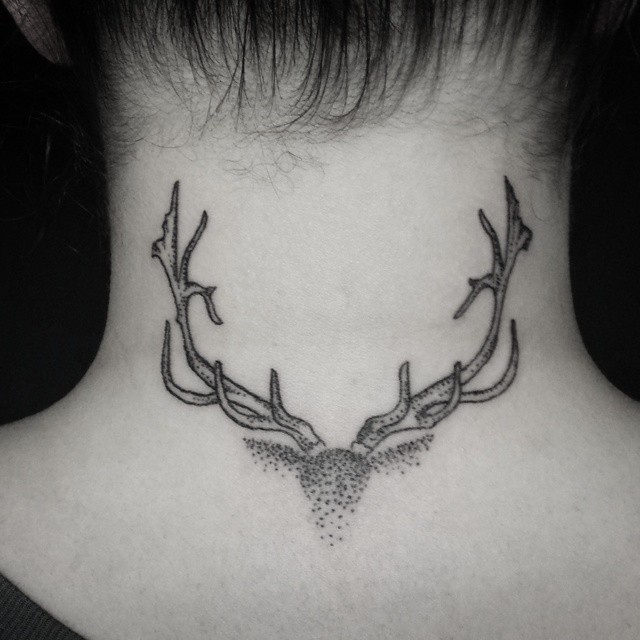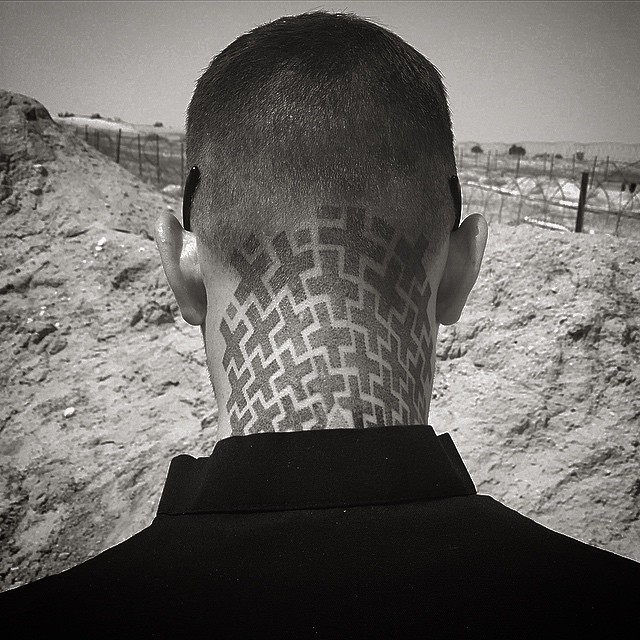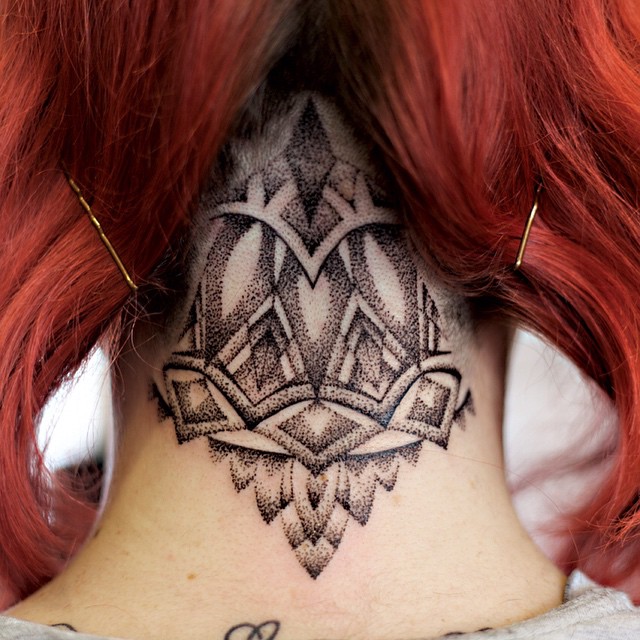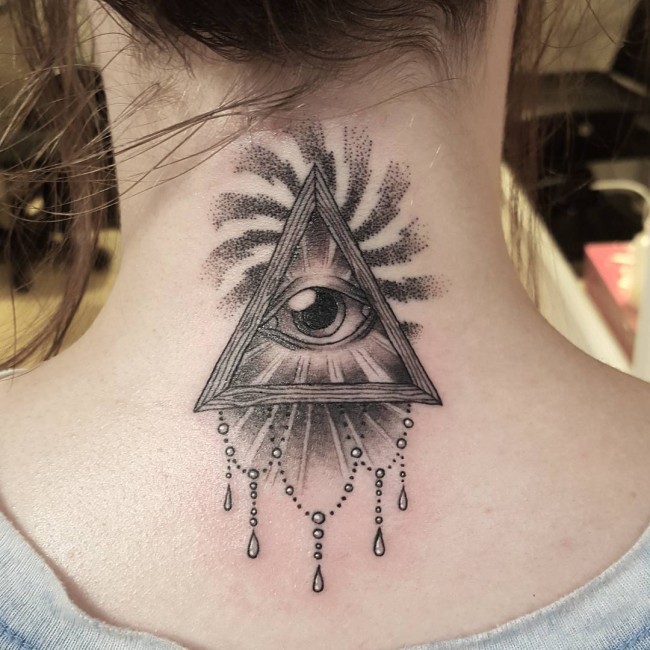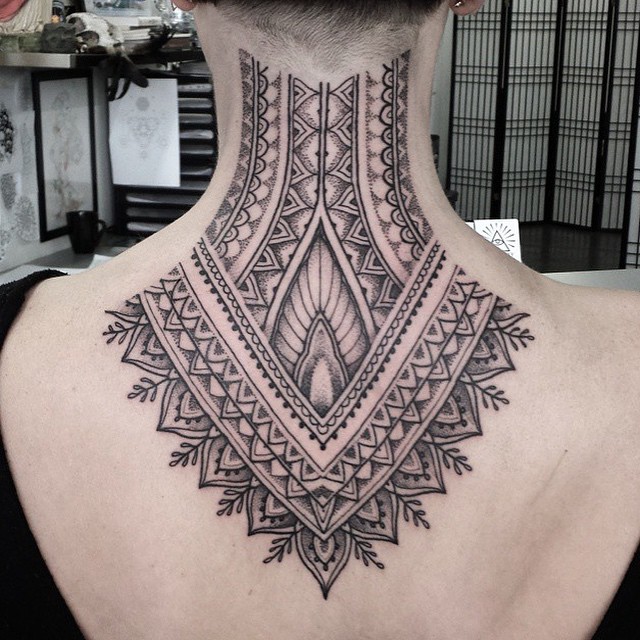 Few other tattoos if at all any will attract more attention when drawn on the back of your neck than the all-seeing eye. This image has a way of making its presence felt when drawn anywhere on the body and any person looking at it will always want to have a second glance.
The all-seeing eye stands for many things for example vision and the ability to foretell the future. By having it on the back of the neck, you can show that you can see things clearly even those that are not very visible like those behind you.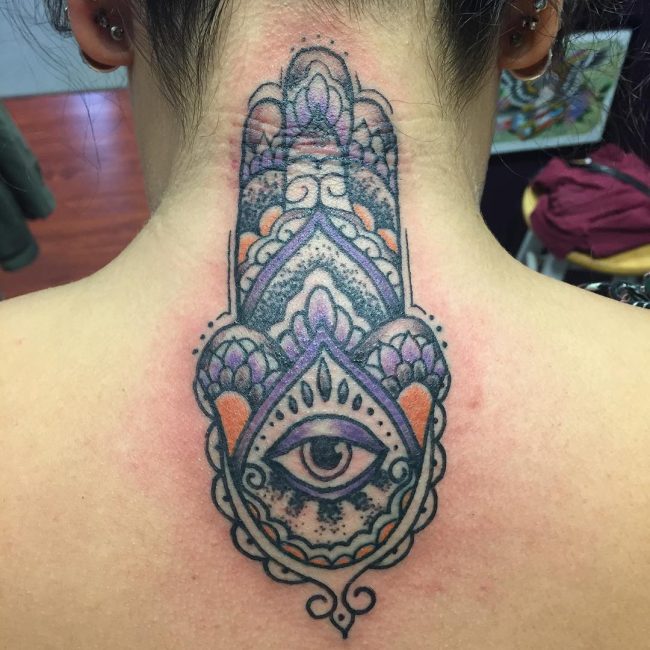 There is a misconception that the tree of life is always drawn as a massive tattoo on the back or anywhere else on the body where there is enough space. However, this small back of the neck tattoo proves that this couldn't be further from the truth.
Although it is a smaller variation of the popular tree of life tattoo, it still captures all the essential elements that are characteristic of this famous symbol. The tree of life in this tattoo can be drawn alone, or a few words can be added at the bottom to show what the wearer wants it to mean or represent.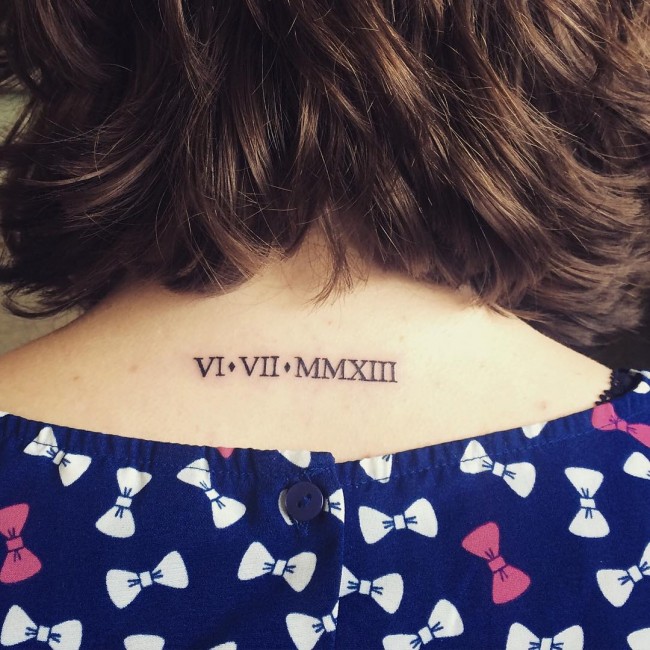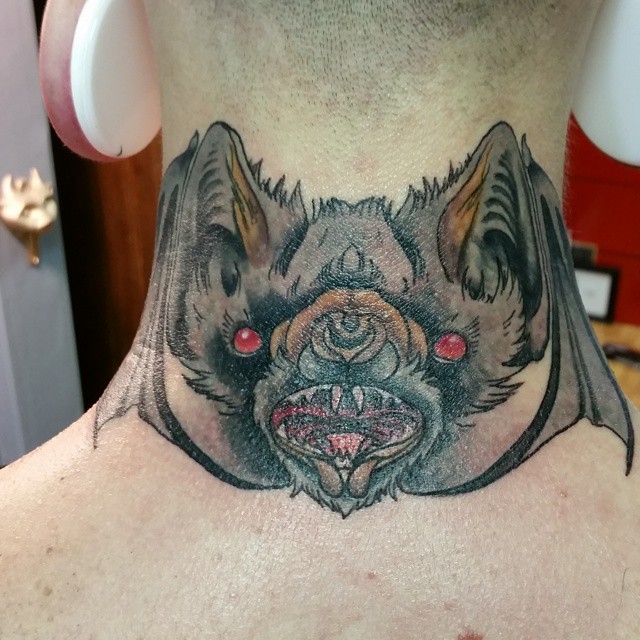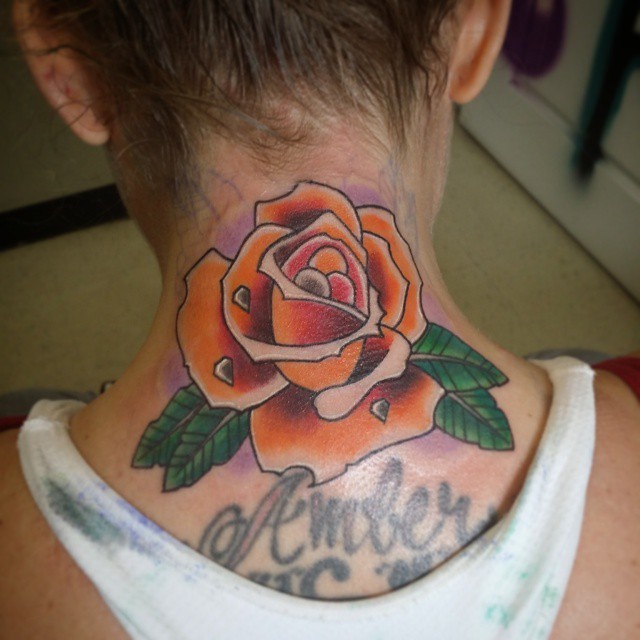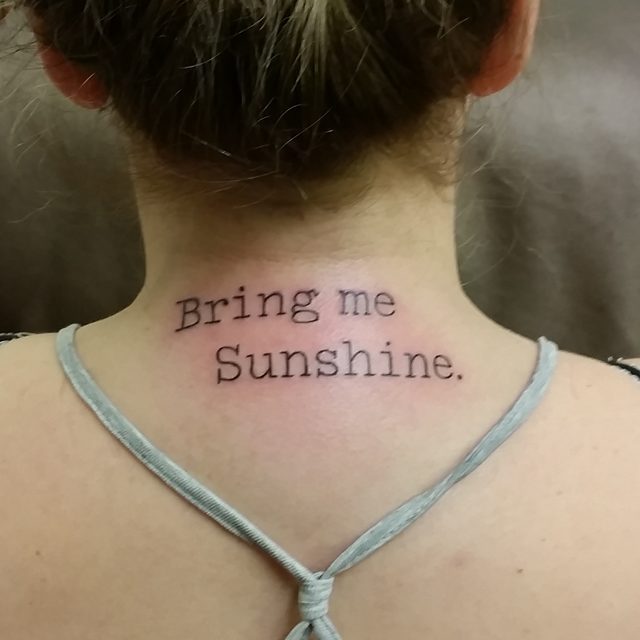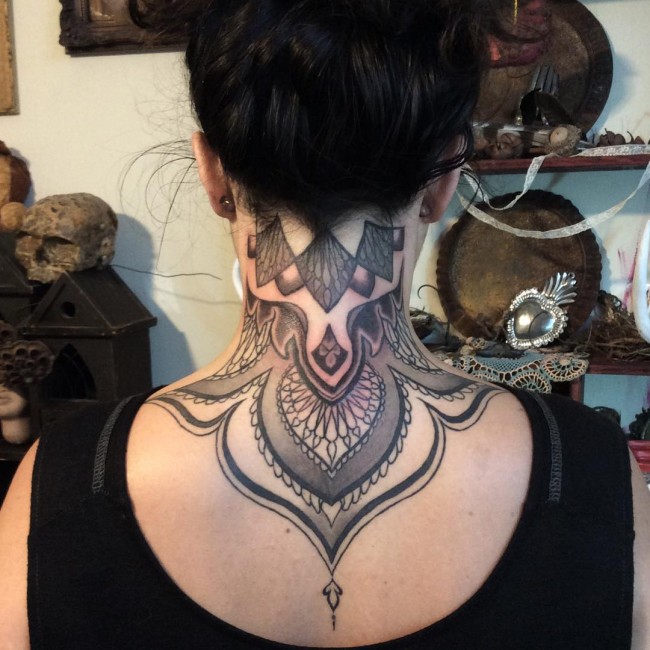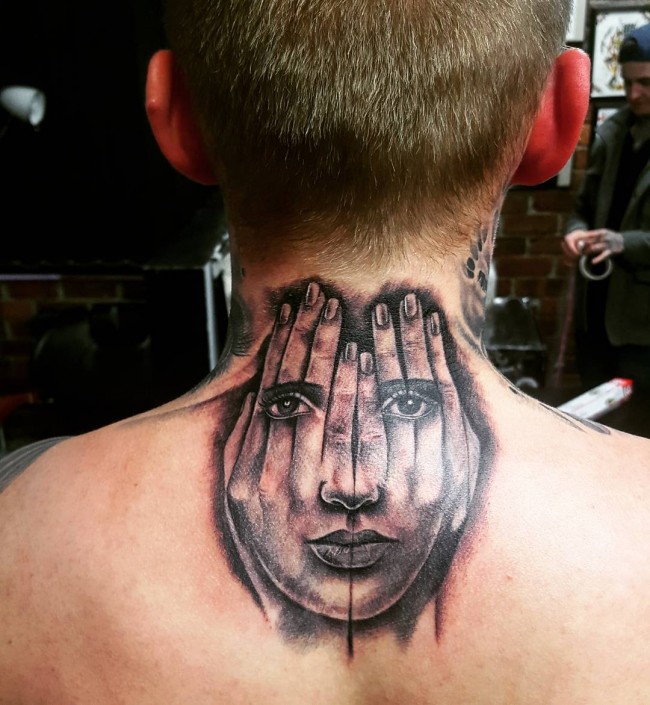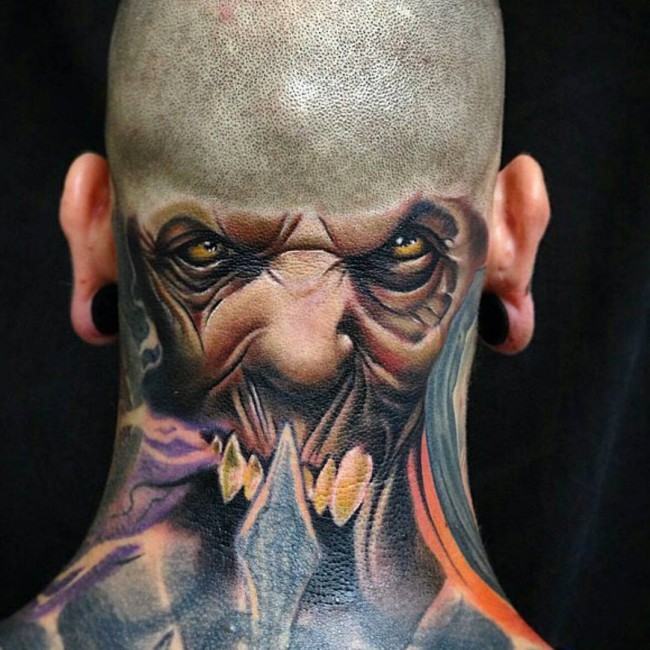 The anchor is another type of symbol that is popularly drawn on the back of the neck. The anchor can be in there different ways on the neck. First it is drawn as a single tattoo on the neck. Secondly it can be drawn as the centerpiece of other tattoos on the back.
Thirdly it can be drawn to complement other neck tattoos, for example, nautical tattoos or penguin tattoos.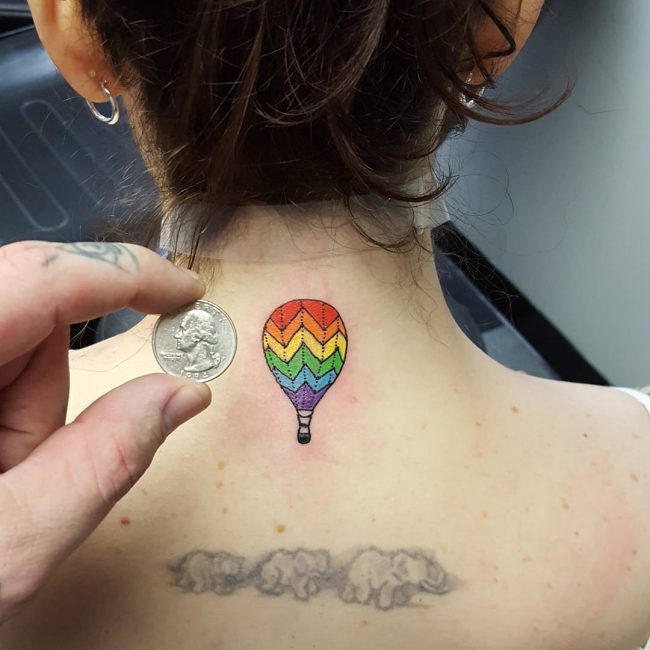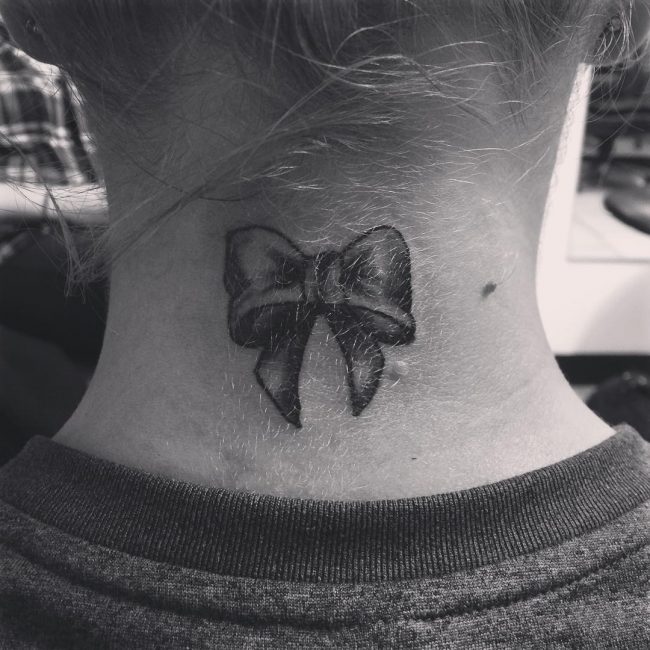 There are quite many celebrities with the back of the neck tattoos, and a significant number of them (especially ladies) have bird tattoos. Birds are beautiful animals, and so they make a perfect tattoo.
There are many birds to choose from, and there are also many ways that you can draw them, and this is what makes them perfect for the back of your neck. You can draw one bird or a couple of them flying away or perching on the tree of life to have a more symbolic tattoo image.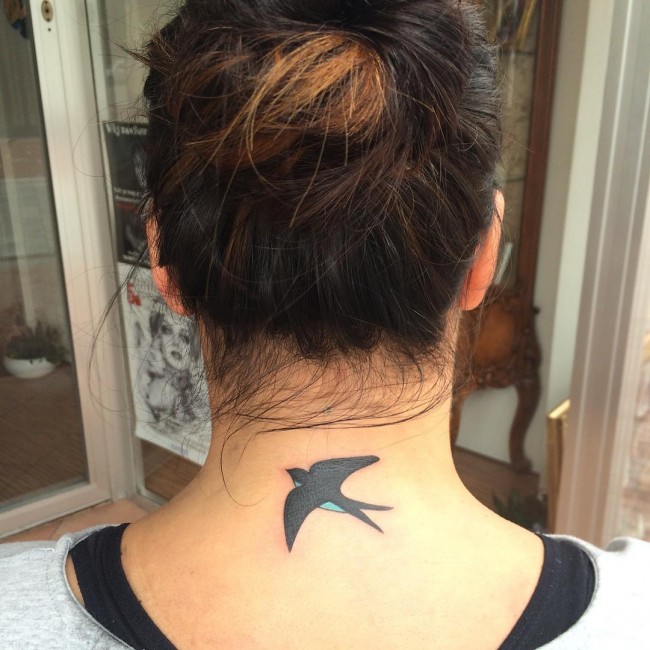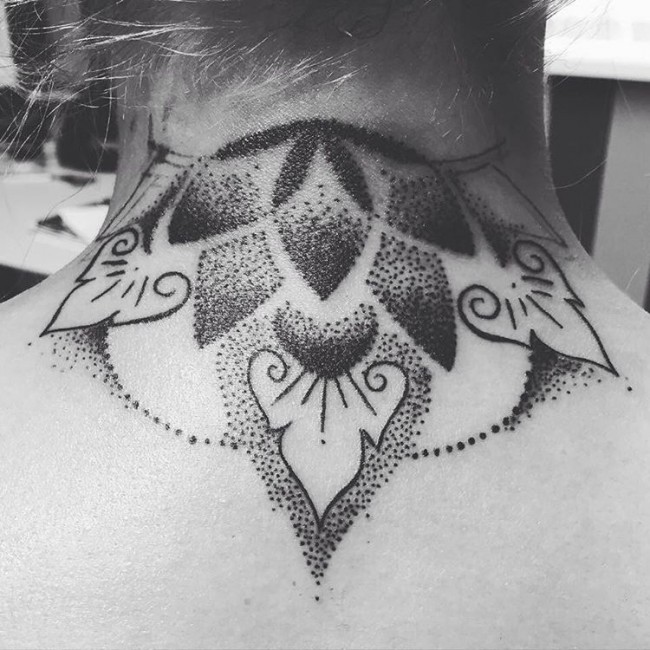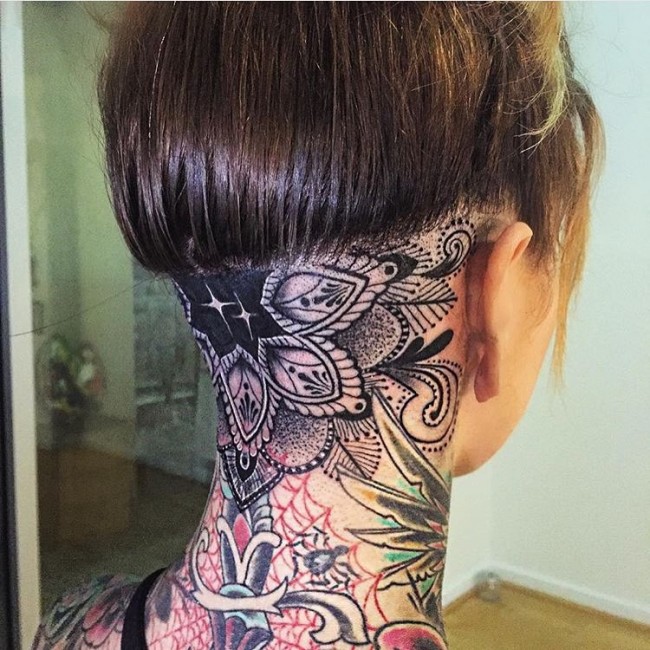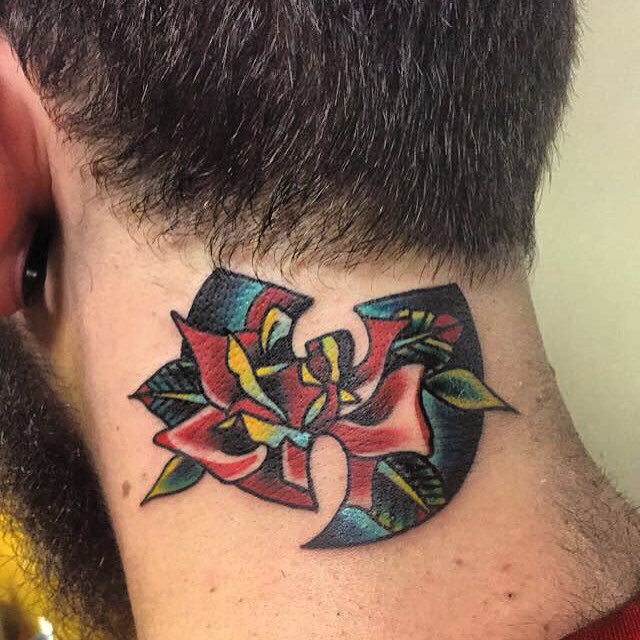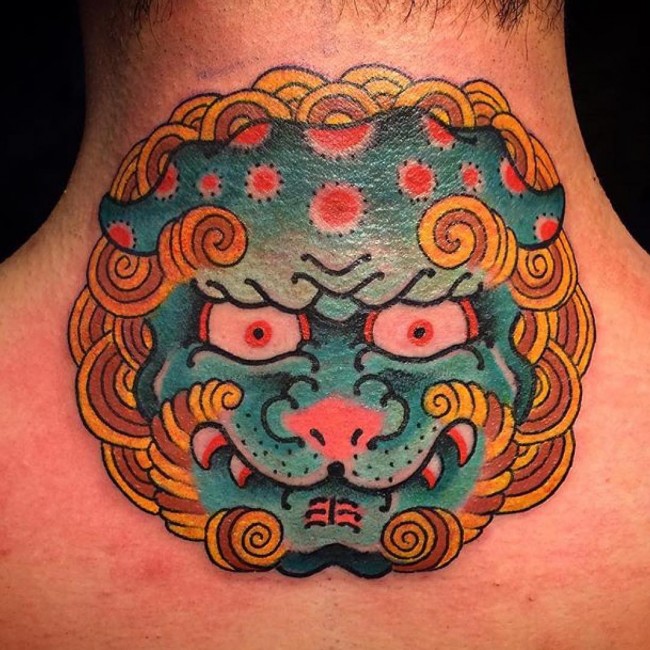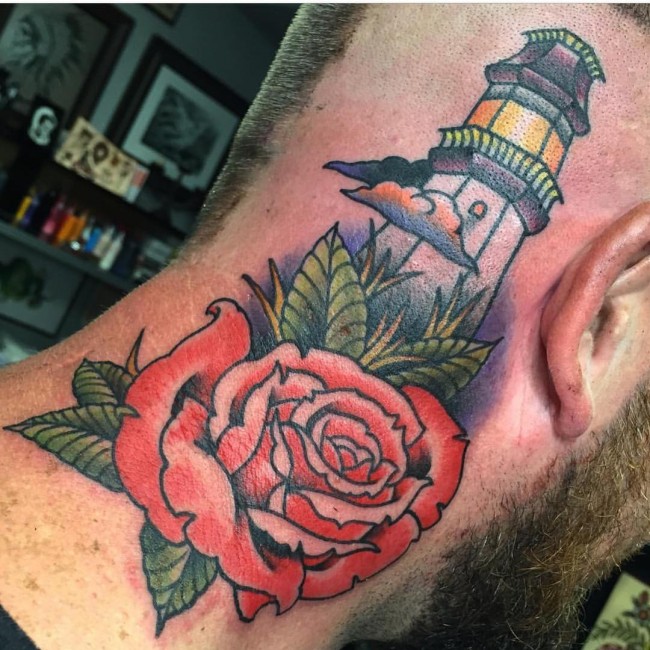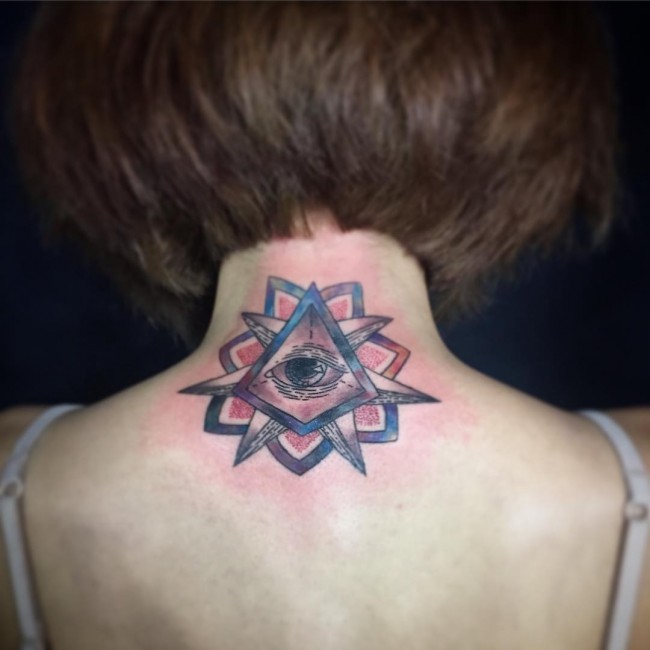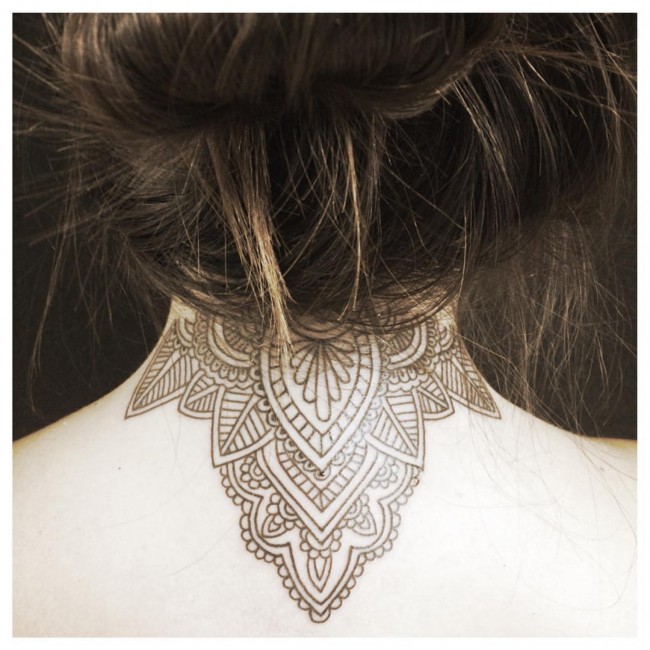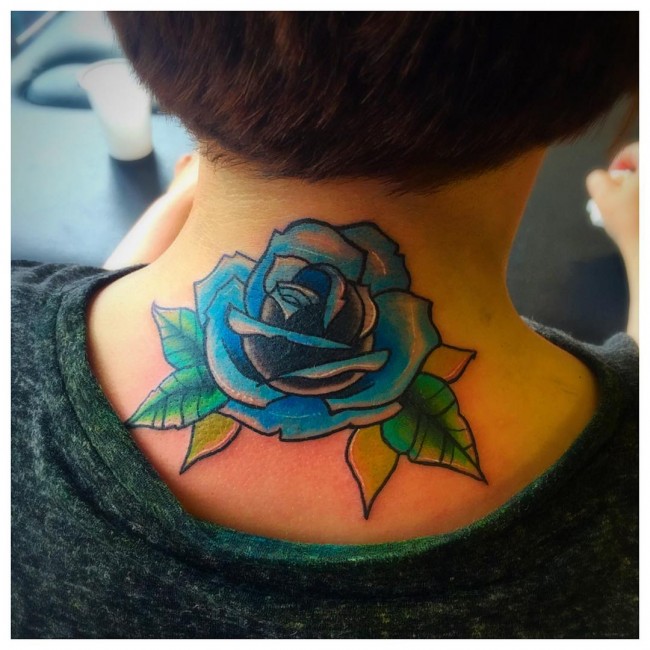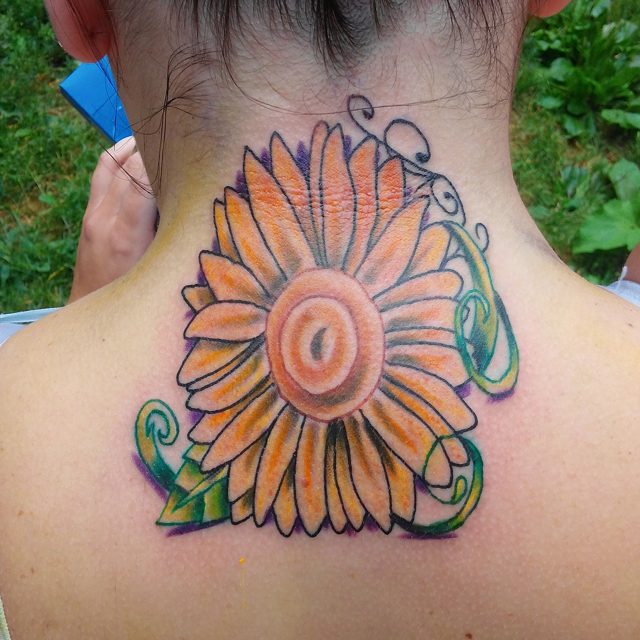 Many people find it hard to choose the right place for a bow tattoo especially when they want to draw it as a single tattoo. However, the back of your neck is the perfect place for these type of tattoos. Here you can be assured that that tattoo will look incredible no matter what the design might be.
You can also have the bow in any color of your choice, but bright colors seem to work much better with these tattoo. Another way to make it look fabulous is to let some part of the ribbon making the bow flow slightly on your back.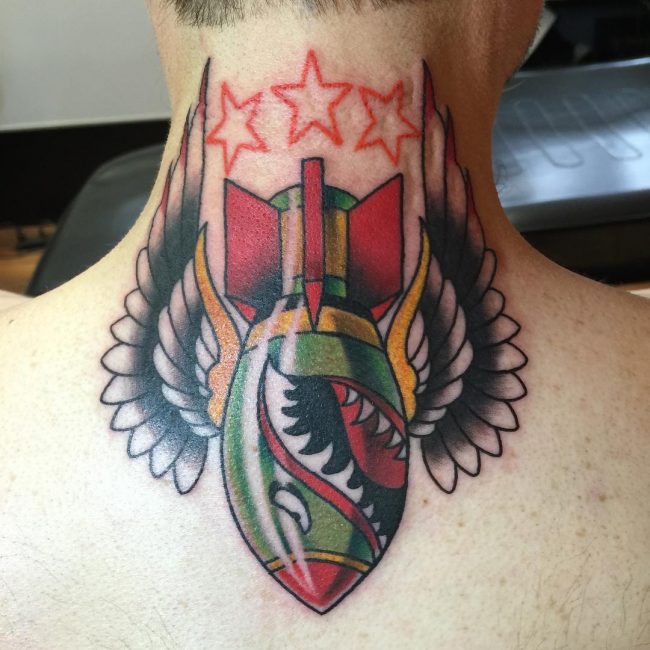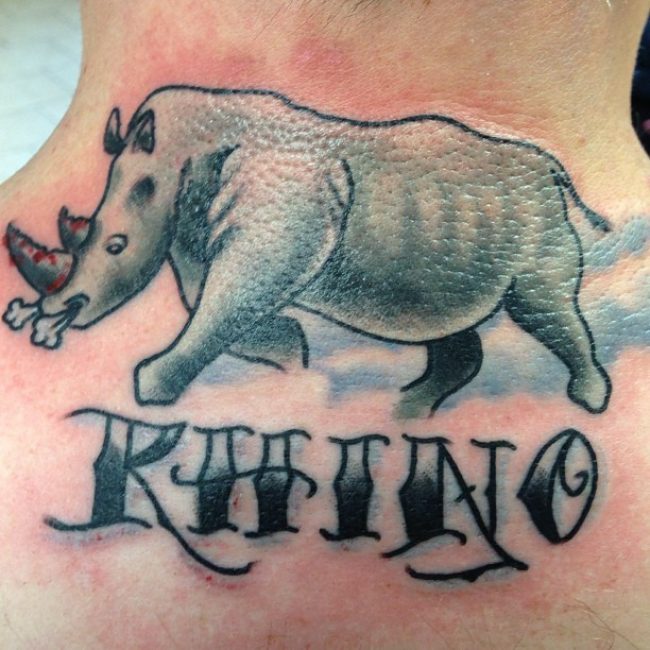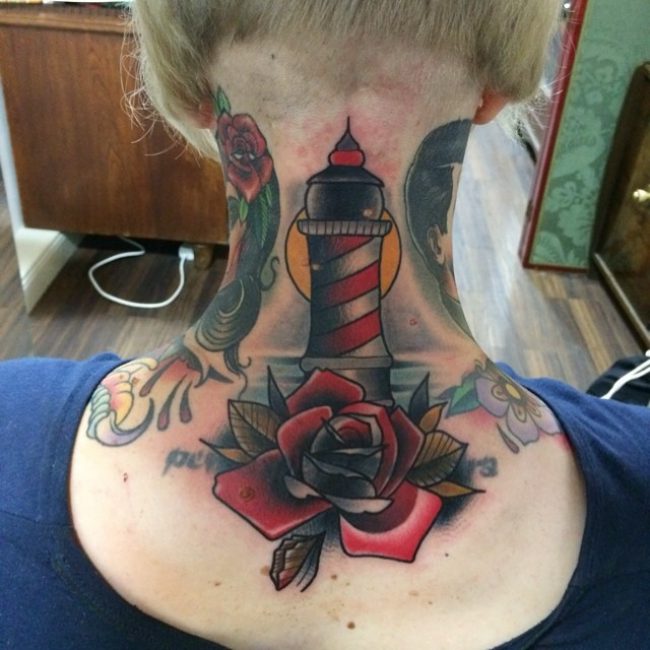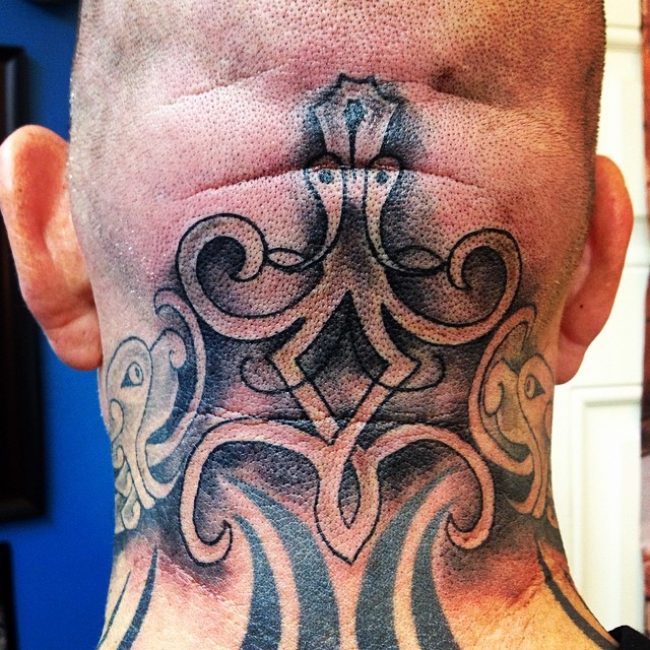 A few words on the back of the neck always make for a perfect tattoo but to add some spice to this you can have them in a foreign language. Chinese and Hebrew are two languages that will always give you a perfect tattoo, but you should be very keen with the translation.