90+ Creative Little Mermaid Tattoos – Designs & Meaning (2019)
Everyone is well aware of the concept of mermaids, these imaginary creatures living in the sea with the upper body of a human, a female, and the tail of a fish. Mermaids appear in numerous folklore from various cultures around the world, with stories of mermaids dating back as early as 1,000 BC.
Contents: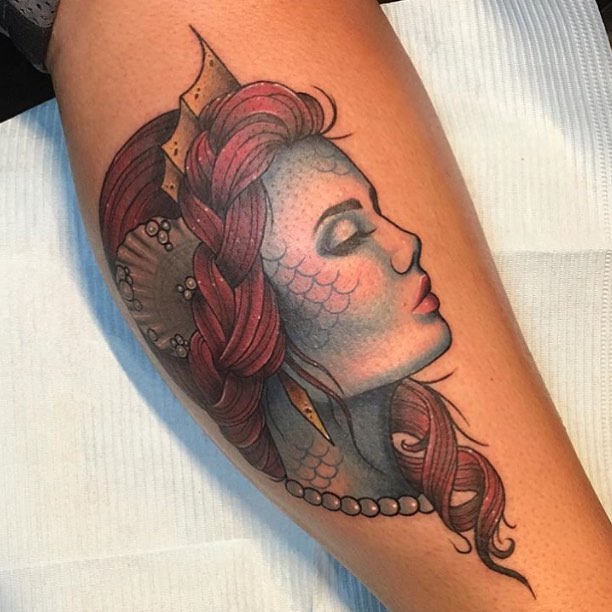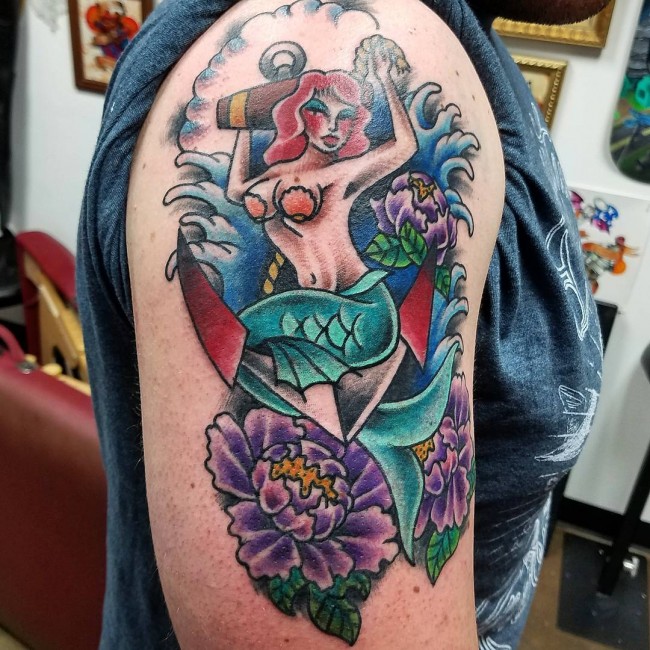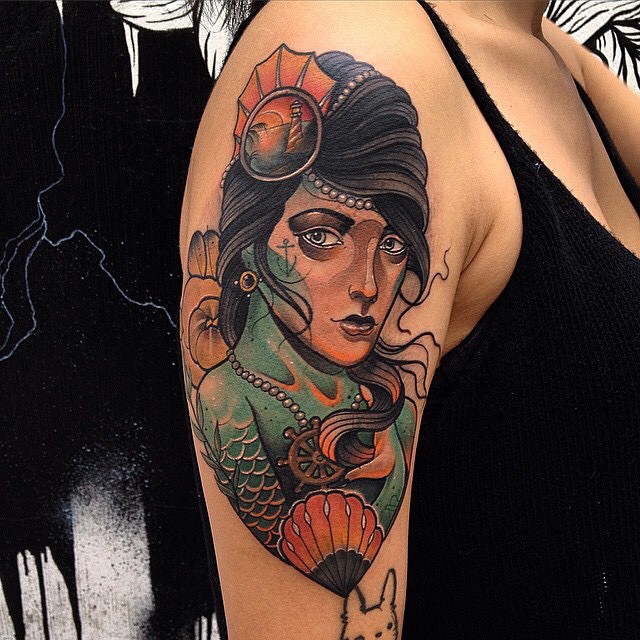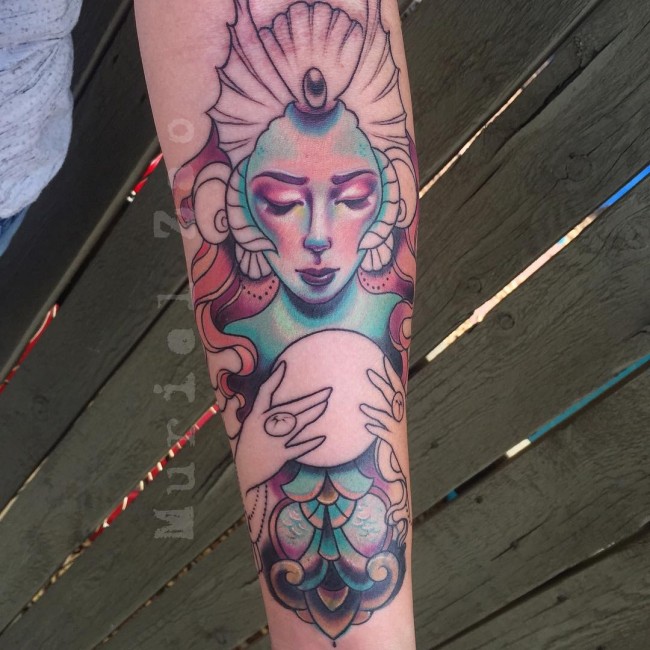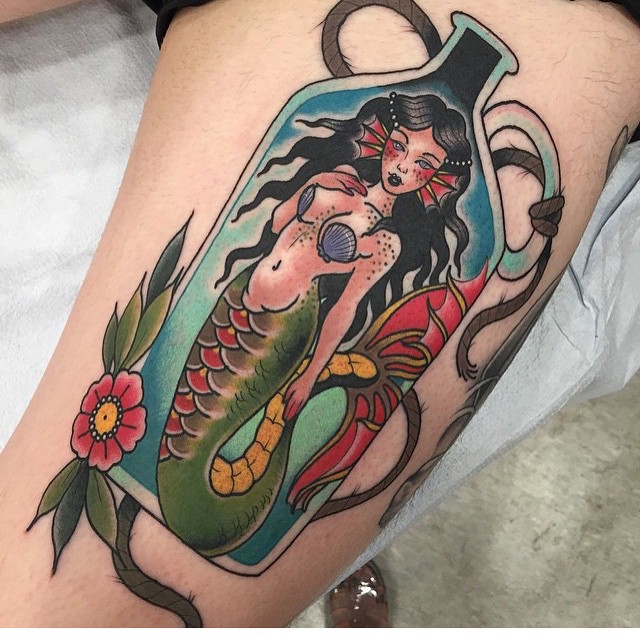 The only constant in each mermaid story is her beauty, mermaids are known to be very beautiful and possess long, flowing hair. Oh, and they are always female, there aren't many male mermaids although some cultures do have them.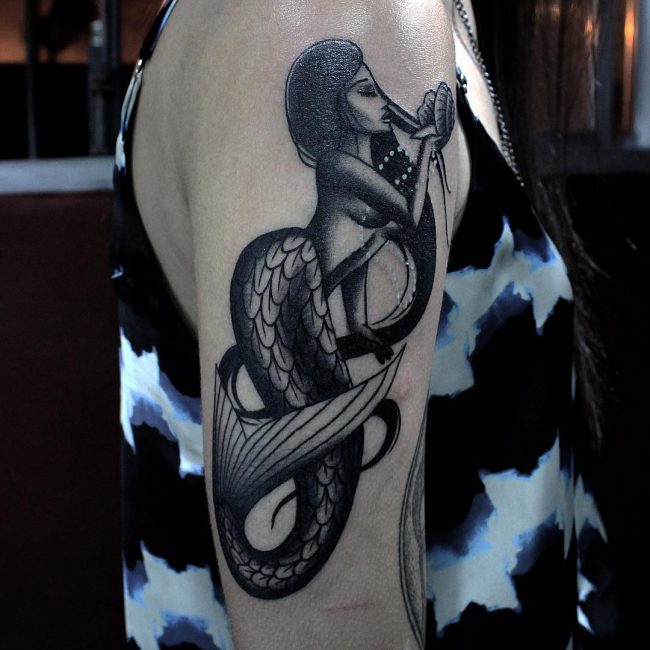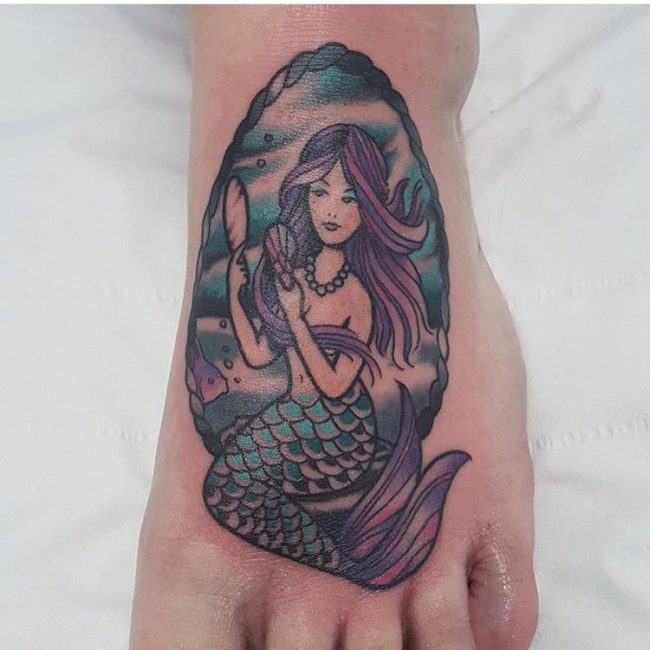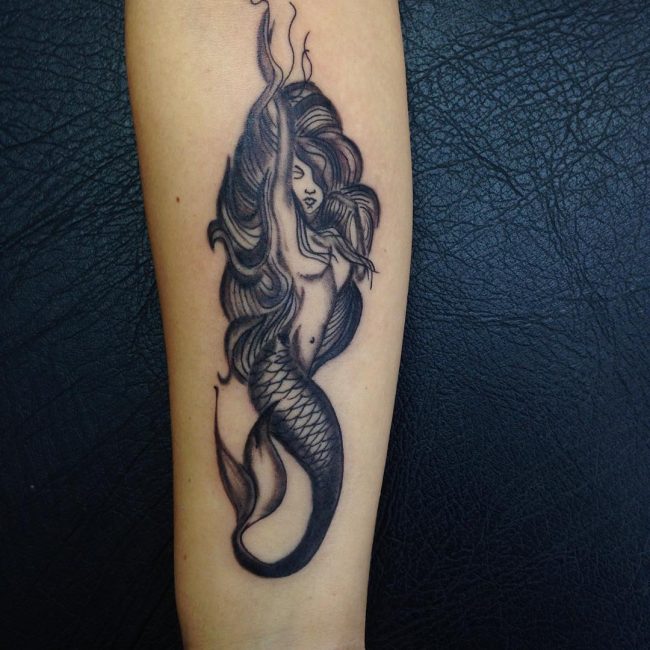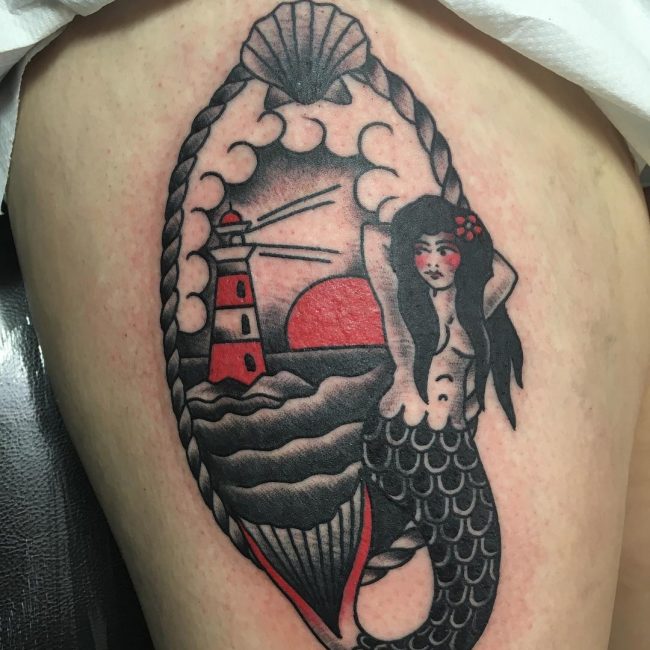 In any case, there are just as many tales about mermaids as there are cultures, with every culture perceiving the mermaid in a certain light. To begin to grasp what these may be, a brief history of the creatures is fundamental.
The history and meaning of mermaid tattoos
There are many interpretations as to what the mermaid represents, and here are some of the most prevalent associations.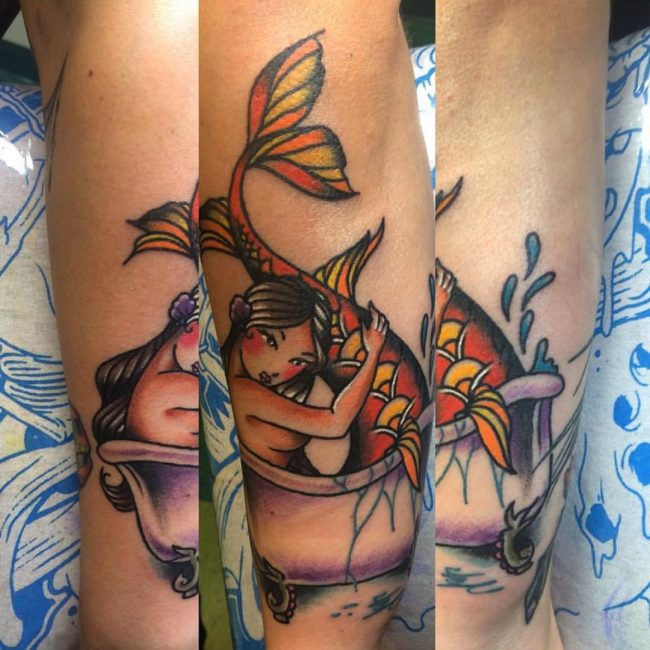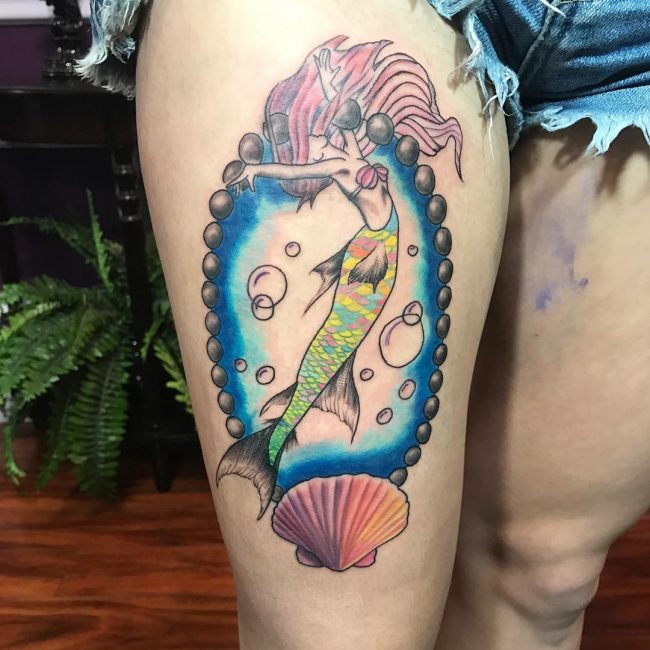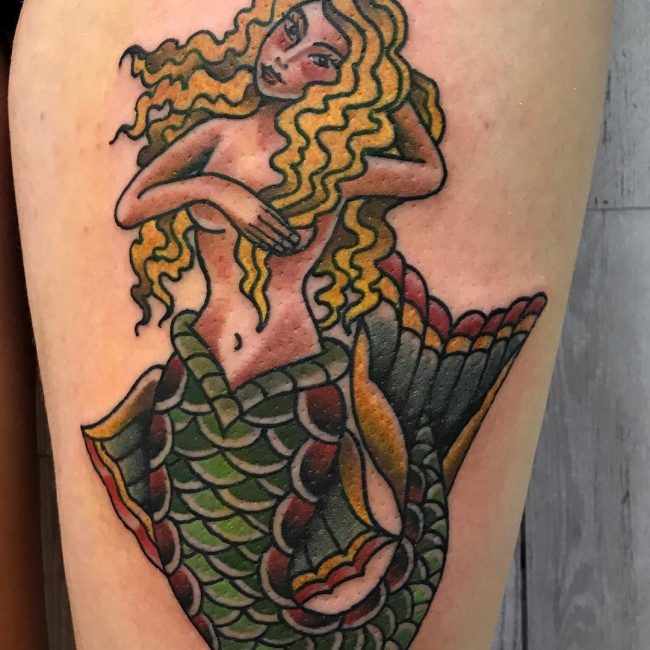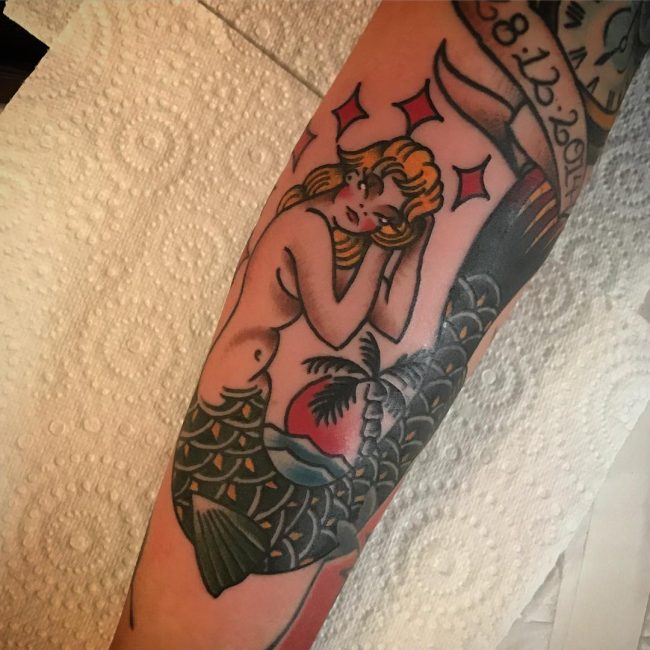 This is always the first assumption in any mermaid picture or film ever since Pirates of the Caribbean.
They are beautiful women, from the waist up, and always bare chested. Furthermore, in most merfolk (folk tales about mermaids), it is said mermaids like to bask in the sun and admire themselves on mirrors.
Perhaps it is this depiction that has led to the image of the mermaids being used in churches to illustrate vanity.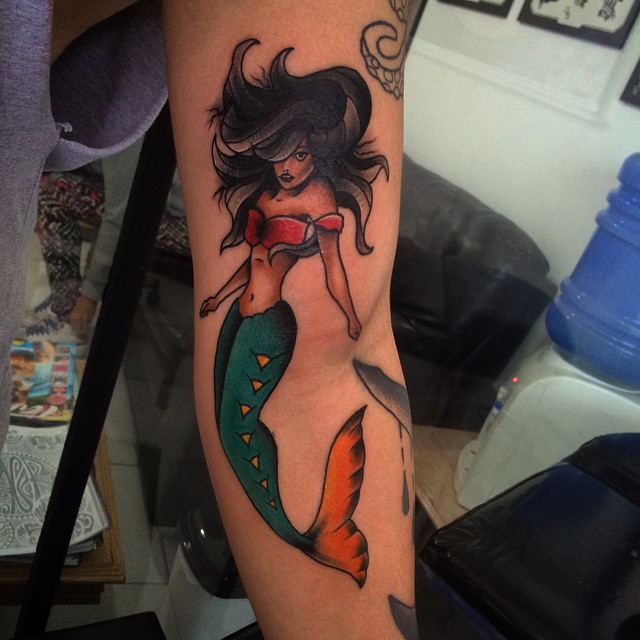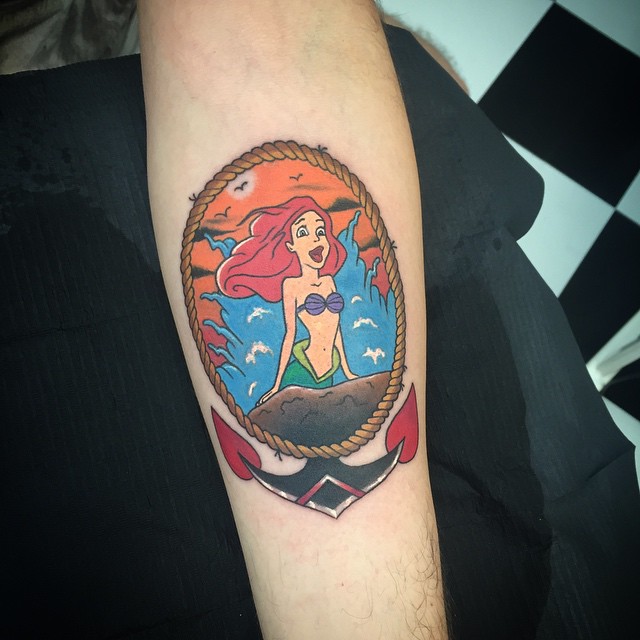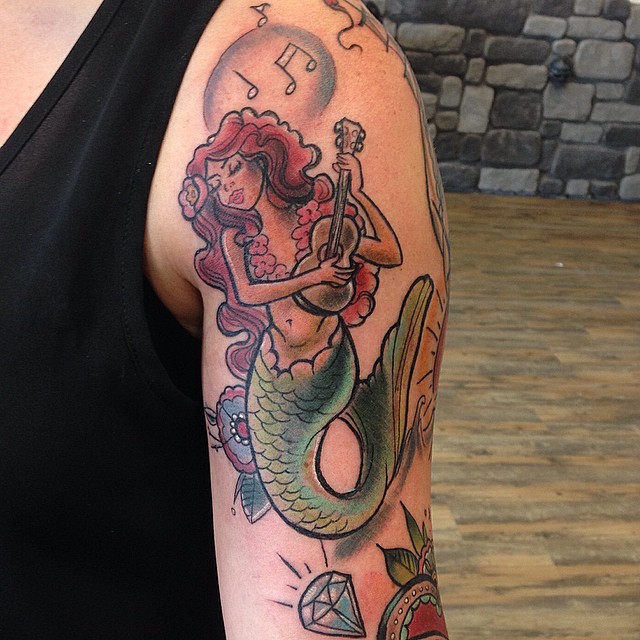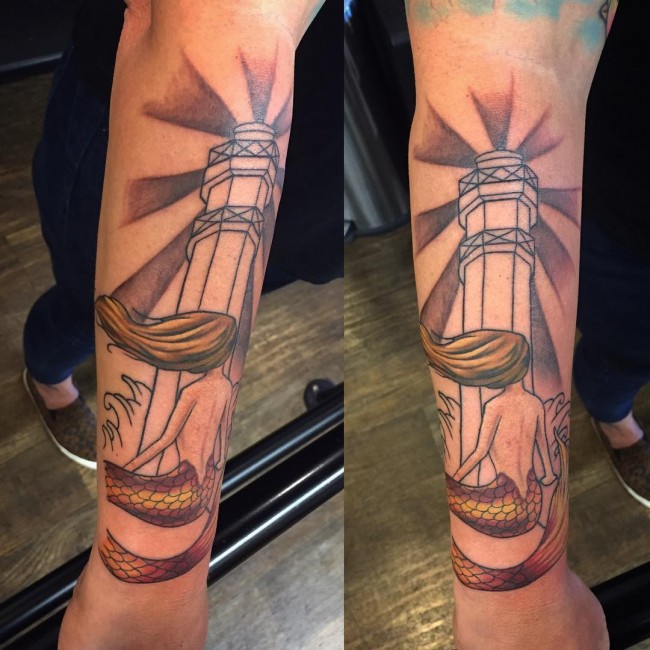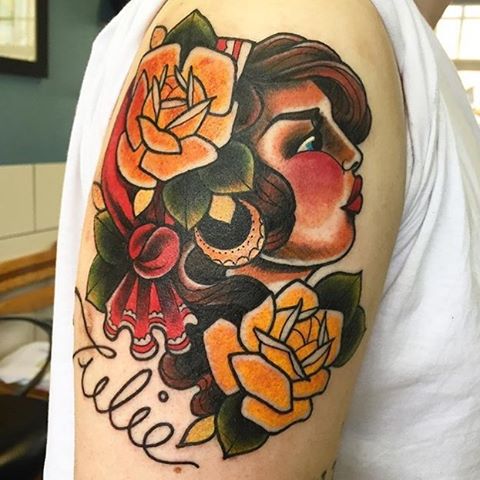 The mermaid started off as a beloved character in a storybook, the product of an active imagination, and was later turned into a creature to be feared. Many merfolk are told where the mermaids led to the capsizing of a ship or a boat. Plus, people also believed they lured men into the sea and drowned them. Because of this, a mermaid tattoo could also be a warning of the dangers that lies beneath the beautiful physique.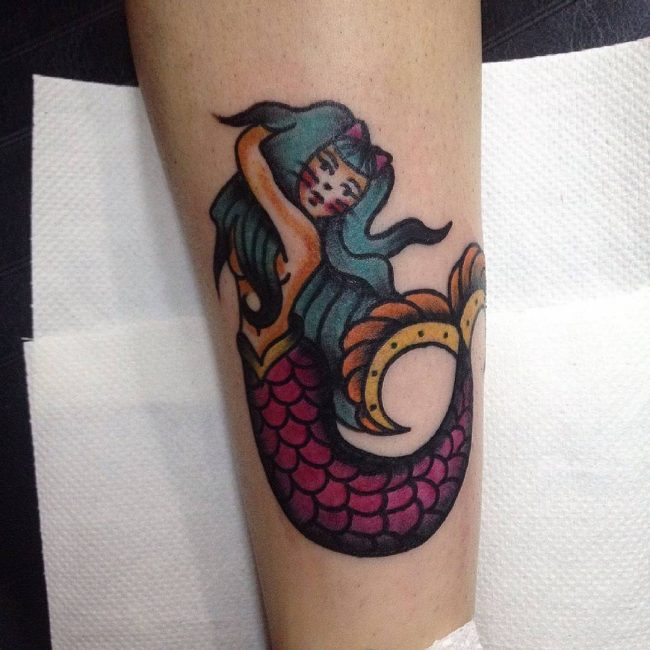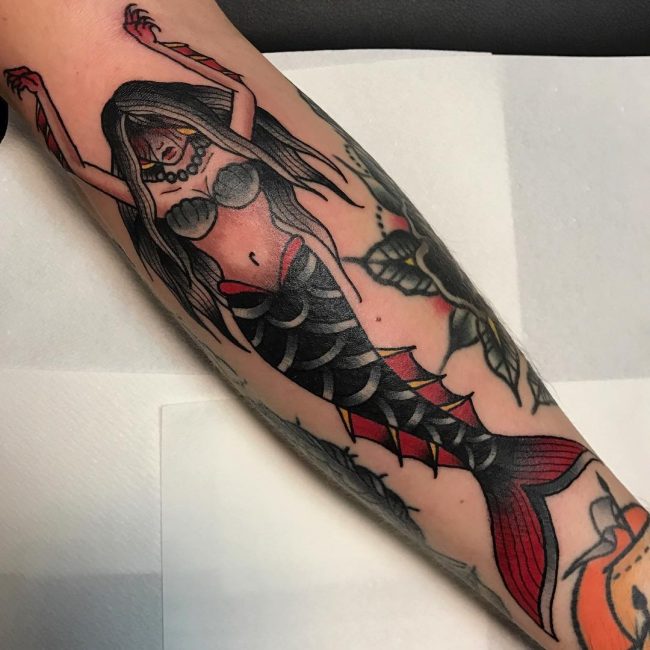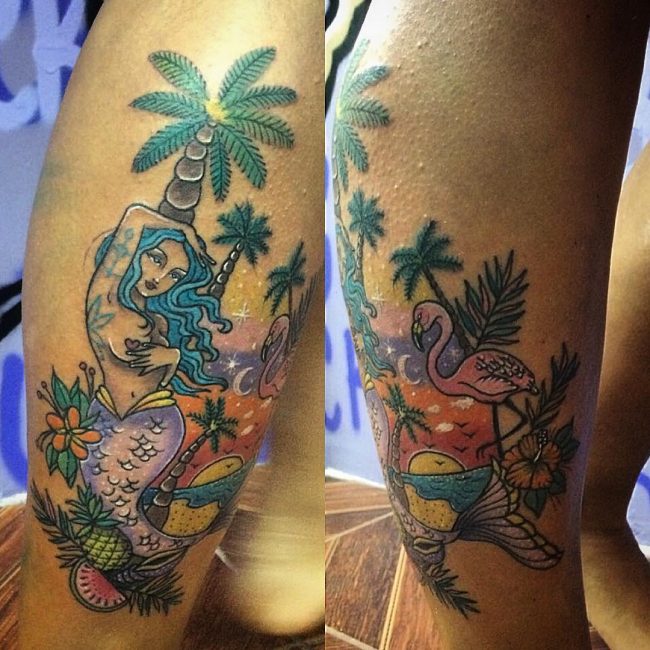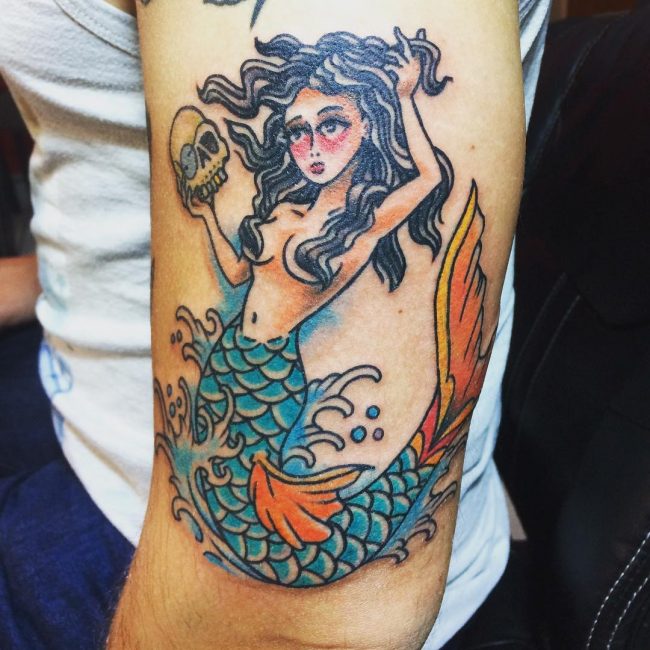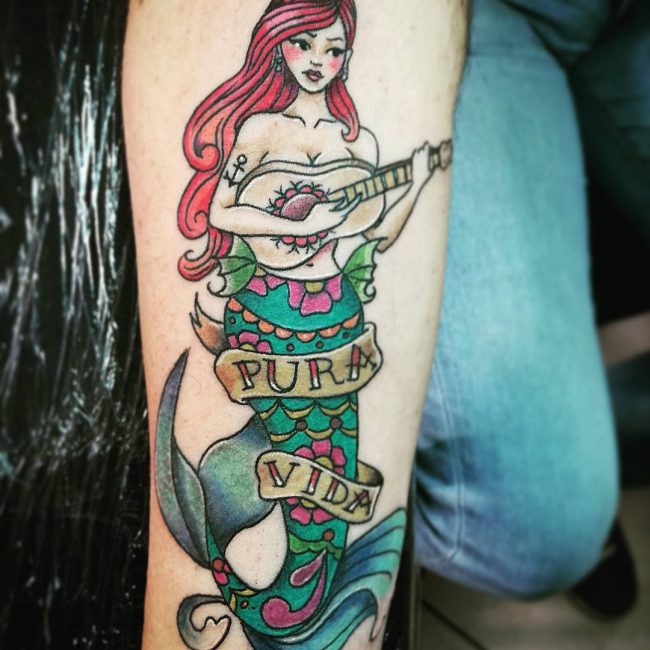 Apart from this condemned outlook, mermaids were also revered by the ancient Greeks. In fact, they believed the mermaid to be the descendants of Aphrodite and Venus, the goddesses of love and beauty. In this sense, such a tattoo could be used to embrace these qualities and express your own beauty.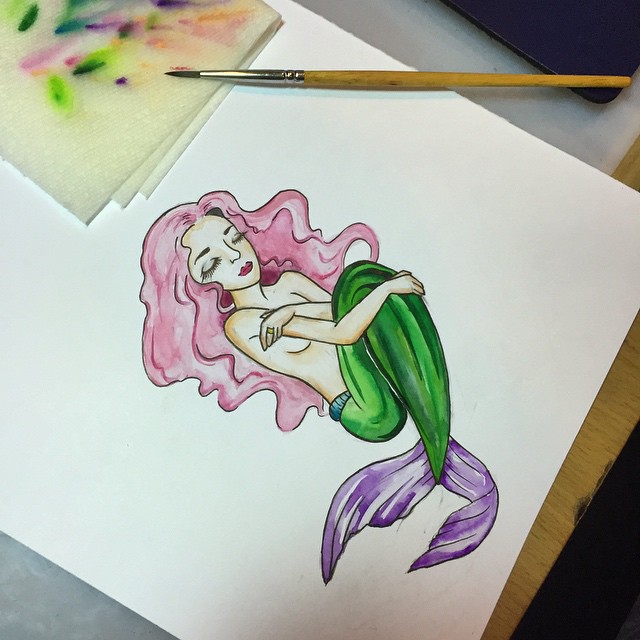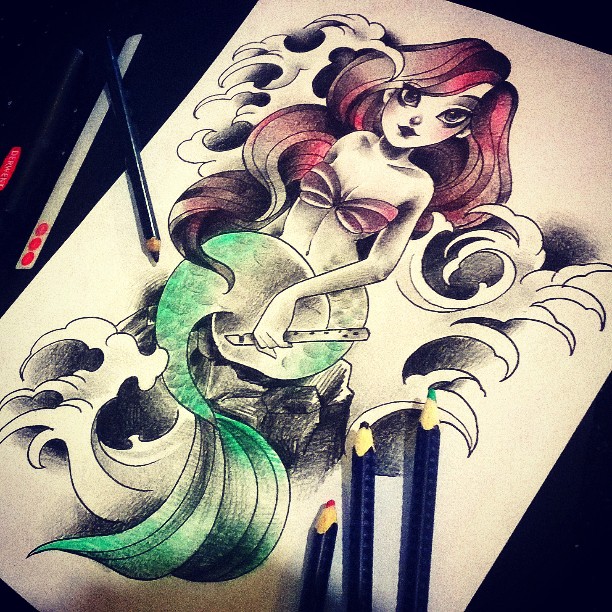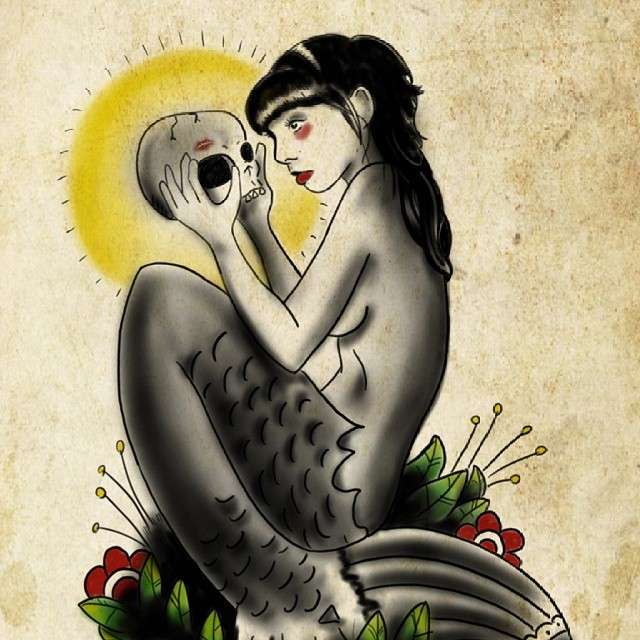 ---
back to menu ↑
Placement
Where you choose to have the tattoo made will depend on the size you want, and mermaid tattoos tend to vary from small and simple to huge and extremely detailed. For a small mermaid, it can be worn on the sleeve, the arm or even on the leg.
These usually involve a solitary mermaid and perhaps just one more image.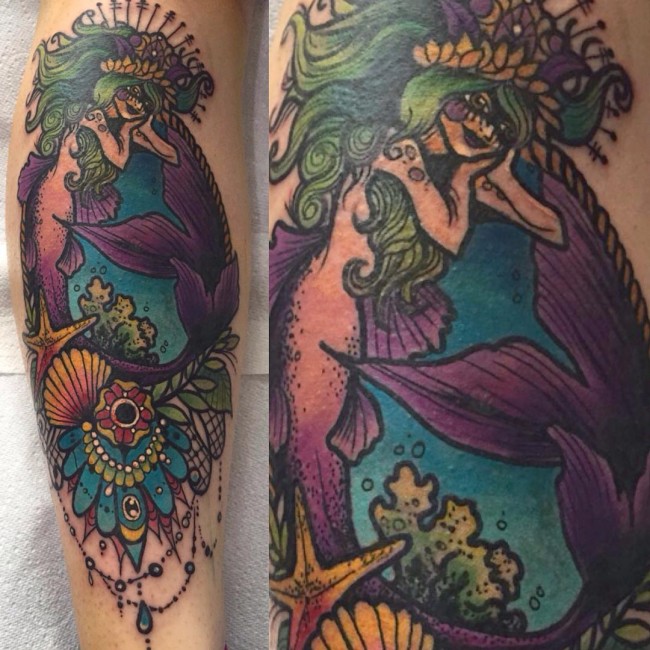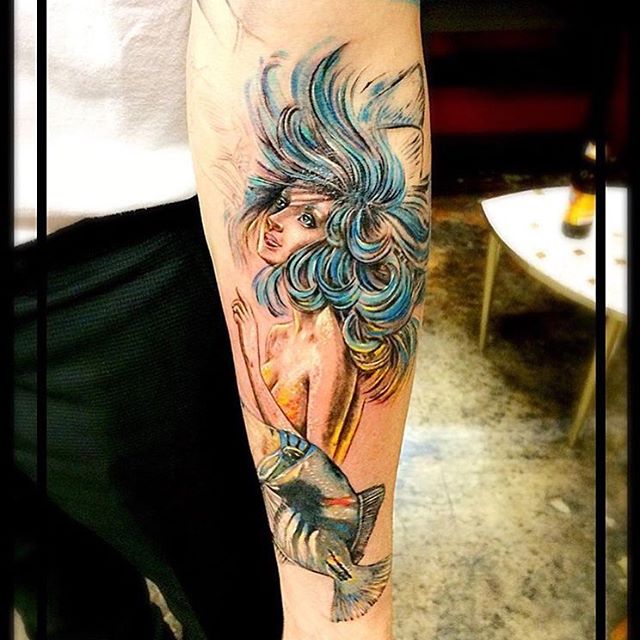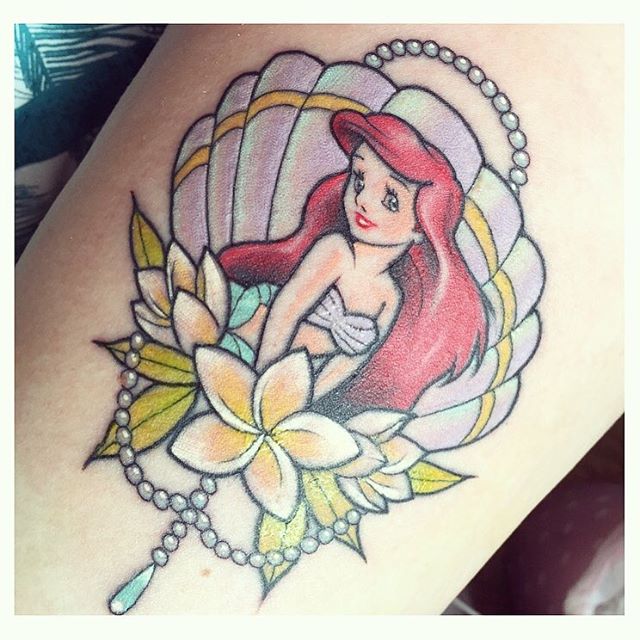 As it gets larger and more detailed, you might need to move the tattoo around the thigh, lower back or abdominal area. This bigger canvas will allow you to include more imagery and still be able to cover it up when you want.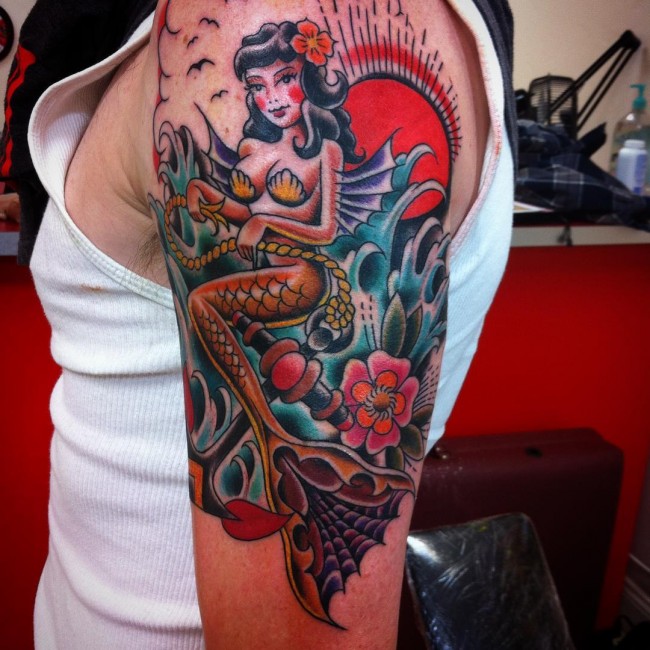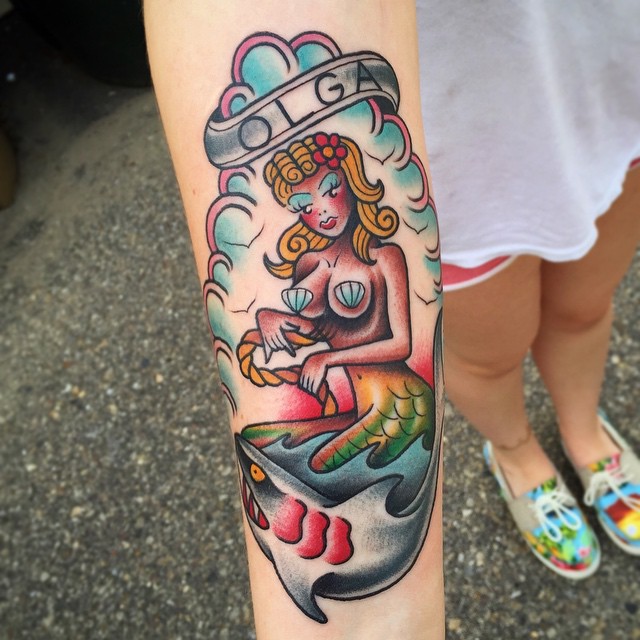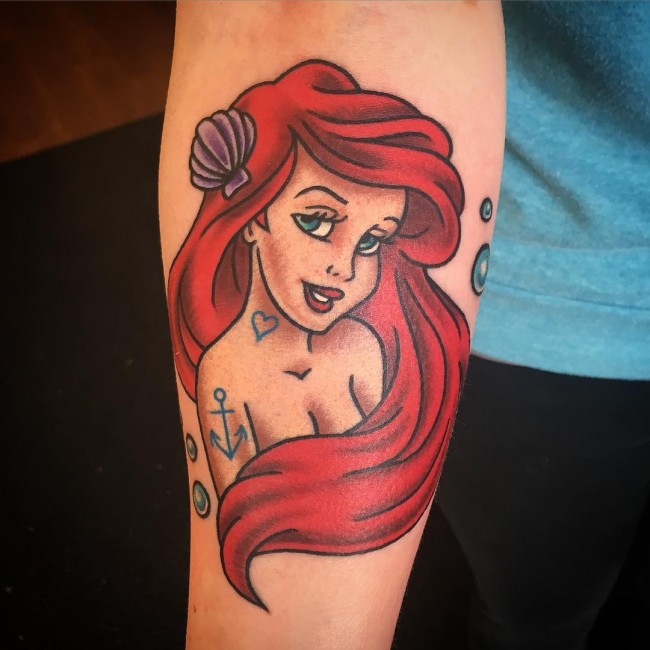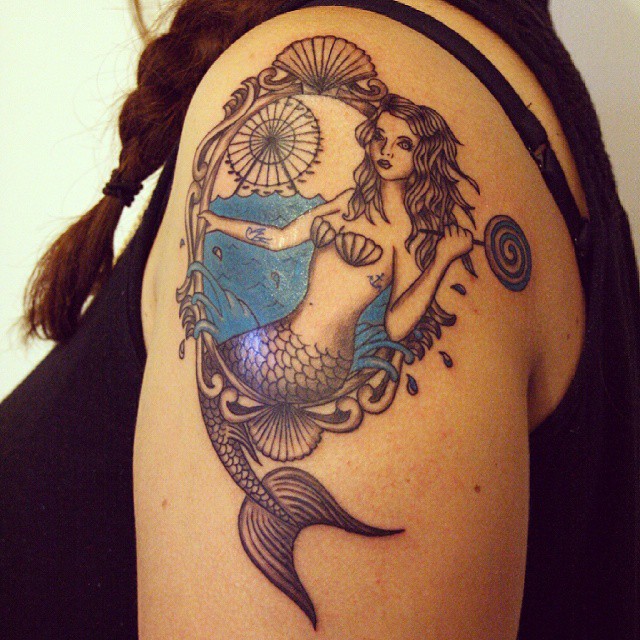 If you want to go big, there's no substitute for the back. The tattoo may cover your entire back and depict a detailed underwater sea world with plenty of images and colours.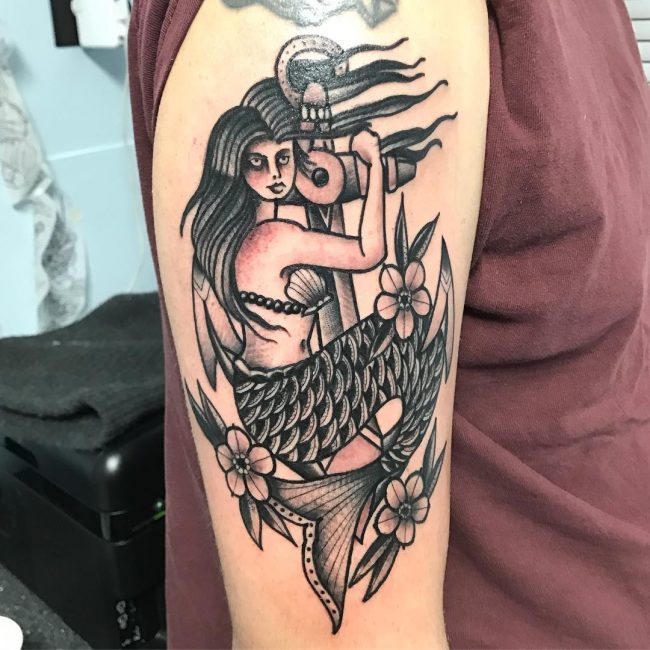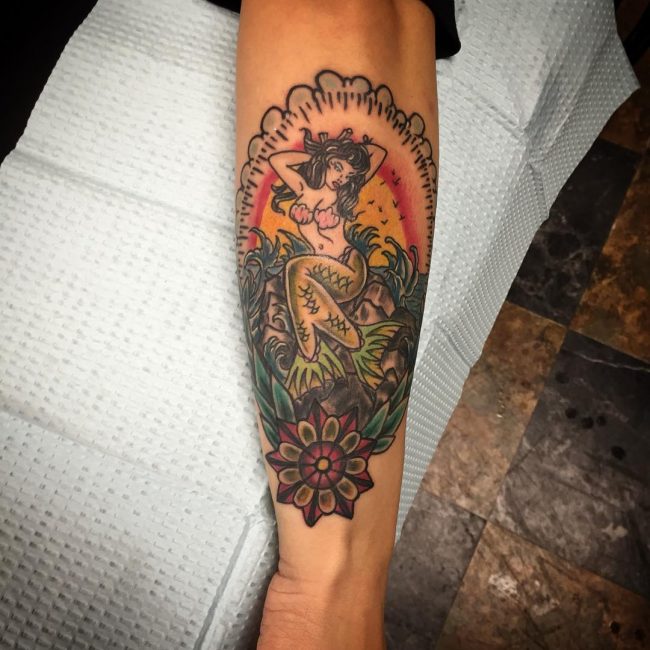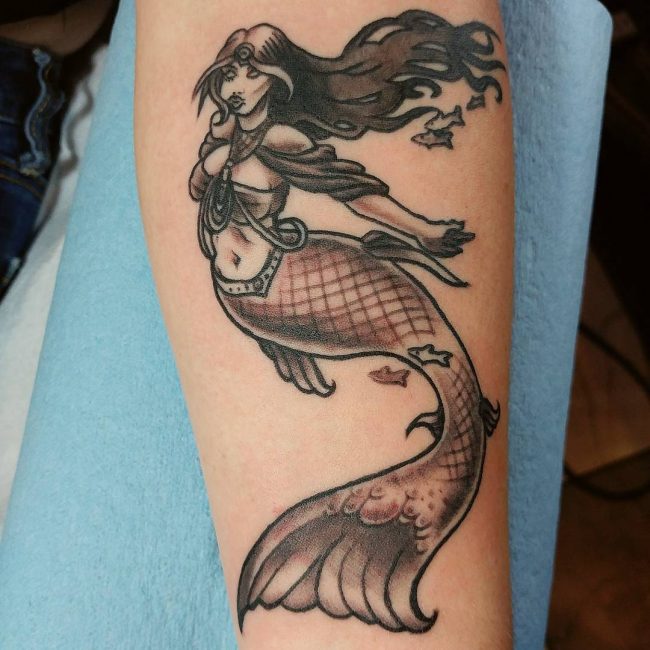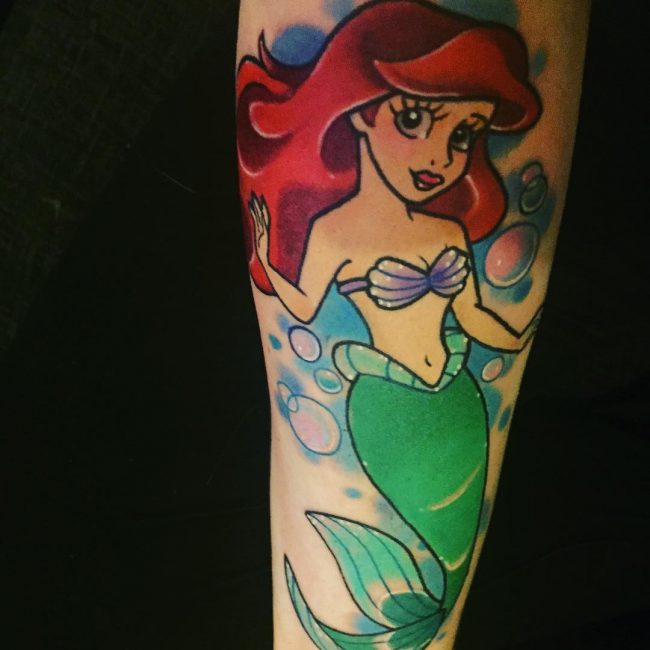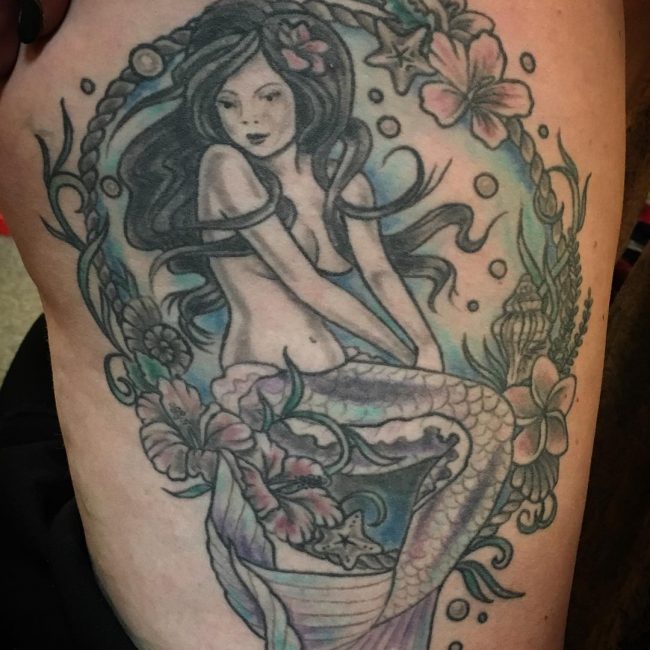 It's the kind of tattoo you will want to really get right the first time because it will probably be very visible and nearly impossible to remove in case of an error.
---
back to menu ↑
Types of mermaid tattoos
Mermaids are known to be beautiful, in fact, there isn't a depiction of a mermaid which is less than extremely beautiful. Furthermore, mermaids are always shown topless, with their breasts exposed. This has made the mermaid a subject of fantasy, and tattoos of the same can be just as erotic.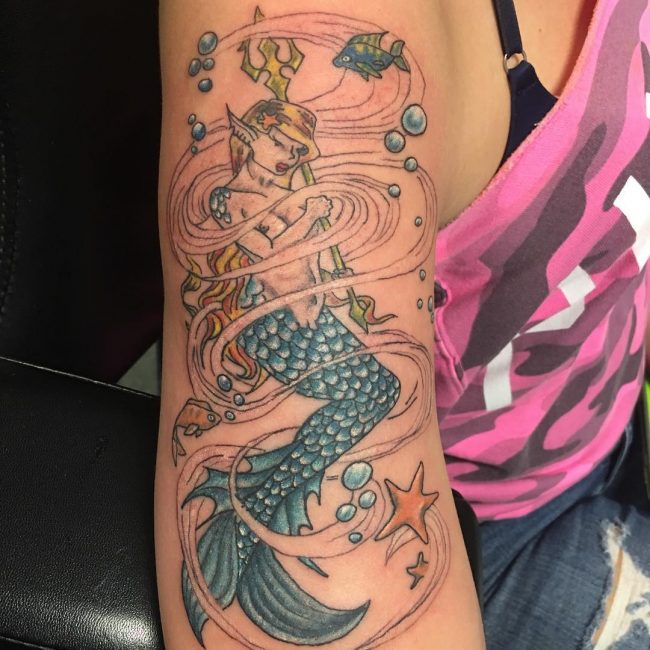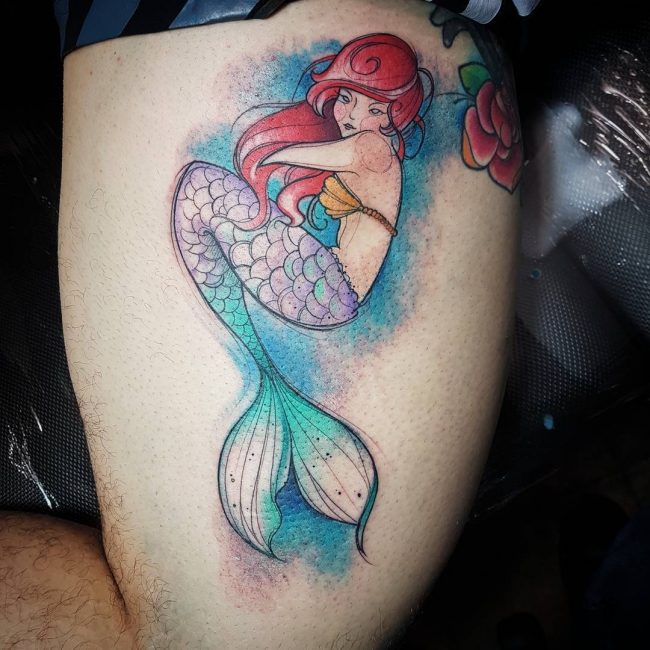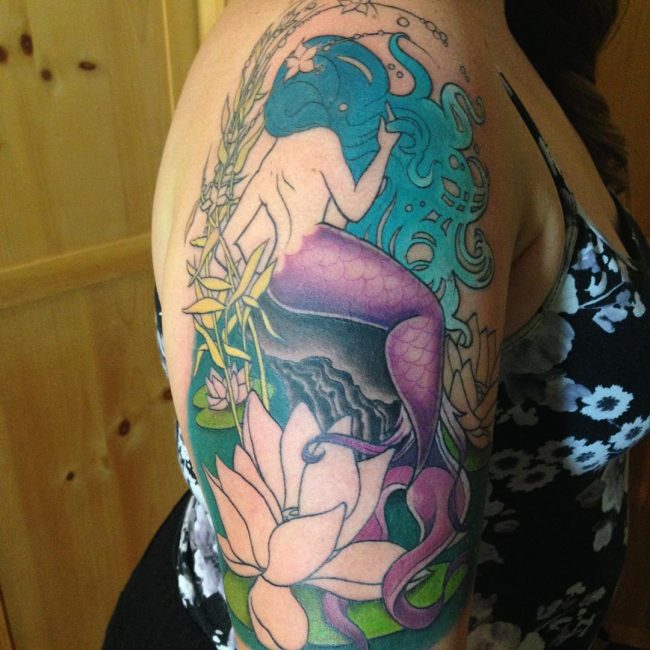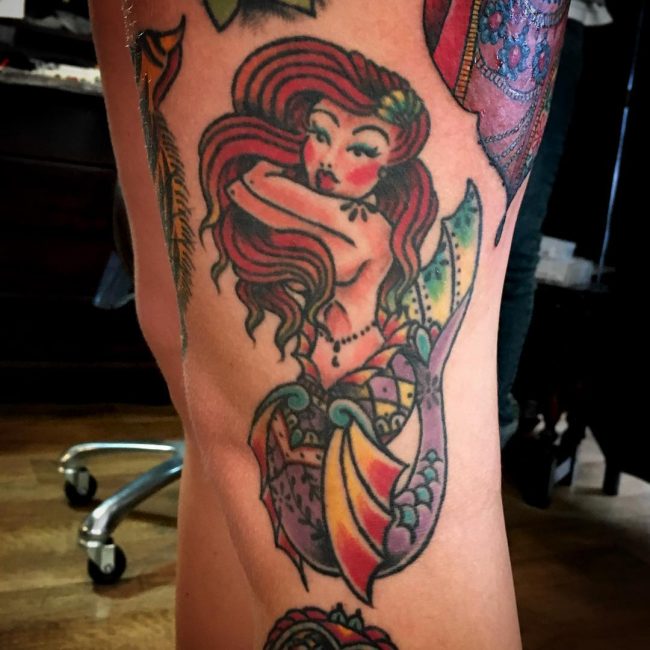 The choice of whether to leave the mermaid topless is a matter of perspective, of course. So if you're feeling bold and really want to exude the mermaid's sensuality, you can leave her topless.
However, most people opt to go for a more conservative look by covering her up with coconut shells or just letting the hair flow over her breasts. Whichever the case, you can choose how you want the tattoo based on what you would want to show.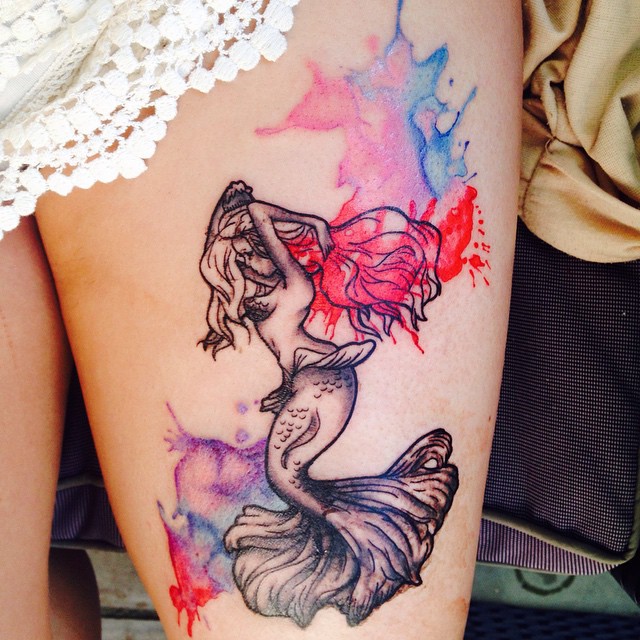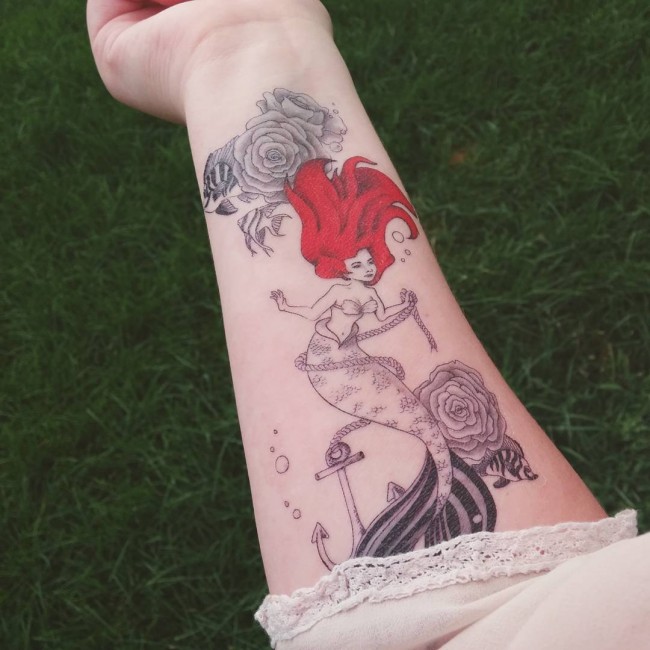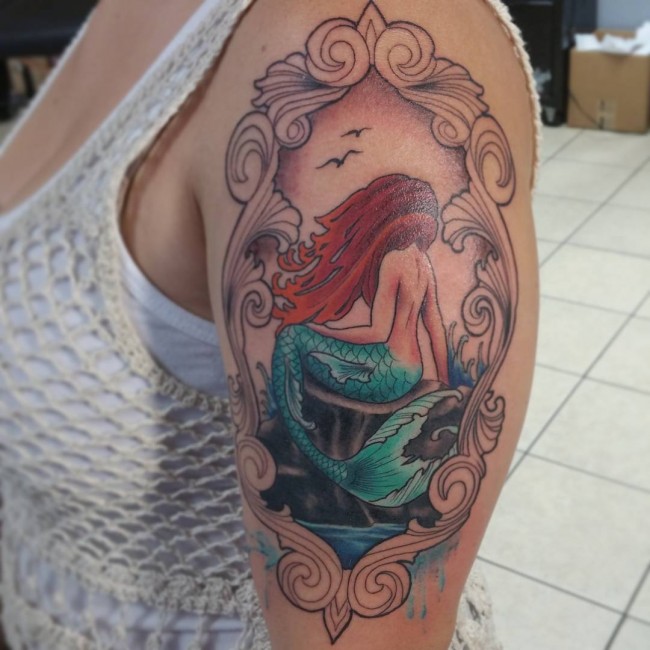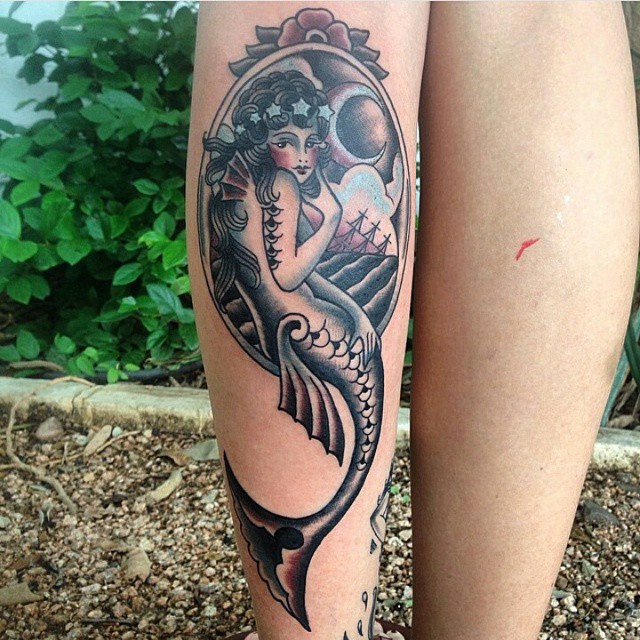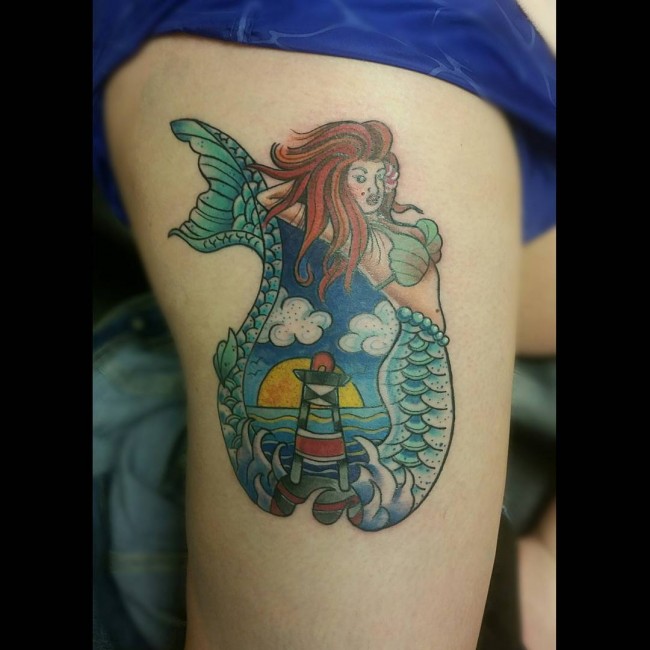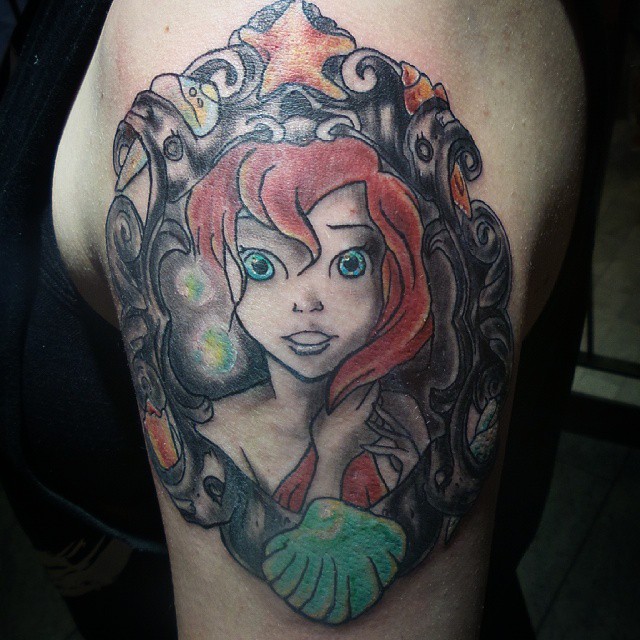 The other aspect that can make a mermaid erotic is the body posture and facial expression. To make the mermaid exude sexuality, a provocative pose or facial expression can make the mermaid very attractive.
This is in reference to the belief that mermaids used to coax men into the sea and drown them, although they would also fall in love with humans.
Comination with meritime symbols
For effect and emphasis, you can combine a mermaid with other symbols used in association with the sea. The most common symbols are anchors, ships and constellations, all these try to give the mermaid context, and show their association with the sea.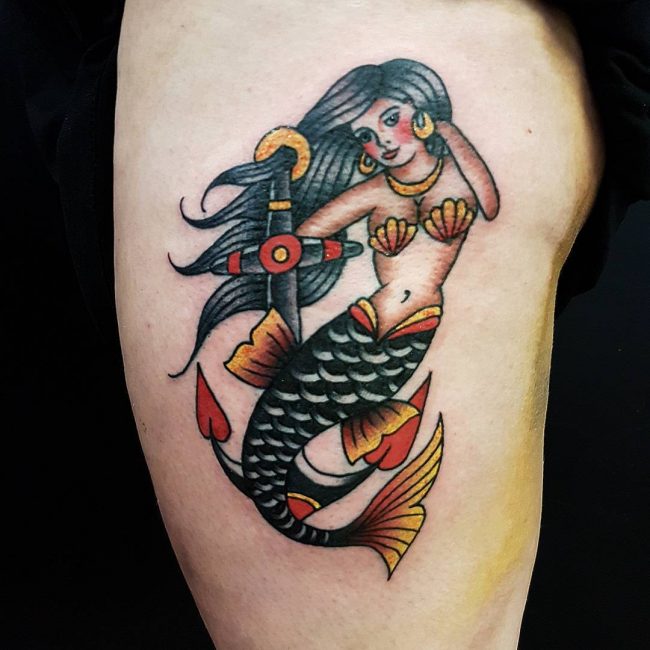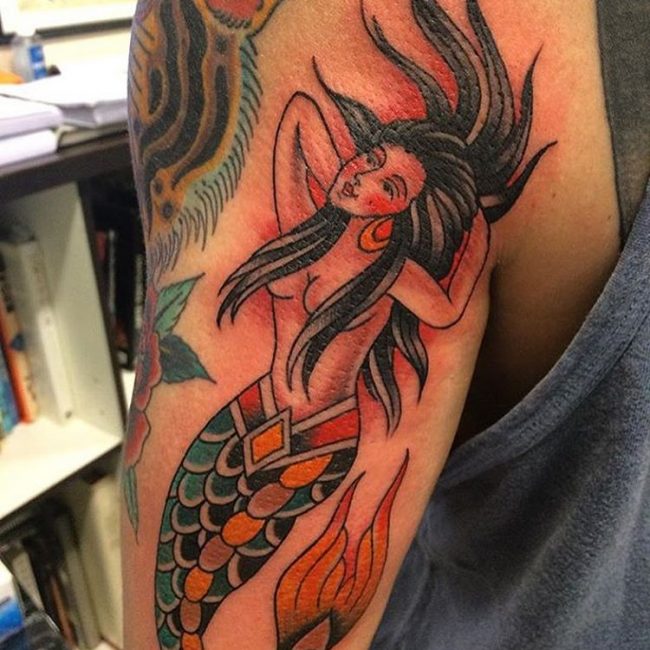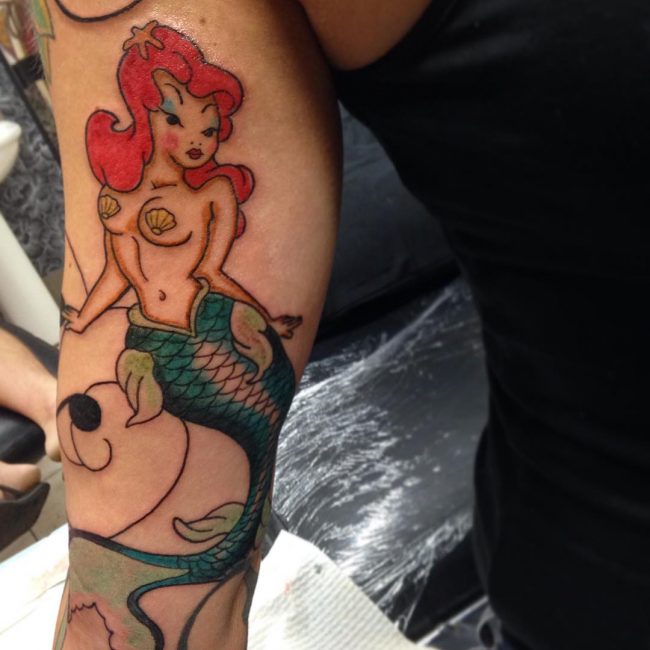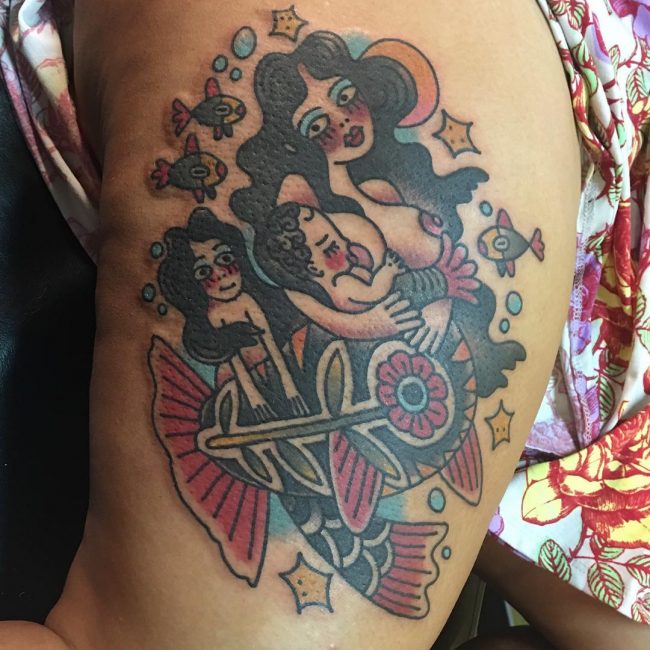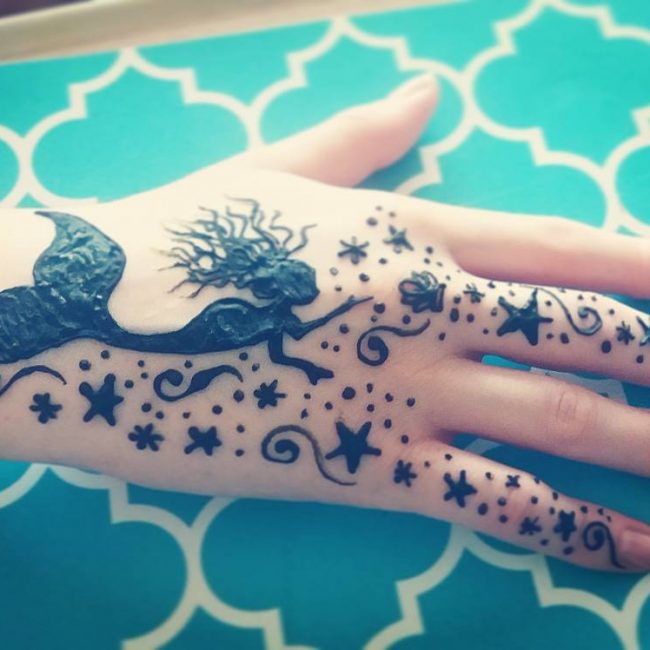 Perhaps you can spring for a tattoo with an anchor being pulled up from the sea, and the mermaid just sitting idly on it.
The most common depiction of a mermaid is of one sitting on a rock, bathing in the sun, and it has inspired numerous works of art over the centuries. This image brings to mind mermaids' supposed vanity where they would always be seen admiring themselves in mirrors.
The tattoo could be used to show that you believe in your own beauty and are confident of yourself.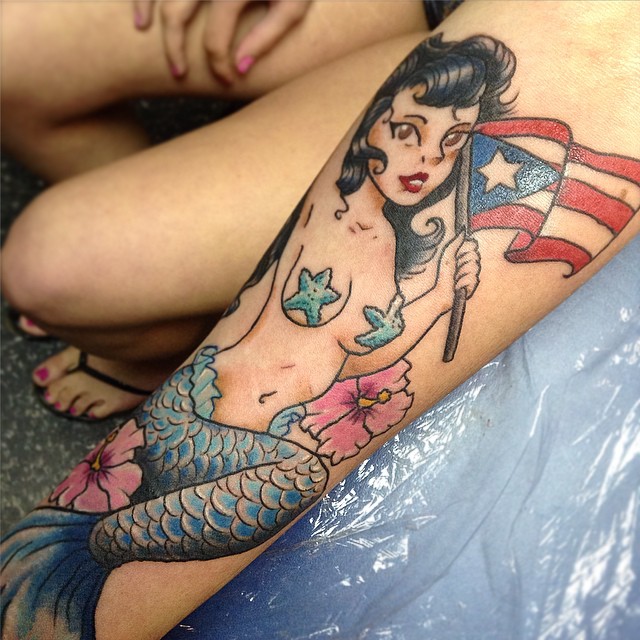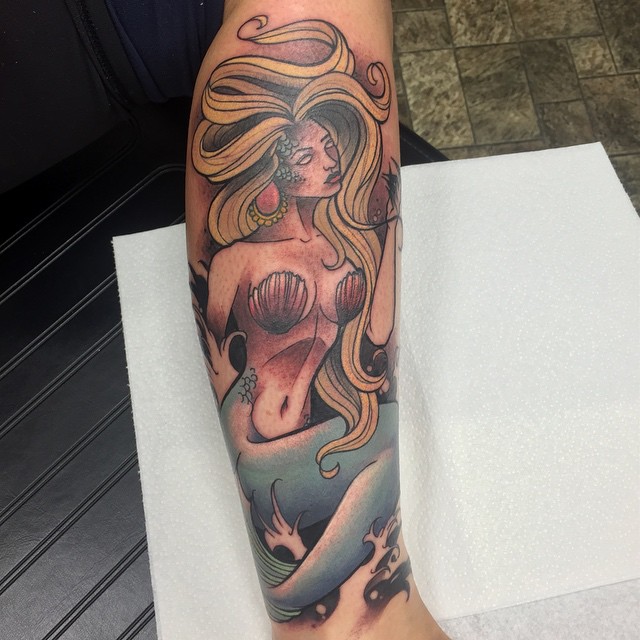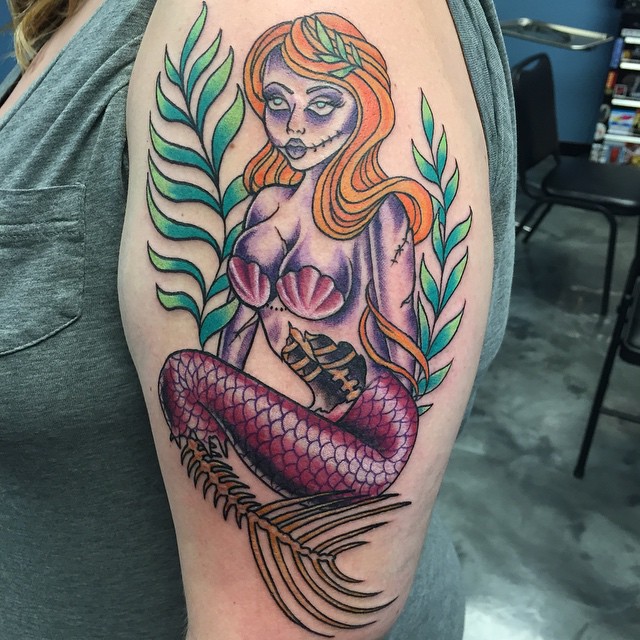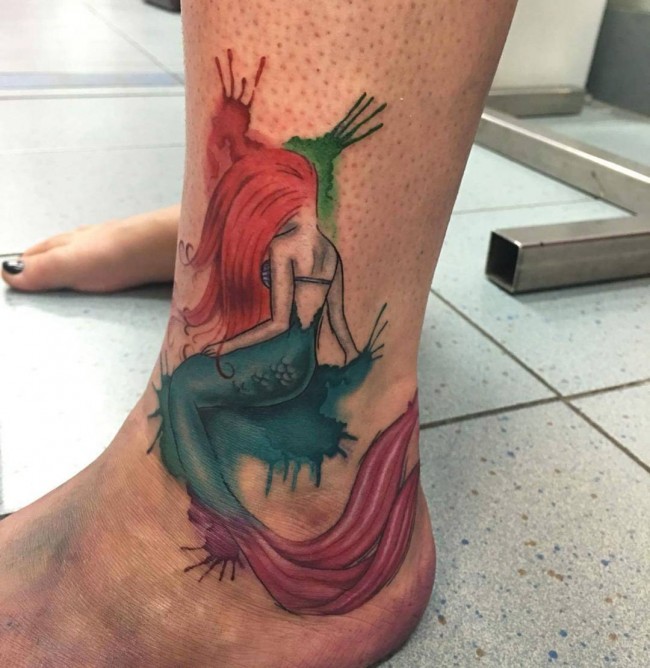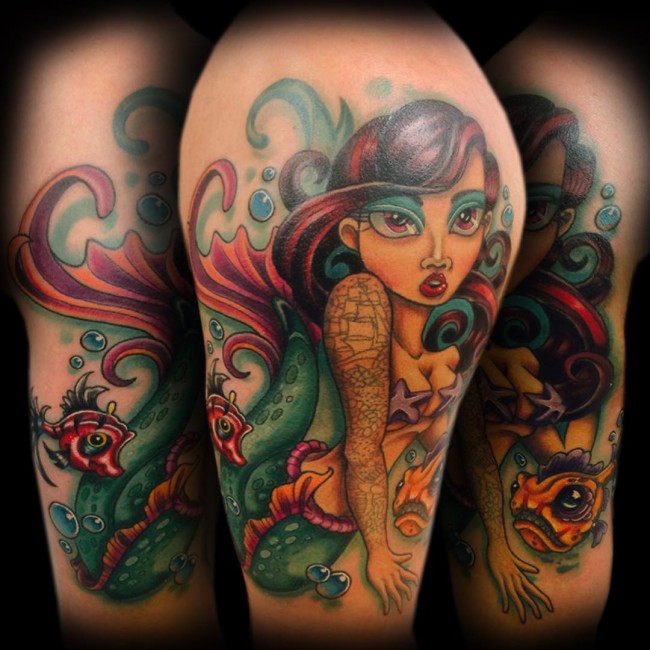 Inspired by folktales and other beliefs, mermaids have inspired several cartoon characters. The most common is that of The Little Mermaid, Ariel. It is the ultimate symbol of femininity, beauty and innocence. This style is perfect for girls and women especially when done in colour.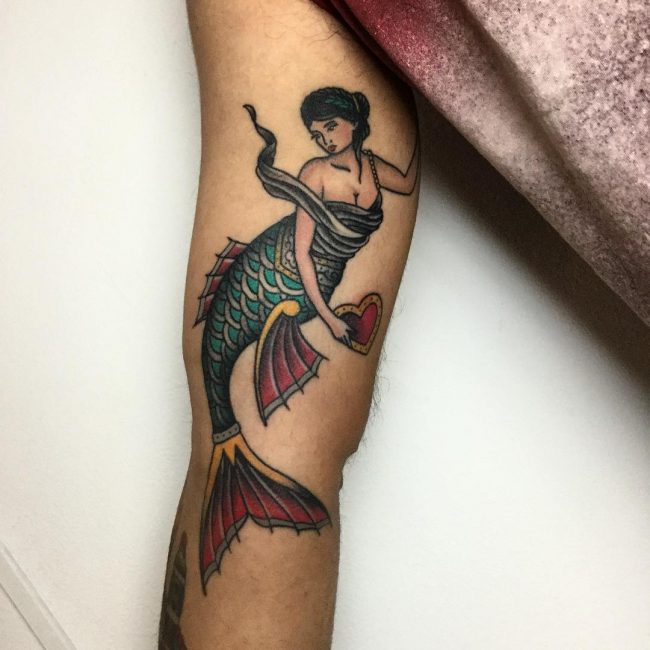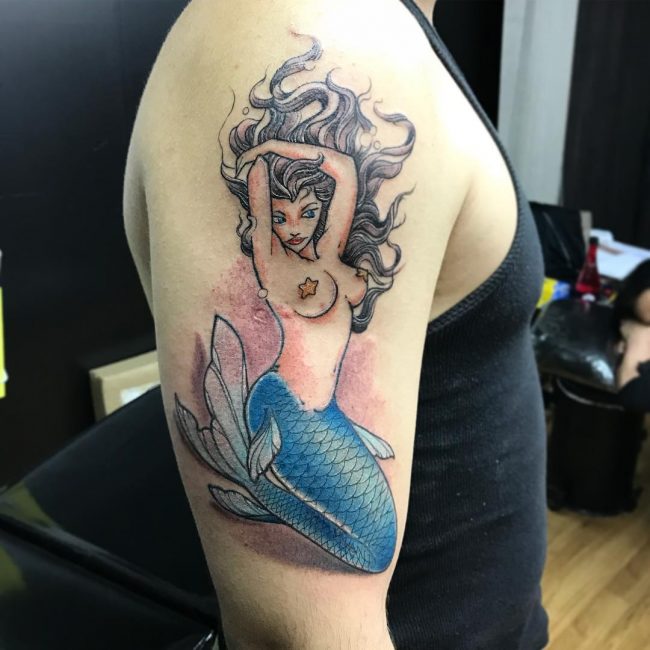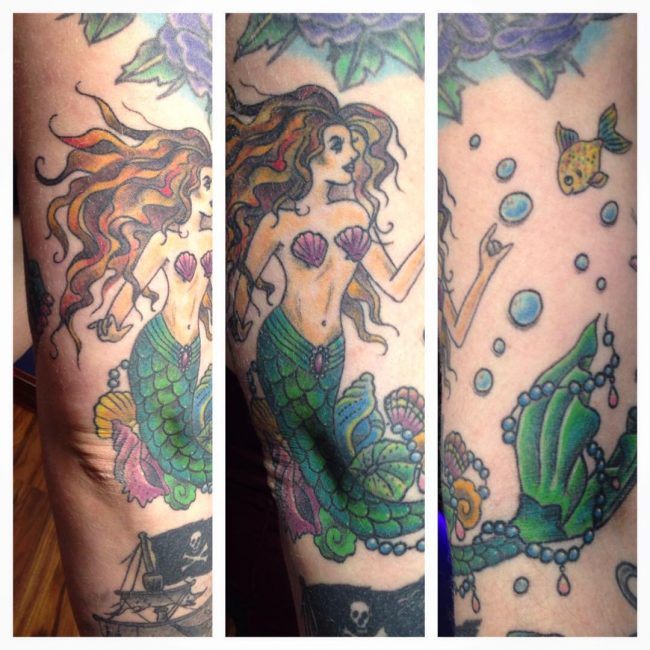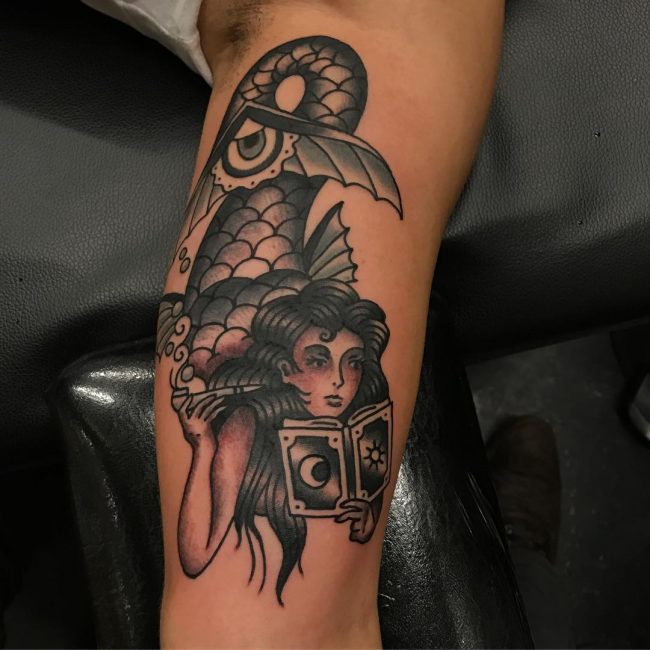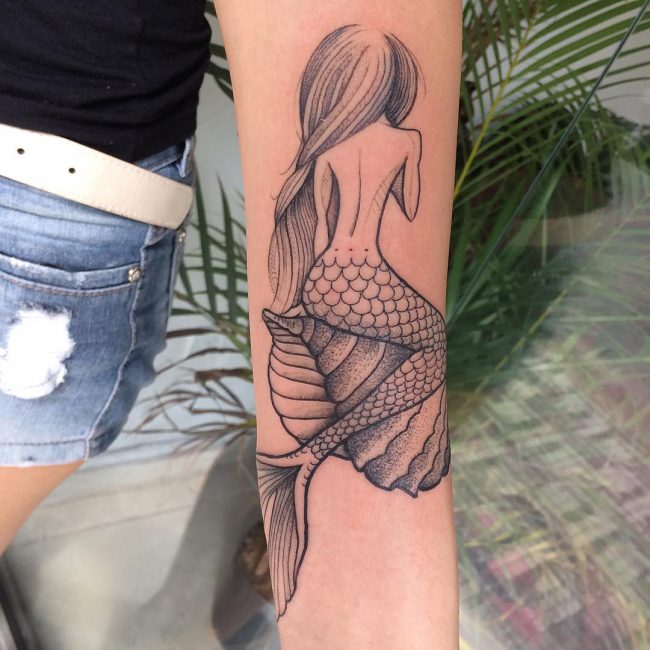 Apart from these Disney style cartoons, a mermaid can just be drawn in cartoon style instead of being humanized. This style is favored when it comes to imaginary creatures, because it gives you the opportunity to play with imagination and really personalize the tattoo.
For example, the eyes could be exaggerated for effect to make the mermaid prettier, or enlarging other parts of the mermaid to suit your fantasy.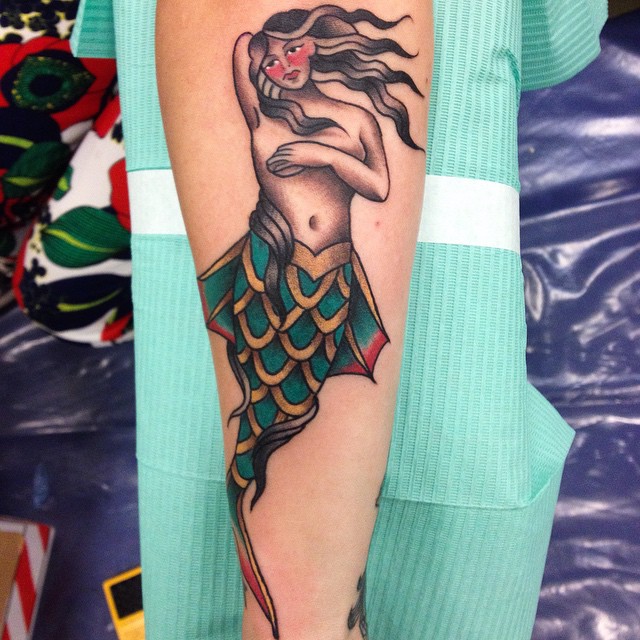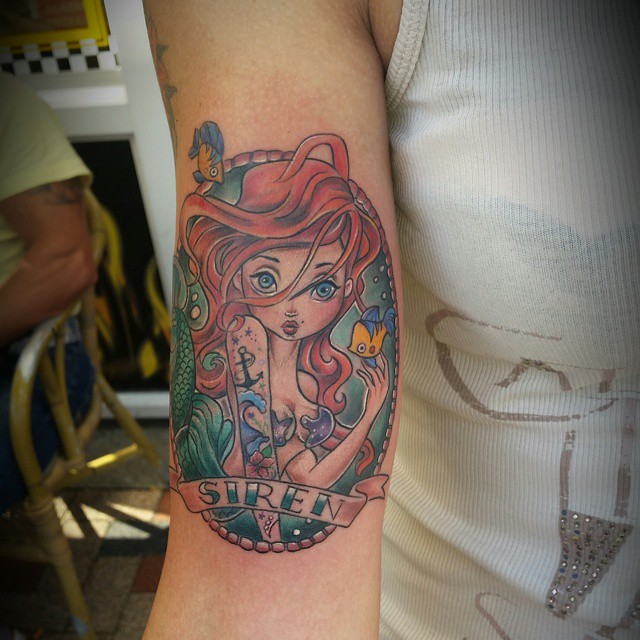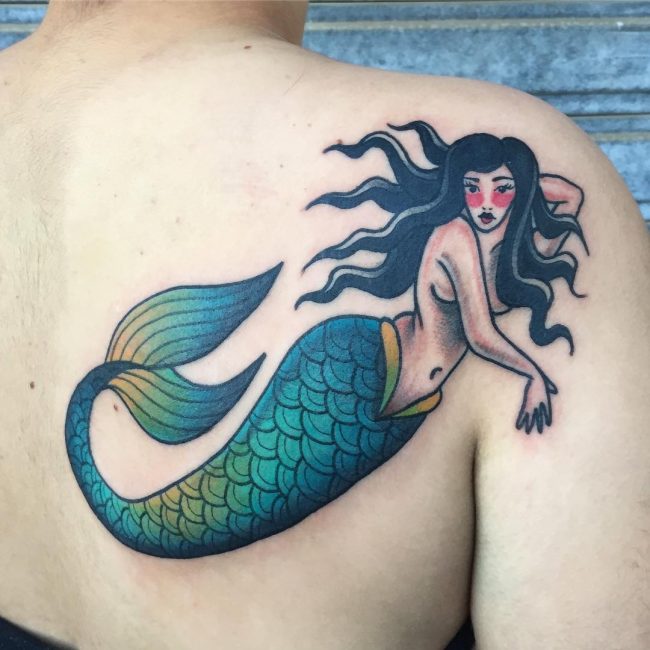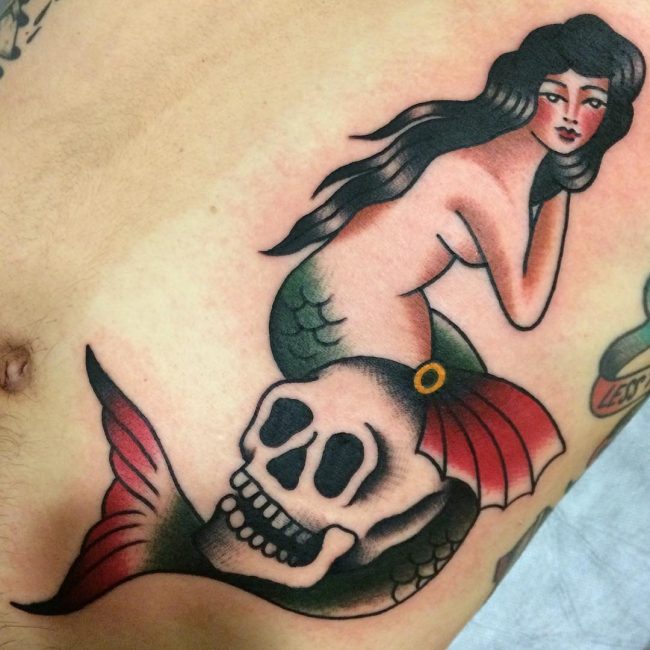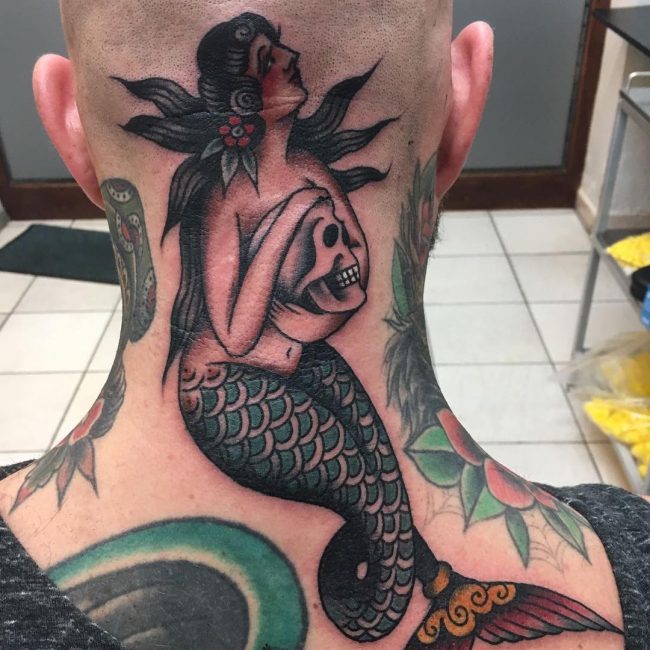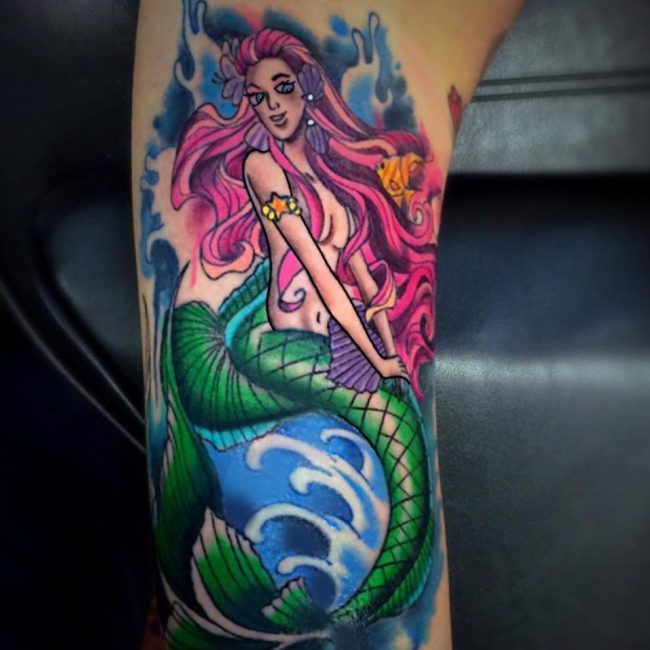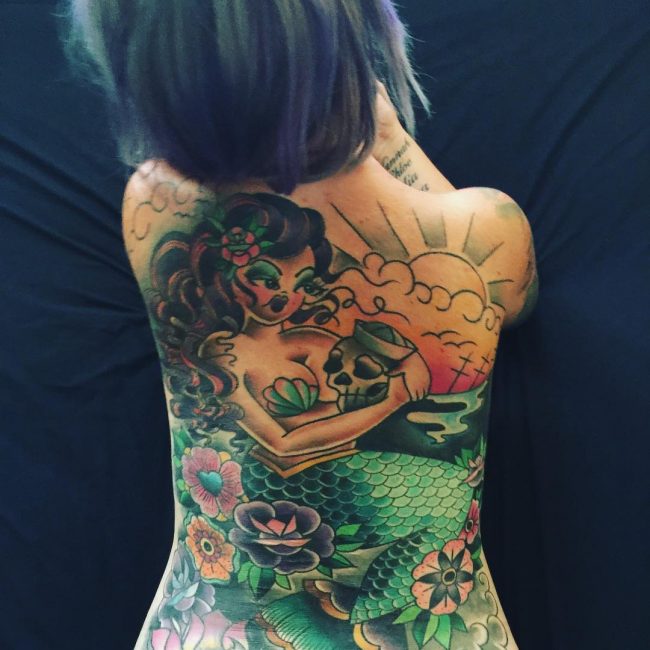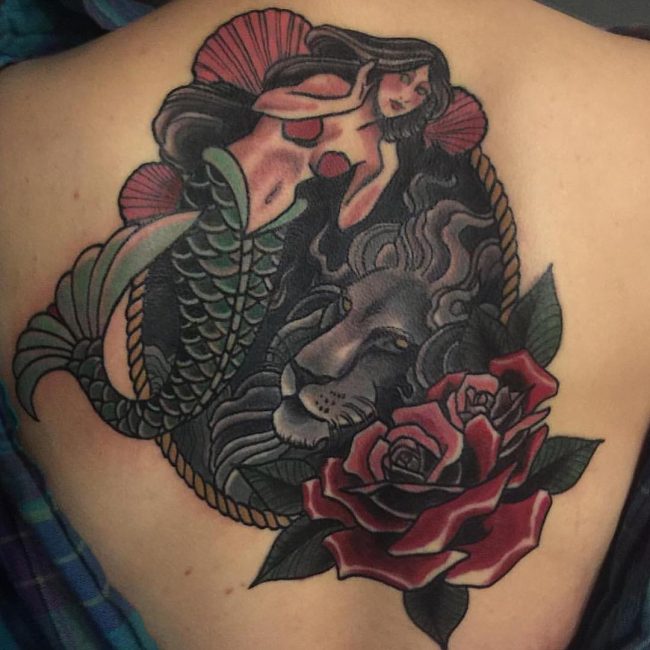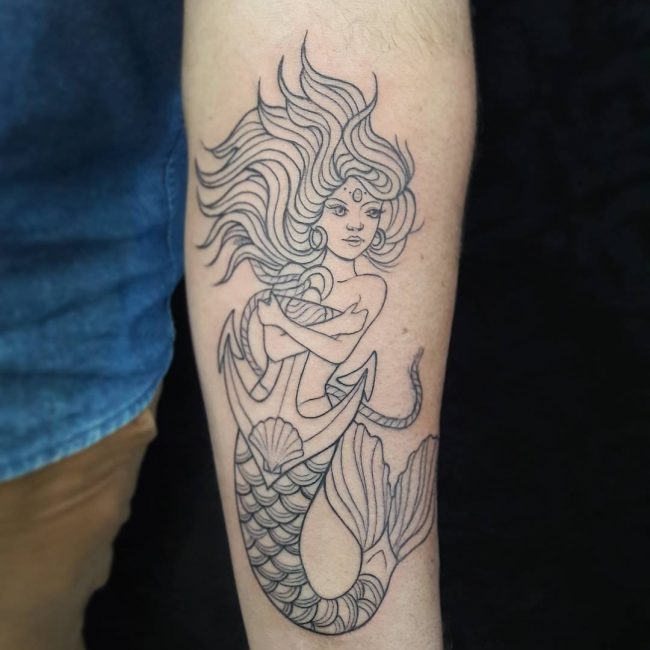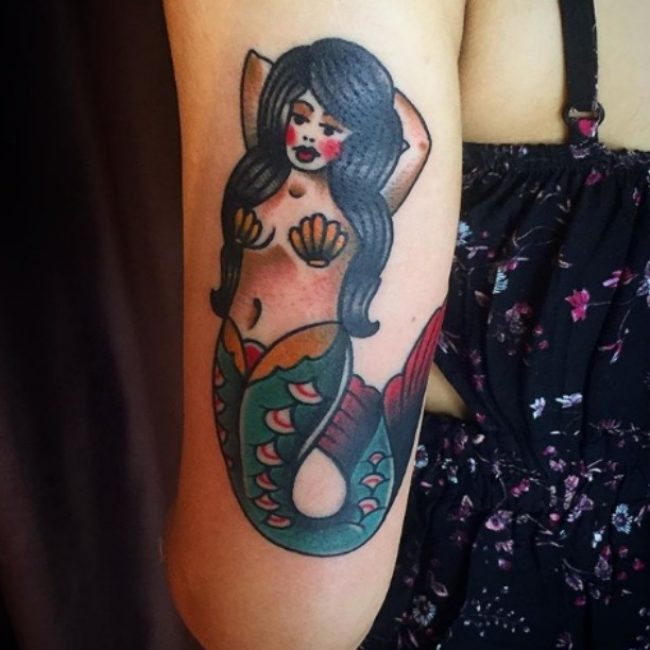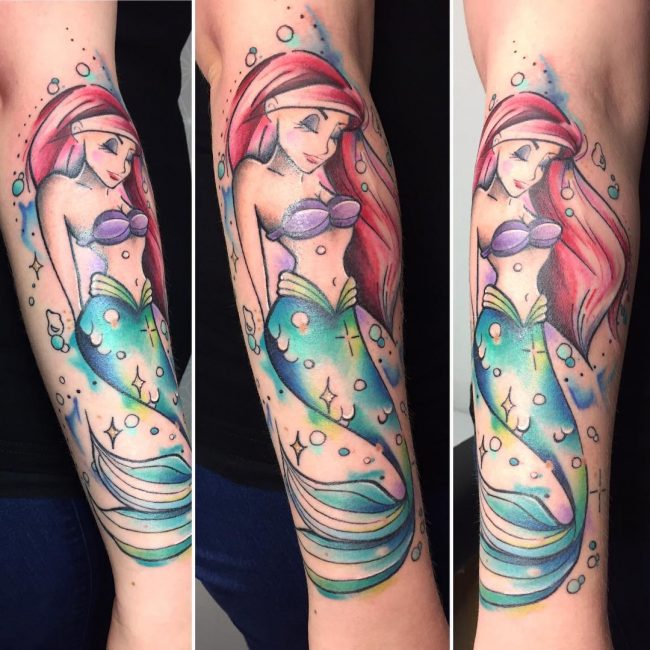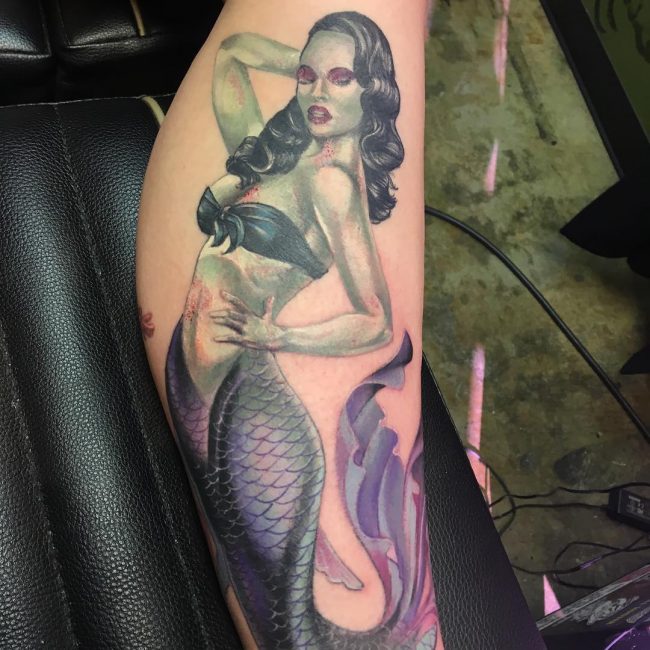 These two go very well together, and the imagery has been fueled by films showing the mermaid riding the back of the dolphin. The two are often depicted swimming under the sea together and their qualities just complement each other in a fantastic way.