4 Painless Ways of Removing Thin Tattoos Yourself
Tattoos can be love, and they are regrets too. Nothing in this world remains the same forever. When something is lost, to remove the painful memories from our lives, we want to erase everything related to it as well– most of all, the tats. You can better relate it to your life as you are also searching for tattoo removal ways. It is not necessary, but it happens mostly. However, you can also be searching for tattoo removal ideas as you may have ended up with a wrong depiction of your thoughts rather than the right ones. Whatever the scenario is, you don't need to worry because there are cost-effective yet painless ways of tattoo removal available.
This article won't be too lengthy, as it will only discuss four painless ways of tattoo removal that are worth trying. Let's start the discussion, without wasting time.
Using Citric Juice of Lemon:
Lemon is a miracle-item and a must-to-have ingredient in your kitchen. It is an essential part of the ancient remedies and modern ones too. For example, women are using it for hair bleaching, skin bleaching, and fat removal. It will do the same for your tats. The tart in the lemon gently screeches the rough dermis and bring fresh skin back.
Things you require:
A cloth
Lemon
How to do it:
You need to squeeze lemons in the bowl.
Pour the juice on the tattooed area and let it dry.
Note:
It is the least painful method we know; however, it works quite slowly. Therefore, you will have to be patient in this regard. Besides this, you can use this method many times during the day.
DIY Dermabrasion – Salabrasion Method:
Before getting into details regarding how to do it, let's first discuss the terms used in the headings. Dermabrasion is a process used by professional dermatologists for dermis clearance. It involves tools like a wire brush or a diamond wheel with rough edges, used to peel-off affected skin. The same method, when used at home with basic home ingredients, becomes Salabrasion. Experts name it Salabrasion because it involves salt and some scratching tools – don't worry, tools are also available in your kitchen.
Things you require:
good soap
Soft tissue
Sodium enriched salt
A rubbing pad
Some water
Antiseptic or antibiotic ointment to avoid infections in tattoos
How to do it:
Add some salt in the freshwater and ready your tattoo removal mixture.
Clean the area of your dermis with soap twice and dry with soft tissue.
Put the sponge or scrub in the salted water mixture and rub on the tattooed area, gently but steadily for half an hour.
Take the soft tissue and dry the area and apply ointment to avoid infections.
Note:
Successful removal of the tat depends upon stubbornness of the pigments. Henceforth, you may have to do this method from once to many times.
Using Sand Paper:
It is the same sandpaper that you use in your home for the rust-removal. I am not joking because this method is quite famous to get rid of tattoos.
Things you need:
Sandpaper
Ointment
How to do it:
Take sandpaper and gently rub around undesired tattoo for 20 minutes.
Apply ointment to avoid itching.
Buying tattoo removal accessories like plasma pens: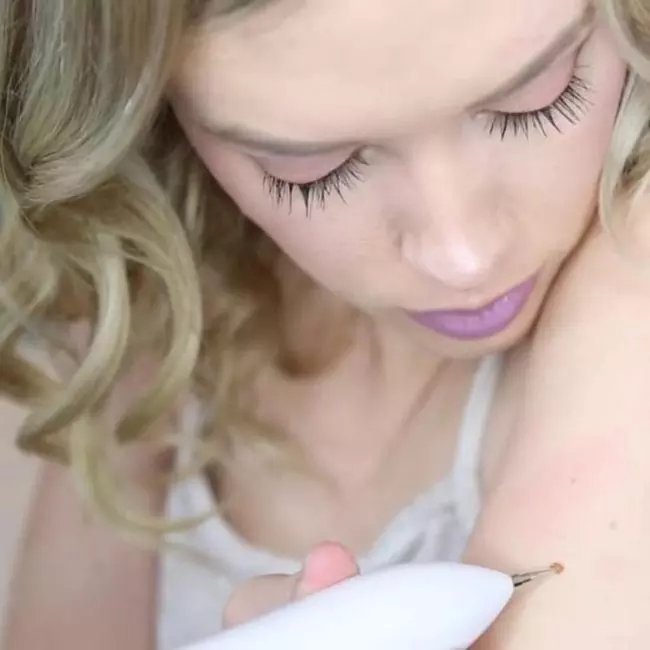 This method may require some money; however, it is the best working method you will ever know. Where all other methods leave the pigments of ink and take several repetitions for tattoo removal, Plasma pens do the chaos within just one operation. However, you should choose a plasma pen to remove thin tattoos that help you in many other ways of clearing your skin as well, other than just tattoos. Such as it should be used in blemish removal, acne scar removal, age spots removal, and all other types of dermis tag removal as well so that you end up with a clearer and shinier skin. I mean, what is the use of the product if it doesn't serve to the fullest of your needs?
Things you require:
Plasma pen
Some alcohol
How to do it:
Gently clean the tattooed- area and tip of your plasma pen with alcohol.
Select the mode of plasma pen to a smaller intensity (if you are using it for the first time or else in the way that suits you).
Put the needle on the tats and gently sweep
Note:
You will see results within just the first operation. While using this pen, make sure not to pierce it in your skin and leave the needle on the same point for too long. It can result in itching and wounds.
Bottom Line:
These are the four best working methods that you can easily use at your home. In the end, I would like to say that keep the instructions for tattoo removal in your mind while using these methods to avoid any sort of side-effects. However, in case of scratches and scuffs, you must see a professional.