85+ Tribal Sea Turtle Tattoo Designs & Meanings – Power & Wisdome (2020)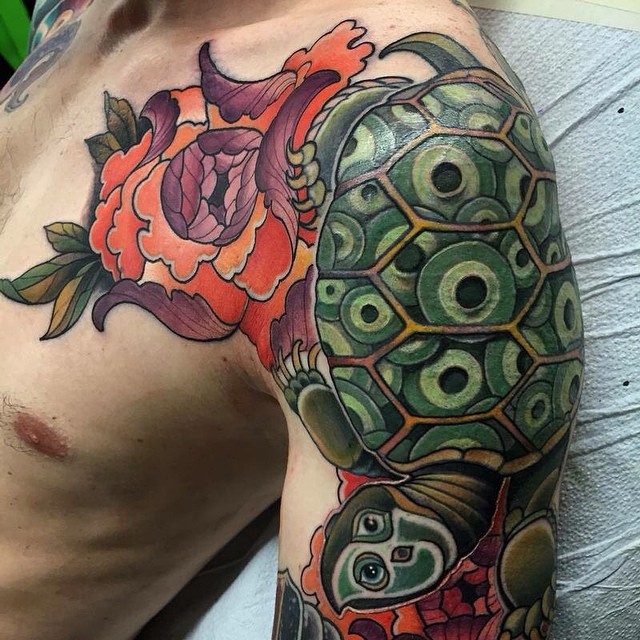 The symbol of a turtle is very common among many cultures. The turtle is well known for its hard shell and its ability to survive in both water and land. It is known to travel for long distances across the sea.
Due to its significant meaning among various traditions, cultures that embraced the art of tattooing could tattoo the turtle which led to the existence of these tattoos. This was mainly common along the Pacific islands but it has spread to the rest of the world.
For instance, these tattoos are very common among the Native Americans and the Japanese. In fact, some of the celebs today have this type of tattoo. This shows how it has established its roots in the current generation despite it being one of the traditional tattoos.
Contents: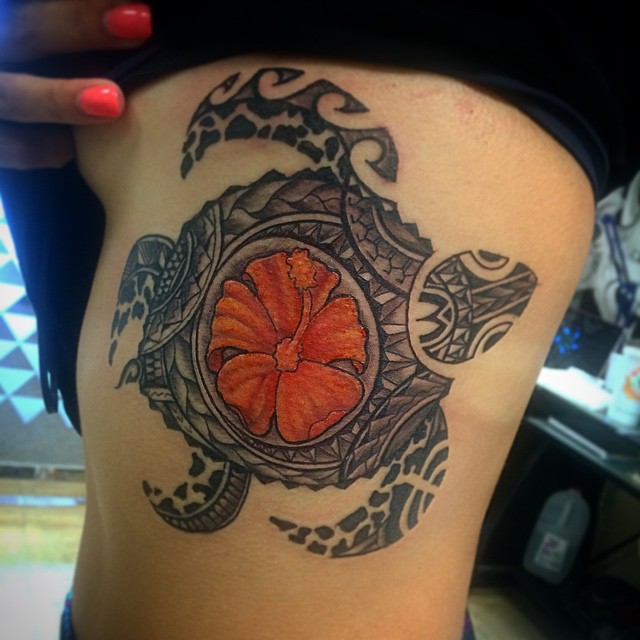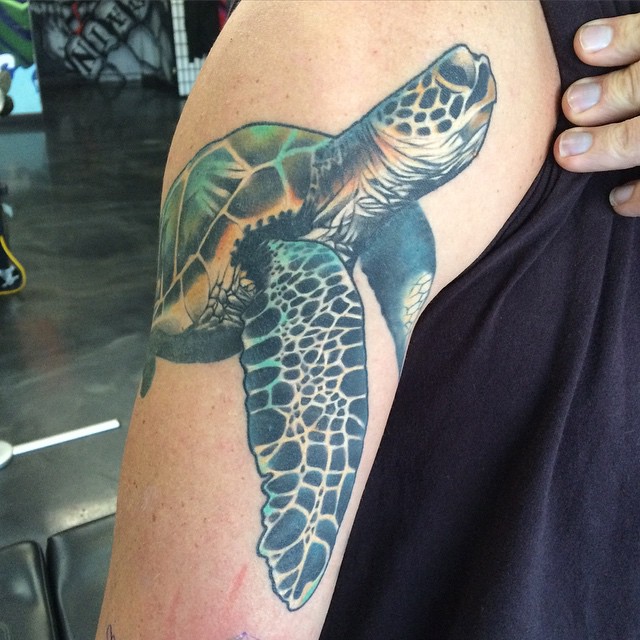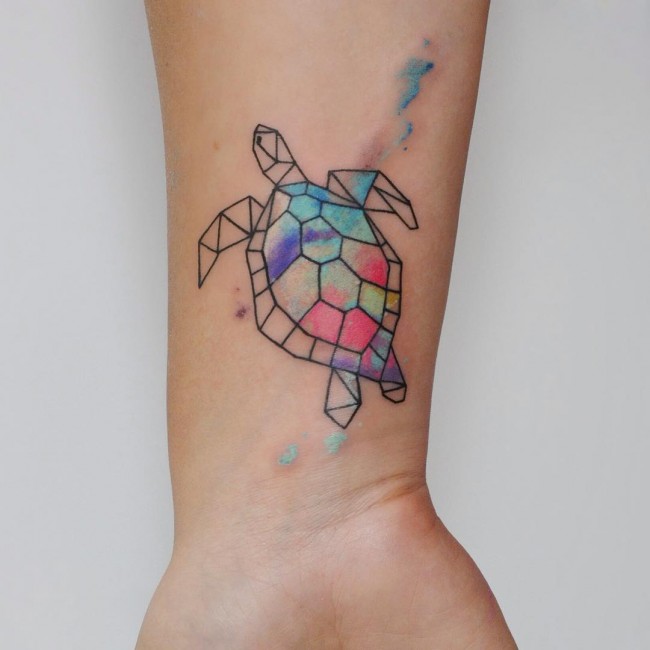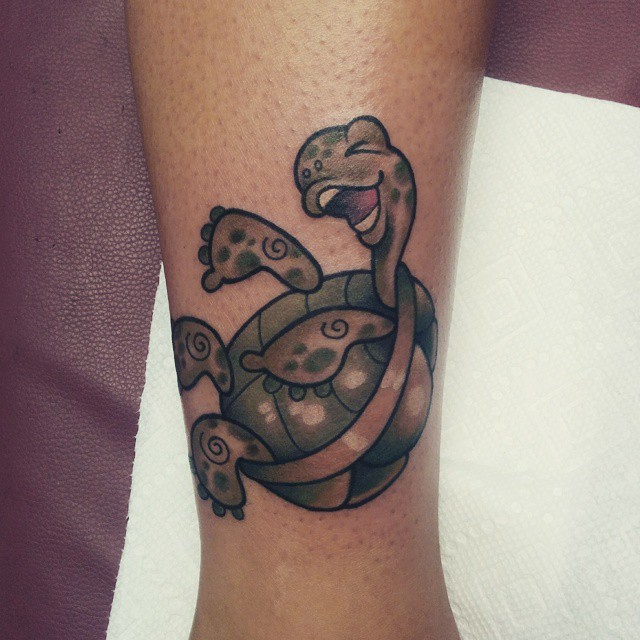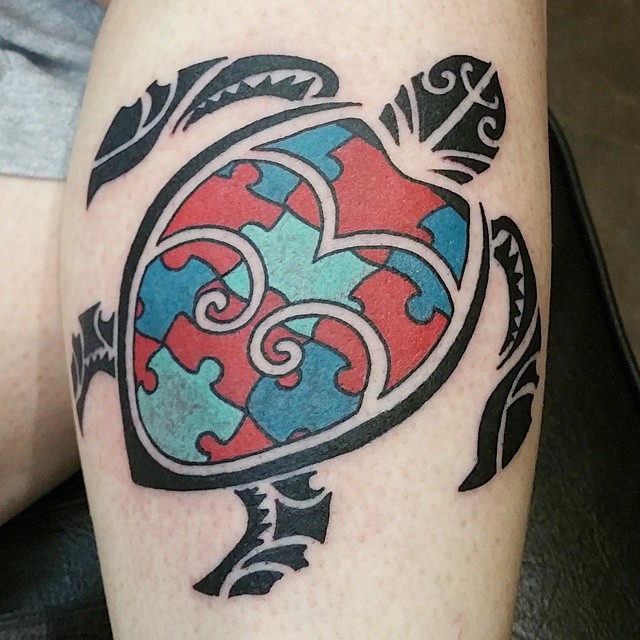 Meaning of Tattoos
Turtles are known to live for so many years before they die. People wear these tattoos to show that something will last for a long time or forever. For example, a person who is a fan of a certain sports team may wear this tattoo to show that his love towards the team is immortal.
Others wear this type of tattoo to wish themselves many years alive just like the turtle.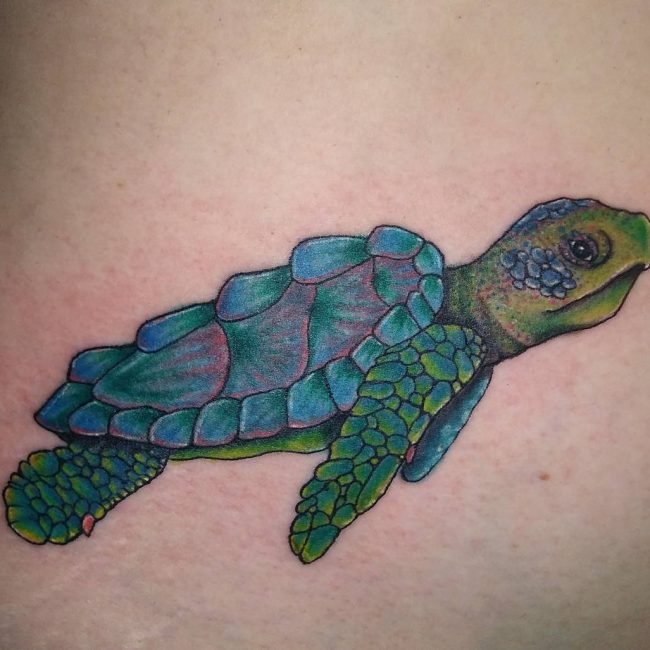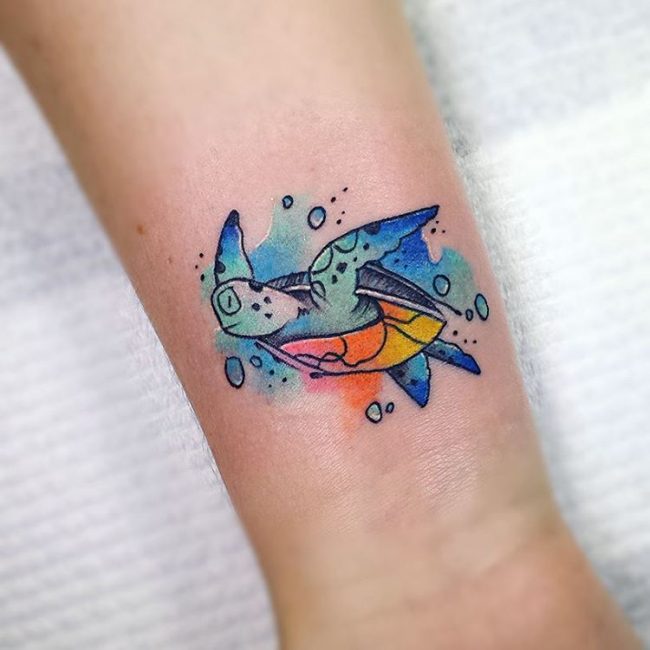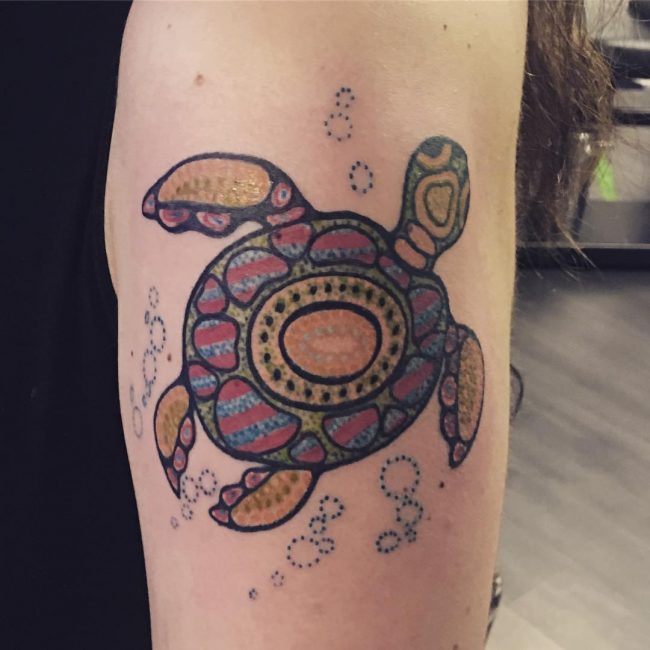 A turtle is capable of laying hundreds of eggs at one time. This makes them a symbol of creation or fertility. Women may wear this form of tattoo to show they are fertile and still, men can also use wear it to mean the same. In some cultures, an infertile person is considered cursed.
Young ladies who don't know of their fertility status can use it as prophecy to their fertility.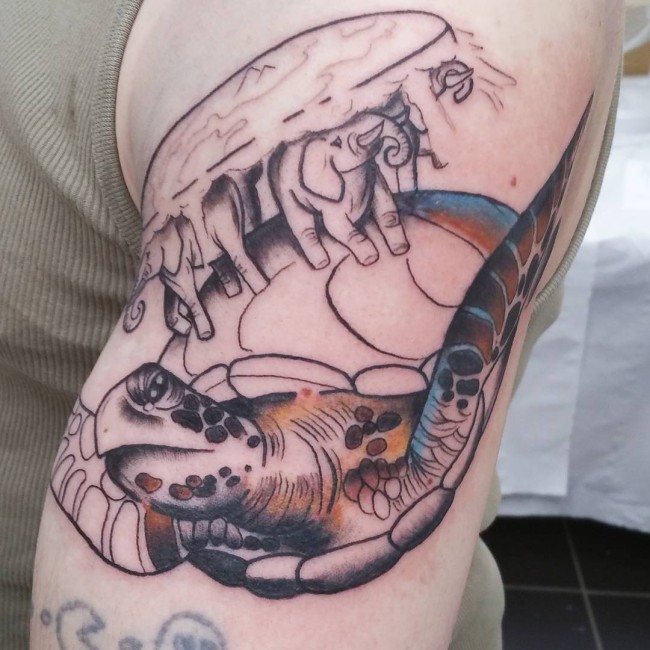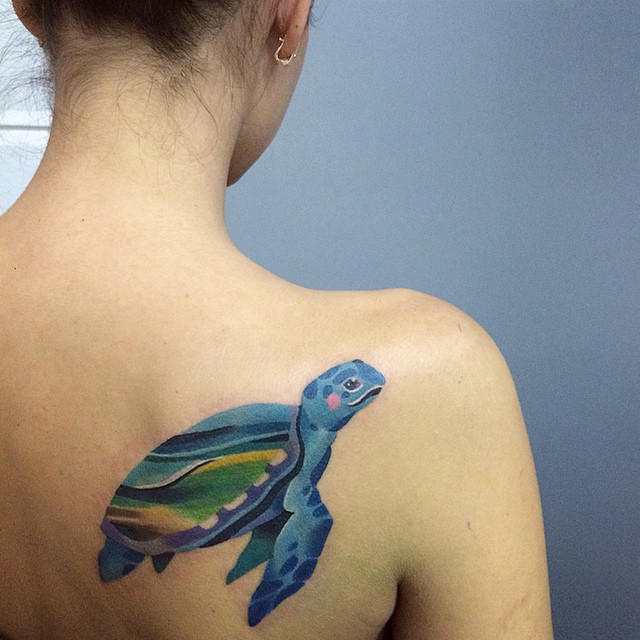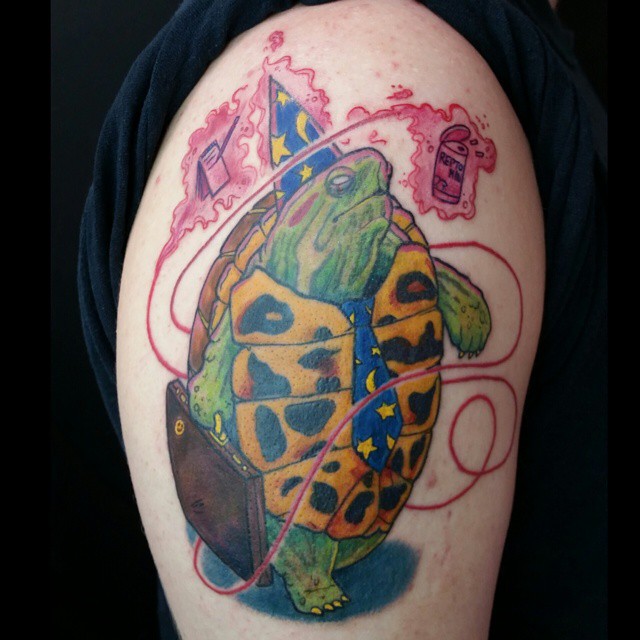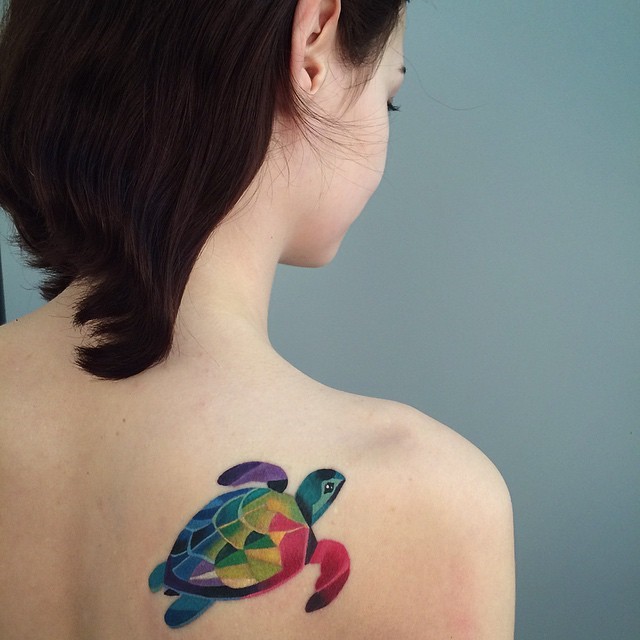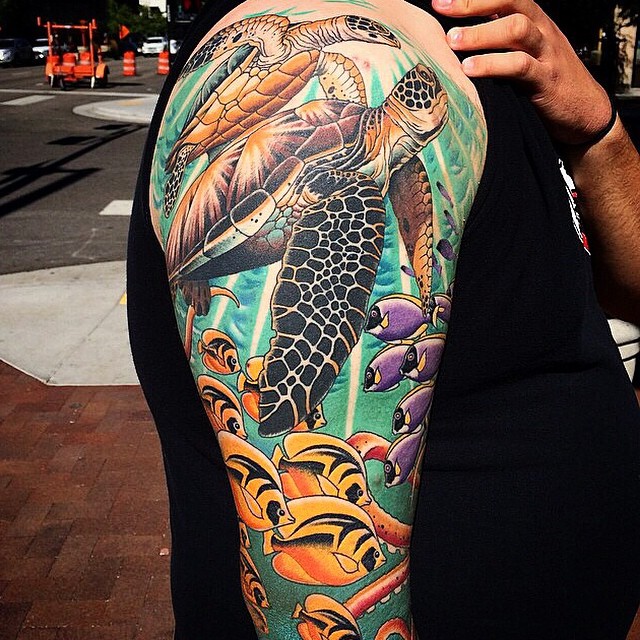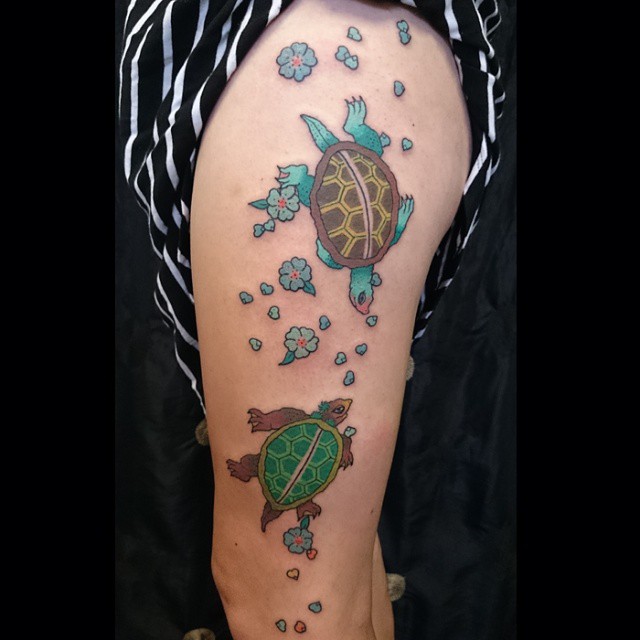 Many people wear turtle tattoo as a symbol for either security of strength. A turtle has got a hard shell which it uses to protect itself from any danger. Hence it acts as a security. The shell is so hard that it's difficult to break. Its hardness symbolizes strength.
Therefore, men use this tattoo to show that they are strong and cannot be shaken easily by an enemy.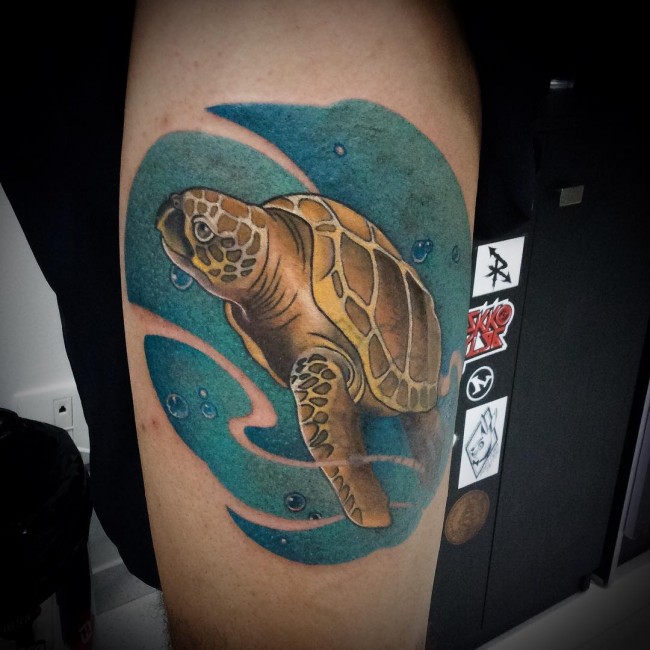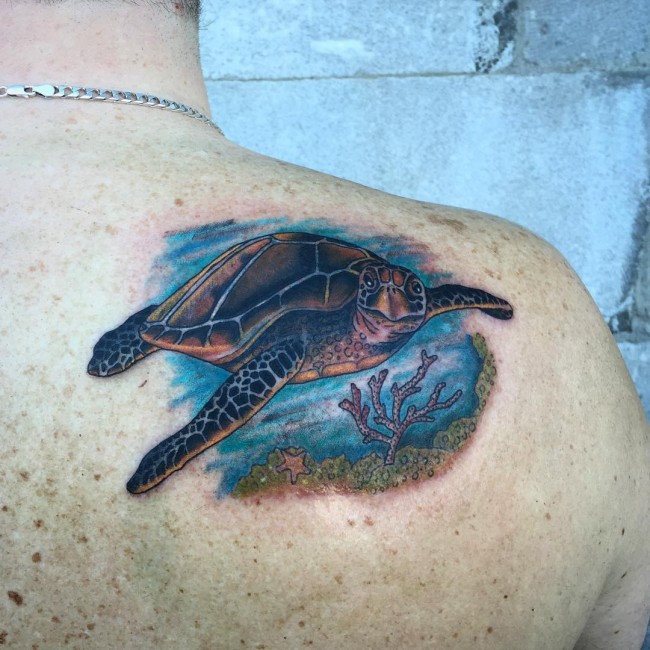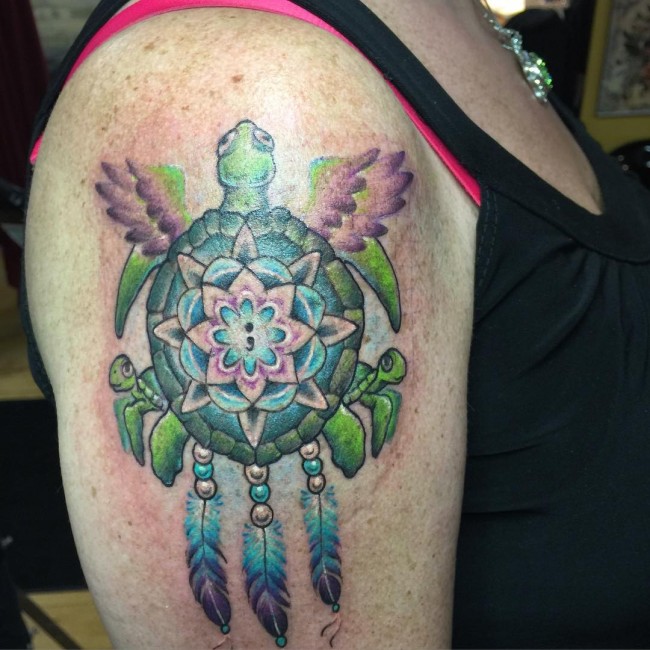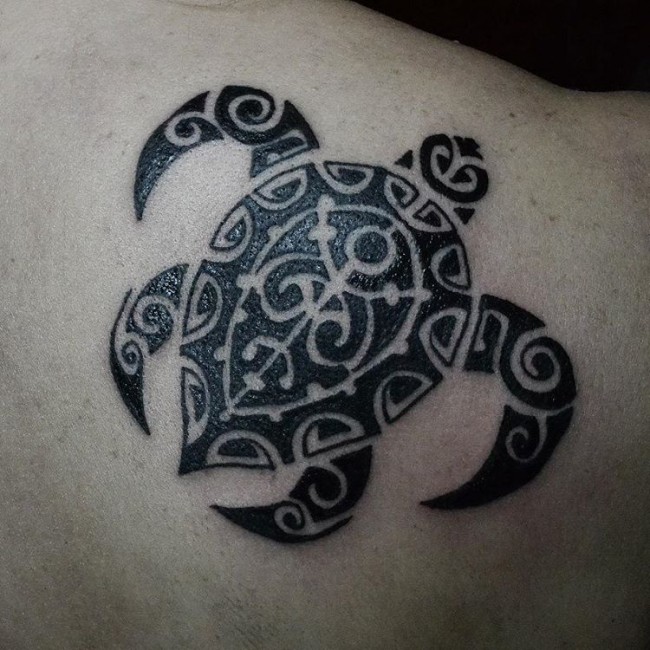 A turtle is known to travel long distances away from its home. The most interesting thing, it always goes back to its home despite how far away it goes. Therefore, people wear a turtle tattoo as a sign of faithfulness to their partner or family.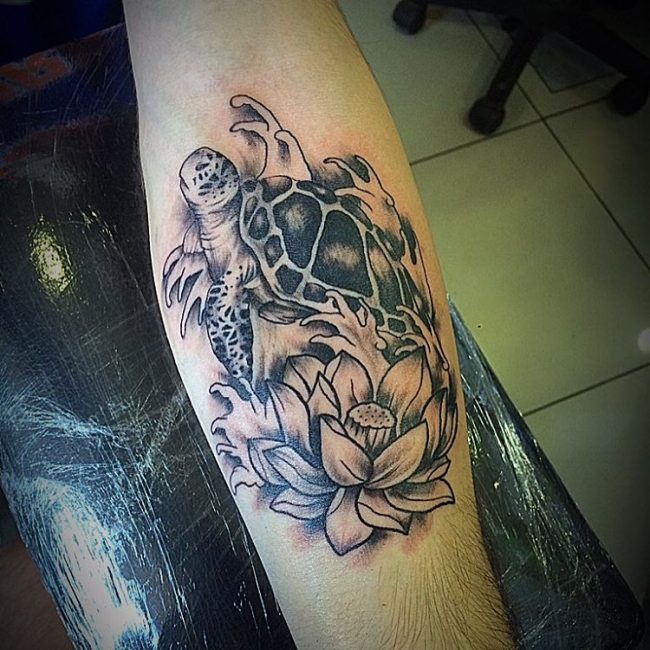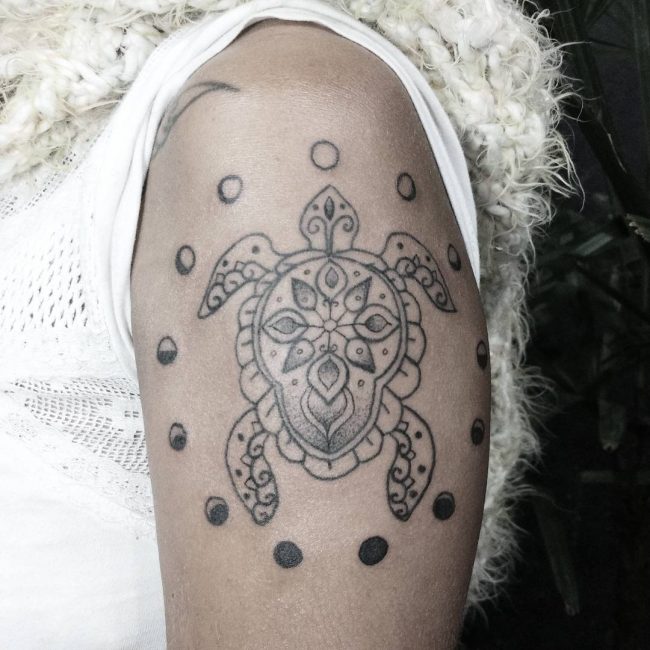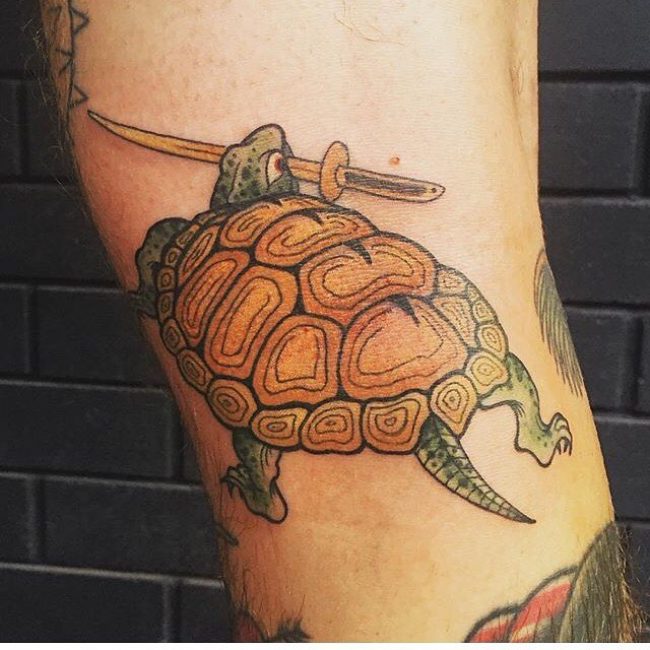 For instance, when soldiers are going outside their country, they can wear this tattoo to show that they will still come back home to their family after accomplishing the mission.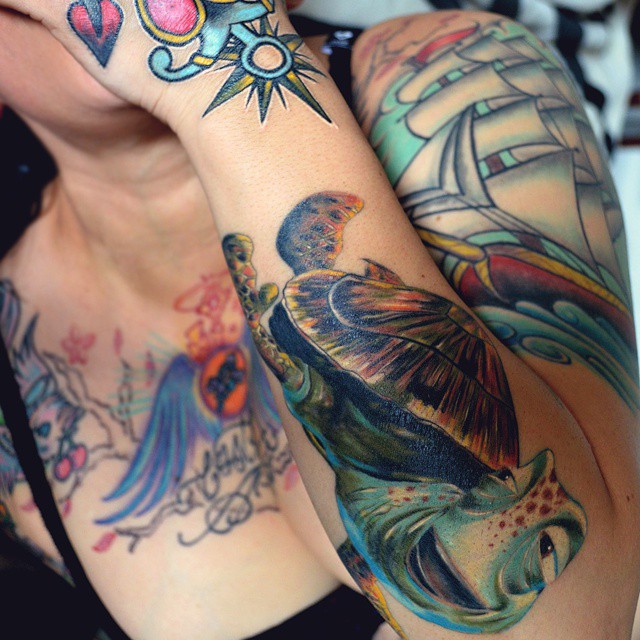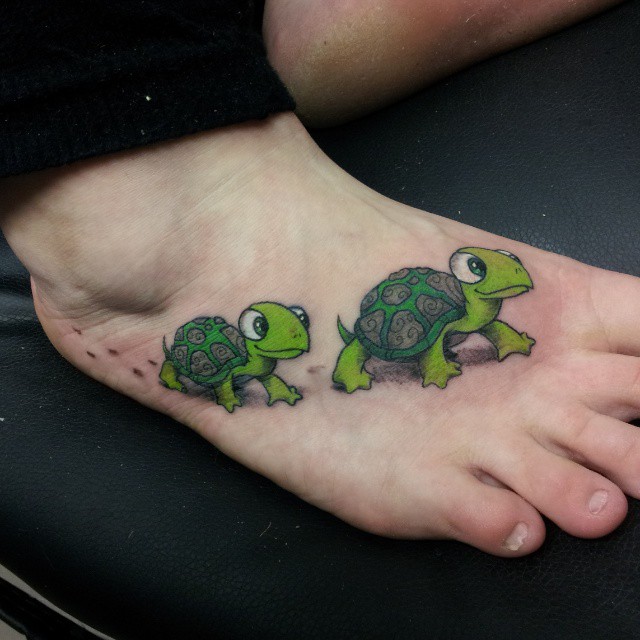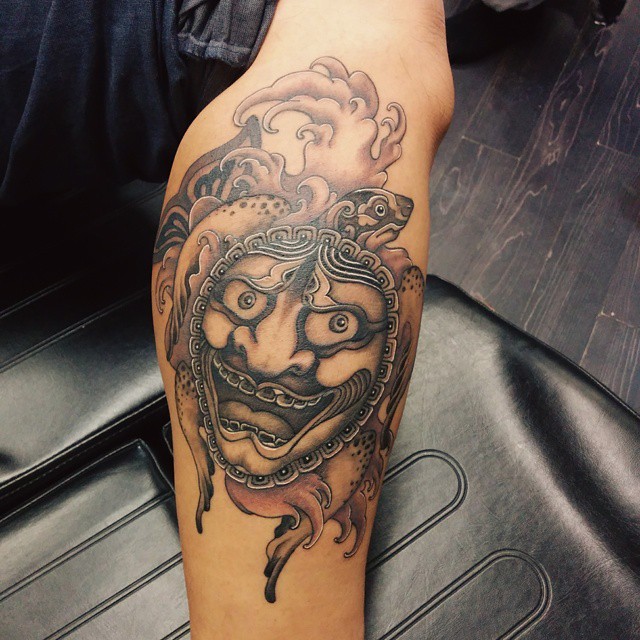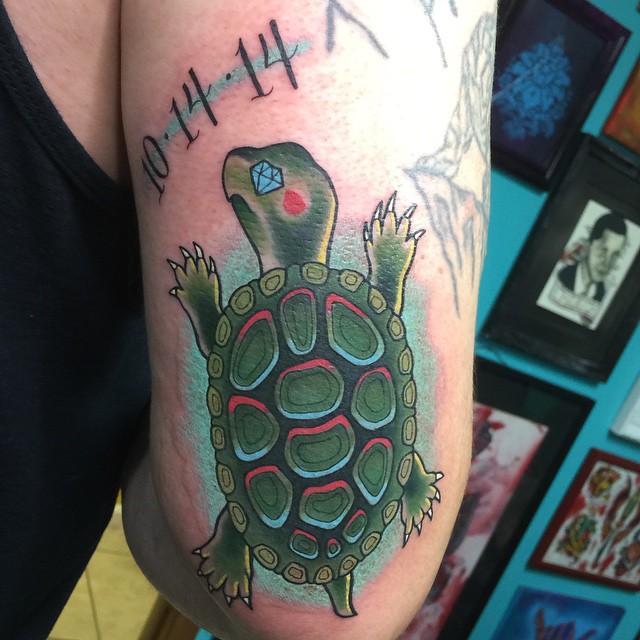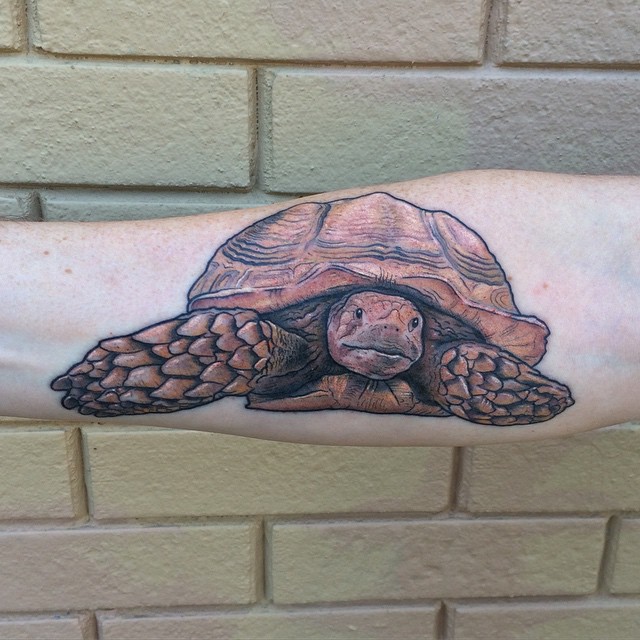 Turtles are mobility disadvantaged. They are not able to move quickly. However, the embrace the saying that goes; "slow but sure". Despite their slow movement, they always get to their destination.
Therefore, people wear tattoos to show that despite them moving slowly in their life, they will still achieve their dreams and ambitions. They will keep on moving forward despite how slow they are.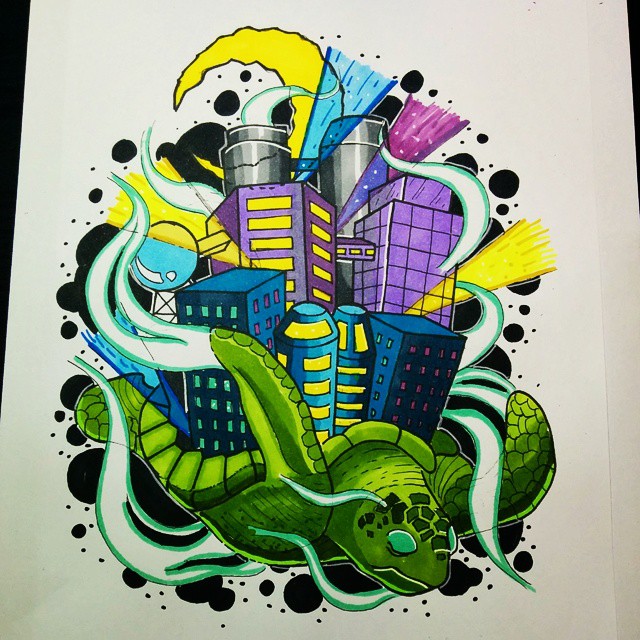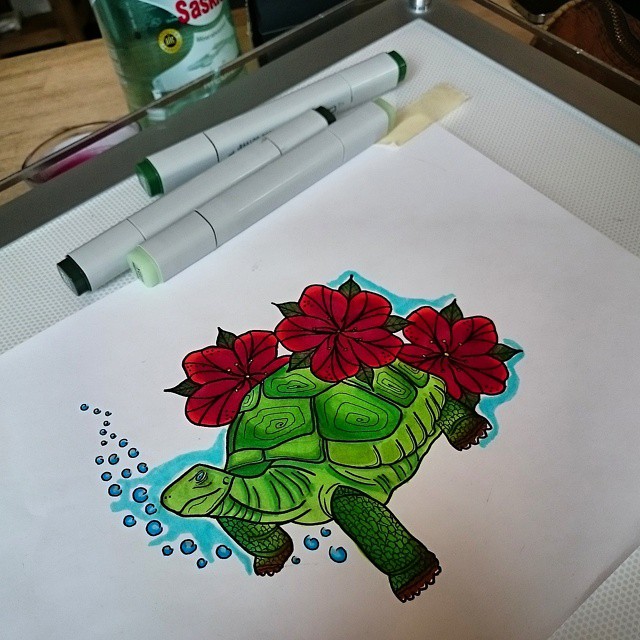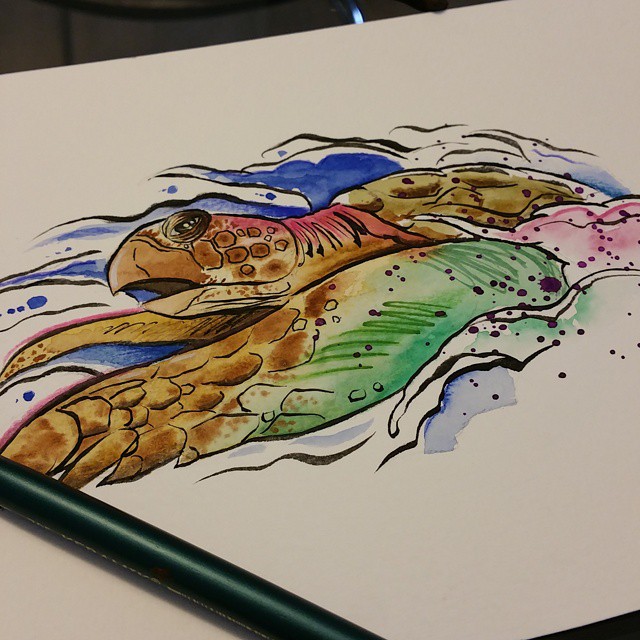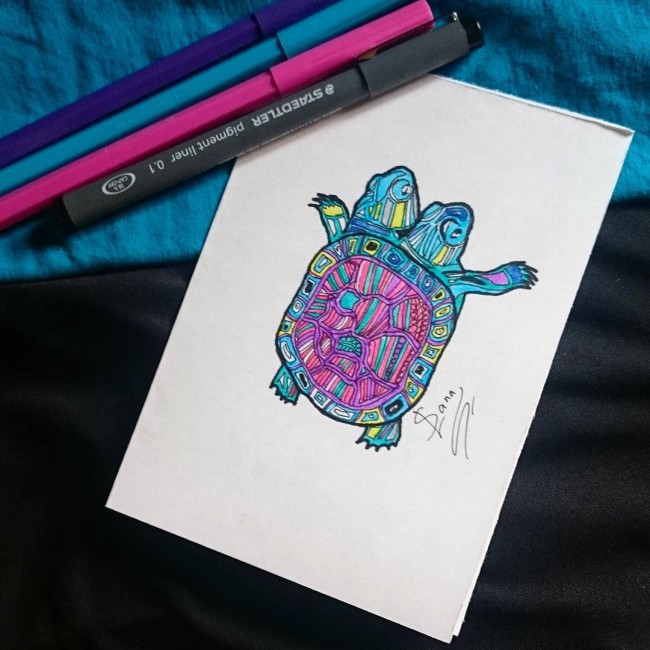 ---
back to menu ↑
Placement
The tattoo can fit anywhere on the body. It all depends on the style that you embrace. If you want a huge turtle tattoo, the best place should be on the back or anywhere else there is enough space. Otherwise, they are commonly placed on the leg, the shoulder and the back.
They can be worn by both men and women.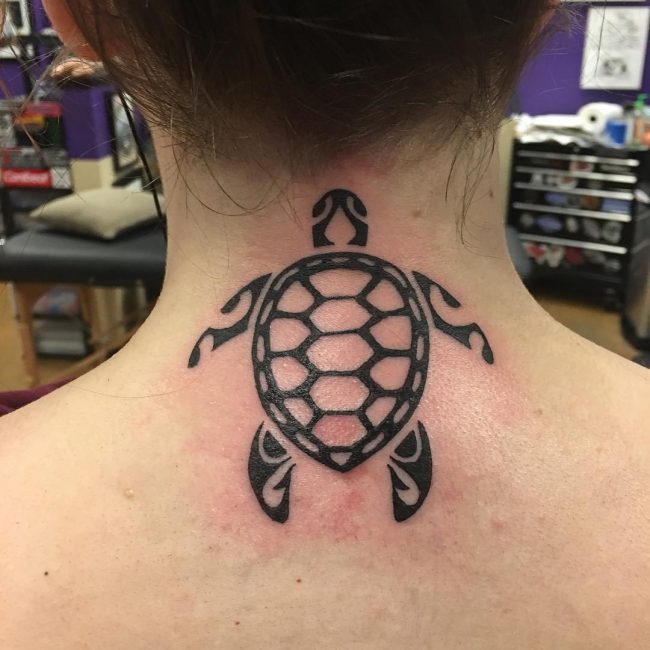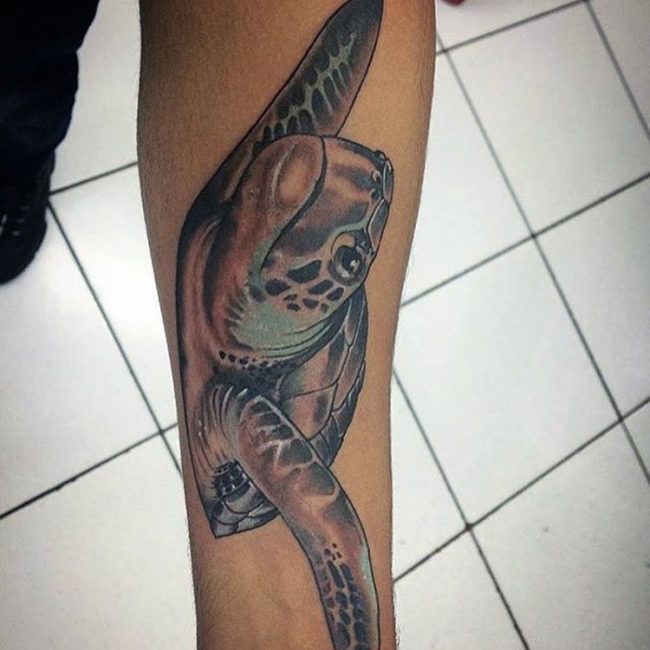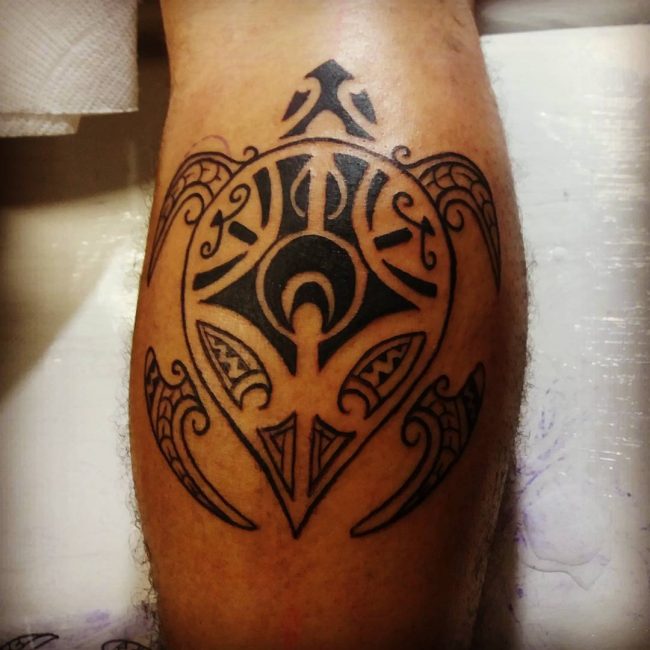 ---
back to menu ↑
Types of Tattoos
These tattoos consist of a turtle done in cartoonish style. This type of tattoo involves using of bright colors to bring out the shape of a turtle. It is common to both men and women. In this type, one can provide the feminine look to the turtle tattoo.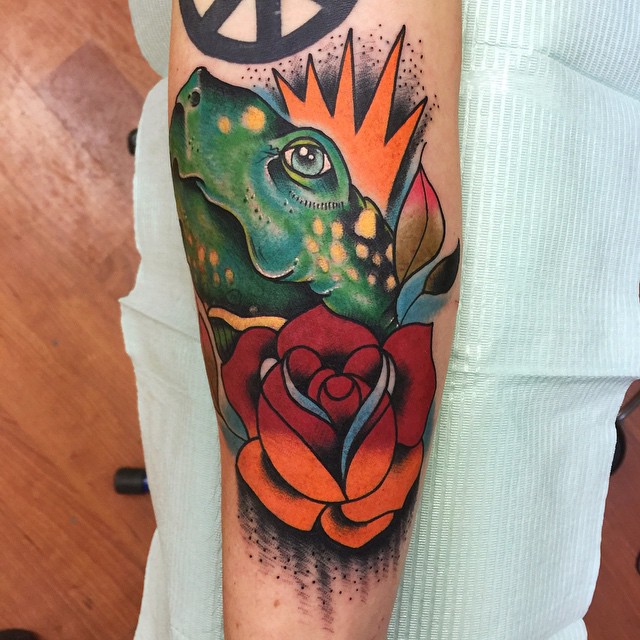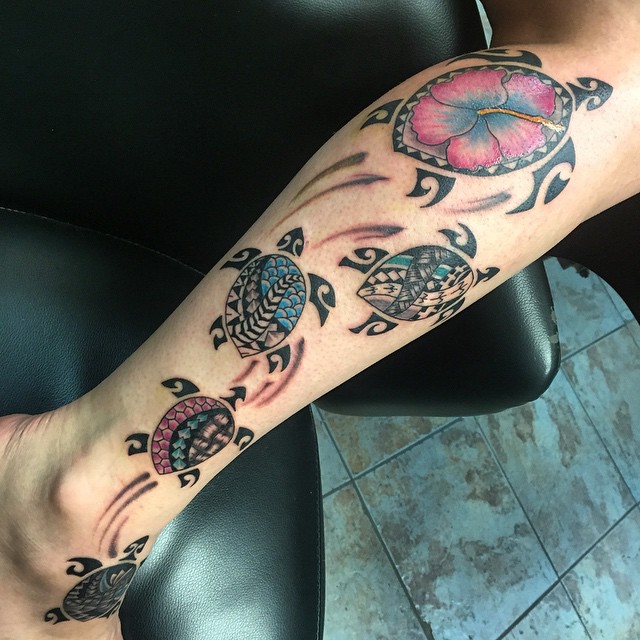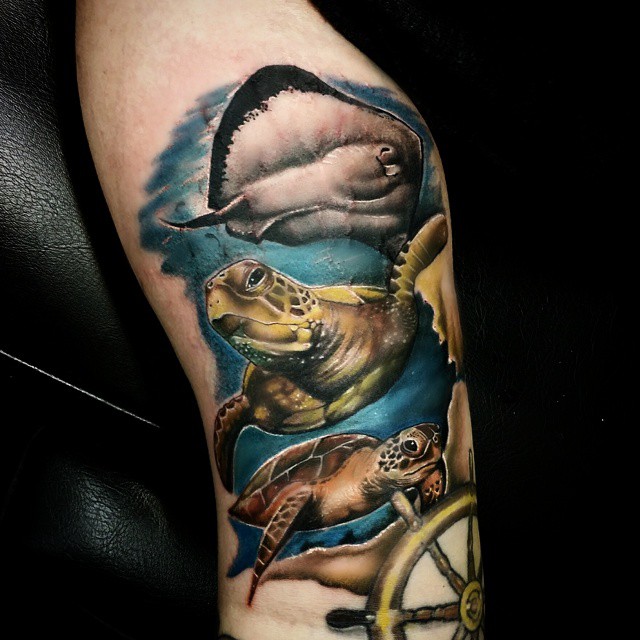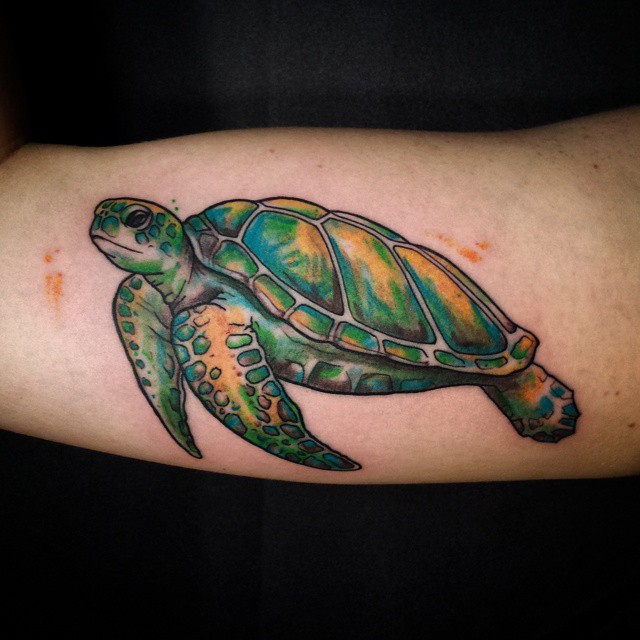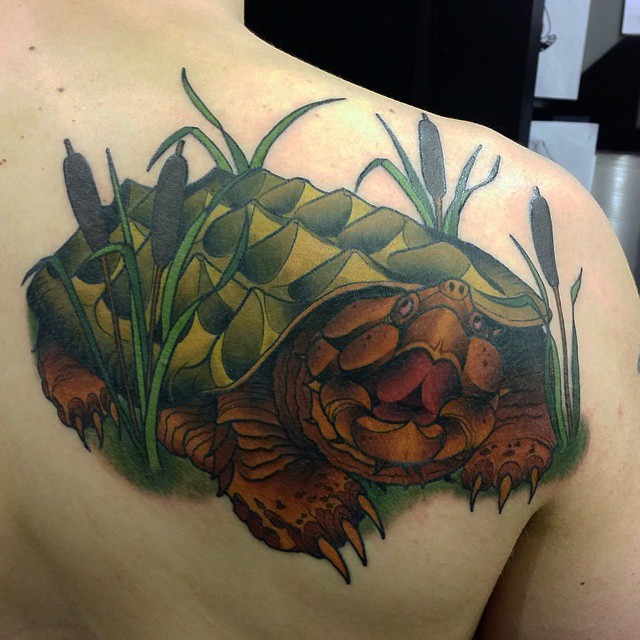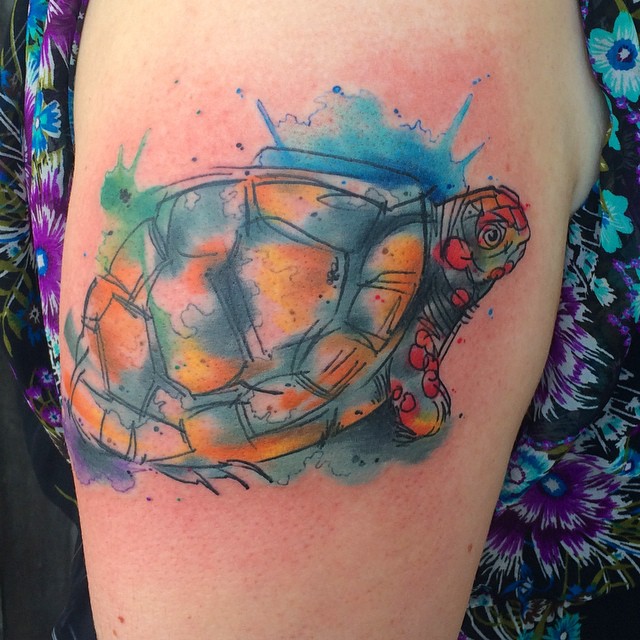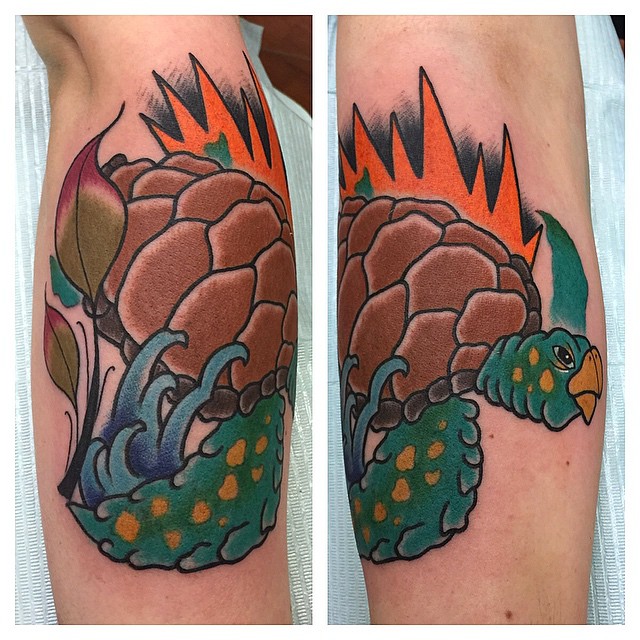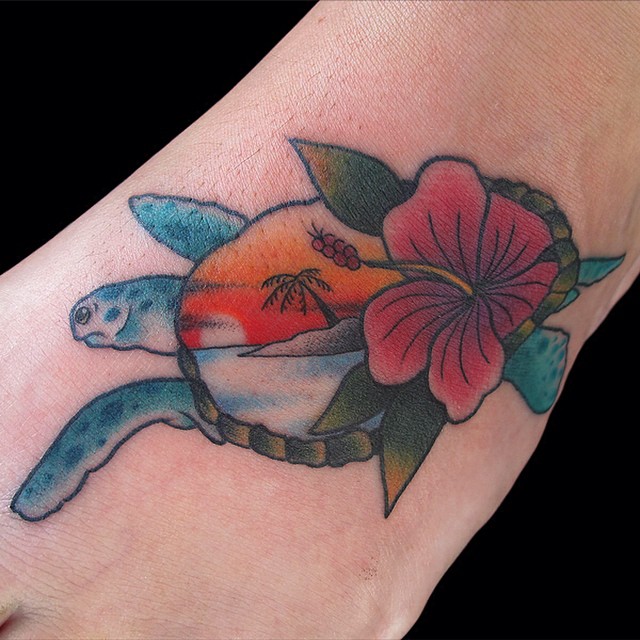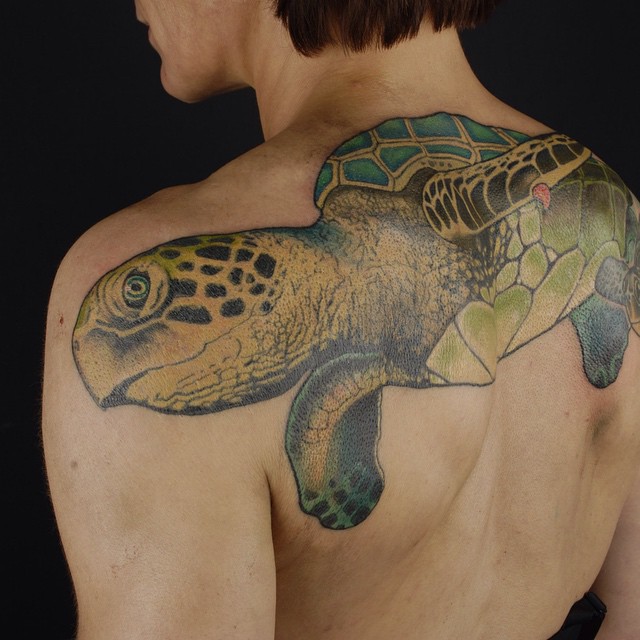 This is another common type of tattoos. It is done in shades of brown, beige, black and white or green colors. They usually consist of a shading of a turtle or a hint of turtle. Some of the common designs of realistic turtle tattoos include multiple turtles swimming in line.
It is mainly placed on the arm which makes it look so nice and cool.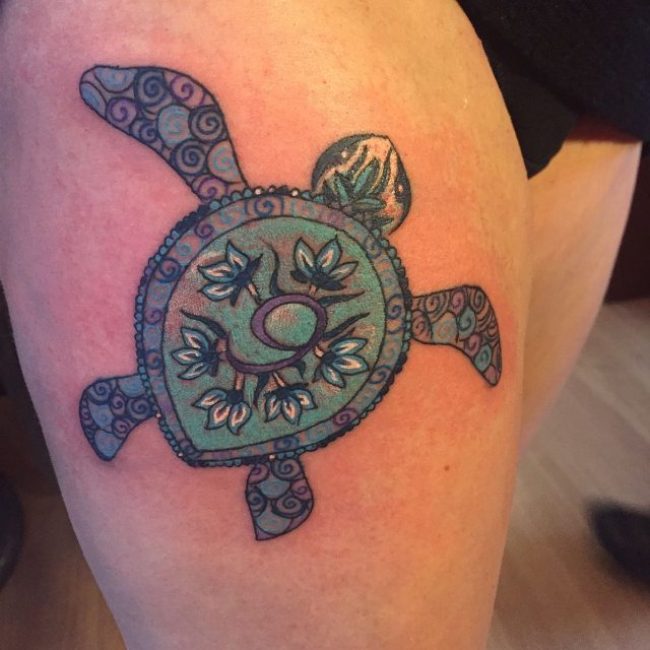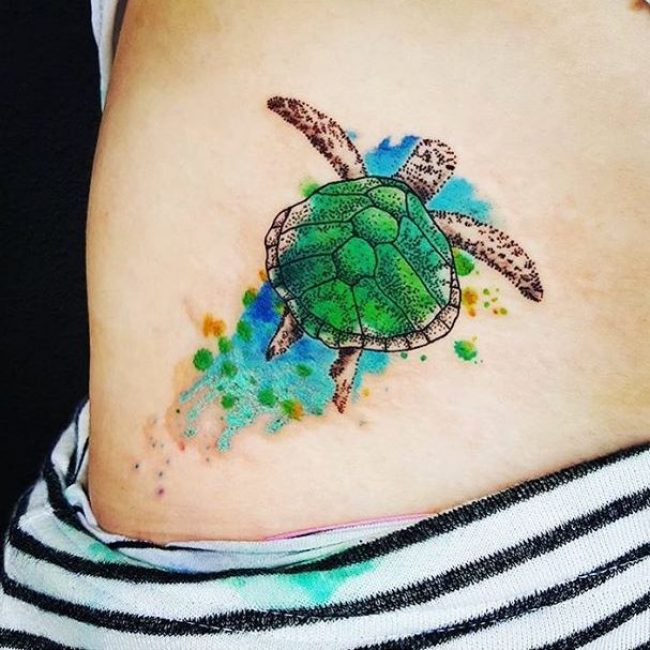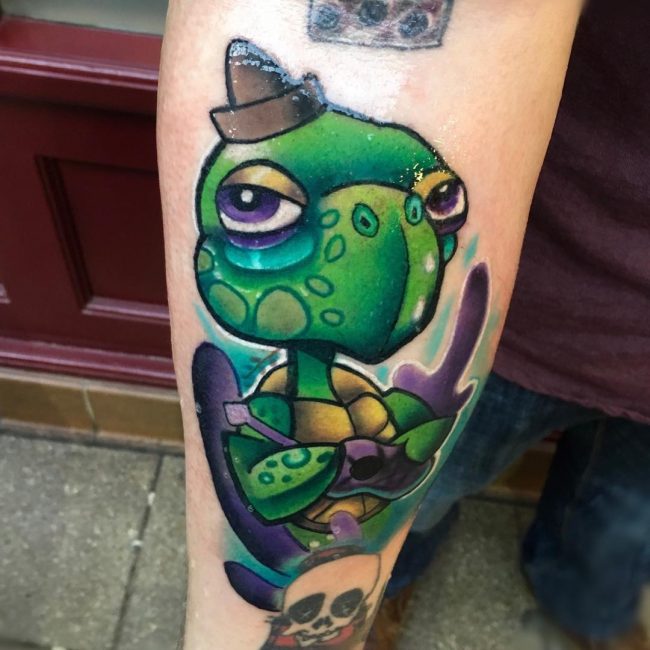 These designs are mainly done using geometric shapes to form a turtle like shape or part of the turtle. They contain sharper lines than other designs and they are mainly done in black and white. Again, they are mainly small in sizes and hence can be placed even on a finger.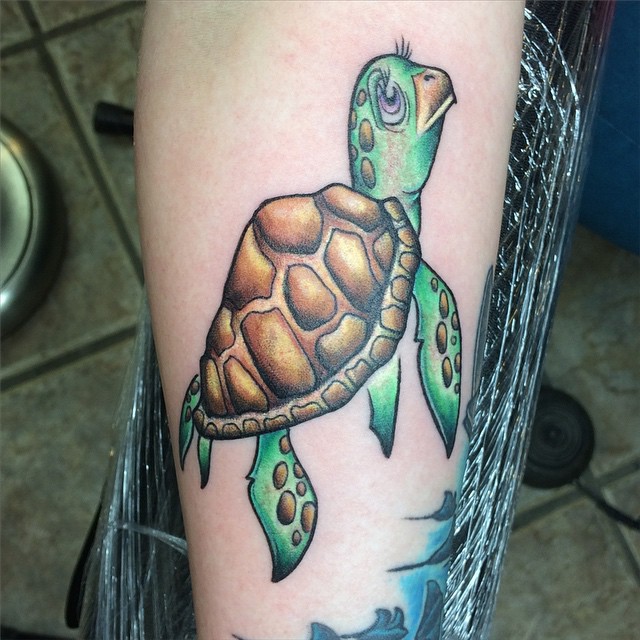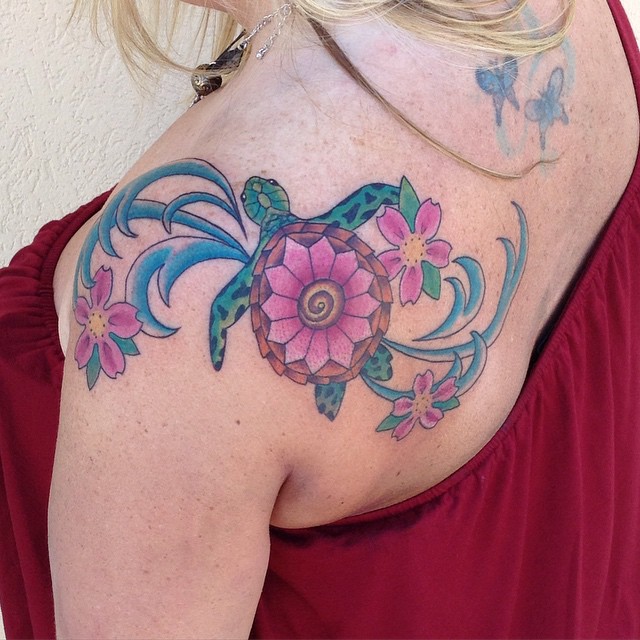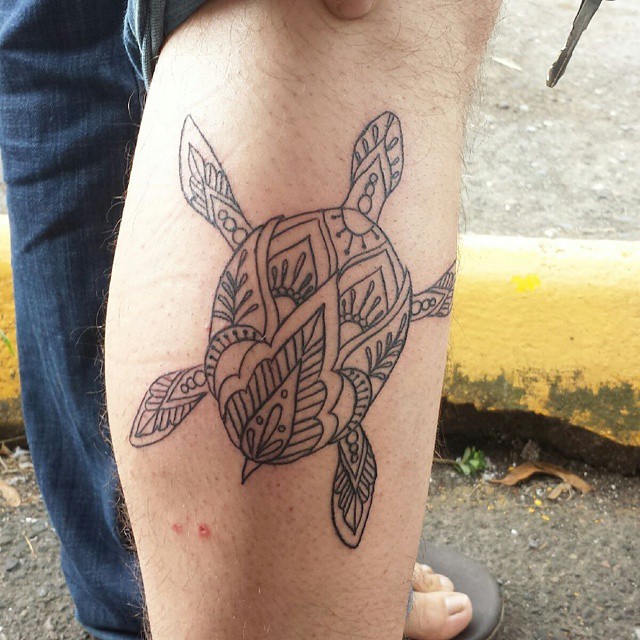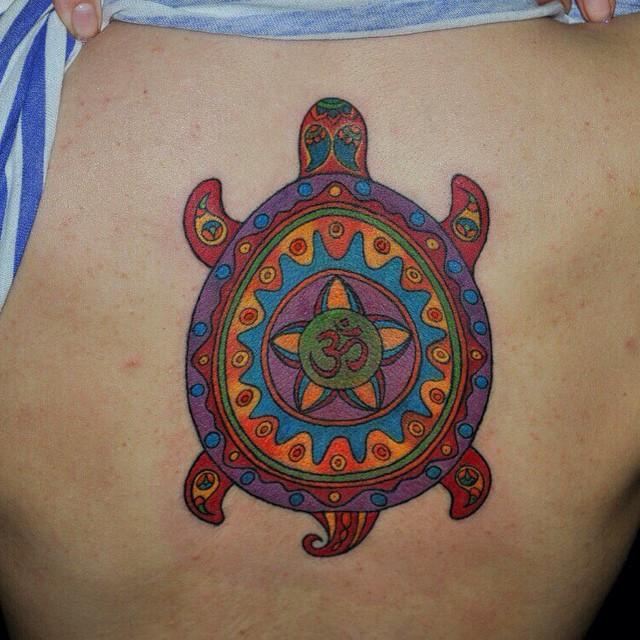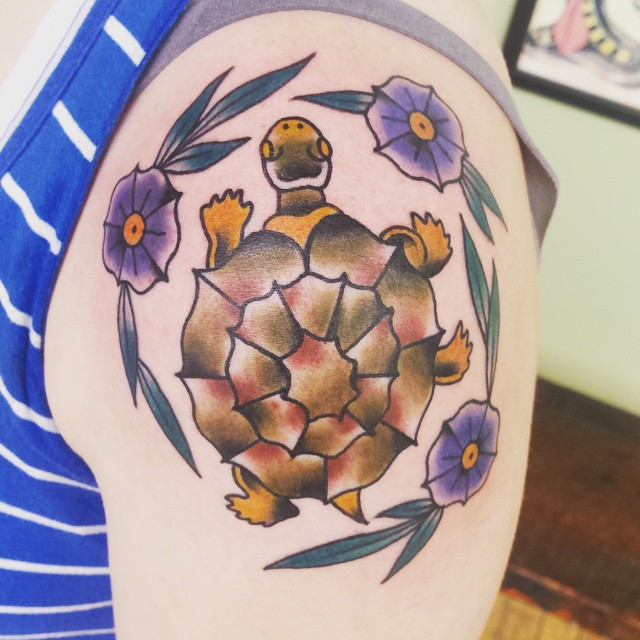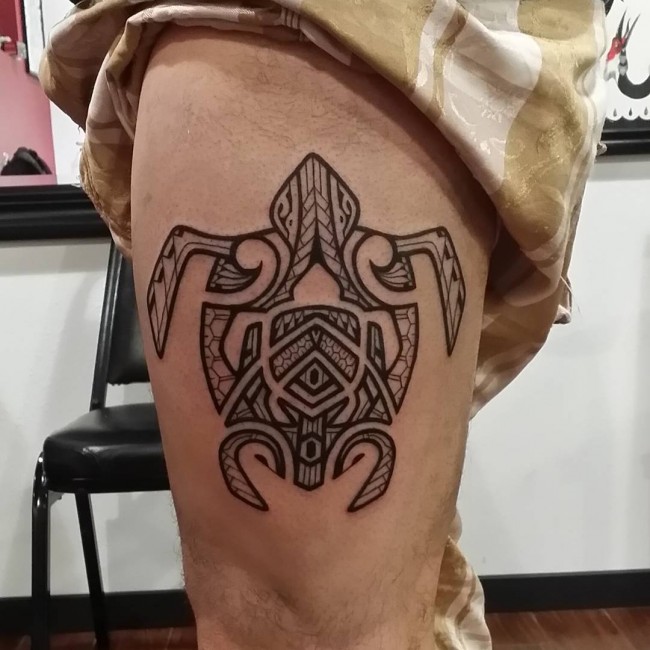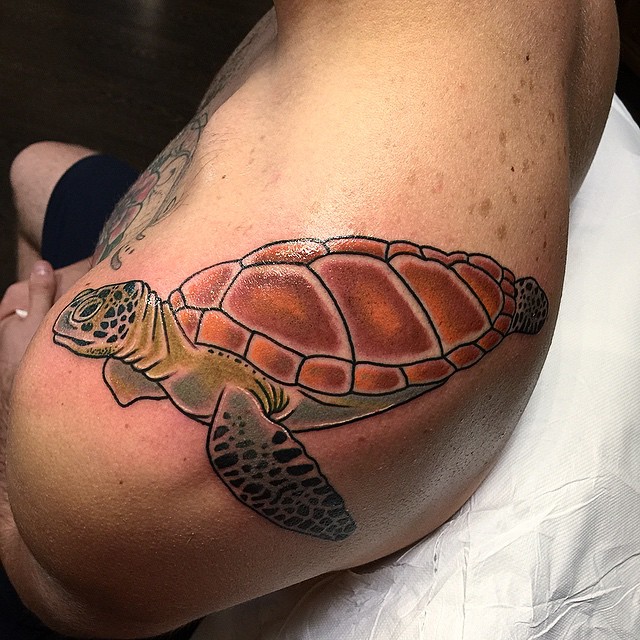 These types of tattoos have more life into them than the rest. They add other symbols on the tattoo instead of just using the shape of a turtle. Some of the symbols added are the heart, flowers, cross and so much more. They are well decorated with many colors to look more beautiful.
Designs that can be said to fall into this category include two turtles hugging a heart. This is used to bring in the symbolism of faithfulness in the family between two partners.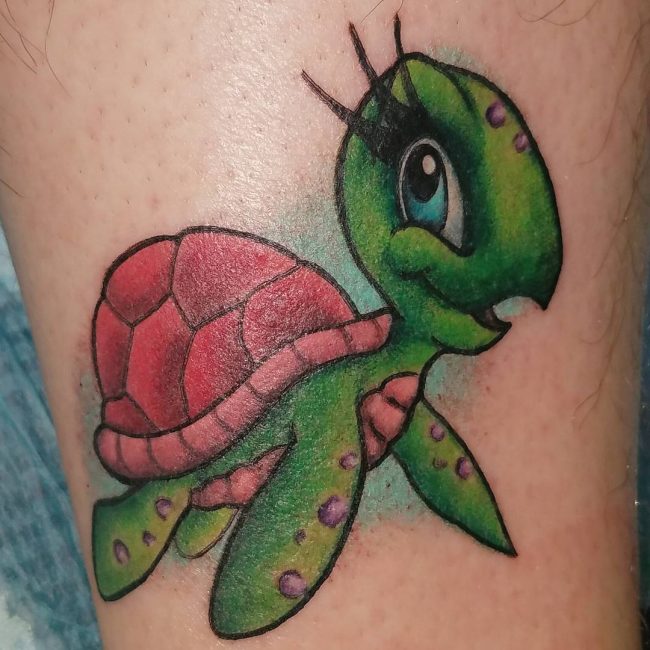 This a special type of tattoos. It consists of any of the above types of turtle tattoo but with an addition of a slogan on top of it. For instance, one may have an edgy turtle tattoo but on top adds a slogan like "Slow but sure". This makes the tattoo to become a slogan turtle tattoo.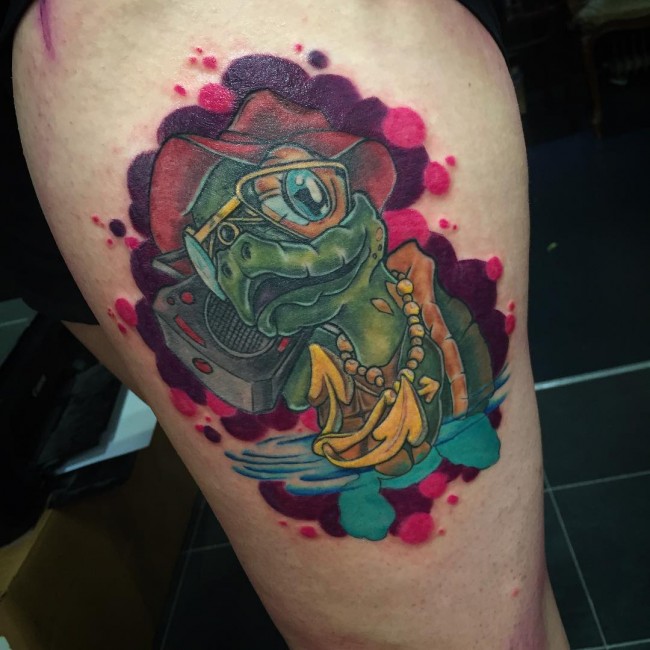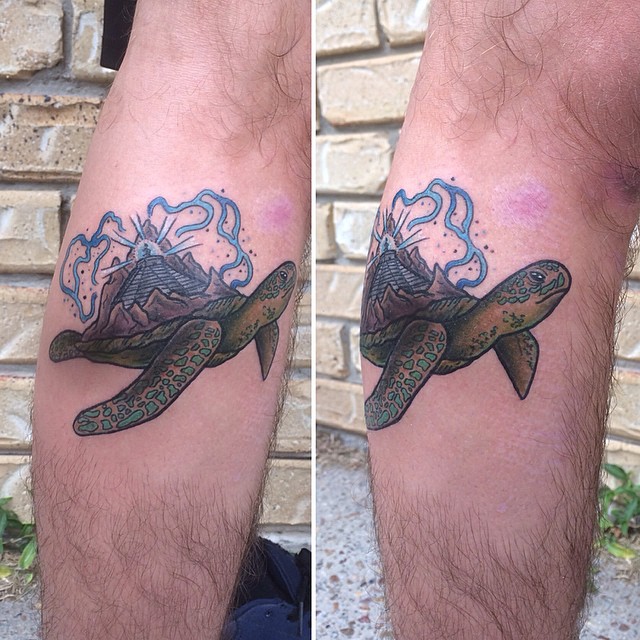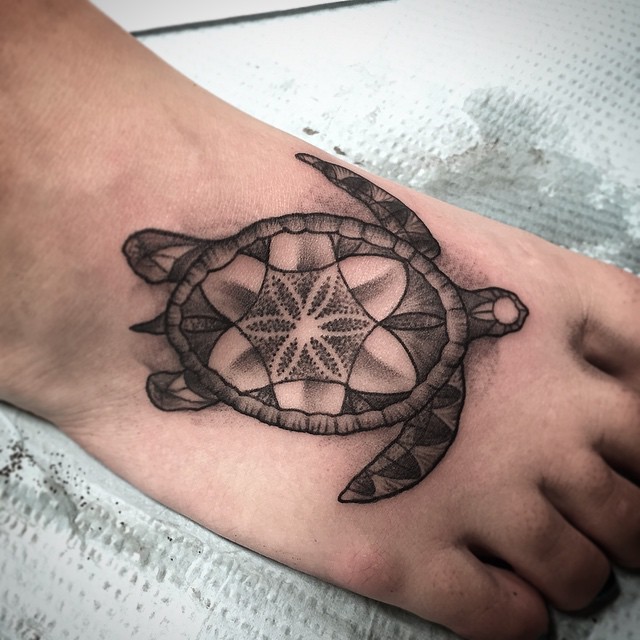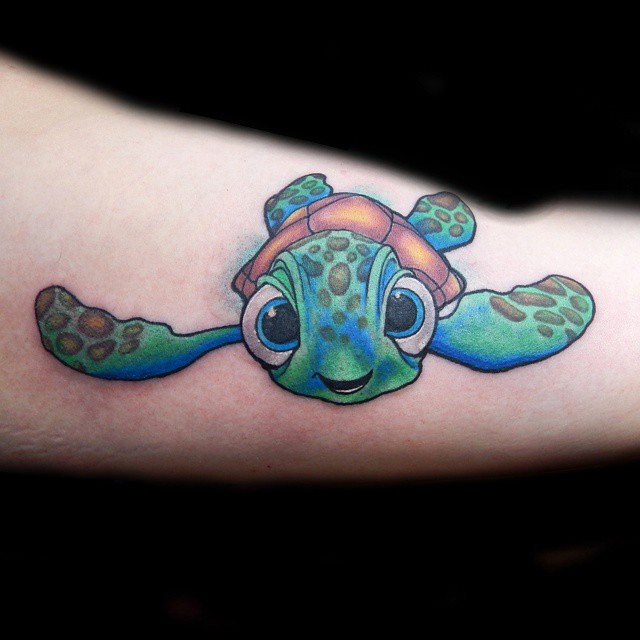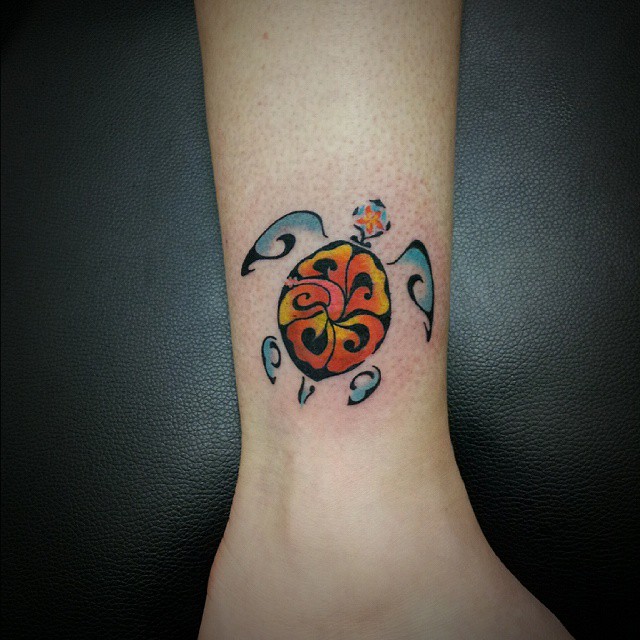 Celtic knots are well known for their structure which forms infinite loops. Celtic tattoos are similar to Celtic knots only that instead of knots, turtle are used. The turtles and the infinite loop are used by people to express their desires for healthy and long life. It is a beautiful tattoo that is very inspiring.
As analyzed above, the shape of a turtle can make up a very cool turtle. It all depends on which type of turtle tattoo best fit your design and what exactly you would like the tattoo to symbolize.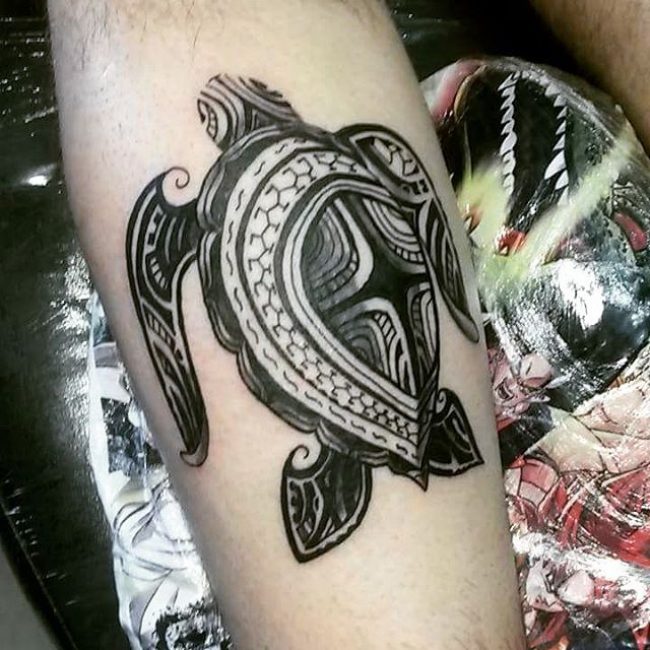 Otherwise, it is one of the noncomplex tattoos and above all, it is very flexible because it can be placed anywhere and not specific to any gender. The important thing to know in advance is the design that portrays the message you would like to symbolize.