75+ Inspiring Raven Tattoo – Designs & All Meanings (2019)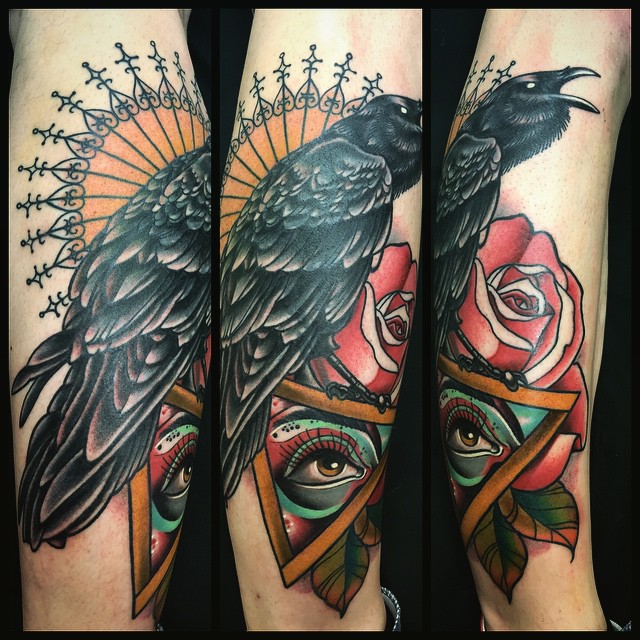 Raven tattoo designs are among the rarest tattoos that can represent good as well as evil. In most communities, ravens act a symbol of negativity that portrays death. Despite the pessimism, some people use raven to show good attributes like wisdom.
If you have been wondering why most people associate ravens with death and misery, then you are the right place.
Contents: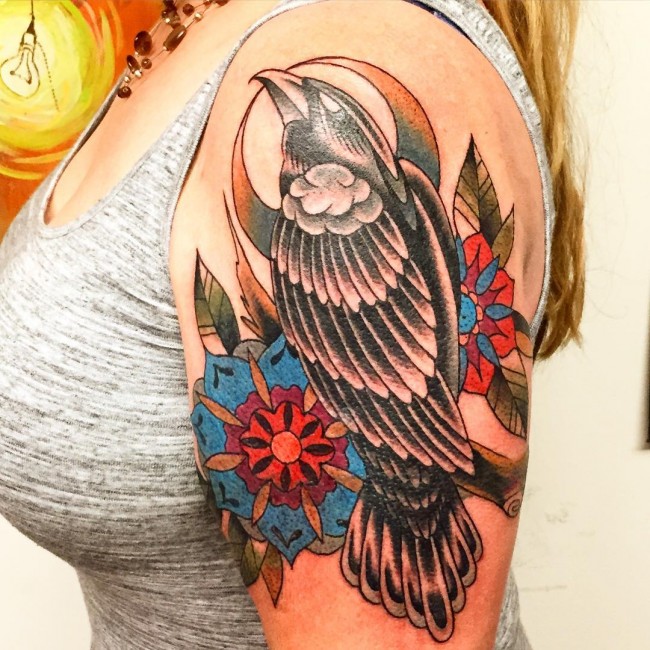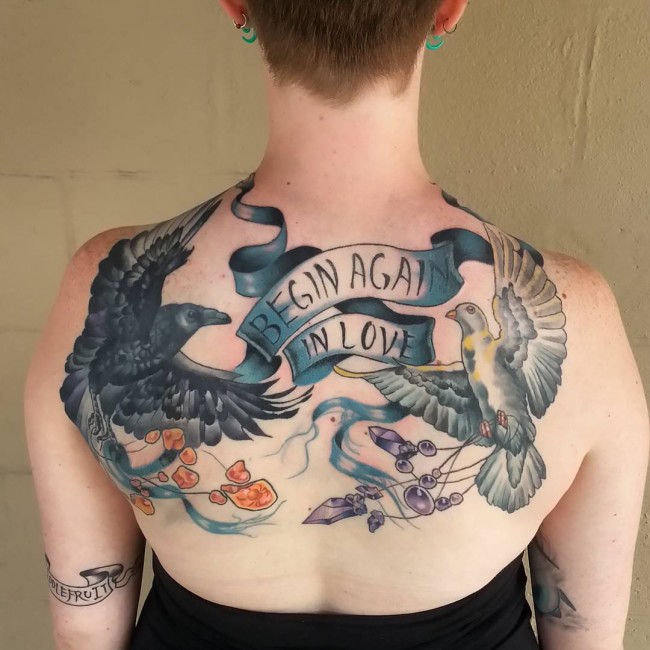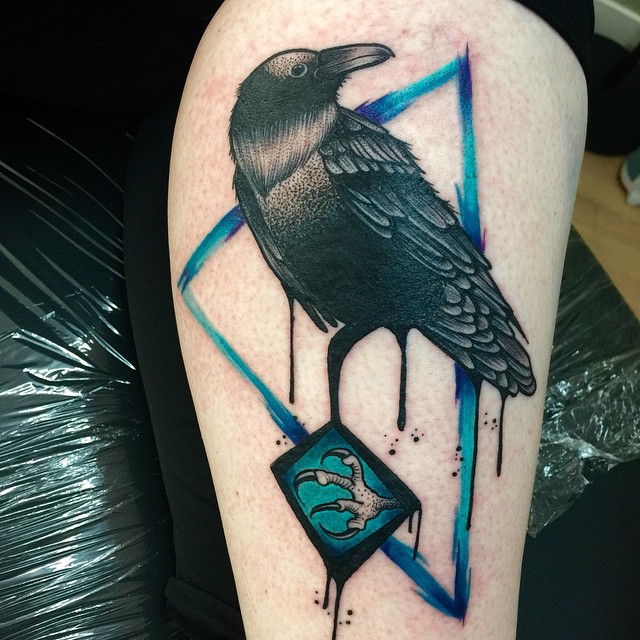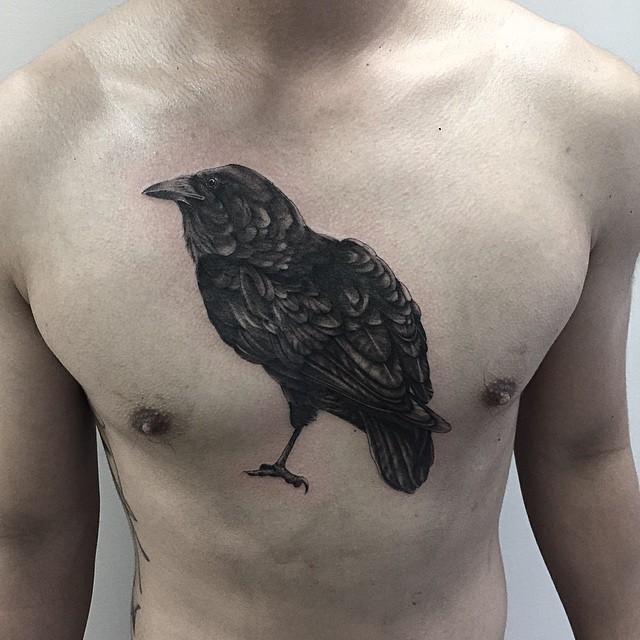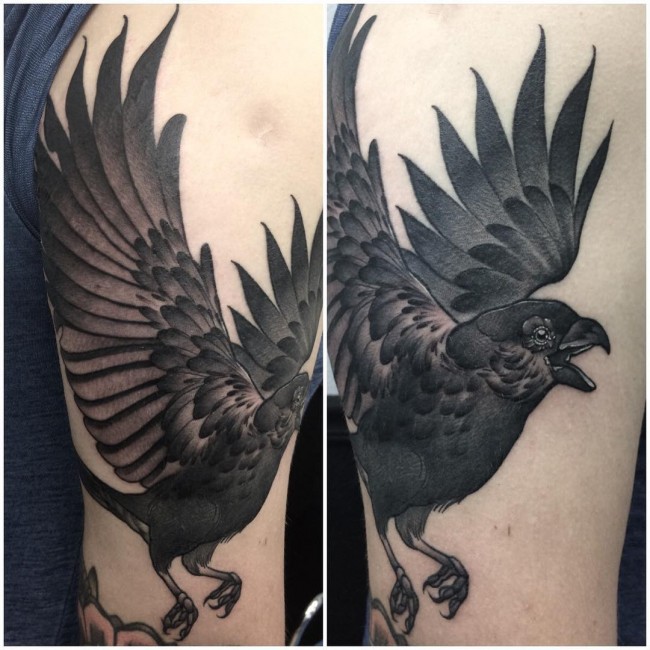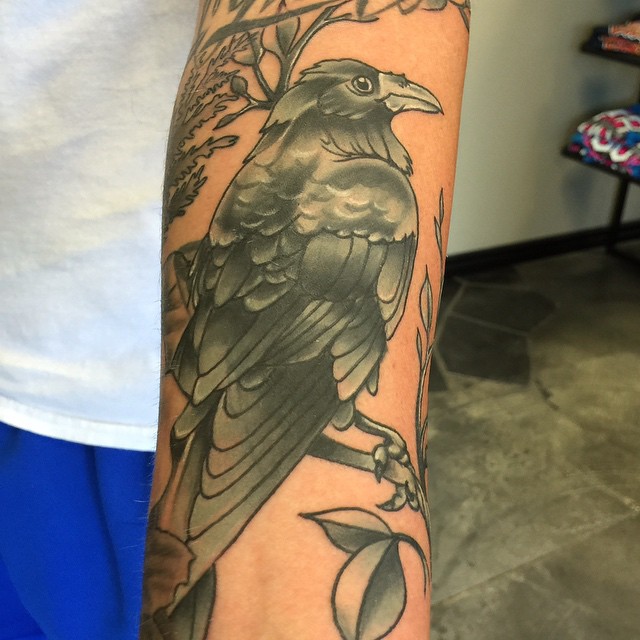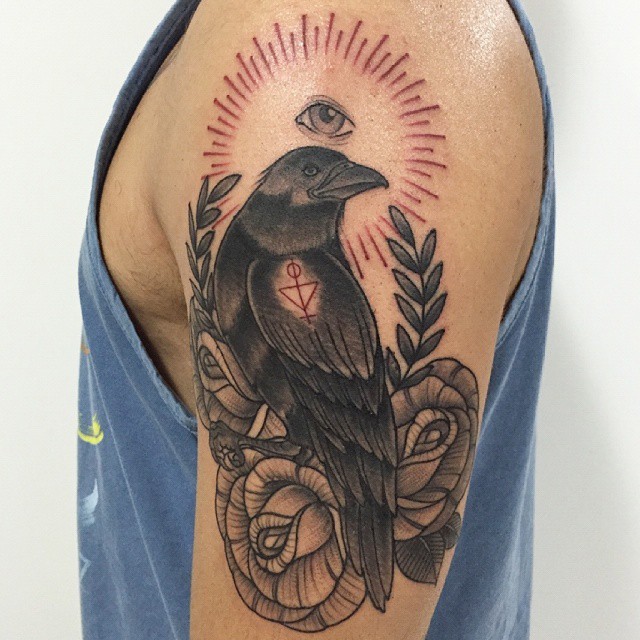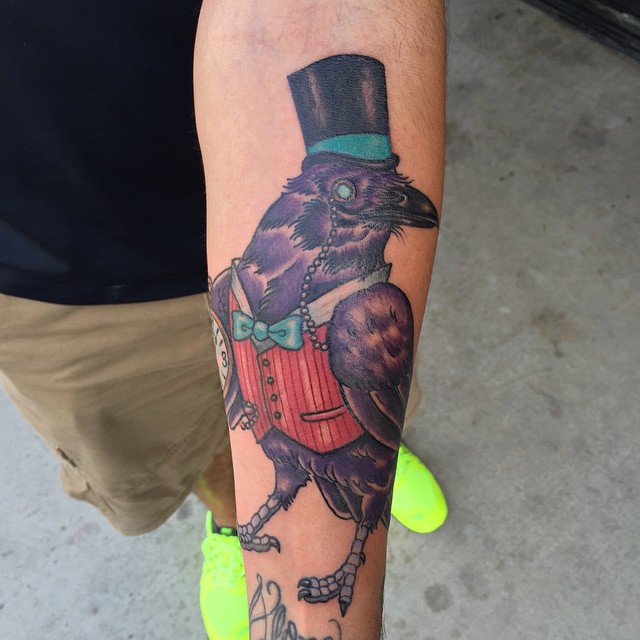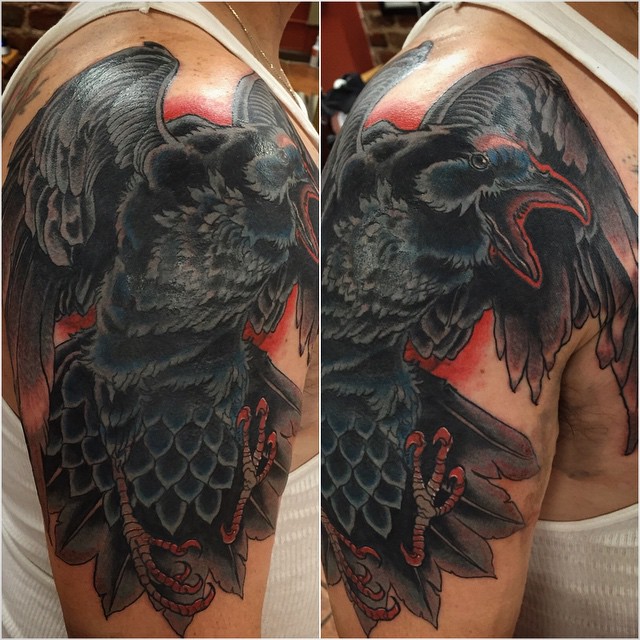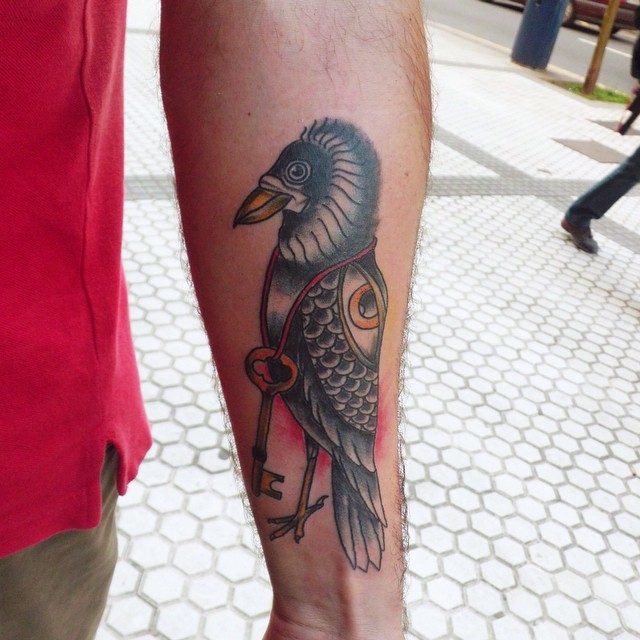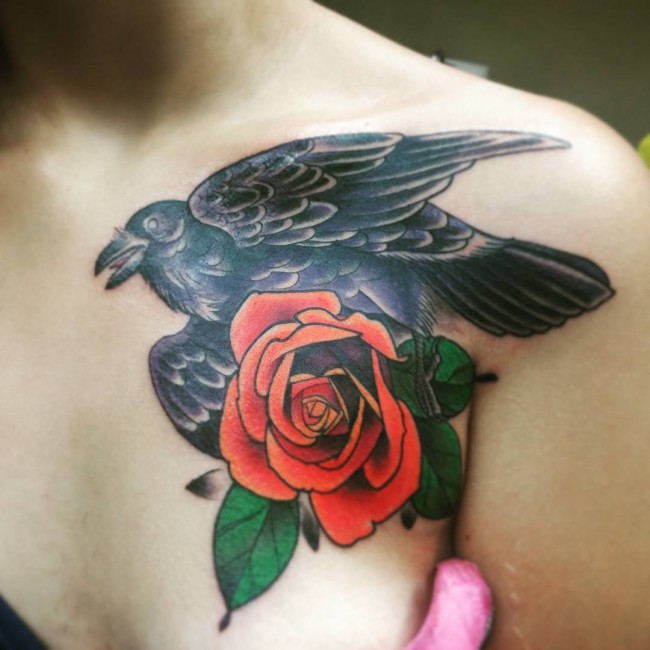 Many years ago, thousands of people lost their lives in ancient Europe during the war and all you could see were dead bodies scattered all over. It was common to come across different creatures including ravens feeding on the dead bodies at that time.
From that time, people have always seen these birds as a bad omen. According to literature, these birds are also seen symbol of darkness and particularly linked to death. However, different cultures across the world relate these birds to different values.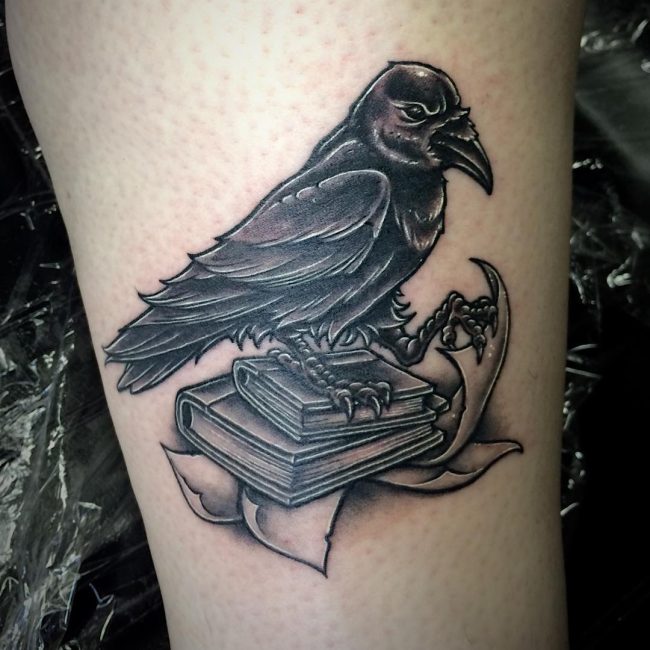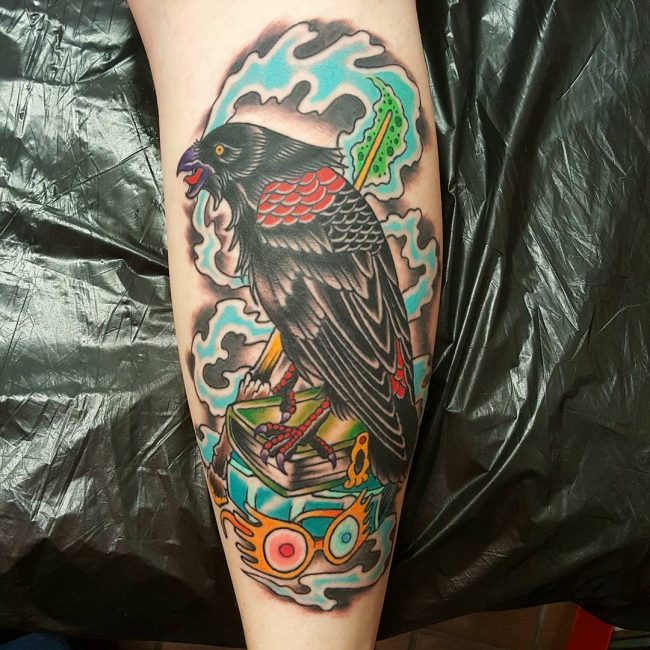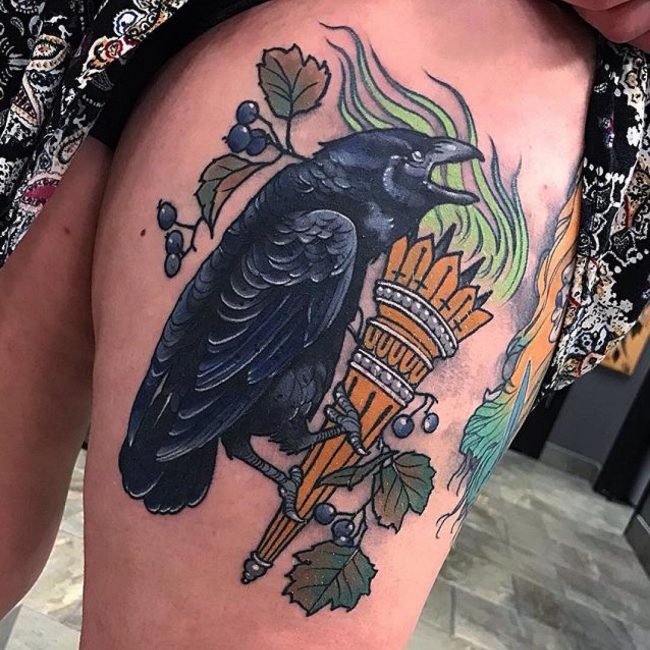 For instance, during the ancient times some communities considered them a symbol of magic as well as powerful secrets.
For example, Celtic tattoos served as a symbol of protection from evil. In North America, people believed that ravens could bring light into the world. This made them to cherish these creatures so much. They also saw them as a symbol of balance between good and evil.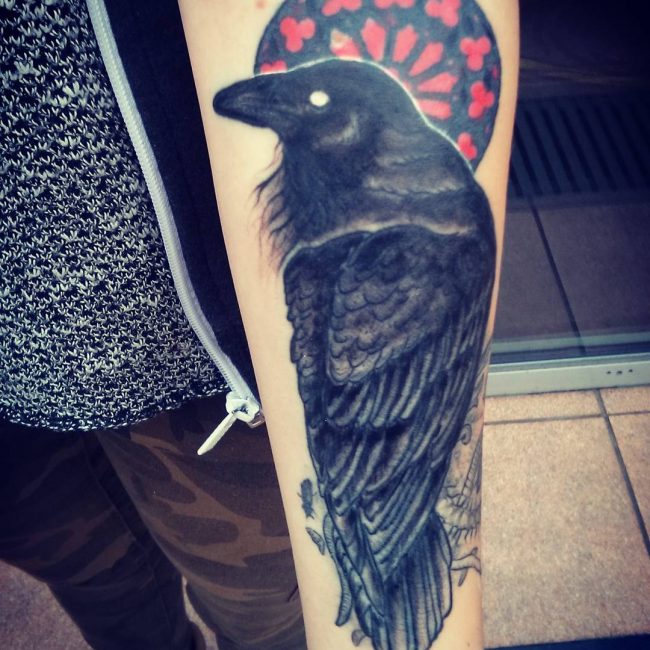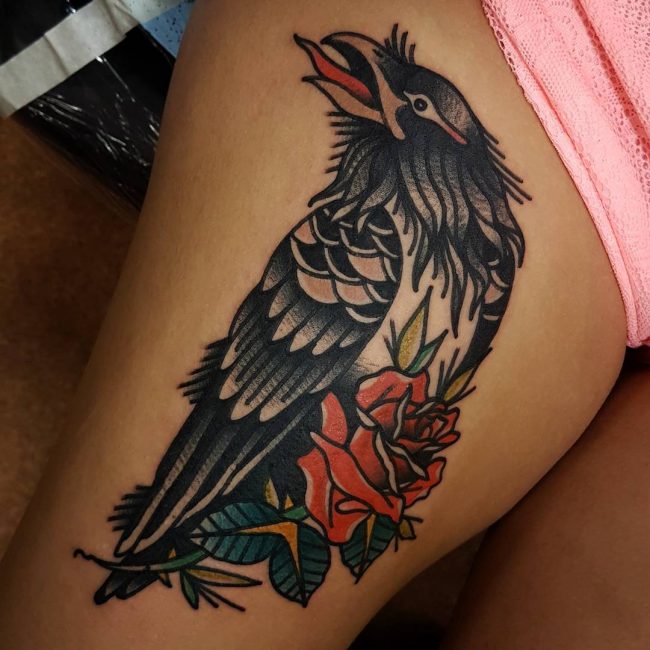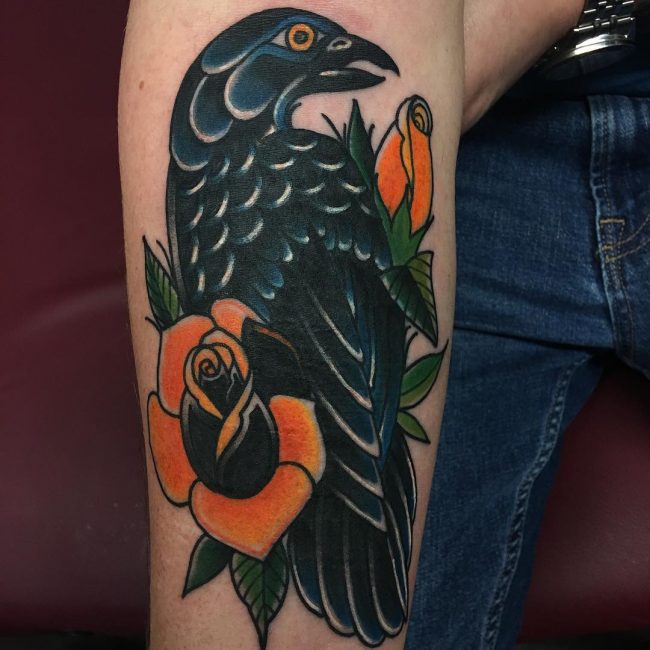 In Athens, ravens were a sign of wisdom and intelligence. With the different meanings among different societies, there is need for you to understand the meaning of these tattoos in your community before you go ahead to design one on your body.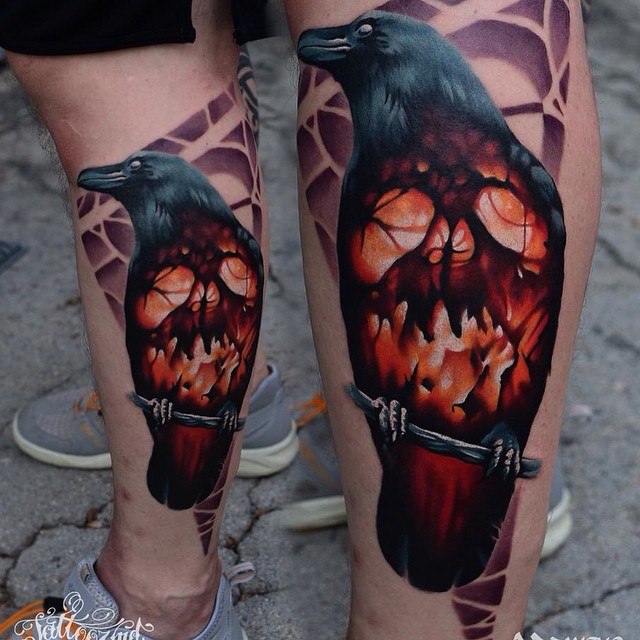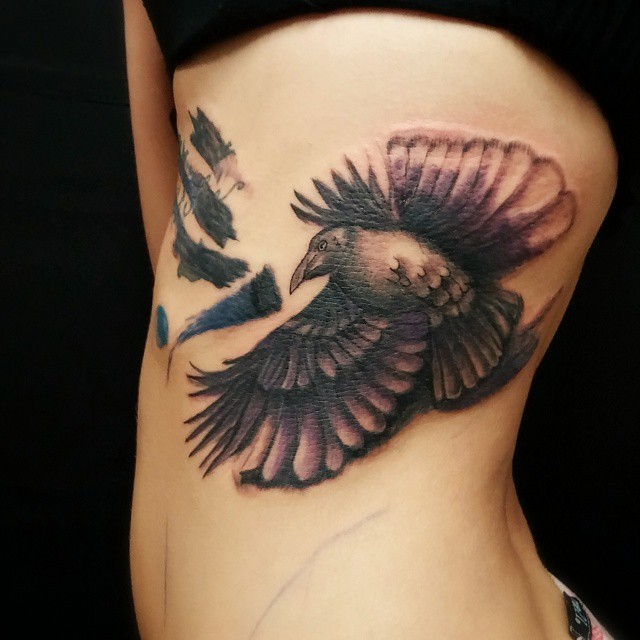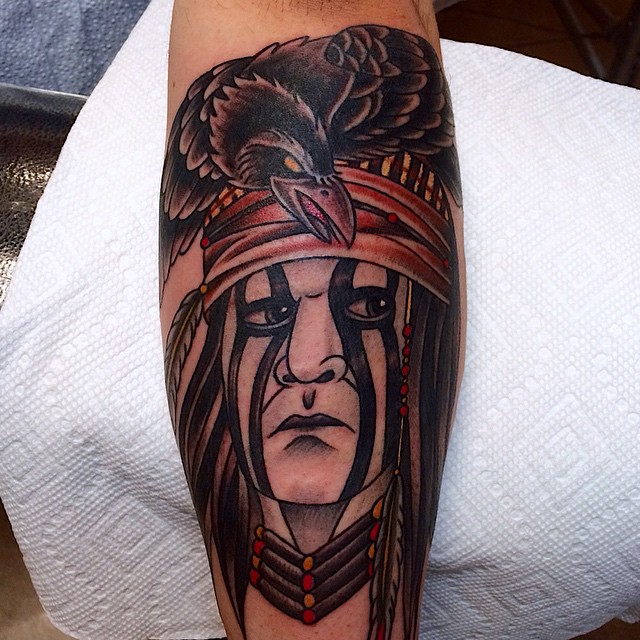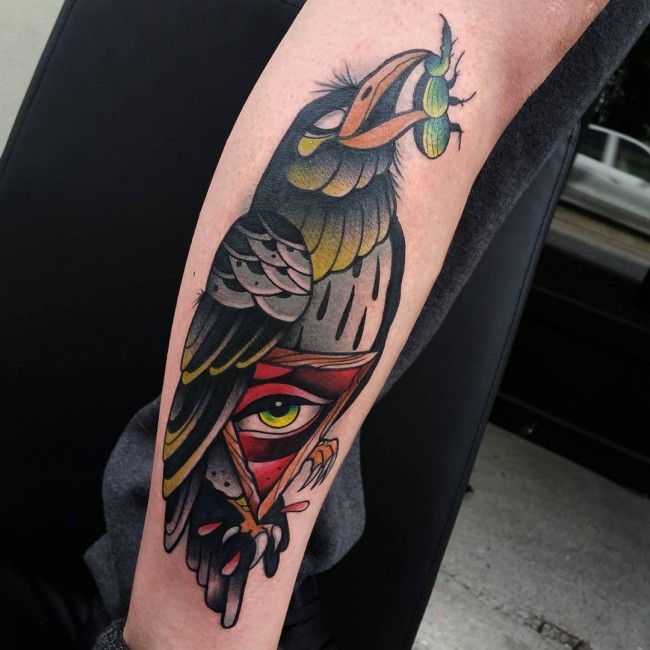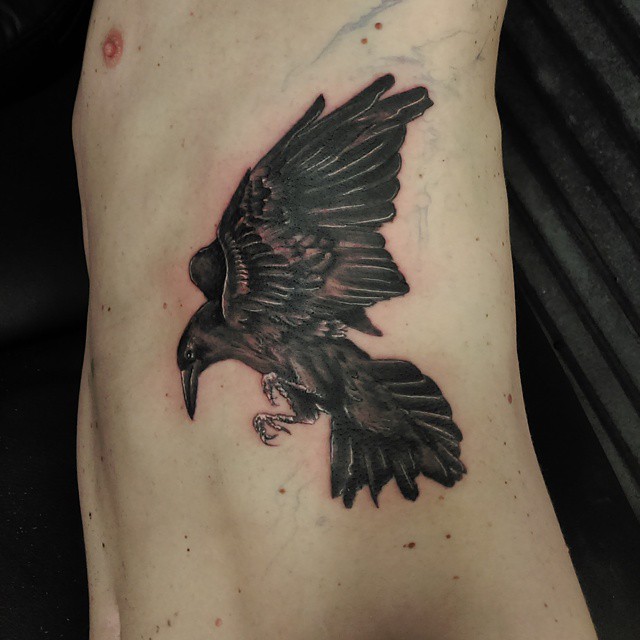 ---
Meanings
These tattoos have different meanings.
Magic
Protection
Shadows
Death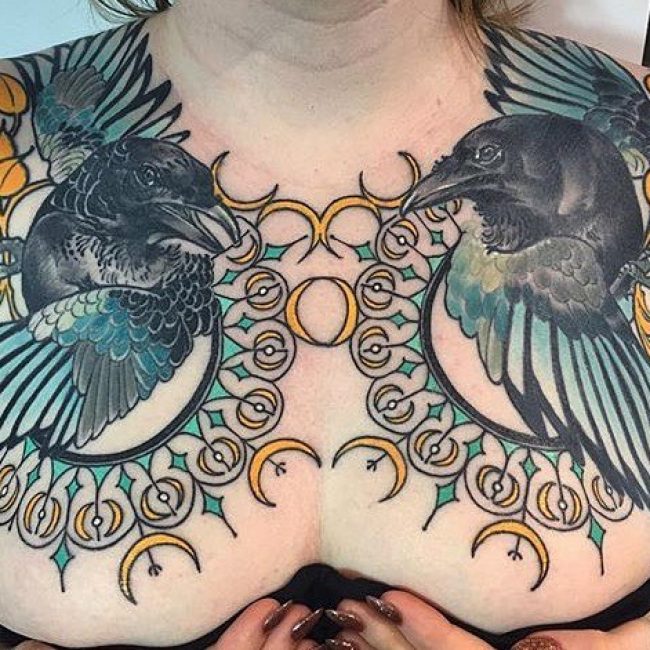 Secrets
Inner self
Memory
War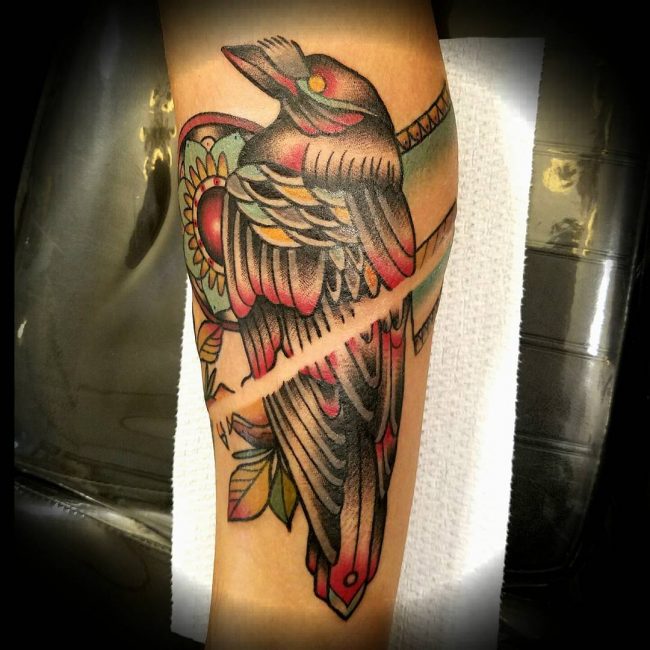 Misery
Pain and wisdom among others.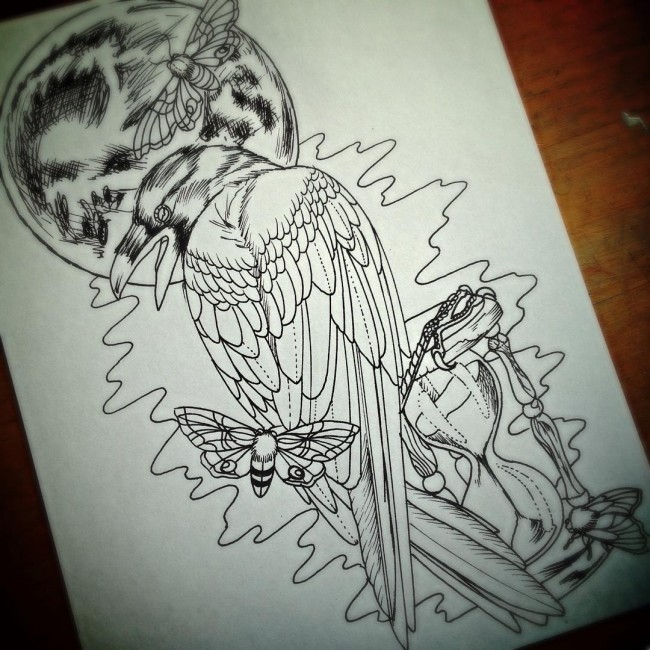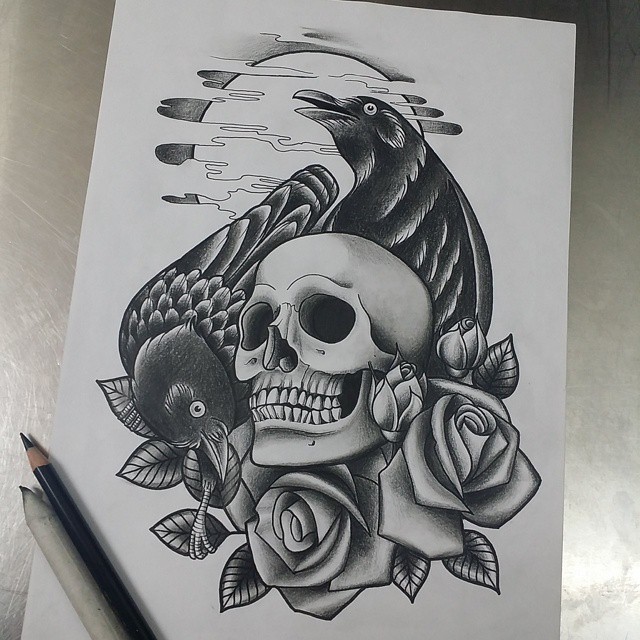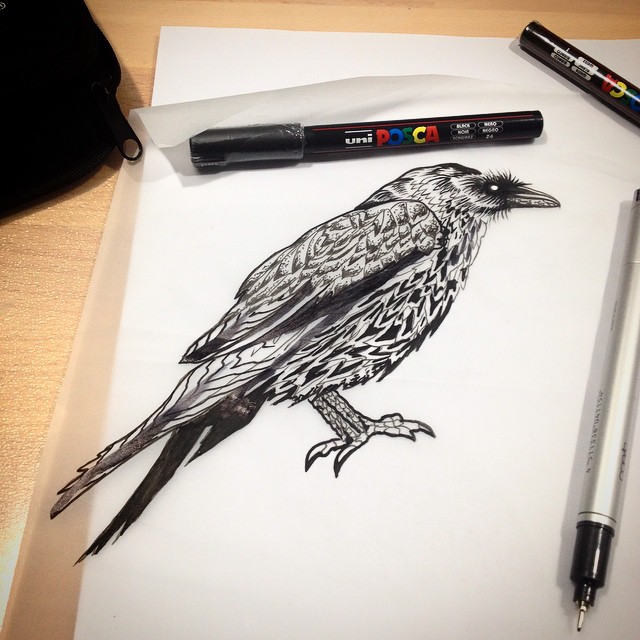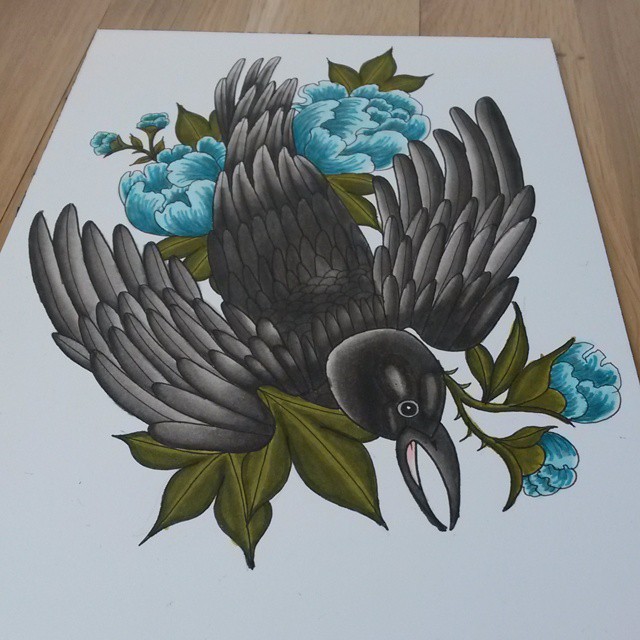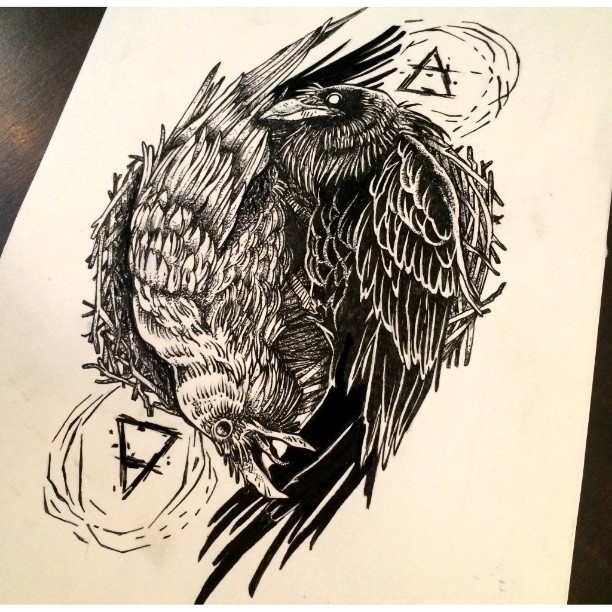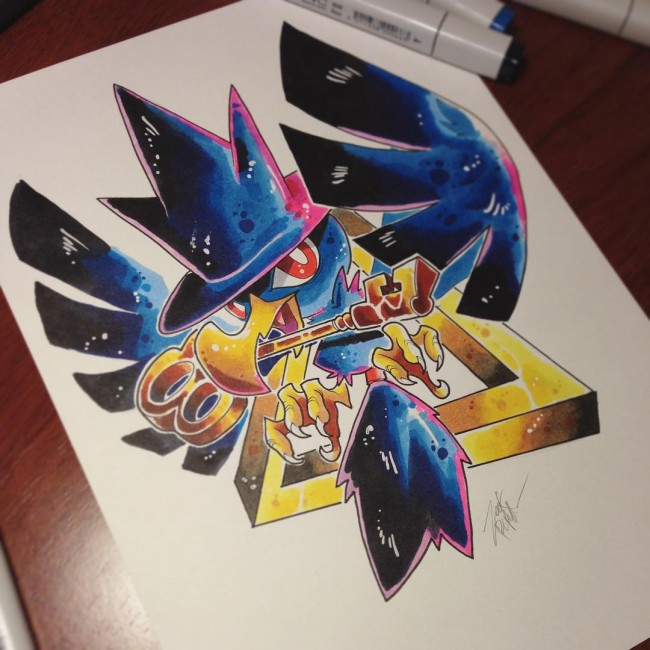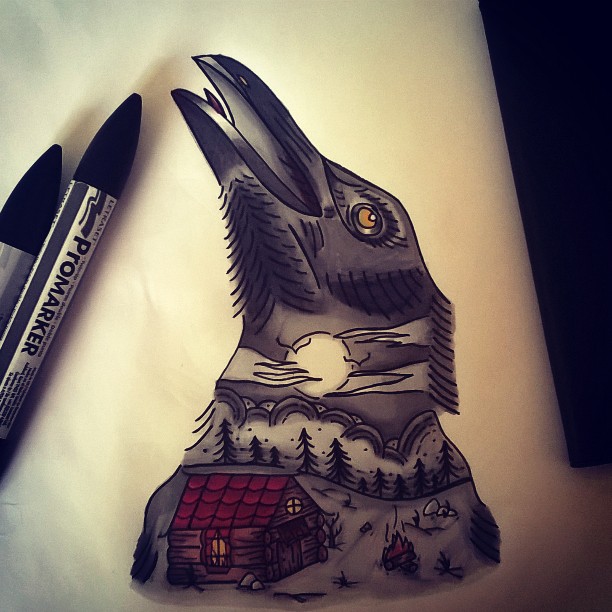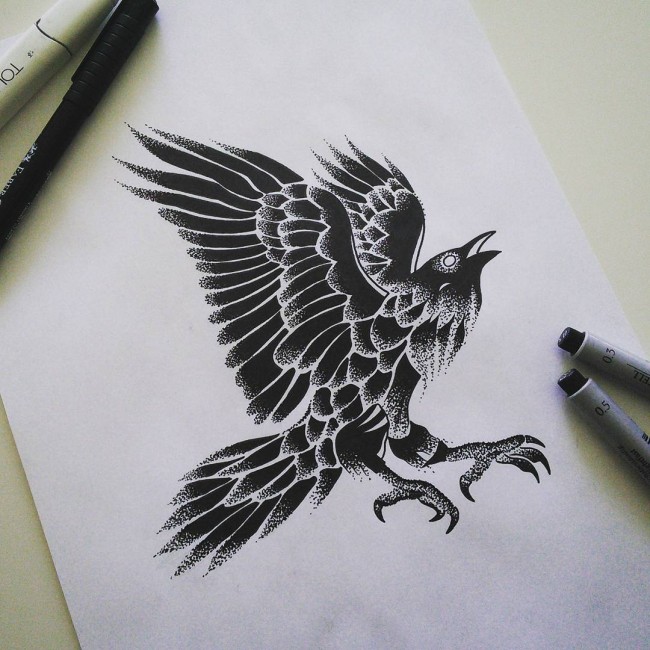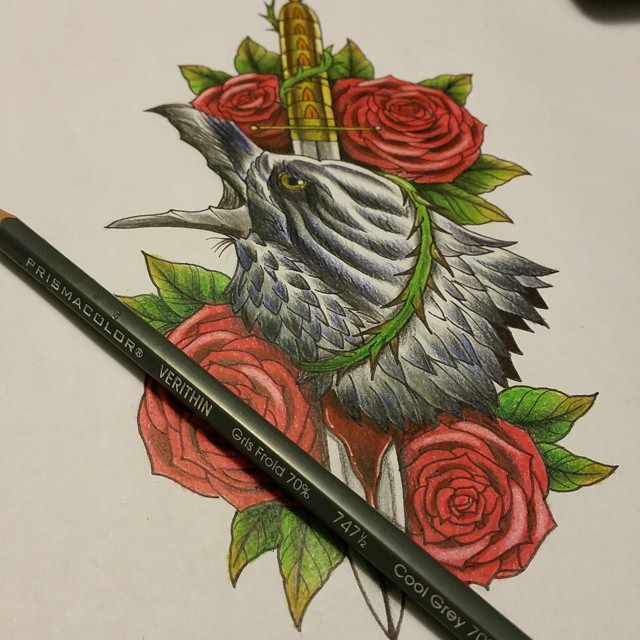 ---
back to menu ↑
Placement
You can design these tattoos on different parts of your body depending on your preference. Some of the common body parts where you can have these tattoos include arm, wrist, shoulders and back among others.
Before you choose to have it anywhere, you need to determine whether you want something hidden or one that everyone will see.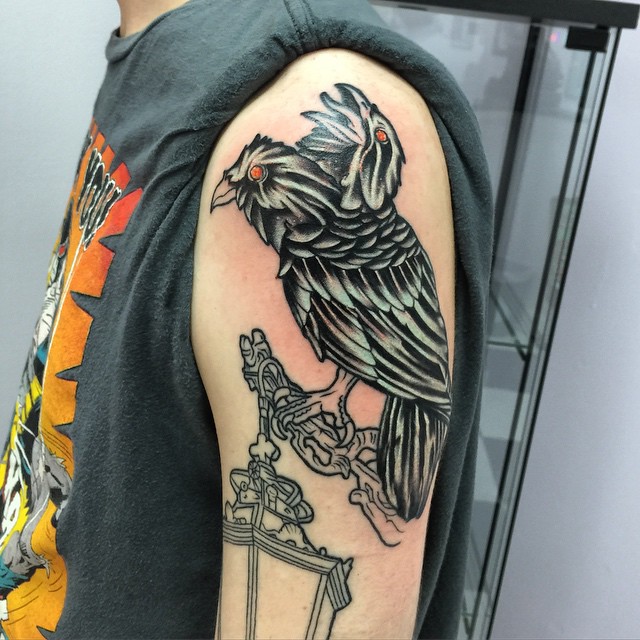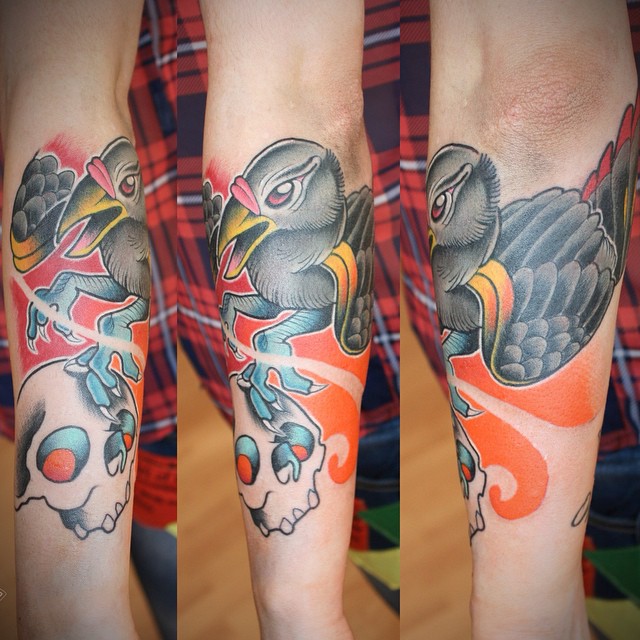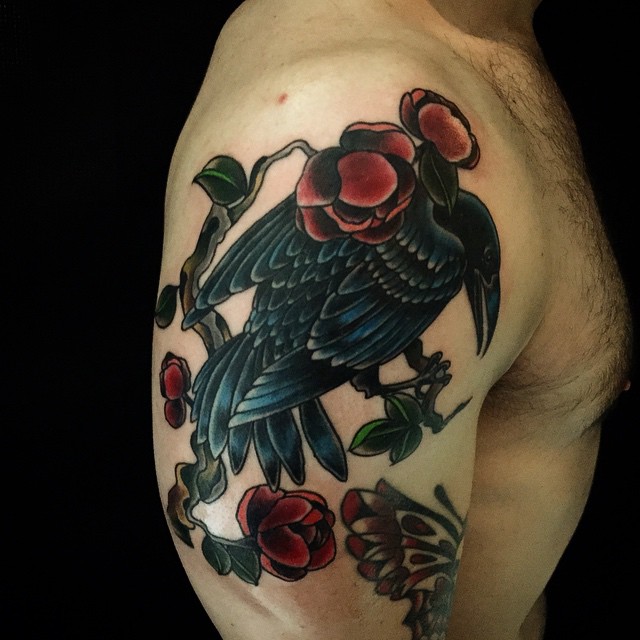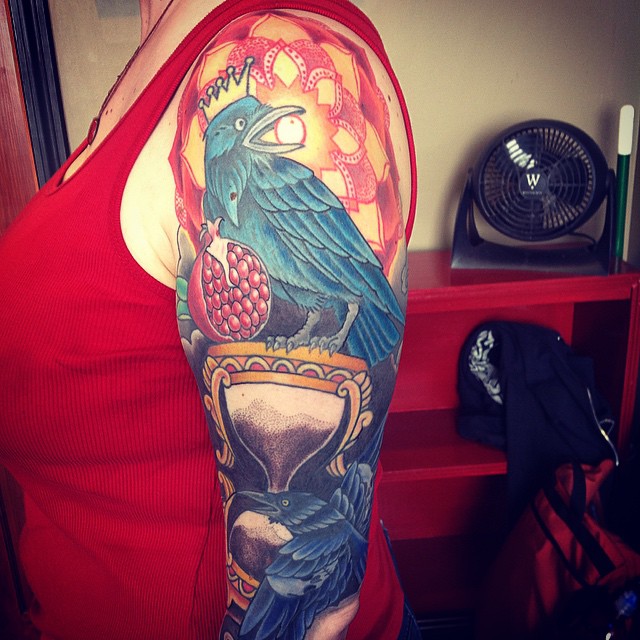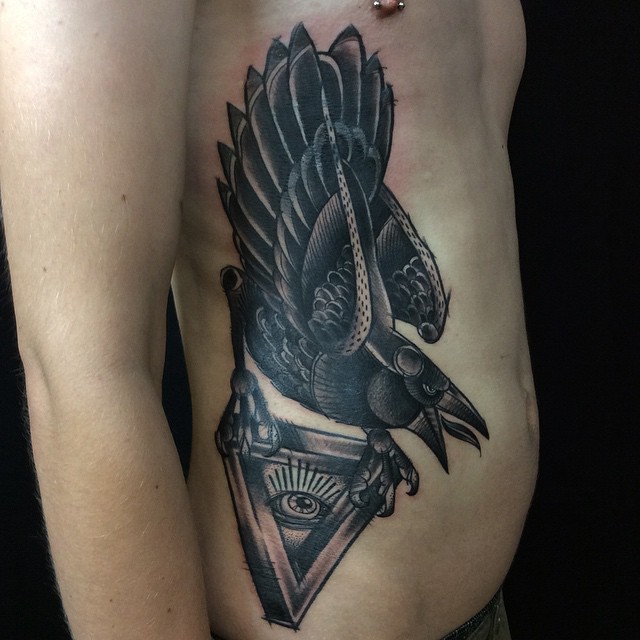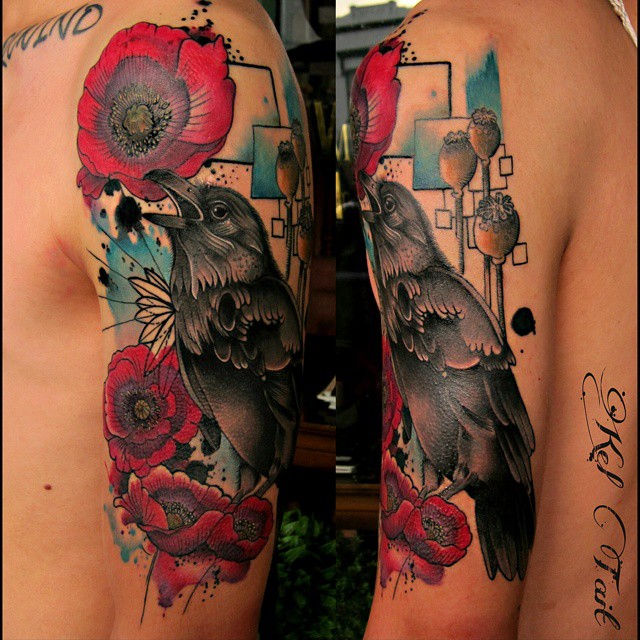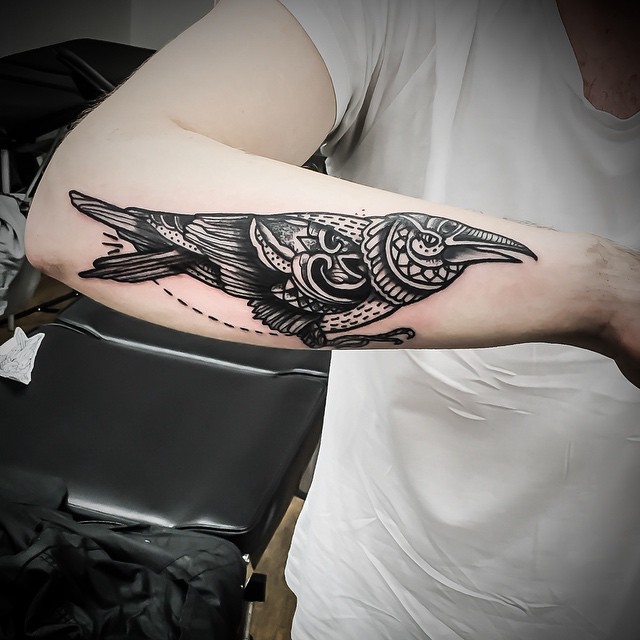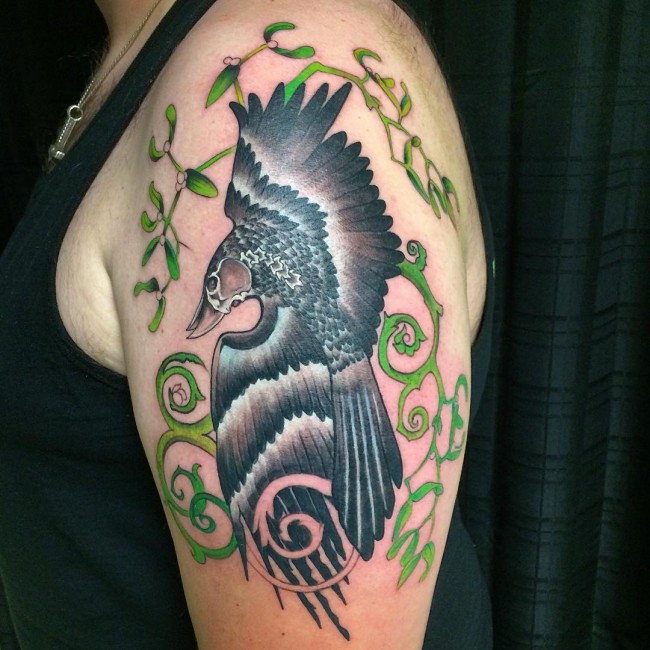 ---
back to menu ↑
Types
The tattoo features a raven carrying a key with the help of its beak. It also has a vintage frame designed to add to the mystery of these birds. The raven has well perched claws making it one of the classy tattoos that you can design on your back, shoulder as well as the upper part of your arm.
The Tattoo features a number of ravens flying very high in the sky. You can ask your tattooist to design three ravens with one flying towards, another away and the third one far in the stars.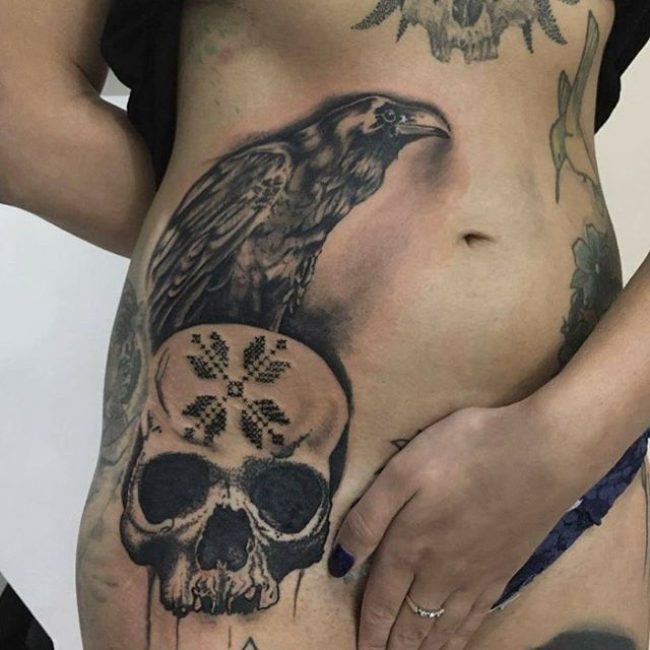 This is the most interesting tattoos to have on your lovely back especially if you want to show how romantic you are to your spouse.
Do you want to describe the raven with the help of a tattoo? Then you should go for the single raven with the plumage, beak and eyes coloring. The bird shows a sign of peace within your soul.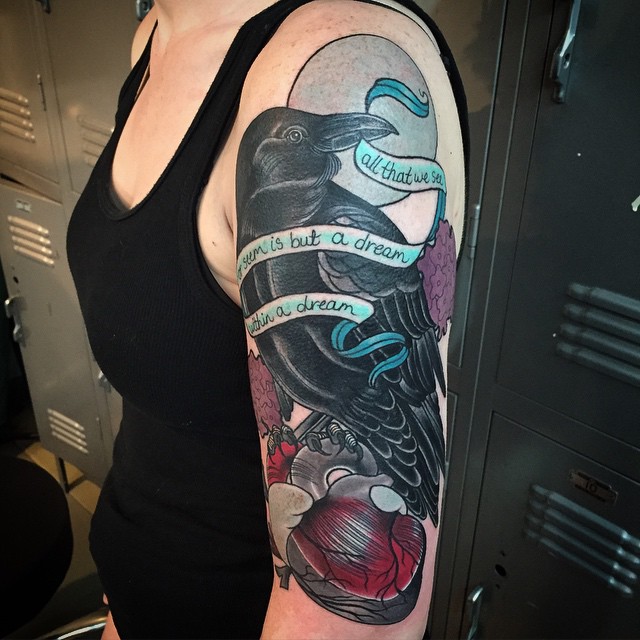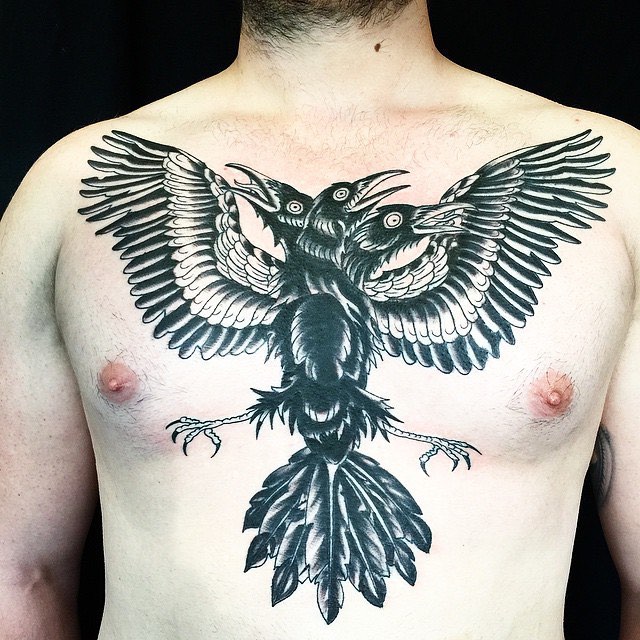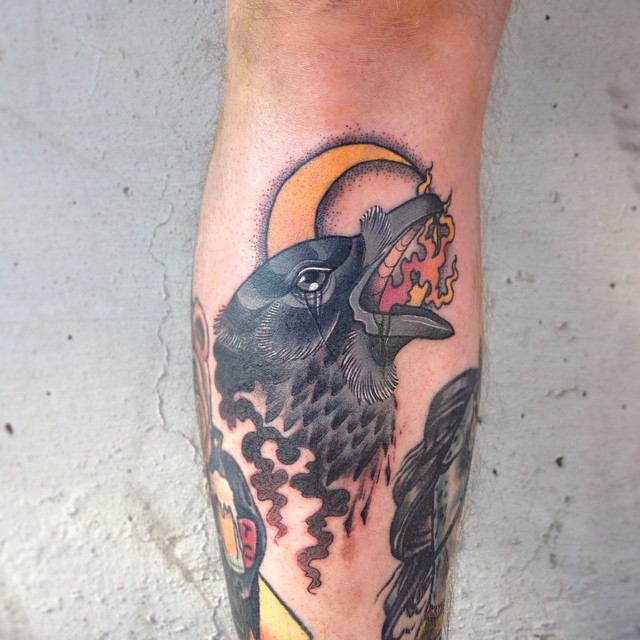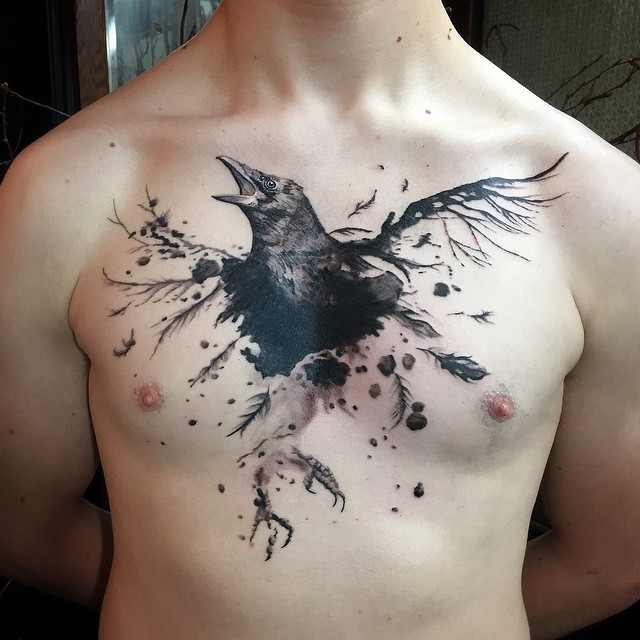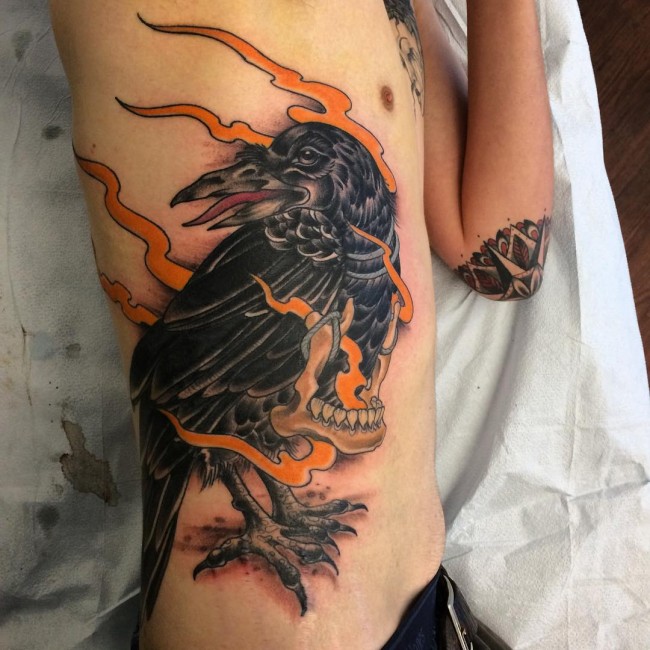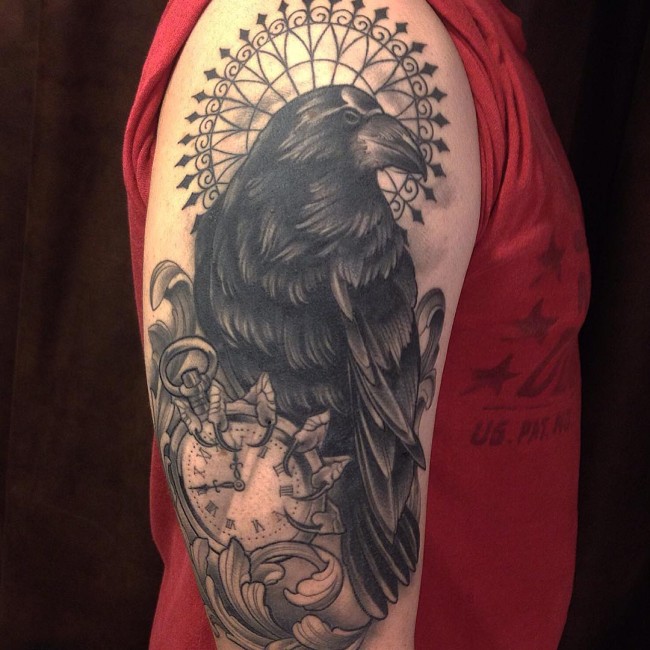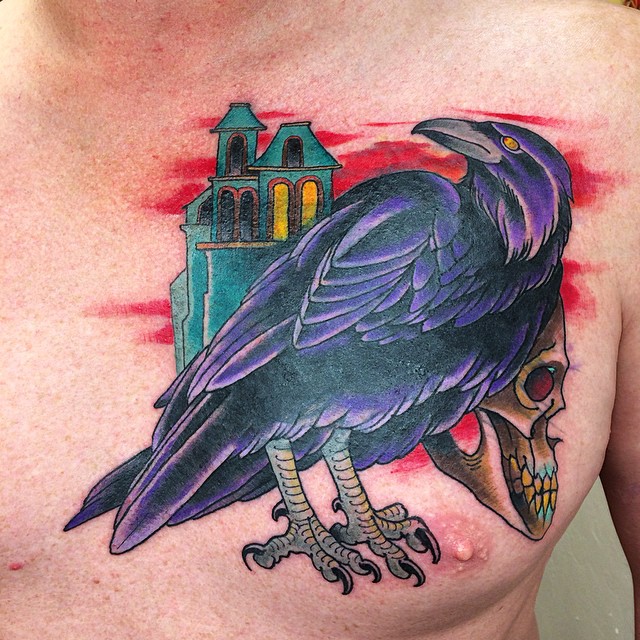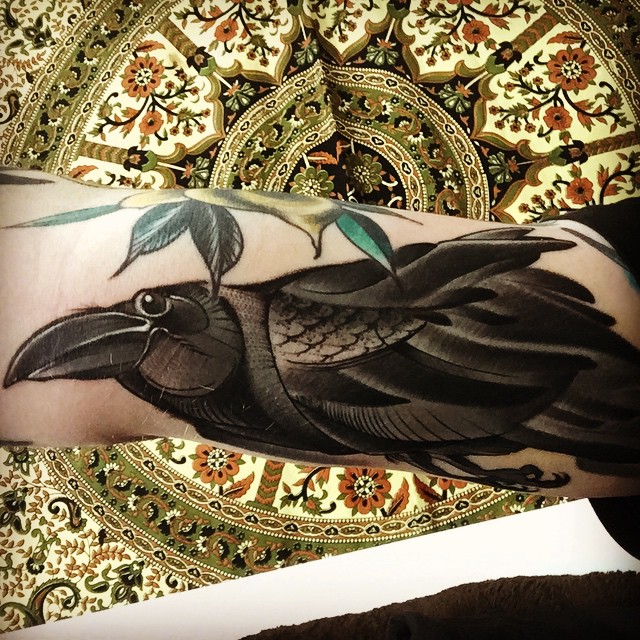 The angry raven features a heart of several flowers with a dark background. This tattoo can be a good way to show that you prefer living a secret life. From the appearance at the background, the raven looks like it is plotting something.
The detailing of this tattoo is simply fantastic and looking at its pictures you will see extra work done on its sides.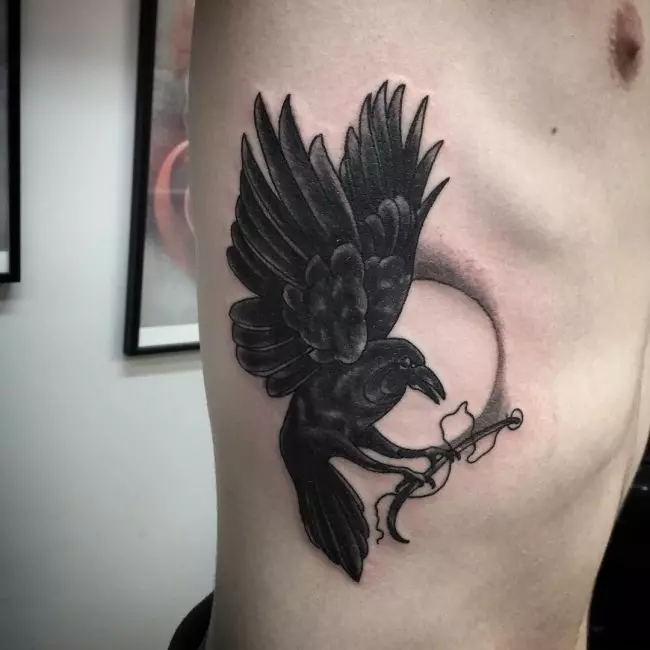 The simple tattoo shows a number of ravens flying one of your wrists to the other. This tattoo can act a symbol of change in life.
The red flowers on this tattoo offers it with a vintage appearance in which two young raven seem to be aloof to the world. The color gradient and detailing of this tattoo makes it one in its own class.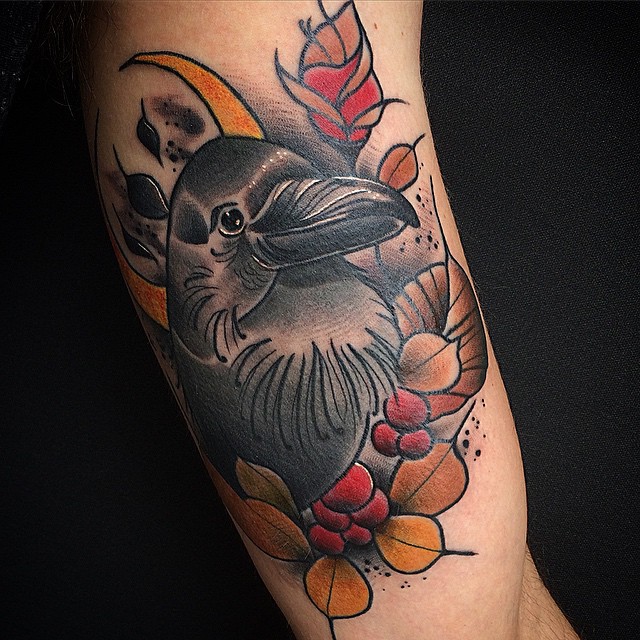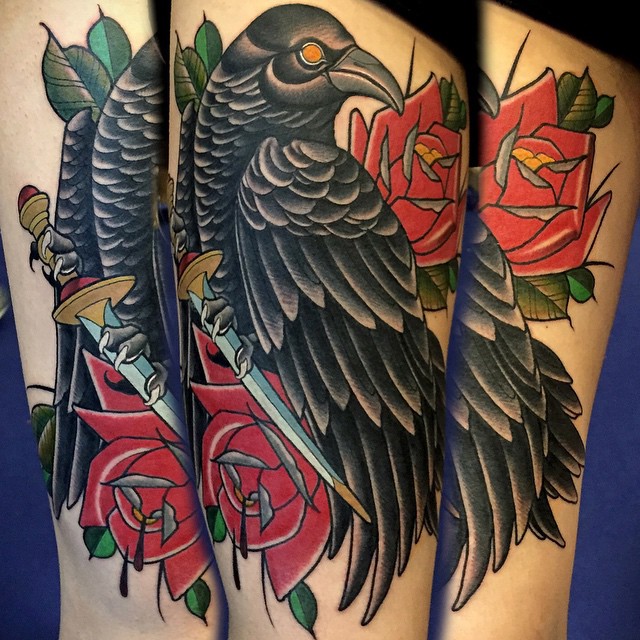 Just as we said raven acted as a symbol of death during the ancient war in the European continent, this tattoo symbols death, evil as well as danger. The raven appears very busy as well as aggressive.
Whether you are a man or woman, this tattoo will rarely disappoint you. Swam of ravens tattoo design is not only very simple but also unique.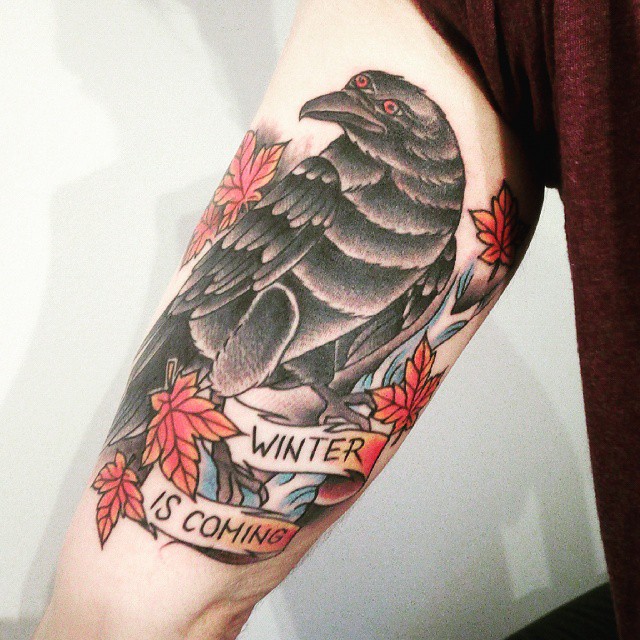 Imagine a raven face with the initials of your name. If you want a customized tattoo then you should go for this one. it is a unisex tattoo hence no more should stop you from having it simply because you are a man or woman.
The tattoo features may ravens flocking together to an unknown destination. This tattoo looks amazing when placed on the arms as well as back.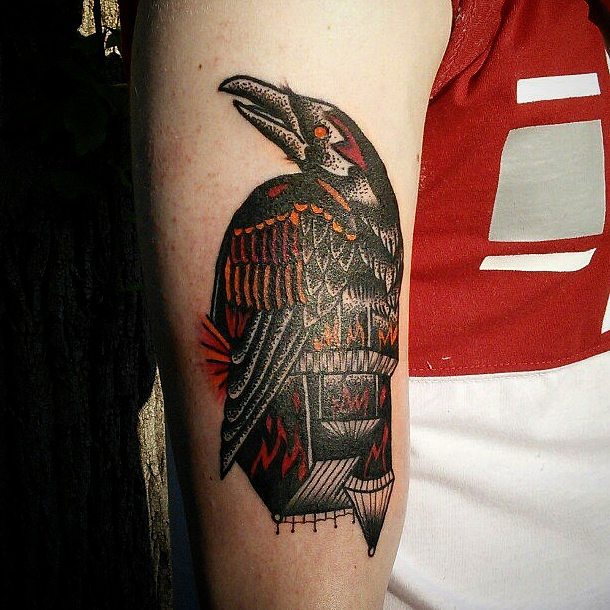 The adorable blue raven tattoos with a fierce looking mouth will make you to appear classy and bold. The blue color makes it different from the common black and grey shades attributed to these birds.
The raven with feathers tattoos is the perfect choice for any girl who wants to look trendy and fashionable. The tattoos shows several ravens flying out of the feather giving an interesting and amazing impression that will many people staring at you.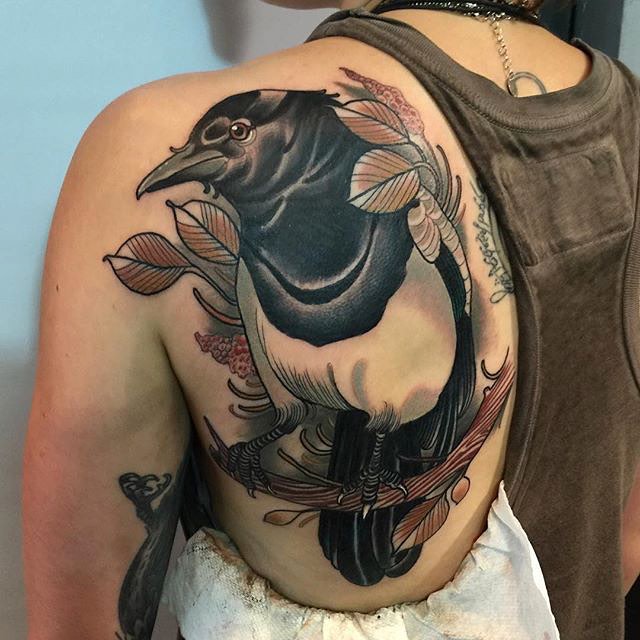 The witch raven is among the most popular tattoos. The tattoo shows a witch's hair originating from the birds. The combination of witches and ravens makes this tattoo more mysterious to look at.
Lock the tattoo is yet another amazing design that will make you stand out from the rest of your friends. The tattoo shows a raven with beautifully looking flowers. It appears as if it going to build a nest somewhere on top of a tree.
The blooming flowers are a good indicator of positivity despite many people attributing the bird with negativity.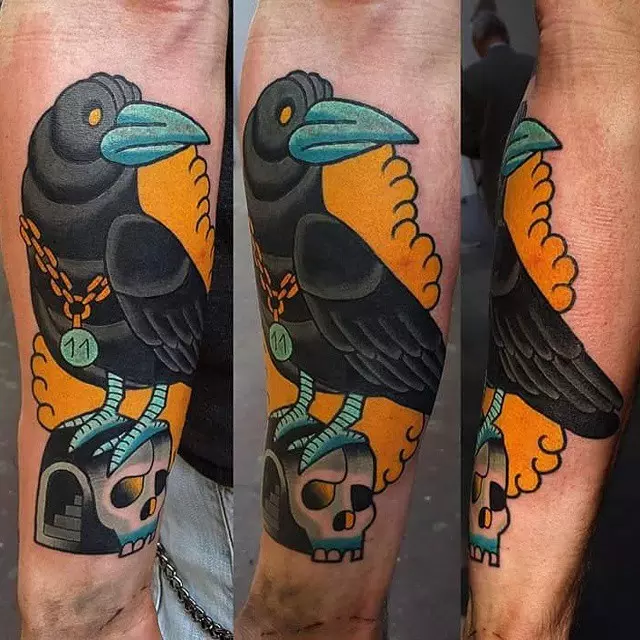 In conclusion, these tattoos have different meanings depending on one's society. These tattoos can symbolize death, evil, power and misery among others. Before you pick any of these tattoos, it is good to know the reason as to why you need one, its meaning and placement.
This will guide to choose a tattoo that will not offend the people around you without your knowledge.