120 Cutest His and Hers Tattoo Ideas – Make Your Bond Stronger
When you're completely and absolutely in love, you might feel incomplete when your significant other isn't near. In such a situation, getting his and hers tattoos make sense because they will serve as the perfect expression of your indelible relationship. What is more, the tattoos will only ever be truly complete when the both of you are together and in the same physical space.
Today, tattoos are becoming more popular and socially acceptable. Even young children have started looking forward to the day they will get their own tattoo as a symbol of their personality.
Contents:
The Beauty of Couple's Tattoos
With these kinds of tattoos, you finally have something that can easily connect the two of you in a commitment of your desire to stay together to the ends of time. Similarly, getting such a tattoo will strength the love and bond the two of you share. As a direct result, every time you or your SO sees the tattoo, you will be indelibly reminded of love and longevity.
In the grand scheme of things, symmetrical tattoos for couples are quite pleasing – aesthetically speaking. Additionally, you might soon come to the realization that the best options are the minimalist kind.
After all, you certainly don't need a massive tattoo to show that you are in love and spoken for. Instead, consider keeping it subtle and simple. As long as you pick something that holds deep meaning for you two, you will be good to go.
Of course, tattoos for couples can prove to be a hit or a miss. In our line of work, we've come across questionable ink, indiscernible meanings, full body tats, and even torso-sized hearts – none of which makes perfect sense.
Although this might not seem likely, you should always know that every relationship also has the potential for a breakup – regardless of how things may be going at the present. In such situations, were they to occur, you might have to undergo a major laser removal job, try change your massive couple's tattoos into something different, or let it last longer than your relationship did.
That said, there's something uniquely poignant about these kinds of tattoos that make them a top choice among love birds. As long as you get something that is cool and hip enough from a foundation of amazing ink ideas, there is no reason why you and your SO should not nail the matching tats. What better way to prove that love isn't always forever?
Although some are of the opinion that these kinds of tattoos are a bit over the edge, everything will depend on your perception as well as the meaning of the body art you get.
More specifically, there are a thousand and one ways and reasons to enjoy getting and keeping couple's tattoos. Further, you can always choose an option that is quite subtle – to such an extent that they will be so simple and yet so meaningful that only two people in the world could ever understand how they are the perfect celebration of the relationship.
Of course, you should always choose customized tattoos if you are considering something for you and the love of your life. By getting a personalized tattoo, you will be able to ink two bodies – separately but linked together in a plethora of ideas and subtle meanings.
For instance, you might choose something that signifies the love you share and the fact that you will always belong together. Additionally, going for a customized tattoo means that you get the freedom to pick the style and the design of the ink art.
Of course, if you are strapped for ideas, there are tons of pre-made couple's tattoos out there. You could, in such a situation, try and combine the different options together to create something that makes sense for you and your partner, and which the both of you agree on.
back to menu ↑
Personalizing Your Tattoo
So, how do you come up with customized couple's tattoos? The trickiest part of the decision would be to consider the kind of tattoo you should get. To get to this point, you should sit down with your partner and brainstorm. Then, create a solid plan on the kind of design you would like to work with – all before you head over to your tattoo parlor of choice.
You should, as far as possible, never hurry this decision. Some couples take months (or even years) to come up with something that means the world to them. Borrow a leaf from these couples and think things through with your partner.
Of course, you might also want to ensure that the both of you are in agreement about the design of the matching tattoos you will get. You should also add all the different important details you require to ensure that the design is a complete pair and makes sense to both of you. Where possible, try being unique and creative while at it.
Remember, the tattoos you get are bound to stick to your body for an incredibly long time. As such, you should always pick a choice that you absolutely love and adore. Therefore, choose something that resonates with what you and your partner think and like best.
The choice could be a special place, memento, or thought that means the world to your relationship. It could also, of course, be a word that holds special meaning and from which you can create unique designs.
Alternatively, consider using pictures of people or idols who give your relationship the inspiration and injection of love it requires to keep burning alive over the years. Some couples also pick mythical creatures and pets that they love or fictional characters from movies and books that are a depiction of the connection in the relationship, among others.
You also have the option of taking a good look at different couple's tattoos and combining various designs to create something that makes sense for your love and relationship.
Whatever the case, you should always choose something that the both of you want, desire, and will never get removed. Instead of going for a tattoo that is trending or which would look good to other people, make your choice based on what you and your partner consider important, significant, meaningful, and resonating with your relationship.
back to menu ↑
The List Of Matching Tattoos
His and hers tattoo are quite popular because they tend to be meaningful. These are some of the most popular types of couple's tattoos there are out there. Whereas some couples choose their favourite phrases and words and get them inked separately as a symbol of perfect love, others go with popular trends like couples charms, necklaces, bracelets, and more.
The great thing about a tattoo is that it is long lasting, and likely to stay on your body for eternity. This means that you should look for an idea that is a symbol of love, loyalty, bonding, meaning, and personality.
Consider the following:
1. I Love Him and I Love Her Tattoos
This option is so simple and yet so meaningful that it is no wonder that it forms one of the most popular of all couple's tattoos. It is also cute, matching, and adorable. However, you should only get this kind of tattoo if you are sure that you are with your soul mate.
Where possible, pick a handwriting font that holds great significant for the both of you. Many years hence, you will both look back and feel a sense of pride at your choice and the design.
2. Matching Heart Tattoos
Matching heart tattoos are not the standard conventional kind of ink art. Instead, they form the perfect "thinking outside the box" choice. If possible, you should know that you want nothing more than a heart.
Whenever anyone sees one-half of these connected tattoos, they won't be able to tell what it is. To do this, you would have to combine the other part of the tattoo to form a complete whole – much in the same way that the love of your life needs to complete you to form the pair that is YOU.
The great thing is that you can get these tattoos in any color, size, or area you prefer.
3. Watercolor Queen and King Tattoos
You're her king and she's your queen – what better way to tell the world about your indelible love and devotion? The great thing about these tattoos is that you can add a color and modern twist to them by getting them done in water color.
These tattoos are also quite vibrant and bright, meaning that they will forever stand out irrespective of the crowd you find yourself in. Where possible, choose a couple of colours to embrace and enlighten the tattoos.
4. Matching Initials Tattoos
Alternatively, you could always get matching his and hers initials as the foundation for your couple's tattoos. In this case, less is more. All you need is your initial and your SO's and the story is completely.
Instead of adding fancy designs and words to the tattoos, just keep them simple. They will look better than getting your full names inked on your bodies.
5. Connecting Love Tattoo
Get the LO and let your partner get the VE. Together, you form LOVE, one of the strongest words there are for both couples and singles. It will act as the love and feelings you share, how much they mean to both of you, and the special connection that holds you two together.
6. Heartbeat Wrist Tattoos
Many couples also go for the small wrist tattoos. Not only is this option cute, it also acts as a significant reminder of the shortness and preciousness of life. Otherwise referred to as ECG or EKG (electrocardiogram) lines, they are another wonderful reminder of love.
Of course, the meaning can be unique to you and your SO. However, you will always be able to remember that the tattoos represent that special someone in your life and the same for them.
7. Connecting Wrist Tattoos
Connecting wrists, on the other hand, go to infinity and beyond – the perfect depiction of everlasting love. Getting matching tattoos when having sayings and words is easier than getting other patterns and designs. What is more, you can always split the sentences into two and have one part each.
8. Matching Roman Numerals Tattoos
Remember your first date? When your eyes first met across the room and you both knew you'd found the other half of your soul? Or your anniversary wedding? Then this might be the perfect tattoo for you.
Matching memorable dates will create something unique and special. What is more, the roman numerals are different from standard numbers, making them a hit among couples looking for uniqueness in a world filled with conformity. You can even spruce it up a bid and add the classic I LOVE YOU wording underneath the dates.
9. Small Hearts on Fingers
Many people find jewelry irritating and might prefer to do away with traditional wedding rings. In such situations, getting small hearts tattooed on your fingers might be the perfect solution.
The great thing is that you can get matching heart tattoos and use them as your commitment and wedding rings. Of course, you can always wear your wedding rings to compliment these tattoos.
10. Fingerprint art
How about this? Ask your tattoo artist to create a unique design with your corresponding fingerprints. All you have to do here is get prints of your fingers taken. Then, the artist will ink your fingerprint on your partner, and vice versa. How cool is that?
11. King and Queen
The two of you should consider yourself to be royalty – joined together in holy matrimony to rule over each other's hearts with love, care, devotion, and all the other noble qualities and feelings. Why not go a step further and get your tattoo artists to create king and queen designs?
Alternatively, you could simply ask that you get symbols of kingly and queenly crowns or just the popular playing card symbols for the king and queen.
12. Heart and Initial
The heart and initial design is a classic that never grows old for couple's tattoos. It works because it is the perfect symbol of love – as shown by the heart design – while the initials give a personal meaning to this love and adoration. Variations of this kind of tattoo include only getting hearts or initials inked on both your bodies.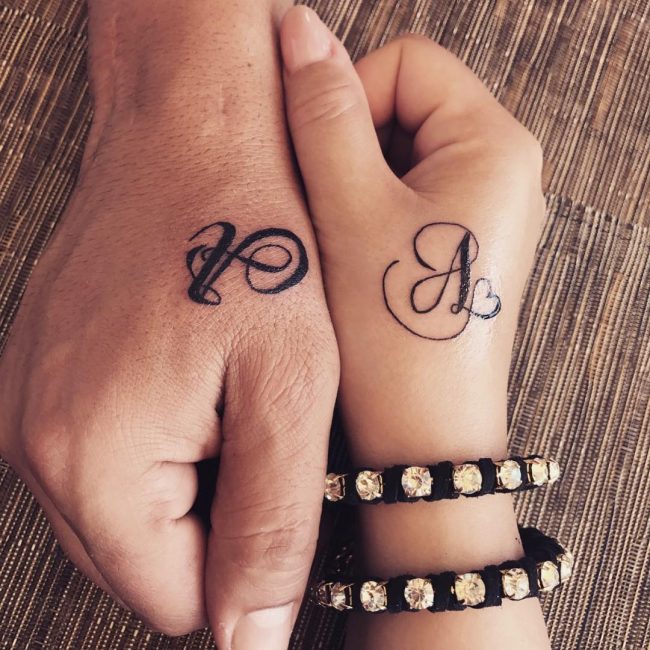 Source
13. Another Language
If either or both of you are multilingual, think about getting your tattoos done in the corresponding languages. Many people – including those who are unilingual – choose to get their tattoos made in a foreign language. Some options here include French, Italian, and any other of the romantic languages.
14. Marriage
You could also consider getting matching couples tattoos with symbols of your marriage. Common ideas here include getting ring tattoos for him and her, embedding the location of your wedding venues on the tattoo, or even etching the wedding date in ink.
Of course, you can also ask for the longitude and latitude of where your wedding was held, Mr. and Mrs. Symbols, as well as Mr. and Mrs. Pac-man tattoos, among others. The options here are virtually endless.
15. Others
Other choices include getting the following tattoos:
– Ampersand arrow with initials
– Anchors
– Areas of Interest
– Beauty and the Beast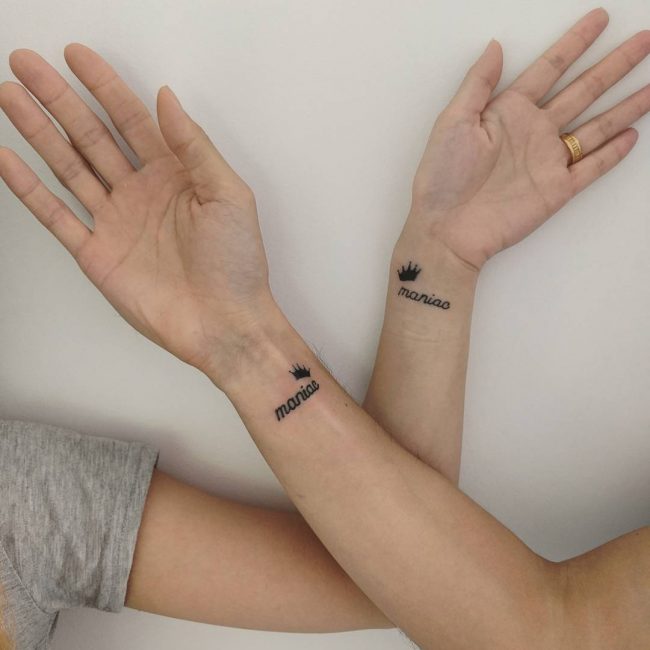 Source
– Bleeding Strawberries
– Card Designs
– Cartoon Love
– Colorful Hearts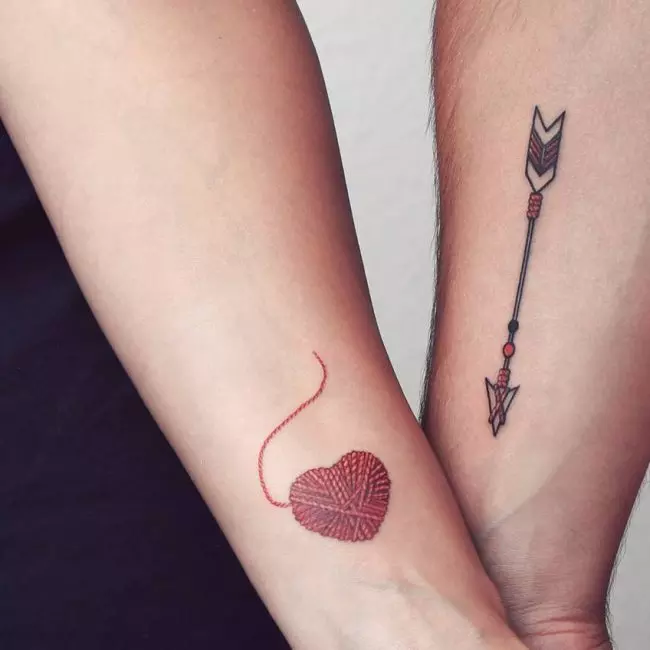 Source
– Diamonds
– Double Foxes
– Eternity
– Finger Tattoos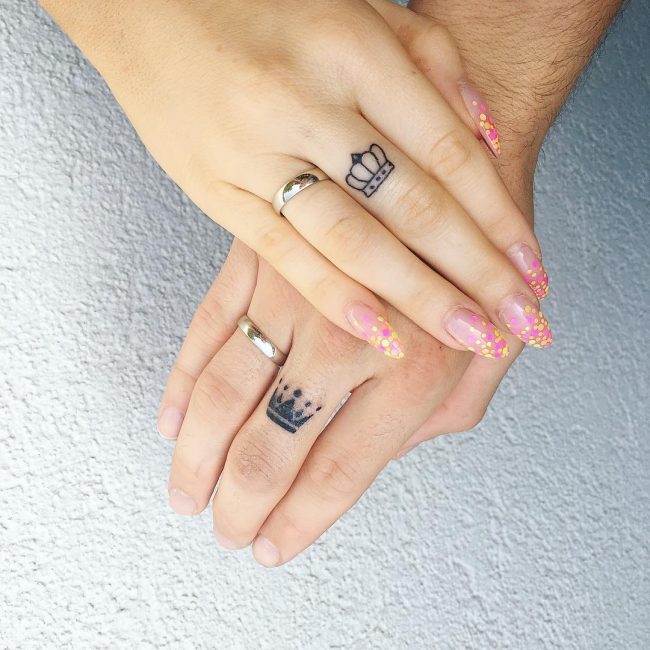 Source
– Flock of Birds
– Four-Leaf Clover
– Lock and key
– Love branches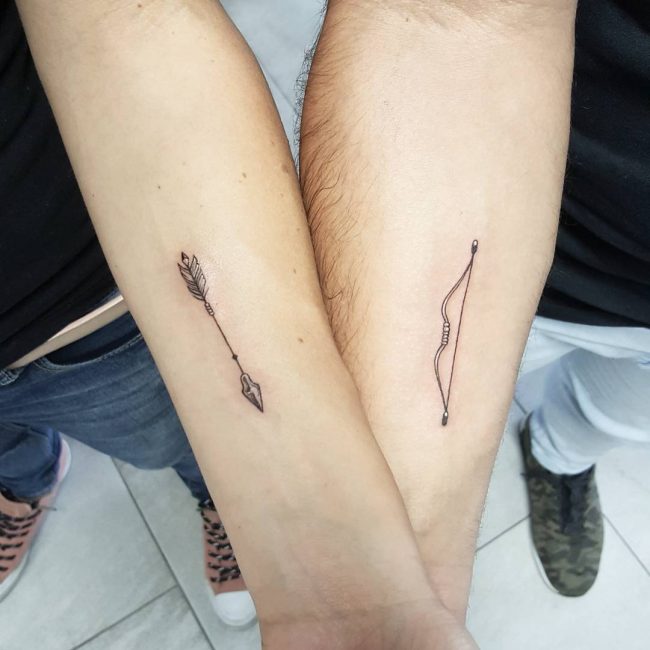 Source
– Mickey and Minnie
– Puzzle Pieces
– Snoopy and Woodstock
– The Ornate Design
Source
– Tribal Indians
– Wish upon a Star
– Yin and Yang
back to menu ↑
Possible Styles
Once you start thinking about getting his and hers tattoos, you will know for sure that your love was made to last. However, you need to be careful so that things don't go awry or mismatch your meaning.
To this end, think carefully about the styling, design, and wording you would like. Of course, you probably already have a rough idea of what you want but some inspiration might do you some good.
Many couples tend to go with the traditional choice – that is by getting their partner's name inked on their bodies. However, others prefer to think long and hard about the tattoos they will get.
Luckily, there are so many tattoo designs that you will literally be spoilt for choice. However, you can always choose your own unique wording or design if you are looking for something a bit more personal.
It might also help to think about whether you would like your tattoos to be in grey/black or in color, with shading or without any shading. Although you might think that picking the right tattoos is easy, it most certainly isn't.
If you adamant about what you would like, well and good. However, things might get hard if you are not sure about your choice. Whatever the case, remember that tattoos are the perfect way to remember beautiful memories, the pain of the years, and why you decided to hold on together.
Irrespective of what your tattoos show or say, they will remain inked on your body forever. Therefore, you might want to choose something that will always melt your heart and remind you of the values that have made you stick to the love of your life.
Whether you are considering getting some ink for your upcoming wedding, for an anniversary, or just because you would like one, there are countless possible styles for you to try. Like your love, you should pick something that is forever.
When it comes to picking the right style for your new couple's tattoos, it is essential that you know how you should talk before you even walk into your favourite parlor and ask for some of the flash right off the wall.
To this end, you should acquire some perspective on some of the more prominent tattoo styles used in the industry. In the following section, you will find the knowledge you need to help you make the distinction and understand the differences between various choices:
1. Traditional Style
The traditional tattooing style came about during the 1700s. It started in the high seas after sailors first encountered indigenous peoples with a tradition of tattoos. The seafarers were so inspired that they started getting their own bodily markings. Some even collected body art as pure mementos of their voyages and sea-scapades.
Over the next few centuries, the traditional style evolved and became more refined. Today, it takes on brightly colours and boldly lined aesthetics. It is also popular among couples looking for something a bit more laid back and relaxed.
2. Realism
Although classic realism has always formed the core of fine art since the Renaissance and beyond, it only managed to find its way into tattooing more recently. Specifically, this style of tattooing made a comeback in the 20th century.
Today, the style is more refined and highly popular among people of all ages and backgrounds. As it stands at the moment, you should be able to find black and grey as well as color portraits of anyone – which is how this style might come into play if you are looking to get couple's tattoos.
Alternatively, you can always opt for realistic murals of nature and other objects, animals, and words that mean something for the both of you. What is more, this kind of tattoo will work out perfectly if the design you have in mind might be difficult to get on anyone else.
3. Watercolor
At the moment, watercolors as a style of tattoo are in vogue. Further, it is in high demand among most tattoo enthusiasts looking to make their own mark and stand out from the rest of the crowd.
The great thing about this style is that it is exactly what it sounds like. This means that the tattoos will be rendered with brushes dabbled in water and pastel colours – creating beautiful body art that you will both admire for a long time to come.
However, remember that looks are always deceiving. While it certainly is easy to come up with this kind of art while working with actual watercolors on canvas and paper, using ink on the human body isn't quite as simple.
Luckily, you can get exceptionally talented artists and get them to make every kind of poetic and whimsical art for you and your SO. The great thing: this is one of the most innovative kinds of tattoo you can get.
4. New School
Contrary to what you might think, new school as a tattooing style is no longer as new. This style became popular and rose to prominence during the late 80s and early 90s. It has made a comeback in the past few years.
It only waned in popularity because it was a product and symbol of its time. Back then, it featured highly animated aesthetic art that took after popular American entertainment. As a direct result, most New School tattoos are wacky and cartoonish. They also feature exaggerated figures and caricatures. If you found love back in the day, this might be the perfect style to go for.
For instance, you might get your body art injected with Ren and Stimpy, or something more comic. Whatever the choice, learn to relive the old times, the happy ages, and the unforgettable memories.
5. Neo-Traditional
As the name suggests, neo-traditional is the perfect evolution of the traditional tattooing style. This means that it features most of the core properties of the traditional style – including the pronounced line-work as well as the extremely vibrant and brilliant coloring.
However, neo-traditional goes a step ahead in the sense that it embodies an illustrative quality. This means that most tattoo artists who choose this style employ different line weights, which enables them achieve a more detailed and textured aesthetic.
When you choose to get your couples tattoos done in the neo-traditional style, you will have to pick highly blended color schemes. By so doing, you will give the primary figures on your tattoo the plush appearance required to mark out tattoos. This is one of the reasons why the neo-traditional style works best if you are looking to depict things like lively imagery and animals.
back to menu ↑
Conclusion
Once you find a tattoo that will perfectly match your personality and your partner's, the next step would be to look for an artist who can execute it the exact way the image appears in your mind's eye.
As far as possible, look for artists who are knowledgeable, experienced, time-tested, and in tune with their skill and talent. Of course, it would prove useful if they could give you some references so that you can see the other kinds of tattoos they have done, and how their clients reacted.
At the end of the day, the last thing you would want to ruin an otherwise perfect couple's activity is to work with a talentless "artist". To skirt this issue, look for an artist you can trust and who has enough experience, foresight, and understanding of human psyche to know outright what you would like for them to do.
After all, you will be trusting two beautiful parchments (your and your SO's skins) to the same artist and can, therefore, not afford to get anything going wrong.
However, you should not spend so much time picking the artist that you forget what should go into the his and hers tattoos you have been looking forward to. Before you even hire an artist, choose the location and the size of the tattoos. Then, blend everything together so that the artist has an easy time honing the designs the way you see it in your mind's eye.
When all is said and done, whether it is a small or a large design, you should always ensure that your tattoos suits you both so that you do not end up regretting the decision. Remember, wearing your heart on your sleeve is something that everyone should take seriously – especially if you are keen on spending the rest of your lives together, in perfect harmony, and without regrets.